A couple summers ago, Adam and I revisited one of our favorite stops from our honeymoon in Italy a decade before. The famous terrace at the Hotel de Russie in Rome has long been known as one of the best places in the city to experience aperitivo. (The Italian tradition of enjoying drinks and snacks in the evening hours between work and dinner.) As Adam and I settled in for an evening of people watching, we noticed that everyone around us was sipping a sparkling orange drink out of a big wine glass garnished with an orange slice. One scan of the menu revealed it was the hotel's classic Aperol spritz. Of course, we ordered two.
Since then, it's become my official drink of summer. This light, bubbly cocktail with a pleasant hit of bitterness just feels like sunshine and adventure and takes me back to this perfect day we spent in Italy. I've worked to finesse my own classic Aperol spritz recipe. And now, I think I've got it nailed.
While it's a simple drink with just a handful of ingredients, there are lots of differing opinions when it comes to the correct ratio between Aperol and Prosecco and exactly how it should be garnished. I've got opinions of my own (which I'll share below), but first: a little more on the Italian tradition of aperitivo.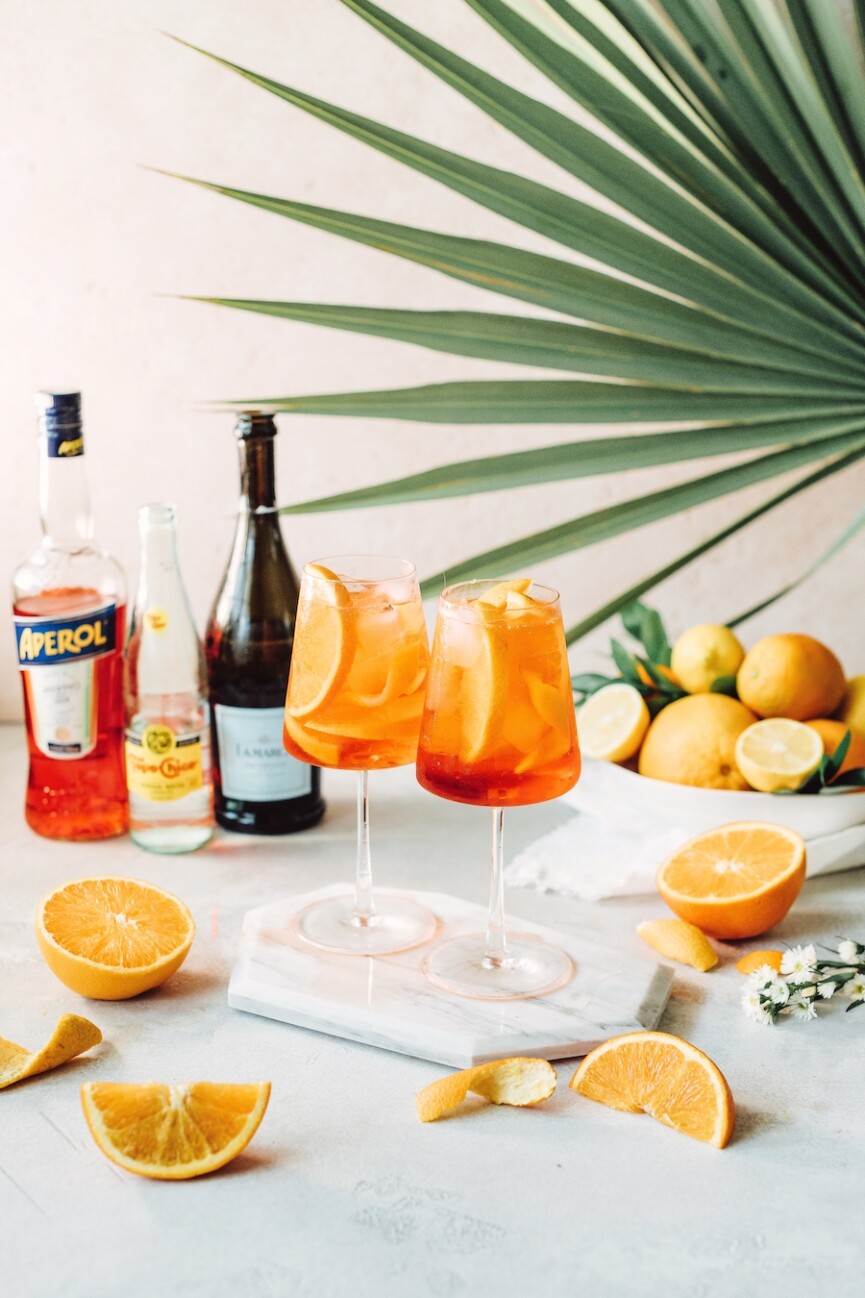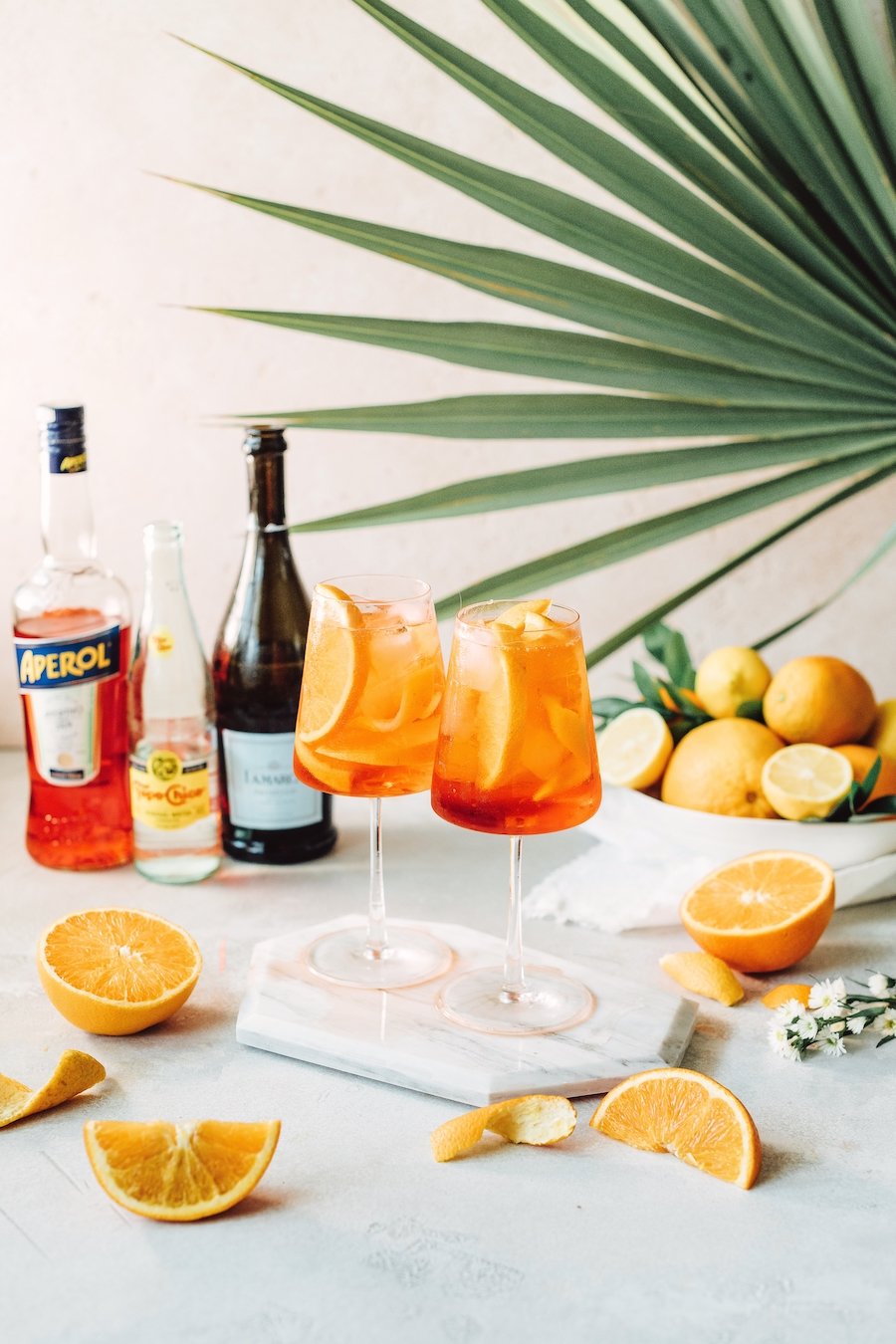 What is aperitivo?
An Italian aperitivo is sort of like happy hour, but different (and dare I say, cooler). At the Hotel de Russie, and everywhere else I've visited in Italy, everyone congregates before dinner for drinks and snacks. Sometimes the food is as simple as salty potato chips and olives, and sometimes it's a more elevated bite and could include cheese or charcuterie. Either way, the purpose is to "awaken the appetite" for the larger meal to follow.
Traditionally, an aperitivo drink is a carbonated, slightly bitter cocktail (like the Aperol spritz or a negroni) that's a bit lower in alcohol. The idea is to feel relaxed and happy, not tipsy. I love this ritual not only for the snacks and drinks, but for its focus on talking, savoring the moment, and enjoying the company of friends—activities that Italians seem to do so well.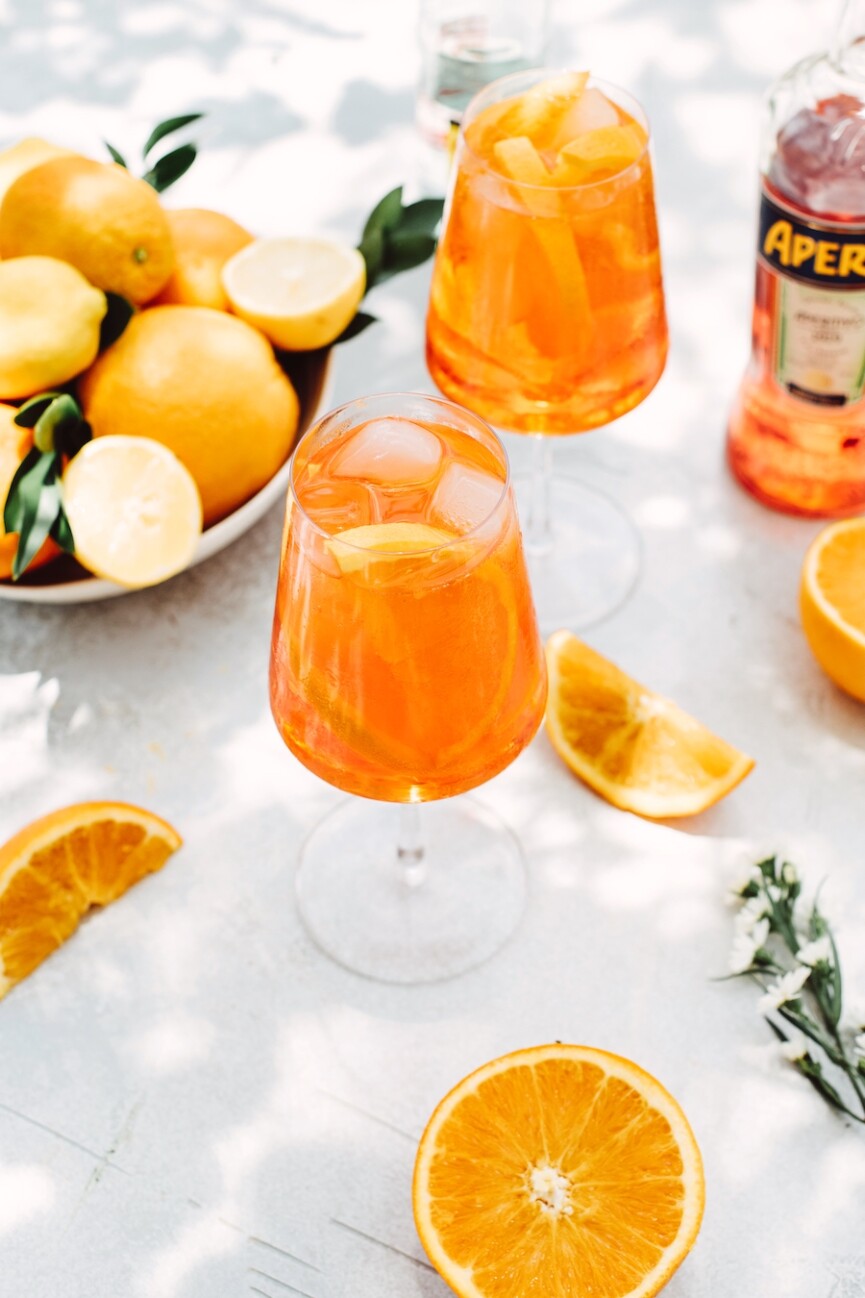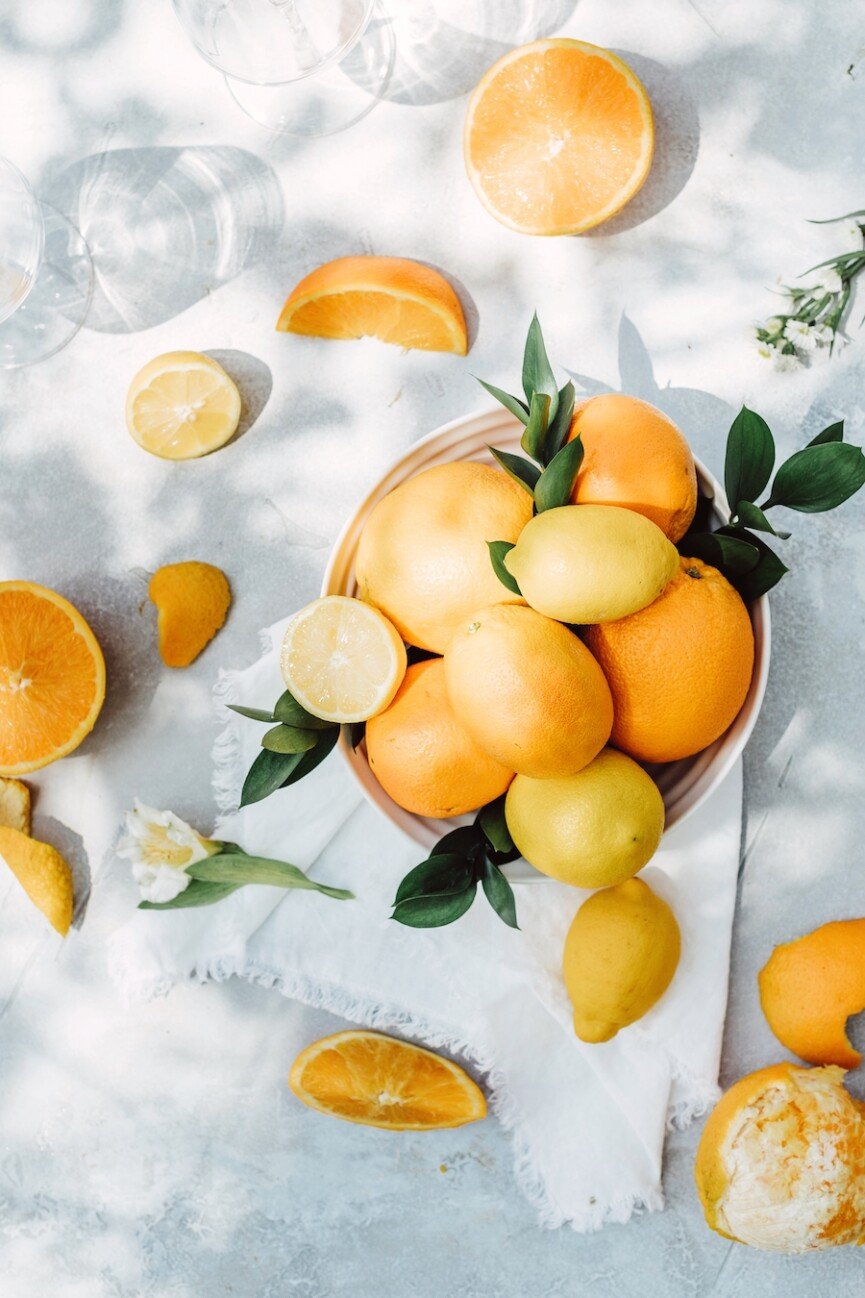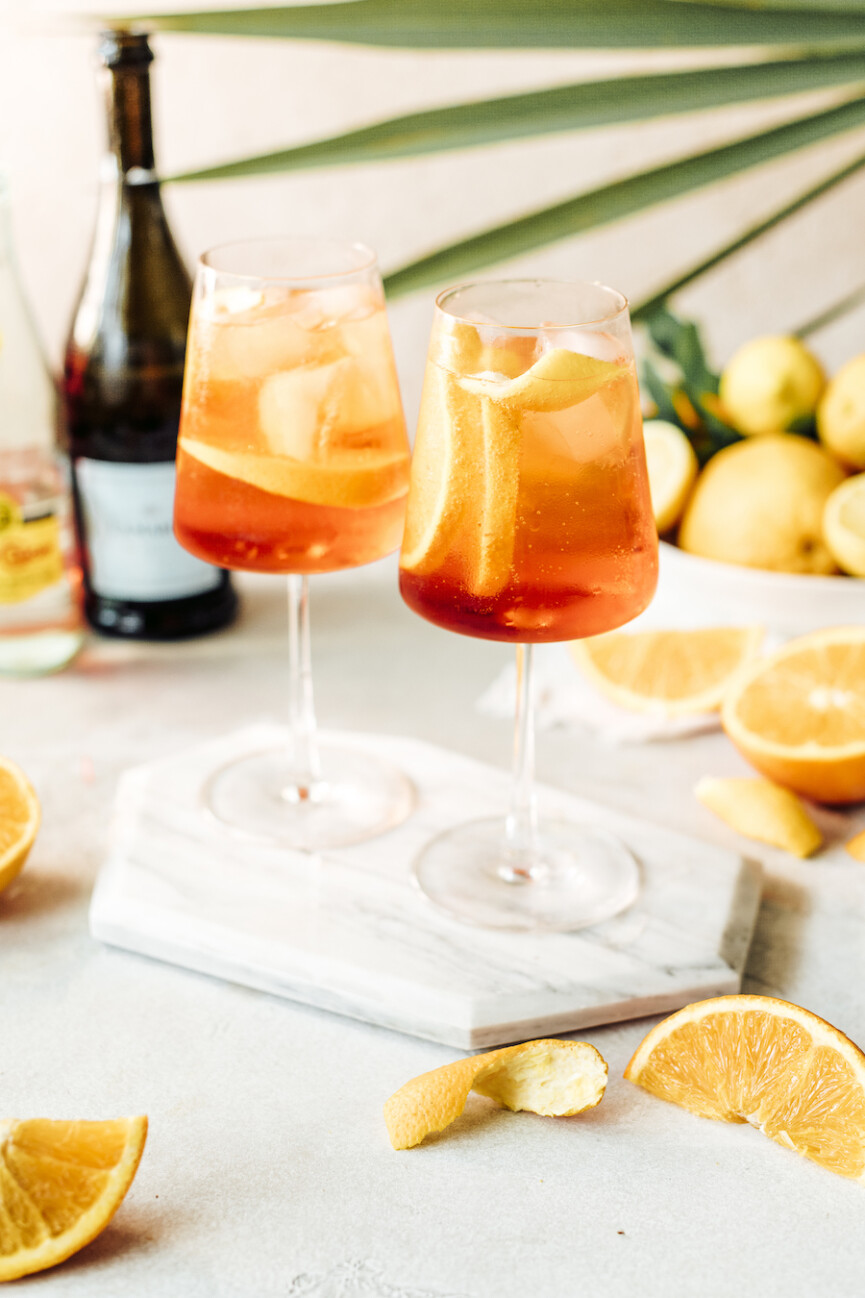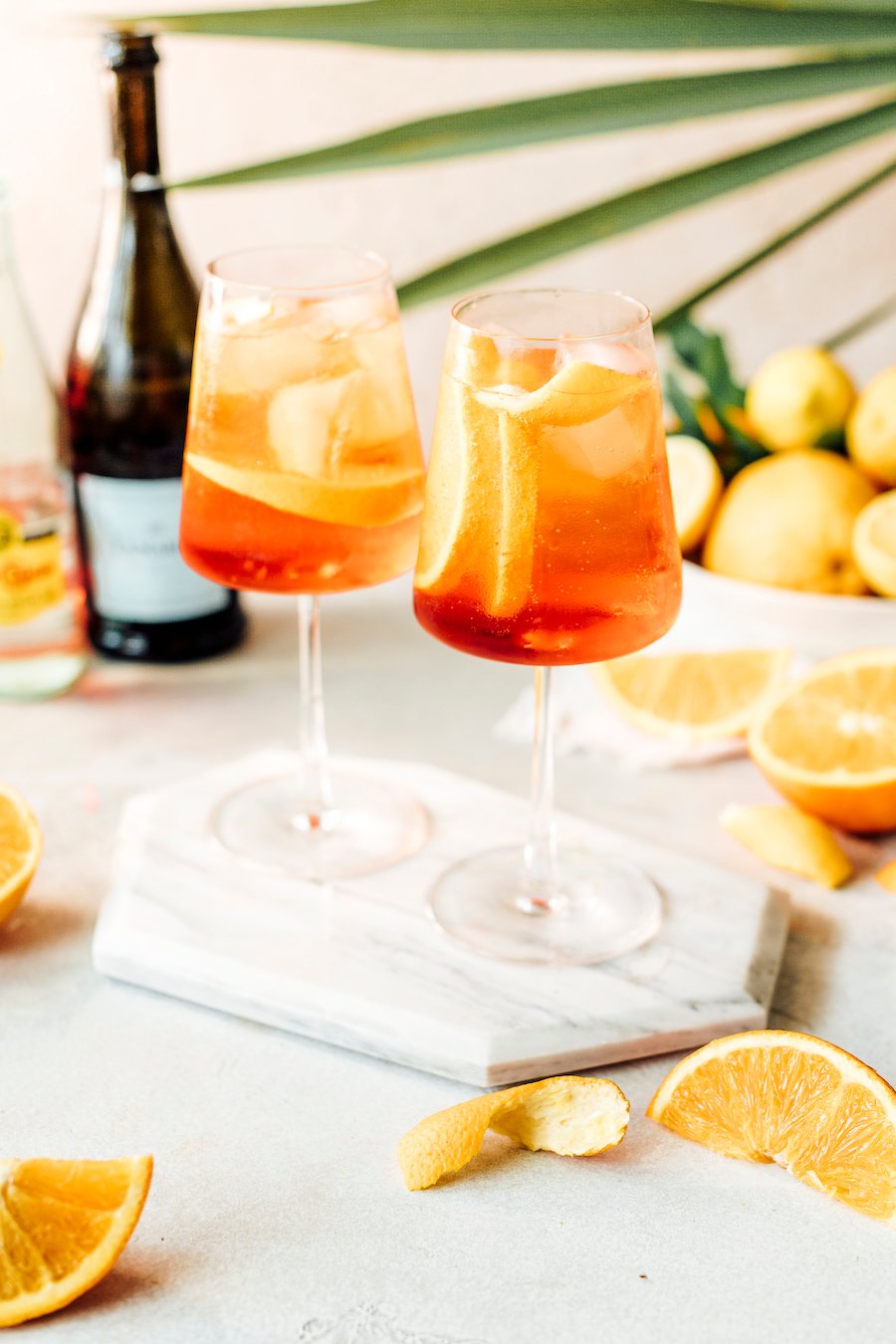 Aperol Spritz Ingredients
I'm just going to put it out there: the Aperol Spritz is controversial. Ever since the New York Times declared that "The Aperol Spritz Is Not a Good Drink," the debate has been on fire. At least, as fire-y as cocktail debates can be. The publication's argument is mostly built on the theory that the cocktail uses poor-quality Prosecco. Of course, this can be rectified by, duh, using a higher quality Prosecco. And I'm not alone in my defense of the drink: Grub Street clapped back with, "The Entire Internet Agrees Aperol Spritz Is, in Fact, Good." The best way to put it to rest? Just mix up my Aperol Spritz recipe one hot night this summer and judge for yourself.
Aperol
Aperol is an orange, sweet, and slightly bitter apéritif that's made by the Campari group. However, it's quite a bit lower in alcohol than Campari (11%). The brand describes Aperol as "the same spirit that spontaneously gathers people together and sparks nothing but good vibes." Yes, please!
Prosecco
Prosecco is a light, sparkling white wine, similar to Champagne, but made in Italy. It's delicious and also happens to be pretty affordable for good quality wine. The Sparkling Winos explain that "Sparkling wines made in this method are produced in a much shorter amount of time (sometimes in as little as a few weeks) and at a much lower cost than those made in the traditional Champagne method. That helps to explain the $15 a bottle price point." At the grocery, look for a brand that's around this price point and labeled "Prosecco DOC" (an Italian quality assurance). With those parameters, you'll be good to go.
Soda
Top off the drink with your favorite club soda or sparkling water. One thing I love about the Aperol Spritz is that it's a lower-alcohol cocktail, and you can make it even lower by topping off your drink with more soda as you sip. This is my preferred strategy for when I want to spend three hours talking and sipping with friends on a patio without feeling over-served at the end of it.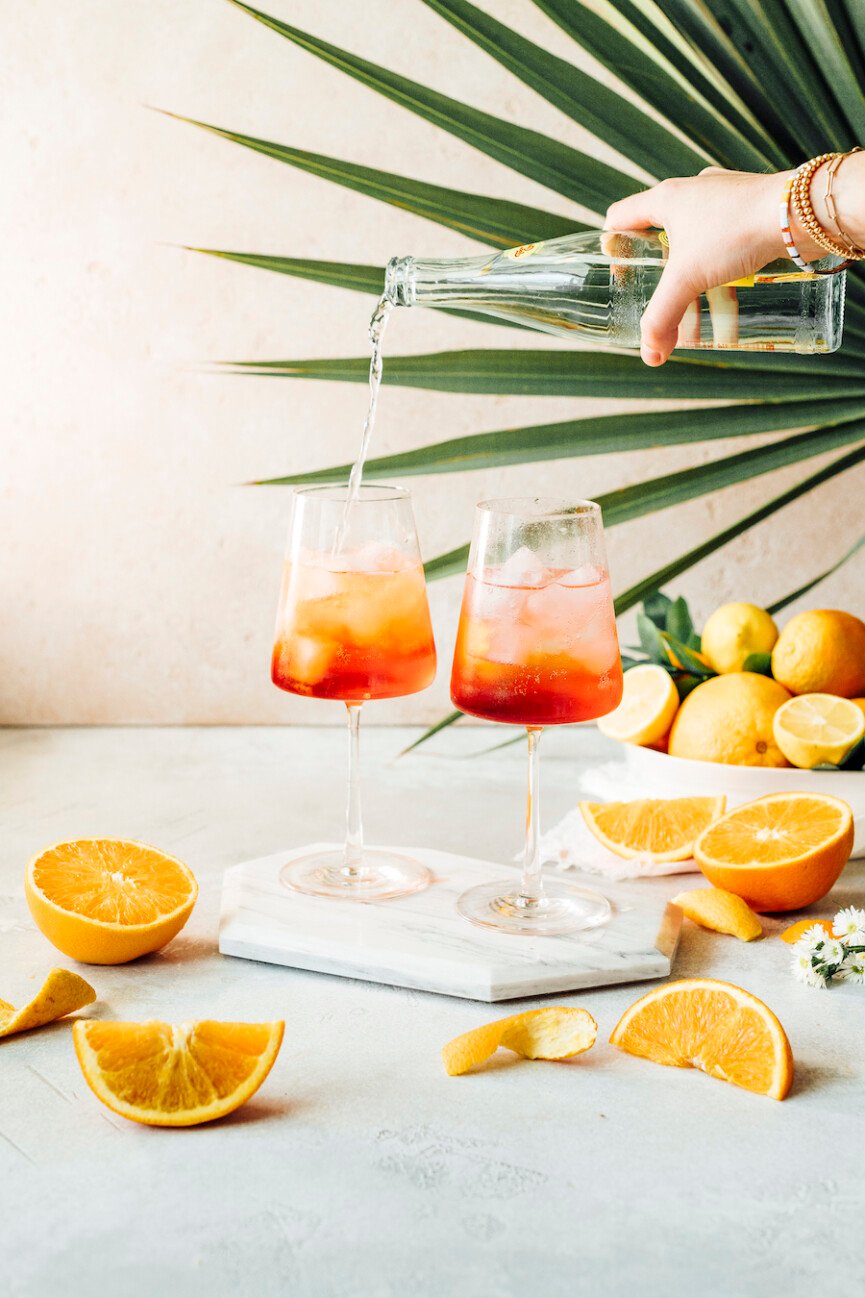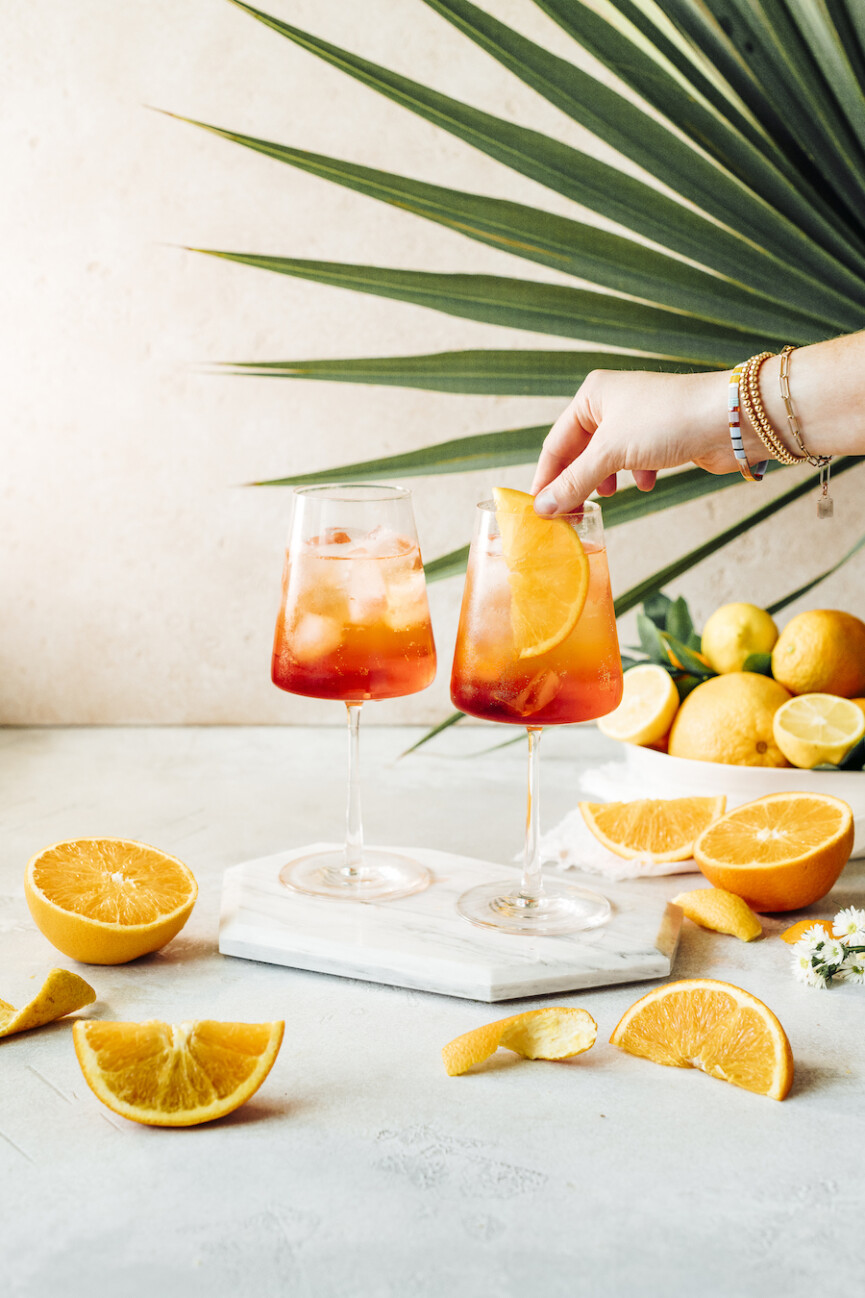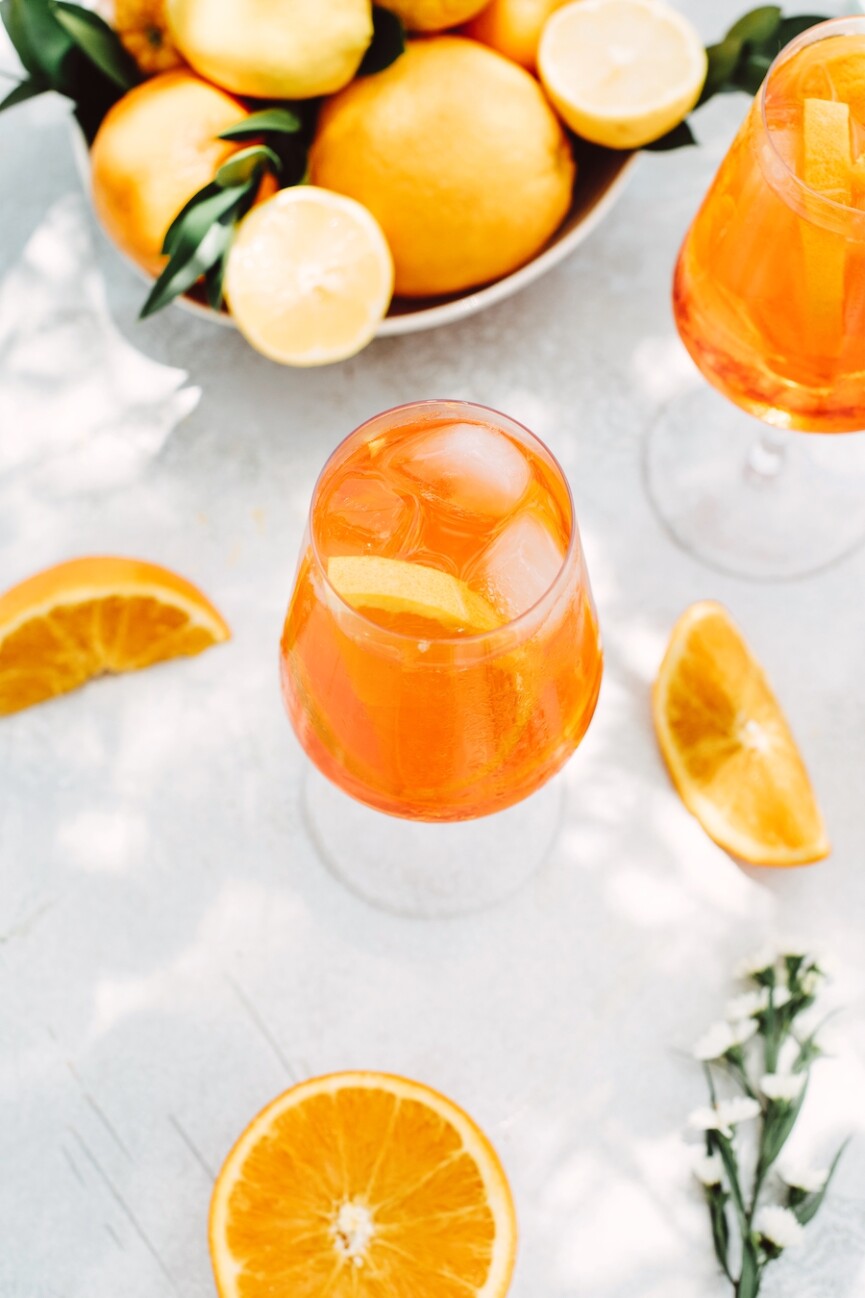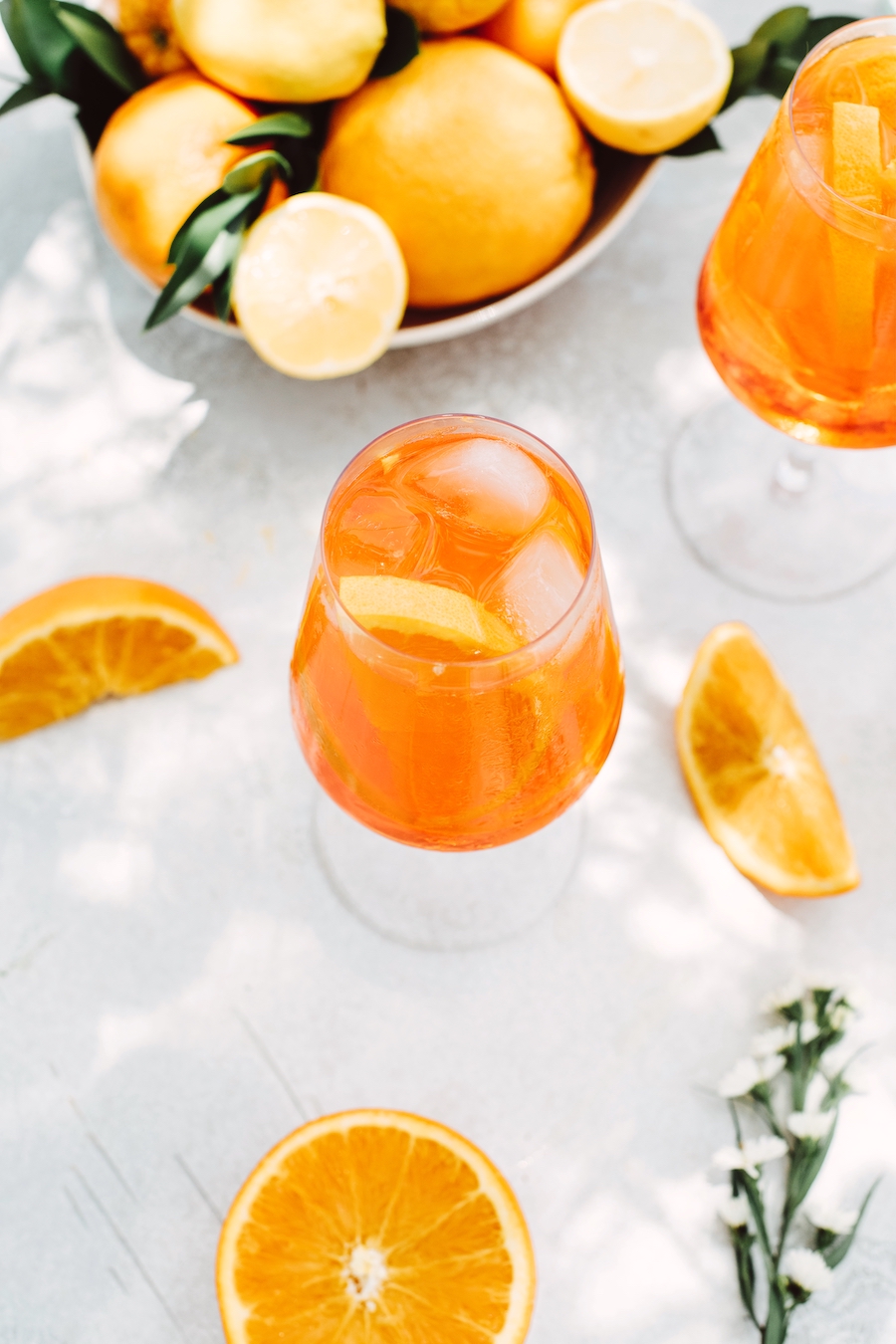 Aperol Spritz Garnishes
The typical classic Aperol Spritz will call for an orange slice. I add one to mine, but I also take a cue from the bartenders at Hotel de Russie and add a lemon twist at the end. This burst of bitter citrus makes the drink. When I hold it up to take a sip, the aroma of lemon mixed with the sweetness and bitterness of the drink is just ridiculously good.
That's it! A three-ingredient cocktail that just might become your official drink of spring and summer. Be sure to rate and review this recipe if you give it a try! Can't wait to hear what you guys think.
Print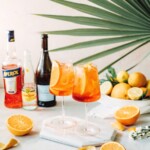 Classic Aperol Spritz
---
Author:

Total Time:

5 minutes
Description
Made with just three ingredients, this summer staple couldn't be simpler.
---
3

ounces

Aperol

3

ounces

chilled Prosecco
splash of sparkling water
slice of orange and twist of lemon, for garnish
---
Instructions
Fill a large wine glass with lots of ice. Pour in the Aperol, Prosecco, and sparkling water and stir well to combine.
Add an orange slice to the glass, then twist a piece of lemon peel over the top and drop it in. Cheers!
This post was originally published on July 9, 2021, and has since been updated.
Classic Aperol Spritz
Serves 1
The classic aperol spritz is a cocktail often enjoyed during the Italian aperitivo. Made with just 3 ingredients, it couldn't be simpler and is a true summer staple.
---
Ingredients
3 ounces aperol
3 ounces chilled prosecco
splash of sparkling water
slice of orange and twist of lemon, for garnish
---
Instructions
Fill a large wine glass with lots of ice. Pour in the aperol, prosecco, and sparkling water, and stir well to combine. Add an orange slice to the glass, then twist a piece of lemon peel over the top and drop it in. Cheers!