Truth be told, I haven't always loved peas. Maybe it's because I grew up on the canned version or maybe it's because I ate too much split pea soup in college. At any rate, the tables have turned. Whether they're freshly thawed, tossed into a lemony pasta, or served in aloo matar, peas are delicious. They're also versatile and family-friendly (my toddler loves this pea soup). If you aren't keen on peas, this artichoke and spring pea crostini recipe will change your mind. I promise. It's bursting with seasonal flavors and takes less than 15 minutes to make.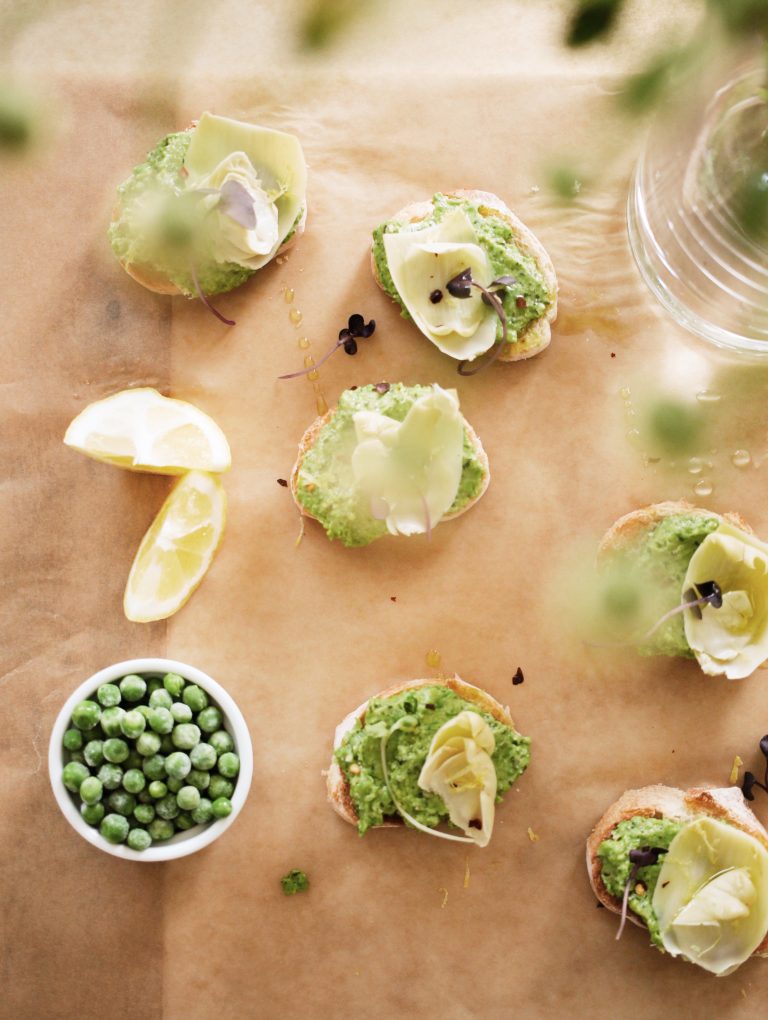 As the seasons change, I find myself reaching for new produce, different herbs, and alternative cooking methods. In the winter, that means roasted root veggies with thyme. In the spring, that means butter lettuce salads with strawberries and mint. Speaking of mint, these artichoke and spring pea crostinis are packed with fresh herbs—an ode to warmer weather and longer days. They represent all things light and simple and flavorful. 
This recipe was inspired by a print I recently bought on Etsy. Eventually, we'll frame and mount it, but for now, it sits idly on my desk (an added project for a slow weekend). No complaints, though—it's lovely and inviting, a far stretch from the rest of my desk clutter. Best of all, it often encourages me to make a nourishing, colorful lunch. The kind of meal that propels me through my afternoon to-dos. Anyway, the painted sugar snap peas piqued my interest, a gentle nudge to use the peas in our freezer.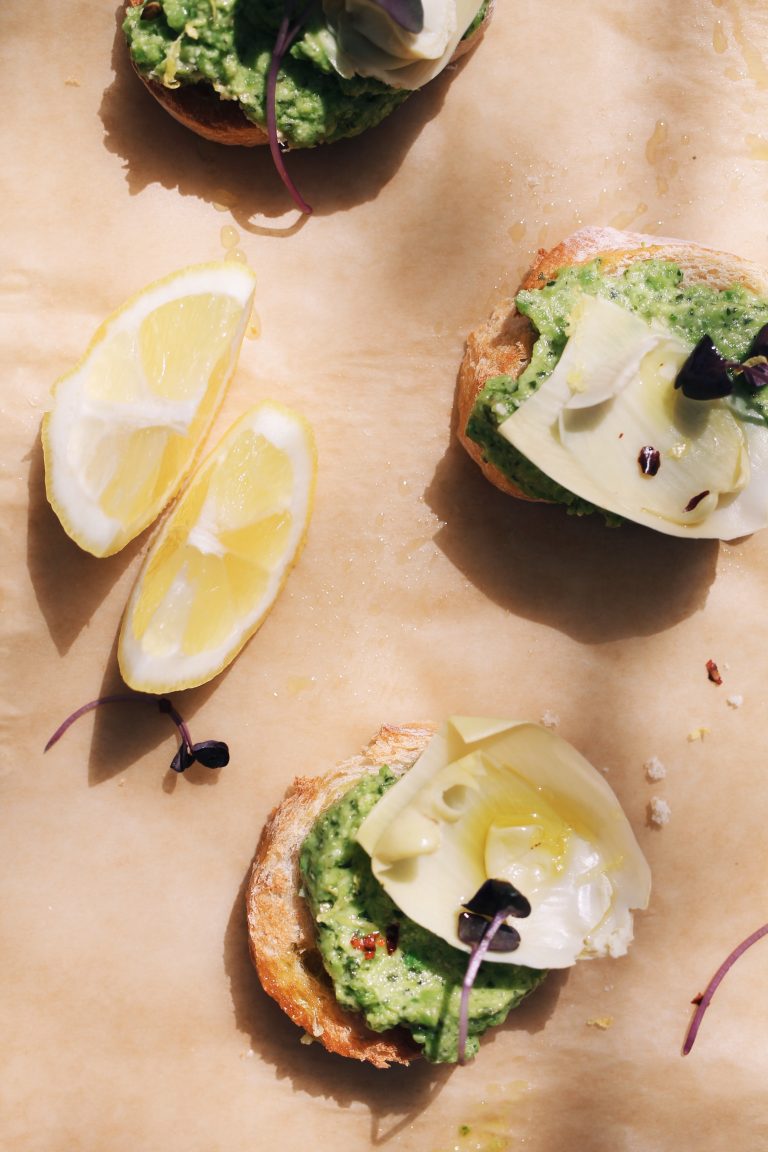 I adore many aspects of this recipe, but mainly how little time and equipment you need. Plus, if you have herbs growing on your windowsill, a lemon on your counter, and a bottle of olive oil in your pantry, you're halfway there. You can prep this recipe ahead of time, a throw-together appetizer for friends or a veg-heavy side with fish. And while I spread it on a sliced baguette, this kind of dip pairs well with crudites and up-levels any sandwich.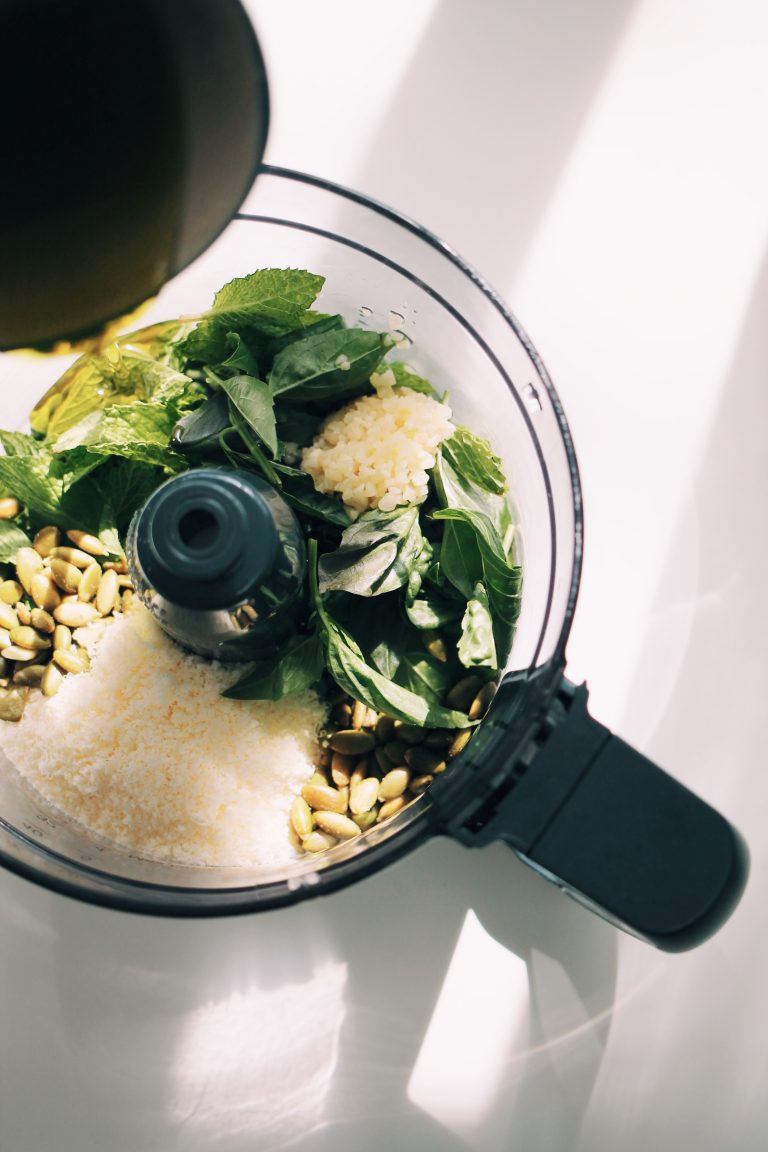 While traditional pesto calls for pine nuts, most nuts or seeds will do. I used raw pumpkin seeds, but roasted pumpkin seeds, raw cashews, walnuts, or even hemp seeds work. This pea pesto is naturally gluten-free, and you can easily make it vegan by swapping the parm for equal parts nutritional yeast (or Violife vegan parm). Pestos are also an easy way to use leftover kitchen scraps, like carrot tops. Ultimately, use what you have on hand. If you're out of olive oil, a neutral oil, like avocado oil, works as well. If you're all out of mint, double down on the basil. In other words, make it your own.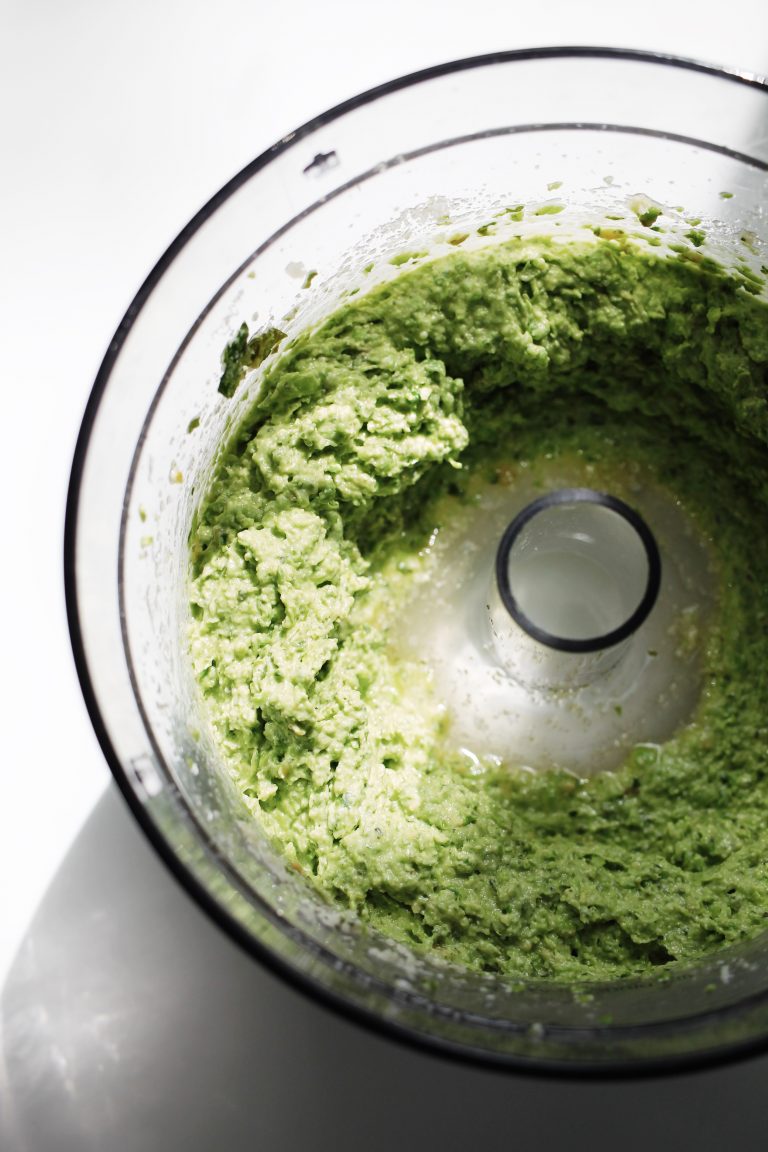 A few tips for making the pesto: if it's too thick, add cold water to your food processor. The cold water will help the herbs and peas retain their vibrant green color too. Add a small amount of water at a time. A little bit goes a long way. Also, don't be shy with the salt. Salt brings out the flavor, but the type matters. Rather than using standard table salt, I prefer pink Himalayan salt. In terms of the baguette you use, freshly-baked is best. I love a traditional French baguette, but a gluten-free baguette will also do the trick. 
Last but not least, each crostini is topped with a few artichoke leaves. I went the canned route, a much less laborious option than steaming them from scratch. Plus, the small, canned leaves work well on these baguette rounds. For added flavor, you can use artichokes in oil. They're rich and immensely satisfying. A few other toppings I love are lemon zest, red chili flakes, and when I'm feeling fancy—a few purple radish sprouts. Serve these at your next get-together, a celebration of spring, togetherness, and seasonal ingredients.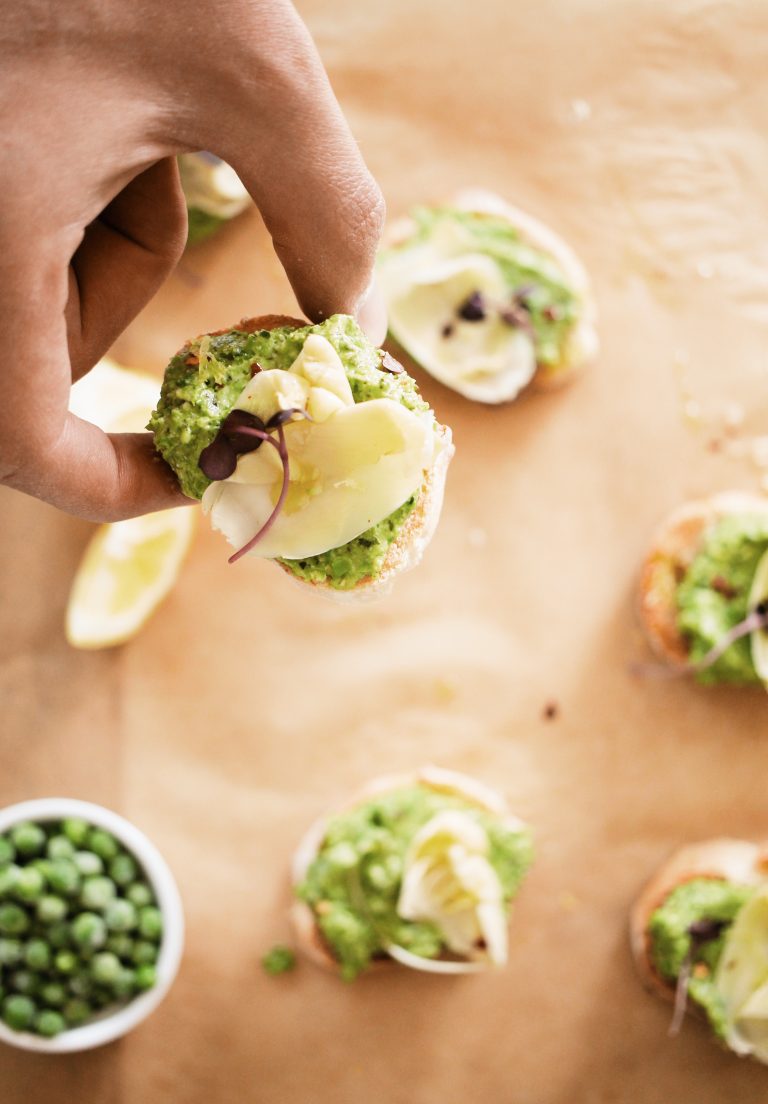 Loved this post? Pin this graphic to come back to it later.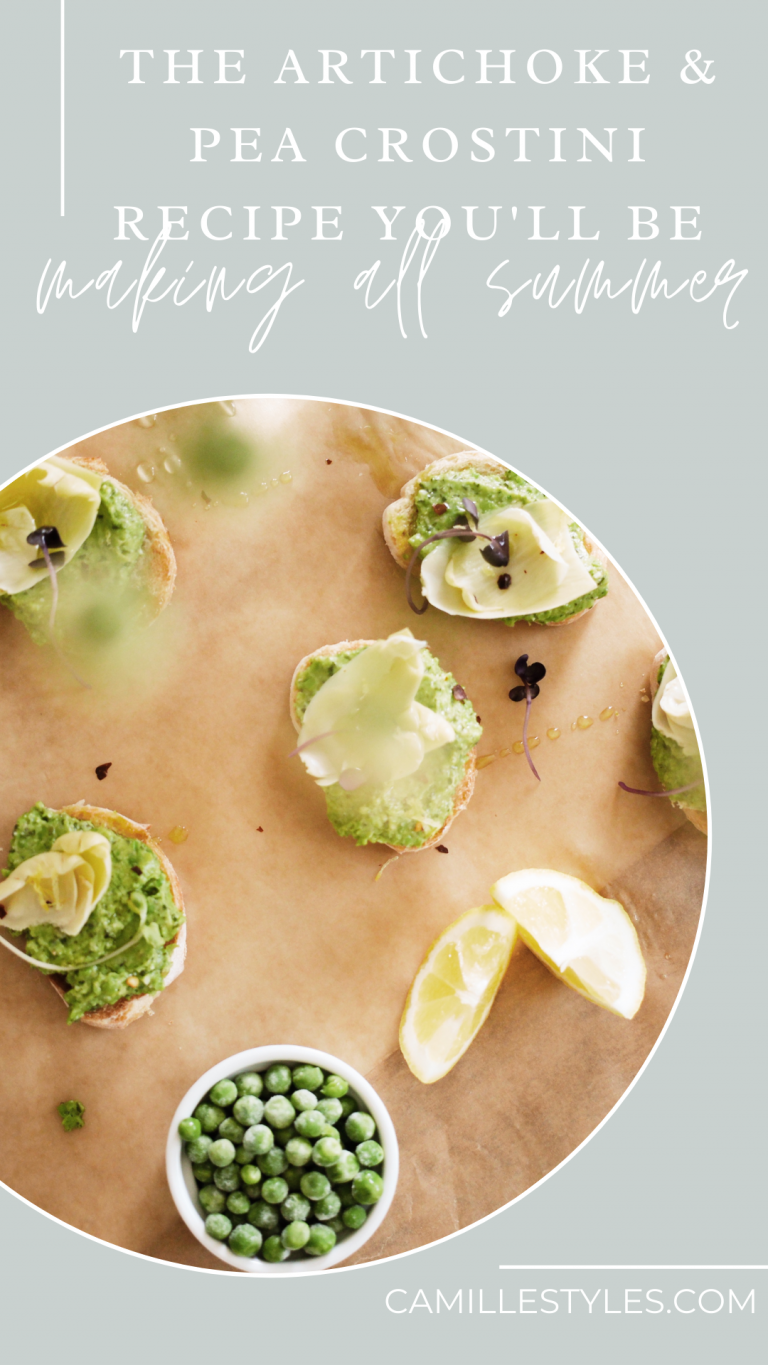 ---
Ingredients
for the crostini:
1 baguette (French baguette or gluten-free)

1 tablespoon extra-virgin olive oil
for the pea pesto:
¼ cup extra-virgin olive oil

1 cup frozen peas (I used organic petite peas)

½ cup grated parmesan cheese

½ cup fresh mint leaves

½ cup fresh basil leaves

2 tablespoons raw pumpkin seeds 

2 tablespoons lemon juice

1 tablespoon minced garlic 

sea salt to taste
to serve:
1 14-oz can of artichokes in water (I used quartered artichokes)
---
Instructions
Thaw peas in the microwave for 30 seconds.

Turn broiler on. Line a baking sheet with parchment paper.

Slice baguette into 1-inch rounds. Place sliced baguette on baking sheet.

Lightly drizzle each baguette with olive oil. Broil the baguette rounds for 1-2 minutes. 

Meanwhile, rinse and drain artichokes.

In a food processor, combine thawed peas, olive oil, parmesan cheese, mint leaves, basil leaves, pumpkin seeds, lemon juice, garlic, and sea salt.

Pulse until well-combined, but not overly smooth. Scrape down the sides as needed. Approximately 1-2 minutes. If the consistency is too thick, add 1-2 teaspoons of cold water.

Place toasted baguette on a serving platter. Spoon pesto on top.  

Place 2-3 artichoke leaves on each crostini.

Serve with lemon zest, red chili flakes, a drizzle of more olive oil, etc.! Enjoy immediately. Store any leftover pesto in the fridge for up to five days. Toss any leftover artichokes into a salad or pasta.