Today we're baking a warm, fresh-out-of-the-oven loaf of olive and rosemary focaccia. And I swear you'll be able to smell the warm, garlicky goodness through your screen. Focaccia is perfect for those of us who love the idea of baking bread at home, but find the whole idea of kneading and shaping and tending to a "mother" a bit intimidating. This recipe is a beginner-friendly way to ease yourself into the world of homemade bread, and it's so good that I might happily stay at the "focaccia phase" of my bread baking journey forever. So, let's dive into this easy no-knead focaccia since Thanksgiving is around the corner and I have a feeling you're going to want this on your table.
Speaking of Thanksgiving, I've got a Turkey Day pain point. As a firm believer in the idea that we "eat with our eyes first," I'm always a bit disappointed when I look at my plate and it's a monochromatic glob of turkey, mashed potatoes, stuffing, and the white roll doesn't usually help matters, though it might taste great. With this recipe, I wanted to reinvent the bread we usually see on the Thanksgiving table and bring in more vibrant colors, textures, and flavors.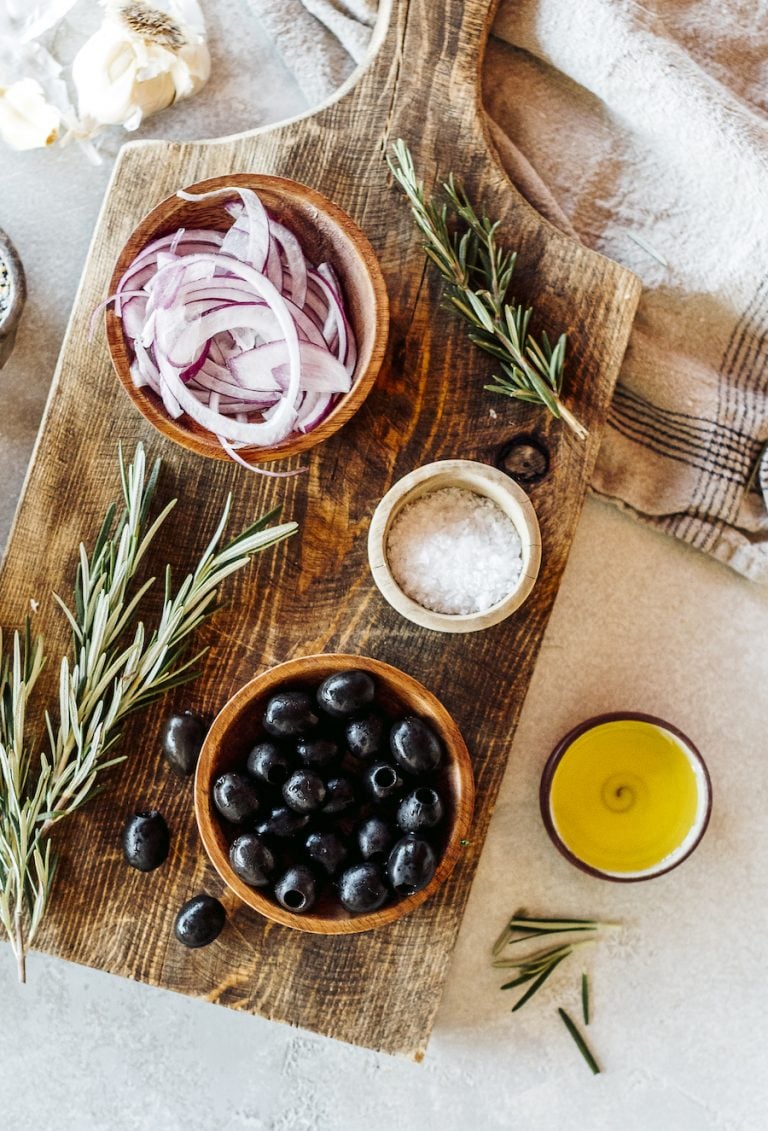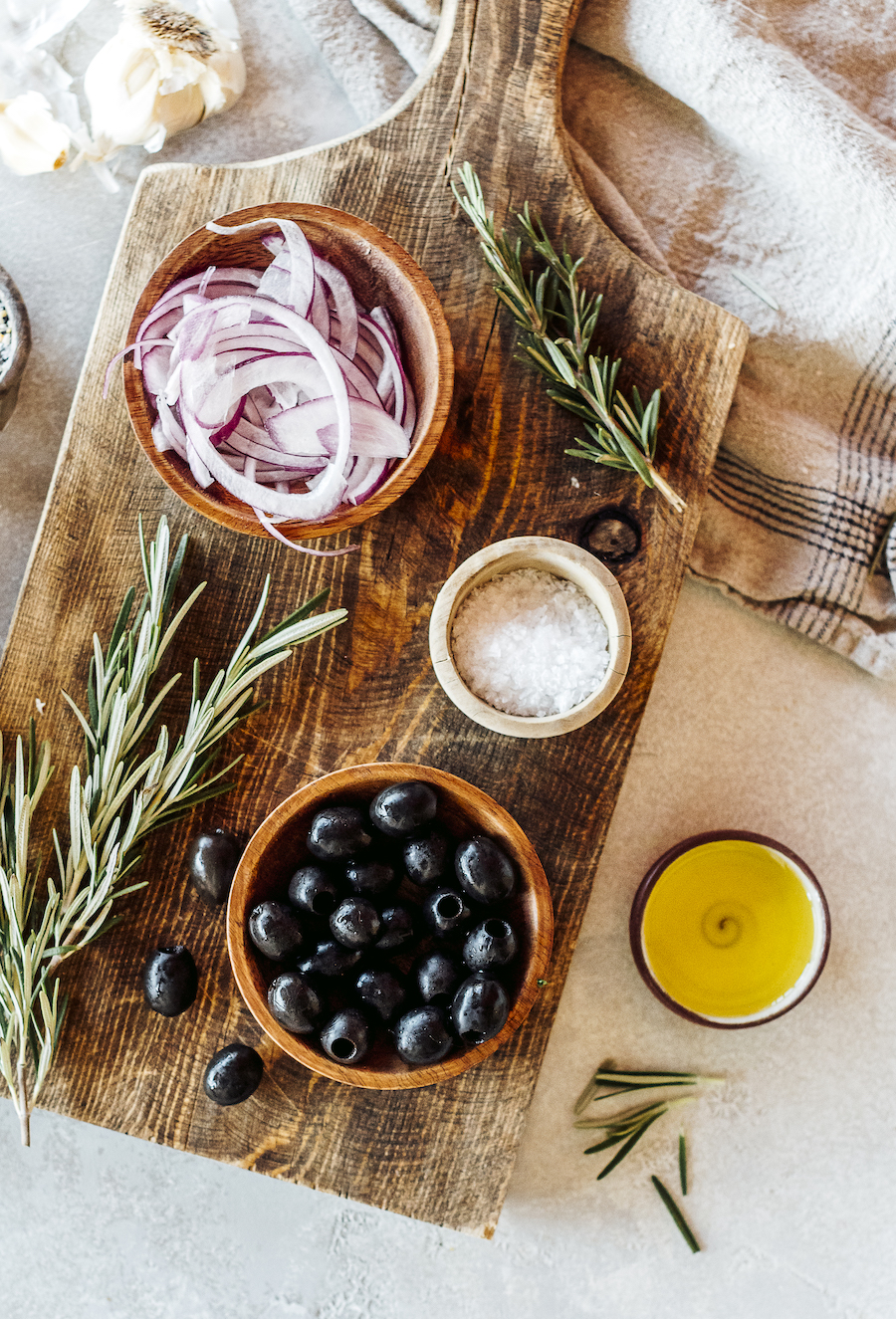 My easy no-knead focaccia is studded with rosemary, loads of garlic, everything spice, and California Ripe Olives, which are the most delicious, juicy, and rich olives I've ever eaten, grown by several multi-generational family farms on the Central California Coast. You can look for the CA Grown license plate logo to make sure you're getting the real deal.
Even though this recipe is easy, it's not a quick or shortcut version as it relies on two significant resting periods to allow the dough to rise and create those wonderful pockets of air focaccia is famous for. However, there's no kneading or rolling required—the dough is so pliable that when it's time, you simply use your hands to stretch and shape it to fit your baking sheet.
You can get pretty creative with your topping application, and this is a great activity for kids to join in on. Scatter the red onion, rosemary, everything spice, and California Ripe Olives over the top for a beautiful presentation that just might be the visual star of your Thanksgiving meal. If you have more olives leftover, I love to set them out with some almonds and seeded crackers for a simple appetizer spread before the meal, and I've also been using the olives in pasta, salads, and pizzas—I'm hooked!
Once you're happy with your topping design, pop the baking sheet in the oven, and 20 minutes later you'll be rewarded by warm, garlicky focaccia that's ready to be devoured.
Pro tip: drizzle a little more extra-virgin olive oil and sprinkle a big pinch of flaky sea salt over the top right before serving.
Scroll on for the recipe, and I'd love to hear in the comments if you give this a try. Tag us @camillestyles on Instagram so we can see your version! And be sure to hop on over to our 2021 Guide to Thanksgiving for lots more recipes perfect for your Thanksgiving table.
Prep
30 (plus min 6 hours of rising time) minutes
Categories
dairy-free, vegan, vegetarian
---
Ingredients
1 ¼-oz. envelope active dry yeast (about 2¼ tsp.)
2 tsp. honey
5 cups (625 g) all-purpose flour
1 tablespoon kosher salt
6 Tbsp. extra-virgin olive oil, divided, plus more for hands
1/2 cup California Ripe Olives, quartered
3 stems rosemary leaves
Red onion, thinly sliced
Everything seasoning
Flaky sea salt
6 garlic cloves, minced
Red pepper flakes
---
Instructions
Whisk yeast, honey, and 2 1/2 cups lukewarm water in medium bowl. Let sit for 5 min. It should start to get foamy.
Add flour and salt, and mix with rubber spatula until dough forms.
Pour olive oil into big bowl, then transfer dough to bowl and turn to coat. Cover with plastic wrap and chill for 8 hours (or let rise at room temp for 3-4 hours.) It should double in size.
Butter an 18x13" rimmed baking sheet. Pour 1 tablespoon olive oil into center. Keeping dough in bowl and using a fork, gather dough edges farthest from you and lift up and over in center of bowl. Turn and repeat 3 more times, forming into rough ball. Transfer dough to pan, and pour any leftover oil over dough and coat it. Let rise uncovered in a dry warm spot (like on top of a preheating oven) until doubled in size, at least 2 hours but no more than 4 hours.
Preheat oven to 450. To test if dough is ready, poke it with finger. It should spring back slowly (if it springs back quickly, it's not ready. Oil your hands and stretch dough to fill. Dimple with your fingers creating depressions in the dough.
Sprinkle rosemary, olives, red onion, chopped garlic, everything seasoning. Bake until puffed and golden brown, about 15 - 20 min.
When it's finished, drizzle with olive oil and flaky salt, slice and eat!