When it comes to Thanksgiving menu planning at the Avasthi household, my brother and I usually stick to a tried and true formula. We know what works and our shopping list looks about the same every single year. However, the one menu item that always seems to result in several groans and eye rolls is my suggestion of a fall salad recipe for the table. Yeah, I get it—is a salad really something that people look forward to on Thanksgiving? When you're comparing it to Thanksgiving sides like mashed potatoes and buttery rolls sitting next to it, probably not. But every year I insist on making a salad because personally, I like having something fresh and green on my plate surrounded by shades of beige. And every year, without fail, I'm basically the only person eating the salad.
So this year, as I start to plan out our Thanksgiving menu, I wanted to pull together a salad recipe that not only I would enjoy, but that would elicit a little more enthusiasm from my dinner companions at the table, too. Enter: all the delicious fall flavors with a bite of freshness that's the perfect addition to your Thanksgiving menu this year.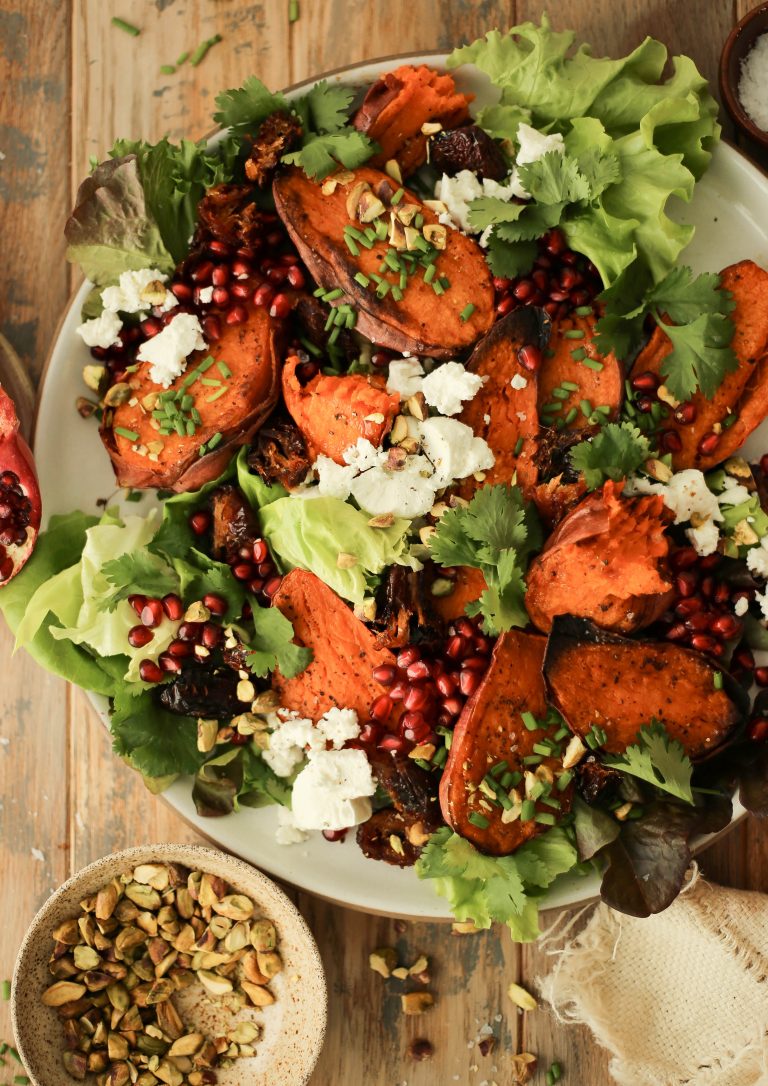 Sometimes, it's hard to get excited about a salad, so having a few standout ingredients that all complement each other is critical. No one wants just a plate of greens, especially at Thanksgiving. For this version, I used some classic fall ingredients and elevated them through interesting preparation.
The star here is the sweet potatoes, obviously. The bonus is that you can then use this as both the salad and the sweet potato dish on your table. I used the smallest sweet potatoes I could find at the store, small enough that they fit into the palm of my hand. Getting them nice and tender in the oven with a little char elevated their sweet flavor, and made this salad feel a more decadent.
The other star here is the dates. Now, I have gone on record in the past to claim that I hate dates. I'm still not the biggest fan, but I have found when prepared in a certain way and paired with other ingredients, I can in fact get behind them. Caramelizing the dates in the oven with some olive oil and balsamic makes them nice and chewy with a really great flavor that works well with the sweet potatoes in this salad. It adds a nice textural component to the salad and feels special for the holiday occasion.
The other ingredients in this salad bring the fall feels: pomegranate seeds, crunchy pistachios, and creamy chunks of goat cheese. But what I really love is the big tears of cilantro. I love the freshness that they bring to this salad paired with the rest of the ingredients. I wouldn't be opposed to skipping the lettuce altogether and just adding a whole bunch of cilantro to the plate for serving. Add a zingy dressing and you have a delicious plate of freshness to add to the holiday spread.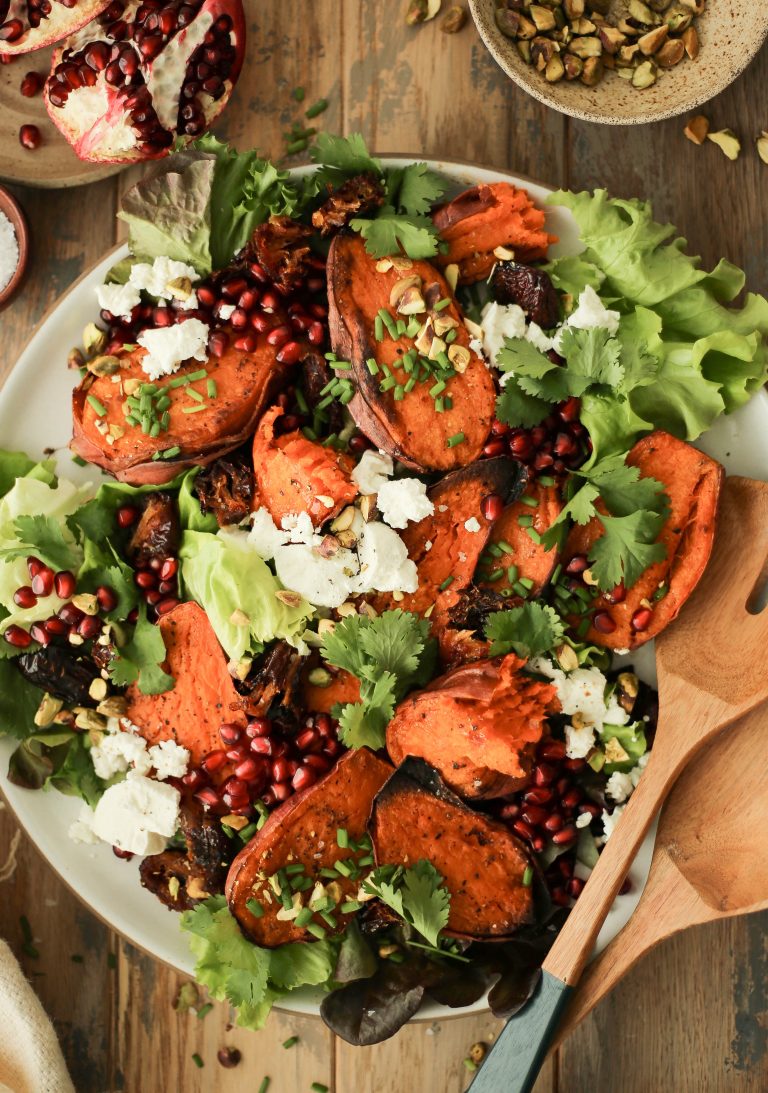 You can absolutely customize this salad as you like. If serving for dinner on a weeknight, I think some avocado would be great, even some apple slices for extra sweetness during the season. Switch out the greens with what you have on hand, and use your favorite dressings. Any way you serve it, this salad will be a fresh and delicious addition to your autumn dinner table.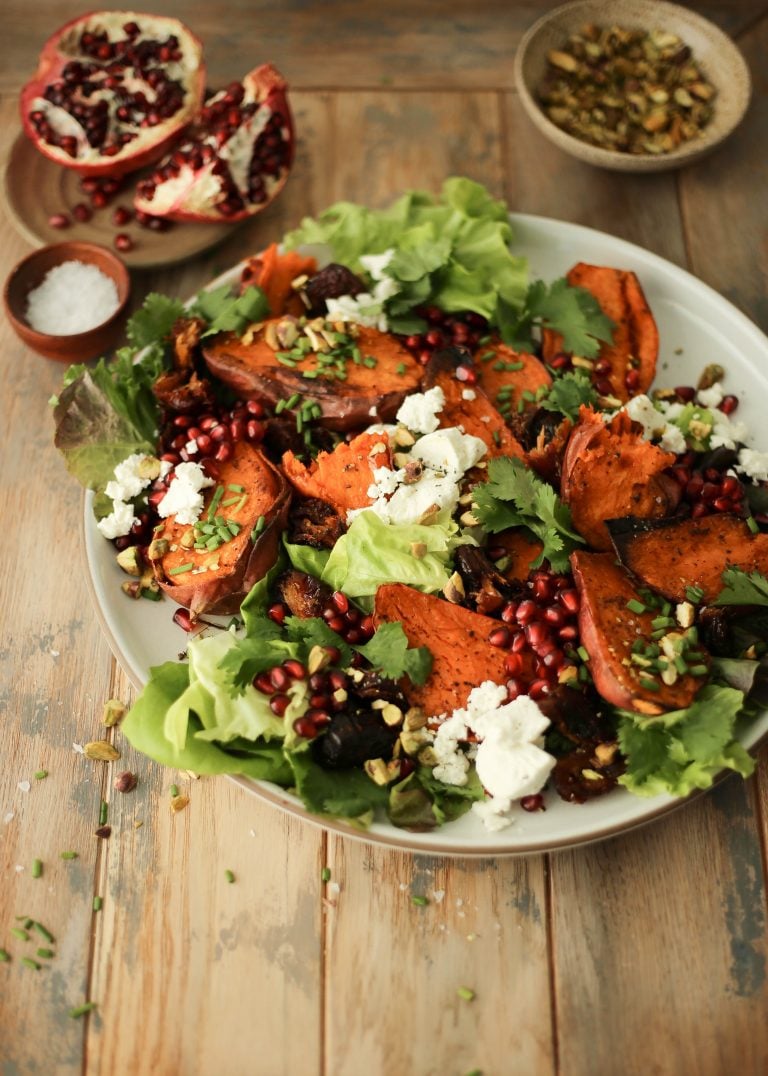 ---
Ingredients
4 - 5 small sweet potatoes, halved
a couple tbsp olive oil
salt and pepper
7 - 8 pitted dates
1 tbsp olive oil
1 tbsp balsamic vinegar
pinch of dried thyme
salt and pepper to taste
greens of choice
1/2 seeded pomegranate
4oz goat cheese
1/4 cup chopped roasted pistachios
chopped chives
chopped cilantro
salt and pepper to taste
for the dressing: 2-3 tbsp olive oil, 1 tbsp apple cider vinegar, squeeze of lemon juice, 3/4 tbsp honey, chili powder, salt and pepper to taste (this is just my basic dressing recipe, feel free to adjust to your own tastes!)
---
Instructions
Prepare the sweet potatoes. Preheat oven to 425 degrees F. Cut sweet potatoes in half and drizzle halved sweet potatoes with olive oil, salt, and pepper and place cut side down onto a baking sheet. Bake for 30 minutes, then flip cut side up and bake for an additional 25 - 30 minutes until fork tender and slightly charred.
Prepare the dates in the last 20 minutes of bake time for the potatoes. While the sweet potatoes finish baking, place dates onto another sheet tray and drizzle with olive oil, balsamic, pinch of dried thyme, salt and pepper. Bake for about 15 minutes until tender.
Remove potatoes and dates from the oven and set aside to cool, then assemble the salad.
To assemble the salad, arrange everything on a large serving plate.
Make the dressing. In a mason jar, add the olive oil, apple cider vinegar, lemon juice, honey, chili powder, salt and pepper. Shake until combined. Dress salad when ready to serve.
Enjoy!