I'll take chocolate in any form I can get it, but there's nothing like a fudgy, warm, melt-in-your-mouth brownie. I'm a firm believer that brownies should be enjoyed by everyone, and we've finally landed on a gluten-free dairy-free brownie recipe that's just as delicious as the real thing. While these rich, gooey treats are delicious any time of year, my brownie cravings always hit at the start of summer.
Growing up in Texas, long days at the lake always ended around a table with good food and of course, dessert. One whiff of gluten-free dairy-free brownies emerging from the oven and I'm back at age 12, lightly sunburned, freckles popping, with hair still wet from the water. The image is crystal-clear: me biting into a warm, rich brownie at the end of a delicious meal. Is there anything better?
With just a few swaps, these brownies are easy to make and undetectably gluten and dairy-free. Just be sure to let them cool before diving into the pan, because once you've had one bite, there's no turning back!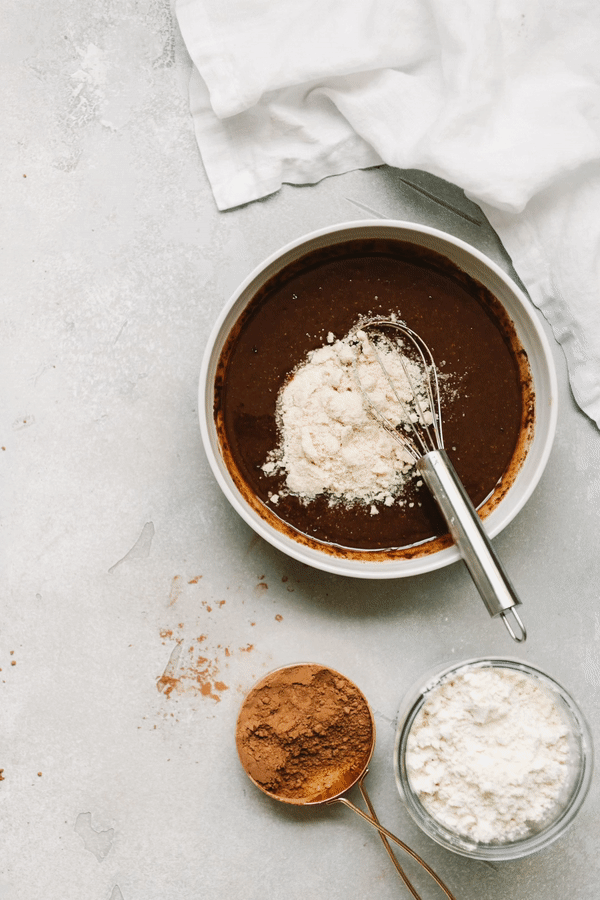 What can I use to substitute the flour and eggs in brownies?
Now that we're in the golden age of gluten-free baking, we've got endless options when it comes to flour substitutions. After testing this gluten-free dairy-free brownie recipe, I've landed on a mixture of oat flour and almond flour to yield the perfect brownie that's moist in texture and rich in flavor. To make this recipe vegan, a mix of ground flaxseeds and water serve as the ideal egg replacement. They hold these brownies together beautifully, and for the uninitiated, flax eggs can be a great egg substitute in all baking! (Plus, they get bonus points for adding healthy fiber to your baked goods.)
Help! My gluten-free brownies always turn out crumbly.
I'll admit, the biggest challenge in developing this gluten-free dairy-free brownie recipe was figuring out how to make the brownies hold together. I made batches of brownies that were off-the-charts good in flavor, but they would crumble at every bite. The fix? Use less flour and add another key ingredient: almond butter. Both the flax egg and almond butter work together as binding agents in this recipe, and the mixture of oat and almond flours helps balance out the texture of these brownies as well.
Tips for making this gluten-free, dairy-free brownie recipe:
These brownies are rich, fudgy, and super easy to make with just a few ingredients and one bowl. Here are my tips for making the best gluten-free dairy-free brownie recipe ever:
Substitute cane sugar for coconut sugar. This is key if you want to make this recipe refined-sugar free. I've used coconut sugar and they're just as delicious.
Be patient! Let your brownies cool for at least 30 minutes before lifting them out of the pan or cutting. I know it's hard, but you can do it!
Powdered sugar is the real MVP. If you do happen to dive in too quick (like I did!) there's nothing like powdered sugar or icing to cover up your mistakes.
Sprinkle with chocolate chips before baking. Save a few chocolate chips to sprinkle across the top of the batter before you put these in the oven. You'll get that gooey, melted look when you cut into the brownies.
Flakey salt adds major flavor. Sprinkle a little on the brownies before baking for a flavor boost.
Keep 'em thick. In this recipe, an 8×8 pan is ideal.
I hope you enjoy these brownies as much as we did—and if you have a favorite gluten-free dairy-free dessert, no gatekeeping! Share in the comments below.
Categories
dairy-free, gluten-free
---
Ingredients
1/2 cup oat flour
1/4 cup almond flour
1 tsp baking powder
1/4 tsp sea salt
1/3 cup cocoa powder
2/3 cup cane sugar (or coconut sugar)
1/3 cup maple syrup
1/4 cup almond butter
2 flax eggs (2 Tbs ground flaxseed or flaxseed meal mixed with 5 Tbs water)
1/4 cup dairy-free milk
1/2 cup melted vegan butter
1/2 cup vegan chocolate chips
1 tsp vanilla extract
---
Instructions
Preheat your oven to 350 degrees. Line a 8x8" baking pan with parchment paper, then spray with nonstick spray.
In a small bowl, mix 2 Tbs ground flaxseeds with 5 Tbs water and refrigerate for 5 minutes to create your flax eggs.
In a large mixing bowl, mix the melted vegan butter, maple syrup, almond butter, dairy-free milk, and vanilla extract.
Add in the flax eggs and sugar and mix.
Add oat flour, almond flour, cocoa powder, baking powder, and salt and mix well until fully combined.
Mix in chocolate chips until evenly distributed throughout. Option to sprinkle flakey salt on top.
Transfer mixture to prepared pan, and spread top evenly. Bake for 20 minutes, or until a knife inserted in center comes out dry (a few crumbs sticking to it is good, you just don't want it to be wet.)
Let brownies cool for at least 30 minutes before cutting. Once cooled, lift brownies out of pan using parchment paper and cut them into 9 squares. It will be tough, but be patient! Eat warm or at room temp.