I'm not one to define how I eat. Yes, I've tried keto, I've dabbled with going gluten-free, and had a Whole-30 kick one fateful January (haven't we all?). But inevitably, I eventually return to how I've always eaten—mostly veggies, animal proteins here and there, and the occasional treat when the craving inevitably strikes. In other words, when it comes to my everyday meals, I trust my intuition to lead the way. It's something I love most about eating plant-based: It's a philosophy that emphasizes vegetables, grains, and pulses, crowding out meat and processed foods. But I have to admit, comfort-friendly pasta dishes will always have my heart (slice me up a square of multi-layered lasagna, and I'm yours forever). When nothing else satisfies, ground meat substitutes are the way to go.
Don't worry, if you're a committed carnivore, I understand the hesitation. With an appetite for authenticity, it can seem like no vegetarian swap will ever come close to the real deal. To help me present a convincing argument, I tapped CS Food Editor and recipe creator extraordinaire, Suruchi Avasthi to break down the best ground meat substitutes. She covers everything from how to make your mushrooms taste extra rich to ensuring your tofu is full of flavor. Time to indulge in the meatless magic—take it away Suruchi!
Feature image by Suruchi Avasthi.
The Best Ground Meat Substitutes for Making Any Dish (Deliciously) Vegan and Vegetarian-Friendly
Tofu
Tofu is one of my favorite ground meat substitutes. It's packed with protein and beautifully takes on the flavors of anything you cook with it. Most people don't like tofu because they remember either bland or poorly-textured takes and versions. You can solve this easily with a few key cooking tips and tricks.
How to Cook Tofu
Follow these steps to ensure your tofu is full of flavor. Because tofu is a blank canvas, it does a great job of soaking up the flavors you incorporate. Trust me, you'll never call it bland again.
Press out as much liquid as possible. This is key for really nailing the texture. I normally go for the extra-firm varieties and press it between kitchen towels with a very heavy pot for at least an hour, if not more. This ensures as much liquid as possible has been removed. You can also buy pre-pressed versions that crisp up nicely.
Marinate overnight. Once your tofu is pressed, I marinate it in super-flavorful sauces (think: soy sauces, sesame oils, hot sauces, or anything your heart desires!) in an airtight container. Do this for at least an hour or overnight.
Crumble your tofu. When I bake tofu, I prefer crumbling it with my hands by tearing it into large chunks. This allows little pockets of texture to form from torn ends rather than sliced straight edges (though those are delicious, too!).
Slice thinly. If you're going to slice tofu, I slice a little on the thinner side. I lay my tofu on an unlined baking sheet with a little oil and plenty of space between slices so they can get extra crispy.
Pat dry. For stovetop searing, make sure you pat the tofu dry and sear in fat to give your edges a delicious texture.
How to Serve Tofu
Try kitchen-sink style. Think quinoa bowls, rice bowls, noodle bowls, etc. Anything where all the other toppings are about the same size as cubed tofu.
Slide into a sandwich. Baked tofu slices work really well here!
Swap out for tempeh. If you want to change things up, but are still craving a satisfying, plant-based option, tempeh's a great choice. I'll use tempeh in similar situations where I use tofu. It also works nicely as crumbles instead of slices, i.e., making it one of the best ground meat substitutes. Crumble it up and bake your tempeh in the oven or sauté on the stove.
Recipe: Tofu Tacos from Well Plated By Erin
Mushrooms
Mushrooms are my favorite of the ground meat substitutes—scratch that, they're my favorite meat replacement, hands down. Their texture has a bit of chew while the savory umami flavors add heartiness to any dish you use them in. I use mushrooms in place of meat in almost every pasta dish (from spaghetti to ravioli to lasagna). But regardless of use, I prep most mushrooms the same way.
How to Cook Mushrooms
Never wash mushrooms in water! Mushrooms are like sponges and will soak up the water you rinse them in, making them soggy. Instead, wet a paper or kitchen towel and wipe off any dirt. From there, slice up the mushrooms as you like.
Prep mushrooms to fit your dish. For linguini, I slice mushrooms into longer pieces. But if I'm making a lasagna or bolognese-type sauce, I'll mince up the mushrooms a bit more.
Pair plenty of oil with a large pan. Use a good glug of oil plus a larger pan than you think you need. This gives your mushrooms plenty of room to get golden brown instead of crowding your pan and steaming.
How to Serve Mushrooms
Swap in soy sauce in lieu of salt. The savory, umami flavor of the soy sauce pairs beautifully with mushrooms.
Toss and go. It's as simple as that! Once your mushrooms are prepped to your liking, incorporate them into your sauce or over your pasta.
Try 'em with (a lot) of cheese. This recipe for four-cheese lasagna is one of the best ways to enjoy mushrooms' meaty flavor and texture. Fresh herbs, creamy cheeses, and a dotting of mushrooms. Is there anything better?
Recipe: 4 Cheese and Mushroom Rolled Lasagna from The Modern Proper
Beans
Nearly all varieties of beans (chickpeas, black beans, cannellini, etc.) all do a tasty job of adding protein and heft to dishes like stews, soups, and chilis.
How to Cook Beans
Start with dried beans. Dried beans will always beat out any and all canned options. Yes, they take more time to prep, but you'll get a better texture and flavor.
Soak your beans. Fill an extra-large mixing bowl with dried beans and cover with double the amount of water. Let soak overnight, drain, and rinse.
Taste as you go. Sometimes, I find that dried beans, even after soaking, take a little more time to cook. Be sure to taste throughout to make sure you get a cooked-through texture.
Using canned beans? Be sure to rinse! For canned beans, when I'm making chilis or stew (like Camille's Vegetarian Black Bean & Sweet Potato Chili that I make all the time), I rinse my beans and add them to the recipe later in the cooking process so they don't get too soft.
How to Serve Beans
Switch up your beans. For most recipes, you can almost always use different types of beans interchangeably. For the sweet potato chili mentioned above, if I don't have black beans on hand, I'll use chickpeas, white, or kidney beans. A convenient swap that doesn't impact the flavor of the dish.
The options are endless. While beans fully deserve their place on this list of the best ground meat substitutes, I'll also mash 'em up a bit and serve them on toast and in sandwiches to replace tuna or chicken salads. It's your adventure—proceed as you'd like.
Recipe: Feta Salad With White Beans and Lemon Relish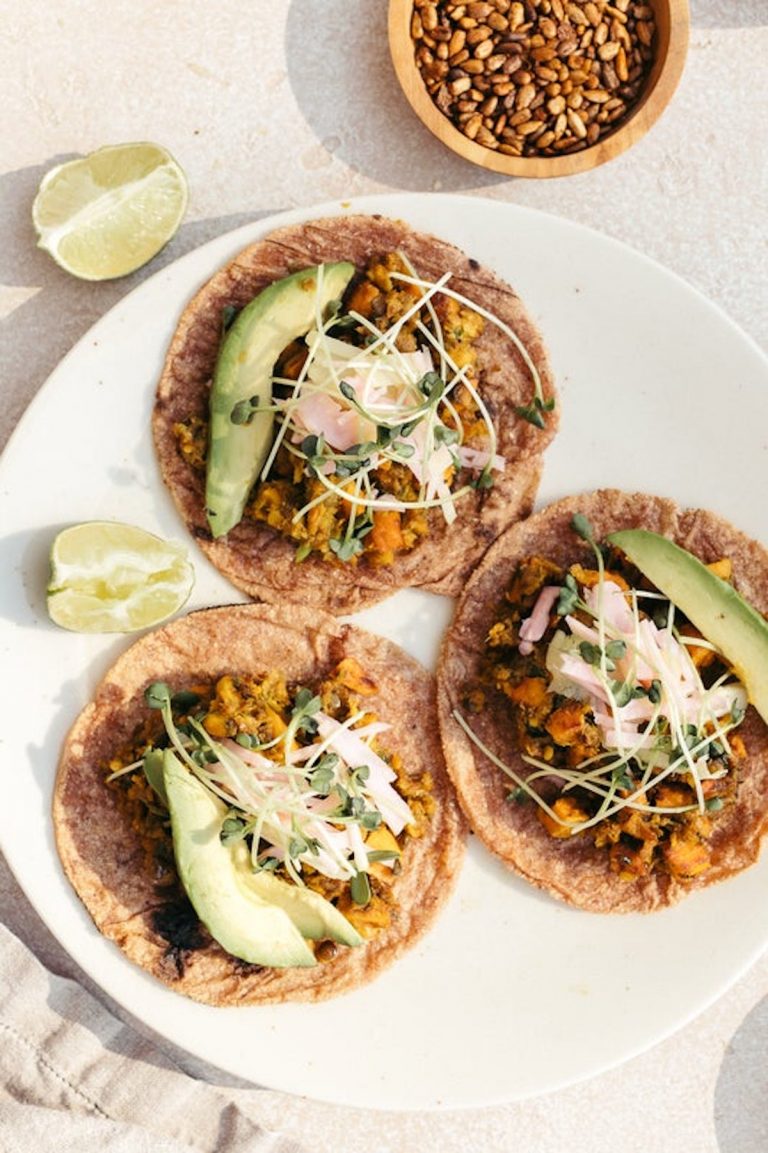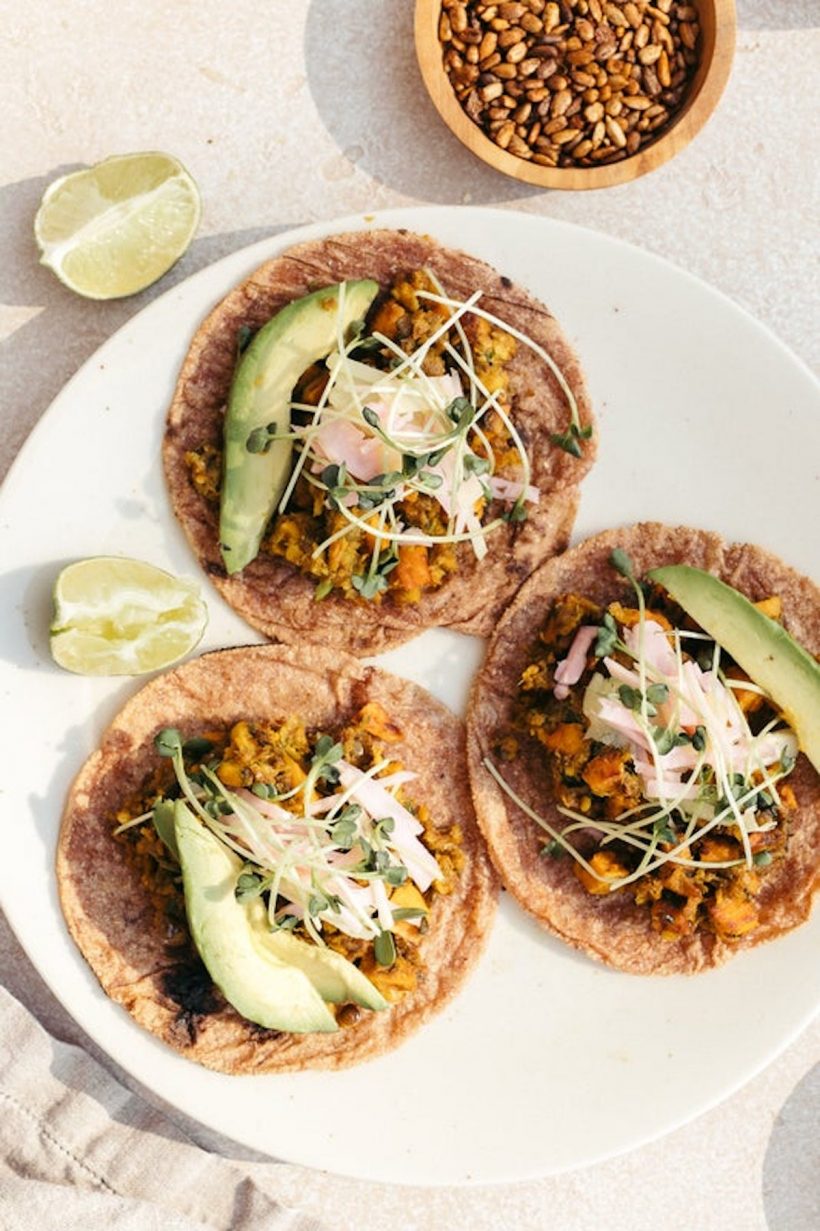 Alternative Meats
To be honest, even as a vegetarian, I rarely purchase alternative meat brands. If I'm going to a barbecue, I'll bring along a pack of Impossible Meat, but for home cooking, I prefer using real plants to add heft to my dishes. I have, however, tried the gamut of alternative meat items out there and have discovered a few go-to's that stack up against my plant-based favorites.
Plant Boss
I discovered Plant Boss last year during the holidays (I used it in a stuffed butternut squash that was absolutely divine). I'm in love with the texture, and to me, Plant Boss is the real deal when it comes to ground meat alternatives.
The crumbles are soy-free, gluten-free, and vegan, and they take on the flavors they cook with while getting a really nice texture. This has been my go-to for making plant-based bolognese. Oh, and tacos of course!
---
Try: Plant Boss All-Purpose Plant Crumbles
Jenny's Tofu
Meet the top-tier of tofu. The texture is incredible and the flavor is unbeatable—yes, even for those who claim to hate tofu. Jenny's is so good that I've been known to eat baked slices as a snack on their own. The tofu also works well crumbled on top of salads and bowls.
---
Try: Baked Turmeric Tofu
The Jackfruit Company
To be honest, I never prep jackfruit from scratch, and once I discovered The Jackfruit Company, it was confirmed I never would. I discovered The Jackfruit Company last year while in a recipe rut with my family. We picked up their BBQ variety to make vegetarian pulled pork sandwiches and were blown away. The texture is meaty and the flavors are incredible. This is a great alternative for sandwiches, tacos, and currys.
---
Try: The Jackfruit Company BBQ Jackfruit
The Herbivorous Butcher
If you've heard of The Herbivorous Butcher before, you're likely a plant-based die-hard. They're based out of Minneapolis, but ship across the country, and having been a Minneapolis local myself, I got to discover the magic first-hand. All of their incredible meat alternative products are a treat, but my favorite is their breakfast sausage. I haven't found one that matches their version's texture and spice. It's tasty in breakfast scrambles and the perfect way to start your day.
---
Try: The Herbivorous Butcher Breakfast Sausage