I'm a self-diagnosed pasta addict, but sometimes a hot, saucy, Italian-inspired pasta dish is just too much for a balmy, humid summer lunch or dinner. The solution? Healthy pasta salad recipes. Pasta salad is light, fresh, and totally equipped to curb my cravings. And since it has the word salad in it, all the better, right? The best part is that there are so many ways to create different healthy pasta salad recipes.
You can somehow mix any veggies you have in the fridge with that box of pasta that was hiding in the back of the pantry, toss with a vinaigrette, and voilà. Dinner, a BBQ side, tomorrow's lunch, or a midnight snack is served. Because while we may be counting down to the cozy season to come, the time for pasta is now… or always.
Feature image by Suruchi Avasthi.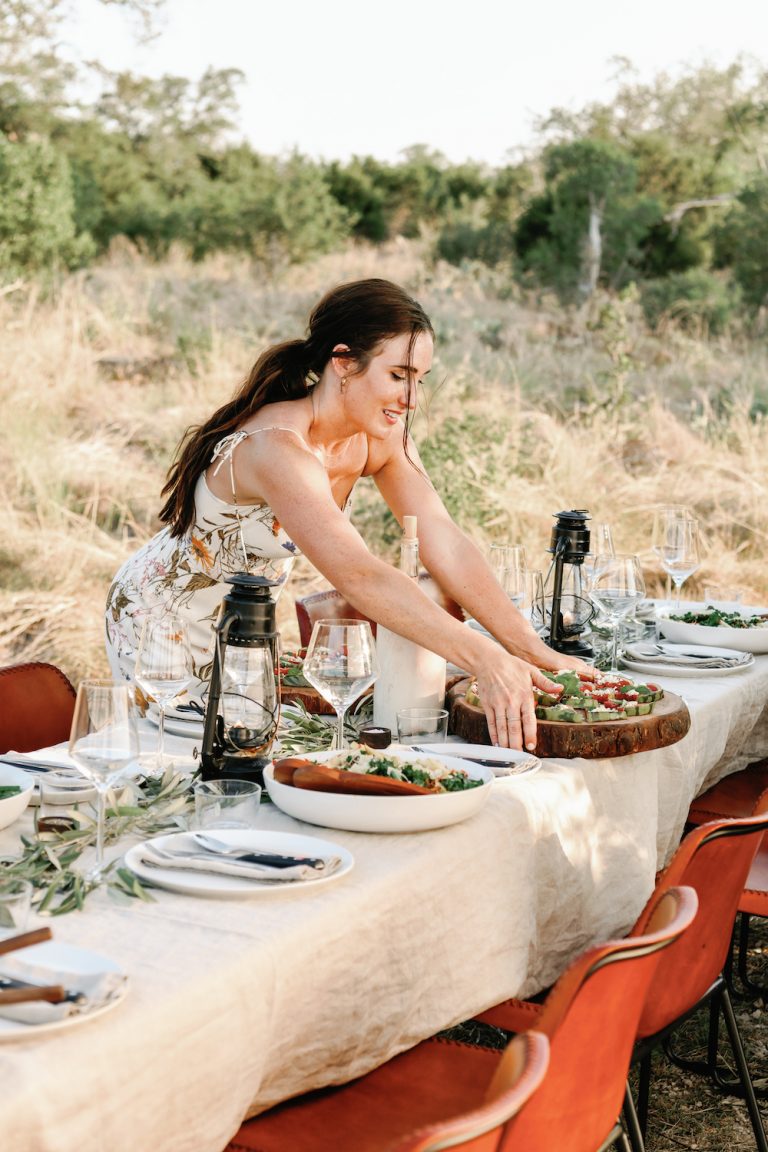 While I usually stick to following recipes when I cook, I appreciate those that allow flexibility, and pretty much every pasta salad recipe does just that. Can't eat gluten? Swap the noodles for a gluten-free alternative. No dairy? Skip the cheese or follow a dairy-free dressing recipe. Vegetarian? Easy, just leave out the meat without sacrificing taste. The best part is that most pasta salads can be made in advance, even the day before, which can minimize the stress of hosting guests. On top of that, they taste good at literally any temperature.
Moral of the story is: whether it's too hot to turn on the oven, you have groceries you need to use up, or you're looking for something to bring to your next potluck event, healthy pasta salad recipes are always a good solution. 
13 Healthy Pasta Salad Recipes for Any Occasion
Why We Love It: Recipe creator and Camille Styles wellness editor, Edie Horstman notes that "this time of year, the basil, chives, and arugula are thriving. Along with a few pantry staples and farmers' market produce, this recipe came to be. It's hearty and flavorful, the kind of pasta salad you always want on hand. It's easy to make, highlights seasonal ingredients, and tastes deliciously wholesome." 
Hero Ingredient: Edamame. It adds a delicious crunch and is packed with protein.
Why We Love It: Fresh, clean, and free of mayo, this pasta salad has been called "summer in a bowl." Toss it with all the fresh herbs, veggies, and the to-die-for lemon tahini dressing, and you have the perfect summer meal or side. Says Suruchi Avasthi, this recipe is "just as good tossed fresh in your kitchen as it is packed up in Tupperware."
Hero Ingredient: Cucumbers. The perfect crunch and burst of freshness.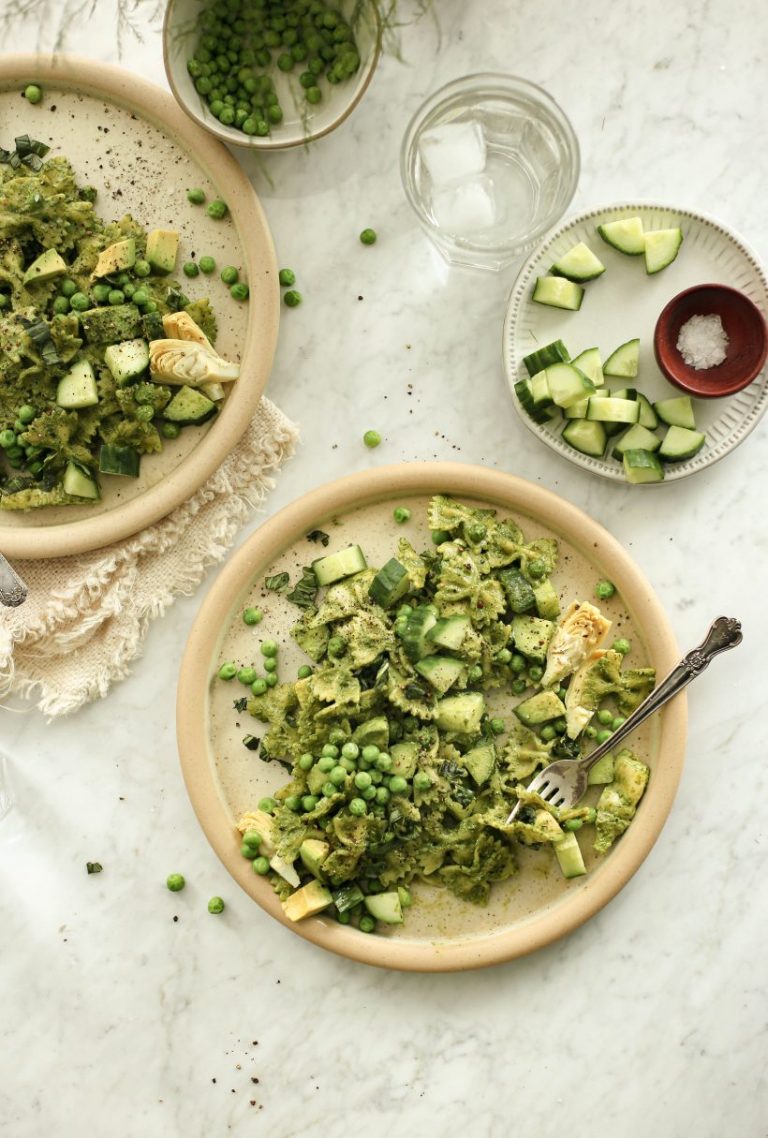 Why We Love It: This vegan green goddess pasta salad is what dreams are made of. It's chock full of veggie goodness that will have you glowing from the inside out. If you're looking for ways to incorporate more vegetables into your diet without knocking back green salad after green salad, this pasta variety is your answer. Fresh veggies like cucumbers, peas, and artichokes are enhanced by creamy tahini and avocado, which helps keep this light yet indulgent.
Hero Ingredient: Apple cider vinegar introduces an acidic profile that makes this pasta salad's flavor unbelievably dynamic.
Why We Love It: This pesto pasta salad recipe is dairy-free and delicious. It's one of those dishes that tastes just as good right out of the fridge, at room temperature an hour later, or the following day. I love the crunch from the crispy bacon and the flavor from the fresh dill. It all just comes together perfectly. 
Hero Ingredient: Pesto. It just tastes fresh.
Why We Love It: When it comes to healthy pasta salad recipes, this one is simply picnic-perfect. It's exactly what comes to mind when you think of pasta salad, and there's always something about classic flavors that are hard to beat. All there is to do is cook your pasta of choice, mix up the dressing, and toss in the veggies. No stress, but tons of yumminess. 
Hero Ingredient: Summer cherry tomatoes for the explosion of flavor with each bite.
Why We Love It: This recipe had me at goat cheese, and sold me at "comes together in minutes." The goat cheese replaces mayo, but mixes perfectly with the vinaigrette to give this healthy pasta salad recipe the perfect creamy texture. Plus, the white beans are an excellent vegetarian source of protein.
Hero Ingredient: Goat cheese for that delicious tang and a hint of creaminess.
Why We Love It: This healthy pasta salad recipe is a perfect example of how you can make any pasta salad work with your diet. Using cassava pasta or any gluten-free noodle and a homemade dressing is super simple, yet can make all the difference. I specifically love this salad as it has all the flavor of a traditional Italian chopped salad, but stays fresh longer.
Hero Ingredient: The homemade Creamy Italian Dressing. Definitely make extra to save for dipping raw veggies.
Why We Love It: This is my ultimate Italian night meal wrapped into one healthy pasta salad recipe. It uses a homemade, gluten and dairy free caesar dressing, and GF pasta, which is always a plus when you're serving a crowd that might have dietary restrictions. One tip that's crucial to this recipe is to put the dressing on right before serving, since this pasta salad still has lettuce in it that can wilt.
Hero Ingredient: It's never wrong to say bacon.
Why We Love It: I'm a firm believer that recipes with spicy peanut sauce are bound to be delicious, and this soba noodle salad is no exception. It's a pasta salad that's not exactly a pasta salad, but is packed full of veggies, fiber, and tastes delicious cold or at room temperature. This recipe also serves eight, so it's perfect to make at the beginning of the week and eat for lunch at the office, or to make ahead for guests. 
Hero Ingredient: Soba noodles! For being naturally gluten-free with a chewy texture you can't beat.
Why We Love It: Zesty and peppery, this is definitely one of my favorite healthy pasta salad recipes… which may or may not have to do with the scoop of burrata on top. This salad is super simple, and pairs well with a wide variety of meals, although it's a great lunch entrée as well.
Hero Ingredient: The burrata—it steals the show.
Why We Love It: This pasta salad recipe is the Mexican-Italian fusion I didn't know I needed. It's creamy and refreshing, but also has the perfect amount of spice, like all good taco seasonings. Try this recipe the next time you're craving tacos and either want to skip out on the meat or just want to shake things up a bit.
Hero Ingredient: Spicy chipotle-lime Greek yogurt dressing. It has the perfect kick to it and sets this recipe apart.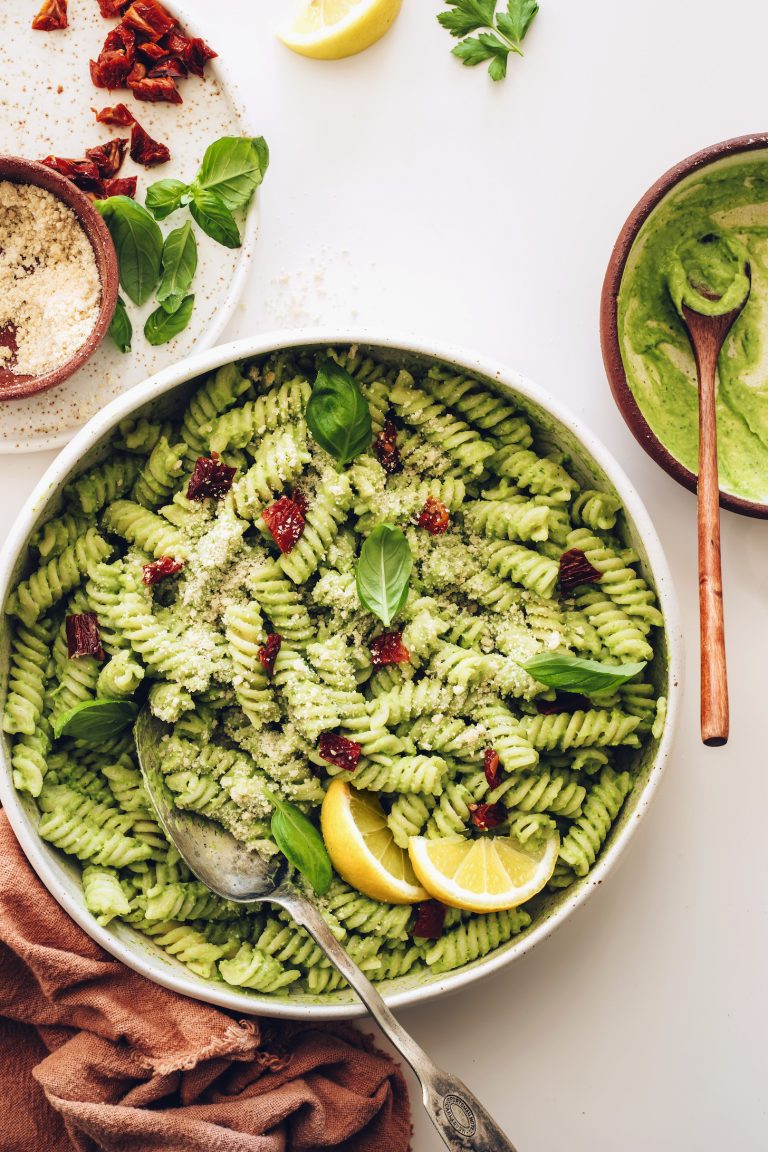 Why We Love It: Just ten key ingredients come together in about 20 minutes for a pasta salad that's perfect in every way. Herbs like parsley, basil, and chives shine through in that dreamy avocado pesto that keeps things fresh, light, and vibrant. To top it all off? Sweet-tart sun-dried tomatoes and vegan parm. Yum.
Hero Ingredient: The avocado pesto is to die for. If you're feeling adventurous, make a little extra for easy pasta eating all week long.
Why We Love It: I saved the best for last. The brilliant combo of goat cheese with the hot pasta makes everything so creamy and perfect. Use beets and summer squash as the recipe calls for, or whatever else you have in the fridge, and you'll be addicted. 
Hero Ingredient: Goat cheese is always my favorite ingredient, but the summer squash really shines.
Which are you trying first? Drop your favorite healthy pasta salad recipes below.
This post was originally published on August 4, 2021, and has since been updated.