Being a recipe developer, I often get asked the question: what is your favorite recipe? Sometimes I think people expect really cool answers and I definitely have some picks on repeat (this salad and this pasta being two at the top of the list). But if I'm being honest, my ultimate go-to meal is the easiest, coziest kitchari recipe that I make almost every week.
It's funny how a recipe that was my mom's go-to when she didn't feel like cooking has turned into my favorite meal that I make time and time again. Whether it's a chilly Chicago night and I need a bowl that feels like a blanket, if I'm under the weather and need a meal that makes me feel instantly better, or it's simply one of those weeknights that I just don't feel like cooking at all—kitchari is a tried and true staple in my recipe repertoire. All you need is two staple ingredients and a handful of spices, and you're thirty minutes and one pot away from a recipe that'll quickly become your favorite, too.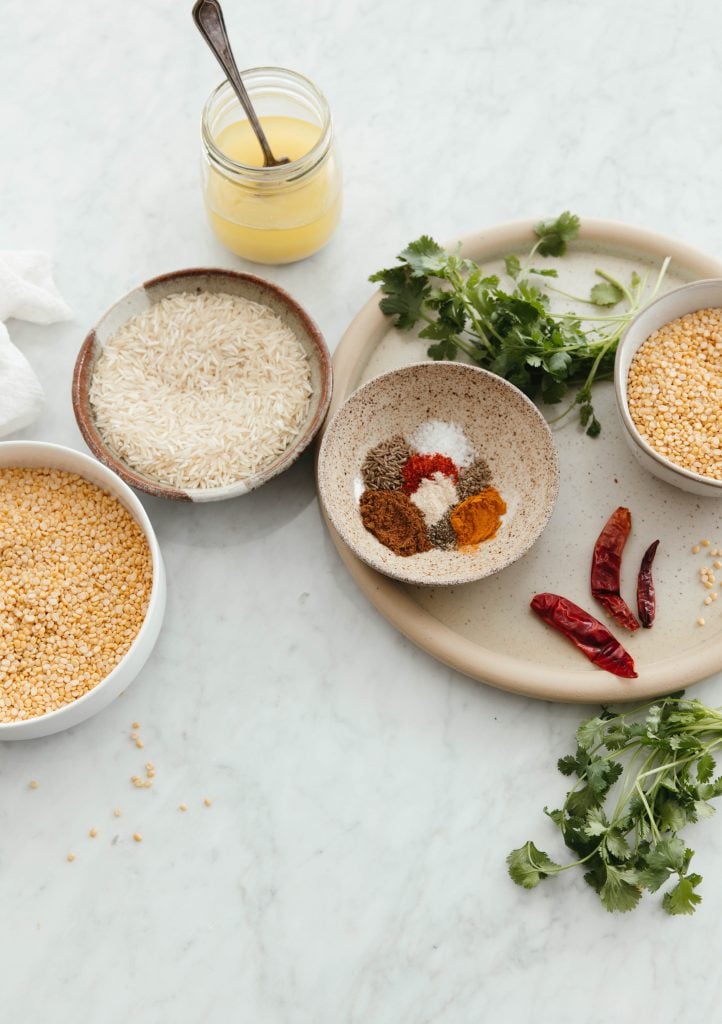 What is kitchari?
Kitchari, simply put, is a hug in a bowl.
While true, kitchari is a combo of lentils—most traditionally split mung beans—and rice that's cooked with spices and ghee. With roots in Ayurveda, there are lots of do's and don'ts that can be associated with how to best eat kitchari for yourself. Growing up, my mom made a large pot of kitchari for dinner on a regular basis as a quick dinner and that's about it. It comes together so simply, tossing the lentils and rice together in a pot with spices of your choice. It's completely customizable depending on what you're eating kitchari for and comes together in a pinch.
While kitchari has lots of great health benefits, I also love it because it's truly a one-pot meal. I make this kitchari recipe in my instant pot, but I've also made it on the stove as well. And because of its warmth and cozy vibes, this kitchari recipe is especially great as we start to transition into the fall and colder months ahead.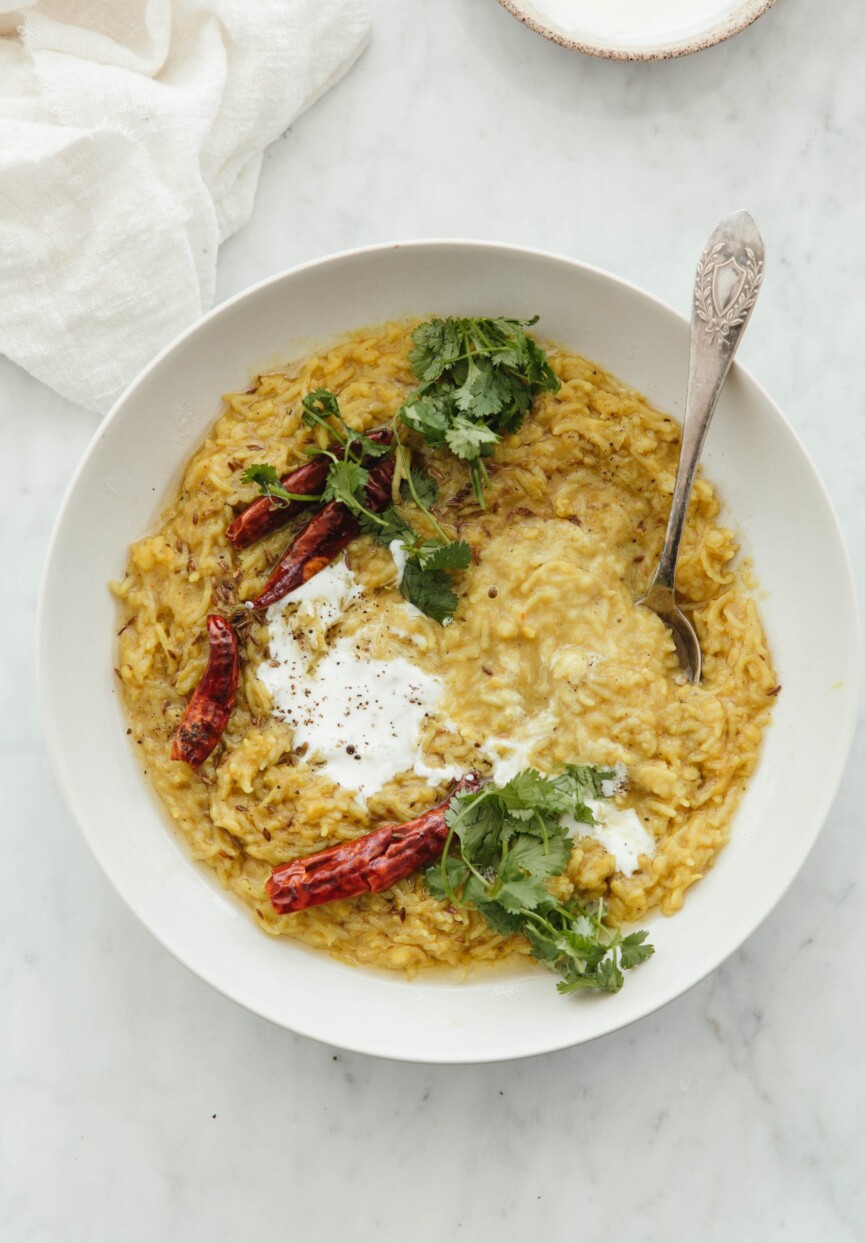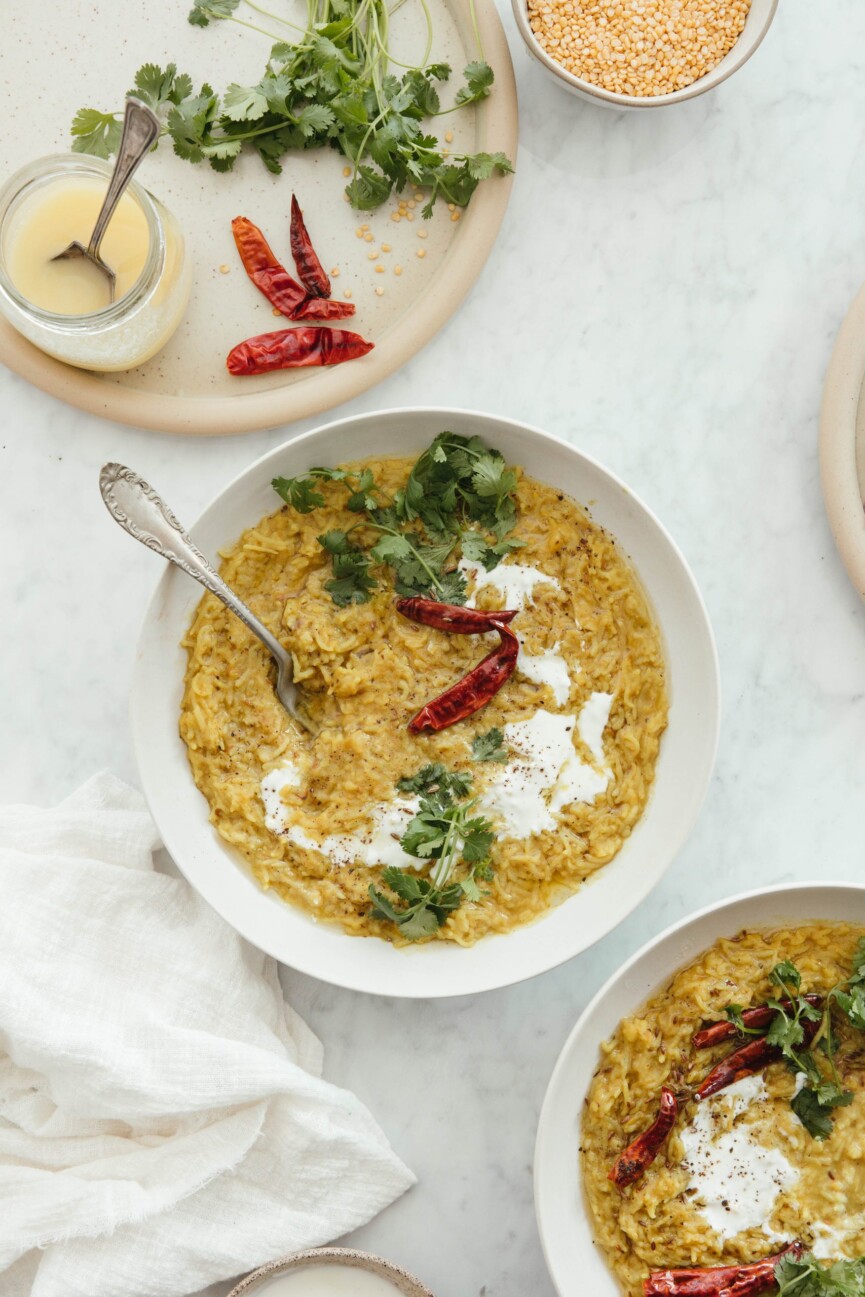 What does kitchari do for the body?
With its Ayurvedic roots, you might have read about a kitchari cleanse or how kitchari is good for detoxifying. While I personally never grew up with these reasons in mind and still don't eat kitchari because of them—I eat it just because I love it and it tastes delicious!—there are several reasons why kitchari is a powerhouse recipe for feeling your best and nourishing yourself.
Kitchari is easy on digestion. While some people's moms make chicken noodle soup when they're feeling ill, my mom always made her favorite kitchari recipe. And that's because kitchari is not only warming and packed with anti-inflammatory spices, it's very easy on digestion (a well-appreciated fact when you're feeling under the weather). Serve with extra ghee to support digestion.
Kitchari is detoxifying. You can read more about this from one of my go-to Ayurveda resources, but the combination of ingredients in this kitchari recipe are great for detoxifying our bodies.
Kitchari is known as the perfect protein. This means that kitchari contains the nine essential amino acids. With its combination of ingredients, kitchari contains multiple nutrients and easy-to-digest fiber, making it not only an easy meal to eat, but a healthy one as well!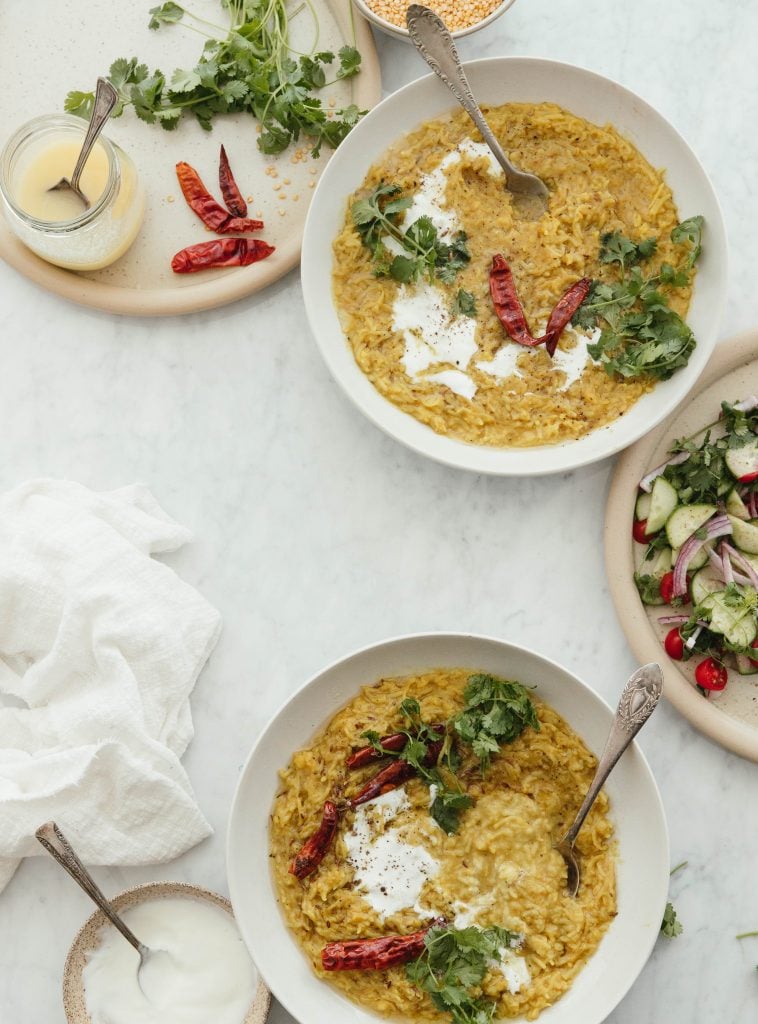 How to Serve This Kitchari Recipe
I've always eaten kitchari with a big scoop of yogurt mixed in, making it creamy and slightly tangy (and always with extra ghee on top!). My mom will sometimes add vegetables to the pot when cooking like peas or potatoes for added heartiness, but you could also add greens of your choice. I've even seen some people add shredded zucchini!
I'll serve kitchari with a kachumber salad if I want something on the side, and I top it with extra hot ghee and dried chilis blistered in the ghee for spice. But most often, I'll enjoy it for breakfast instead of oatmeal or serve a bowl on its own for dinner.
When it comes to the spices, don't be intimidated by the list of my personal faves below. They are truly optional. If you want to customize this kitchari recipe for your own Ayurvedic dosha, you could take a dosha quiz to help you get more granular as to the types of spices to include or omit. Simply put, I use this blend because I think it tastes best! Again, I eat kitchari because I like it more than anything else, and I hope you'll try it and find your own magic formula.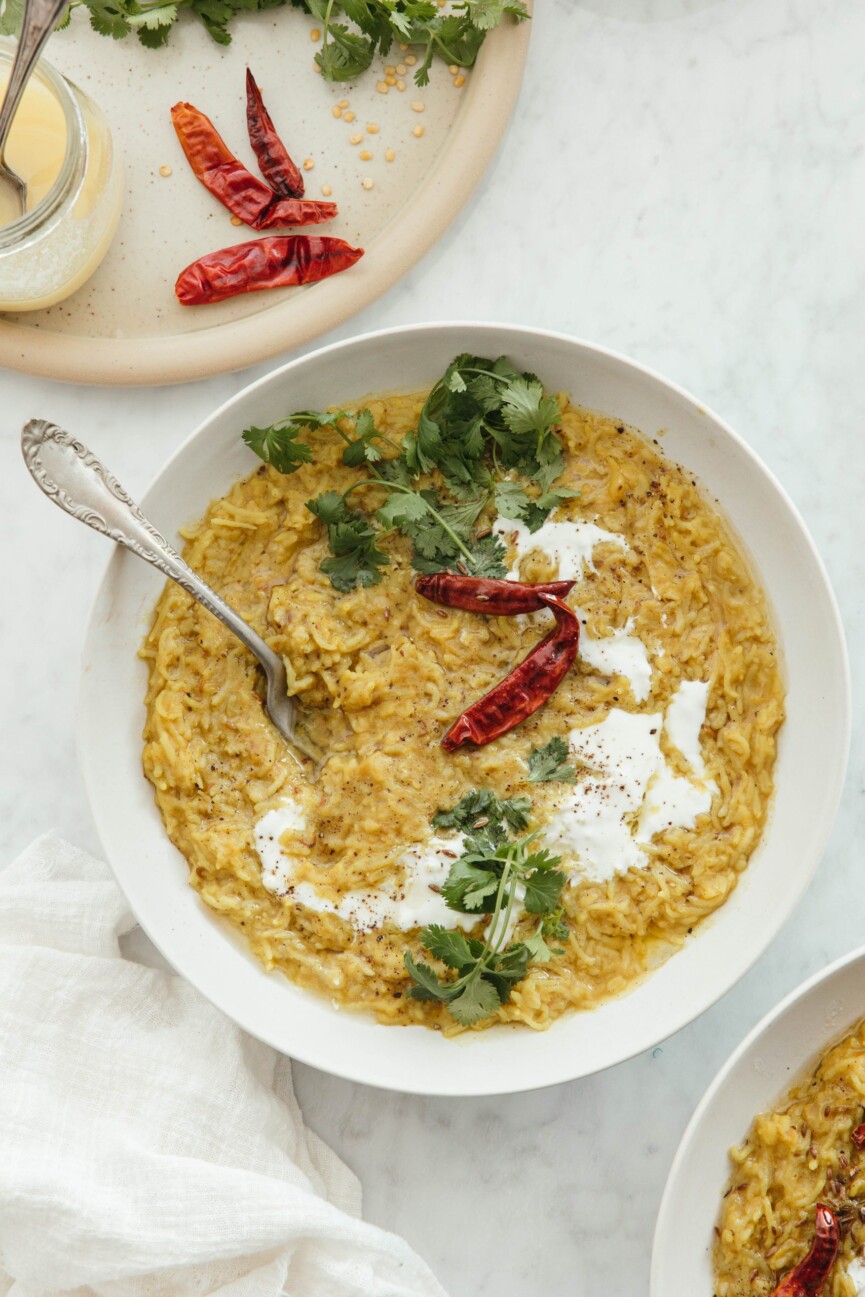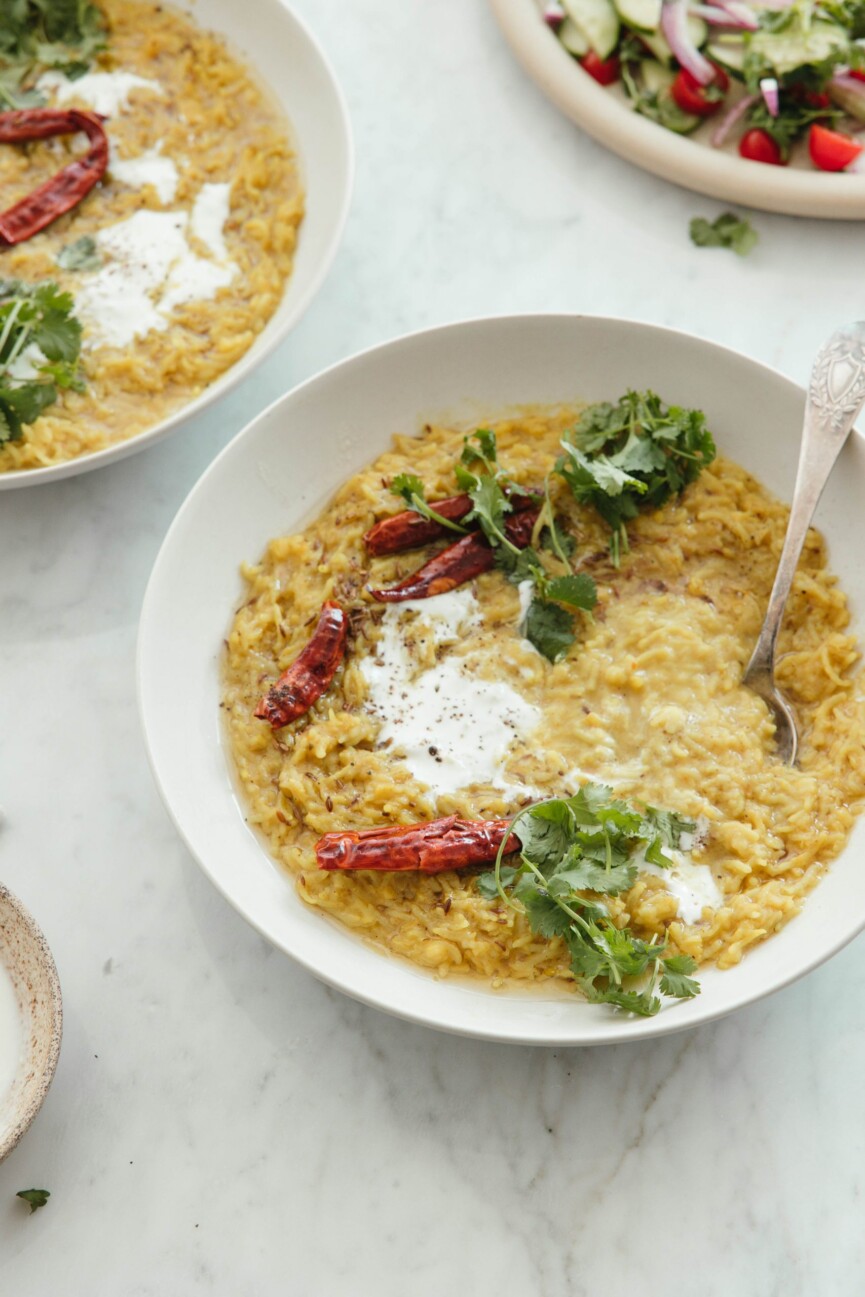 This post was originally posted on September 1, 2018 and has since been updated.