What do you envision when you dream of summer? Personally, my mind is on the Italian coastline where I'm soaking up the warm sunshine, basking in crystal clear water, sipping on locally-made wine, and twirling my fork into delectable handmade pasta—I don't think it gets much better than that! But while we wait for the world to open up again, I'll be making these deliciously simple and light pasta recipes bursting with fresh summer flavors. I mean if I can't physically go, then at least my tastebuds can be in Italy!
So, if you've been struggling to find a quick, easy dinner recipe then look no further than these 15 light pasta recipes that won't have you sweating too long in a hot kitchen to enjoy them. All you need to make these is some fresh seasonal ingredients, your favorite pasta (or gluten-free version), and lots of olive oil, of course!
When we interviewed the chef and founder of The Mediterranean Dish, Suzy Karadsheh recently about the Mediterranean diet she emphasized the importance of eating wholesome ingredients and filling up on delicious, nutrient-rich foods, particularly plant-based foods. This delicious pasta recipe is exactly that with the beneficial fats of olive oil tossed into pasta with fresh artichokes, olives, basil, tomato, and a hint of chili flakes.
Get inspired by the summer season, this light pasta recipe features yellow squash, red onion, roasted cherry tomatoes, and a light vegan white sauce. Serve the leftovers cold for lunch the next day.
If you thought one-pots were for fall/winter then think again. This simple one-pot pasta recipe is perfect for summer because you literally throw everything in, then set it and forget it. You don't need to sweat it out over the stove to make something delicious.
Looking for the perfect quick fix? This pasta salad is mayo-free, (almost) no-cook, comes together in minutes, and is great for warm weather picnics and BBQs. Just whisk up a herby parmesan vinaigrette, toss it with your favorite hot pasta, roasted peppers, artichokes, tomatoes, spicy salami, fresh mozzarella… and done!
Nothing could be quicker than this pasta salad that is basically all of our favorite flavors on a plate. Don't stress if you're out of some of the ingredients listed. The beauty of this recipe is you can make it with whatever you have in the fridge. The key is the lemon-tahini dressing!
If you've never had chard in your pasta before then get ready. This light pasta recipe is incredibly flavorful, hearty, and perfect for using all of those fresh summer crops. The chard will give it that tang and texture you've been craving.
Nothing says summer quite like burrata. We're so obsessed, we did a round-up of our favorite 20 burrata recipes. This recipe has all of those ingredients you know and love from Italy—fresh burrata, sun-kissed tomatoes, and fragrant basil. Toss it all together with your favorite pasta, and it's amore!
Can you think of a better romance than lemon and ricotta? We'll wait. This dish puts both of them together to create a deliciously creamy pasta that is surprisingly light.
After several trips to Italy, Camille has pretty much decided that it's her favorite place on earth—and we'd have to concur! And even though she has eaten her way through the scenic continent, freely enjoying pasta, fresh mozzarella, gelato, and wine—she came home feeling just as light as when she left Austin. So, this garlic shrimp spaghetti is an homage to those many light pasta dishes.
It's safe to say this pasta is eaten with your eyes first. Who can resist the freshly cut tomatoes with mini mozzarella balls and fresh corn, drizzled with olive oil?
The best thing about this one-pot pasta primavera is the simplicity of the flavors and the process. While it does call for fresh, Camille says frozen veggies are perfect for cooking right along with the pasta. So, throw in whatever you have in the fridge and whip up a slice of heaven at home with this delicious pasta recipe.
If we're not dreaming about Italy, we're mentally in Greece. This ancient continent is brimming with history and culture, but their food is definitely one of the reasons we love to visit. This pasta salad is inspired by the rich Green flavors with feta, cucumber, and kalamata olives—take me there!
We've never met a pesto we didn't love and this recipe is quickly going to the top of our favorites list. It's deliciously creamy without dairy thanks to the avocado (how did we not think of that!) and we guarantee it will be a hit with the entire family—even the kids will ask for seconds!
Once again burrata makes an appearance—well, it is the cheese of summer! This light pasta recipe couldn't be easier. Just toss osemary oil fried chickpeas, lemon, and linguine pasta with a "jammy" cherry tomato pasta sauce, kale, and plenty of basil. Voila!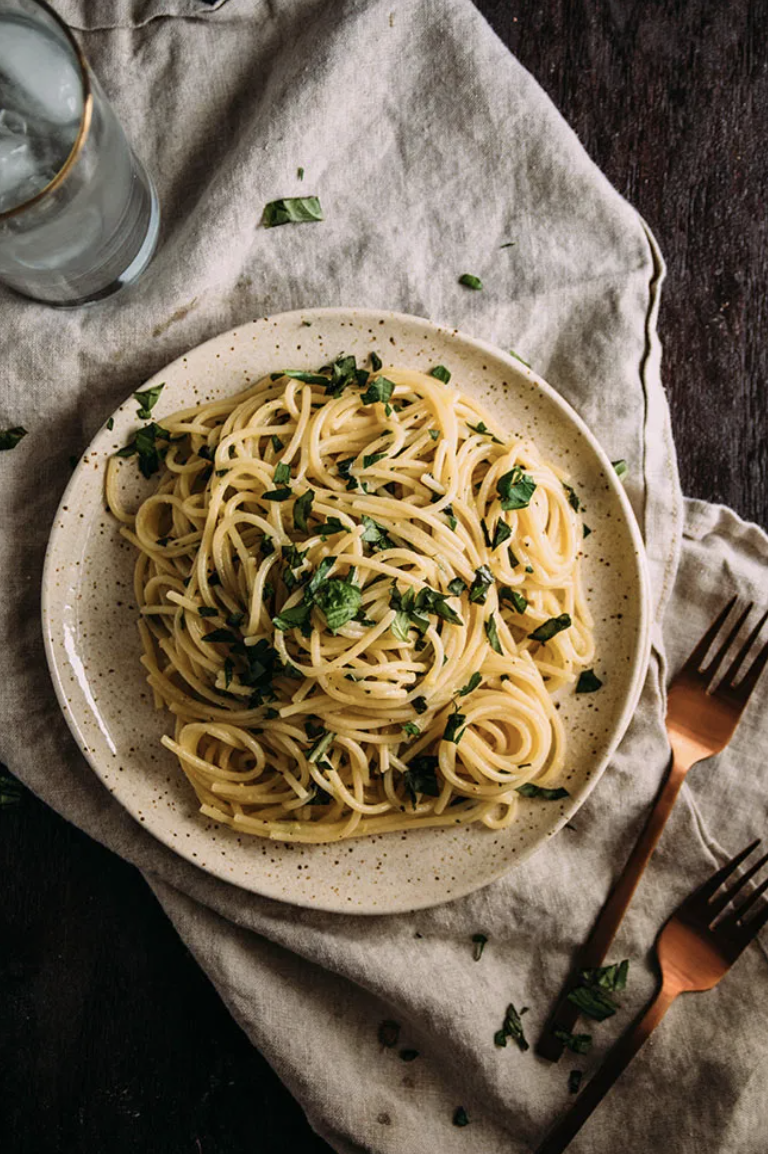 Yes, this dish is incredibly simple with just lemon, olive oil, parmesan, and fresh herbs mixed through spaghetti— you might think making a recipe for it is unnecessary. But the secret is in the mixing of the hot pasta with the lemon zest/juice and cheese mix that will make your mouth water just reading it. Go on, find out for yourself and make it tonight! We guarantee you'll be making it over and over again this summer.
What are your favorite light pasta recipes for summer? 
Loved this post? Pin this graphic to come back to it later.