There's something so satisfying about a fresh start. For me, a new year means new opportunities for growth and the potential to learn new things and meet new people. Of course, this can happen at any time in our lives, but I'm never more aware of the possibility than on the first of the year. In an effort to approach all areas of my life with self-compassion and kindness, I've moved away from making restrictive resolutions and am instead opting for bringing more intention to everything I do. One of the intentions I'm setting this year? Creating more space for the things that help me feel my most energized, aligned, and in tune with myself. Of course, what I put in my body is a huge part of that, and these 10 low-carb smoothie recipes are exactly what I plan on whipping up for myself every morning in 2023.
I'm a sweets girl—there's really no getting around it. I'll always opt for pancakes over eggs at brunch and say yes to ice cream even in below-freezing temps. But oftentimes, that means I'm eating a lot of carbs. And while there's nothing wrong with any one macronutrient, I (and my body) can recognize when I've had too much. So, in the spirit of keeping my energy high for all that I want to get after this year, I'm focusing on quality over quantity. I'm going for color, nutrient-dense ingredients, and foods that support me with everything I need to feel my best. 
Featured image by Michelle Nash.
Low-Carb Smoothie Recipes for Endless Energy in 2023
To set all of that into motion, I combed the internet for the best low-carb smoothie recipes I could find. In the past, my favorite smoothies have all relied on bananas for their crave-worthy creaminess. However, after taking the time to reflect deeper on how certain foods make me feel, I've realized that my daily banana habit is responsible for my mid-morning slump. Instead, the recipes below rely on ingredients like nut butters, avocados, and even cauliflower (believe it!) to give you a smoothie you'll crave every a.m.
But… because we can all agree that bananas aren't inherently a bad thing (no fruit or food is!), I couldn't help myself and wanted to include a few recipes that also make the most of their creamy, nutrient-packed goodness. Because in 2023 and beyond, I'm deciding to let the rules slide.
Ready to get to the recipes? Let the smoothies below inspire your midmorning routine for the next 12 months and beyond.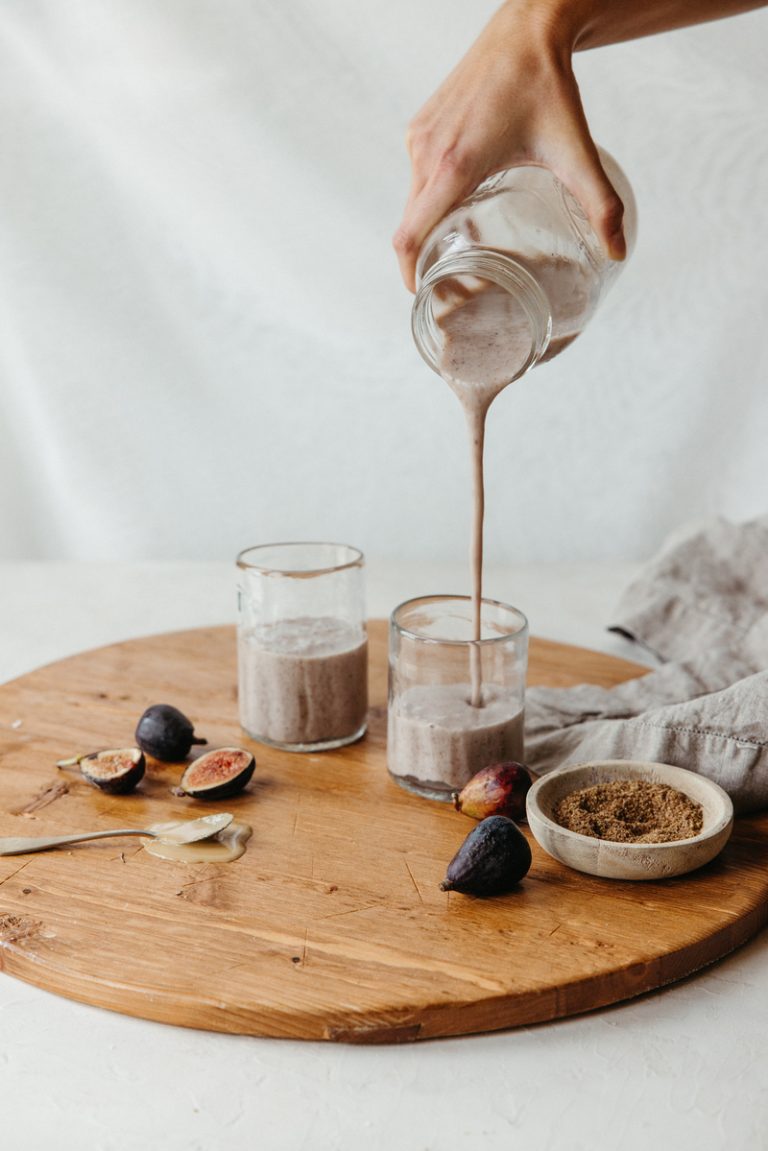 Why We Love It: This might just be my favorite smoothie ever. That's right, we're kicking off this roundup (and 2023) with a bang. If you're questioning figs' place in your morning meal, get ready to be surprised. The fruit blends in plenty of fiber and natural sweetness to make a smoothie you'll be craving from now until spring—and likely beyond. The best part? This smoothie is a surefire way to balance your blood sugar.
Hero Ingredient: I'm a major fig advocate—and this smoothie is the best way to get on board.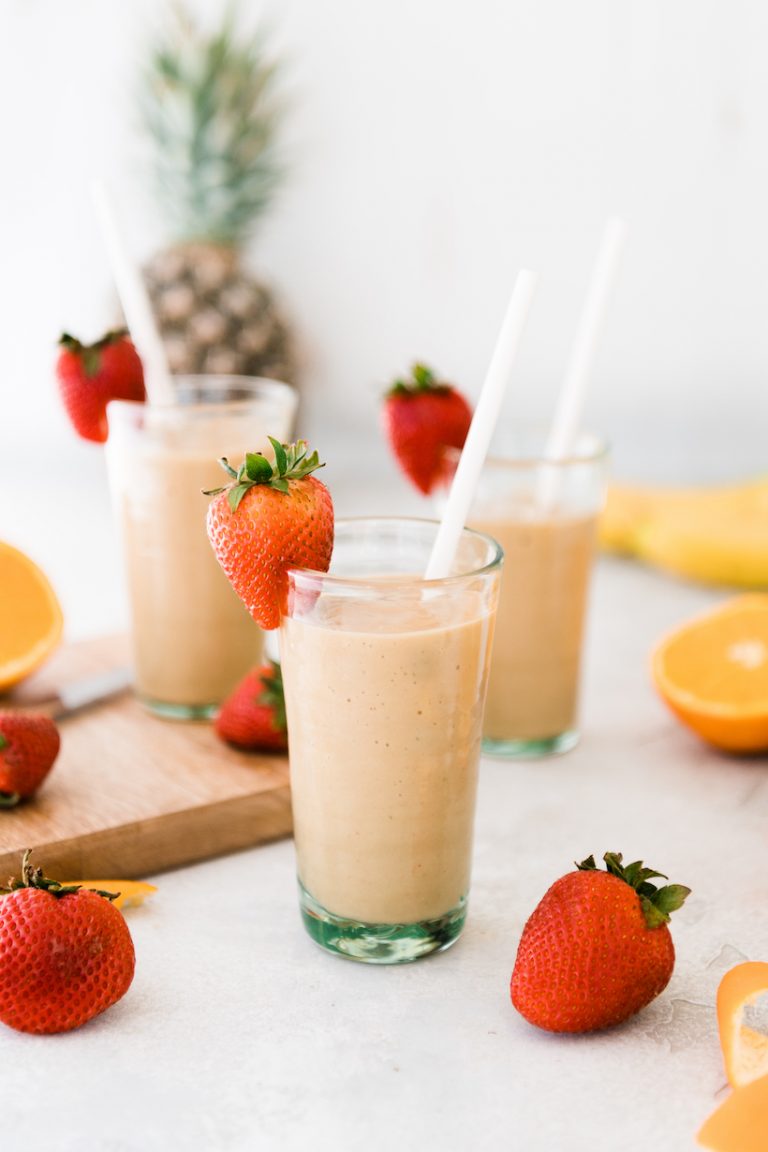 Why We Love It: If you're dreaming of a tropical getaway, this smoothie will transport you immediately. It's sweet, citrusy, and slightly sour, touching upon all the flavors you could ever crave for breakfast. Bonus: It's nut-free, dairy-free, vegan, and packed with fiber.
Hero Ingredient: This super sneaky smoothie hides a bit of avocado that your tastebuds will never detect—but your body'll be happy it's there.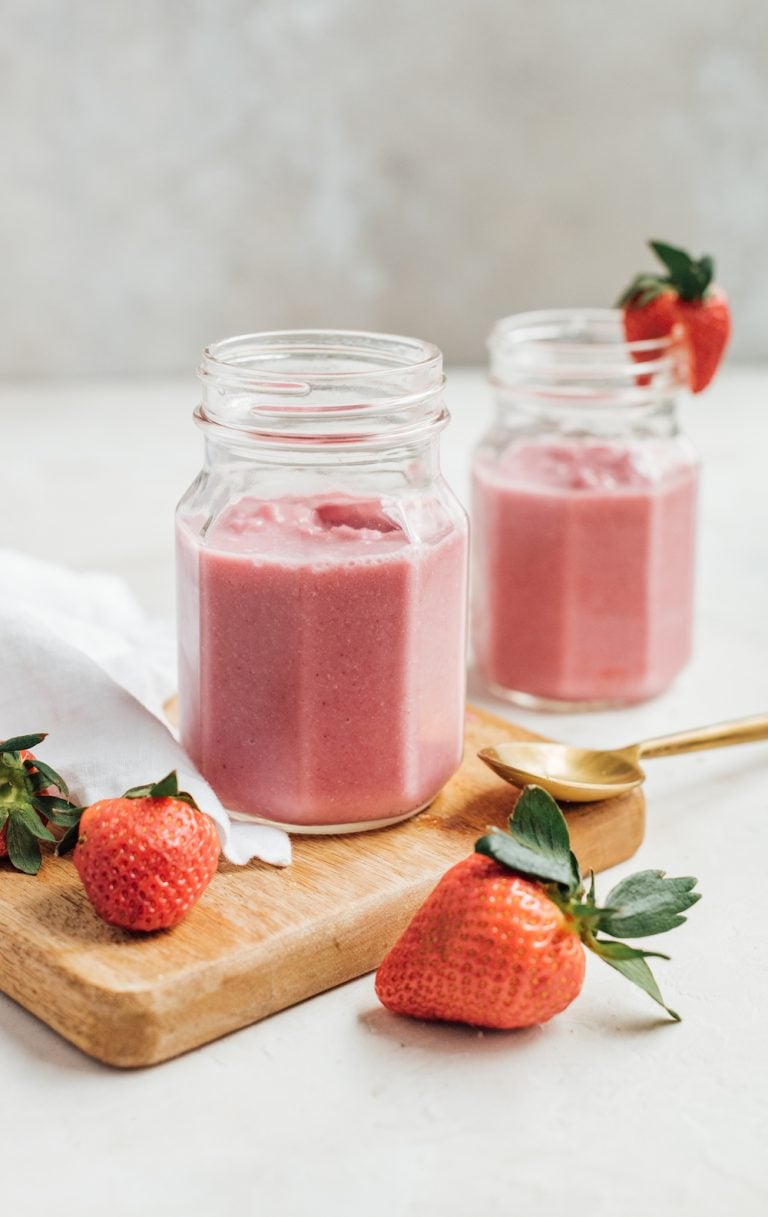 Why We Love It: Strawberries and cream is a pretty food pairing that's ready to party. The strawberries' slight tartness is curbed by the cream's thick and rich flavor. But don't worry—it only tastes rich. Thanks to vanilla protein powder, ground flax, coconut milk, and vanilla extract, this is an acceptable breakfast-for-dessert option.
Hero Ingredient: Strawberry fields forever.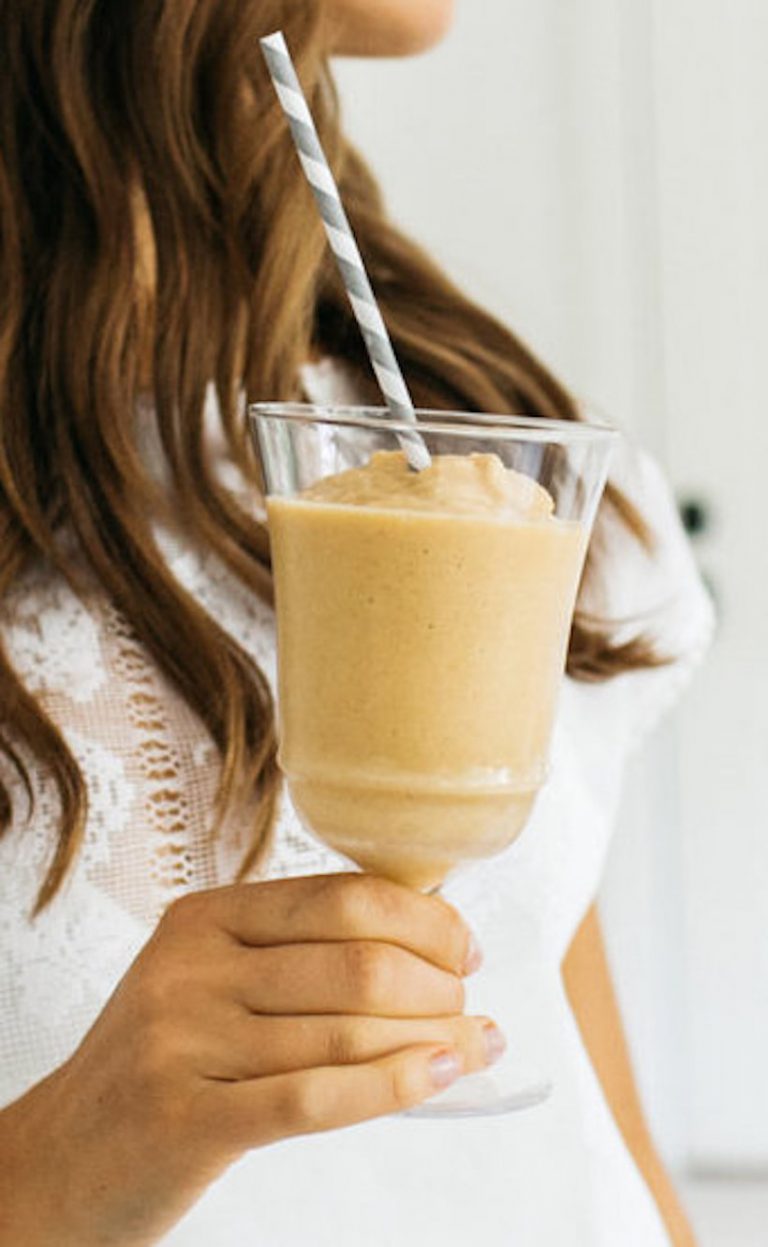 Why We Love It: I'll be candid: there was a three-week stretch this fall when I was drinking this smoothie every morning (weekends included). And if you're wondering whether its season-specific flavor can carry into the first months of the year, I'm here to confirm: absolutely. Pumpkin spice, while we relegate it to the fall months (and in Starbucks' case, sometimes as early as August), it gives a warm, earthy bite to any food that's immediately comforting. And if it's one thing I'm craving come January 1, it's a bit of healthy comfort.
Hero Ingredient: Two teaspoons of your favorite nut butter keep this smoothie from tasting like a Thanksgiving treat.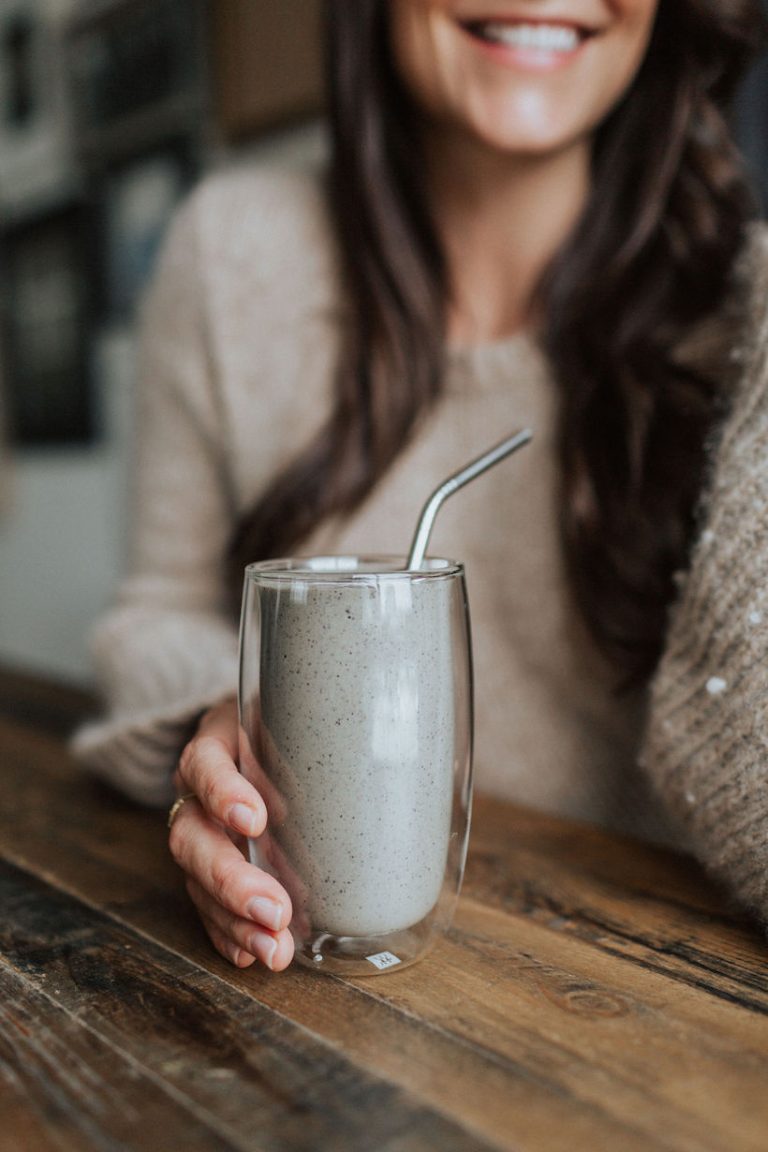 Why We Love It: Of course I want my breakfast to taste just like my favorite cookie. Everyone's favorite celebrity nutritionist, Kelly LeVeque, developed this recipe based on her signature Fab Four Smoothie framework. It contains all you need to sustain balanced blood sugar and keep your energy up all morning long. Oh, and just so you know, this smoothie is Jennifer Garner-approved. 
Hero Ingredient: Literally every single component of this smoothie could be considered a hero ingredient. But the real standout? Collagen protein powder. Not only does it supply a healthy dose of the obvious (skin-supporting collagen), but choosing a chocolate-flavored powder will make you think you're eating a sleeve of Oreos first thing in the morning.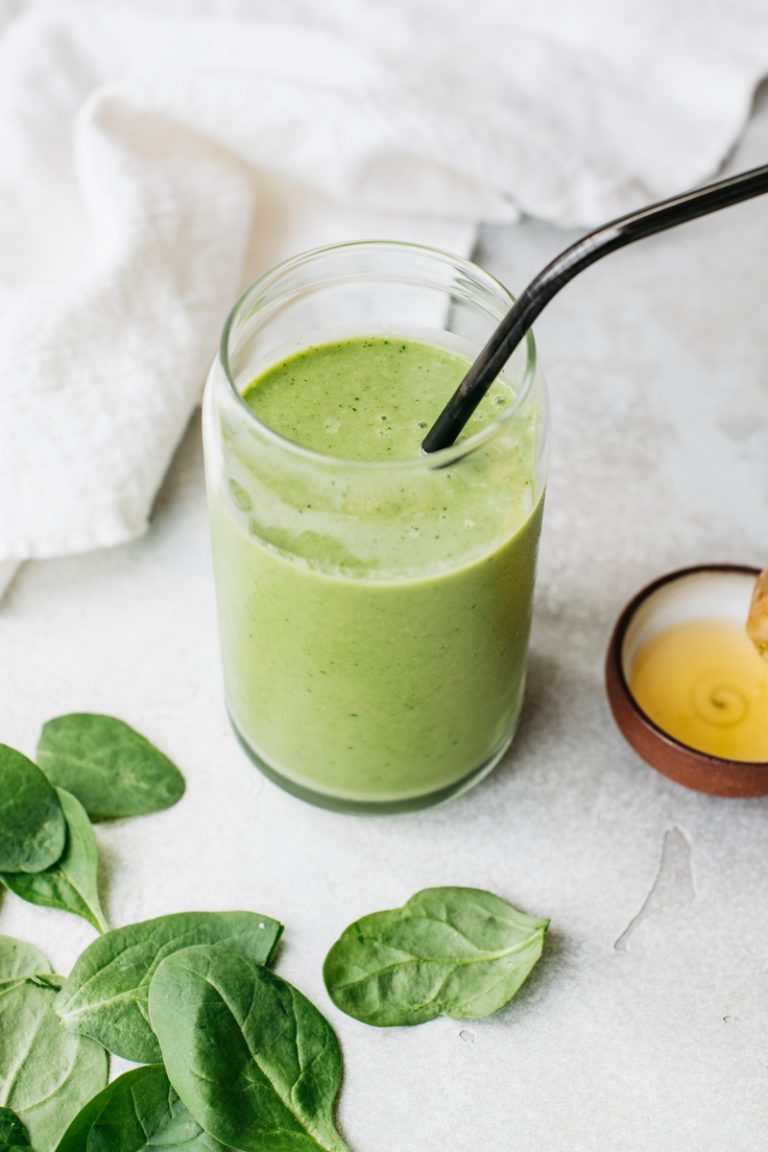 Why We Love It: Green smoothies, and really all smoothies for that matter, can't get much easier than this recipe. Just six simple ingredients combine to create a vibrant smoothie you can feel good about sipping on all morning, every morning. Frozen banana and cauliflower combine to create a drinkable meal that rivals the texture of your favorite milkshake. And the flavor? Just as decadent. If it weren't for the color, you'd never be able to guess that it packs a whole cup of spinach.
Hero Ingredient: A squeeze of honey creates the perfect balance of sweetness.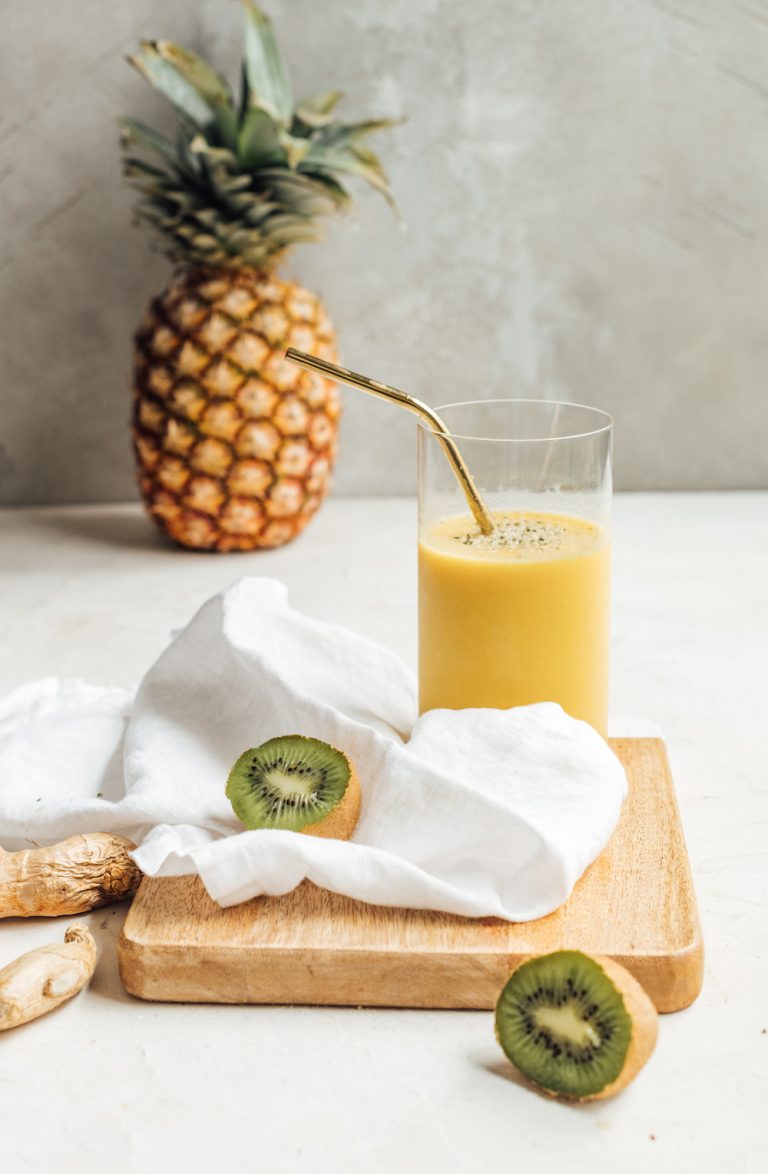 Why We Love It: Talk about a gorgeous reason to wake up. Good news: this nutrient-packed smoothie is just as delicious as it is pretty. Functional herbs like turmeric and ginger combine to soothe any digestive stress—because I don't know about you, but I'm saying buh-bye to bloat in 2023.
Hero Ingredient: Ground flaxseed is a superfood that deserves all the buzz it gets. It not only gives your smoothie an addictively-thick texture, but it also bulks up your breakfast with plenty of filling and digestion-supporting fiber.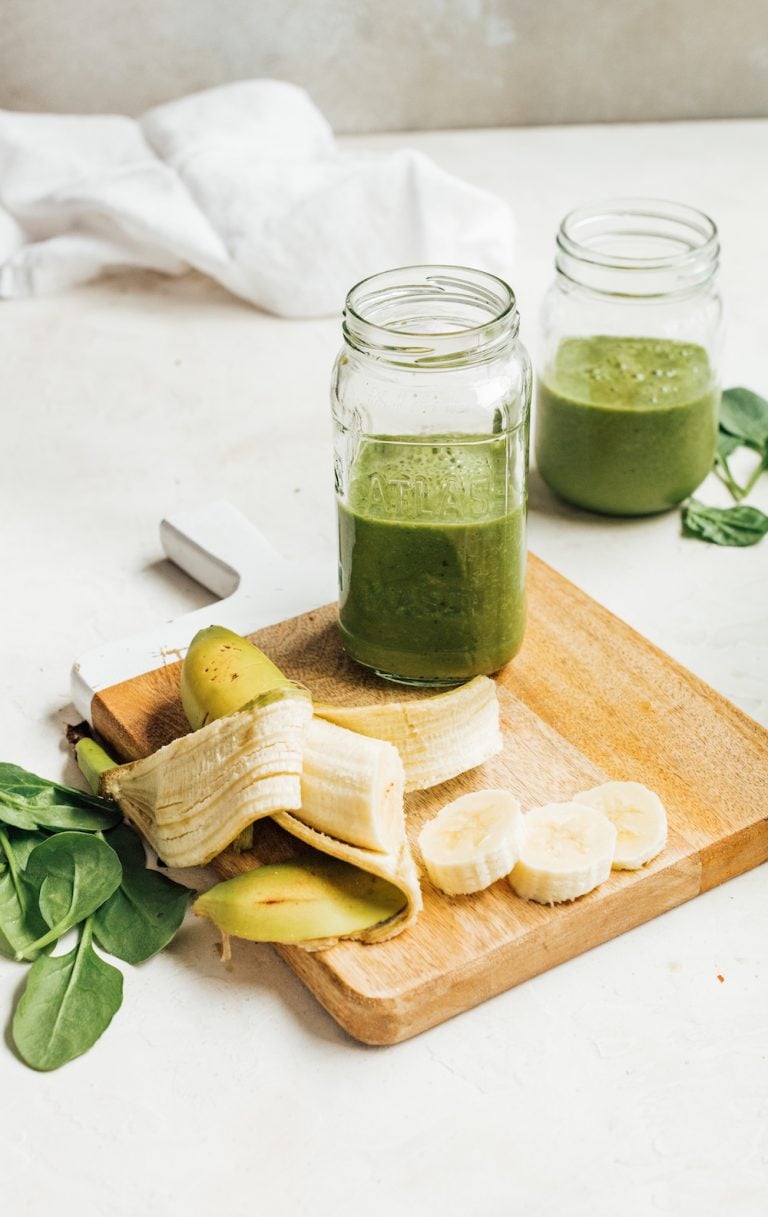 Why We Love It: This smoothie packs in all the green goodness. Hemp seeds supply healthy fats, a cup of spinach provides calcium, manganese, and vitamin K, and matcha contains all the good antioxidants. If you want to start all of your 2023 mornings energized and ready to take on the day, start with this smoothie.
Hero Ingredient: Vanilla protein powder doesn't just deliver an abundance of the muscle-building macronutrient. If you pick the right, clean brand, you might just get probiotics, L-Glutamine, and plenty of superfoods, too. Shop our favorites here and here.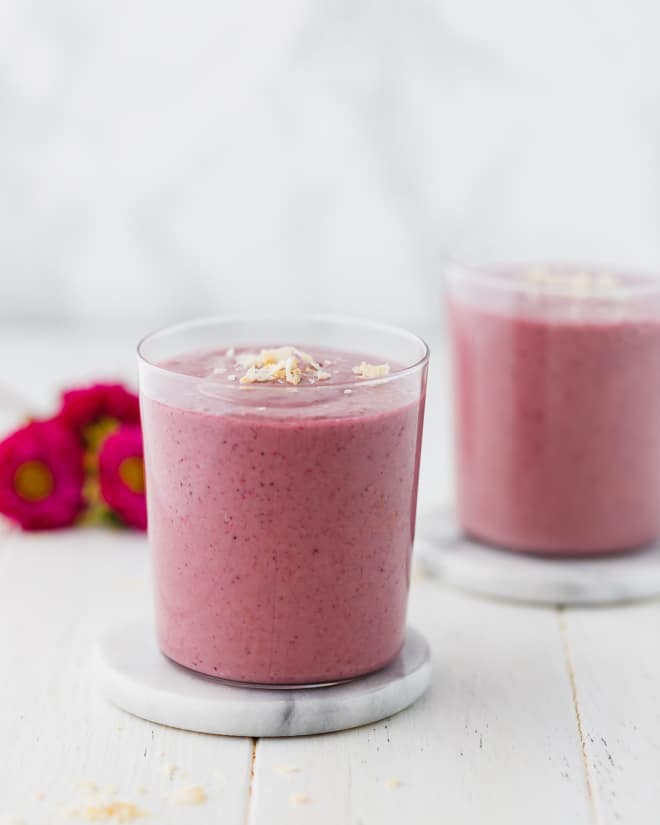 Why We Love It: I have one word for you: yum. In an effort to keep the sugar low, some smoothies can be watery and… bland. This smoothie relies on the dynamic duo of avocados and coconut milk for a super creamy texture and to fill you up with plenty of healthy fats. 
Hero Ingredient: A teaspoon of chia seeds takes this smoothie from creamy to am-I-eating-ice-cream? levels of thickness.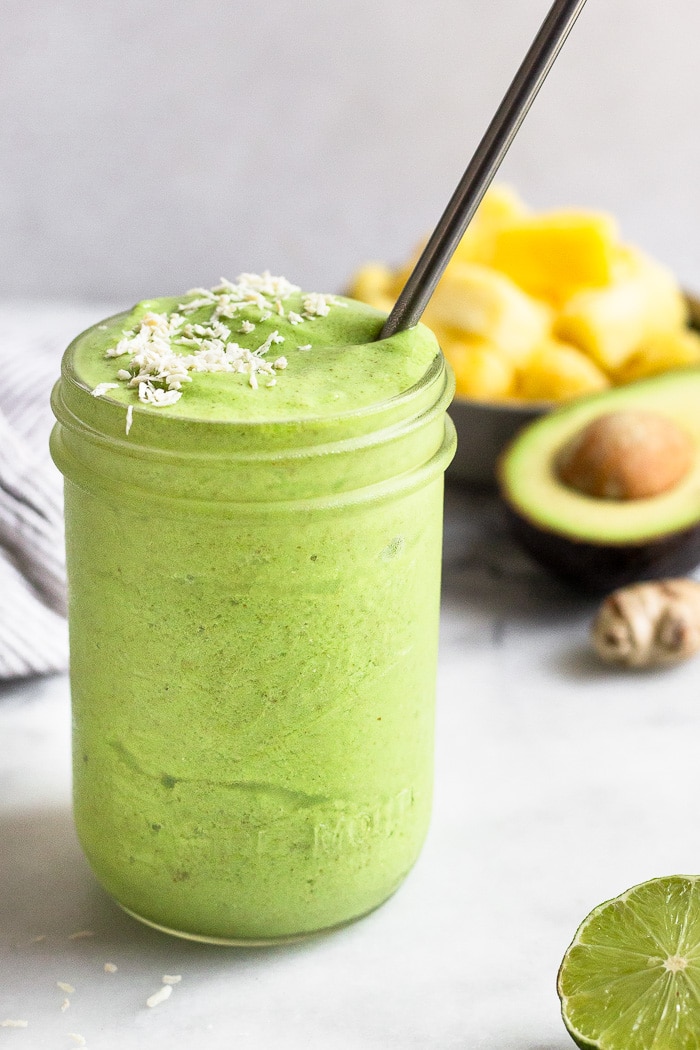 Why We Love It: Not gonna lie, I used to totally get turned off from any smoothie (or sweet recipe, for that matter) that touted "avocado" in the name. A die-hard avocado toast lover myself, I always associated it with poached eggs and crusty bread. Well, the good news is that you don't taste it at all in this recipe. The even better news? It's responsible for this smoothie's creamier than creamy texture.
Hero Ingredient: Avocado wins again. Full of monounsaturated fat (good for lowering cholesterol) and skin and eye-saving compounds, avocado is this recipe's real MVP.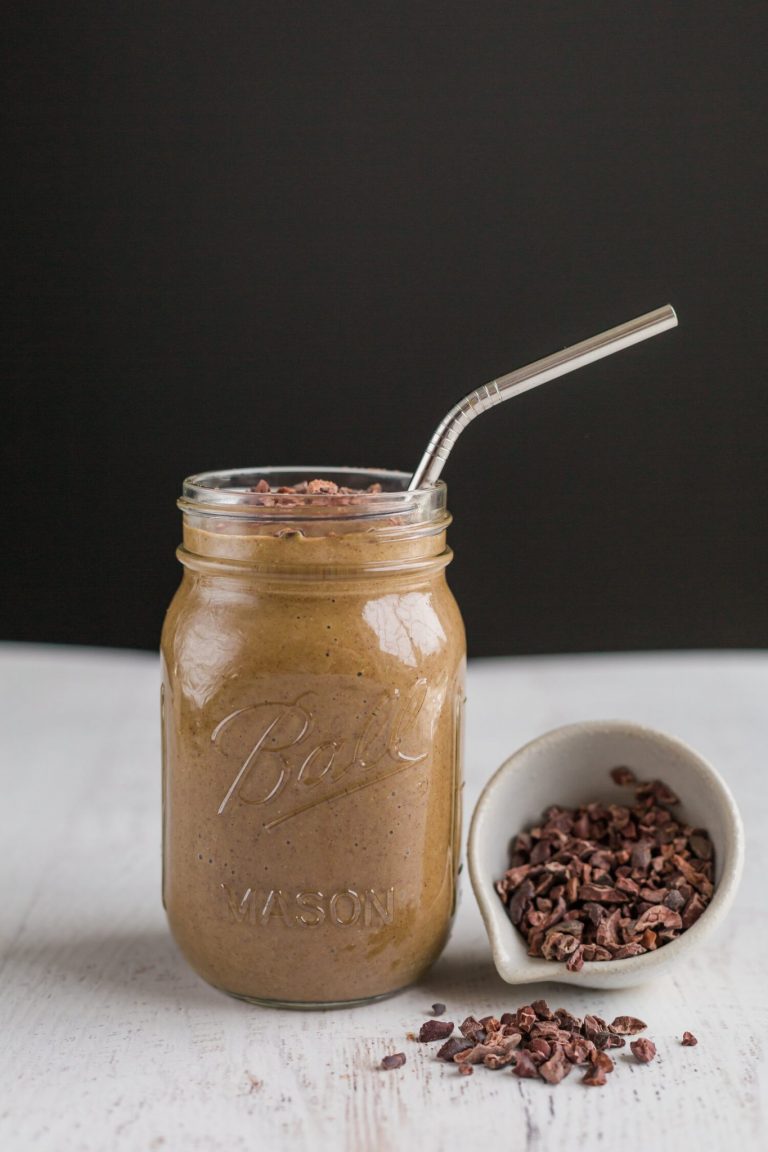 Why We Love It: I'm just going to repeat that back to you for a second: Chocolate. Almond. Butter. Crunch. If you're not salivating yet, I don't know what to tell you. It's wildly decadent, will satisfy any sweet tooth (even mine), and is bound to be an all-around fam favorite.
Hero Ingredient: I bet you didn't think this smoothie would pack an entire handful of spinach. Well, get ready to be floored—and say hello to your new favorite way to get your greens.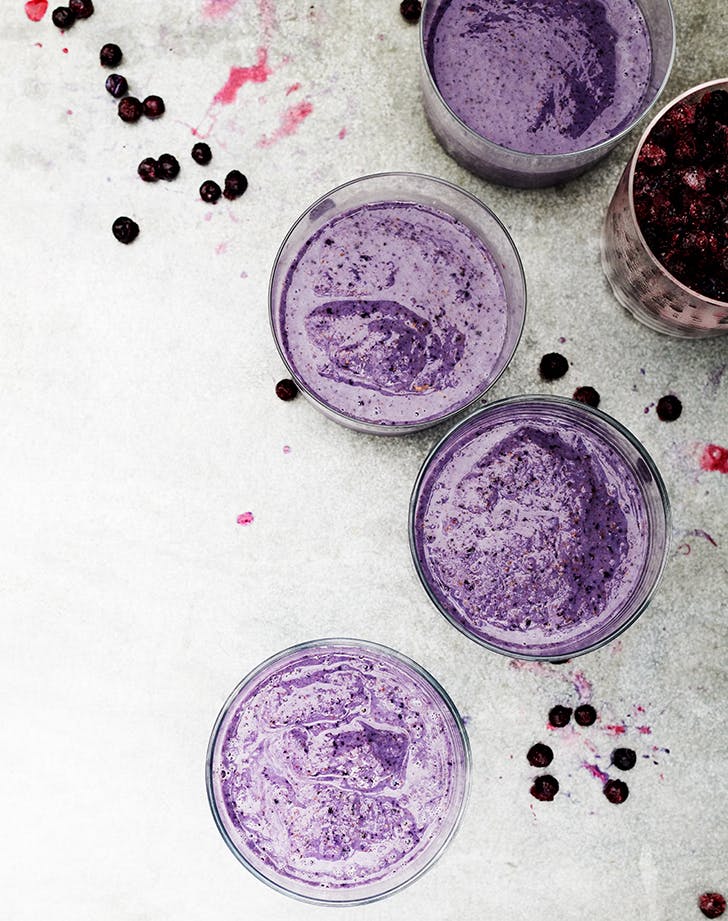 Why We Love It: The ticket to glowing like GP? This smoothie. It's exactly what I want after a workout to replenish my body with plenty of muscle-building protein. Frozen blueberries not only give this smoothie its gorgeous color (seriously, so pretty!) but the half-cup of berries packs in plenty of skin-protecting antioxidants.
Hero Ingredient: Cauliflower? In my smoothie? You better believe it. The cruciferous vegetable gives your smoothie the creamy texture we all crave without having to add a high-carb banana to your blender.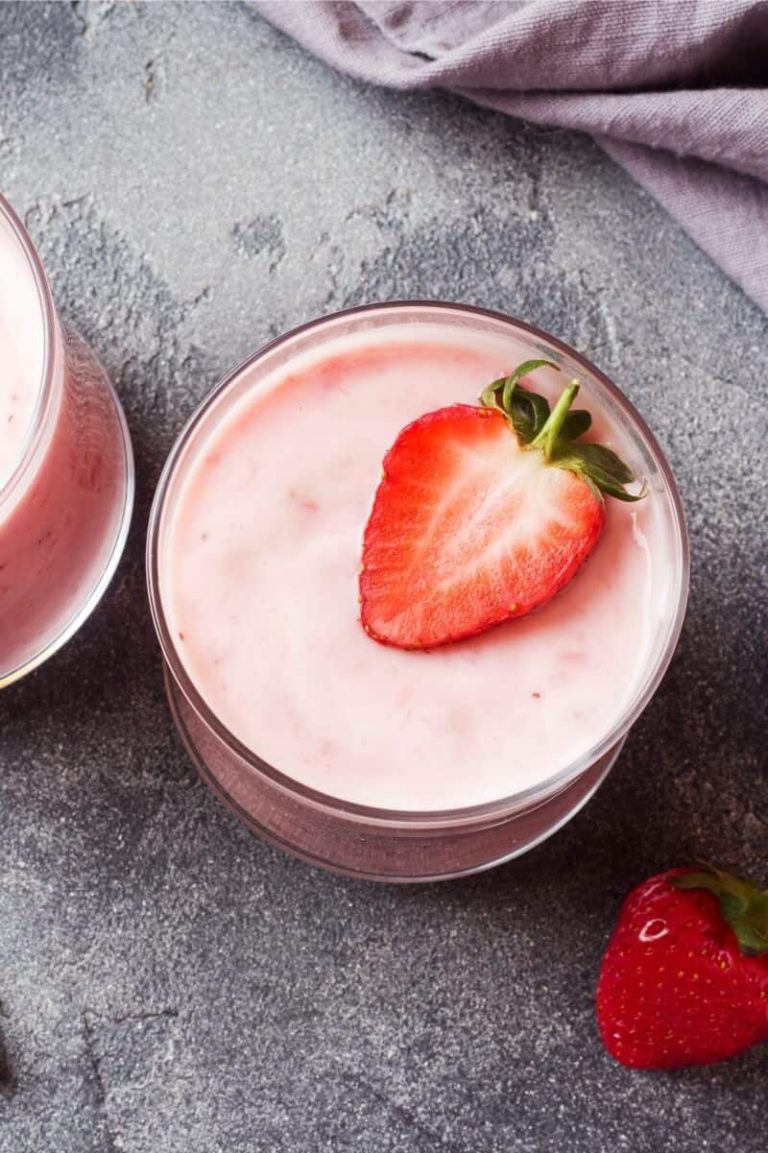 Why We Love It: This paired-down strawberry smoothie makes beautiful use of its three ingredients. Combine any alternative milk you'd like, fresh or frozen strawberries, and keto-friendly condensed milk. You're welcome to add your favorite protein powder for an extra boost of the muscle-building macronutrient or ice if you like eating your smoothie with a spoon.
Hero Ingredient: The keto condensed milk gives you a super thick and creamy smoothie. If you'd like to swap it out for another ingredient, you can get the same consistency by using Greek yogurt.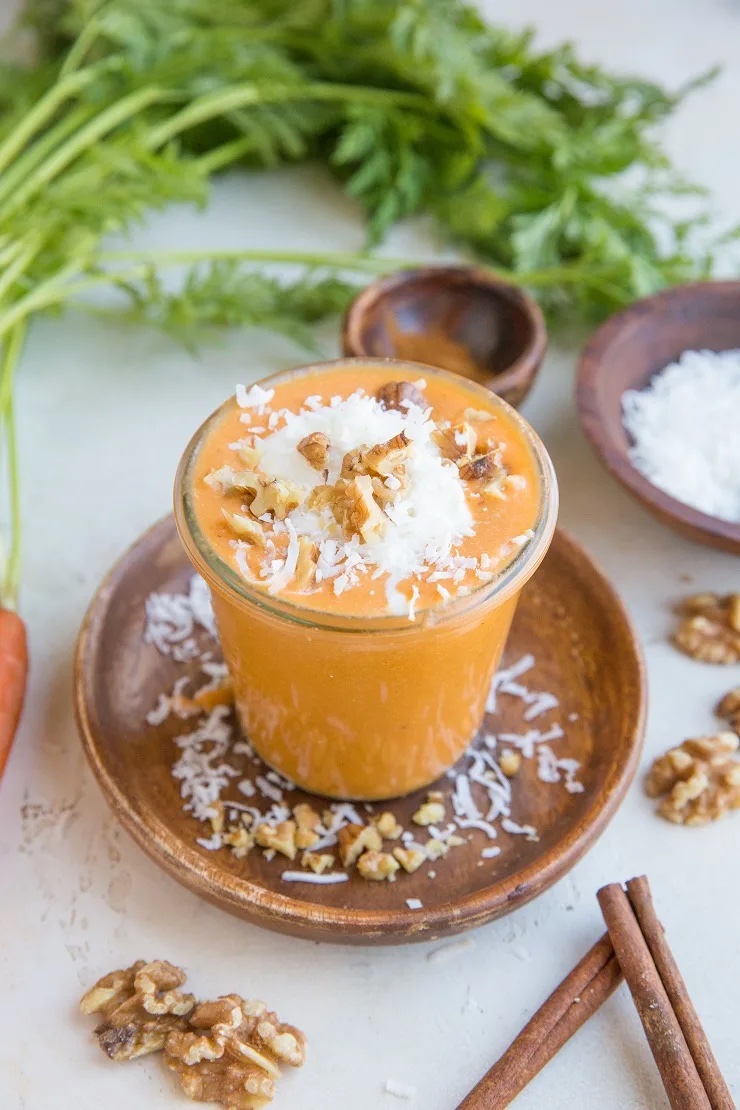 Why We Love It: Carrot cake will forever be my ride-or-die dessert. I love all the fresh flavors built into each bite. It's spicy, it's sweet, and the carrots always make me feel justified in getting up for a second slice. This smoothie is the actually-healthy variation that's still loaded with all the creamy carrot cake flavor. Have your cake, eat it too.
Hero Ingredient: When I'm winging my morning smoothie, I typically thin things out with a cup of almond milk. But the rich and creamy texture coconut milk gives this smoothie is convincing me to switch things up.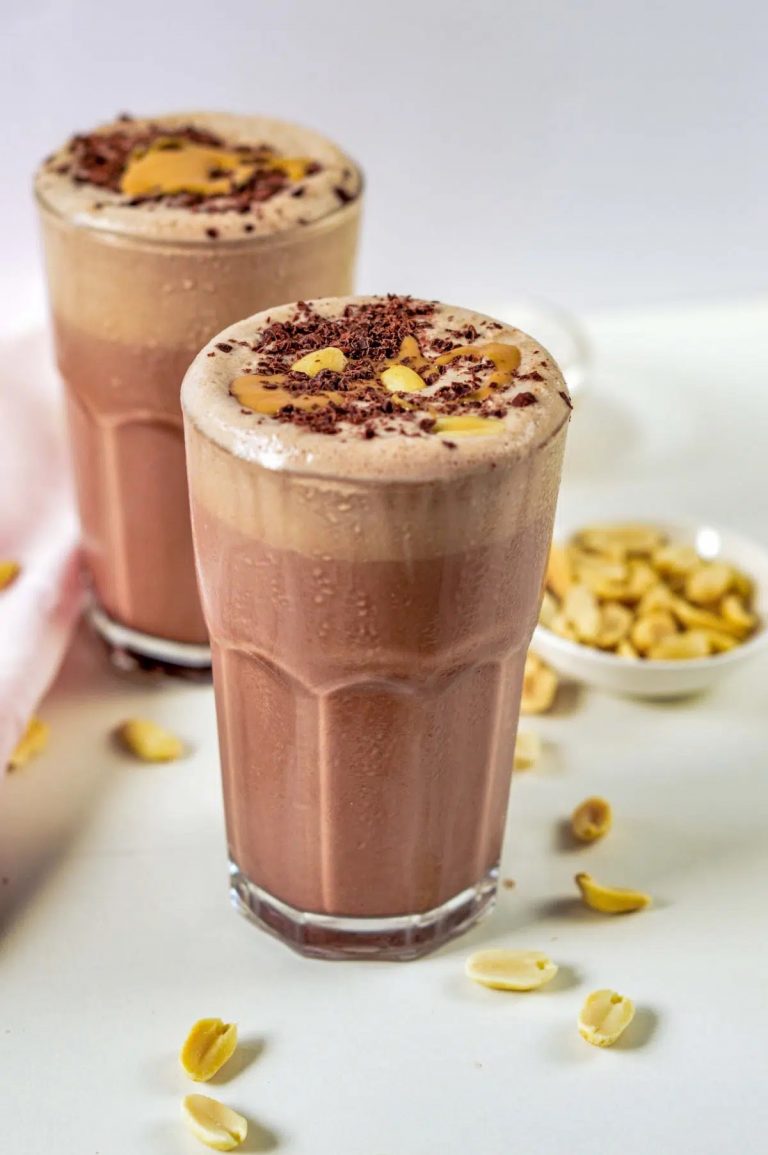 Why We Love It: I've said it before and I'll say it again: nothing beats peanut butter. The nut butter goes well with literally just about anything and packs in all the healthy fat and protein. And while it tastes indulgent, sipping on this smoothie won't set you back on your New Year's intentions. It's surprisingly light and sets you up with everything a productive morning needs.
Hero Ingredient: A tablespoon of unsweetened cocoa powder gives this smoothie the chocolate and PB combo I'm wanting at all times of the day. To up the antioxidants, swap in cacao instead.
This post was originally published on December 31, 2021, and has since been updated.