If you're still holding onto summer fare, we get it. Temps are slowly dropping, but not fast enough to bid farewell to ripe tomatoes and charred, hot-off-the-grill corn on the cob. All of that to say, you'll find fewer berries and more fresh, juicy figs on the breakfast menu. Now's the time to tuck into autumn's harvest—or at the very least, tap into seasonal produce. To kick off autumn's finest ingredients, we're sharing a fall smoothie recipe that checks all the boxes: it's energizing, anti-inflammatory, and balances blood sugar.
The star of the show? Black Mission figs. An ode to chilly mornings, sunlit afternoons, and everything else that's golden this time of year, you'll want to add this smoothie to your breakfast rotation—stat.
Feature image by Michelle Nash.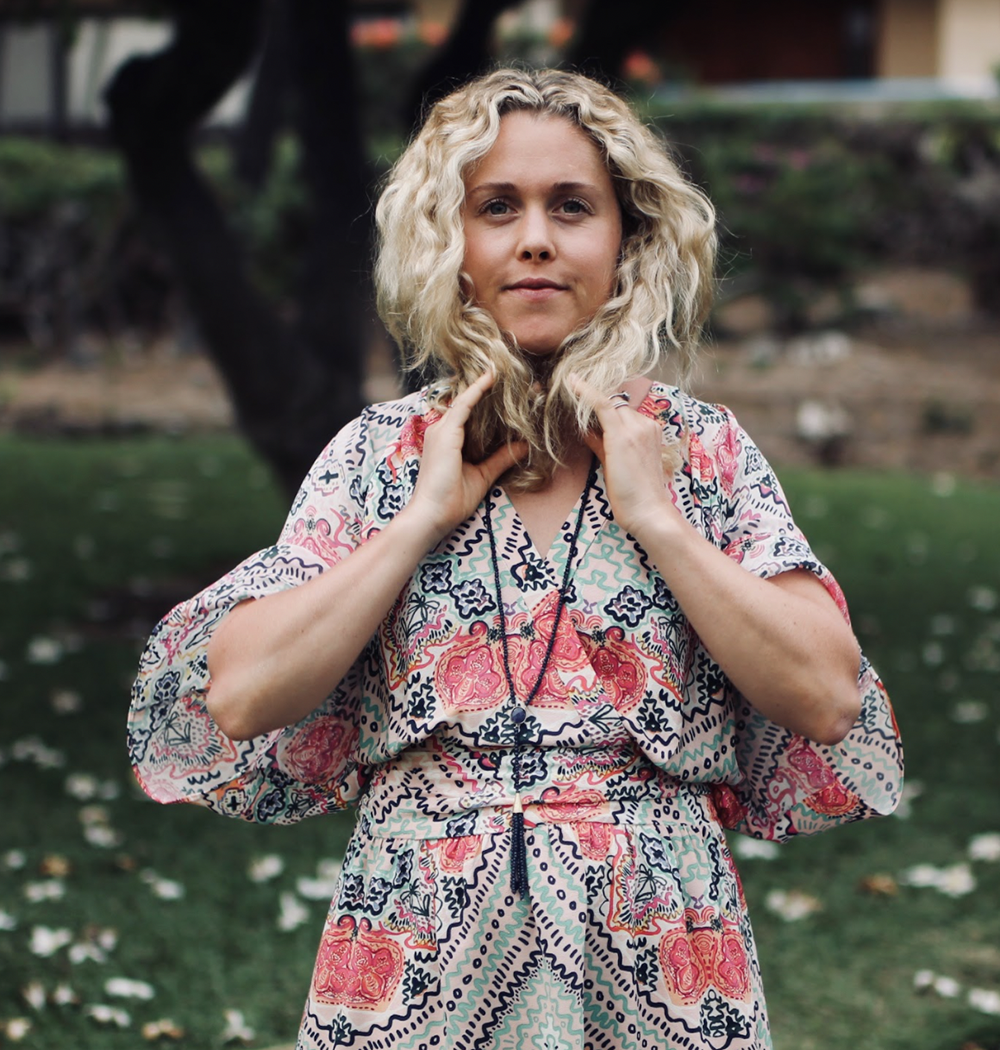 Why You Should Eat With The Seasons
If you haven't made the switch yet, now's the time to start thinking about autumn's harvest. Before we tuck into winter, fall is an opportunity to tread lightly on summer produce. Simultaneously, consider adding more root veggies, hearty salads, and whole grains to your weekly meal plan. Eating with the seasons has a myriad of benefits. First and foremost, fruits and veggies cultivated during their natural growing season have more intense flavor and ripeness. A perfect example? Crisp, peak-season apples.
Secondly, eating with the seasons is more economical. When produce is in season, it's available at a lower price. Lastly, produce grown close to home costs less money to transport, supports your local community of farmers, and is better for the environment.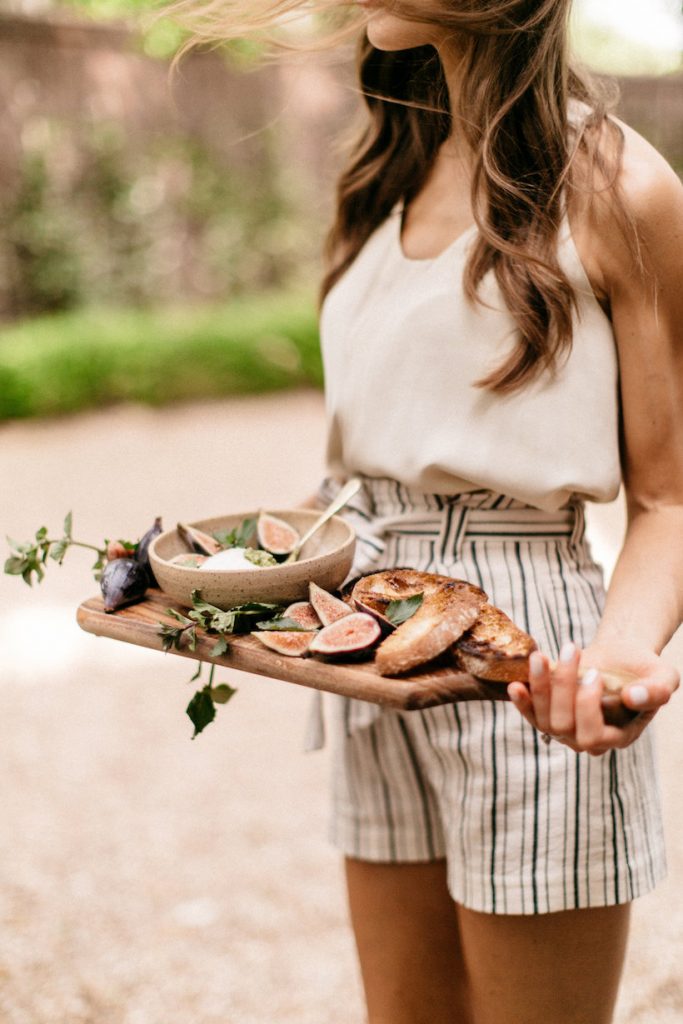 Foods To Eat In The Fall
Until early December, farmers reap the rewards of summer's growing season. In that sense, it's no surprise that fall is synonymous with abundance and gratitude. Curious to know what's in season during the fall? Here's a short list:
Fruit: cranberries, apples, pomegranates, citrus fruits, figs, and pears
Green veggies: arugula, broccoli, spinach, kale, celery, and artichokes
Root veggies: onions, carrots, squash, pumpkin, turnips, and sweet potato
Whole grains: brown rice, quinoa, oats, and millet
Legumes: beans, chickpeas, lentils, soybeans.
Fish: sea bass, cod, sole, and haddock
Herbs: ginger, turmeric, cinnamon, rosemary, thyme, basil, and dill
Naturally, produce peaks at different times in the U.S., so use this as a general guide to the produce you'll find this month.
Embrace The Fall, Ayurvedic Style
We love any excuse to incorporate ancient wisdom into our modern day lives. Enter: Ayurveda. Ayurveda—an alternative medicine system—is keen on living in harmony with the seasons. This time of year, it encourages feasting on plenty of fresh, late-summer harvested fruits. Namely, fresh apples and pears. According to Ayurveda, these help "dry out" excess Pitta from the summer.
Eggplant, corn, melons, figs, and okra are also seasonal produce picks for early fall. Dates are also highly recommended. As the air becomes dry, crisp, and cool—and fruit has fallen from trees—it's time to transition to steamed or stewed fruits and warming spices (i.e., cinnamon and cardamom).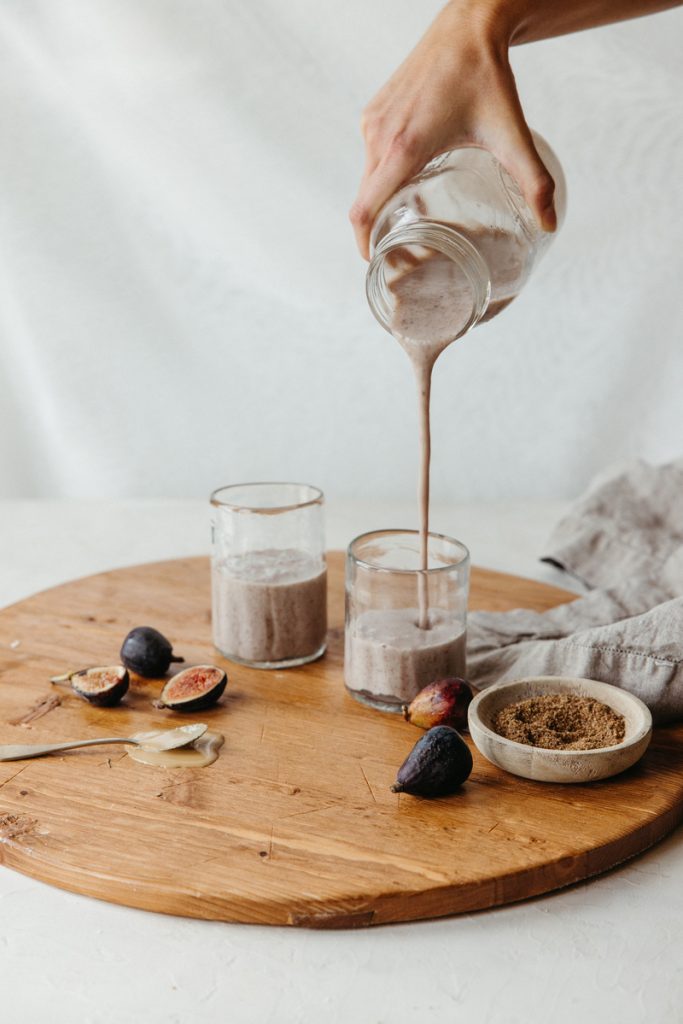 All About Figs
Before we dive into the ingredients for this fall smoothie recipe, let's talk about figs.
There are two seasons for domestic fresh figs. The first season is the first few weeks in June, and the second or "new wood" season typically runs from August through October.
The most common variety is the Black Mission fig, followed by the Brown Turkey fig. Lastly, the Green Kadota fig. If you see them at your grocery store, buy them only if you plan to use them quickly. Fresh figs will spoil within 7-10 days of harvesting. In most cases, this means you have a couple of days to enjoy them at home! They're delicious paired with cheese, on toast, in salads, and on a breakfast board.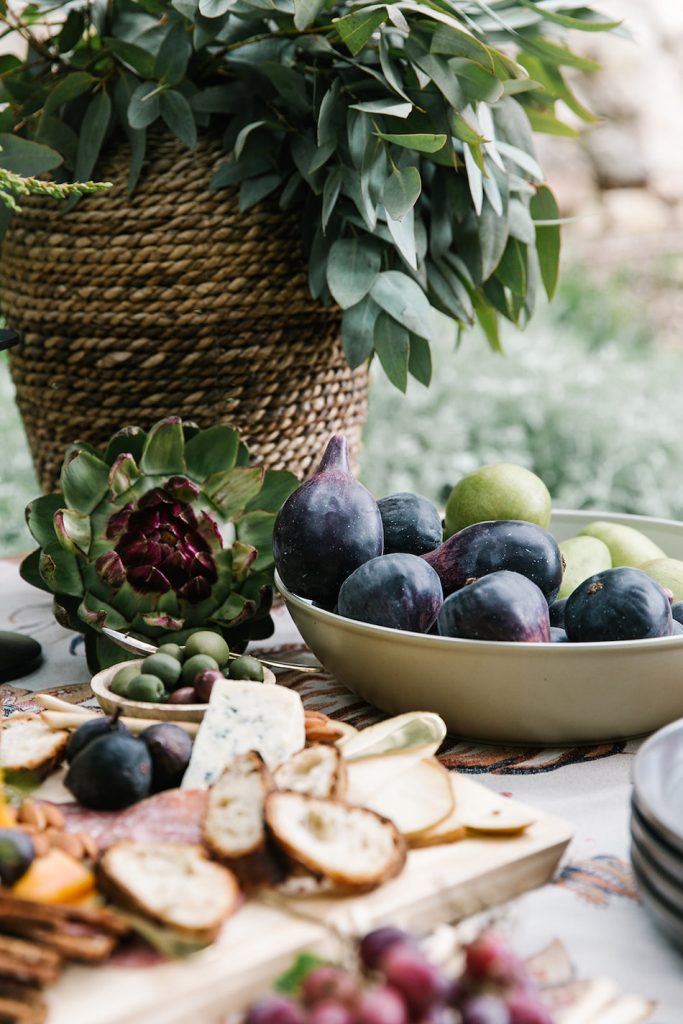 How to Buy Figs
As far as selecting ripe figs, you want them to be soft—to give a little with the slightest pressure, but not at all mushy or hard. Avoid figs with bruises and check to see that the stems are firmly in place. A wiggly, loose stem is a dead giveaway for a mushy fig. For this fall smoothie recipe, you can use any type of fresh fig variety!
What You Need For This Fall Smoothie Recipe
Fruit, spices, and seeds provide the base for this healthy fall smoothie. Made with seasonal ingredients, your tastebuds will delight in autumn's goodness.
Figs
Rich in antioxidants, figs are the star of the show. They provide a subtle sweetness as well as calcium, potassium, and fiber.
Banana
Nature's most portable snack, banana adds sweetness and creaminess to this fall smoothie recipe. You can sub banana for 1-2 pitted dates.
Milk of Choice
Use what you prefer! If you opt for cow's milk, you'll get a bit more protein. If you opt for non-dairy milk, the best milks for balancing blood sugar are unsweetened almond, coconut, macadamia, or hemp. Oat milk can cause a blood sugar rollercoaster!
Vanilla Protein Powder
For a grass-fed option, this vanilla protein power by Kelly Leveque tastes unbelievable. If you're plant-based, this vanilla protein powder is a favorite! Plus, you get added superfoods.
Tahini
Made from ground sesame seeds, tahini is a wonderful source of healthy fats (to aid in satiation and blood sugar balance) as well as vitamin E.
Ground Flaxseed
Another source of healthy fats, ground flaxseed is a functional food worth the pantry space! This small seed has big benefits. It aids in digestion, regulates hunger cues, and can help balance hormones.
Maple Syrup
Nothing says fall quite like maple syrup! Use real maple syrup for the ultimate flavor boost (it pairs beautifully with tahini and figs). This unrefined sweetener contains antioxidants, zinc, magnesium, and more.
Fresh Ginger
Speaking of antioxidants, fresh ginger helps fight inflammation for a boosted immune system—exactly what we need in the fall! It adds a hint of spice in this fall smoothie recipe. It makes an appearance in many smoothies!
Cinnamon
A warming spice with blood sugar-balancing benefits, cinnamon also helps lower inflammation in the body. Extremely versatile, you can add cinnamon to both sweet and savory dishes.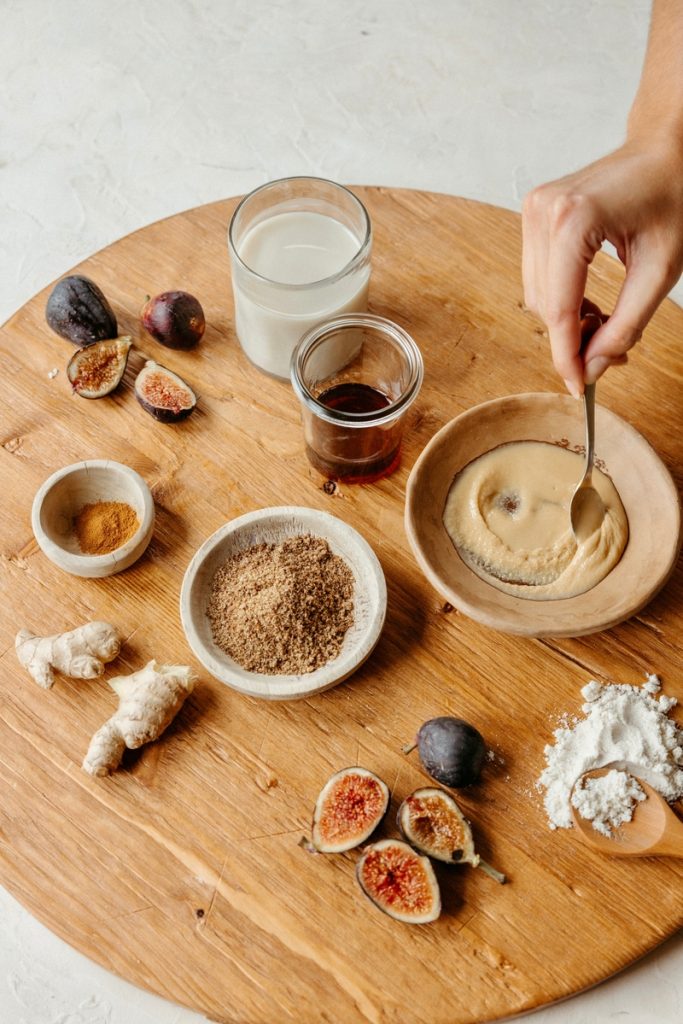 How to Make a Fall Smoothie Recipe
The beauty of this recipe is it only requires one piece of equipment—a high-powered blender! Add your liquid first (it helps everything blend), then add the remaining ingredients. For an extra creamy smoothie, freeze your figs and banana. And don't forget to leave a review in the comments—enjoy!
P.S. Looking for more inspired smoothie ideas? Here are a few that I've had on repeat lately: