I love a summer barbecue as much as the next person. But as a vegetarian, I've often had to bring my own food or just pick at whatever random veggies people happened to throw on the grill. And while there are some great plant-based alternatives for burgers and hot dogs these days—I can confirm, I love both Impossible and Beyond Meat's offerings—sometimes I want to enjoy a delicious and satisfying skewer just like everyone else. In thinking of options beyond the veggie kebab, I came back to a favorite that I've had at countless weddings over the years: paneer tikka kebabs.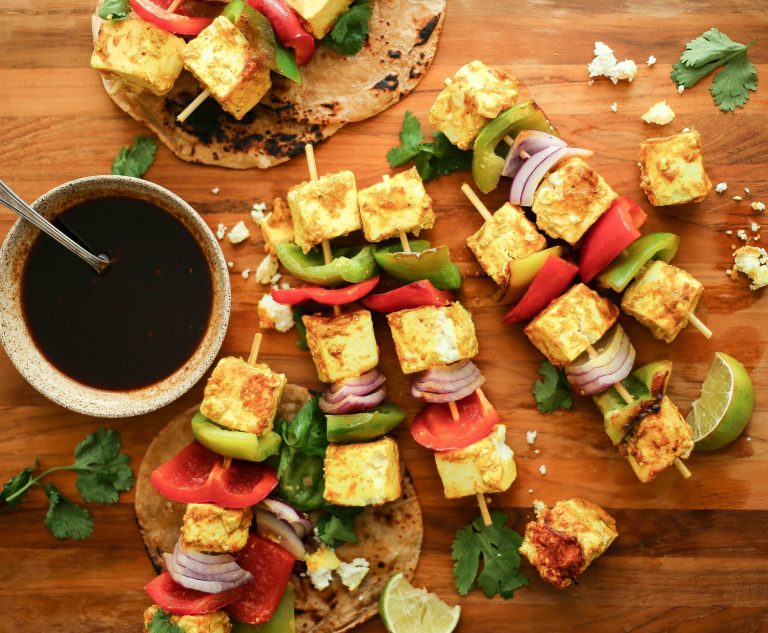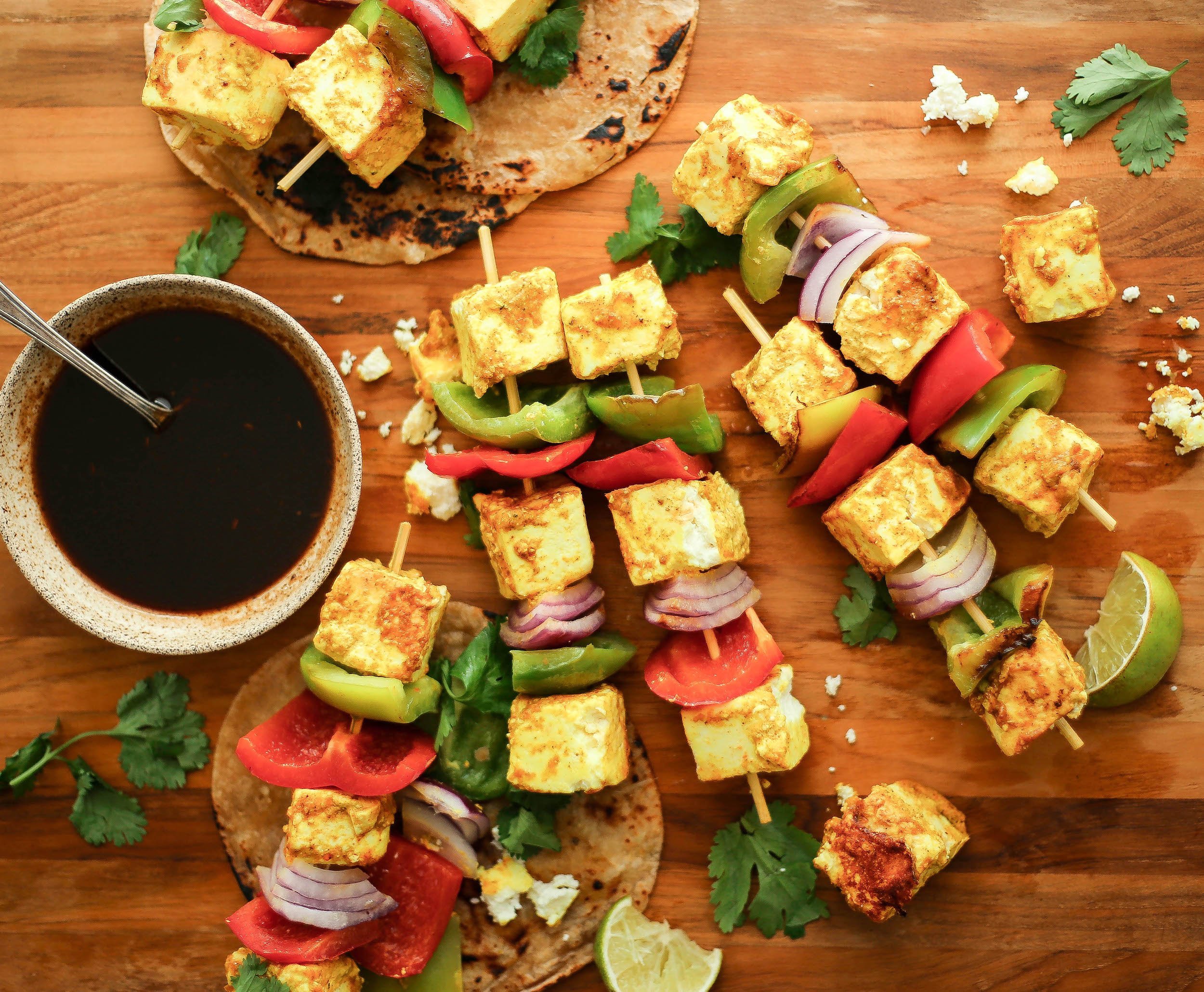 Who doesn't love
paneer
? Having grown up with paneer in many forms—with
saag paneer
being one of my favorites—the Indian cheese has basically always been a staple in my fridge and freezer. Paneer is a non-melty cheese with a nice chewy texture and mild flavor. While I grew up eating it in lots of sabzi's, it also stands up great on its own.
On its own, paneer doesn't have a ton of flavor, which is why we go all-in on the marinade. A little mix of yogurt and tons of spices come together to marinate the paneer overnight so that when you grill off the skewers, the flavor is delicious and satisfying. As usual, I highly recommend using fresh ground spices. It really makes a difference here in the flavor, so don't skimp.
You can also marinate the veggies in the yogurt as well for even more flavor–just increase the amount of yogurt and spices to account for the extras.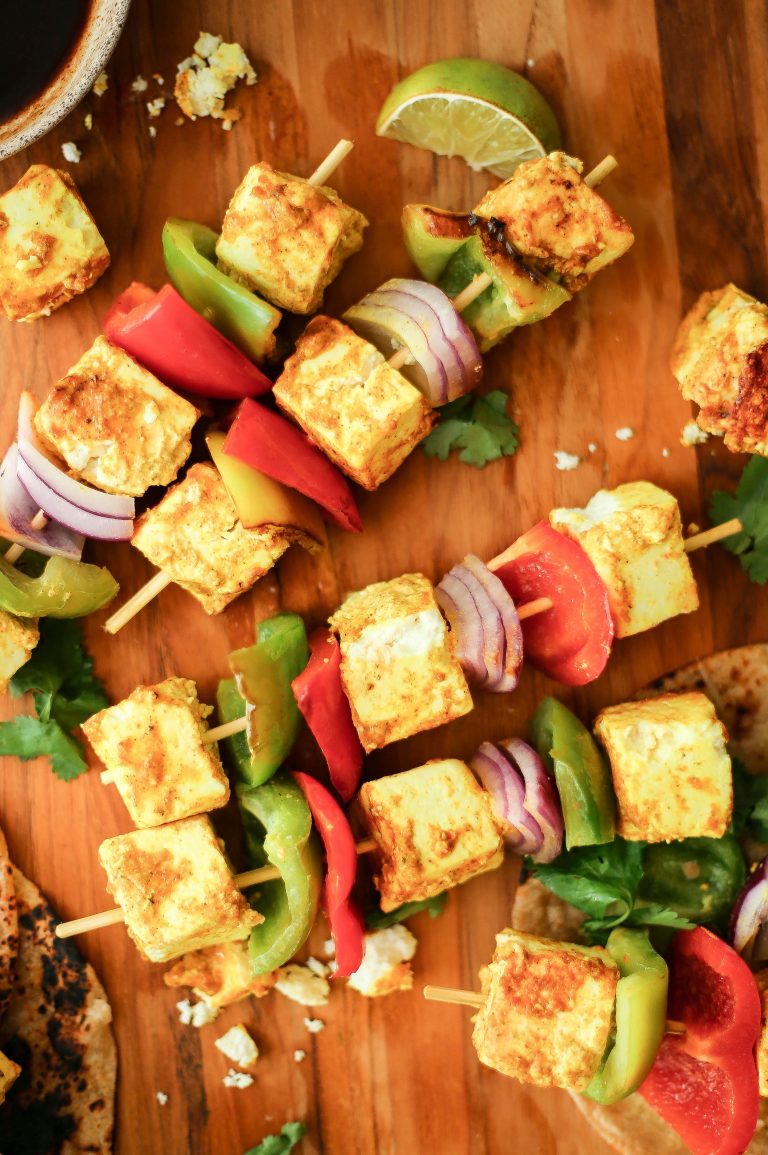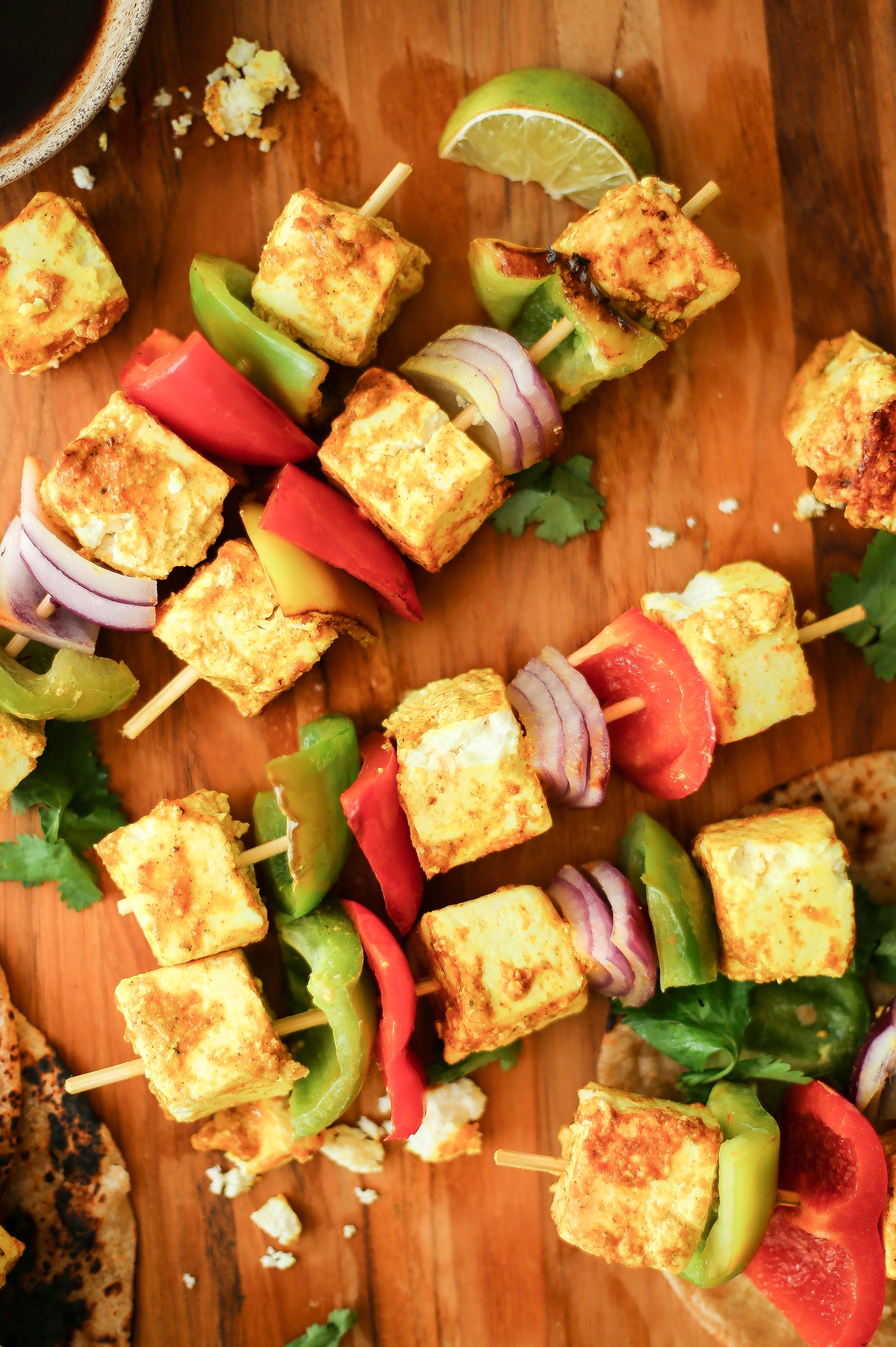 To assemble, layer the marinated paneer with bell peppers and onions before grilling, and you're ready to roll. These really couldn't be easier, and they'll give all of your vegetarian friends something yummy to eat at the barbecue that won't leave them hungry or wishing for a "real" entrée.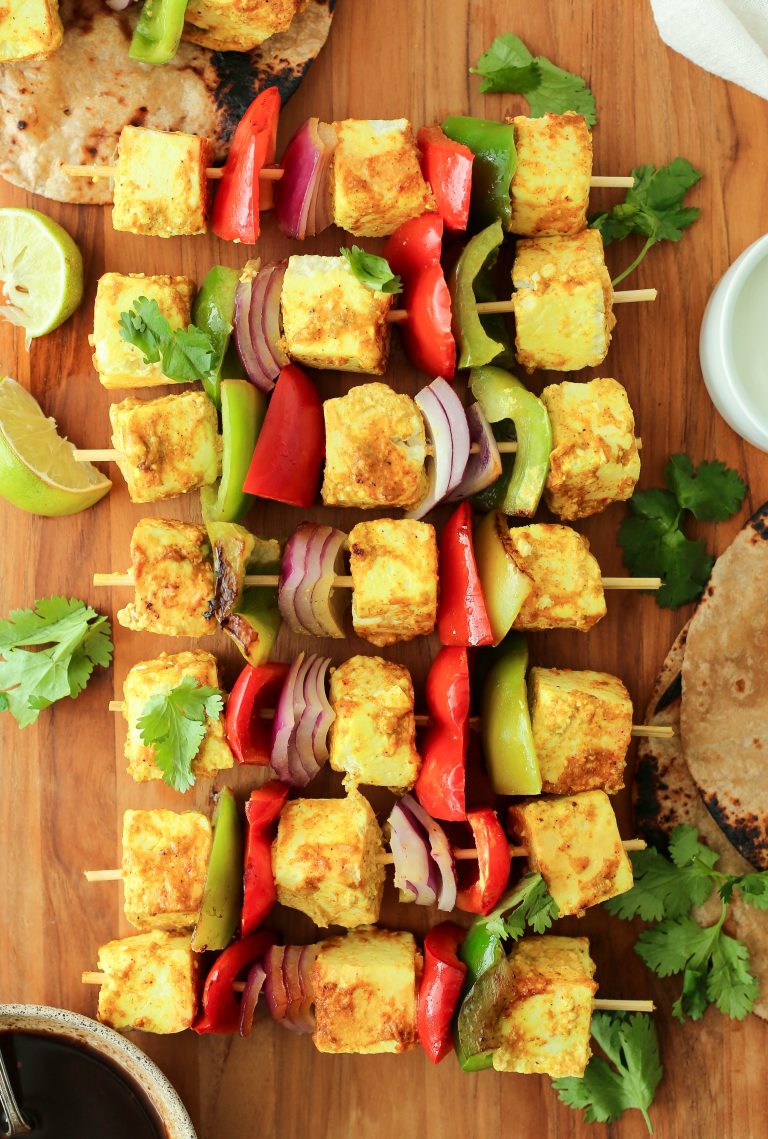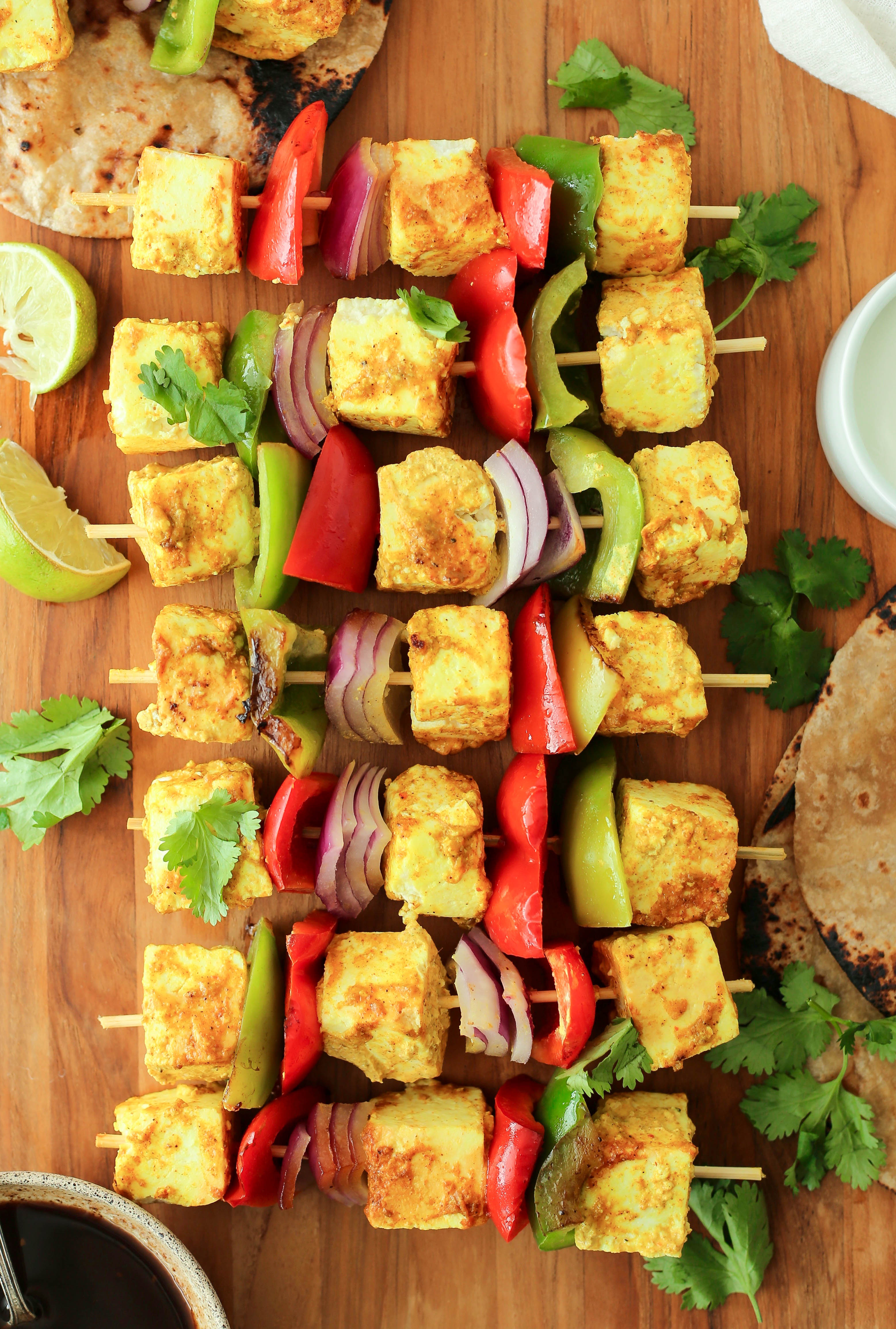 I like serving these with rice, charred rotis, or naans. Drizzle over some tangy chutney and yogurt, and add a squeeze of lime juice for some extra kick on these skewers. It's the perfect way to celebrate summer.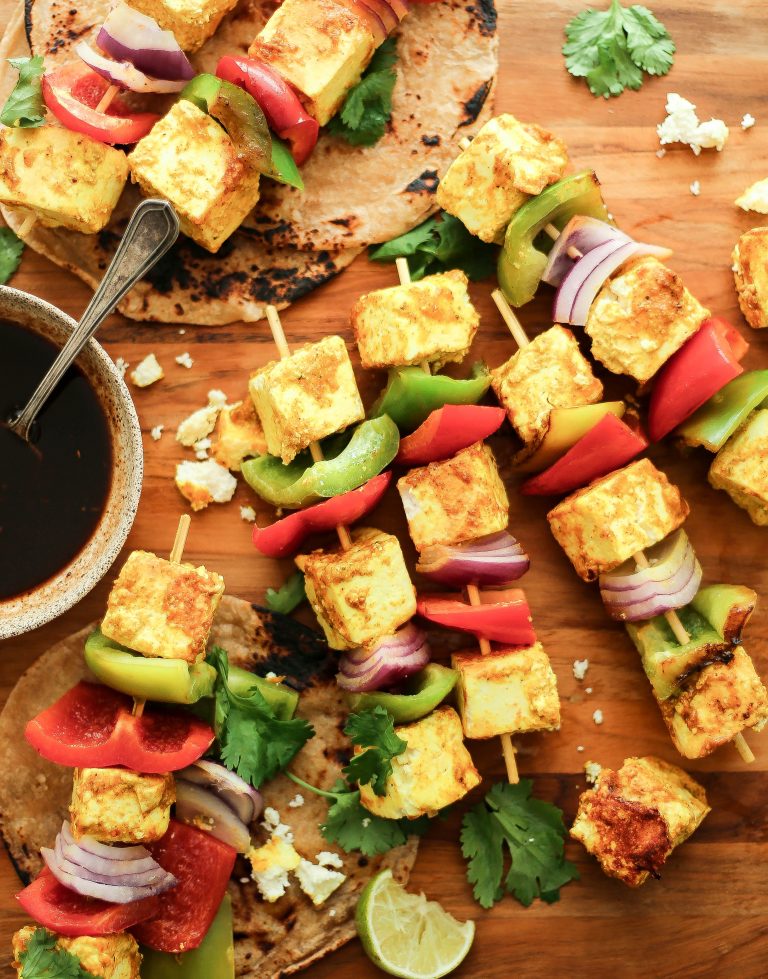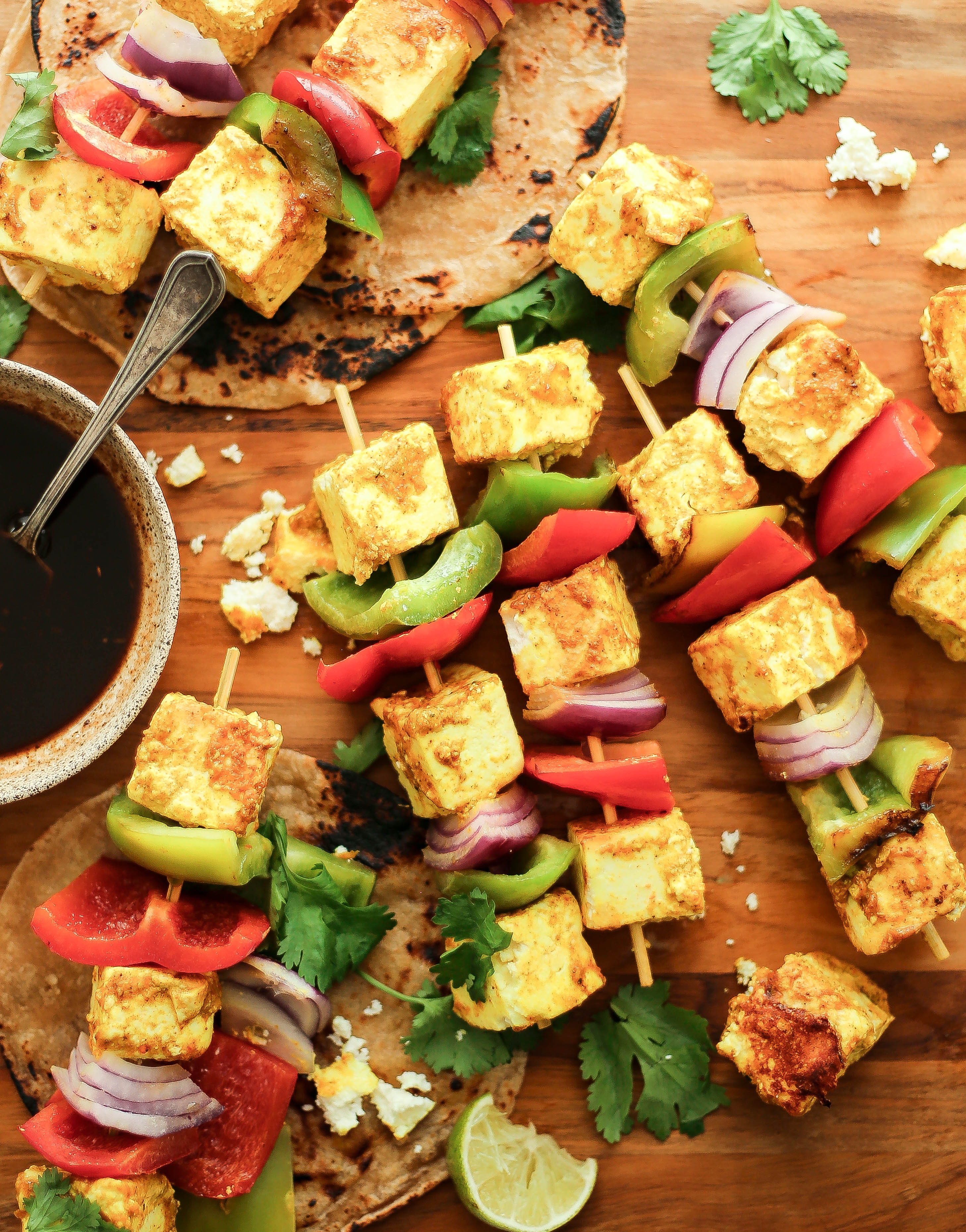 ---
Ingredients
1 cup yogurt
1 tsp salt
1/2 tsp turmeric
1/2 tsp chili powder
1/4 tsp black pepper
1 1/2 tsp ground coriander
1 1/2 tsp ground cumin
1 1/2 tsp garam masala
2 cloves of garlic, grated
knob of ginger, grated
2 12oz packs of paneer, cubed
4 bell peppers, sliced to the same size as the paneer cubes
red onions, sliced into the same size as the paneer cubes
to serve: cilantro, chutney, yogurt, lime juice
---
Instructions
In a large bowl, add the yogurt and all the spices. Stir to combine.
Add the cubed paneer to the yogurt and stir to coat. Cover the bowl and keep in the fridge overnight to marinate.
When ready to grill, chop bell peppers and onions, set aside. Assemble skewers with vegetables and marinated paneer. Grill off on a grill pan, in the stove, or on the BBQ until the paneer has grill marks and vegetables are tender.
Serve with optional sides, enjoy!