There are many of my parents' recipes that I absolutely adore—pakoras, kheer—and I regularly make in my own kitchen. But there are a few of their recipes that I can't seem to crack the code on. One of those recipes is ras malai. That is, until now. Thankfully, I've learned a genius hack thanks to Malai Founder and CEO, Pooja Bavishi and, of course, her mom.
The easiest way I can think to describe ras malai is to say that it's one of my dad and my favorite desserts. It's made of a sweet and creamy milk that soaks into soft paneer and creates the most unctuous and delicious bite. In our home, it's a classic celebration dessert, and I look forward to every time I catch my dad getting prepped to make it.
When I tried Pooja's version, I couldn't believe how similar it tasted to my dad's. And bonus: it was so much easier to make! So, you better believe I'll be making her recipe as a part of my Diwali celebration table. Keep reading to get Pooja's cooking tips, her tricks for getting the most flavor from your spices, and how her food philosophy inspires the (addicting) ice cream she creates for Malai.
How would you describe your cooking and food philosophy? How did it influence Malai?
My food philosophy is to get as much flavor out of something as possible. At Malai, we use spices to flavor our ice creams, and we want them to be front and center. In ice cream, flavors and ingredients do not have any place to hide. Because it's such a simple food to put together with just a handful of ingredients—milk, sugar, cream—it's important that the flavorings are treated with integrity for maximum impact. That's what we're always striving for at Malai!
How did you develop this ras malai recipe?
This is my mom's shortcut ras malai recipe. I only made two adjustments. I cut the ras malai with a cookie cutter so all the pieces would be uniform and I added pistachios. It's nostalgic for me because she has not changed the way she makes it since I was born. It's always been exactly this dish, flavored simply with a little saffron, to let the dairy—both the ricotta and the whole milk—shine. It's so decadent in its simplicity. I added a few pistachios on top for some textural contrast, but other than that, it's a pretty perfect recipe.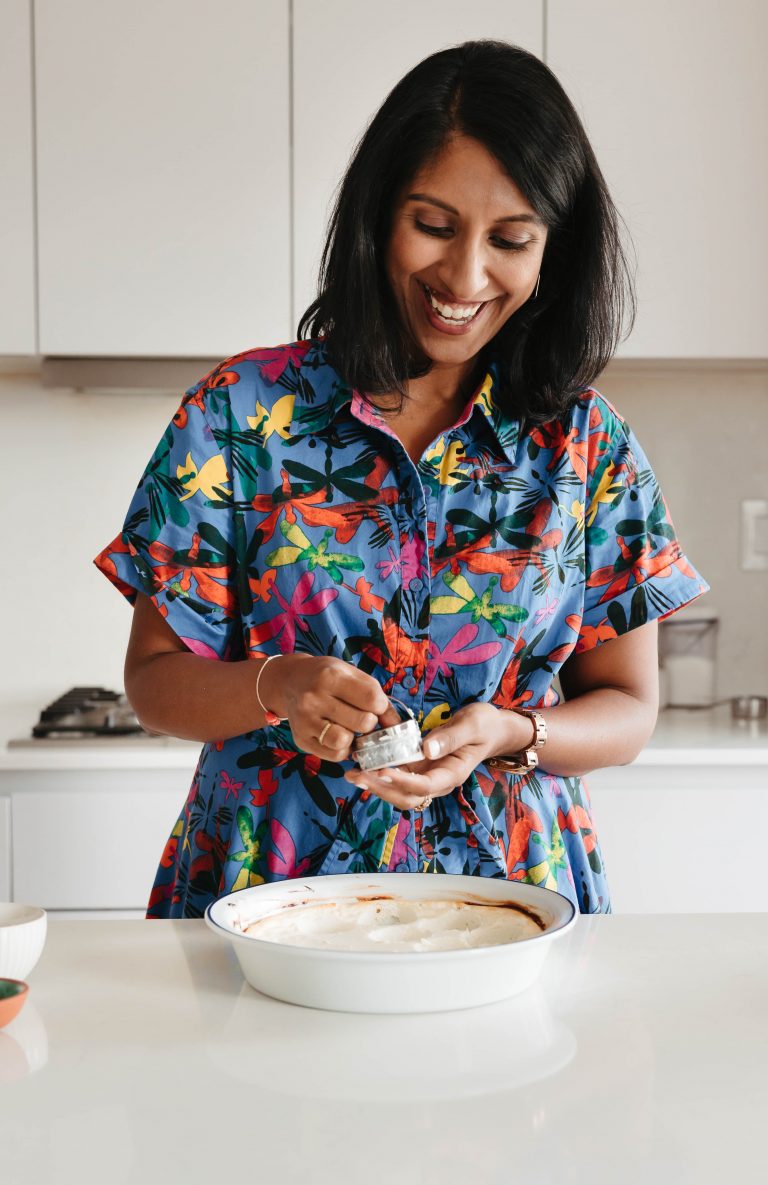 What makes this recipe your go-to for Diwali?
It's a crowd-pleaser! There is nothing not to love about this recipe. With sweetened paneer that's baked and poached in reduced, saffron-flavored milk, it's comfort in a bowl. I also like to make this during Diwali time because so many of the other snacks and sweets are crispy. They are fried, hand-held, and have a satisfying crunch. They pair perfectly with this milky, creamy, ultra-decadent dessert.
Food is a huge part of celebrating Diwali, whether that's mailing sweets and treats to loved ones across the country, making snacks at home, or hosting a big meal.
It's the centerpiece for this holiday that's all about coming together as a family. So much of love and culture is spread through food, which makes it a perfect vehicle for sharing traditions.
What cooking tools do you need for this recipe?
This recipe actually doesn't use a lot of tools or dishes! I use a bowl to mix the ricotta and sugar, a pan to bake the ricotta, and a pot to heat milk for poaching. To minimize that, you could mix the sugar and ricotta in the same pan that you will bake it in.
What are your must-have kitchen tools?
One of my favorite kitchen tools is a microplane for grinding spices. It's so versatile: you can zest citrus, and grind spices or hard cheeses. But my favorite way to use it is when you want just a little touch of a spice—say star anise or a cinnamon stick. If you don't want to break out your spice grinder (or don't have one), you can get a hint of that flavor with a microplane. In this recipe, because the primary seasoning is saffron, you don't need a microplane!
What Stand-Out Ingredients Make This Recipe Special?
Funny enough, I think it's the ricotta! Paneer and ricotta are so similar. I love that my mom recognized that and created this shortcut for herself to get a quick ras malai fix. There are so many shortcut recipes in immigrant communities, mostly because ingredients are not as readily available in the States as they are in their home countries. But I have literally never seen this hack anywhere! It's truly my mom's version of ras malai, and I love that.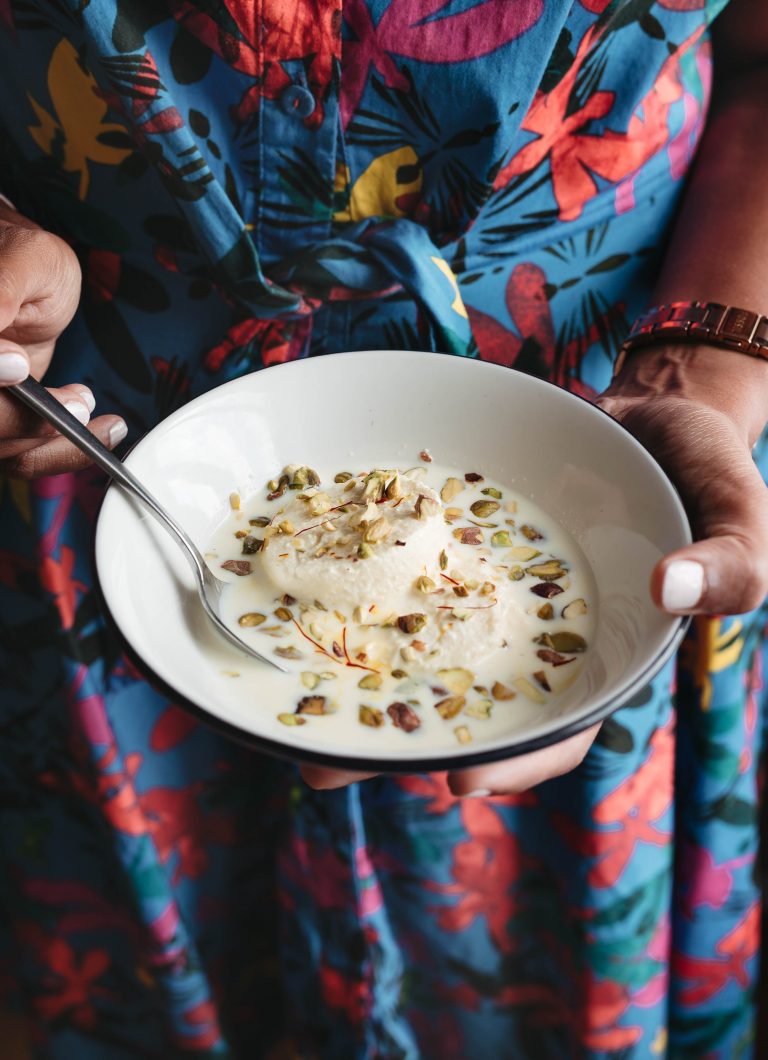 Do You Have Any Cooking Hacks That Make This Recipe Taste Even Better?
I would say that blooming the saffron—taking some hot liquid out of the larger pot to mix with saffron threads before adding it back to the milk—is a hack that everyone should have in their back pocket. Saffron is one of the most expensive spices, but also one of the most fragrant. There is so much bang for your buck with saffron, if treated properly. By allowing the saffron to bloom separately, it imparts the most flavor.
This is true for many spices. You often need to heat or temper or bloom them before adding them to a dish to create the most fragrant end result.
What is your favorite part of creating dessert recipes?
I love how powerful food is. It can cross so many boundaries and create such a universal experience. Food can tell stories, and that is exactly what I'm trying to do at Malai. One of my favorite aspects of Malai has always been to watch our customers try a flavor that they have never heard of before. It's so fun for me to see them find a connection to something that's so nostalgic for me. I hope that's what happens when they try our recipes, too.
Visit Malai in Brooklyn, NY, and celebrate Diwali with the Malai Diwali Celebration Box, which includes a ras malai-inspired ice cream cake. And keep scrolling for Pooja's ras malai recipe!
Ingredients
for the rasmalai pieces: 
2 containers (16 ounces) whole milk ricotta

2 tablespoons granulated sugar
Ghee/butter for greasing
for the rabdi: 
½ gallon whole milk

2/3 cup granulated sugar
8-9 threads saffron
Pistachios, for garnish
Instructions
Preheat the oven to 350 F. Mix together ricotta and sugar in a medium bowl until the sugar is fully dissolved and incorporated.

Grease a 9-inch pie plate with ghee. Spread the ricotta mixture evenly into the pan and smooth out the top.

Bake for 35-40 minutes until the ricotta is set and firm to the touch. It should not be jiggling in the pan. Let cool to room temperature.

Meanwhile, pour the milk into a 3-quart saucepan. Let it come to a boil, stirring constantly to ensure that the milk does not burn on the bottom of the pan. When it comes to a boil, lower the heat to let it constantly simmer. Keeping an eye on the milk to ensure that it does not boil over, and stirring constantly, let it simmer for about 15 minutes until the milk has reduced by a third.
Add the sugar and continue to let it simmer until the milk has reduced by half.
Place the saffron threads in a small bowl and add a spoonful or two of the warm milk to make a saffron milk mixture. Once the milk looks concentrated and is a deep marigold color, pour it into the pot and stir. Turn off the heat and let cool, while cutting the ricotta.
Once the ricotta has cooled, cut out 2-inch pieces. I use a round cookie cutter, but my mom always makes squares out of the pan to ensure that there is zero waste. Drop them into the milk and stir, ensuring that each ricotta piece gets soaked. Let it sit overnight in the fridge.
When ready to eat the next day, spoon out milk and rasmalai pieces into a bowl and sprinkle with pistachios.