There's this taco spot down the street that knows our order by heart. It's an unpretentious, farm-to-table kind of place (our go-to on long days) but their corn tortillas are homemade and their guac is particularly spicy—I can't get enough. With a toddler to chase and a career to balance, I'm all about quick, no-fuss dinners. Often, that also includes quick and simple takeout—especially when it involves street tacos. I'm a veggie or seafood taco connoisseur through and through. My husband, on the other hand, loves carne asada and tacos al pastor. So while this black bean taco recipe is more my jam, he couldn't get enough. Best of all, it takes less than 15 minutes to assemble and only requires a short list of ingredients. Easy, plant-based summer taco recipe? Yes, please.
Although our neighborhood cantina doesn't have black bean tacos, this recipe was inspired by their veggie taco. Roasted portobellos with tomatillo salsa, avocado, pickled Nopalito, and crispy potatoes are layered on soft corn tortillas—it's savory and flavorful. The pickled Nopalito (cactus) is delicious. My only qualm—it's lower in protein than your average taco. So, when I started developing this recipe, I made sure it packed a protein punch. Enter: black beans.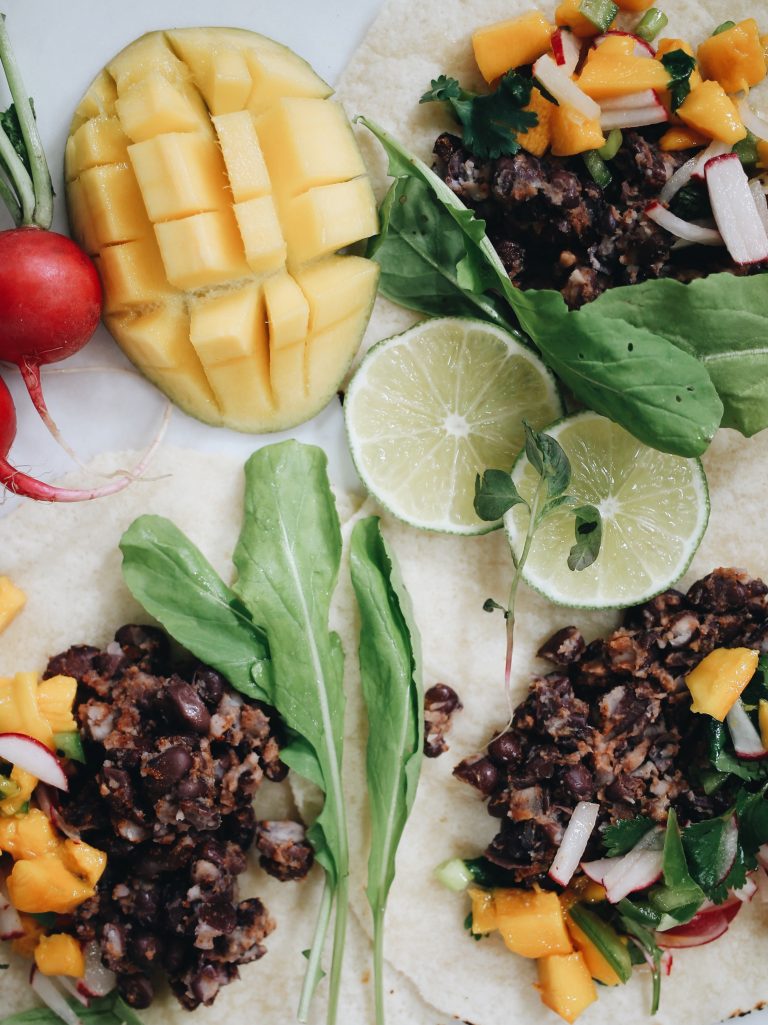 Black beans are incredibly versatile, cost-effective, and have a rich nutritional profile. Per cup, black beans have upwards of 15 grams of protein and are an excellent source of fiber. They also contain folate, an important nutrient during pregnancy. Whether you're leveraging a workhorse recipe or crave something light and refreshing, black beans are a pantry staple.
The other star of the show? Mango. And great news, it's basically mango season. While the exact number is unknown, there are roughly 1,000 different types of mango, worldwide. India and Mexico are the leading growers. Here in the United States, you're probably familiar with the Haden mango—it's round with bright yellow flesh and a firm texture. Kent is another popular type, with a soft, oval-shaped figure and a distinctly tropical flavor. Mangoes all high in vitamin C, with varying textures and sweetness. For this recipe, any variety will do.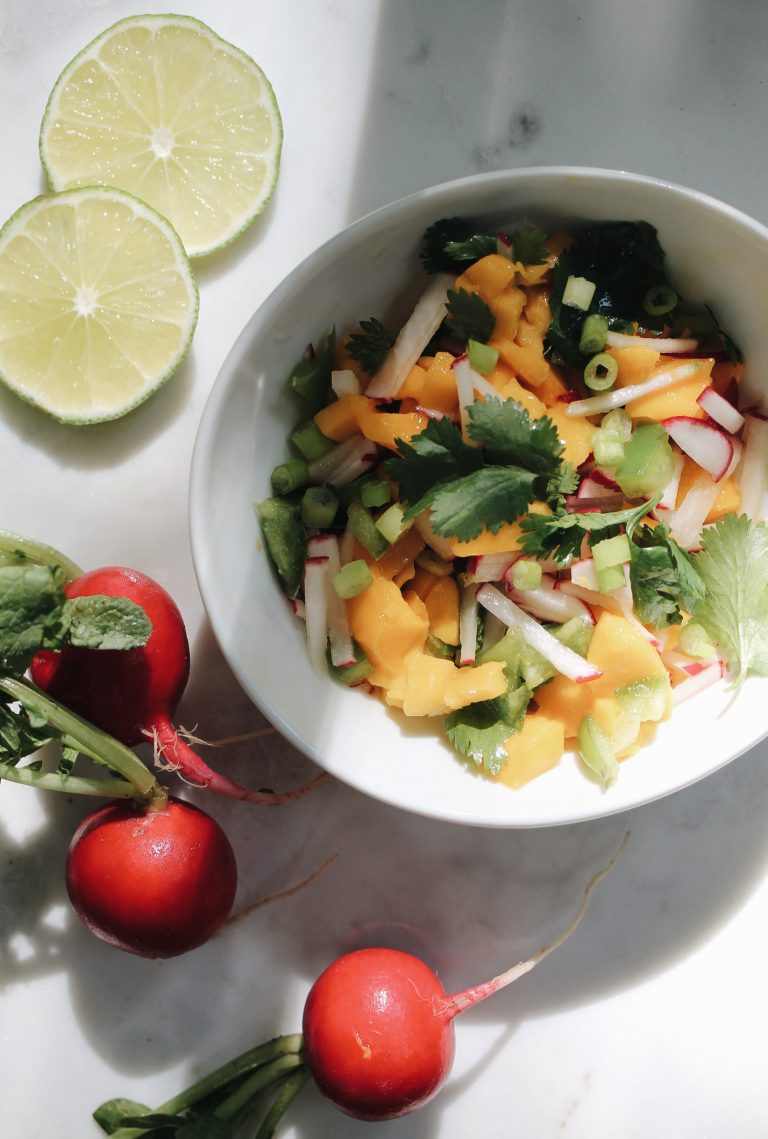 For the sake of getting dinner on the table ASAP, I suggest making the salsa ahead of time. It's an easy recipe, but the longer the ingredients meld, the more flavorful it becomes. I love this mango and radish salsa with chips, endive leaves, or sliced cucumber. It's sweet, spicy, and crunchy—the perfect taco topping.
To assemble, you can use any tortillas: corn, traditional flour, or alternative flours (like coconut or cassava). I prefer the satiating factor of almond flour tortillas. If you have a gas stove, char your tortillas. All it takes is five to 10 seconds on each side, and it's an immediate tortilla upgrade. Otherwise, steam your tortillas in the microwave. Lastly, although this recipe doesn't call for cheese, Cotija cheese is my go-to. You can buy fresh or aged (añejo) Cotija, but I prefer fresh Cotija on tacos.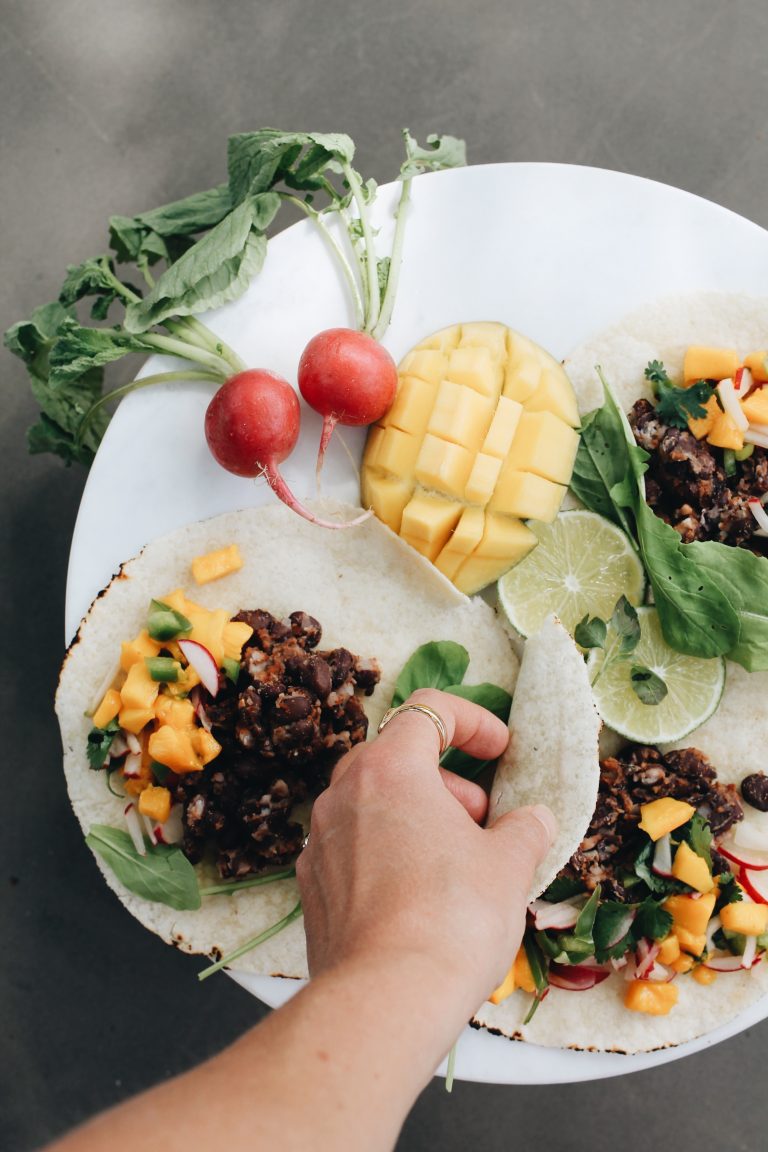 Categories
dairy-free, vegan, vegetarian
---
Ingredients
for the mango and radish salsa:
1 mango 

1 bunch of radishes (about 5)

¼ cup green bell pepper

3 tablespoons fresh cilantro

2 tablespoons green onion

Juice of 1 lime

Sea salt and pepper to taste
for the black bean tacos:
8 tortillas

1 15-oz can of black beans (I used low sodium)

2 tablespoons taco seasoning (packaged or

homemade

)
to serve:
Sliced avocado, limes, Cotija cheese, pickled onions, etc.
---
Instructions
Chop mango into cubes.

Slice radishes into matchsticks.

Chop green bell pepper.

Remove cilantro leaves from stems.

Slice green onion into small rounds.

In a bowl, combine all salsa ingredients, including lime juice, sea salt, and pepper.

Wash and drain black beans.

In another bowl, mash black beans with taco seasoning, leaving some of the black beans intact. Optional, but you can warm your black bean mixture on the stove.

Char (or steam) tortillas. Fill each tortilla with the black bean mixture and salsa.