I have a hard time slowing down. As a chronic over-scheduler, I'm now learning the art of leaving a little breathing room in my calendar. Doing so opens up space for spontaneity—walks, alone time, and of course, whipping up an easy bruschetta recipe to enjoy at my leisure.
While having a packed schedule is certainly a privilege, I'm happy to report that taking my time has been a bit easier lately now that peak summer has set in. There's something about summertime that forces me to pause and linger on the small moments each day that make this time of year so special… including the snacks. Summer is the season of simple pleasures, and no-cook meals plus passionate snacking are at the top of my things-to-enjoy-in-summer list.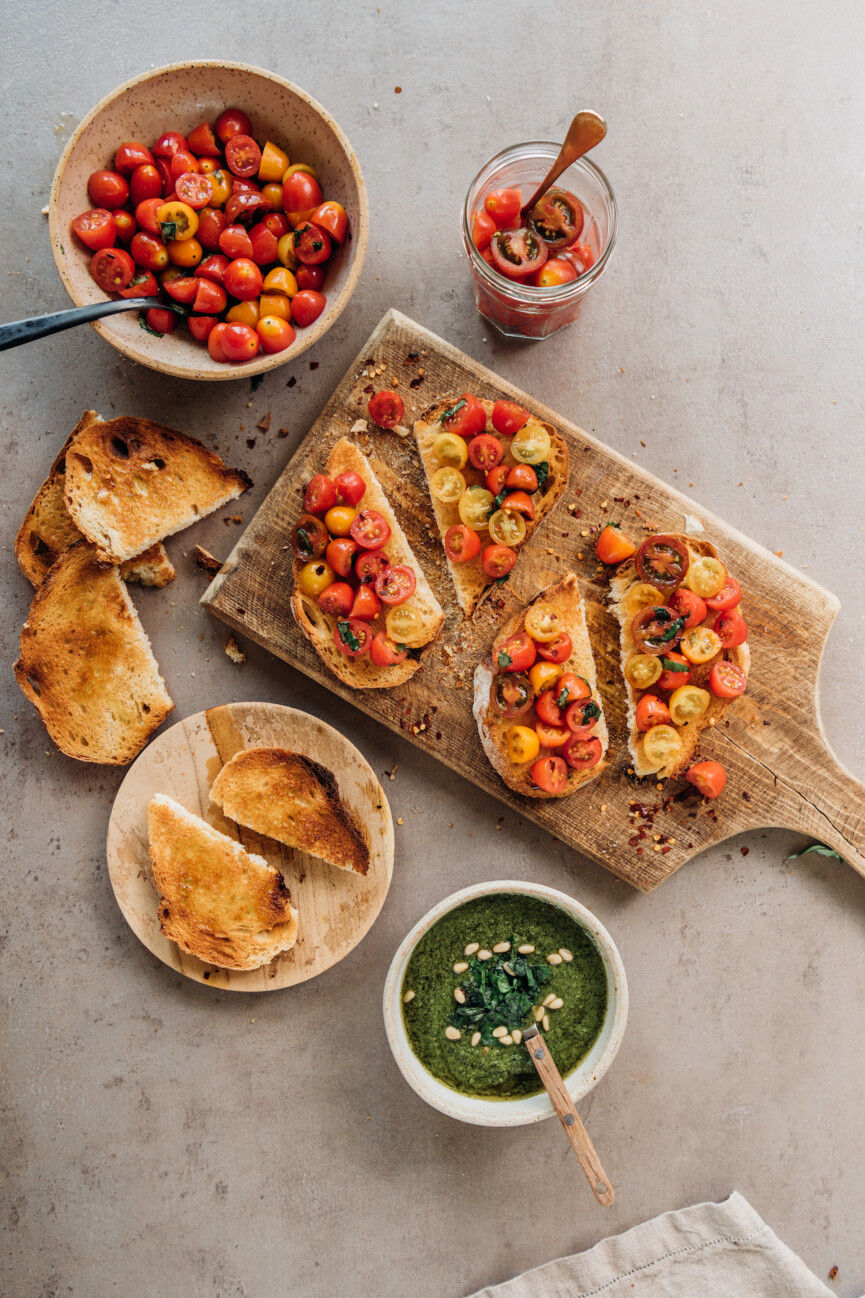 Cue this easy bruschetta recipe. If you haven't noticed, Team CS has a bit of a toast obsession. While we love to roll up our sleeves and follow a good recipe, there are few things more satisfying than perfectly-crispy, properly-topped toast. With just a few classic ingredients—ripe summer tomatoes, EVOO, balsamic vinegar, and fresh basil—this easy bruschetta recipe will make all your toast dreams come true.
This no-frills, eat-any-time-of-day snack/meal hybrid takes just a few minutes to make. Permission to enjoy it when you're dining solo or invite a few friends to the party. Whether you have it as an appetizer, snack, or main, know this: there are no rules here! It's summer after all.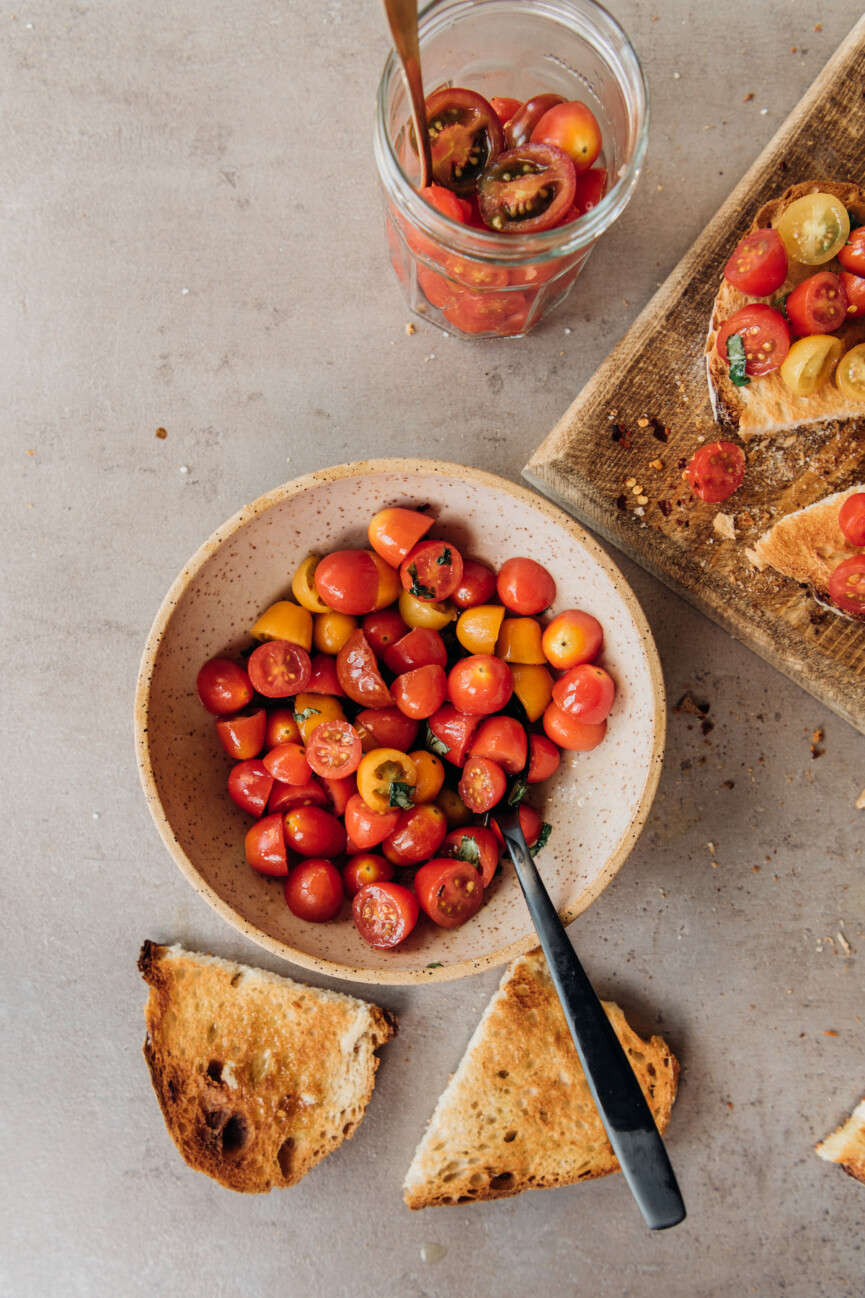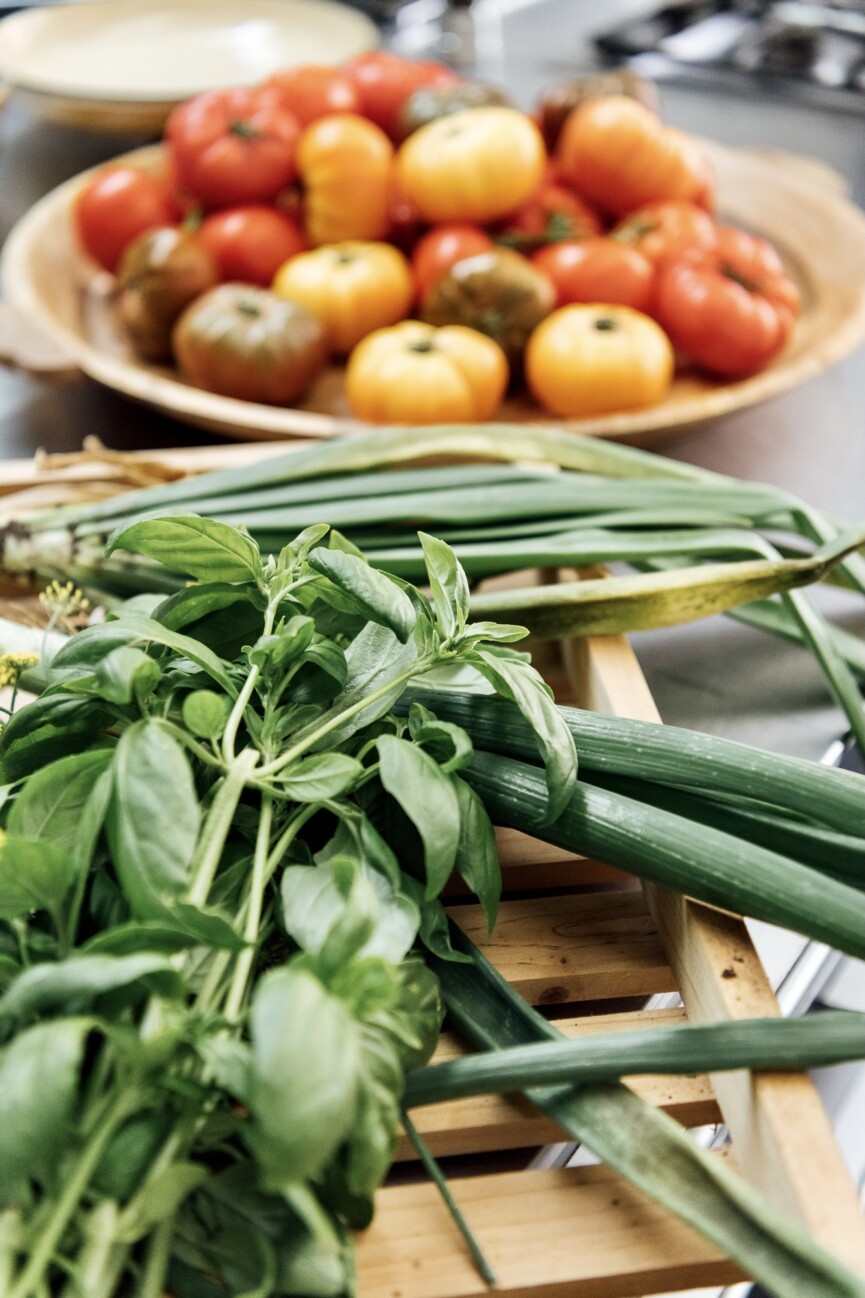 How do you make classic bruschetta?
It's no secret that the Italians are experts in simple pleasures, and we have them to thank for many magical things, including bruschetta. While fancy garnishes can be fun, this dish is proof that a simple combo of toppings can be tasty, too. Here's what you'll need for this easy bruschetta recipe:
Ripe Tomatoes
I used cherry tomatoes for this recipe, but vine-ripened, heirloom, and other varieties work wonderfully, too. As long as your tomatoes are chopped enough to soak up the flavors and easily fit on a spoon, you're golden. Bonus points for whatever's in season!
Fresh Basil
Fresh herbs are never a bad idea. Basil adds a hint of fresh flavor that goes a long way in this dish.
EVOO and Balsamic Vinegar
A classic combination that never gets old.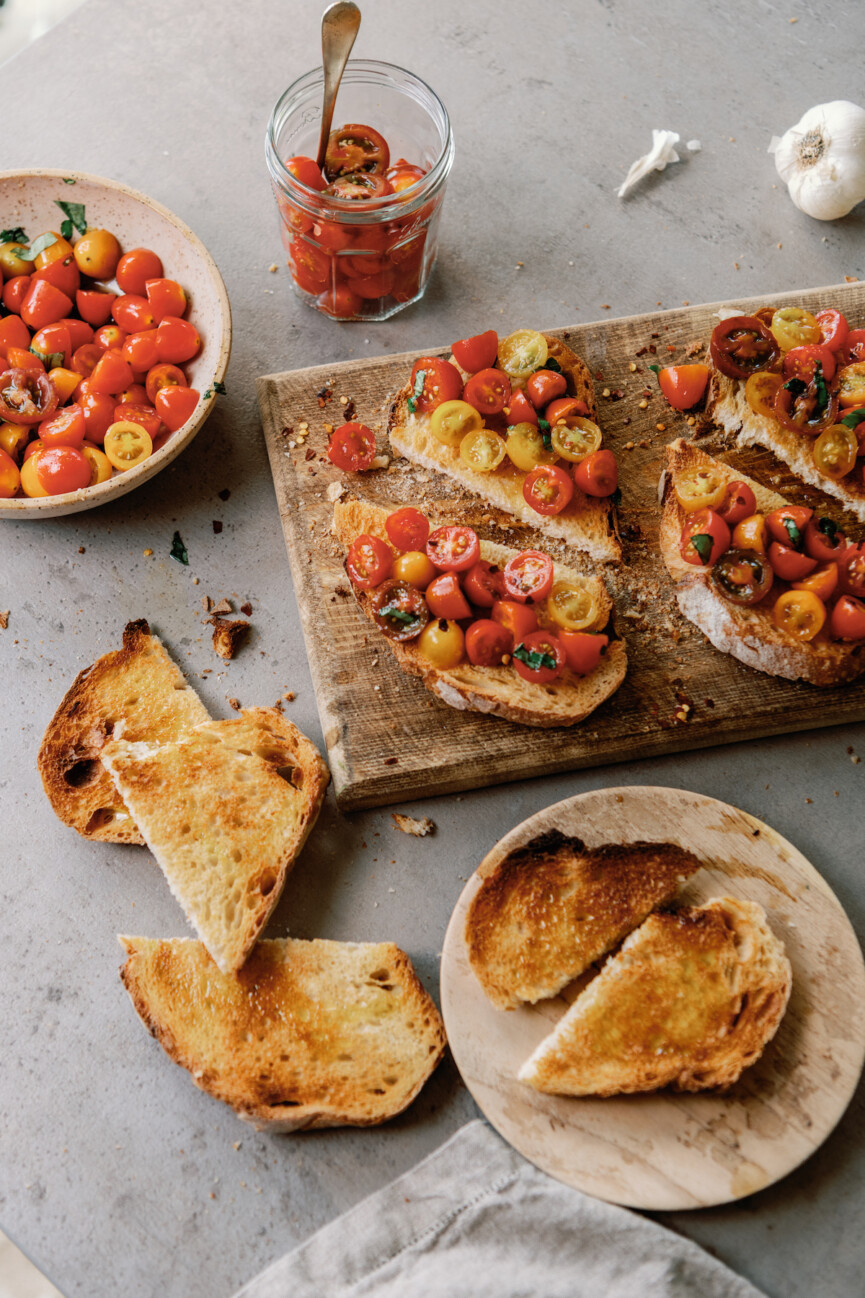 How To Serve This Easy Bruschetta
When it comes to serving bruschetta, there's only one (right) way to do it: on perfectly-toasted bread. While I chose sourdough for this recipe, really any rustic Italian bread will work. Pro tip: I recommend slicing your bread about 1/2 an inch to 3/4 an inch thick. I've had my fair share of toasts over the years, and I've found this to be the perfect thickness. The bread isn't overbearing, but it'll remain sturdy under whatever toppings you choose.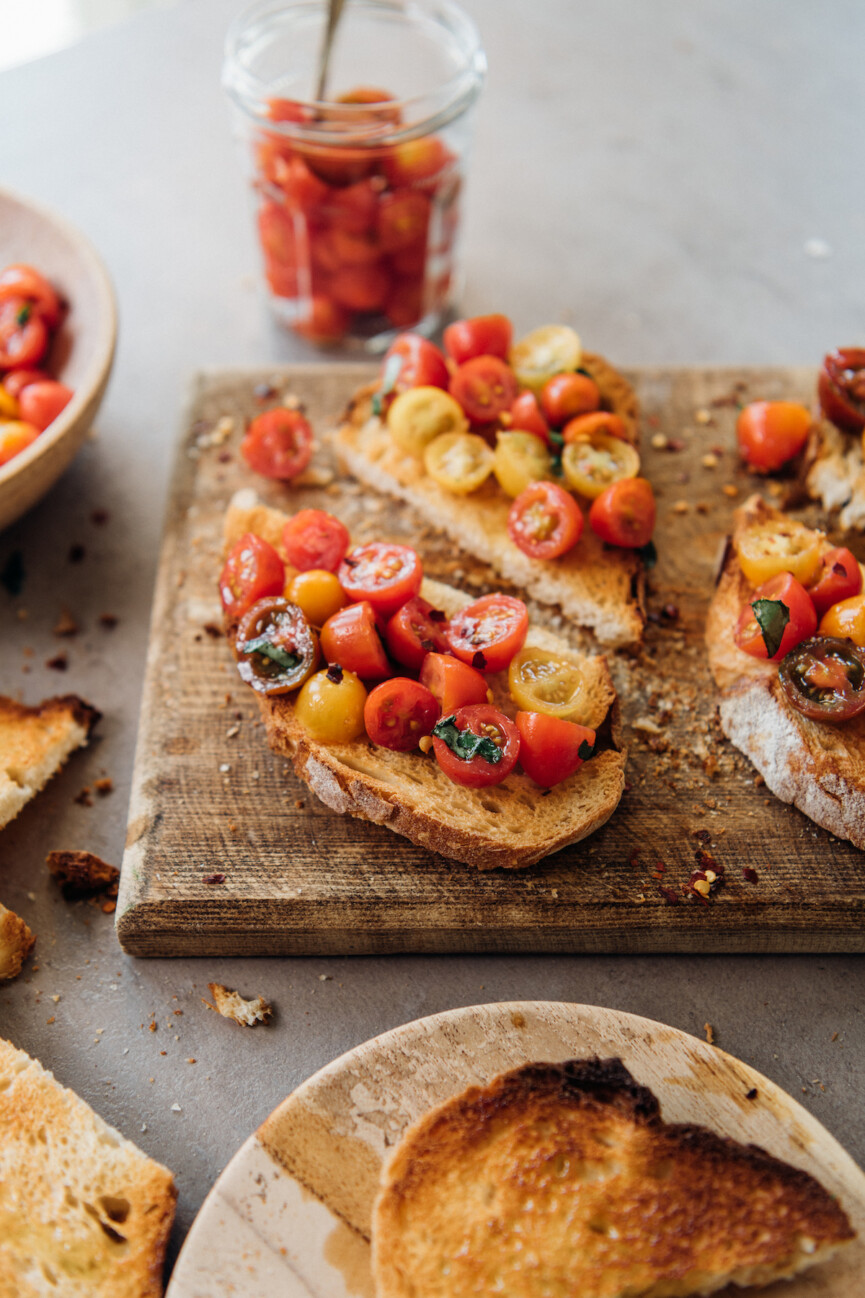 Tips for Making This Easy Bruschetta Recipe
If you've been waiting for a recipe that's too simple to mess up, this one's for you.
Toast your bread on the grill. This is the best way to achieve that charred, grill-marked slice we all strive for.
Keep a close eye on your bread. I know from experience that bread can go from lightly browned to overly charred in just a matter of seconds.
Let your bruschetta cool. Once you've mixed together all the ingredients for your topping, chill it in the fridge for at least 10 minutes to ensure maximum flavor.
The more salt, the better! Of course, there's a threshold where things can get wayyy too salty, but I'm of the opinion that topping your toast with an additional sprinkling of salt and a final drizzle of EVOO will only make things tastier.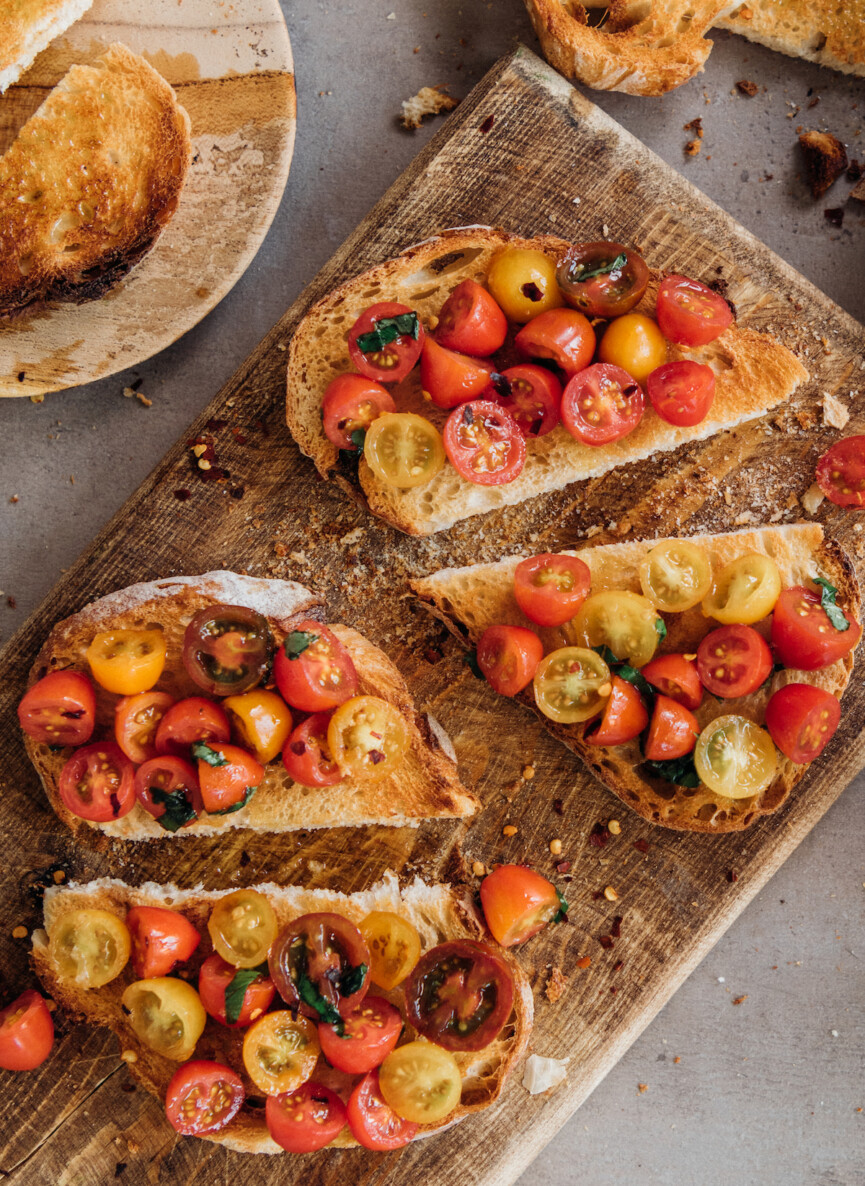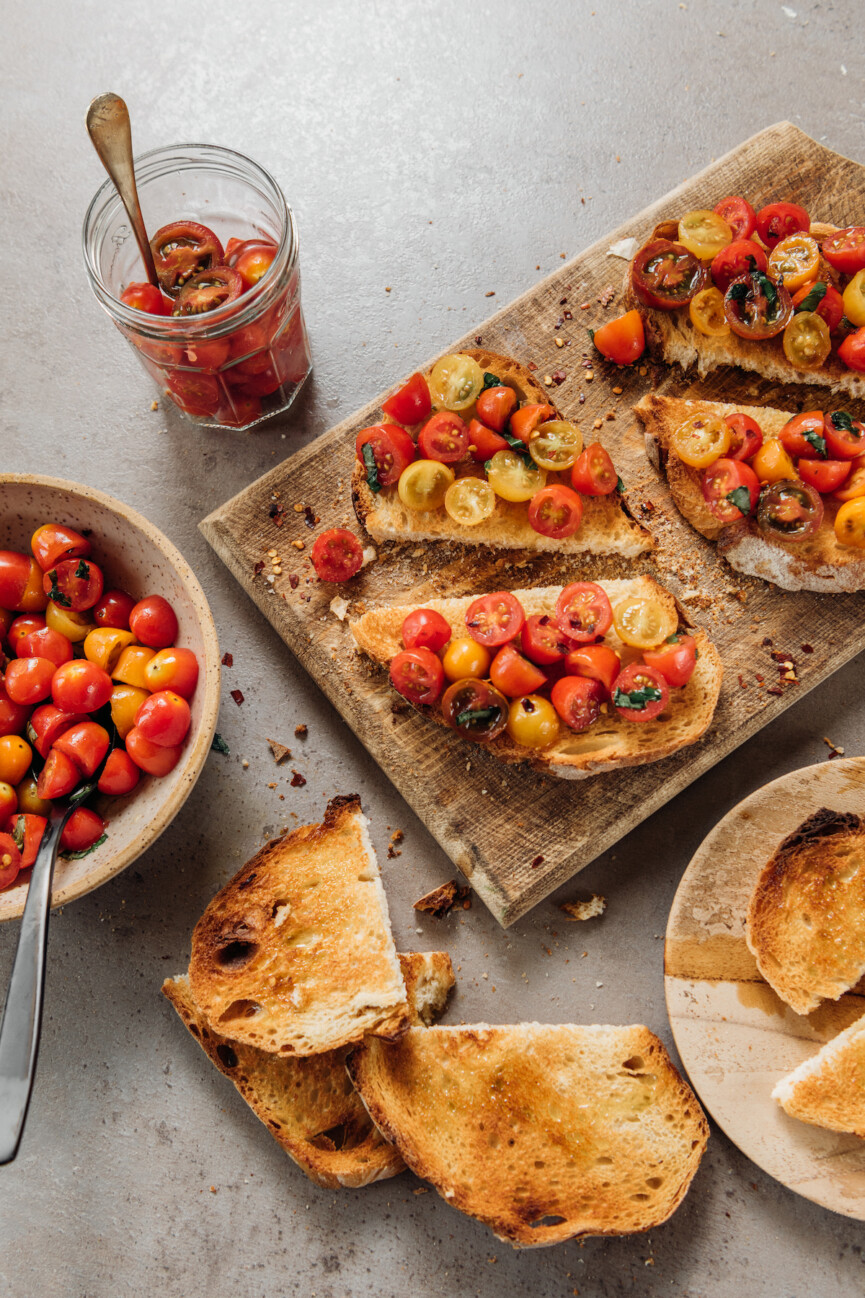 How To Serve Bruschetta
Bruschetta makes for a great appetizer or standalone dish among a spread of family-style favorites. If you're wanting to take this toast to the next level, feel free to step things up with shredded parmesan, red pepper flakes, or a balsamic glaze. To complete the meal, this easy bruschetta recipe pairs well with:
Print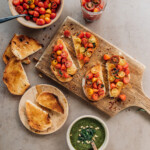 Classic Easy Bruschetta
---
Description
With just a few classic ingredients, this easy bruschetta recipe is what toast dreams are made of.
---
4 tablespoons

extra virgin olive oil

2

cloves garlic, minced

2

cups

cherry tomatoes, halved

1/4

cup

Thinly sliced basil

2 tablespoons

balsamic vinegar

1 teaspoon

kosher salt

1/4 teaspoon

ground black pepper
toasted sourdough, sliced about a half inch to 3/4 an inch thick, brushed with EVOO
---
Instructions
In a medium pan, heat 1 Tbs extra virgin olive oil and 2 cloves of minced garlic, and cook until the garlic is lightly browned (about 5 minutes). Remove the oil and garlic mixture from heat and set aside in a mixing bowl.
Place the oven on broil and place bread slices on a baking sheet. Toast bread in the oven until golden brown, about 1-2 minutes. Watch the bread carefully, it can toast very quickly! You can also use a toaster, toaster oven, or grill to toast the bread.
Once the bread is toasted, remove it from the oven and brush it with the garlic oil mixture.
Slice basil leaves into thin ribbons and halve your tomatoes and drop them into the mixing bowl with the remaining garlic oil.
Add 2 tablespoons extra virgin olive oil, 2 tablespoons balsamic vinegar, 1 teaspoon salt, and 1/4 teaspoon ground black pepper to the mixing bowl and toss together the ingredients until evenly distributed.
Let the bruschetta chill for about 10 minutes in the fridge to enhance the flavor. Spoon the mixture onto toasted bread and serve. Option to drizzle with balsamic glaze, shredded parmesan, or pesto.