Ask two chefs what actually counts as a salad, and prepare yourself for a heated debate. It's a question as old as time, and one that draws out a surprising range of answers. By definition, salads bring to mind a medley of leafy greens, raw and cooked veggies, perhaps a protein, and a dressing to finish things off. Of course, there was a dark period in our food history when ambrosia salads (key components being mini marshmallows and canned mandarin oranges) were considered a delicacy. It also wasn't too long ago that jello was thought to be a sought-after salad ingredient. Oh, how far we've come. Nowadays, we've reined in our creativity when it comes to salads, and the result is recipes I'm craving every hour of the day. And when it comes to the midday meal, there's no better way to get all the nutrients your body needs than with a salad. So if you're looking for salad ideas for shaking up your lunch, you've come to the right place. These 13 recipes are full of flavor, brimming with color, and completely redefine what it means to be a lunch salad stan.
Feature image by Ashleigh Amoroso.
Abundance Kale Salad With Savory Tahini Dressing from Minimalist Baker
Why We Love It: As someone who uses recipes as a jumping-off point for endless inspiration, I'm always thankful for one that lets me mix and match ingredients and customize as I please. This salad is a bit of a choose-your-own-adventure affair. While the recipe calls for zucchini, sweet potato, and red cabbage as your roasted veggies, feel free to swap in your faves (though, if I'm being honest, that's a combo that's hard to beat). With grains, greens, and a nutty tahini dressing to seal things off, expect to be surprised by the deliciousness you can make in only 30 minutes.
Hero Ingredient: I'm a passionate proponent of simple and streamlined roasted veggies that call for nothing more than a little salt, pepper, and olive oil. But when you add curry powder to the mix, the trifecta of sweet, savory, and spicy flavors defines game-changing.
Roasted Beet Salad With Goat Cheese and Maple Balsamic Vinaigrette from The Roasted Root
Why We Love It: Beets, arugula, and goat cheese is a classic triple threat. But when I order the salad out, I'm surprised to see how often my plate comes back with steamed beets. Don't get me wrong, this method of prep isn't terrible, but it's definitely not ideal. Here, the sweet, hardy veggie gets roasted in foil packets, giving you a wonderfully soft, sweet, and caramelized result.
Hero Ingredient: I'm passionate about my beets, and while I'm tempted to call them out as the component responsible for making this salad so good, it's that subtle, half-teaspoon of cinnamon in the dressing that gives this recipe comfort food vibes.
Crispy Tofu Shaved Brussels Sprout Salad With Honey Mustard Dressing
Why We Love It: As a writer, it isn't often that I find myself at a loss for words. But when I took the first bite of this salad, I threw all eloquence out the window and could only think of one word: yum. I'm honestly shocked that shaved brussels sprouts still aren't yet considered a salad staple. So if you're on the hunt for a reason to make the little guys your go-to green, here you go. They hold up to the honey mustard dressing and are a crunchy but light contrast to the oh-so-crispy and chewy tofu.
Hero Ingredient: Adding sliced avocado to the mix proves that this salad doesn't hold anything back.
Buffalo Cauliflower Salad With Tahini Ranch from The First Mess
Why We Love It: Some may think of buffalo-style cauliflower as a passing trend. I'm of the (popular) opinion that it'll forever be the darling of the plant-powered meal prep world. Its smoky sweetness beautifully plays up this salad's lighter components. Simple, satiating, and bound to satisfy plant-based folks and carnivores alike.
Hero Ingredient: If I'm eating buffalo-style anything, you can bet I'll have a side of ranch nearby. This salad's dairy-free tahini ranch dressing is liquefied gold. Without any dairy in sight, the dressing is refreshingly light, but still full of herby zest.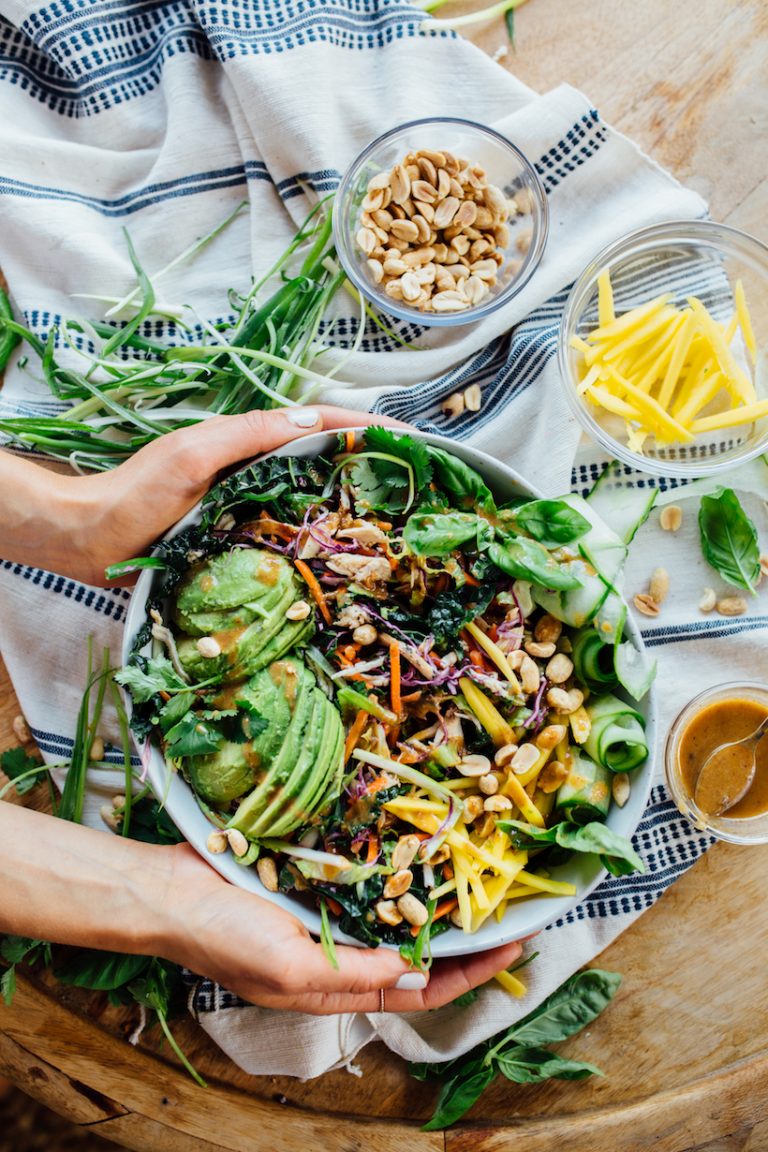 Thai Chicken Salad
Why We Love It: If it's tropical vibes you're craving, let me introduce you to the salad that'll make all your laid-back island dreams come true. I'm all for a recipe that leans on rotisserie chicken for heft, and it's the perfect protein for tying together the recipe's rainbow of veggies, herbs, and mango.
Hero Ingredient: Spicy peanut sauce? Sign me up. Sriracha brings a kick of nuanced heat to this salad's creamy dressing.
Mediterranean Quinoa Salad With Hummus from Killing Thyme
Why We Love It: Mediterranean flavors have a way of transporting me immediately to the easygoing days of summer. This twist on the classic Greek salad fills your fork with an impressive range of flavors and textures. You have juicy grape tomatoes, the bright brininess of Kalamata olives, and the smoothest, most heavenly hummus. Just in case you needed a reminder that salads can be both delicious and unbelievably nutrient-dense.
Hero Ingredient: The secret to making this salad light but cozy and all-around refreshing? Toasted, roughly chopped walnuts.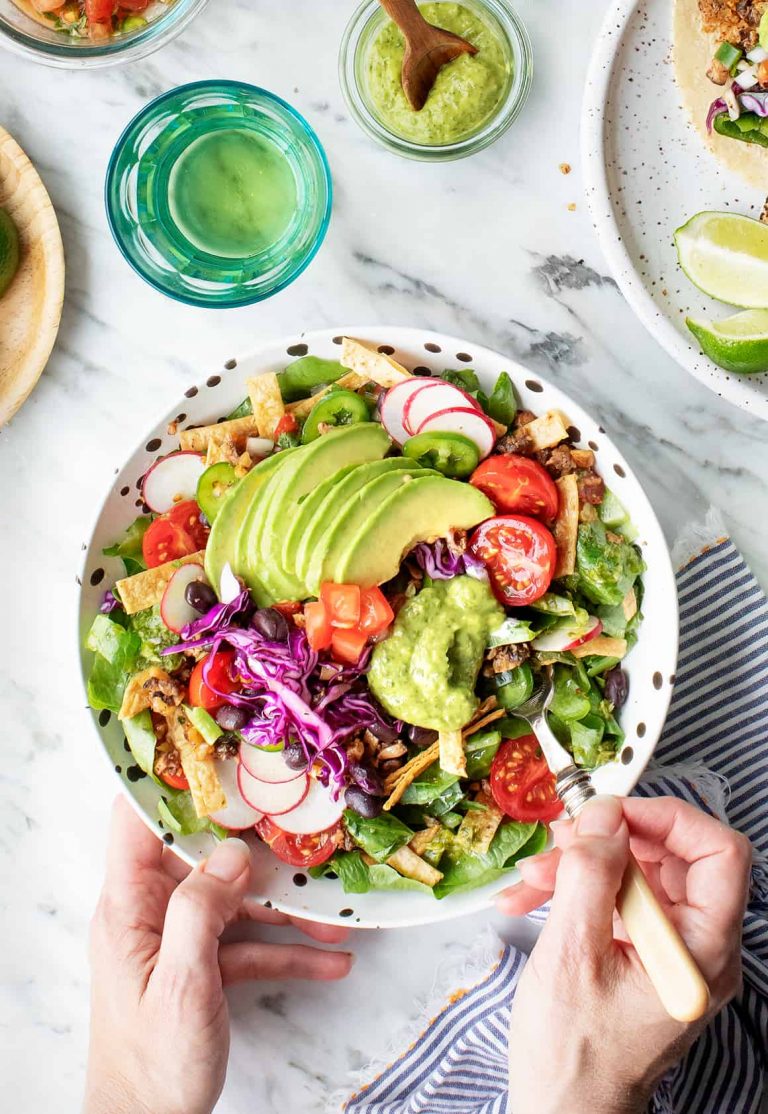 Healthy Taco Salad from Love & Lemons
Why We Love It: If there was ever a recipe to be classified as "genius," here it is. Taco salads as we've come to know them in the past are often heavier on the fried tortilla strips than greens. But this fresh take turns that trend on its head. It packs more textures and flavors onto a single plate than I thought was possible. And while it does give you a taste of the quintessential crispy corn flavor with a sprinkle of tortilla strips, this recipe makes sure to round things out with all the vibrant veggies.
Hero Ingredient: Plant-based eaters, rejoice! This recipe uses mushrooms and walnuts to make a taco "meat" substitute that's nothing short of addicting.
Powerhouse Quinoa Salad from One Lovely Life
Why We Love It: Salads used to get a bad rap. In the early aughts, they were lauded for being low on the calorie count scale, and beyond that, there wasn't much else to celebrate. I love that we've shifted more to a mindset focused on abundance rather than restriction. When I think about making a salad for lunch, I get giddy knowing that I'll be filling my plate with colorful and nutrient-dense ingredients. And if there's a salad that balances taste and nutritional benefits to perfection, it's this one. The array of sweet fruits, hearty greens, nutty grains, and crunchy toasted pecans is bound to beat out anything Sweetgreen could ever dream up.
Hero Ingredient: Quinoa is full of fiber, easy to prep, and packs a whole lot of plant-based protein for a satisfying meal.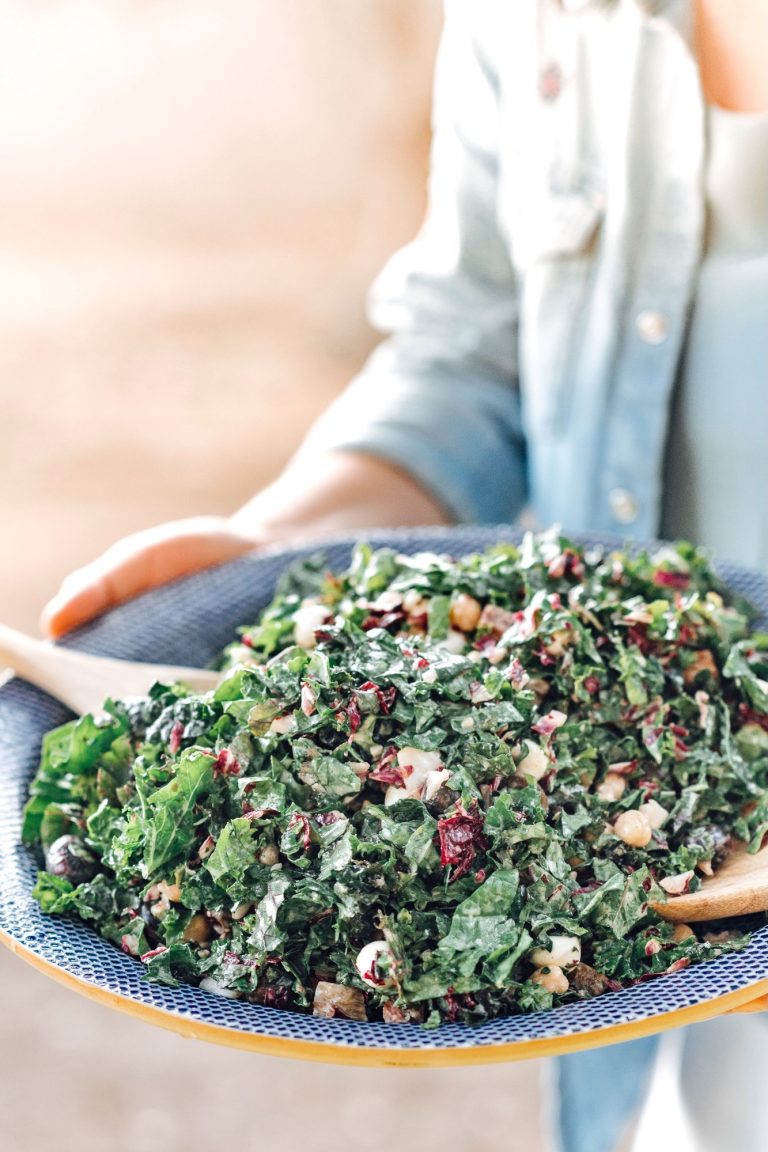 Kale Italian Chopped Salad
Why We Love It: Kale has finally stepped into its role as a household, go-to green. Gone are the days of the hardy leaf being associated with crunchy granola types—kale for all! This recipe showcases the leafy cabbage cultivar at its finest. With two types of kale, Russian and Dino, leading the charge, and plenty of other hearty and filling ingredients mixed in (garbanzo beans, black olives, and salami if you eat meat), this is kale salad transformed.
Hero Ingredient: I have two words for you: Sourdough croutons. While I'll take bread in any form I can get it, nothing can compete with pan-fried cubes of the crusty deliciousness (tossed in a healthy serving of olive oil and garlic, of course).
Greek Chicken Salad Lunch Bowls from Fed + Fit
Why We Love It: If you're the kind of person who can eat the same lunch Monday through Friday, welcome to the club. While variety is the spice of life, I'm all for reducing decision fatigue in my life as much as possible. This recipe is one of the things I turn to to make it happen. On Sunday afternoons, I make my tzatziki and hummus, slice up some veggies, shred the rotisserie chicken meat, and file it all away in my fridge. With all of that done in advance (it takes less than an hour!) the only thing standing between me and my salad is a little low-effort assembly. A lazy luncher's dream.
Hero Ingredient: It merits a second mention: The homemade tzatziki makes the bowl.
Falafel Salad Hummus Bowls from Spoon Fork Bacon
Why We Love It: As far as sandwiches go, nothing compares to pillowy balls of falafel pocketed in a pita with hummus, tomatoes, and the sauce of your choosing. But sometimes, I just need my falafel in salad form. This bowl pulls together all the flavors of the Middle Eastern staple. Oh, and if you're ever worried about your falafel falling apart, know that this recipe is totally foolproof.
Hero Ingredient: There's a time and a place for store-bought hummus, and this is not it. I highly recommend putting in the little extra effort it takes to make the garlic hummus. Your taste buds will be forever grateful.
Everyday Mediterranean Salad from Gimme Some Oven
Why We Love It: When it comes to just about anything, I'm all for versatility. I love dinners that pack up for amazing lunch leftovers the next day and breakfasts that can do double duty for a crave-worthy nighttime meal. This easy, everyday salad can be made in advance, is composed of easy-to-find ingredients, and if you double the recipe, it's good enough to enjoy as a side salad for dinner. My favorite way to make it part of a larger meal? Serve it alongside these juicy and light Thai Chicken Burgers.
Hero Ingredient: You know you've found a good recipe when every component could be a hero ingredient. The true standout though? Nothing beats feta's salty punch.
Sunshine Salad
Why We Love It: Possibly the most aptly-named salad out there. This recipe is truly sunshine in a bowl. Brighten up your clean-eating routine with all the superfoods your heart could ever desire. No color gets left out of this recipe: purple cabbage, orange-hued carrots, ruby red tomatoes, and a cup of mixed herbs make this salad a greens-lover's dream. Detox without deprivation.
Hero Ingredient: I'm always craving the crunch of sunflower seeds, and this salad satisfies.