Few things are as comforting as a hearty bowl of pasta. It fills both the body and soul with joy—and if it's a particularly delicious recipe, it can become embedded in your memory. Just me? I can't help it, I'm a pasta fiend and proud of it. That said, I often get stuck in a rut and find myself making the same dishes on rotation until I get sick of them. And since we all know variety is the spice of life, it's time to step out of my comfort zone with a new round of vegan pasta recipes to add to my repertoire.
With fall in full swing, I'm finding myself looking to recipes that are warming, satisfying, and soothing. And pasta is basically a warm hug in a dish! I love knowing that I can get all the familiar flavors and feelings from traditional Italian recipes in their vegan counterparts. All you need is a few basic ingredients that you can then supplement with vegan alternatives. It couldn't be easier to enjoy a nutritious, plant-based pasta dish.
Featured image by Michelle Nash.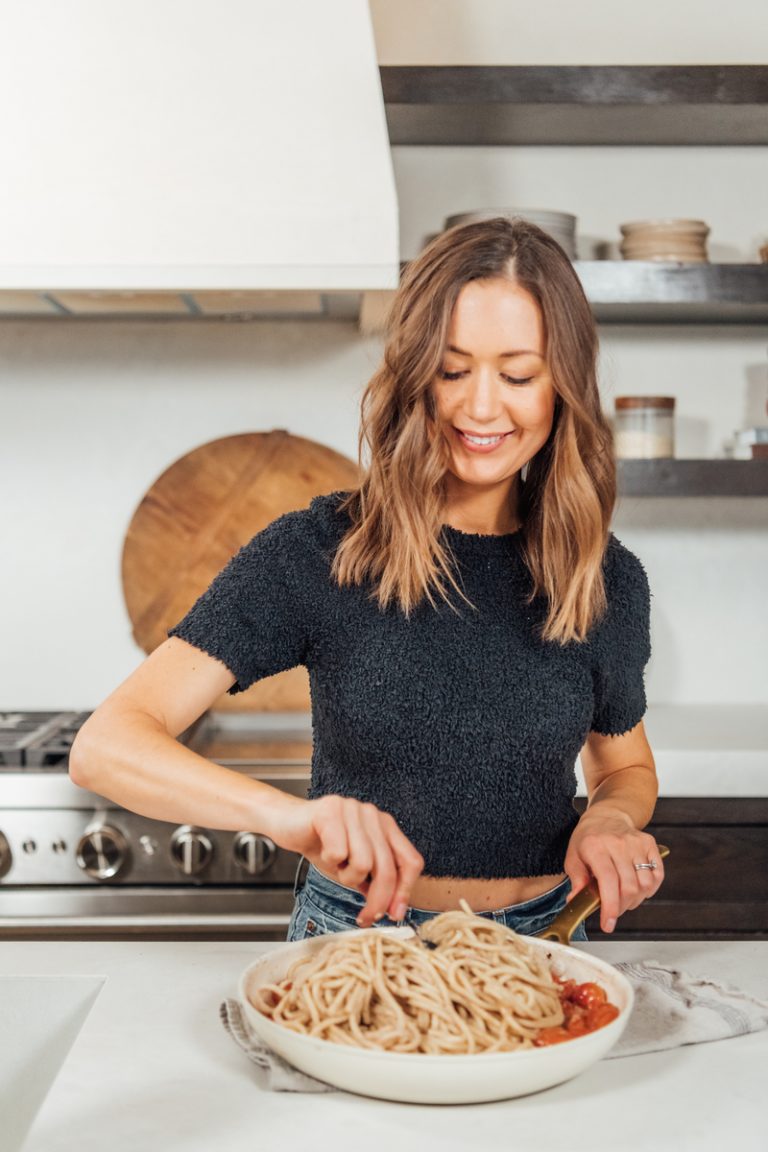 Whether you follow a vegan diet, have loved ones with dietary restrictions, or simply want to enjoy a veggie-forward pasta dish, then these are the recipes for you. I have a feeling you'll find yourself turning to these gorgeous meals again and again. They're show-stopping dishes that taste as good as they look, and are healthy to boot.
19 Heavenly Vegan Pasta Recipes
Why We Love It: I'm kicking things off with one of my favorite vegan pasta recipes. While the ingredients might suggest a more summery dish, this quick-fix dinner is a favorite year-round. Soaked walnuts lend a dairy-free creaminess to your sauce and the bucatini is a delight to slurp up. One-pot creamy vegan pasta that's ready in 15 minutes! Does it get better than that?
Hero Ingredient: The bursted cherry tomatoes are addicting.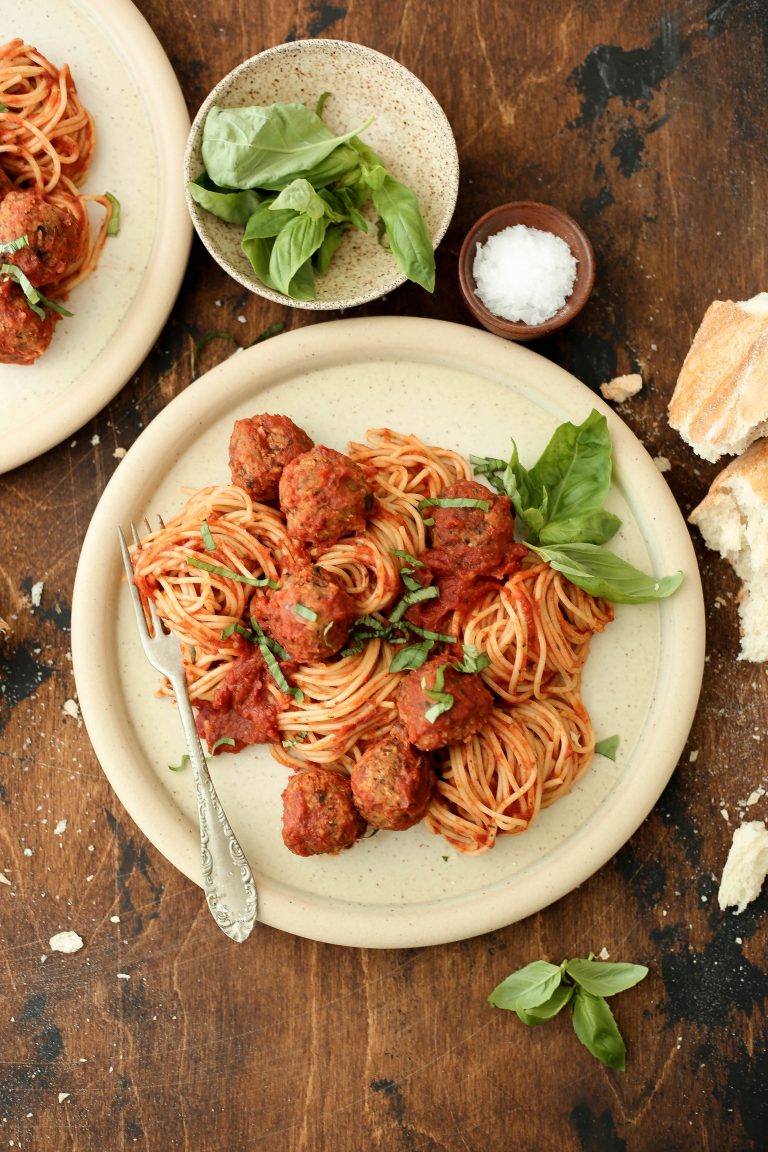 Why We Love It: After experimenting with a few options, I finally landed on a vegan meatball recipe that is perfect for any spaghetti night. Add this to your meatless Monday recipe rotation!
Hero Ingredient: Shiitake mushrooms and cannellini beans lend richness and a distinct umami flavor that I can't get enough of.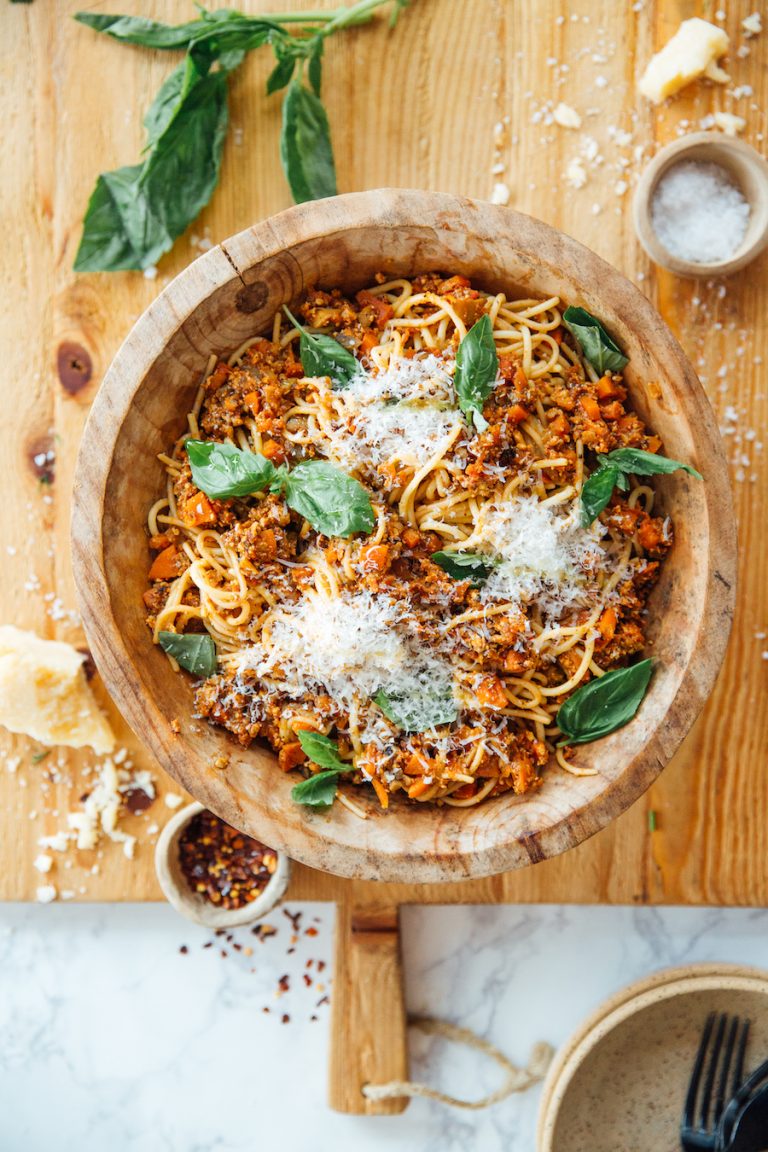 Why We Love It: This is a healthy twist on a comforting classic. If you're craving something soul-satisfying and nurturing, this easy recipe is a must. Opt for vegan butter and vegan parmesan and you're all set!
Hero Ingredient: All the finely diced toppings are the perfect plant-based replacement that yields a hearty result. Trust me: You'll want to dive in fork-first.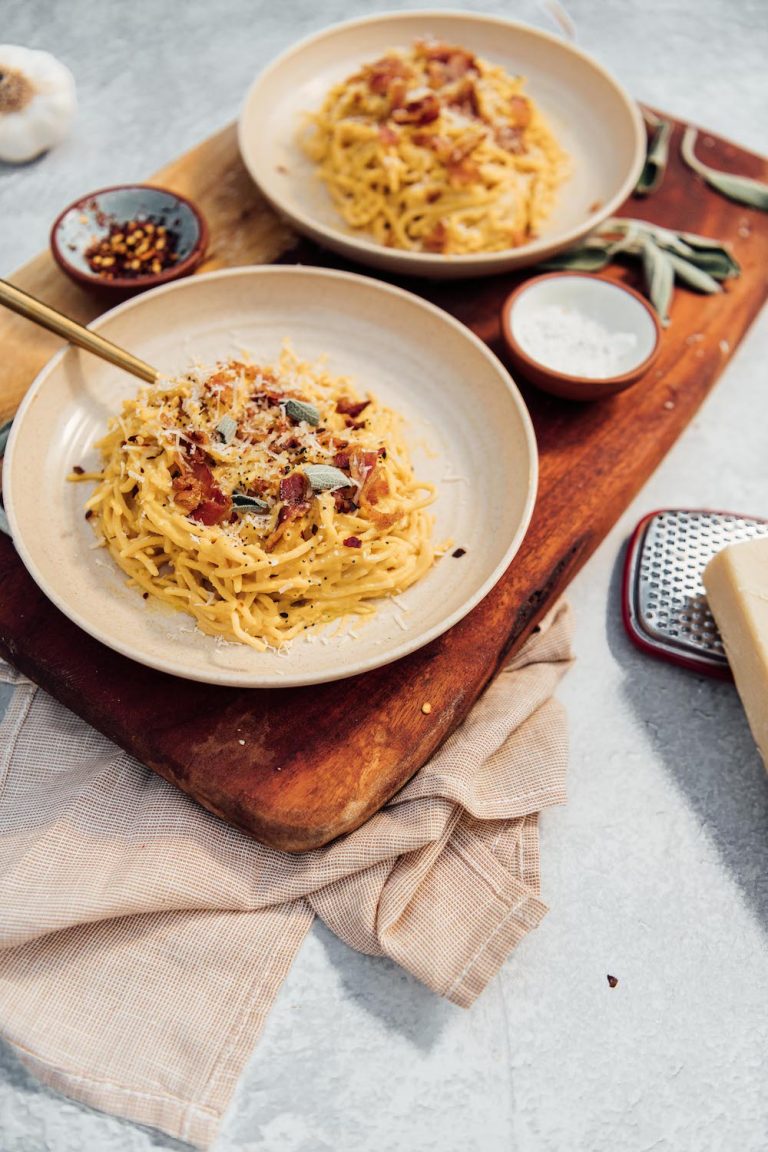 Why We Love It: Out of all the vegan pasta recipes out there, nothing hits the spot quite like a full bowl of pasta smothered in a creamy (dairy-free) sauce. Plus, I know of no other vegetable that so beautifully communicates the cozy feeling of fall quite like butternut squash. Just leave out the bacon for a perfect vegan dish.
Hero Ingredient: Fried sage leaves—don't leave 'em out!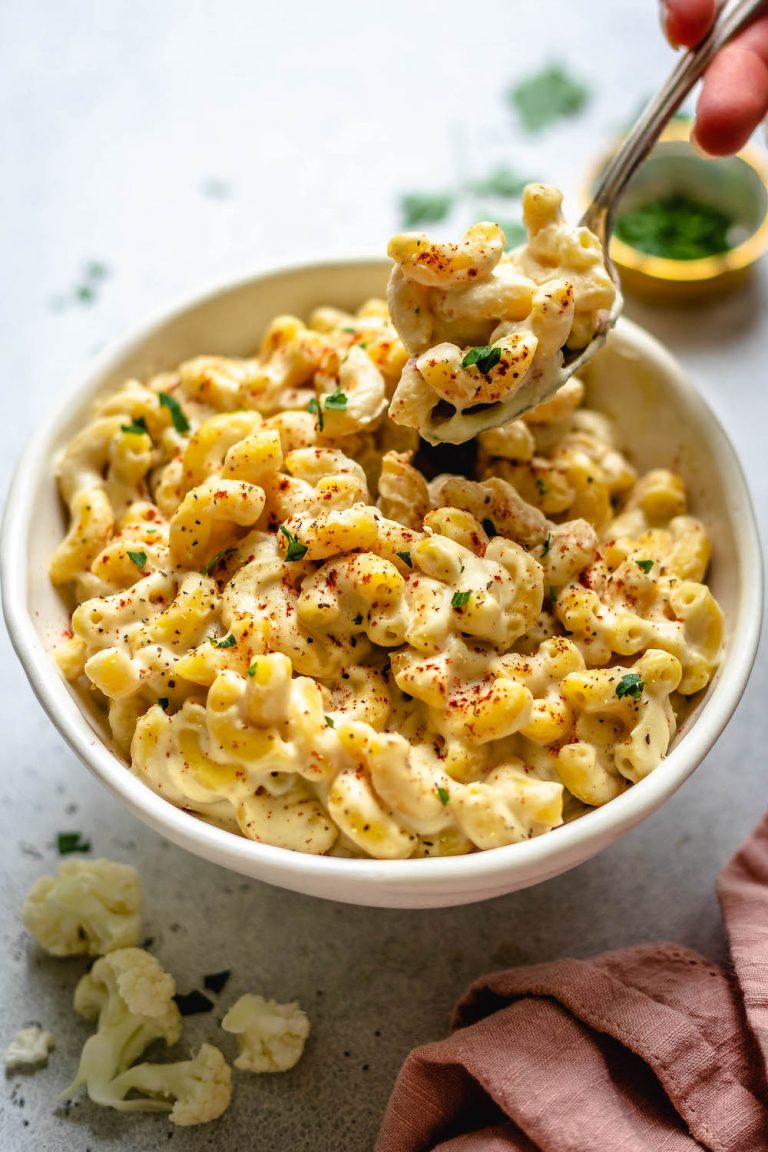 Why We Love It: This recipe is so creamy, cheesy, warm, and comforting. Mac and cheese is always a go-to when the temps start to drop, and though the classic version always satisfies, sometimes I need a spin that won't send me to sleep. When that moment comes, this is the dish I turn to.
Hero Ingredient: Cauliflower—the chameleon of the vegetable kingdom.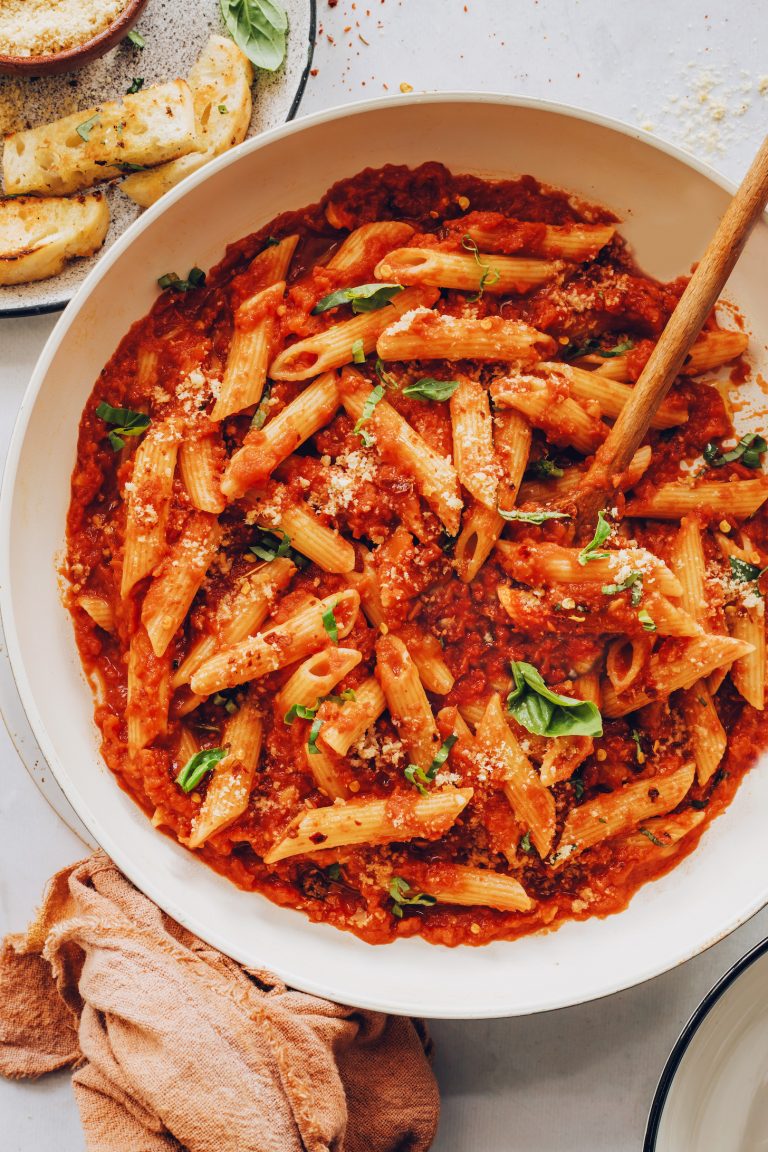 Why We Love It: All you need are eight pantry staples for this gorgeous, rich, and bright tomato sauce. It's infused with buttery olive oil, fresh garlic, and tons of crushed red pepper flakes. The perfect vegan spin on an Italian classic.
Hero Ingredient: Don't be afraid to let this sauce get spicy with lots of crushed red pepper flakes.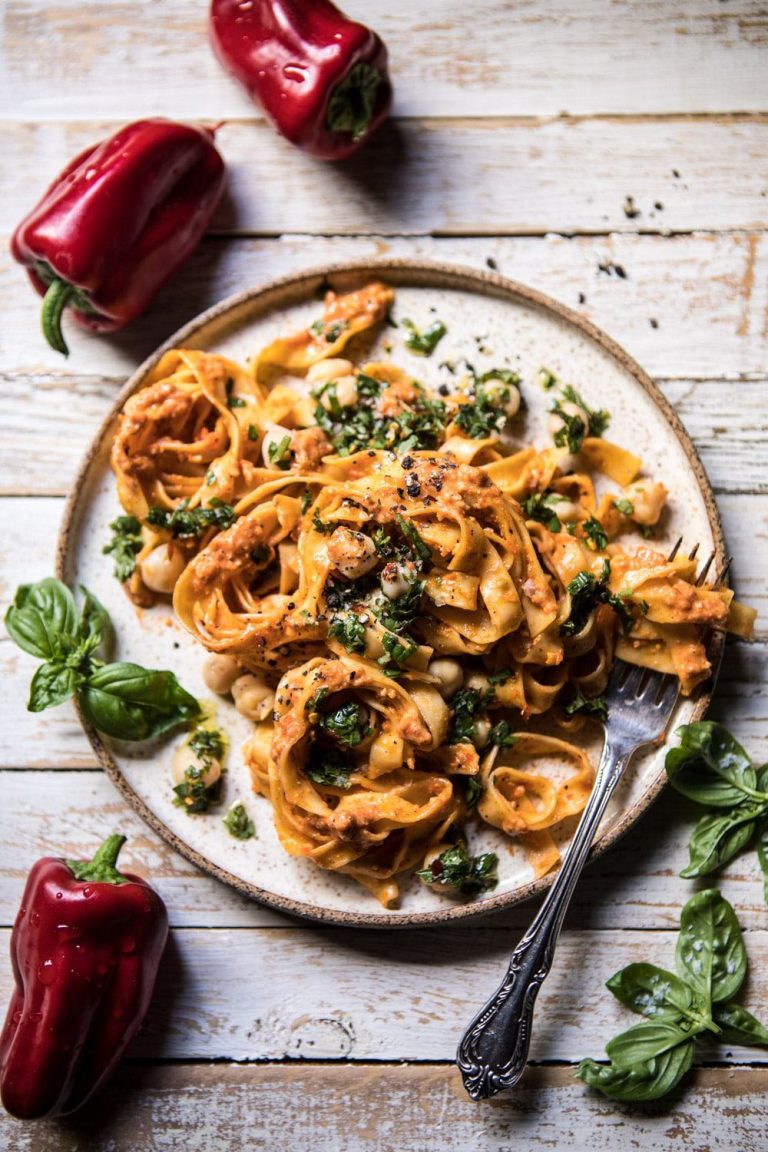 Why We Love It: This vegan pasta is full of delicious colorful veggies and protein-packed beans, making for a nutritious, comforting, and tasty pasta. It's also much simpler to make than you'd think. Pasta gets tossed with red bell peppers, fresh basil, lemon, and creamy white beans.
Hero Ingredient: I can't think of a better way to move through my pantry's stock of canned beans.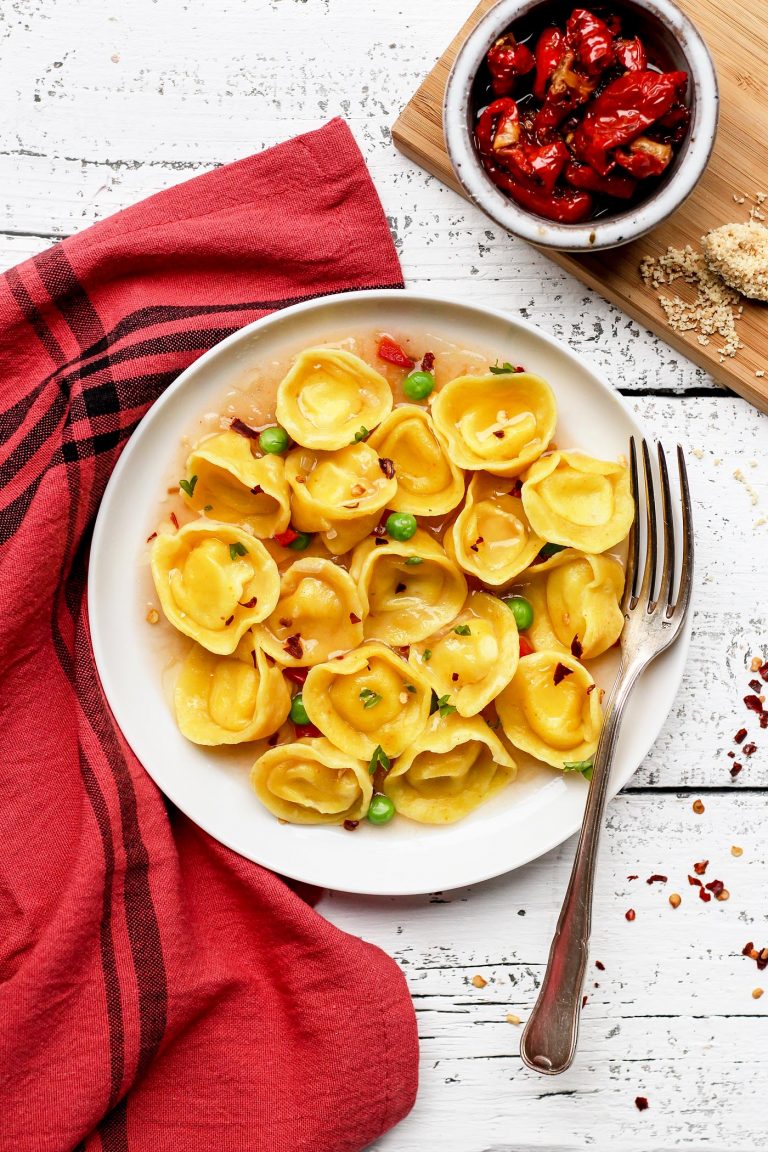 Why We Love It: This homemade gluten-free tortellini dish is positively decadent. The filling is made with fermented cashew cheese, garlic, shallot, and fresh basil. You can skip the fermentation process if you're running short on time and use nutritional yeast and lemon juice instead. But you have to try the tangy, fresh cheese taste of the fermented cashew cheese.
Hero Ingredient: The secret strategy to replacing eggs? Silken tofu works like a dream.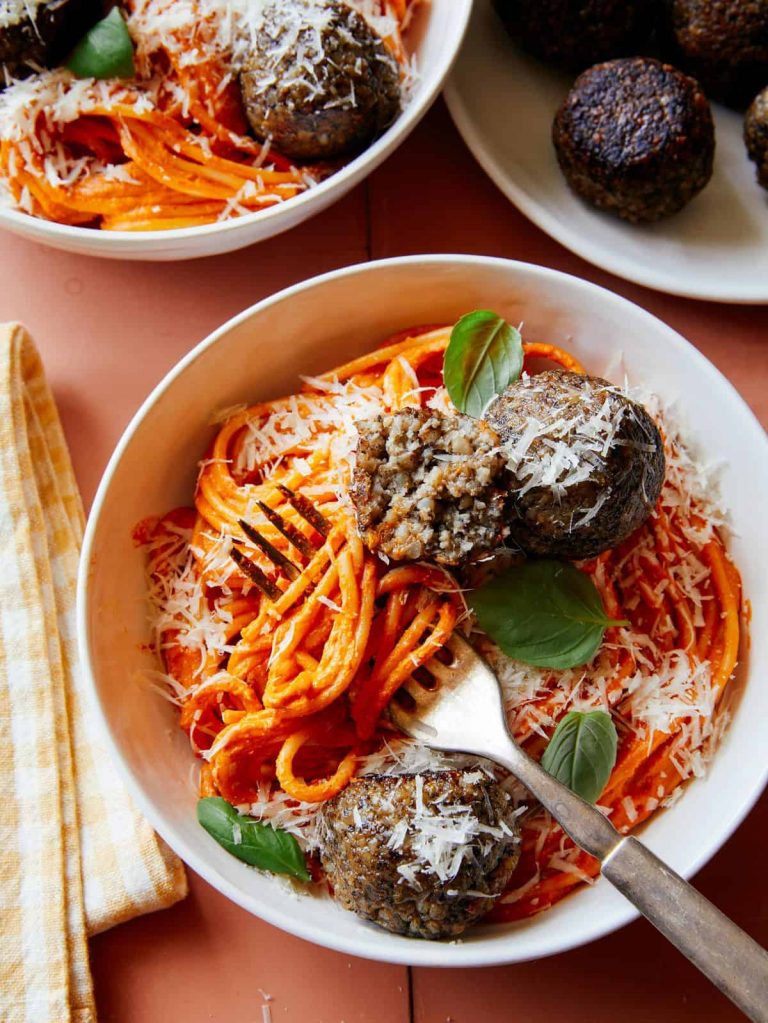 Why We Love It: As far as vegan pasta recipes go, this one contains perhaps my favorite sauce. Blending creamy roasted red peppers is simply divine. The easy mushroom and brown rice meatballs make for a delicious, filling pasta dish that's perfect for a cozy meal. You can use leftover sauce for eggplant parm or even a shakshuka!
Hero Ingredient: Cremini mushrooms are the meatballs' hearty, plant-based star.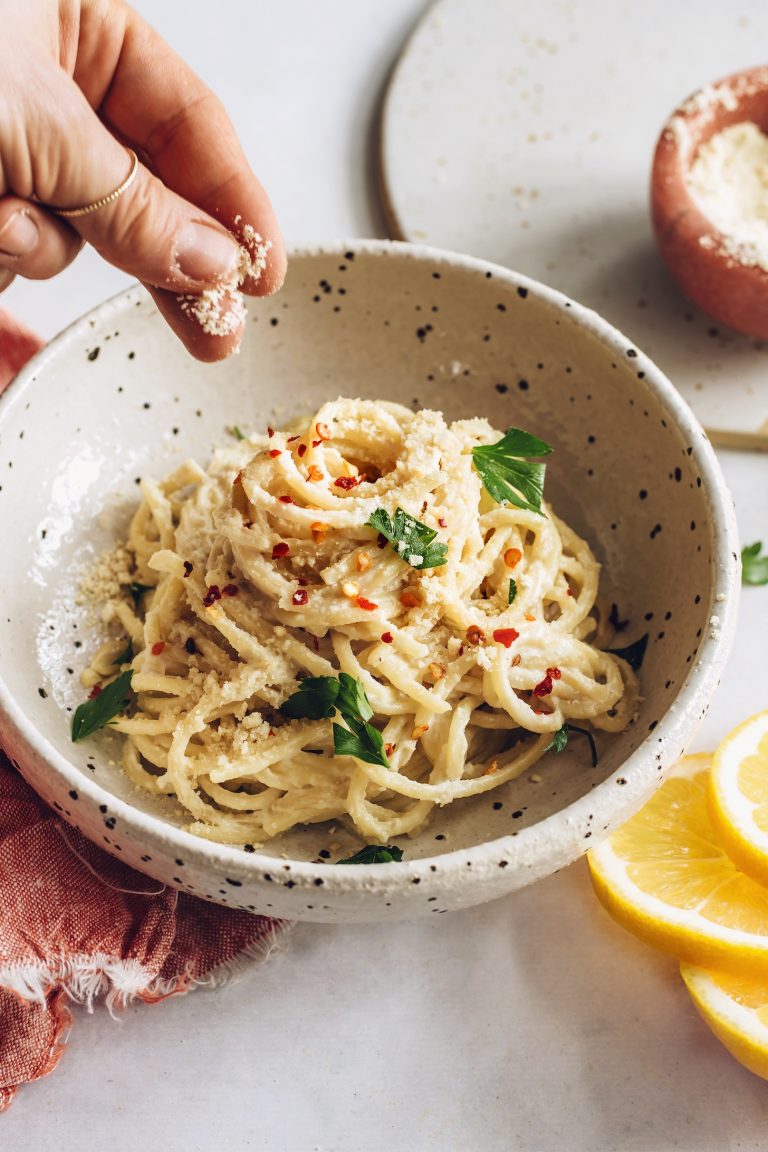 Why We Love It: Looking to keep it simple but still bursting with familiar flavor? Check out this sumptuous pasta of our dreams. It's bright, lemony, and cheesy with a velvety, creamy sauce. All you need are 10 ingredients. It couldn't be easier.
Hero Ingredient: Miso gives the "cheese" sauce a bit of an umami flavor.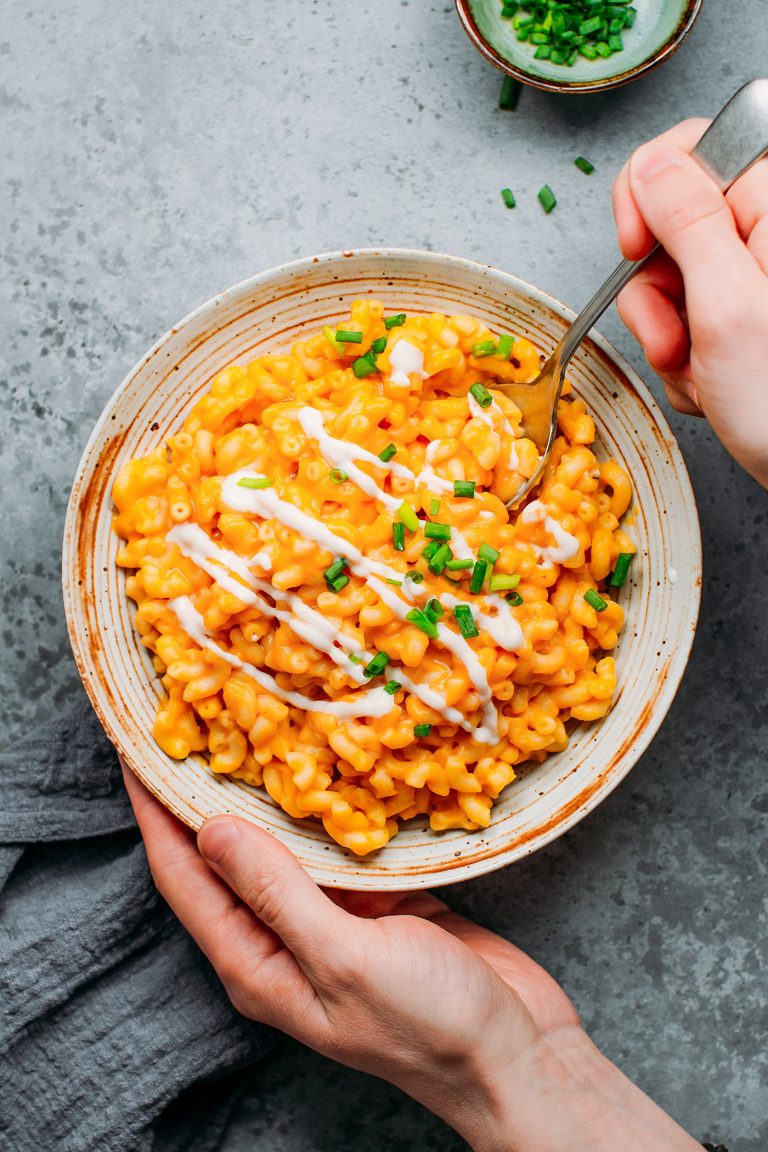 Why We Love It: Craving a creamy cheese sauce but don't want to work with cashews? Cauliflower does the heaving lifting here. This vegan recipe also has a garlic yogurt tahini sauce to balance out the spiciness of this jazzy mac and cheese. It's comforting, delicious, and packed with umami.
Hero Ingredient: Sriracha gives it a kick and burst of flavor.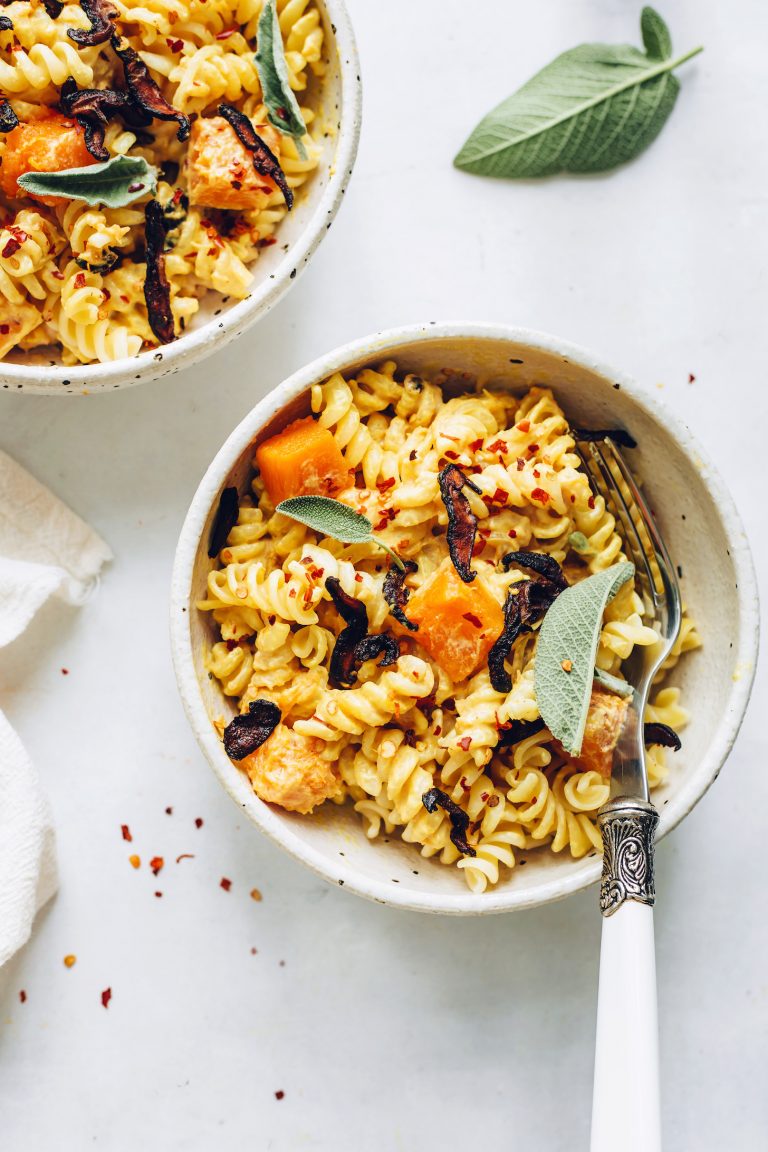 Why We Love It: Get ready to have a new favorite pasta dish in your fall and winter rotation. You probably already have the five ingredients needed for the sauce and a few extra goodies like shiitake bacon. The roasted squash has a delicious caramelized flavor that's nourishing, wholesome, and satisfying.
Hero Ingredient: Whole garlic cuts down on prep time and couldn't be tastier.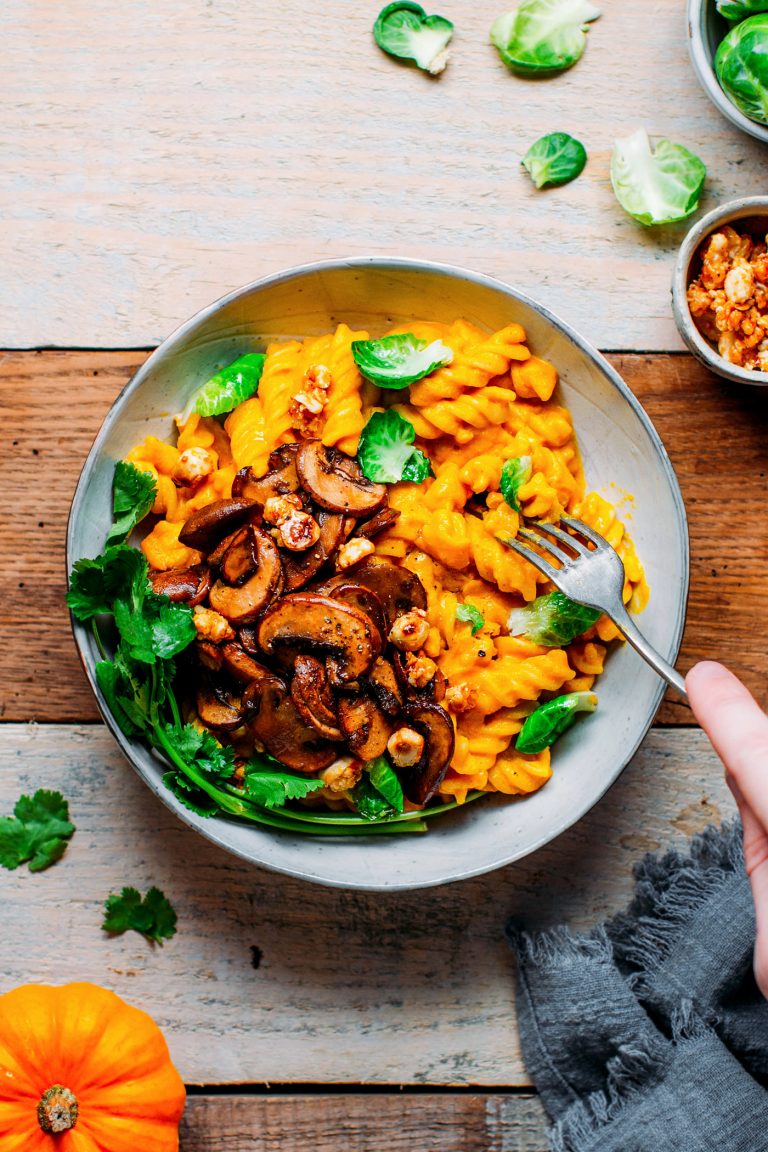 Why We Love It: Next time you're craving a hearty, comforting dish, pasta and pumpkin will save the day. The addition of sautéed mushrooms and hazelnuts adds warmth, texture, and a bit of pizzazz if you ask me. Eat it on its own or add a size of Brussels sprouts or spinach.
Hero Ingredient: Pumpkin makes it perfect.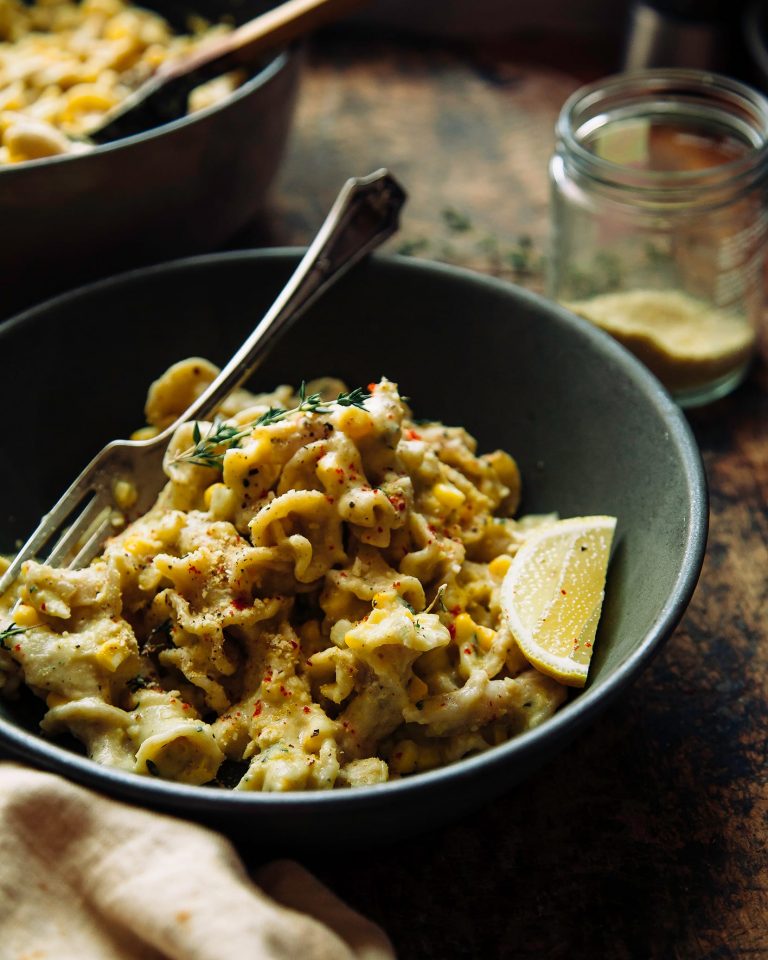 Why We Love It: It's essentially corn chowder pasta—a mind-blowing combination. This pasta is slightly sweet, lemony, and super creamy. You won't believe it's vegan. It's a simple, pared-down recipe that tastes incredibly high-end.
Hero Ingredient: Serve it with a little vegan parmesan if you have it on hand.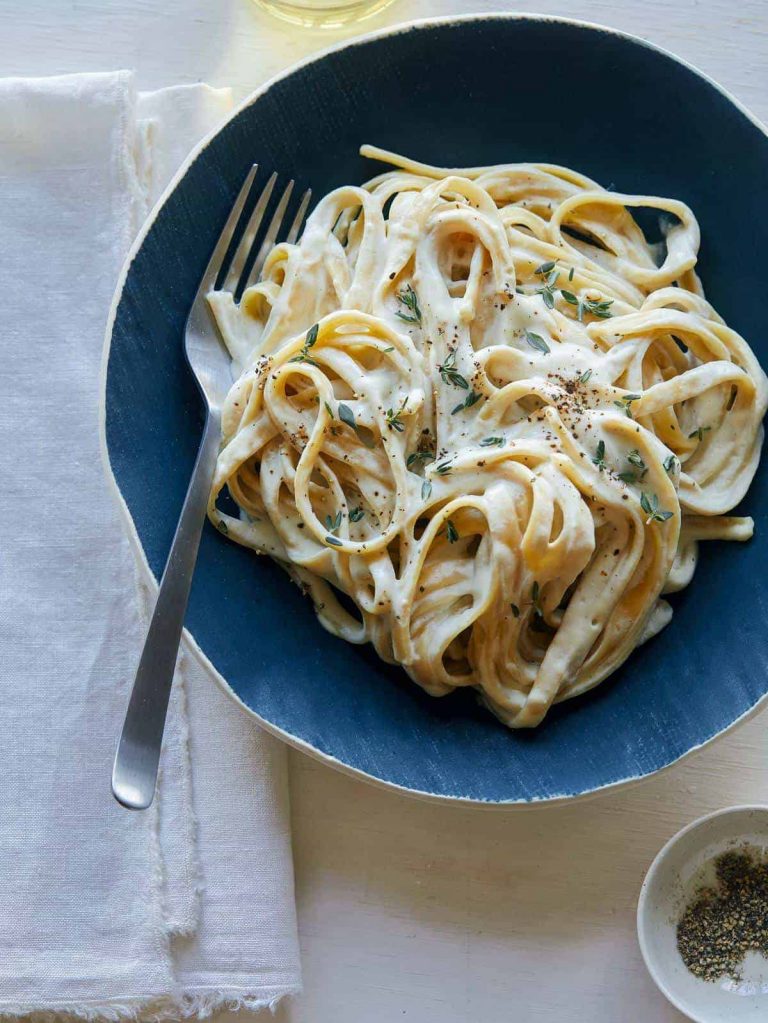 Why We Love It: This sauce is so good you can use it on much more than pasta. Toss it on roasted veggies, a grain bowl, drizzle on avocado toast, or a warm salad. It's a magical combo. Just make sure you add a bit more water if you store it for later use since it thickens up considerably in the fridge.
Hero Ingredient: The roasted garlic adds a delightful depth of flavor.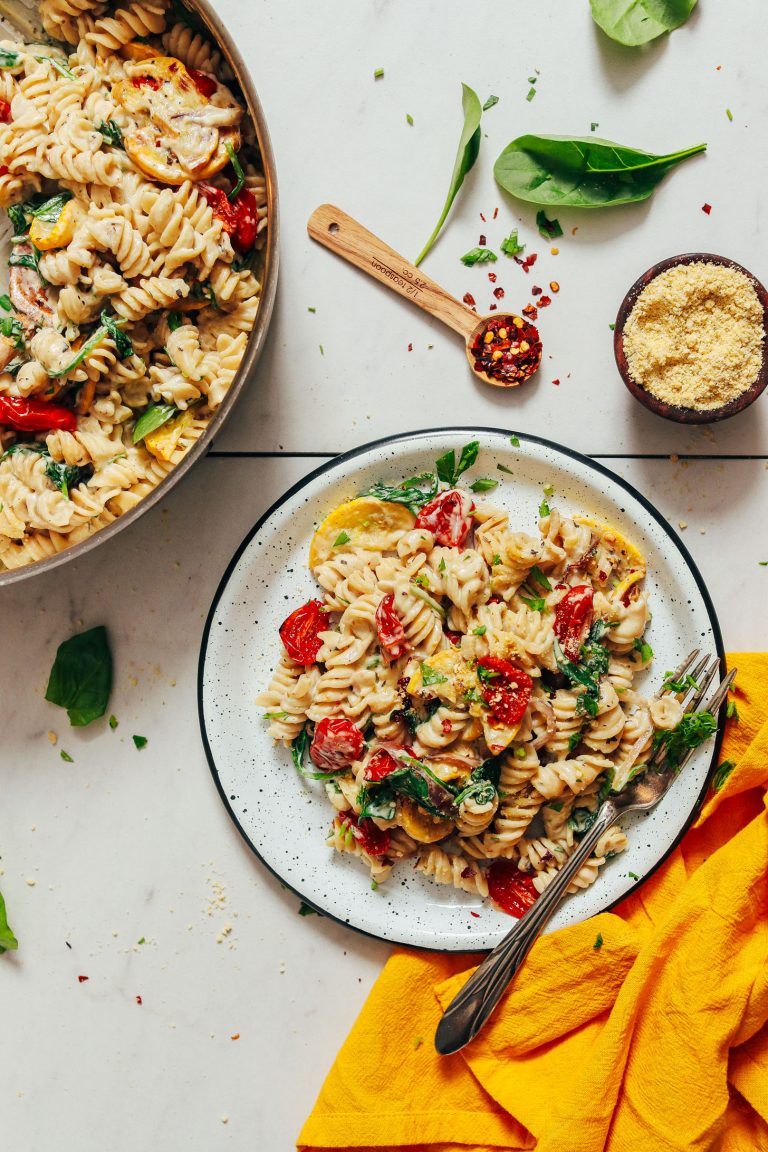 Why We Love It: This utter dream of a dish includes sautéed yellow squash, red onion, roasted cherry tomatoes, and a light vegan white sauce. It's a hearty treat that feels light thanks to the abundance of veggies and greens. It's the perfect plant-based side or main dish.
Hero Ingredient: I am loving the yellow squash in this dish (both for the color and the flavor!).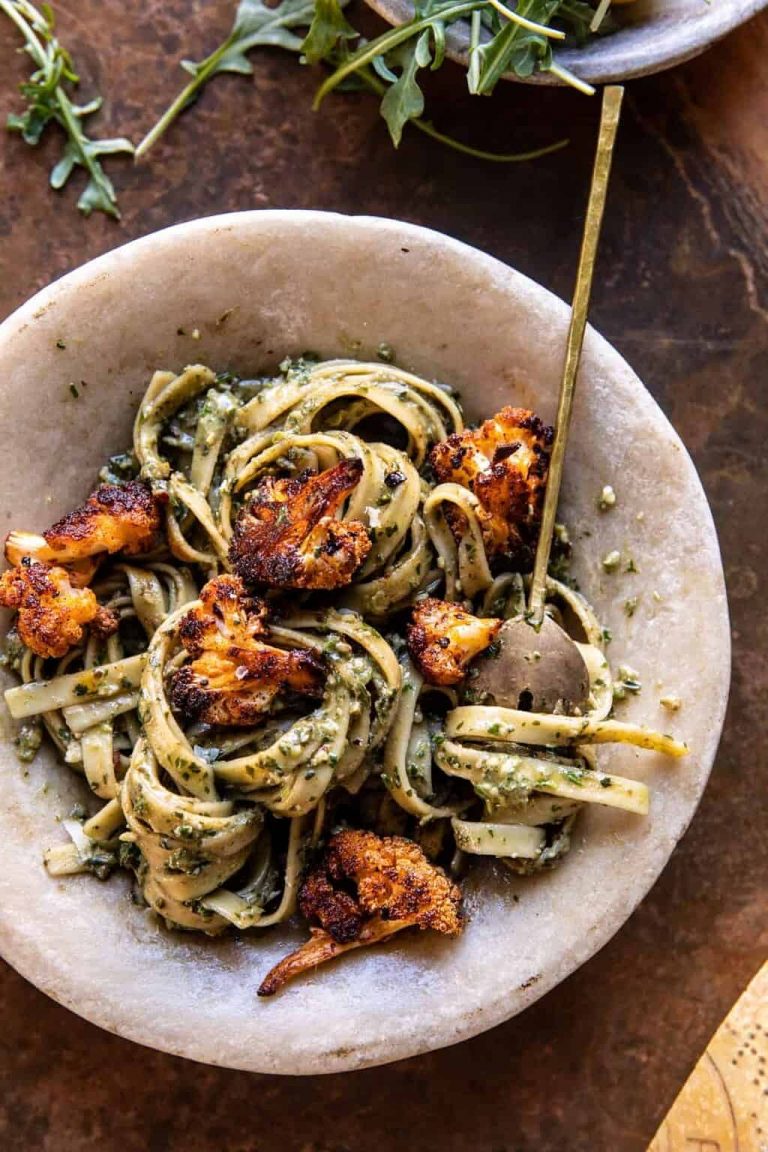 Why We Love It: This is not your average pesto pasta dish. It puts a spin on the classic pesto recipe and updates it with a cream-free pesto sauce, crispy cauliflower, and lemony arugula. It's melt-in-your-mouth good.
Hero Ingredient: Coconut milk adds creaminess without dairy.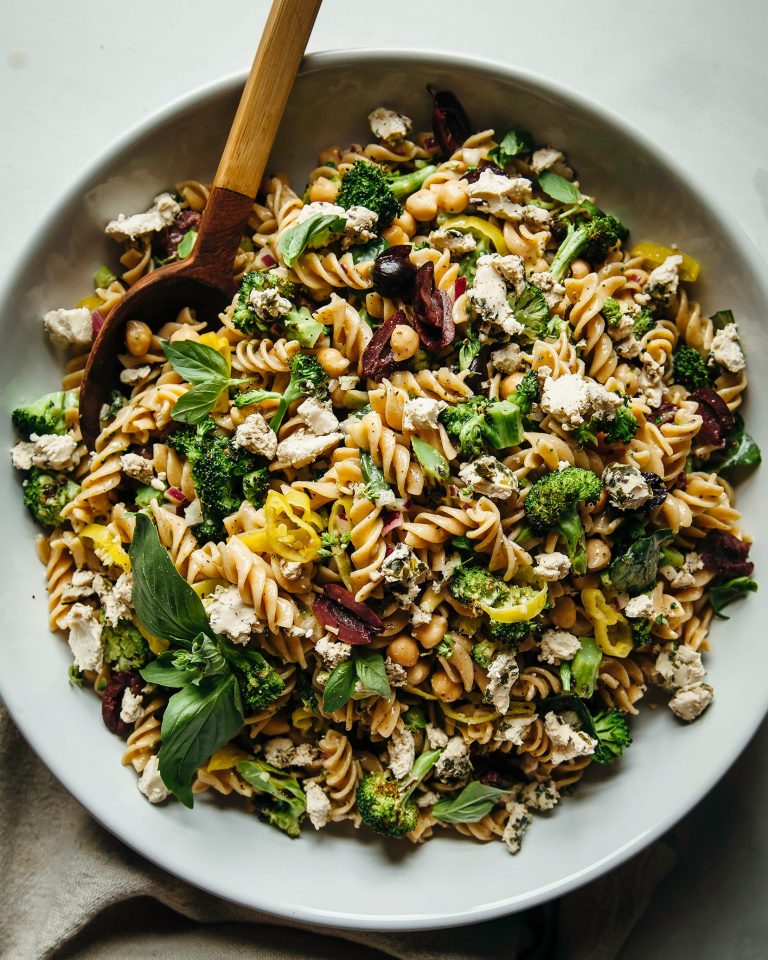 Why We Love It: Keep things cool and light with a grilled broccoli pasta salad. It's a refreshing pasta dish that's bursting with bright and unexpected flavors. Perfect for your next potluck or family meal.
Hero Ingredient: Lemony oregano dressing gives this pasta salad the perfect amount of zest.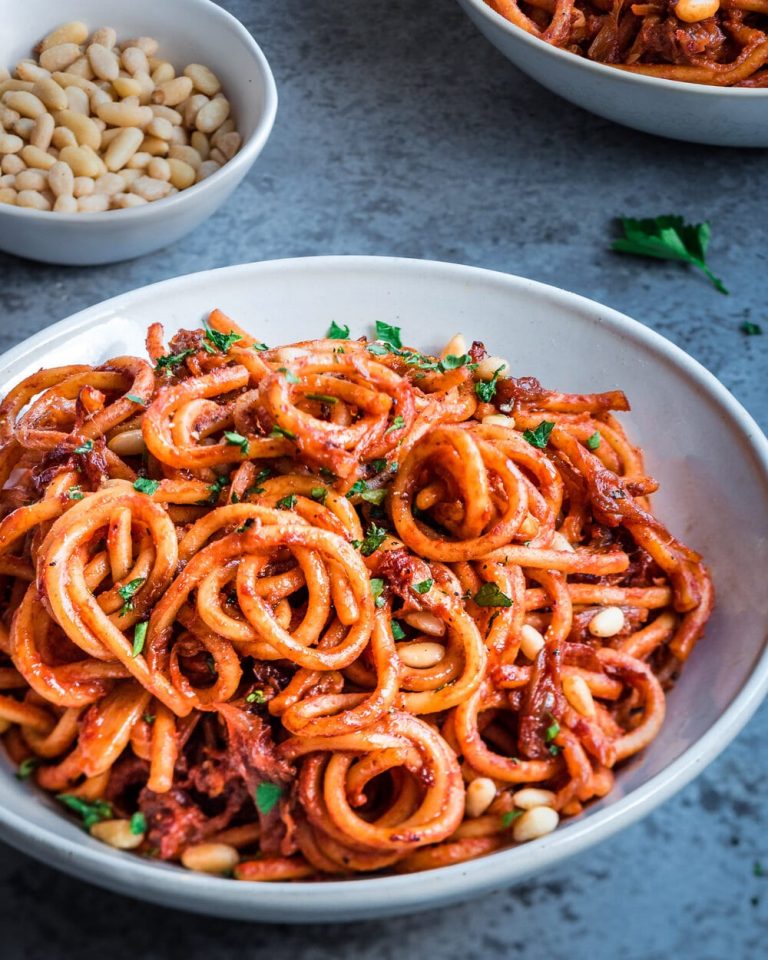 Why We Love It: There's no pasta dish quite as cozy, comforting, and nourishing as one that contains caramelized onions. I love their sweet depth of flavor that's padded by the rich tomato paste and sun-dried tomatoes. With just a few other pantry staples added to the mix, you'll have an umami-packed gem.
Hero Ingredient: Out of all the ways to lend a dairy-free dish some creamy, cheesy joy, nutritional yeast has to be my favorite.
This post was originally published on August 25, 2021, and has since been updated.