Every year I head into the holidays with the same intention: eat with joy and be merry! And as much as I relish it, after eating anything and everything I want for the entire month of December, my body is begging me to insert healthy food, stat. Enter vegetarian winter recipes that are packed with nutrients and the recommended allowance of vegetables we need a day.
So to help you (er, me) kickstart your plant-based reset, we scoured the internet to find some of the best recipes that put veggies first but don't skimp on taste. They're also simple to make and can easily feed a crowd if you're still entertaining guests. We suggest a farmer's market trip to get the freshest in-season produce for maximum flavor.
Read on for our top 13 healthy-ish vegetarian winter recipes that will leave you feeling satisfied.
Why We Love It: When Camille shared this recipe, the entire team audibly oohed and ahhed. This recipe swaps out the minced beef for crumbled tofu and she swears her kids and husband can't tell the difference. After some experimentation, Camille devised the ultimate combo of veggies, herbs, and tomato sauce that marinate together on the stove until it all gets a richness that's incredibly satisfying and, dare I say, meaty? Try this one, it's really good.
Hero Ingredient: Tofu. It's the best vegetarian ingredient for "scrambling" into something that shares the consistency of ground beef.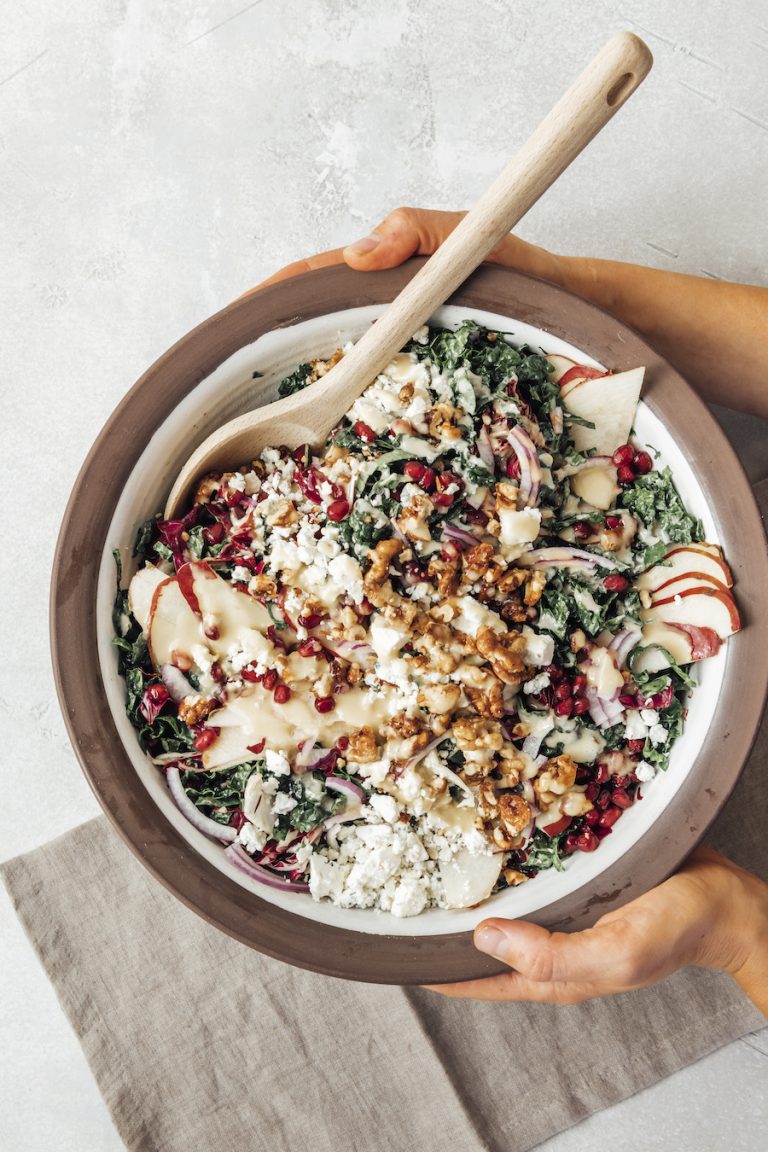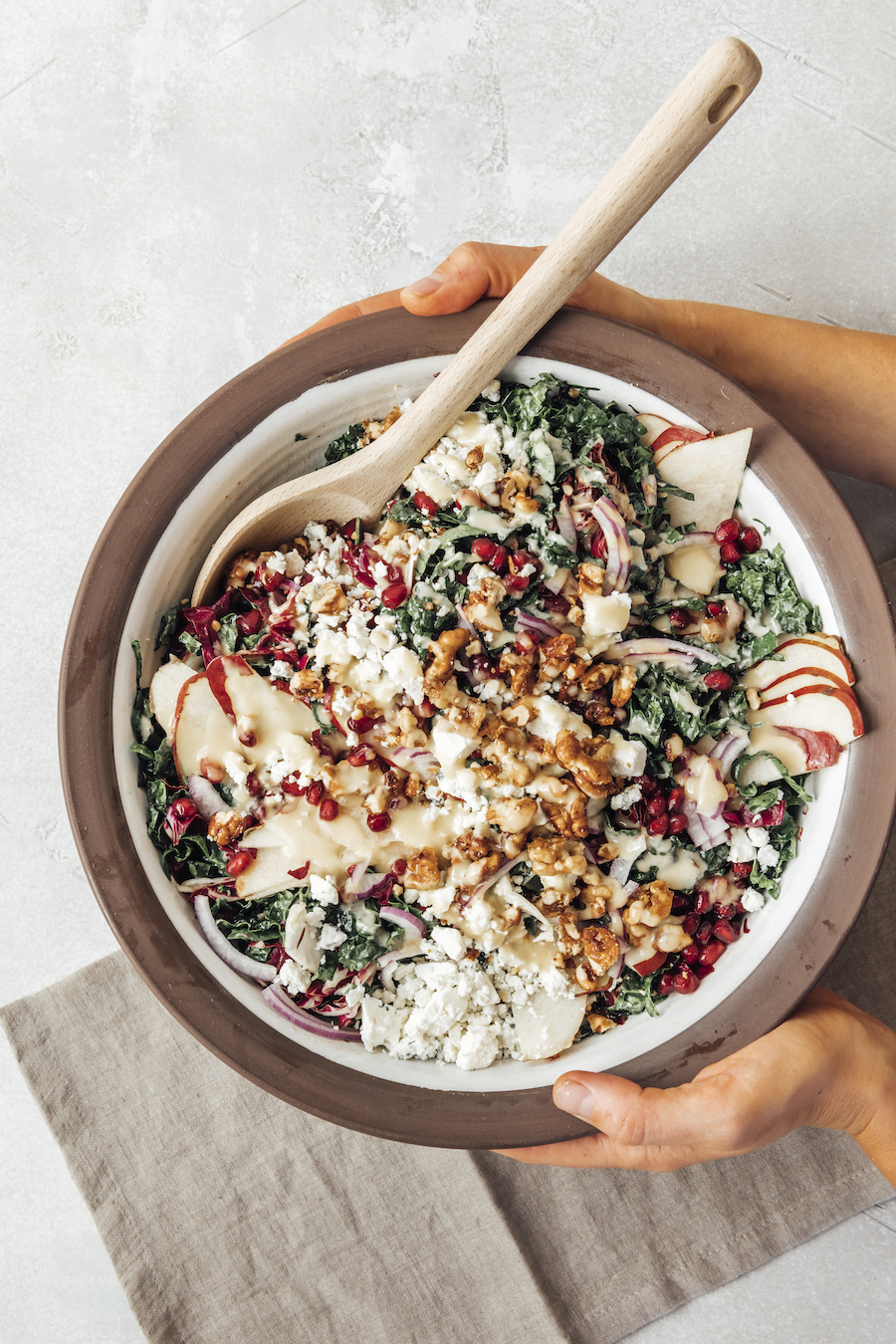 Why We Love It:
Hero Ingredient: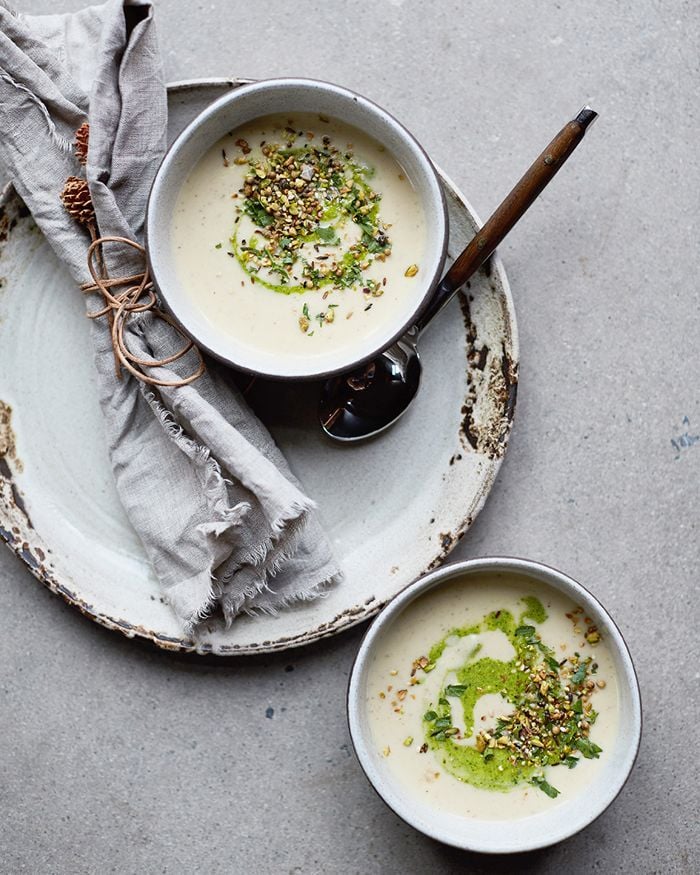 Why We Love It: This is the easiest soup to prepare—it's basically a one-pot recipe—but it has so much flavor and has become a weeknight dinner go-to for me. The key to flavor town is in the baking of the cauliflower florets first in olive oil. This really dials up the seasoning and the potatoes add the creaminess.
Hero Ingredient: Pesto. It's so easy to make your own and it's worth it for the richness it brings to the soup.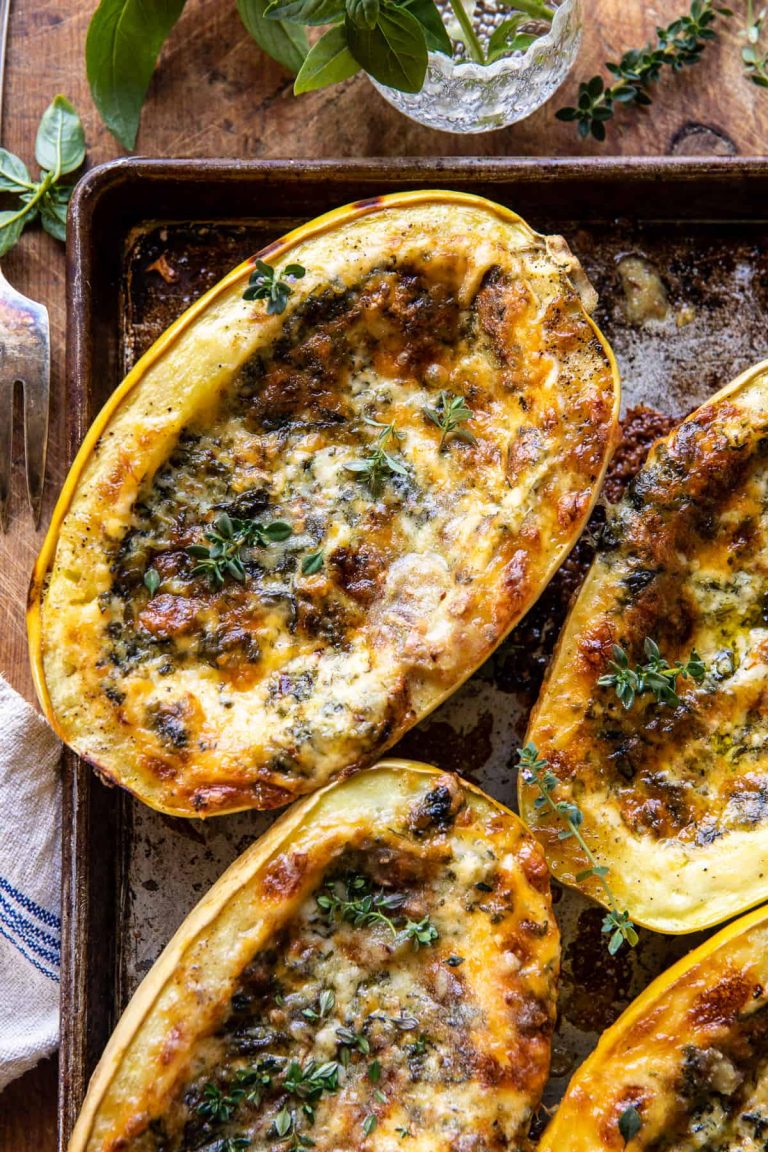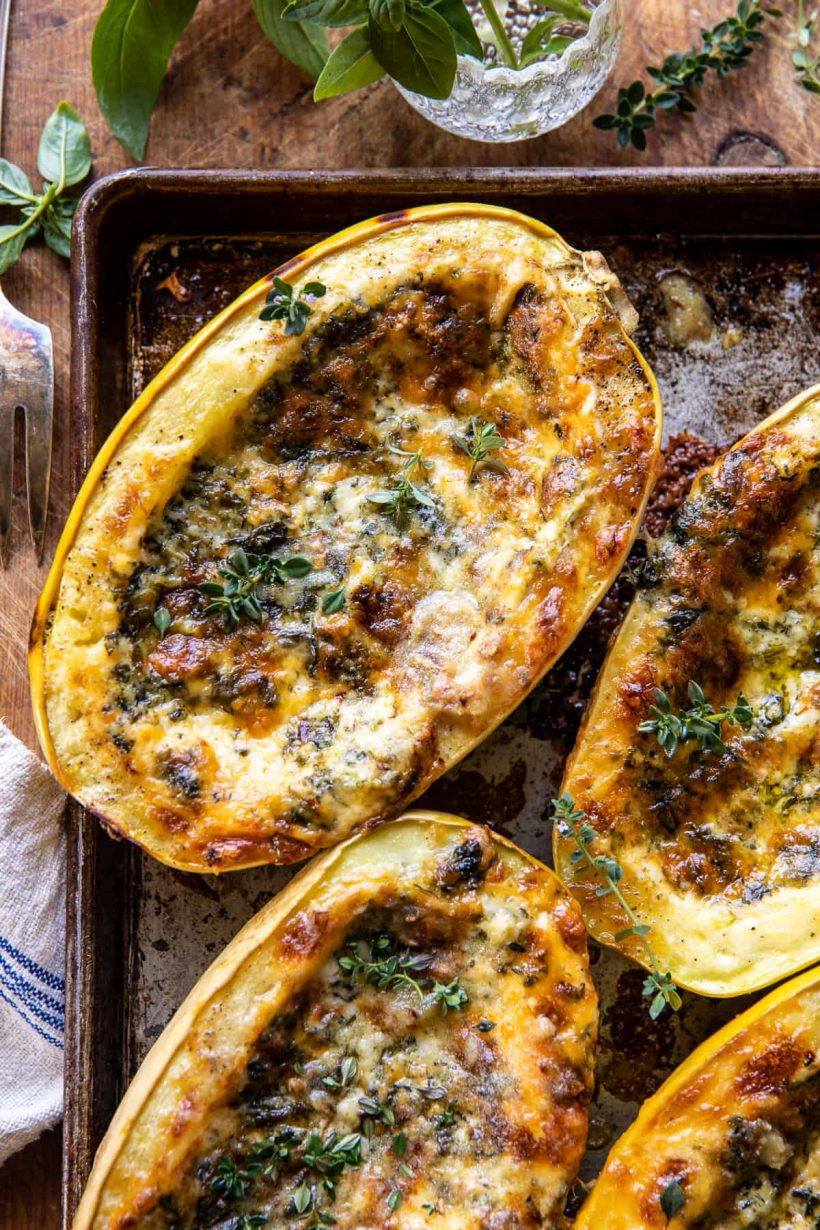 Why We Love It: If there's a foodie who knows how to do comfort food right, it's Tieghan of Half Baked Harvest. This meal is an easy, delicious, and healthier way to enjoy pasta night with four kinds of cheese and sweet roasted garlic butter—what more could you want?
Hero Ingredient: Roasted garlic. Slow roasted garlic loses its intense garlic flavor and instead takes on a soft sweetness. Don't skip it!
Why We Love It: This recipe is foolproof and full of flavor. It's also packed with nutrition, can be easily reheated, fit a variety of dietary needs, and most importantly, is incredibly delicious. We recommend making a big batch on Sunday and freezing small batches for a quick healthy workday lunch.
Hero Ingredient: The toppings! They really are the key with this dish—avocados, cheese, cilantro, green onions, limes, and tortilla chips are a must.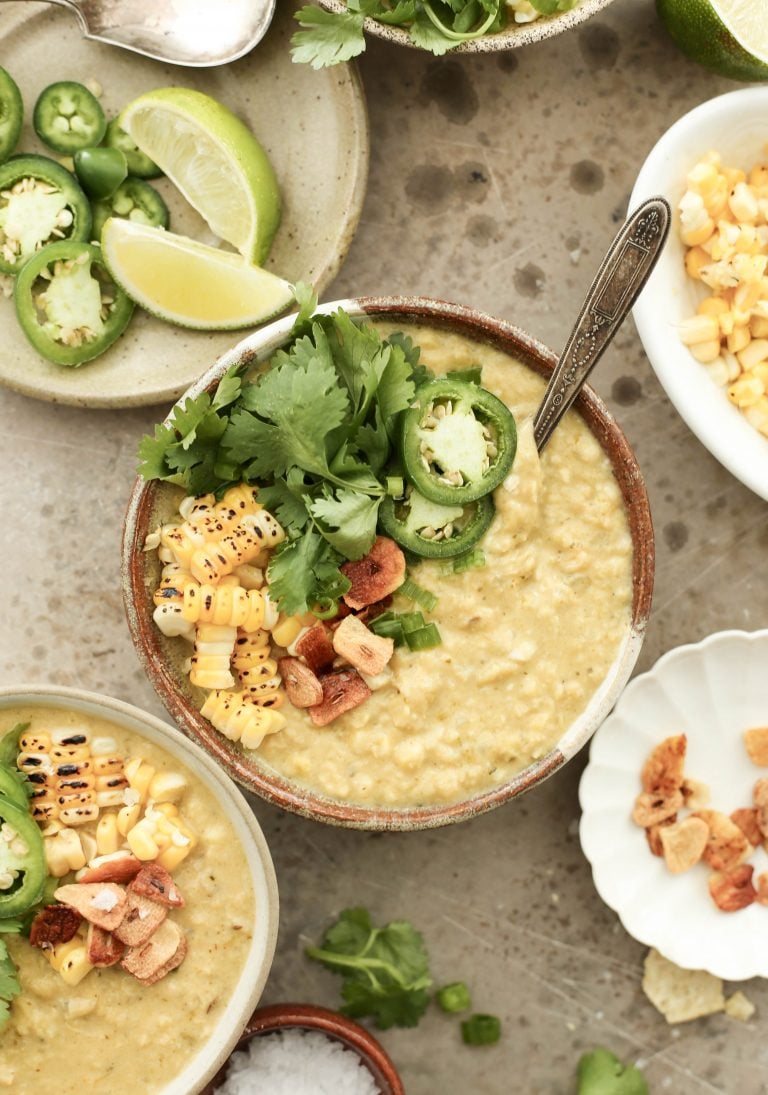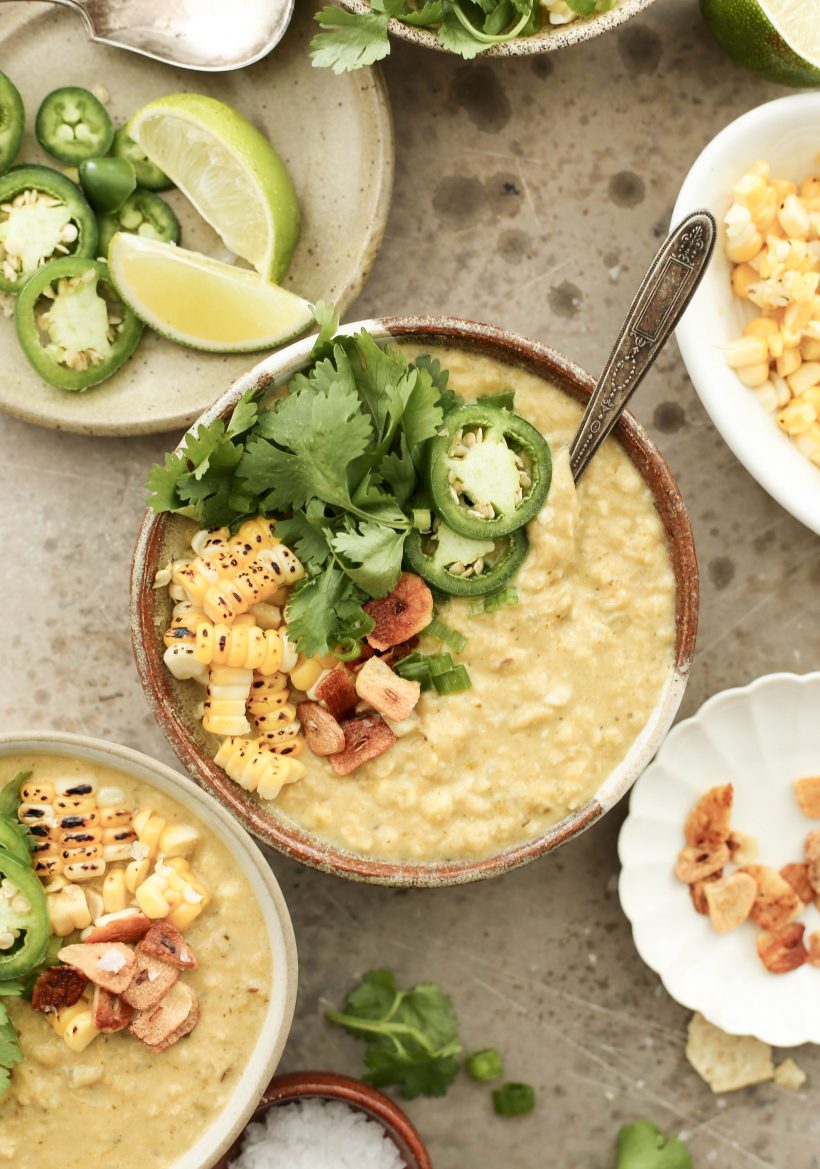 Why We Love It: In our world, the fewer the dishes the better and all this takes is one large dutch oven to cook everything in. My one qualm with most corn soups though is that they can sometimes lean too sweet but this one is perfectly balanced out with a hefty kick of spice that makes this a very warming bowl of flavor.
Hero Ingredient: Jalapeño. This really helps to kick up the heat factor and the acidity helps to cut through the sweetness.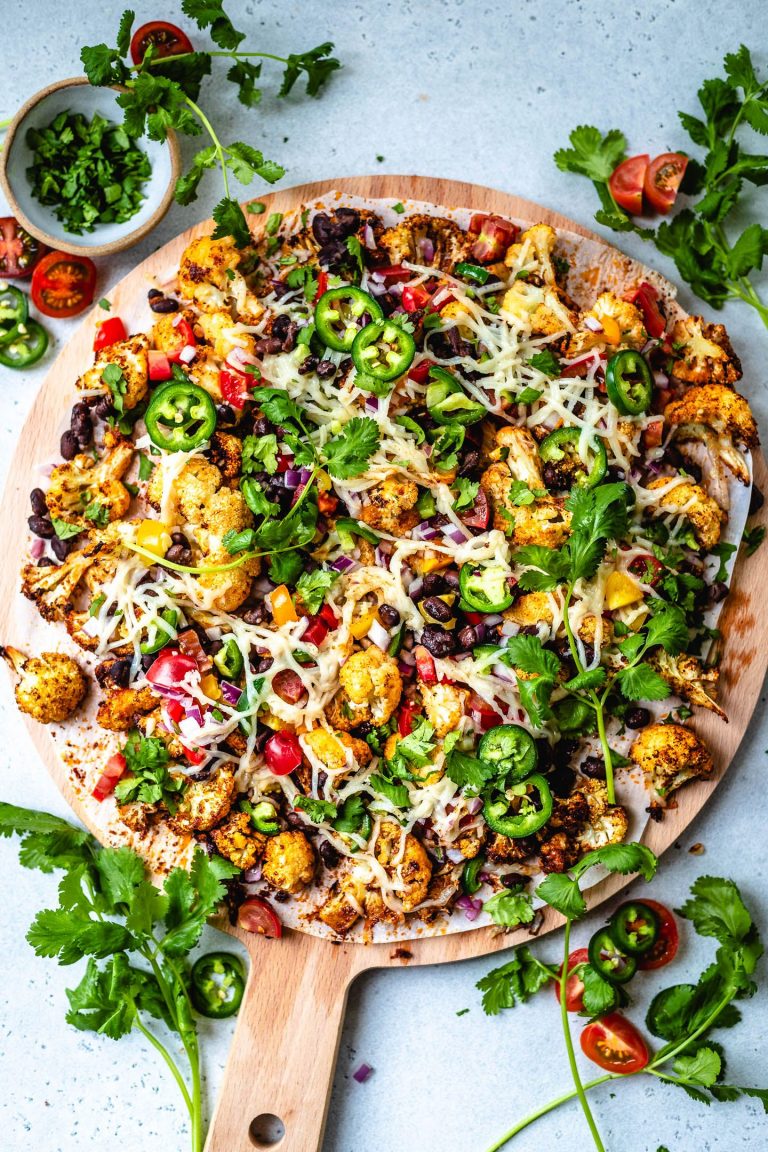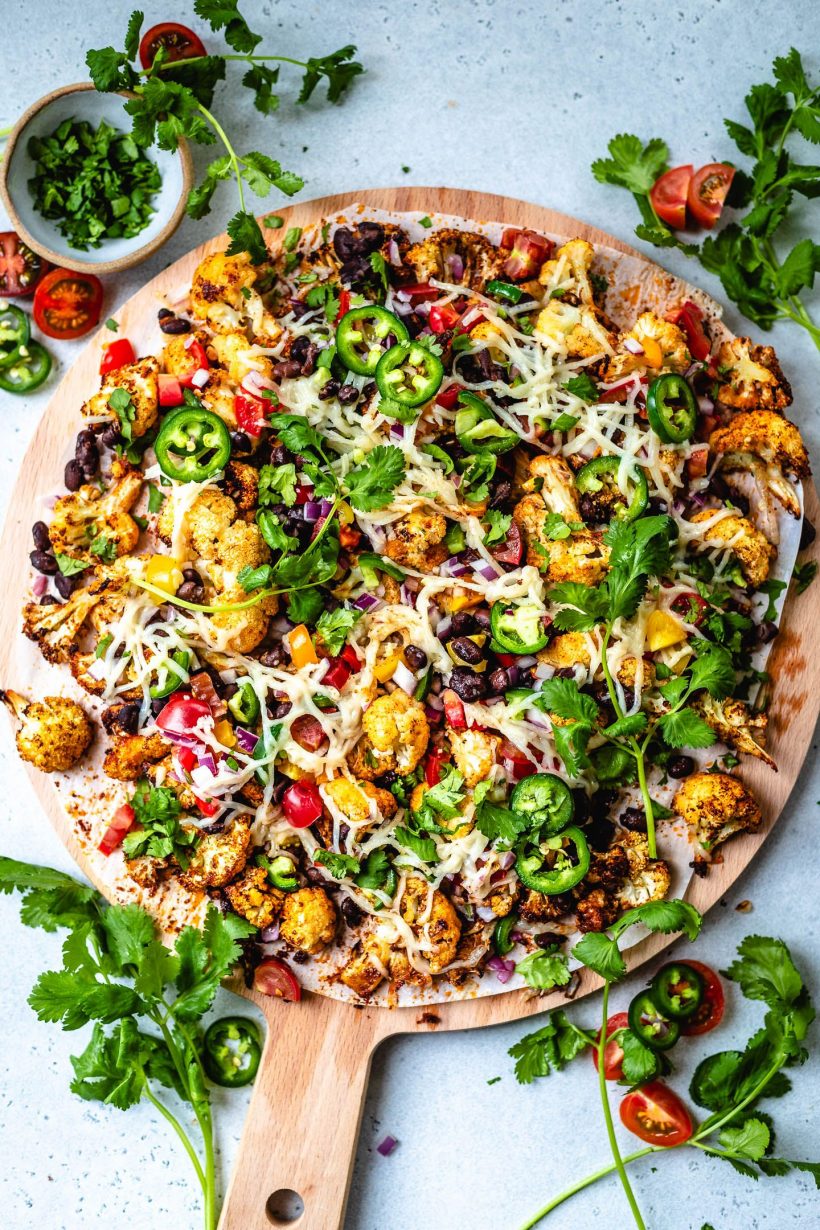 Why We Love It: Vegan and loaded with veggies this delicious low-carb recipe allows you to enjoy all the comforts of fully-loaded nachos with a healthy spin. But most importantly, it is so freaking delish!
Hero Ingredient: Cauliflower. This recipe swaps traditional nacho chips for cauliflower, so you're getting a wholesome vegetable-loaded dish that packs flavor.
Why We Love It: When our food editor, Suruchi shared her mom's Channa Masala recipe, we knew it would be special. This took four separate attempts and seven phone calls to walk through it with her mom and transcribe it into a mostly replicable recipe, and we're so glad she did. This is a warm hug in a bowl and is packed with protein thanks to the abundance of chickpeas. Serve with rice and you have a complete meal.
Hero Ingredient: Tamarind. It adds the perfect amount of sweetness and tart.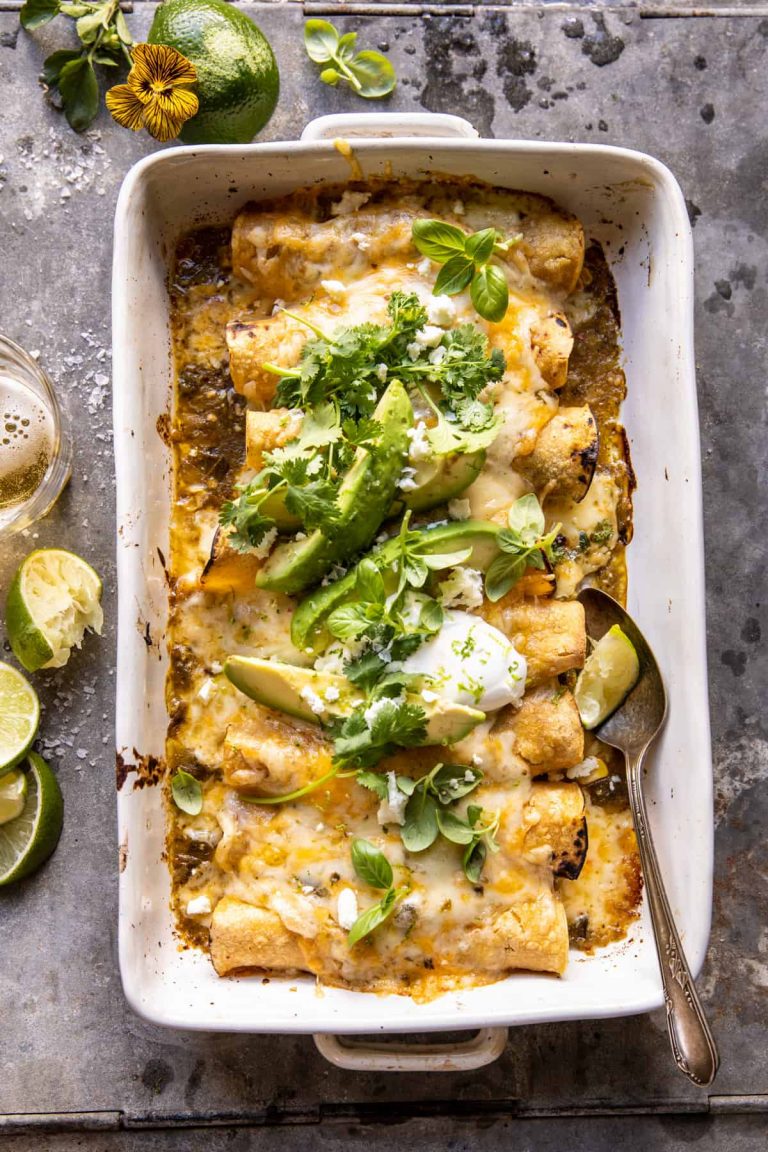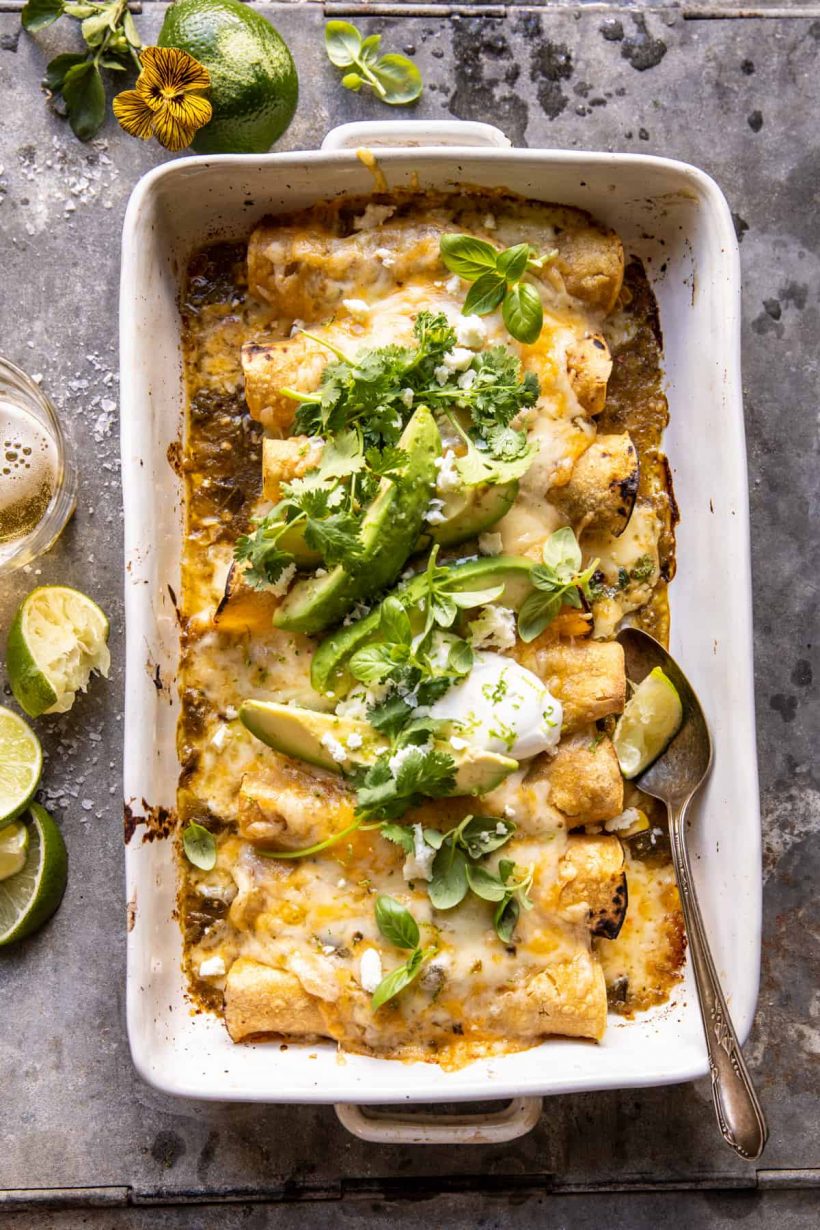 Why We Love It: There's something about enchiladas that keeps us coming back for more. It's also the perfect weeknight meal because it's made entirely on one sheet pan in less than an hour. Charred sweet corn, poblano peppers, and zucchini are tossed with salsa verde, then wrapped up in tortillas. What more could you want?
Hero Ingredient: Once again the toppings are key here. Finish these light and healthy vegetarian enchiladas off with avocado, lots of cilantro, basil, and fresh lime.
Why We Love It: If you're trying to eat a more plant-based diet then add some lentils into your diet. Lentils pack tons of protein (1 cup contains 18 grams), plus they're full of iron, fiber, magnesium, and calcium. This soup has become a weekly go-to meal at Camille's house (even the kids love it). It gives you that "totally satisfied without feeling weighed down" vibe that can be hard to come by.
Hero Ingredient: Coconut milk. It adds creaminess without dairy.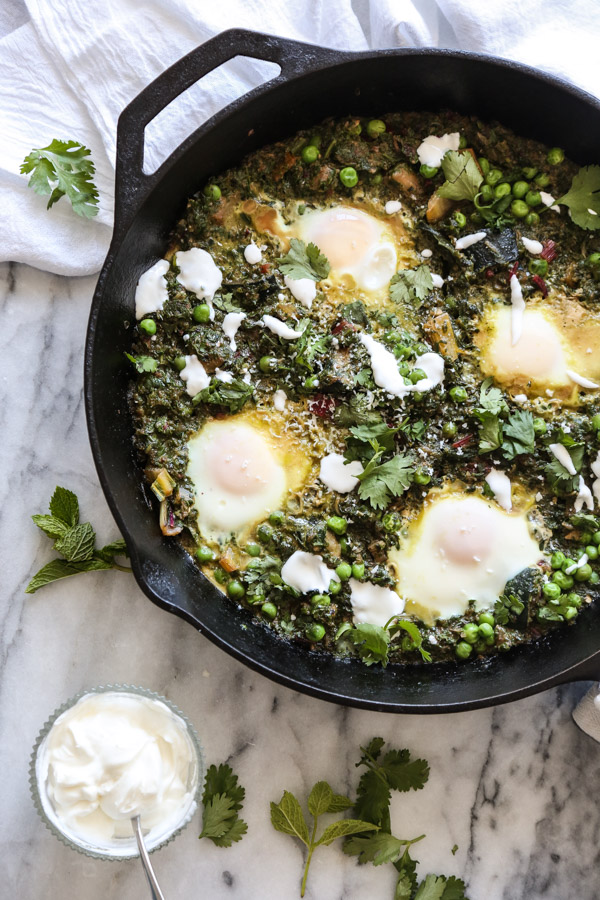 Why We Love It: I'm a huge fan of Shakshuka but sometimes it can look intimidating to make. But don't be fooled by its impressive appearance because this is a lot easier than you think. This recipe couldn't be easier—just make sure that you cook those eggs until the whites are barely set and still jiggle. The eggs should be runny when you serve them for added effect as you slice through them. Oh, and have some bread handy (gluten-free is good too) so you can dip it into the eggs and sauce—delish!
Hero Ingredient: The green goddess veggie mix. Think zucchini, chard, and cilantro with a splash of lemon juice—it's just what the doctor ordered.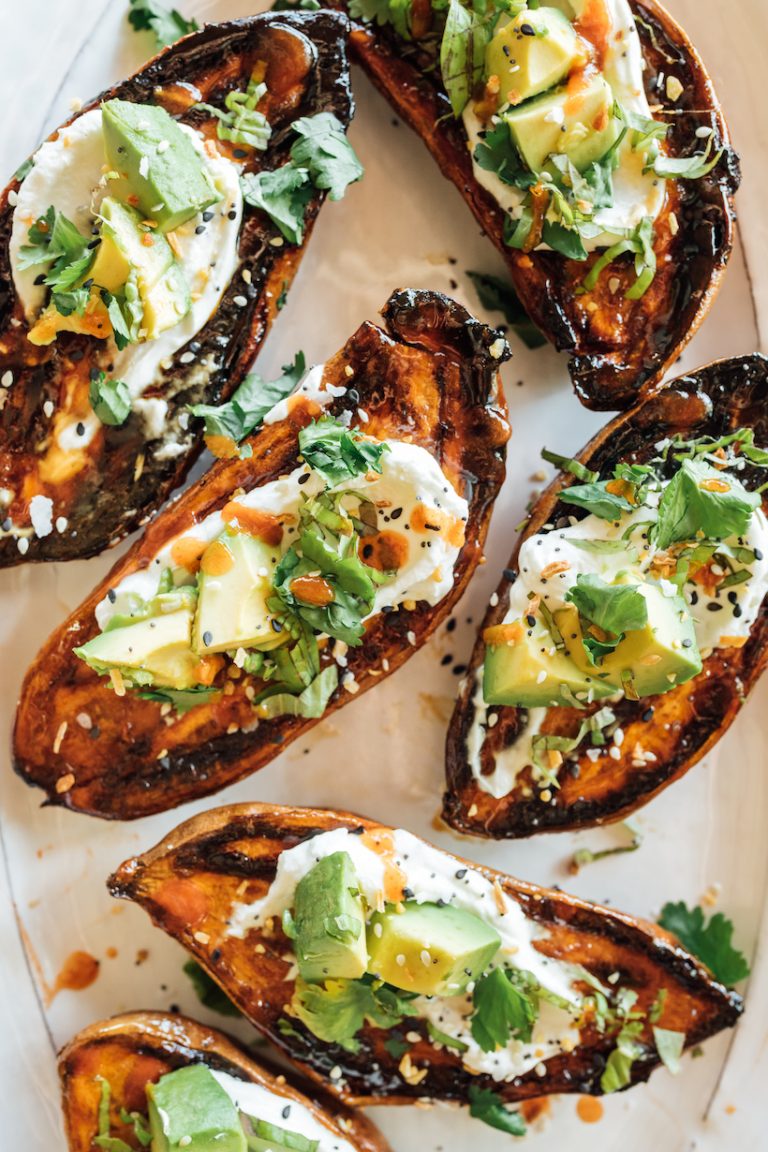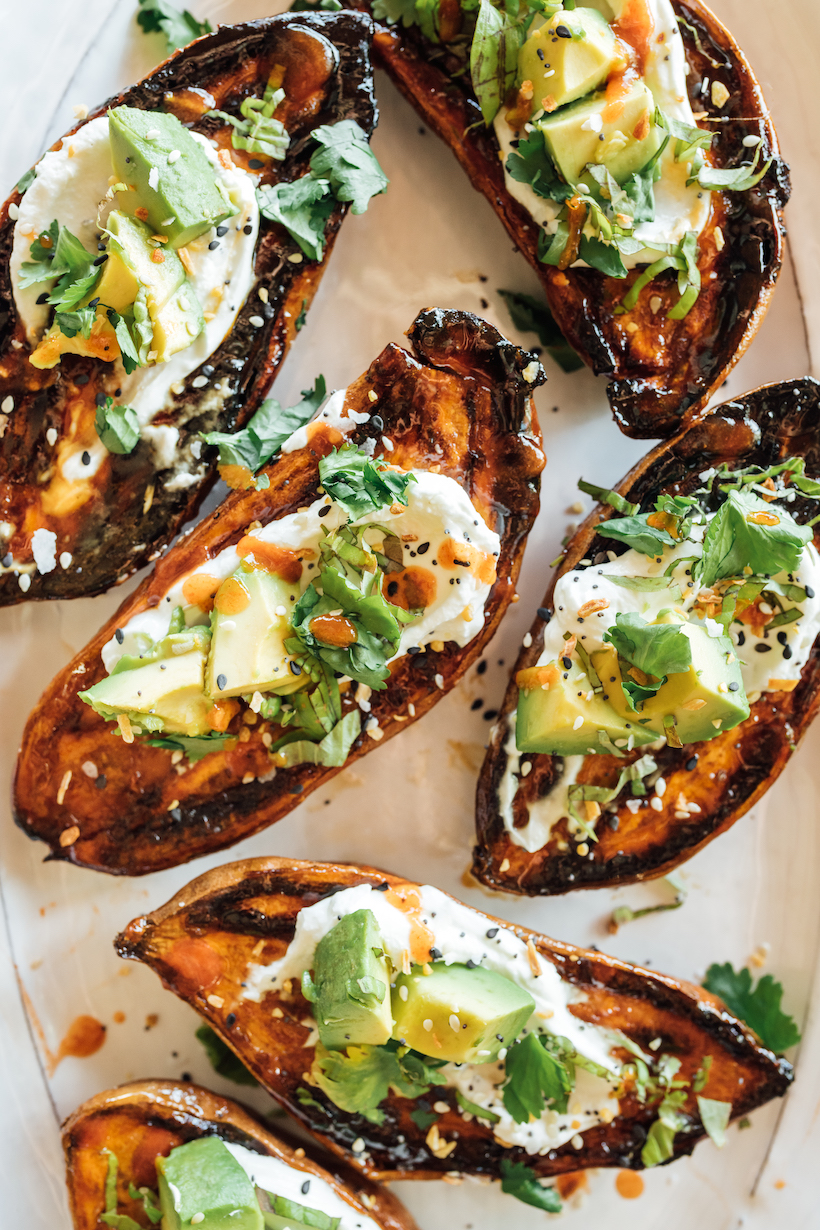 Why We Love It: This ticks all the boxes: easy, healthy, gluten-free, delicious… need we go on? Our love for sweet potatoes knows no bounds: we've stuffed them with kale and chickpeas, smashed and thrown them on the grill, and topped them with feta and drizzles of hot honey. This is probably one of our favorite ways though and the best part is you can top them with whatever you have in the pantry or fridge.
Hero Ingredient: The butter and honey combo. This is the hack to making your roasted sweet potatoes the best ever. In a large cast-iron skillet, heat up a little butter and honey, then sear the sweet potatoes cut side down so they get caramelized, sweet, and nutty from that brown butter. Yum!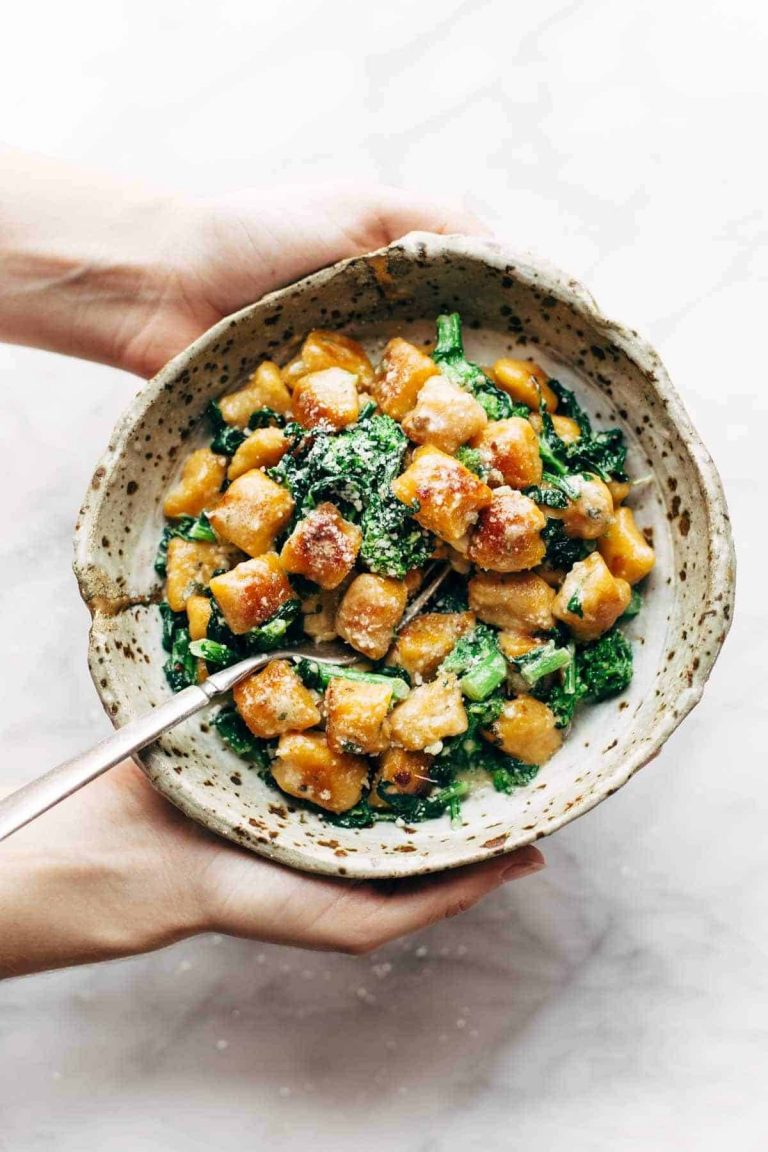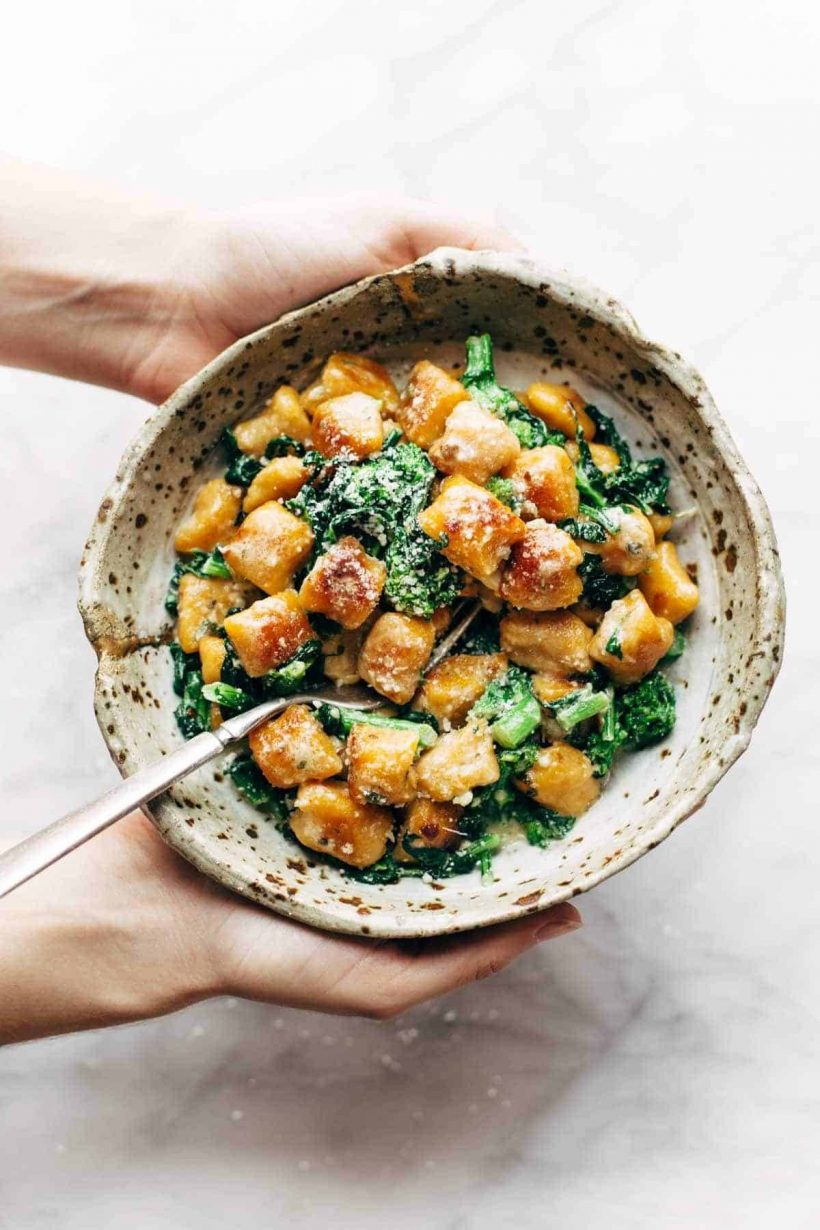 Why We Love It: I know what you're thinking, this gnocchi looks comforting and delicious but it's too complicated to make. Not true. This is actually an easy gnocchi recipe, perfect for the person who thinks making their own gnocchi isn't for them. And it's good for you, too. You've got sweet potatoes, you've got a sage butter sauce, you've got serious comfort food dreams in a bowl for the end of a long day.
Hero Ingredient: Broccoli rabe. This nutrition powerhouse is blanched to tender-crisp perfection before getting tossed into the magic of that sauté pan. Delish.