Turning the page of a new book can open your mind to new ideas, improve your health, transform your career, expand your relationships, and so much more. In our new series, The Fine Print we ask our editors and women we admire to share the go-to tomes that enhanced their lives and why. Ready to embark on a new chapter? The best epic novels will help take you there.
Despite the early-pandemic concern that we would eventually run out of good TV, I honestly don't feel that we ever did. And yet, beyond the occasional dip into must-see shows like "I May Destroy You" and "WandaVision," I found it a little daunting to take on something completely new during such a bizarre time. Sure the allure of a sexy chess show was strong, and I had every intention of binging it, but the next thing I knew I was eight episodes deep into a season 3 rewatch of The Real Housewives of New York. What can I say—there's comfort in the familiar. Books have a similar effect. No matter how highly recommended a novel might be, it still takes some time to fully settle in and get acquainted with new characters. But you know what has absolutely zero mental barriers to entry? The best epic novels you've already read and still absolutely love.
Everyone should have a comfort book to fall back on, so I polled our literature-loving editors for the epic novels and stories they return to time and time again. There may or may not be multiple Jane Austen books in this list—we're a predominately female staff after all. Happy reading (or rereading)!
Name and Title: Camille Styles, editor-in-chief
What It's About and Why I Recommend It: I first read this classic in high school, and the experience was pivotal for a couple of reasons. To begin, it was my first Hemingway read, and I was immediately drawn to his spare, powerful writing—not a word was wasted, and I was blown away by how much could be communicated in so few words. Second, the setting! At the time, I'd never been outside the US, and this novel bit my 16-year-old-self with the travel bug: its main characters journey from the wild nightlife of 1920s Paris to the bullfighting rings of Spain, and I was swept up in their charisma and their caravanning adventures. Recently, I picked this book up again, and I loved it just as much from my adult vantage point. If you've never read The Sun Also Rises, RUN — don't walk — and get lost in its beautiful pages.
Memorable Quote: "I can't stand it to think my life is going so fast and I'm not really living it."
Name and Title: Michelle Nash, Senior Producer
What It's About and Why I Recommend It: I have gifted this book more than any other. It's a short read but it's packed with more nuggets of wisdom than you could possibly absorb in just one sitting. I've read it over and over again and every time I learn something different.
Memorable Quote: "Everyone seems to have a clear idea of how other people should lead their lives, but none about his or her own."
Name and Title: Lourdes Avila Uribe, Contributing Editor
What It's About and Why I Recommend It: While a wholly unoriginal entry, I can't help but admit that Pride and Prejudice is the book I come back to on an almost yearly basis—it's a deeply comforting and nostalgic read. It never ceases to amaze me how much Austen's work holds up to this day, how truly groundbreaking her heroines were, and how romantic it is. Unsurprisingly, I watch the film adaptations often, but I still love to pick up the text and sit with the story. I often say that the reason the film adaptations are always so successful and become instant classics is that the source material is so rich and full of complicated, interesting characters. New things jump out at me every time I read it, and I can't find myself ever getting tired of it.
Memorable Quote "You must allow me to tell you how ardently I admire and love you."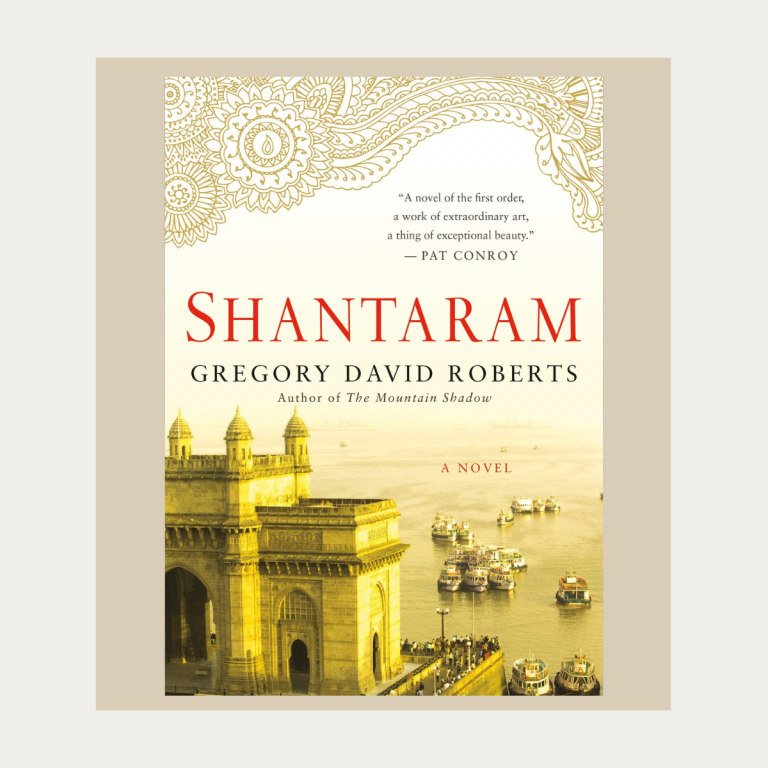 Shantaram by Gregory David Roberts
Name and Title: Sacha Strebe, Deputy Editor
What It's About and Why I Recommend It: If you want to read an epic novel, then add Shantaram to your list. At 936 pages, it is not a meek tale, but as soon as I started reading this book I was engrossed in every word and I couldn't get through it fast enough. Set in the underworld of Bombay, the story follows our protagonist, Lin, who escaped from a maximum-security prison in Australia. With his friend Prabaker by his side, the two seek to disappear into Bombay's hidden society of beggars and gangsters, prostitutes and holy men, soldiers and actors, and Indians and exiles from other countries. Based on the author, Gregory David Roberts' own life, this story is one of those can't-put-it-down books that will have you hooked until the very last page. It's a must-read! 
Memorable Quote: "For this is what we do. Put one foot forward and then the other. Lift our eyes to the snarl and smile of the world once more. Think. Act. feel. Add our little consequence to the tides of good and evil that flood and drain the world. Drag our shadowed crosses into the hope of another night. Push our brave hearts into the promise of a new day. With love; the passionate search for truth other than our own. With longing; the pure, ineffable yearning to be saved. For so long as fate keeps waiting, we live on."
Name and Title: Bridget Chambers, Editorial & Social Media Intern
What It's About and Why I Recommend It: This is my all-time favorite book. It is a historical fiction novel about the journeys of two sisters during World War II. It has all of the elements that I love in a good romance novel, but what sets this book apart is the raw and honest depiction of the different kinds of wars that the women fought during this time. I've read this book twice now, and each time I find myself wishing that I had Isabel's strength, admiring Vianne's dedication to her family, and praying that Gäetan is somewhere safe. Even though it is on the longer side, I have flown through it both times that I have read it. If you haven't yet read this masterpiece, now is the time– the movie adaptation is set to come out in December 2021, starring the Fanning sisters.
Memorable Quote: "In love we find out who we want to be, in war we find out who we are."
Name and Title: Lourdes Avila Uribe, Contributing Editor
What It's About and Why I Recommend It: I came upon Outlander just after I graduated college in 2007, I was living back at my parents' house and needed to fill my time. I stumbled upon this first of this epic time-travel romance and was instantly hooked. It follows a WWII nurse, Claire, who accidentally falls through time and winds up stuck in 1700s Scotland. Love, murder, adventure, and more all follow. It's a highly entertaining, sexy, and captivating read that is just as well written and smart as it is romantic and fantastical. It's not quite a historical romance novel and it's not quite sci-fi — it is its own unique blend that transcends genre. The ninth installment of the book comes out in the fall and I can't wait! 
Memorable Quote: "For where all love is, the speaking is unnecessary"
Emma by Jane Austen
Name and Title: Caitlin Clark, Contributing Editor
What It's About and Why I Recommend It: I remember seeing a Jane Austen book on my high school summer reading list and thinking, "Great. I can't wait to read about repressed 19th-century women pining over guys." But my knowledge of Austen was clearly lacking back then. In addition to being prolific, Austen was — and honestly still is — one of the funniest novelists in the game. "Clueless," well known to be based on Emma, owes much of its sharpness to Austen's witty template. (Another genuinely funny Austen gem is Lady Susan, if you're a little tired of Emma and her myriad — though excellent — movie adaptions.) What I thought would be a summer reading trudge ended up becoming one of my favorite worlds to return to for years to come.
Memorable Quote:  "Instances have been known of young people passing many, many months successively, without being at any ball of any description, and no material injury accrue either to body or mind." —Jane Austen, Emma