It's nearing that time again, and we consider this national day of love to be another opportunity to show the meaningful people in our lives just how we feel about them. Not that we don't do that every other day—who doesn't love a "just because" gift or gesture—but it's always nice to have a special day set aside for us to really commemorate and celebrate love in all of its forms.
And it's not all about gifts either. You can spend the day watching romantic movies or surprise them with an unexpected date: a hike at sunset, roller skating, or a drive-in movie.
So, if like us, you're in the mood to spoil your favorite person this Valentine's Day, then read on to discover the special gifts our editors are buying to spread the love this year.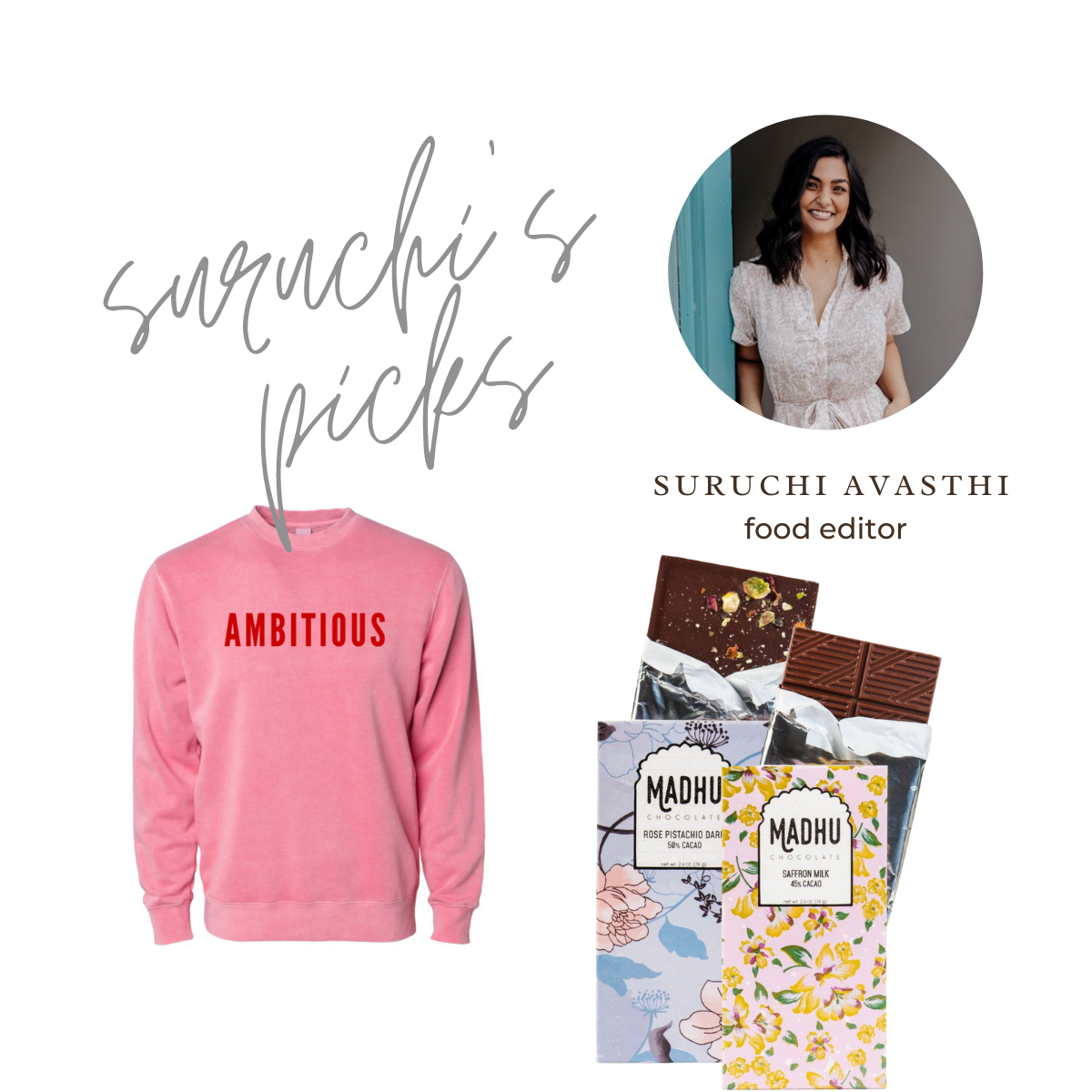 The Gift: Madhu Chocolate Assorted Bars 
Why I Love It: There is always room for chocolate during this time of year, and I love gifting specialty chocolate that someone may not treat themselves to but would totally be excited to receive as a gift. I have long loved Madhu Chocolates for their beautiful packaging and even more delicious flavors that are desi inspired. The Saffron Milk and Rose Pistachio Dark Chocolates are the perfect Valentine's treat for any loved one.
The Gift: Ambitious Crewneck 
Why I Love It: This one is for the ambitious Galentine's in my life who are always an inspiration in my life and who I want to show a little love for. I already have an assortment from the Phenomenal Collection, and each one is perfect for being cozy every day. Plus, who doesn't want a gift that is pink and gives back to incredible organizations?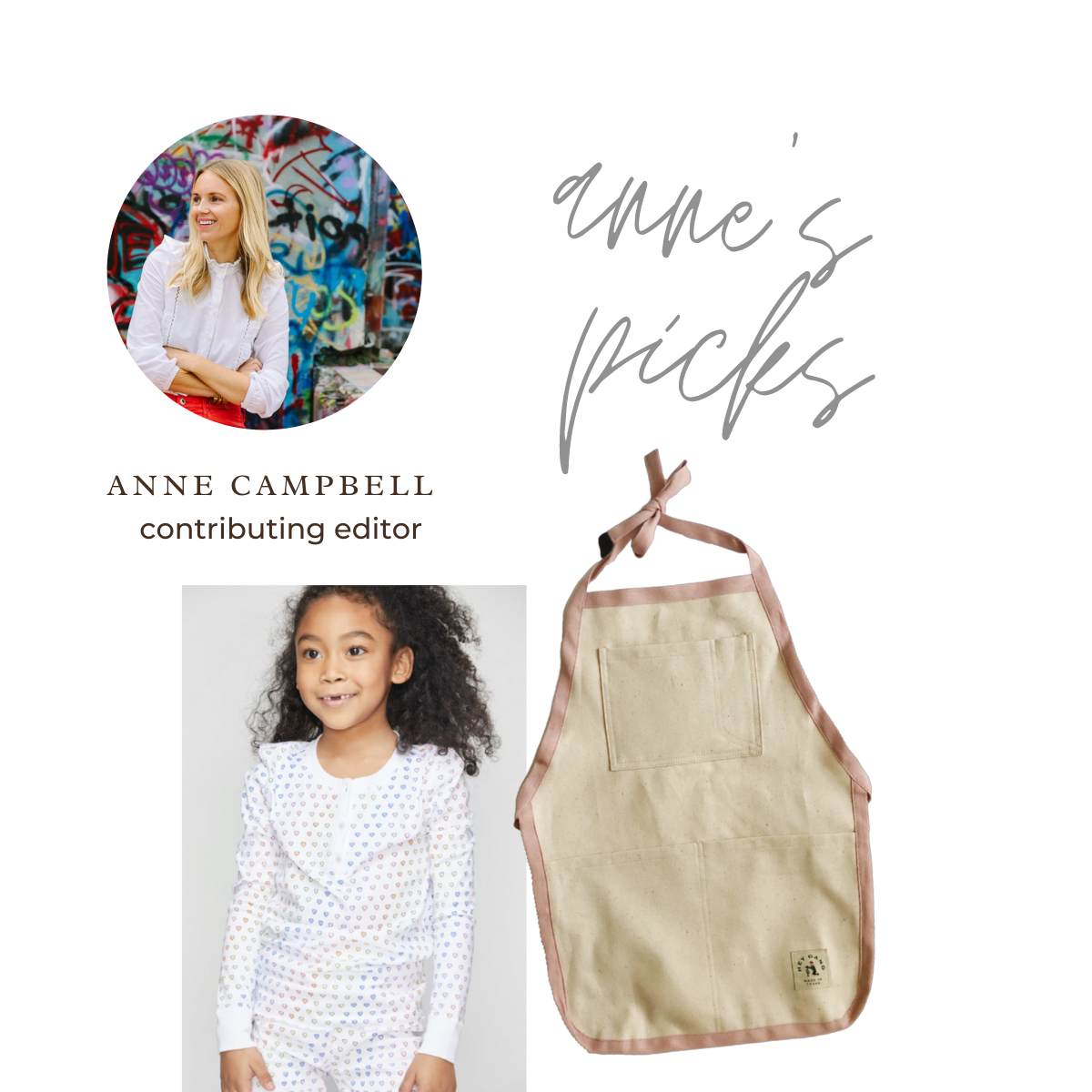 The Gift: Kids Disco Hearts Pajamas
Why I Love It: My son was born on February 14th, which means that every Valentine's Day I'm on gifting double-duty. I try to balance out the birthday cake, balloons, and toy trucks for my son with special sussies for my daughters so that they, too, feel Valentine's magic in the air. This year is no exception. My girls will each be receiving their own set of super-soft 100% Pima cotton disco heart pajamas from Roller Rabbit—a fave. (And just in case you were wondering, I may have purchased a pair for myself, as well.)
The Gift: Hedley & Bennett "The Kids Apron"
Why I Love It: My girls have become quite the little chefs during quarantine over the past year—eat your heart out, Christina Tosi! So, in addition to their mommy-and-me matching pajamas (I know, eye roll), they'll also receive a personalized apron from Hedley & Bennett. These adjustable aprons feature antique brass hardware, are super durable, made from 100% American cotton webbing… and did I mention they're adorable?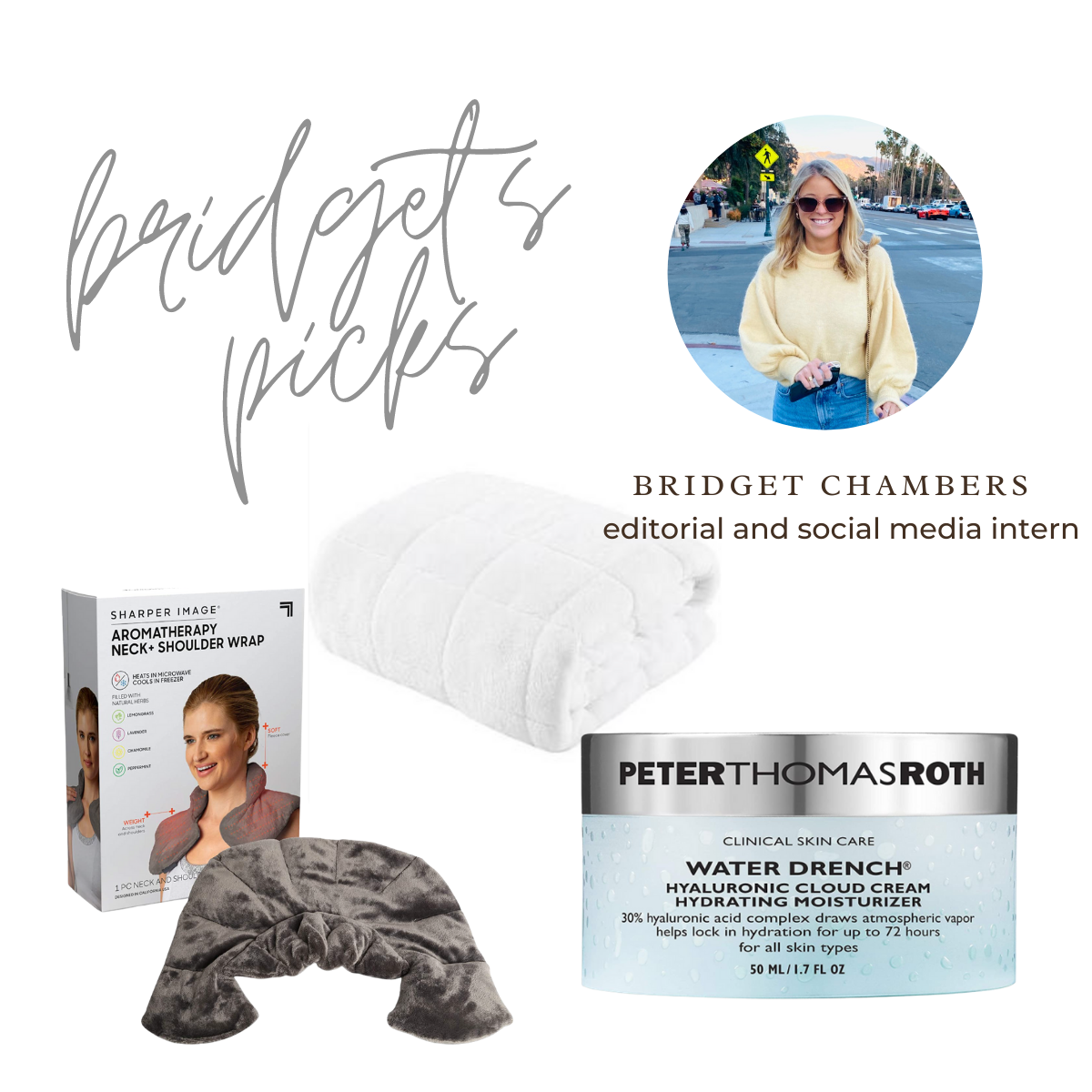 The Gift: 15 lb Fleece Weighted Blanket 
Why I Love It This year, my theme is "give the gift of comfort." Last Valentines' Day, my mom mailed me this weighted blanket and to this day, it is one of the best gifts I have ever received. Not only is it incredibly comfortable to lay around with, but it works wonders for my anxiety. Perfect for your S.O. that always wants to cuddle, your friend that always gets too cold, or anyone else you want to show a little love to.
The Gift: Warm & Cooling Herbal Aromatherapy Neck & Shoulder Plush Wrap
Why I Love It: As I spend a lot of my day on my computer, my shoulders tend to get very tense and this neck and shoulder wrap has been my savior. I stick it in the microwave for 30 seconds and it stays so warm for about 30 minutes. The best part is that it doesn't tie you down—you can move around freely, cooking, doing laundry, or whatever tasks you have on your list. So cheap and the perfect gift for anyone in your life! 
The Gift: Peter Thomas Roth Water Drench Eye Patches
Why I Love It: I have been using these eye patches for the past four weeks and have noticed a serious difference in the skin under my eyes. It feels softer, looks brighter, and is definitely hydrated. I love giving/receiving skincare as gifts because it also serves as a reminder to take a little time to treat yourself each day.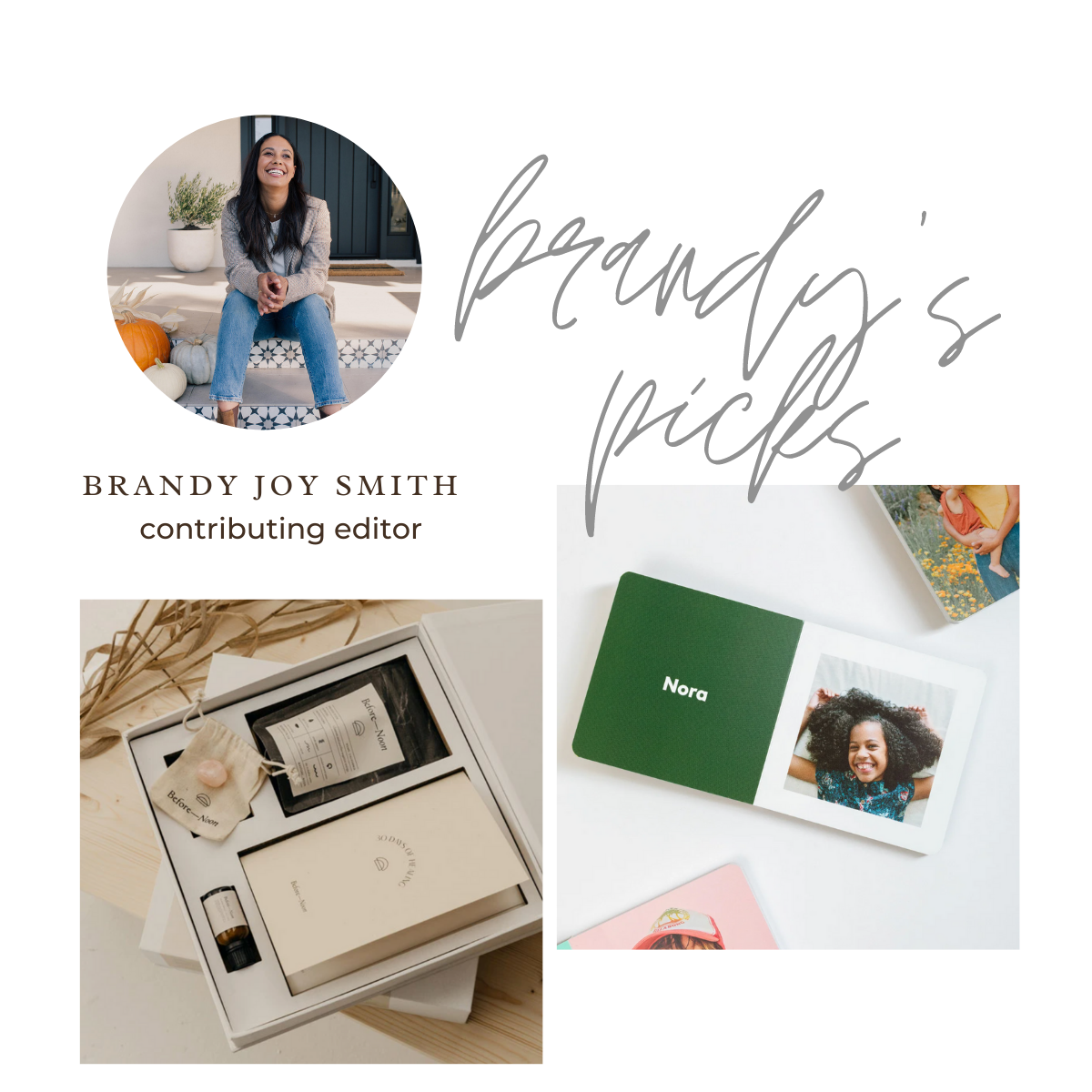 The Gift: Before- Noon, Tool Box "Love"
Why I Love It: I'm gifting these to my single gal pals. I remember the year before I met my husband I was doing a lot of self-work and stopped dating completely to focus on myself. I put rose quartz under my pillow for a year to remind myself that self-love was vital before I could fall in love. This box includes 1 small smudge stick, 1 small tumbled rose quartz crystal, 1 30 Days of Healing Workbook, 1 15mL calming serum (pump included). I hope it serves as a reminder that self-love comes before all other love.
The Gift: Artifact Uprising Baby Board books
Why I Love It: Since we haven't had the opportunity to spend time with our extended family I'm creating these board books for each of our kids, Liam & Norah. I hope to show them all the people who love them so they become more familiar with their faces. 
Product name: Mayde Tea Organic Chai
Why I Love It: Created by an Aussie naturopath and herbalist, I can't get enough of all of Mayde's organic teas, but especially their Organic Chai blend. It features high-grade organic Ceylon black tea and hand-ground herbs and is the perfect blend of spice and coziness. I'm also obsessed with the nursing support tea for any mamas in your life. 
Product name: Maude Burn No. 1 Massage Candle
Why I Love It: A massage candle with cleaner ingredients, beautiful branding, and a perfectly warm and woodsy scent? Yes, please. This candle magically melts into silky skin-softening massage oil that's the perfect temperature. Whether for your partner, yourself, or a friend, this candle takes hydrating your skin to a whole new level.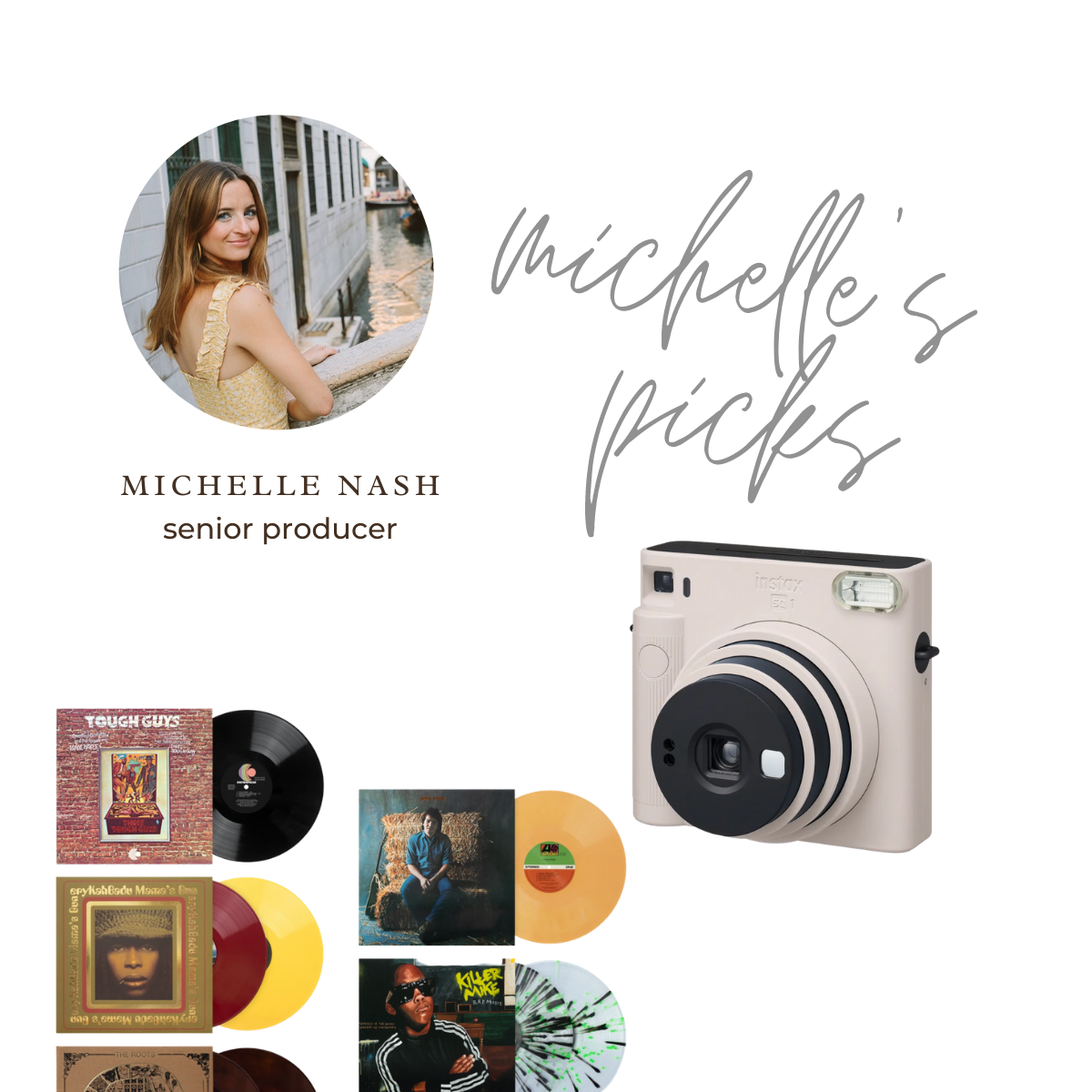 The Gift: Fujifilm Instax Square SQ1 Film Camera 
Why I Love It: There's something dreamy and magical about capturing memories with a polaroid. Maybe it's the instant gratification of having a tangible photo come alive, or building up a fun collection of images that remind you of your favorite everyday moments, people, and places. This film camera is not only beautiful with its sleek new design, but it's also such a fun, thoughtful gift for someone special in your life.
Product name: Record Subscription 
Why I Love It: If you want to go big this year, a vinyl subscription is the gift that keeps on giving for the music-lover in your life. I received one last year and was always itching to see what records would show up on my front porch every month. Vinyl Me Please is a giftable record club that curates an amazing selection based on the recipient's preferences. Plus, they throw in original album art and cocktail recipes to experience along with the new tunes. The subscription is pricey and requires the recipient to have a record player, so also just grabbing one of their favorite vinyl from the store and framing it is a more budget-friendly option that's equally as meaningful.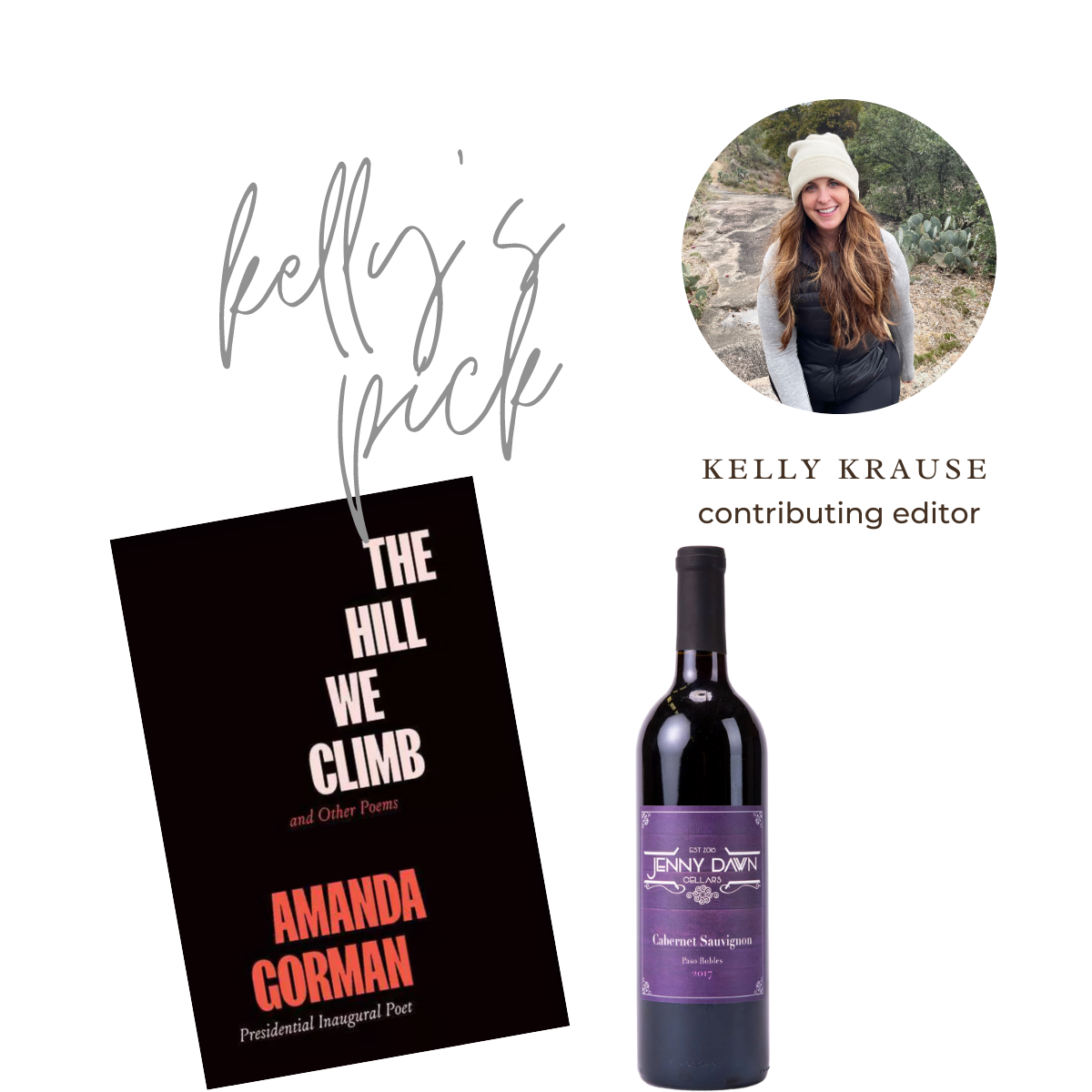 Product name: The Hill We Climb debut poetry collection by inaugural National Youth Poet Laureate Amanda Gorman (Pre-Order).
Why I Love It: It's safe to say we were all so moved by Amanda Gorman's poem read at the inauguration of the 46th President of the United States. Her words were beautiful, and I only wanted to hear more at that moment. I know it's a gift that doesn't arrive till September, but my pals will still appreciate the gesture and will have something to look forward to later. 
Product name: Jenny Dawn Cellars Wine
Why I Love It: Jenny and I went to high school and it's been incredible to watch her passion and drive in the world of wine lead her to become the first Black woman winemaker to open an urban winery in Kansas. She works with a Napa producer to bring her wine to life, sourcing grapes from both California and Kansas. Jenny shares so much about her journey as an entrepreneur and to see her resilience during COVID has been so inspiring. (Pro-Tip: she ships to 37 states.)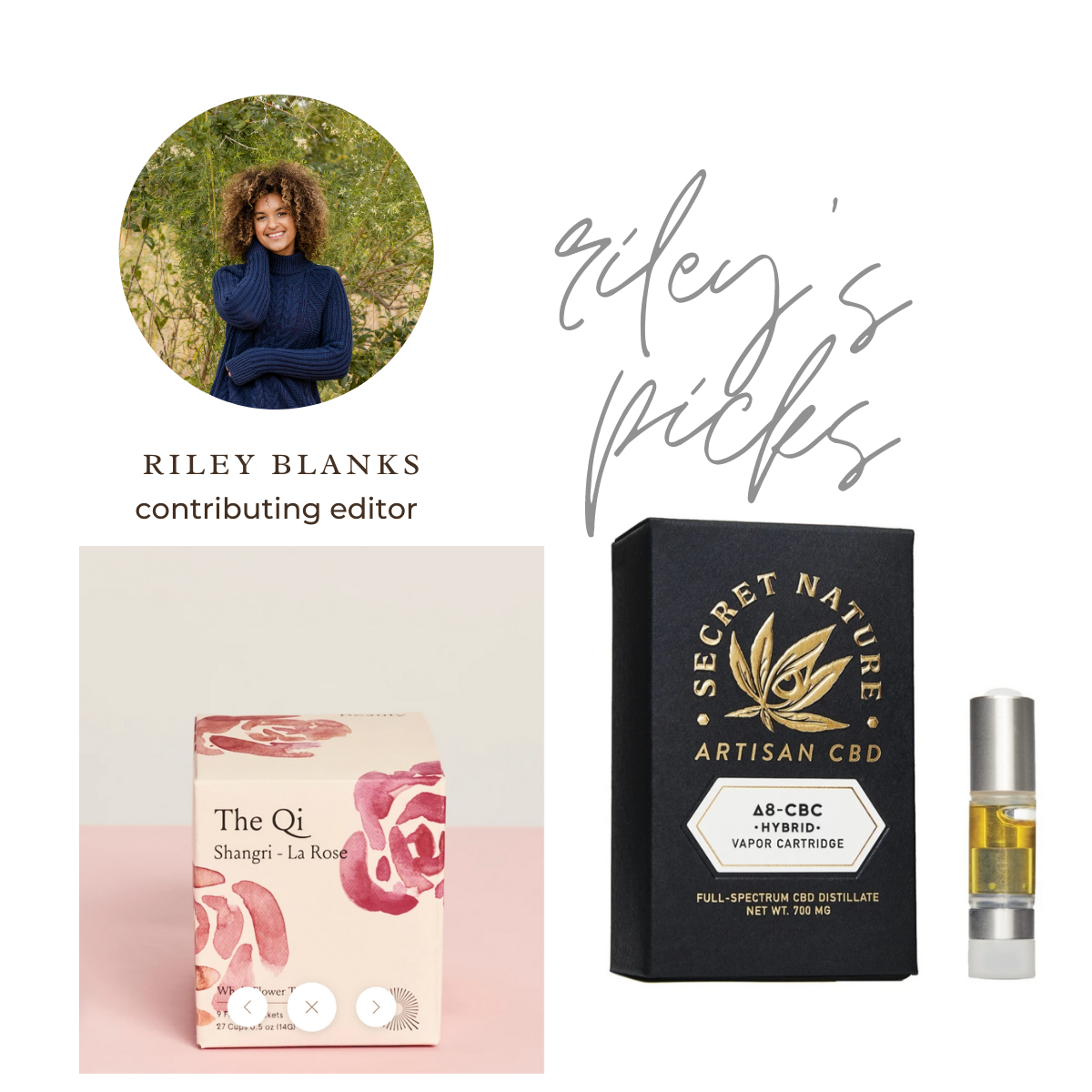 Product name: Secret Nature Delta 8 – CBC
Why I Love It: I was experiencing some anxiety a few weeks ago and my assistant recommended Secret Nature CBD as a quick, gentle remedy. I was skeptical as I've never had major results with CBD and I'm not the biggest fan of vaping as a concept. I stood corrected. This product is incredible. It offers a beautiful balance between a relaxed state and an elevated mood. Secret Nature describes the experience as a "flow state" and I concur. Their products are high quality, organic, and crafted indoor by hand. They started fighting for the plant 20 years ago, long before it was socially acceptable and will continue to do so until the stigma is lifted. Big. Fan.
Product name: The Qì Tea Shangri-La Rose
Why I Love It: My goodness, The Qì's teas are just gorgeous and their visuals are mesmerizing. Not to mention, their Rose Flower Beauty Tea has an accessible rosy flavor with fruity notes that addresses glowy skin and hair, gut health, and restful sleep. Their founder, Lisa Li, drank a lot of tea with her grandma while growing up in a coastal town in Asia. She believes inner and outer beauty are intricately connected and that qì presents most powerfully in flowers. Her story is filled with love and her floral teas are evidence.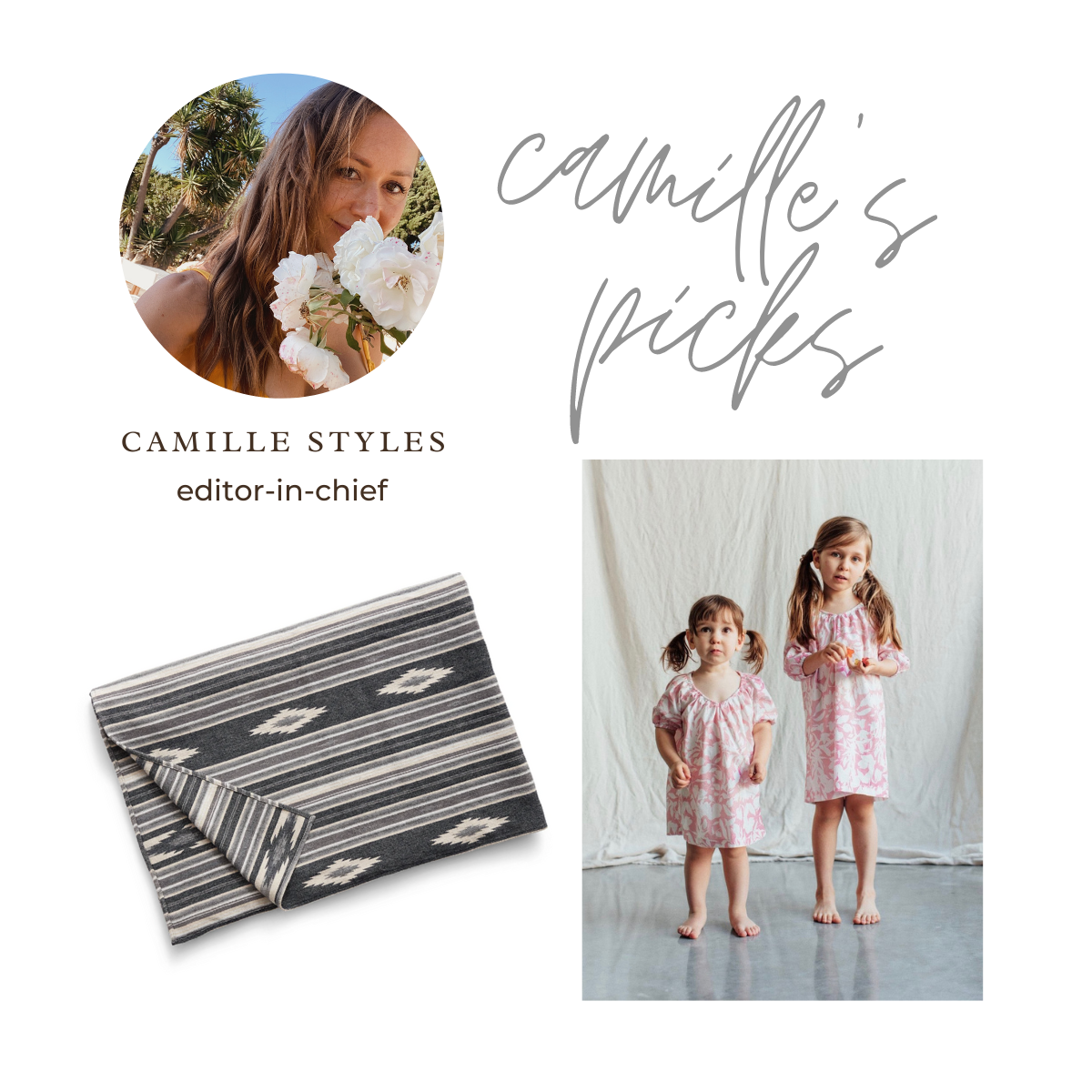 The Gift: Adirondack Blanket in Smoke Serape
Why I Love It: We're looking forward to lots of nights around our new fire pit this spring, so I'm gifting Adam this cozy and chic serape blanket to serve as the perfect cushion for our stone bench—and also double as a blanket for the beach… and a cozy wrap for chilly nights out on the back porch. Basically, all our favorite things to do together.
The Gift: "Marshmallow Floral" La Paloma Nightgown
Why I Love It: Phoebe owns two of these nightgowns that double as day dresses, and I can barely get her to take them off long enough for me to wash them! She'll be so excited to add one to her collection on Valentine's Day, especially if I tie it up with a bow and a box of chocolates.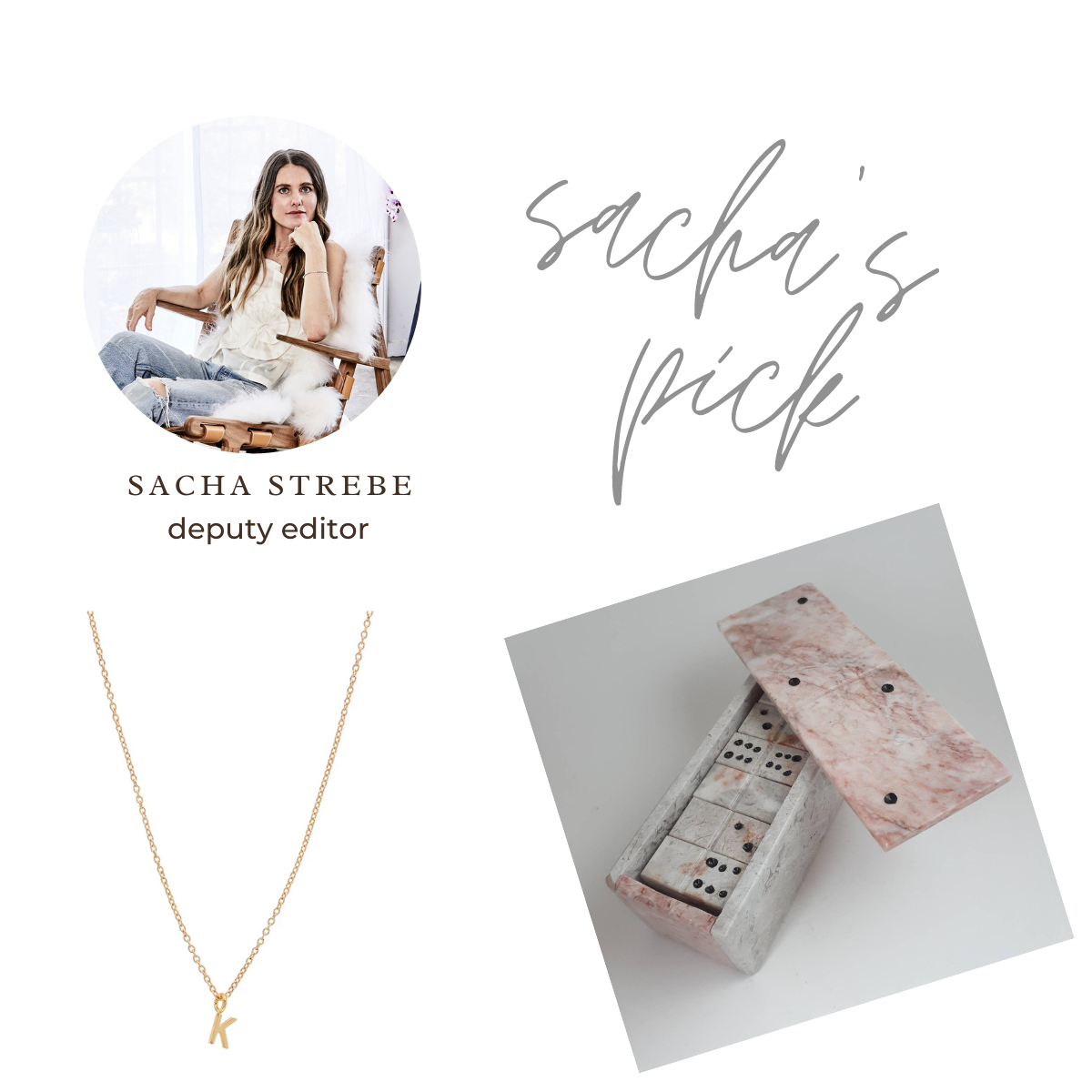 The Gift: Pink Marble & Onyx Domino Set
Why I Love It: Since we've been spending more time indoors lately, I wanted to break up our screen time with some old-school gaming (not the Xbox variety!). I bought a marble Domino set for our 12-year-old son and I can't wait to play it as a family.
The Gift: By Chari Initial Necklace
Why I Love It: I have always loved By Chari's simple, minimal, contemporary jewelry designs. This simple initial necklace is a beautiful way to show you care. Add your initial or theirs (or both!).
What are you gifting your loved ones this year? Share them with us below.