There's way more to wellness than just eating clean, so we're taking a holistic approach to restoring our spaces, minds, bodies, and hearts in small but powerful ways. Introducing The RE:SET Challenge—a 21-day plan to a healthier and happier you. Click here for the full list. Up next, what is a dance cardio workout and how does it spark joy with Megan Roup of The Sculpt Society. 
Fitness has always been a big part of my life. I grew up in Australia with a very active family. Both of my parents run about 30 miles each a week—my dad is 70 this year and my mom is 60—and they were always fitter than us growing up. We went on regular family bike rides, enjoyed hours of hand surfing in the ocean, and played soccer in the nearby park, or cricket in the culdesac. Put it this way, we were always doing something physical.
It's safe to say, my parent's influence rubbed off on me. I have tried every type of workout, exercise routine, and fitness fad over the years from Tracy Anderson's perfect design series to Kayla Itsines' BBG Bootcamp. But nothing really stuck until I discovered Megan Roup's dance cardio workout on Popsugar Fitness' YouTube channel. This routine had everything—cardio, sculpt, tone, abs—it was a complete full-body workout and it didn't stop for the entire 30 minutes (which really appealed to my Gemini personality).
After doing that workout several times, I was hooked and decided to sign up for her app, The Sculpt Society. I have been doing TSS now for about two years and besides the obvious change it's made to my body—it's not only leaner, and more toned, but it's also stronger—I have really noticed how much her workouts have improved my mental health (not to mention my skin!). It's all down to Roup's fitness philosophy. The focus isn't on fitness or losing weight. She really encourages you to just move your body and once you start, you'll recognize how much better you feel. The fitness, weight, and strength you're after are a pleasant byproduct.
Whenever I feel pent up, stressed, anxious, or overwhelmed, I put on my workout clothes and move with Roup. I'm not the best dancer either, but like Roup says, just go with it, get messy, and have fun. Once I start moving my body, the tension subsides and I feel liberated thanks to those good 'ol endorphins and a fresh oxygen rush from increased blood flow. It's the best release of negative energy and I've even been known to cry at the end of a workout because it's such an emotional release.
Read on to learn more about Roup's dance cardio workout, why it works, and why it sparks so much joy!
Be sure to scroll to the end for an exclusive code that gives you a two-week free trial and 25% off your first month.
image by Lianna Tarantin 
So, what is dance cardio?
Dance cardio is utilizing different types of dance steps to exercise your body and get your heart rate up. 
What makes the TSS dance cardio workout different?
My approach to dance cardio is to make it accessible to all levels and not overcomplicate it. For so long the dance cardio options have felt very intimidating to non-dancers, my approach is to simplify dance cardio so that everyone can feel successful when taking a class with me. 
What muscles does it target?
Not only does dance cardio increase your cardiovascular endurance it also increases muscular endurance, flexibility, and balance. Not to mention all the feel-good endorphins.
What results can you expect from dance cardio?
The Sculpt Society is a full-body workout, so you will lengthen and strengthen your entire body.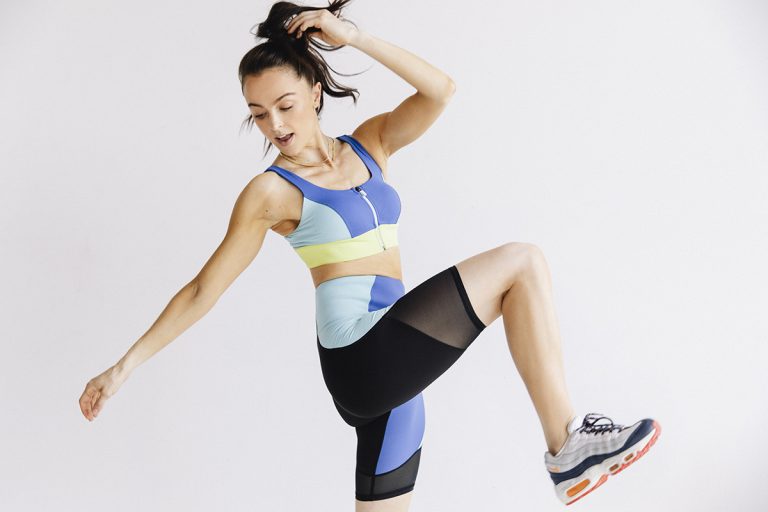 image by Lianna Tarantin 
How does dance cardio spark joy and why is that important?
What is so great about a dance-based workout is that they are fun. Moving to the beat of the music in a way that feels good makes it feel like you're not working out, but instead having a fun party. The more we can incorporate exercise that feels joyful the better. When you enjoy your workouts, clients are more consistent, they look forward to it and in turn, get better results. 
How can we incorporate more movement into our lives this year?
I think fitness is now more affordable than ever with so many at-home programs. Finding an app (like The Sculpt Society) makes it easier to incorporate exercise into your weekly routine. I recently launched a quickie program that is all about committing to just 10 minutes a day five days a week. I think most people can find 10 minutes a day and it is a great way to incorporate movement into your day that won't feel overwhelming. If you're just starting to work out, make the goals small, start out with working out two to three days a week consistently for a month and then add on. 
What's your advice for people who are new to the dance cardio workout?
If you've never done dance cardio I have a great breakdown video on The Sculpt Society App that goes through and slowly breaks down my go-to movements. I find my clients that do that video first always feel more confident going into a regular video. I would also suggest giving yourself a couple of sessions to gain more confidence with dance cardio. You might feel silly and it might not be perfect, but who cares, no one is watching and it doesn't have to be perfect! 
What is your 2021 mantra?
You are worthy! You are enough! 
Megan Roup's 5 Tips for Enjoying a Stress-Free Workout
Find a program you really love and look forward to doing.

Music always motivates, so incorporate music into your workouts.

Grab a virtual friend and make dates for your workouts to help keep you accountable and connected. 

Remember, working out doesn't have to be perfect. Continue to do your best and show up with the intention to feel good.

Get your workouts done in the morning, it will create a positive start to your day with good endorphins. 
Exclusive Code for Camille Styles' Readers
Ready to try a dance cardio workout? Megan Roup has generously offered an exclusive code for the CS community to receive a free two-week free trial and 25% off your first month. Simple type "CS25" (in all caps) at checkout.
*Please note, this is for new members only and must be redeemed through their website: www.thesculptsociety.com