So, you've cut back on your plastic use and vow to dip your toes in the zero-waste movement this year. We're right there with you. Next on the list? Composting. Good news: composting is way easier than you think. With minimal effort, your carrot tops and egg shells can add nutrients to your backyard garden beds. Your seedlings and soil will thank you. In today's article, we're breaking down why you should compost, how to compost, and how to start composting for beginners. Plus, we're including a helpful breakdown of what should vs. what shouldn't be composted. As a novice composter myself, these tips and tricks are simple (and less gross) than you think. With Earth Day right around the corner, now's the time to spring clean your home and start your foray into composting. The two go hand-in-hand. Fresh season, fresh habits.
Feature image by Kate LeSueur.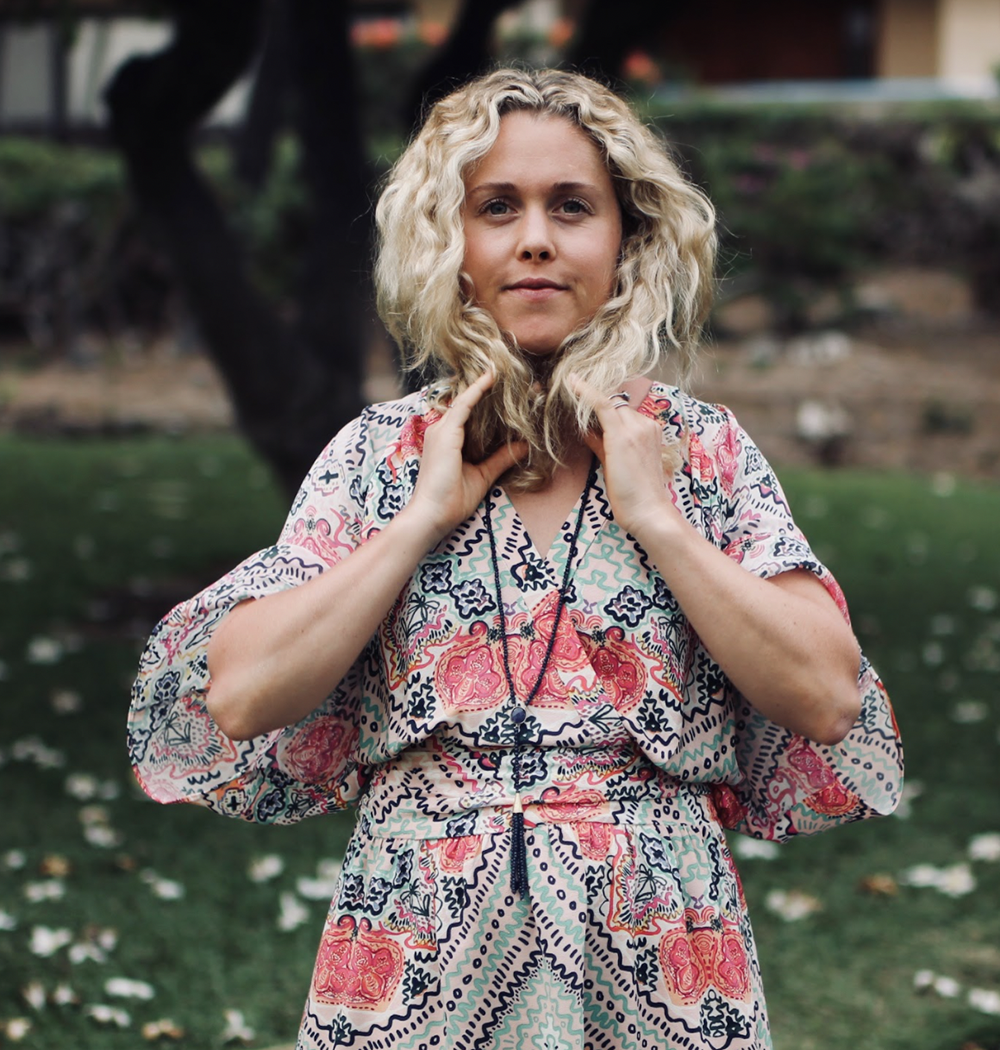 Why Should You Compost?
Environmentalists could reel off a long list of reasons for keeping your food scraps and other household waste out of the trash can. For starters, compost adds nutrients and organic matter back to soil, which benefits agriculture, reduces our reliance on synthetic fertilizers, and diverts methane-producing materials from landfills. Plus, if you plan to use your compost-rich soil in your backyard, it will improve your soil's water retention capacity. Meaning, you won't need to water as much. Beyond the environmental benefits, below are more reasons why you should compost.
Composting Reduces Household Waste
Did you know that the United States wastes 30-40% of its food supply each year? The average American family throws out $1,500 in food every 12 months. And our annual food waste is valued at $161 billion. Yikes. Unsurprisingly, food waste is the number one material in our landfills. With food insecurity affecting 1 in 8 Americans, the thought of this much wasted food is devastating. You can do your part by making sure you don't let food go to waste and by composting.
Composting Creates Free Fertilizer For Your Garden
Gardens need fertilizer, but the bags of compost and other soil amendments are pricey (and not always organic). Compost turns your waste into organic soil.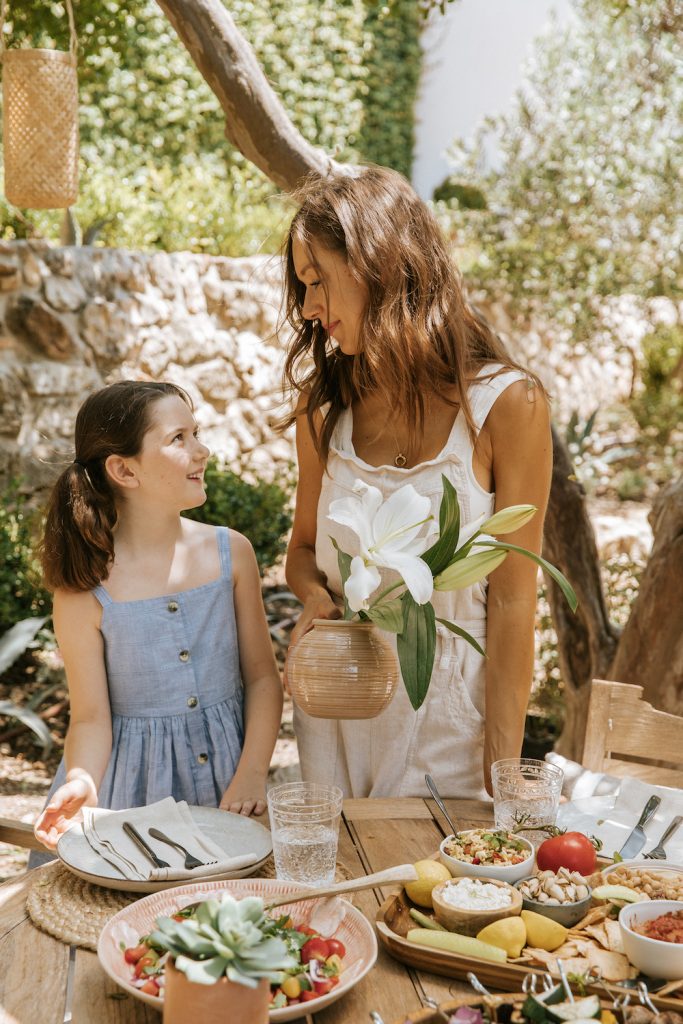 It's Fun and Educational for Families
My toddler loves tossing things into the compost bin for me, as well as taking our compost bag out to our alley. Toddlers and kids find composting fascinating (like gardening!). It's educational as well, teaching them about our food's ecosystem. Add composting to your family's backyard activities.
How to Start Composting for Beginners
Once you have your supplies (find our recommendations, below!) and you know what can be composted, you're ready to get started. It's that easy. In the beginning, it's helpful to have a printable list of what you can compost. Once you get the hang of it, it'll become second nature. A few tips and tricks: don't overfill your kitchen compost bin (otherwise the charcoal filter will start to collect bits of debris), take out your compost bag at least every other day— particularly if you're filling it often—but when in doubt, freeze your scraps.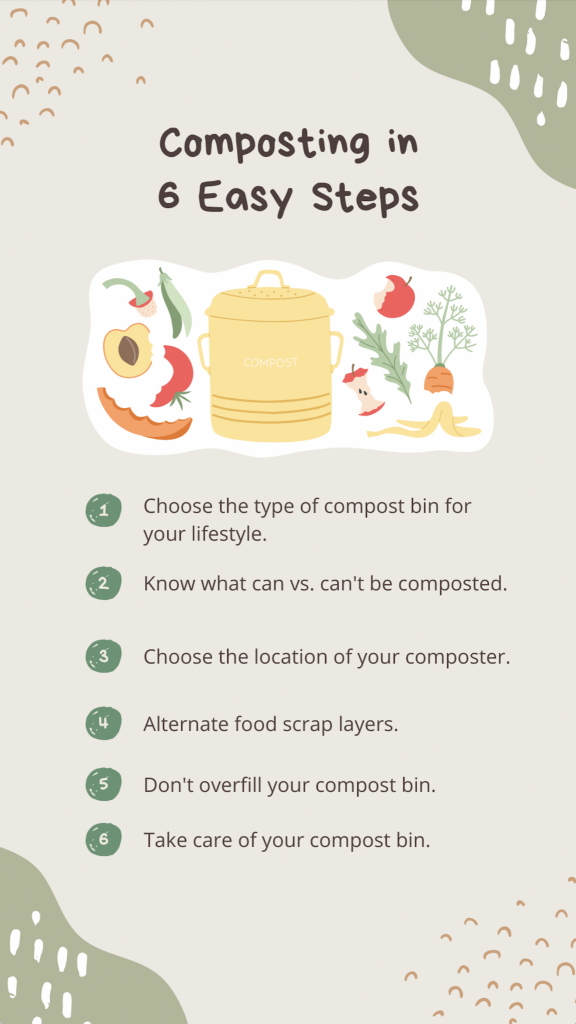 What Can You Compost?
A lot! Think: fruits and vegetables, eggshells, coffee grounds and filters, tea bags, nut shells, shredded newspaper, small pieces of cardboard, paper bills, yard trimmings, houseplants, hay and straw, leaves, sawdust, wood chips, fireplace ashes, cotton and wool rugs, hair and fur.

What Can't You Compost?
On that note, here's a list of what you shouldn't compost:
Black walnut tree leaves or twigs: these release substances that might be harmful to plants.
Coal or charcoal ash: these might contain substances harmful to plants.
Dairy products (e.g., butter, milk, sour cream, yogurt): these create odor problems and attract pests such as rodents and flies. The exception—eggs.
Diseased or insect-ridden plants: diseases or insects might survive and be transferred back to other plants.
Fats, grease, lard, or oils: these create odor problems and attract pests such as rodents and flies.
Meat or fish bones and scraps: these create odor problems and attract pests such as rodents and flies.
Beginner-FriendlySupplies for Composting
Stick with the basics when it comes to how to start composting for beginners. First, do you plan to compost with a kitchen bin or do you have space in your backyard? For the former, all you'll need is a compost pail for the kitchen to collect scraps, compost bags, and a city-approved composting bin for collection days. Otherwise, you can start a spot in your yard for a pile. If you have even a small outdoor space, compost piles can be a great, low-maintenance option. Just throw your green and brown scraps in a pile in the backyard over a section of dirt or grass, and sift them when necessary.
The Best Kitchen Compost Bins
Given that we're talking about easy composting for beginners, it's helpful to know that you have options! Whether you live in a small space or not—plan to use your compost for soil or simply prefer the city to collect it (what we do!)—you can easily make your composting routine work for your lifestyle.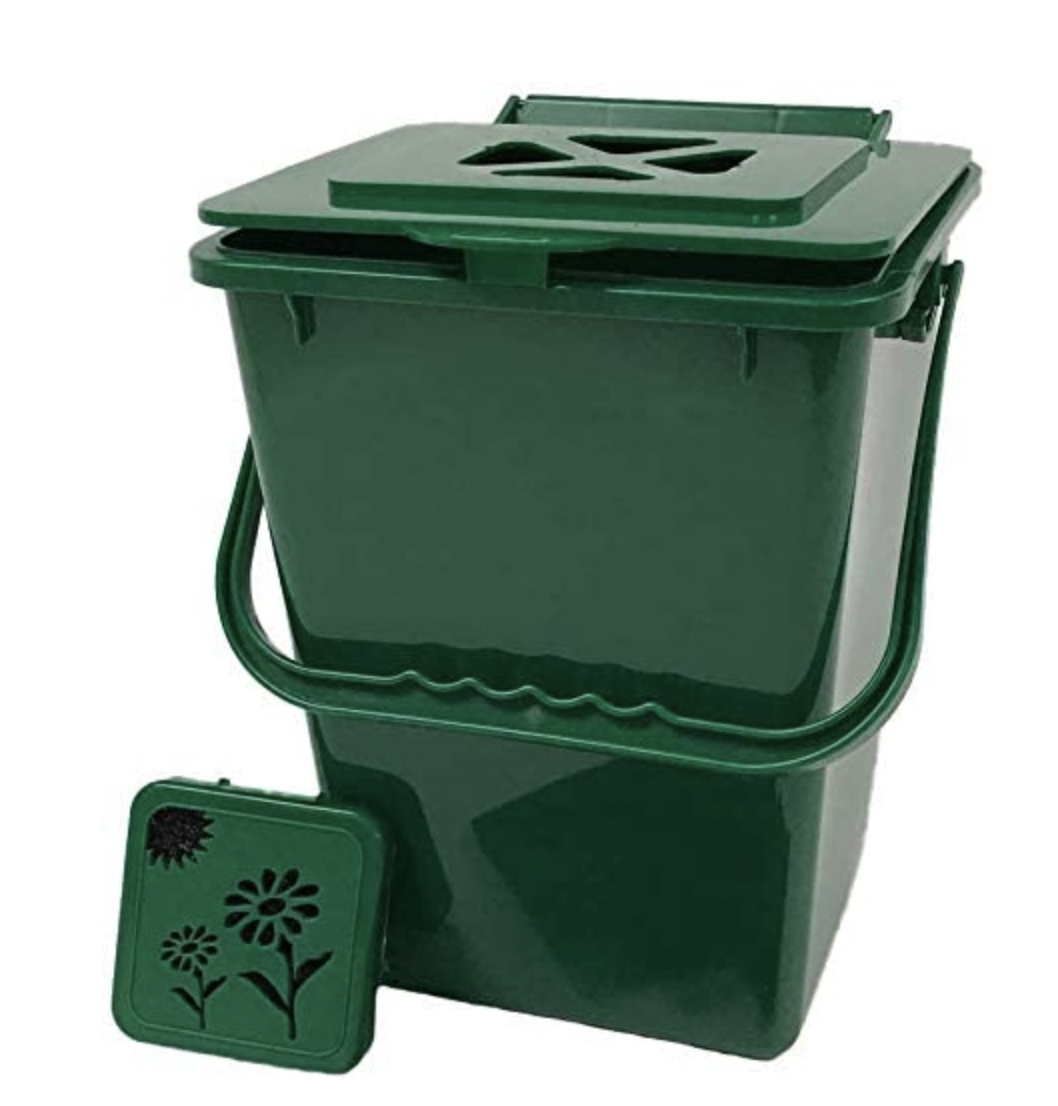 Do the bare minimum with this compost bin. The easiest way to start is to collect your food scraps. This one will minimize odor and keep fruit flies and other critters away. Plus, it has a charcoal filter to reduce odors. If you're willing to put in the extra effort (and have the freezer space), freezing your scraps before adding to a bin can also kill off any pest eggs that may be lurking! This sizable pail holds 2.4 gallons of organic waste. It also features a convenient handle which lets you carry waste directly to the outside composter.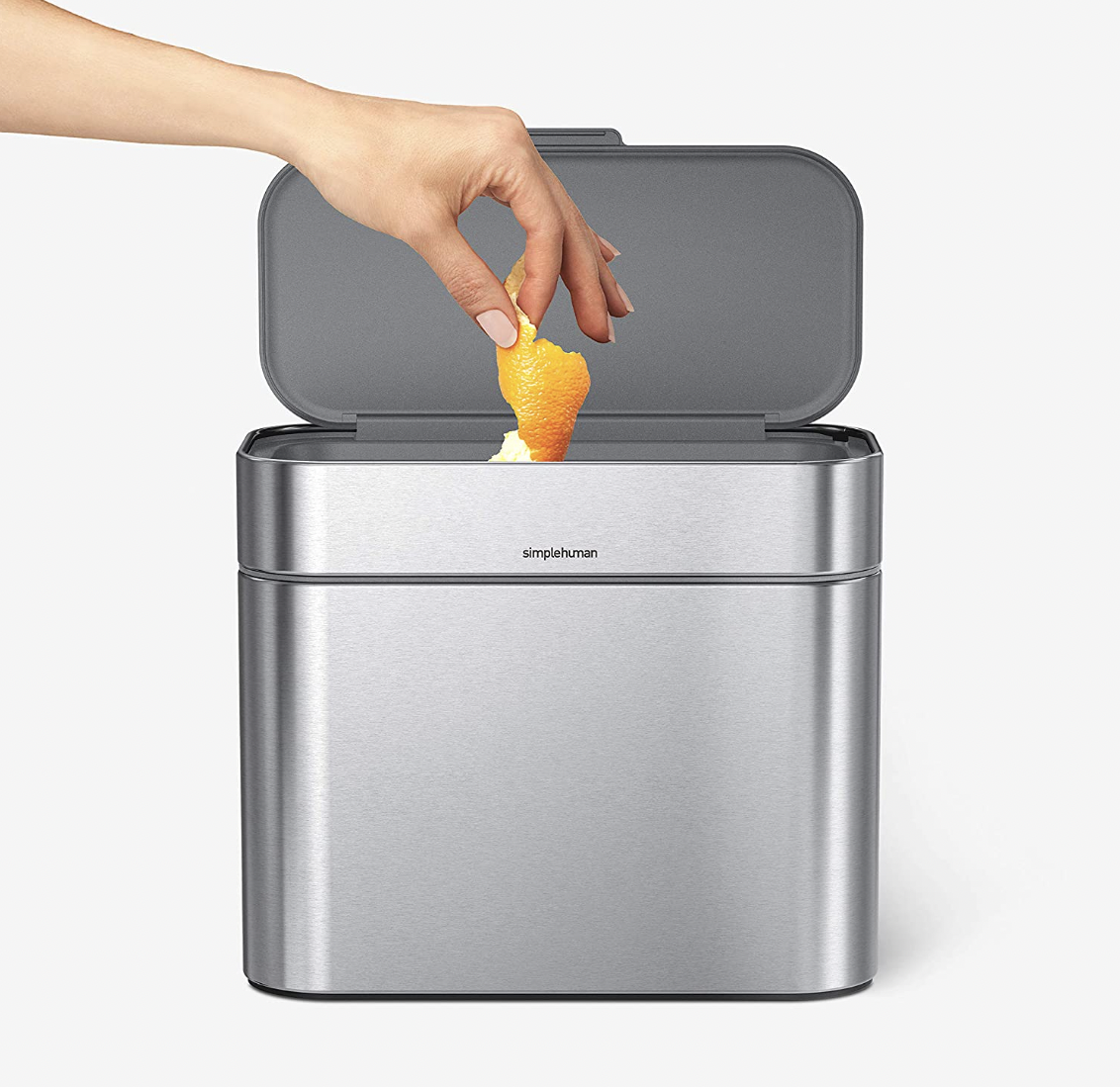 Have little counter space? Opt for this. With a small kitchen, consider getting a trash can that does it all. This two-compartment bin also has an available compost caddy that can be easily attached to the side. You can have your trash and recycling sorted behind one slim-lined, stainless steel bin—both soothing the aesthetic and functional parts of your brain. This is a very eco-friendly solution.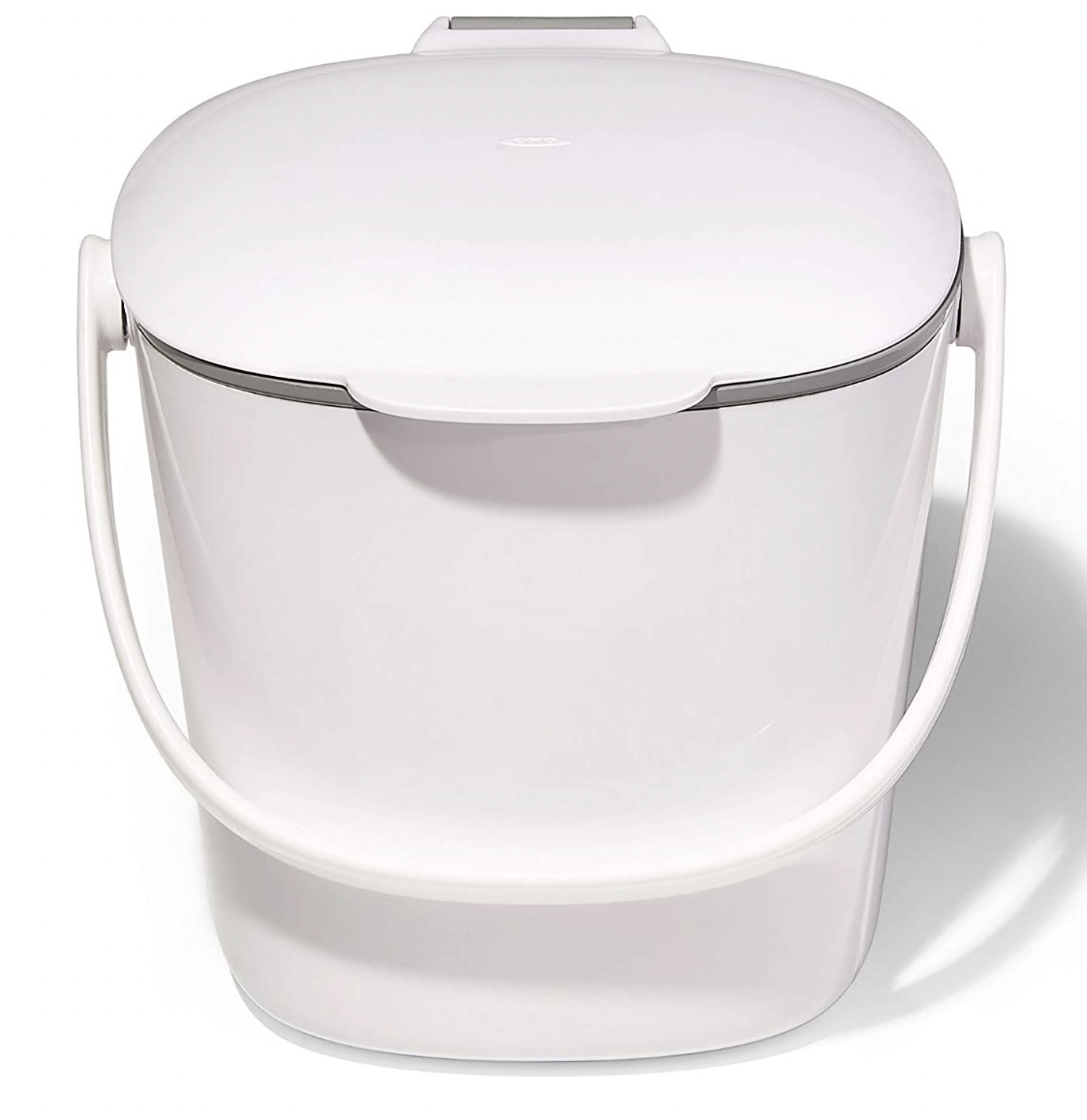 Good Grips Easy-Clean Compost Bin
Compost in style. Just because you're keen on starting your composting journey doesn't mean your compost bin needs to be an eyesore. Oxo's compost bin checks all the boxes. Plus, it looks sleek on your counter. It's a convenient size, the lid flips up for easy filling and down to lock in odors, its smooth interior prevents foods and liquids from building up, and the rotating handle makes it easy to transport your compost outdoors.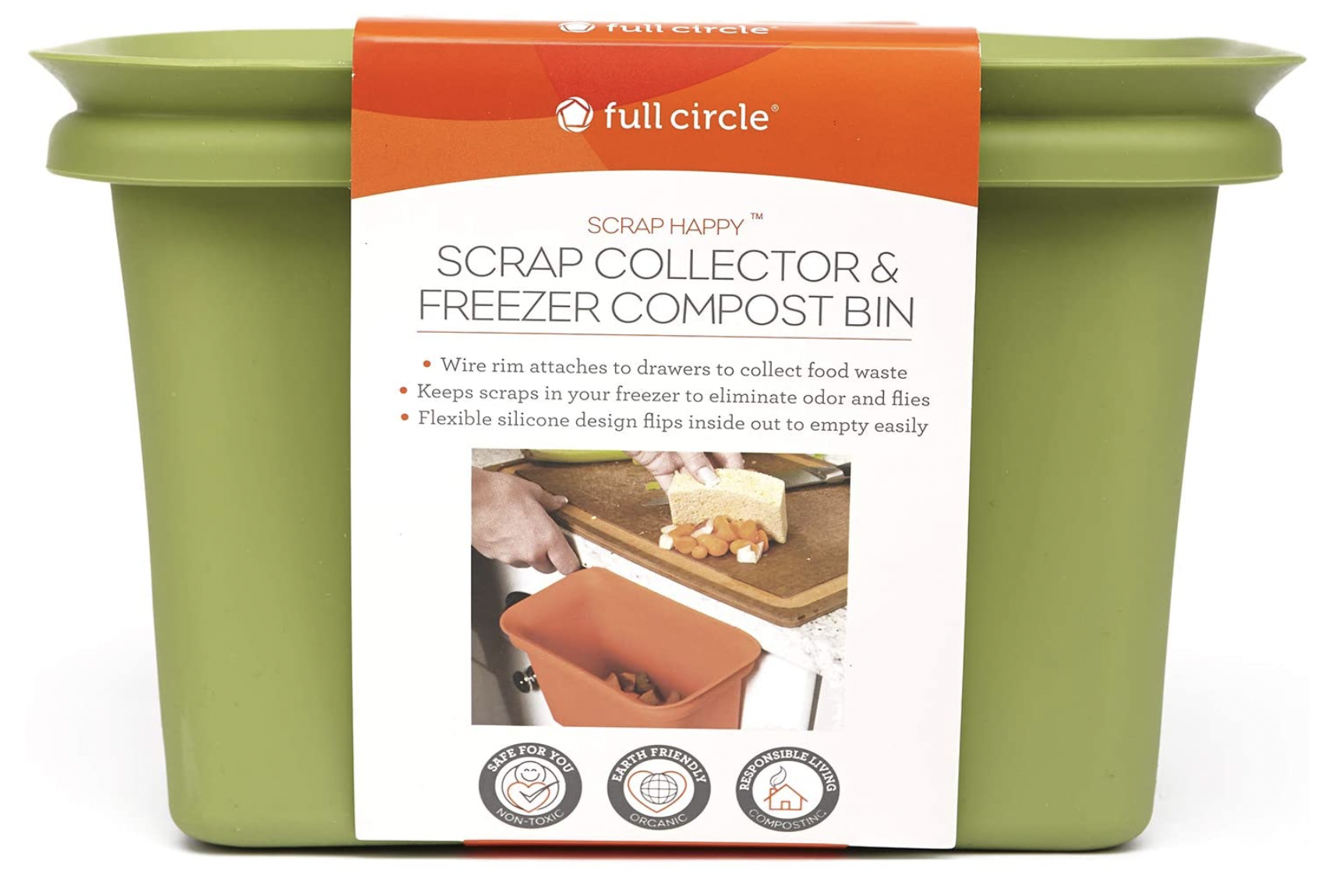 This one's genius. If you have the space in your fridge or freezer, consider Full Circle's compost bin. It's specifically made for the freezer, with a hook that secures it to the door. Plus, because it's made of silicone, it's super easy to clean.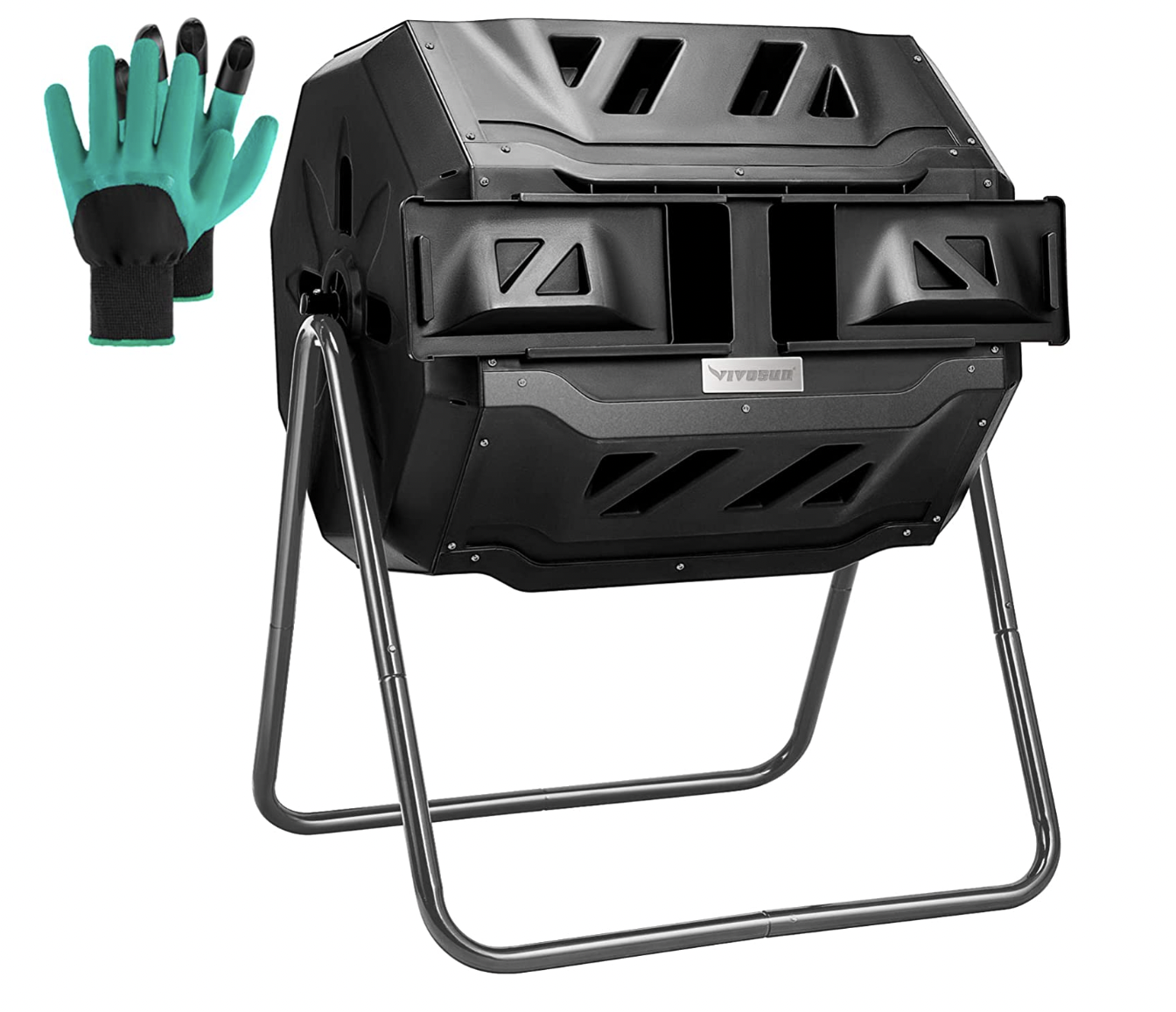 If you have the space for an outdoor composter, consider this tumbling composter. I'll let the reviews speak for themselves, but people love this. It's sturdy and durable. Plus, it's designed with twin chambers: the tumbling composter allows you to compost in batches. One side "cooks" while you add fresh organic material to the other, allowing for an efficient, uninterrupted flow of rich, nutritious compost
The Best Compost Bags
Now that you know how to start composting for beginners and which bin fits your space (and lifestyle), don't forget about compost bags. We've tried a few different brands. When it comes to easy composting, the following are our favorites. I love FORID compostable trash bags because they don't accumulate condensation on the sides. These compost bags from Primod are great because they're extra thick. Or, for a sturdy option, try SuperBio's compost bags. Last but not least, BioBags are great. We used these initially and they fit compost pails up to three gallons.
Happy composting!