There's no denying that the concept of self-care can (ironically) seem overused in today's social media-facing culture. It can be easy to feel pressure to amp up your morning routine or self-care rituals to the point that they're just another thing to add to your already-packed schedule. I have to remind myself that it doesn't take a hefty list of daily intentions to make a huge difference in my mental and physical well-being. Sometimes self-care can be as simple as learning how to take a relaxing bath and making it feel like a spa.
When I'm feeling stressed or depleted, rather than adding another commitment or setting unrealistic goals for myself, I've come to find that it's better for me to take a step back and make time to do things that I know will fill up my cup. Often, the quickest way to get ahead is to accept that we first need to slow down.
Featured image by Hannah Haston.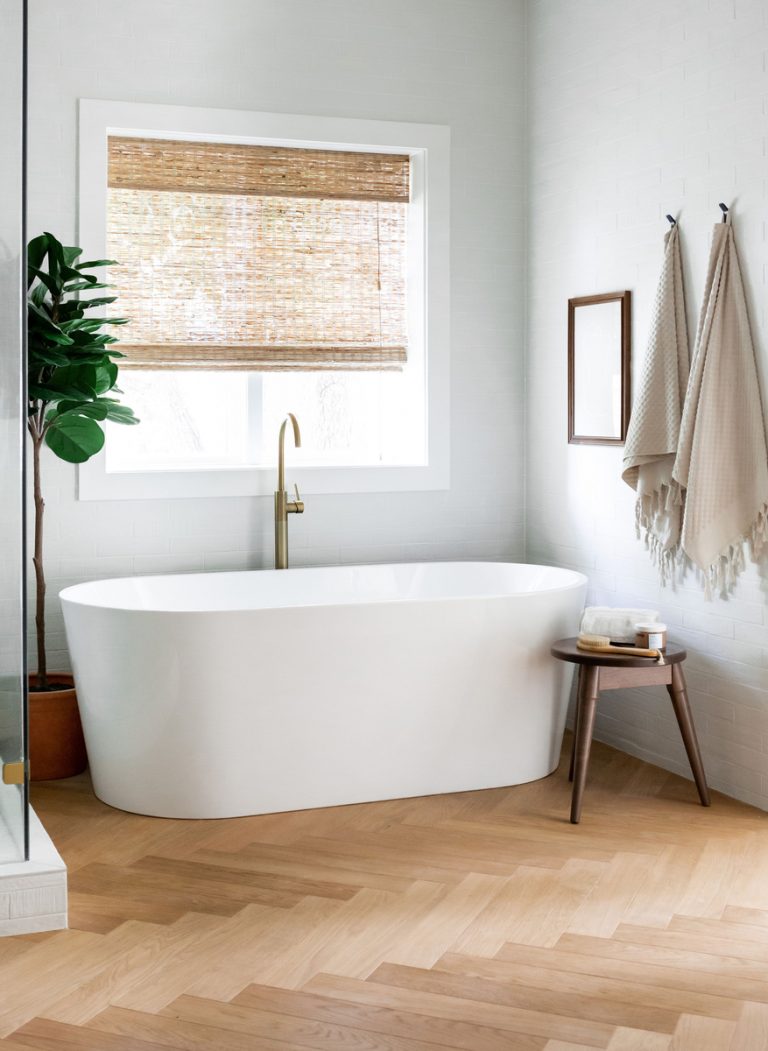 So, the next time you're feeling stressed out or overworked, turn off your phone, pour a tasty beverage, and reap the restorative benefits of a simple bubble bath. A 20-minute soak is usually just what the doctor ordered, and we've rounded up all the essentials for creating the ultimate spa-worthy experience right at home. Ready, set, bliss out.
1. Clean Up and Declutter
It's difficult to relieve anxiety and stress in the bath while knowing you're surrounded by dirt and clutter. Before you start prepping your bath, take a few minutes to straighten up, clean the tub, wipe down countertops, remove any clutter, shake out your bath mat, and give the floor a quick sweep.
Going Marie Kondo on my bathroom first and foremost ensures that it's capable of delivering all the zen vibes I need. Tip: If I'm taking a bath at the end of the day, I'll quickly shower after I clean the bathroom so that I can enjoy a perfectly fresh bath throughout.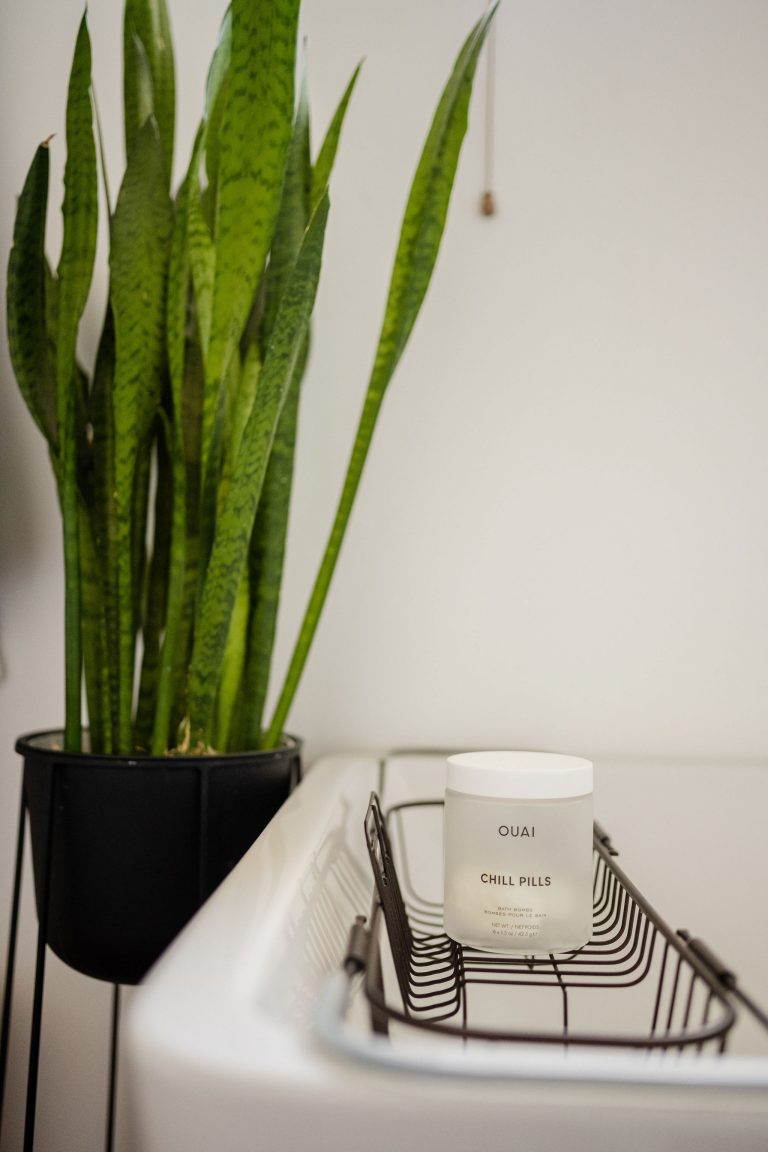 2. Get Organized 
Once you're in the bath, the last thing you'll want to do is immediately hop out to grab something you forgot. We suggest getting yourself a nice bathtub caddy or tray that lays across the width of your bathtub and keeps all your bubbly essentials close by. You can set everything up on the tray before you even start running the water. By the time you climb in, you can go straight into relaxation mode.
3. Determine the Type of Bath You Need & Grab the Essentials
When I discovered there were different ways of how to take a relaxing bath for varying moods, aches, and pains, I decided it was time for some serious product upgrades. I've listed my top three types of baths below, including all the products you need to create the ultimate experience.
For a Bright & Uplifting Bath:
There's nothing better than taking some extra time for myself in the morning to have an energizing bath. After I clean out the tub and bathroom, I grab a cute mug, make a hot and frothy caffeinated beverage, light a citrus candle, and put on one of my favorite podcasts. Then, I put on a brightening sheet mask and start the tub. Once the water is the perfect temperature, scoop out a cup of these bath salts and squeeze in some fresh and clean-smelling bubble bath into the stream of water, and hop in. I love knowing that while I'm sipping my coffee, I'm also detoxifying and softening my skin while taking in new wisdom from my podcast that will motivate me to tackle the day.
Extra tip: Add a few drops of lemongrass, citrus, and/or grapefruit essential oils to the bathwater or in a diffuser you place nearby. These particular essential oils are energizing, uplifting, and smell amazing.
For a Calm & Relaxing Bath:
There are few experiences that compare to a relaxing bath after a long, stressful day. Before starting this bath, I love to pour a glass of red wine, turn off my phone, and grab my computer to play a relaxing playlist or my current Netflix obsession. We have all types of playlists on our Spotify channel, but the Chill Out and Sleepy Time playlists are my favorites for winding down.
Before you hop in the bath, scoop out a cup of these bath salts and add your favorite bubble bath into the water. If your skin needs an extra hydration boost, be sure to add this coconut milk into your running water too. Since coconut is one of the best ingredients to moisturize and soften skin, I almost always add it to my bath. It's anti-microbial, anti-inflammatory, anti-parasitic, and anti-fungal properties are just an added cherry on top.
Next, put on a purifying or hydrating sheet mask, surround the tub with lit candles, and dim down the lights to create the perfect spa-like ambiance. You can always add extra essential oils to your bath salts or place them in your diffuser. Lavender, rose, vetiver, chamomile, or sandalwood oils will help calm and ease your mind after a long day.
For a Healing & Soothing Bath:
If you're feeling under the weather or have super sore muscles after a hard workout, this is the bath for you. Make a hot herbal tea to sip on while you're in the tub. Turn off the lights, light some relaxing candles, and turn the water on as hot as you can stand it. Add a couple of scoops of Epsom salts, which are wonderful at easing muscle soreness and relieving tension. The magnesium sulfate in Epsom salts quickly soaks through the skin and into the swollen, aching joints to help alleviate pain and inflammation.
If you're battling headaches or cold/flu symptoms, add freshly grated or ground ginger to your tea or bathwater. The ginger can help toxins and cold and flu aches to be released through sweat, and clear up the chest and nasal congestion. Note: Ginger can cause sensitive skin to react, so test it on your skin first before adding it directly into the bath. A hydrating sheet mask will add an extra touch of antioxidants and leave your skin feeling revitalized.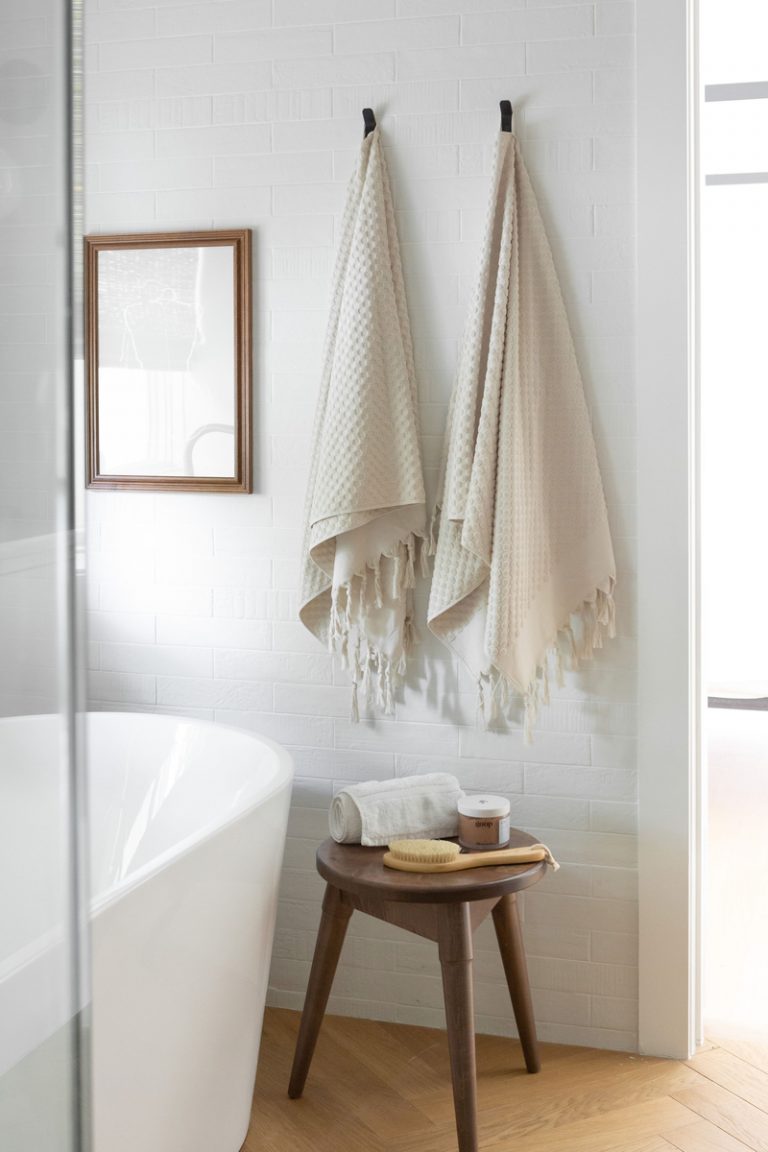 4. Scrub-a-dub-dub
After soaking for a good 15-20 minutes, (or if you're like me until the water in the tub is cold), I love to pull on some bath mitts and give myself a good, vigorous scrub with an exfoliating body scrub. You won't believe how soft and supple your skin will feel afterward. The salts and oils work to soften and detoxify the skin, and the exfoliating scrub washes the toxins out of your body, and down the drain.
5. Slather on the Moisturizers
Hot water can extract all the natural oils out of your skin, leaving you shriveled up and feeling pruned. You need a heavy-duty body oil and facial moisturizer to lock in any moisture left in your skin and replenish your dewy glow. After you wash off the body scrub and any leftover stickiness, drain the tub, pat yourself off with a white fluffy towel, and slather on the moisturizer.
After applying moisturizer, rub some body oil all over. The post-exfoliating scrub body oil combo is heavenly and will leave your skin soft as butter, and you feeling more refreshed than ever.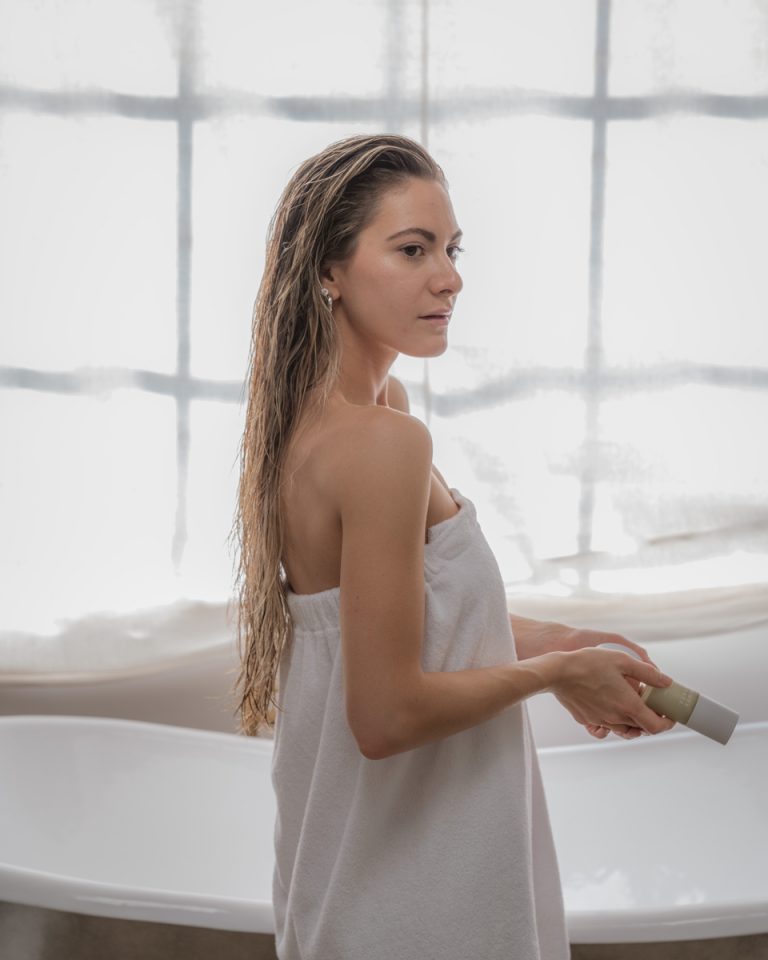 6. Get Cozy
To reap all the restorative beauty benefits of my bath and post-bath skin care routine, I love throwing on one of my favorite robes. There's nothing like lounging in my bright and airy bedroom while I wait for the oils to dry and sink into my skin. Since the bath's hot water can be dehydrating for your body as well as your skin (especially if you were sipping on some vino throughout the bath), be sure to drink a big glass of cold water soon after exiting the tub. For an extra detoxifying and hydration boost, I'll squeeze lemon and pink sea salt into my water. Read more about natural ways to supercharge your water here.
This post was originally published on January 22, 2019, and has since been updated.