I sit squarely on either side of the perpetual traveler/homebody spectrum. For me, there's no middle ground. I frequently visit the same airports in a 24-hour period (I'm speaking from recent experience—O'Hare has seen a lot of me as of late). As with books and food, travel inspires me to seek more from my life, building my capacity for empathy, and challenging my prior convictions with newfound ideas. So when I was tasked with writing a guide of what to do in Portland, Oregon, you can bet I jumped on the opportunity to write about my favorite city.
I moved across the country to Portland when I was 22. As a born-and-bred New Englander, new friends, co-workers, and acquaintances were shocked to hear I'd moved to Portland on a whim (with only my bike and a suitcase—I was still working on the job thing). But the move was far from impulsive. I had first come to the city when I was 15, visiting family friends after traveling to Seattle with my mom. And while I'm sorry to report that I've never experienced love at first sight with a boyfriend (I'm slow to those things), my infatuation with Portland began even before our train pulled into Union Station.
When you get into Portland, it isn't the cityscape that first pulls you in. Instead, it's the stunning prominence of Mt. Hood's slightly curved peak that lets you know you've arrived somewhere special. And even just a few hours into your visit, the widespread creativity and innovation are palpable. Of course, the food is excellent, too.
Featured image of the Portland Japanese Garden by Roman Johnston.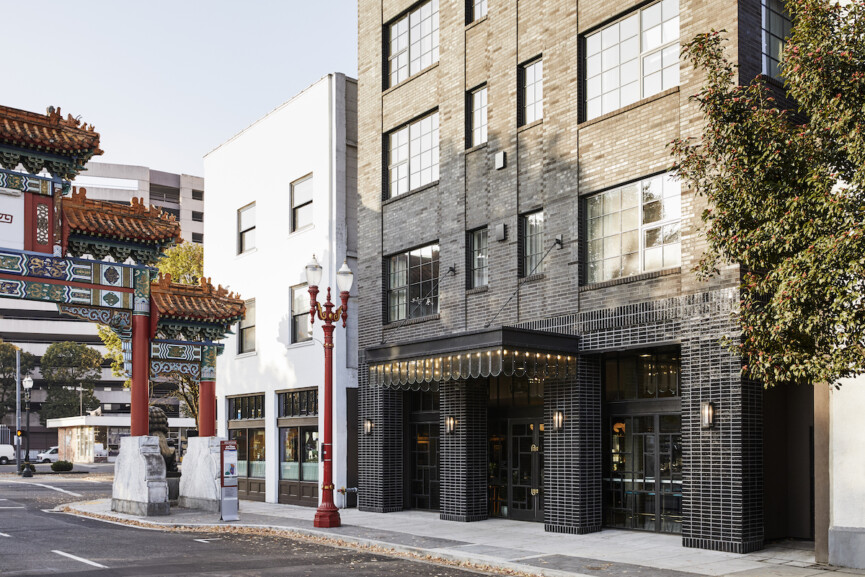 Image courtesy of The Hoxton Hotel
And though I've since moved away (the tides have taken me to Chicago—and everywhere beyond and in between), the pull of Portland stays with me. It's where I've met my best friends, my partner (who I can now confirm I'm very in love with—Portland may have had something to do with it), and where my identity and understanding of self truly took shape. And who knows, if you spend a weekend there, Portland could very likely do the same for you.
When I first moved away, I gifted my favorite print of Portland to one of my best friends. To solidify the exchange, she asked me to write a few words reflecting on my forever love of the city. While the words below are particular to Portland (Grocery Outlet—IYKYK), I hope they resonate with you in whatever city or town you live.
Portland makes you sentimental for the anticipation of rain, the odds and ends you can only find in the St. John's Grocery Outlet, and the people who embrace and accept you at your most vulnerable and raw. Portland deepens your understanding of what it means to be a part of a community. Of what it means to contribute and offer yourself to a world that will embrace you with all the love you could ever believe in.
It can feel indulgent at times, impossible even, to live a life as beautiful as the one you live in Portland. You somehow feel nostalgic even at present, knowing that the moment is good and that you will always take it with you. Wherever you go, wherever you are, wherever you will ever be.
On that note, let's dive into the Camille Styles Portland City Guide.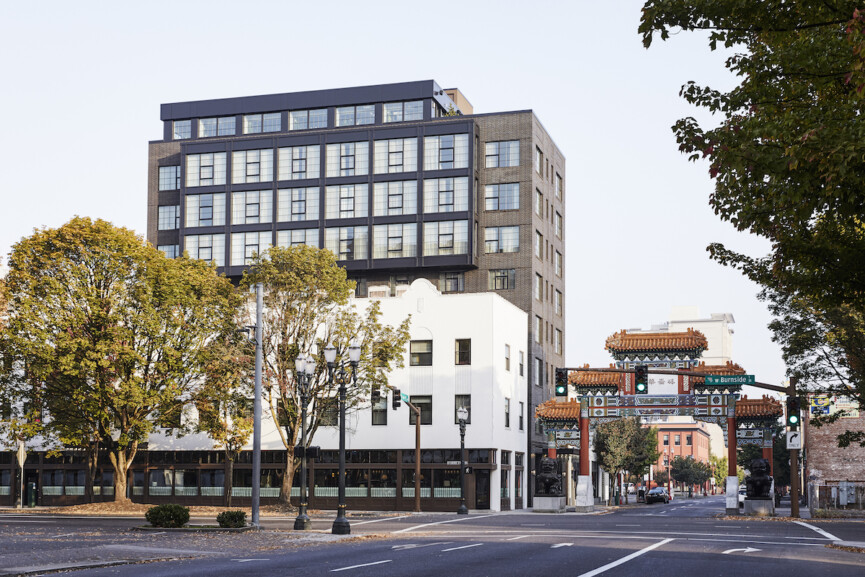 Image courtesy of The Hoxton Hotel
What to Know About Portland
When to Take A Portland Weekend Trip
Having lived in Portland for four and a half years, I can say that I've seen it all. The once-a-year snow storms that shut down the city (and made my Smart Car impossible to drive), the 116-degree heatwave that made me realize I have reverse-seasonal affective disorder, and the two weeks in 2020 when we couldn't go outside due to wildfire smoke. Unfortunately, while everywhere is affected by the shifts of climate change, the Pacific Northwest is certainly getting the brunt of it. That being said, my two favorite times of year in Portland are the middle of fall and early spring.
The latter boasts an array of beautiful cherry blossoms, and though I can't get enough of the rain, many will tell you that this is the time of year Portlanders celebrate the return of the sun. But truly, nothing beats the fall in Oregon. Because the summer heat carries over into September, this starts a little later than most other places in the northern parts of the US. Late September (i.e., NOW!) through early November will get you a sprinkling of foliage and comfortable temperatures that nonetheless bring a bit of fall chill.
How To Get Around
Depending on where you're staying, public transit is one of Portland's drawbacks. The MAX light rail, while it connects Portland to neighboring suburbs and is reliable for downtown travel, won't get you to the hidden gems of Portland's four quadrants. Again, it's a solid bet if you're staying in one of the hotels in the center of the city, and a good option if you want to skip the expensive Uber to the airport. Beyond that, you'll have to make other plans.
But don't worry! I've gone back to Portland a couple of times since moving, and in the warmer months, the city's bike share system, BIKETOWN (owned by NIKE, so it's pronounced the same—I didn't know this until year three) is affordable and can take you wherever you want to go. For the timid, Portland is famous for being an incredibly bike-friendly city. It's one of the best ways to explore.
If you're in need of a car though, I was introduced to Turo, a car rental company, on my last trip. Available in several cities across the country and internationally, Turo is wayyy cheaper than traditional car rental options. It's kind of like the Airbnb of car rentals. I simply picked up my (super-cute white Fiat) from where it was parked nearby the owner's home and returned it at the agreed-upon time. Easy breezy.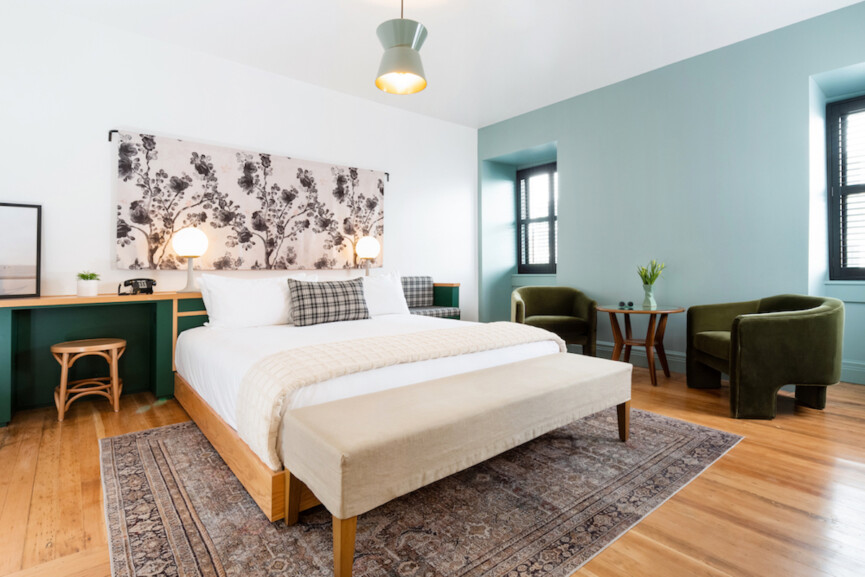 Image courtesy of the Hotel Grand Stark
Where to Stay: Best Portland Hotels
Hotel Grand Stark. This is one of the city's newer hotels and it's already become a true Southeast Portland gem. I was first introduced to Palisociety, the hotel group it belongs to, when I stayed at the Palihotel in Seattle. If you're looking for a cozy, yet vibey spot to not only sleep but spend some time in, Hotel Grand Stark is a perfect pick. Located in inner SE Portland, it's within walking distance of several bars, restaurants, and coffee shops along SE Stark Street. Or, if you're up for a quick drive, you can drive down to Belmont Street or up to East Burnside for some of the city's best eating and drinking. But, if you feel like staying in, the hotel's restaurant, Bar Chamberlain, is a classic, brasserie-like pick.
Ace Hotel. What can I say about Ace Hotels that hasn't been written already? Locations have popped up all over the world, and they've always stayed true to their quirky, charming aesthetic. The hotels take inspiration from their buildings' previous tenants—whether it be a former halfway house (Seattle), a historic YMCA (Pittsburgh), or another former hotel (Portland). Needless to say, you'll get a good sense of the city's history by staying at the Ace.
With that too, if you're looking for the downtown experience, you can't beat the Ace. It's a minute's walk from my favorite cinema (Living Room—make the time if you can) and surrounded by some of Portland's best west-side eateries. Book your room, stat.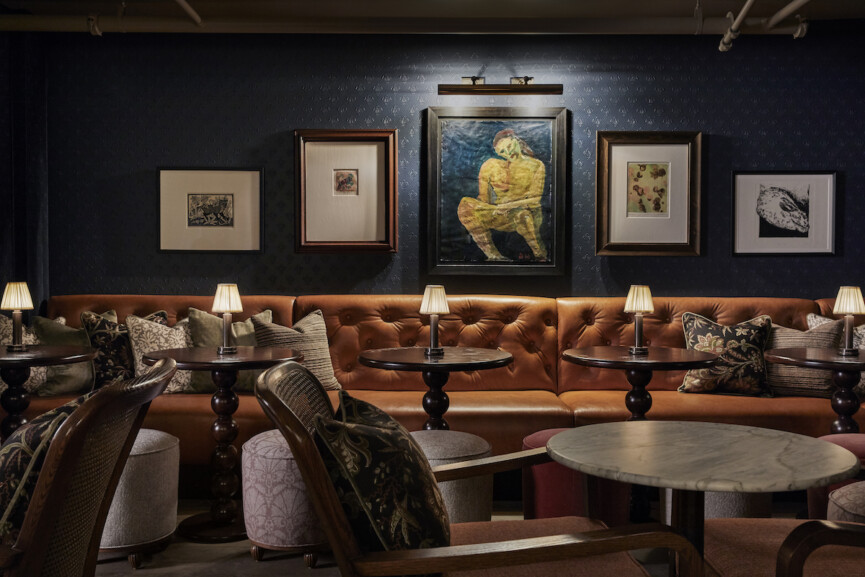 Image of 2NW5 Bar courtesy of The Hoxton
The Hoxton. As you can see from the pictures, The Hoxton is about as stylish as hotels come. Featuring mid-century lighting, modern low couches, and plants galore, you might be tempted to spend your entire trip indoors. (And the hotel's two restaurants and bar might keep you there.) Tope, the hotel's rooftop bar and restaurant, has some of the best views of the cities—and IMO, some of its best tacos and tequila-based cocktails.
Or, you can head to Lovely Rita for some of the city's finest Pacific Northwest fare. (Little Rita Coffee Bar is also a solid coffee pick for daytime consumption.) Finally, round out your dining experience with a visit to 2NW5. Located in the hotel's basement, the moody bar is just about the best way to end your night.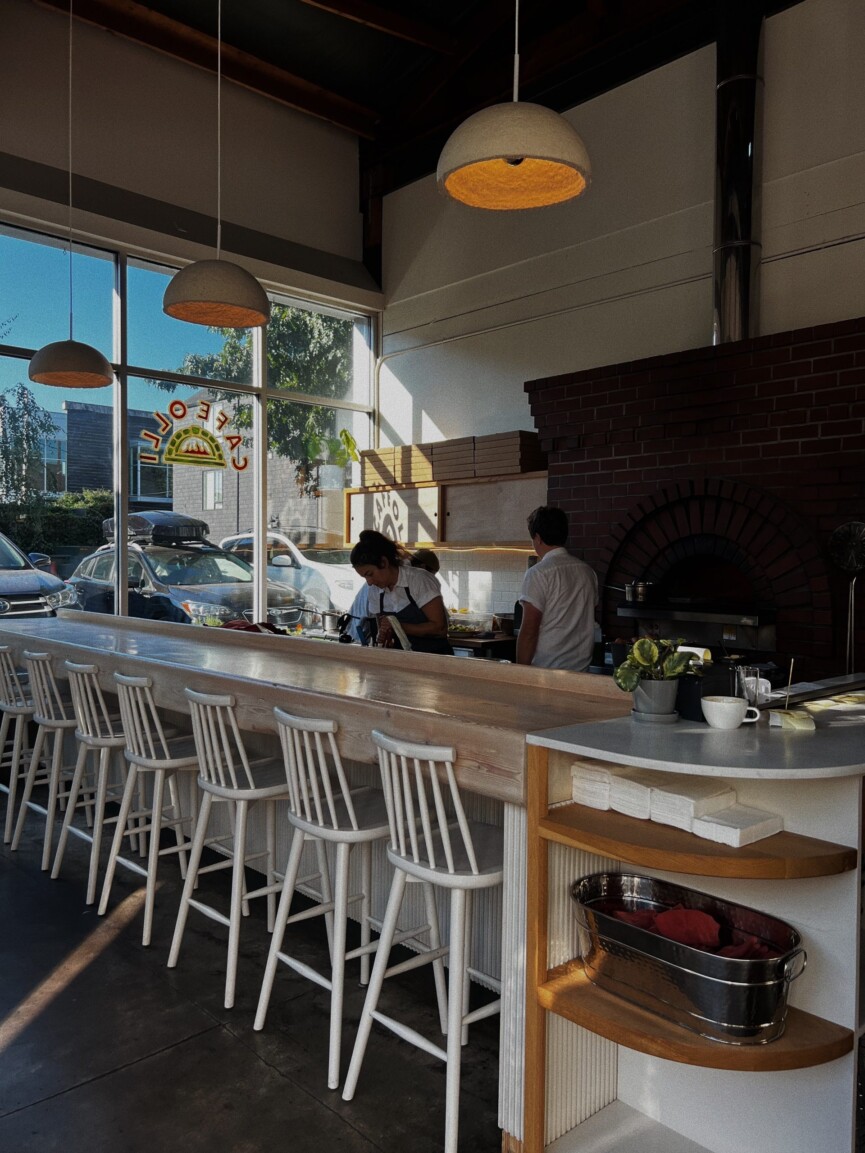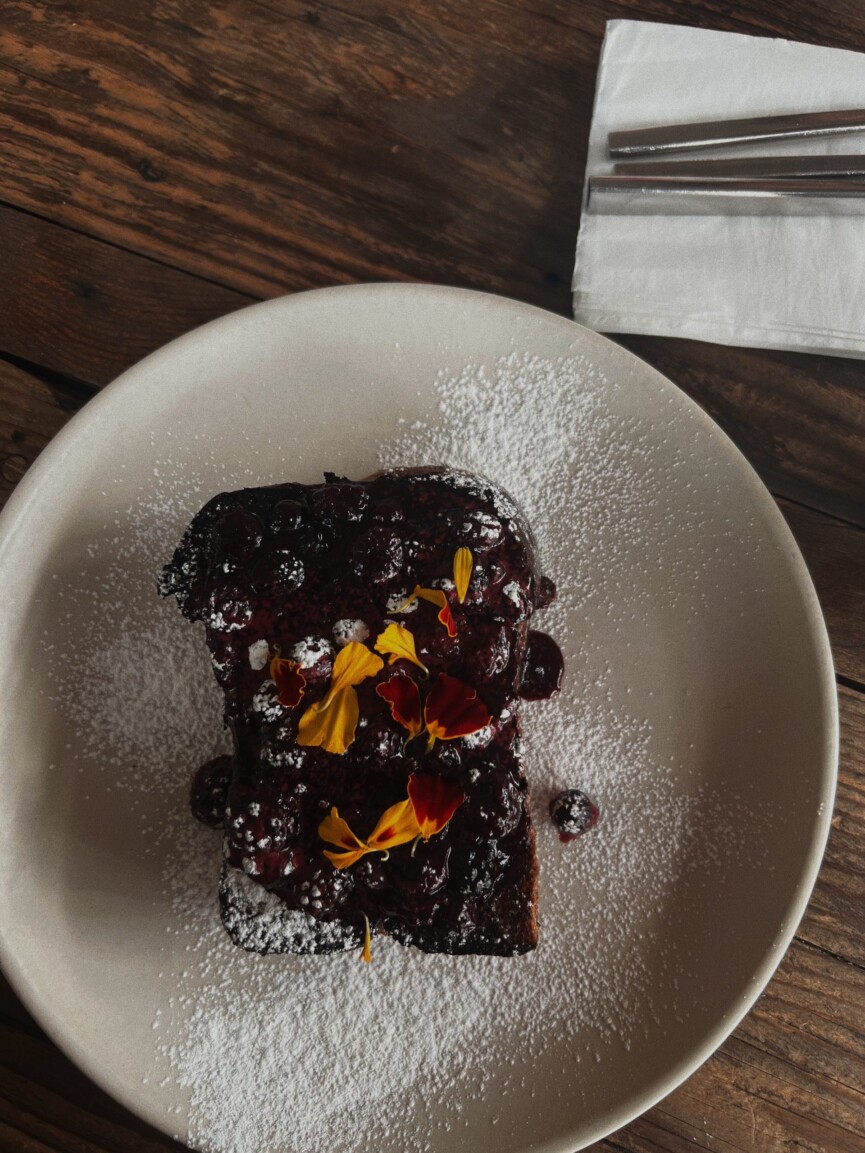 Day 1
Grab Breakfast at Cafe Olli
Occupying the previous Ned Ludd space (a beloved Portland eatery), Cafe Olli is a solid stand-in. The daytime cafe and pizzeria moved in just before I left the city, but I hadn't paid a visit until last weekend. Let me tell you—it was well worth the wait. Though it's located on Northeast Portland's busy stretch of Martin Luther King Jr Blvd, it couldn't be quainter inside. You'll skim over the menu while you wait to order at the counter, but trust me: you'll be tempted to add a pastry before you get to the front of the line.
As a lover of all things sweet, I opted for the French toast. Featuring blueberries, raspberries, a hint of lemon zest, and every New Englander's favorite—maple syrup—this became my instant addiction. My dining companion went for the savory porridge, and though the concept may be foreign to some, be sure to give it a try.
Nearby options include: St. Beatrix (some of the best, most inventive cakes and pastries of my life); Broder (a local chain that will make you fall hard for Scandinavian food); Sweedeedee (if you can get a table, get a table).
Browse the findings at the Portland Farmers Market at PSU
Cross the river for one of Portland's well-loved and trafficked attractions. A staple in my memories of my first trip to Portland, the farmers market at Portland State University will forever shift your opinion of what a farmers market should be. Purveyors and suppliers come from all around the state to share their goods. You'll pass by fresh flower stands, samples of kombucha, and the prettiest produce you'll ever find.
If you haven't eaten yet (or still have room post-breakfast), be sure to check out the hot food offerings. Often located in the middle of the market, you can select between everything from Polish delicacies to Spice of Africa's standout samosas.
P.S. If you're after a smaller farmers market, my old neighborhood King Farmers Market is where all the cool, 30-something young parents went to show off their weekend sartorial elegance—so you know the offerings are good. Open Sundays, 10 a.m. to 2 p.m.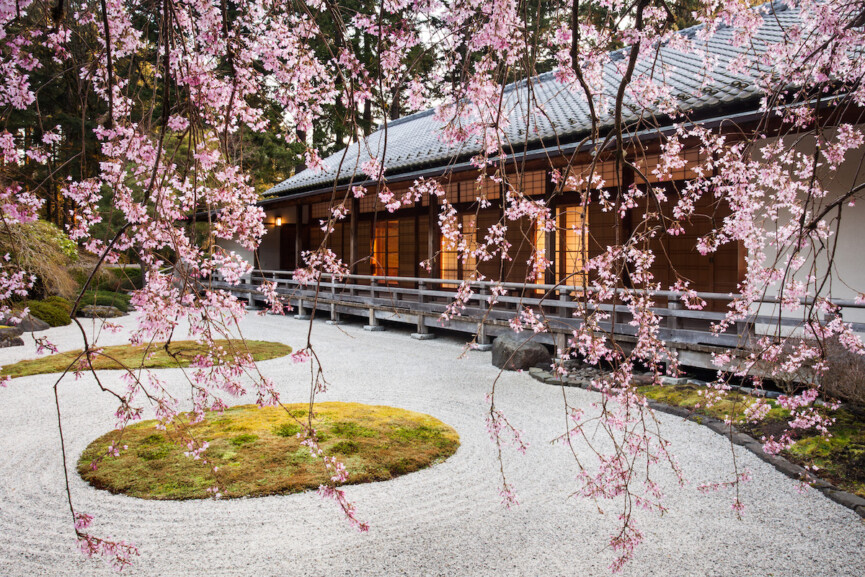 Image of the Portland Japanese Garden by Jonathan Ley
Explore the Portland Japanese Garden
Once you've finished up at the farmers market, head up into the hills for a visit to the Portland Japanese Garden. This is one of my favorite locations in all of Portland (which explains why I sprung for the membership and visited it every weekend). It's likely to be a bit crowded on Saturdays—making the parking difficult—but it's well worth the wait.
Once you've bought your tickets, you'll walk through a series of switchbacks up to the garden's entrance. But from the moment you step on the property, you'll be transported across the world. In keeping with Japanese culture, the atmosphere is quiet and pensive and offers immense respect for the beauty of nature. Make a beeline for the bonsai exhibit if it's on display (some of the trees date back 500 years!). From there, follow the path and get ready to discover the stunning splendor of fall. The Portland Japanese Garden has some of the best views of the city—so remain attentive during your walk.
Once you've wrapped up exploring, stop by the airy and bright Umami Café for world-class Japanese tea.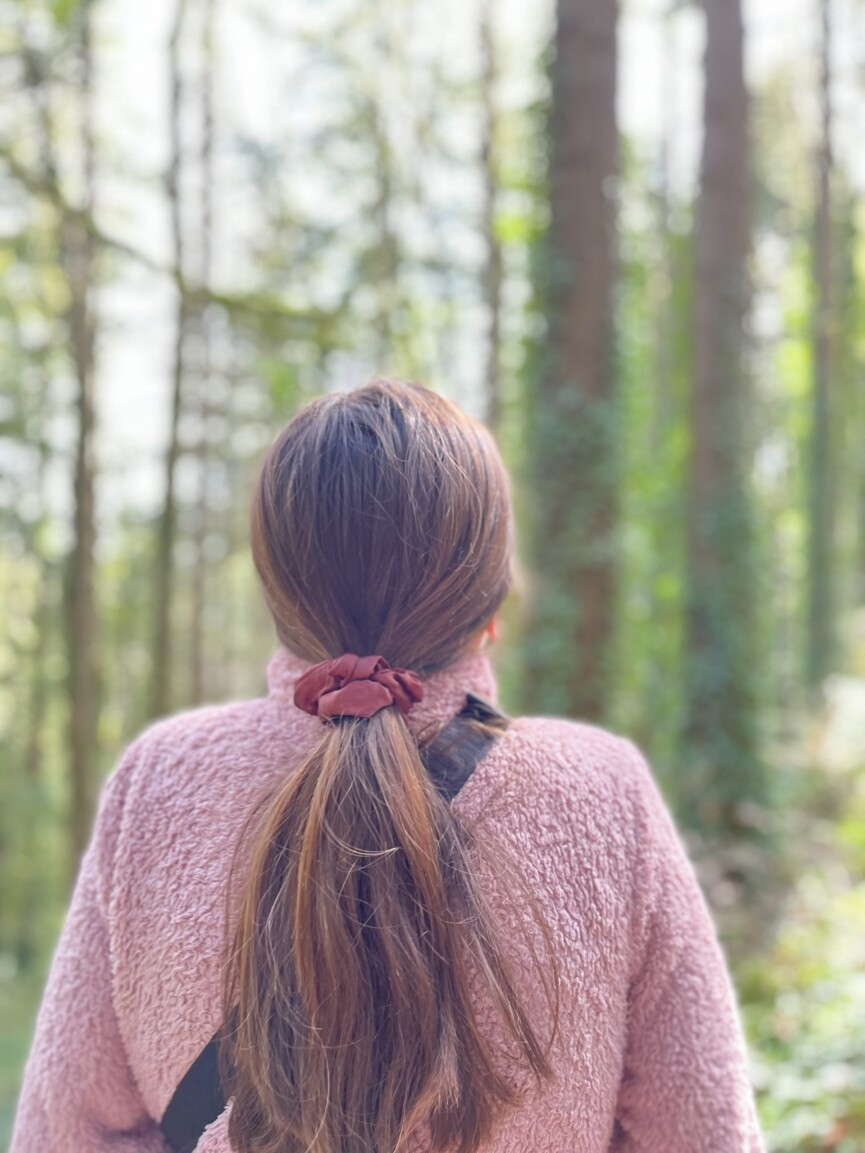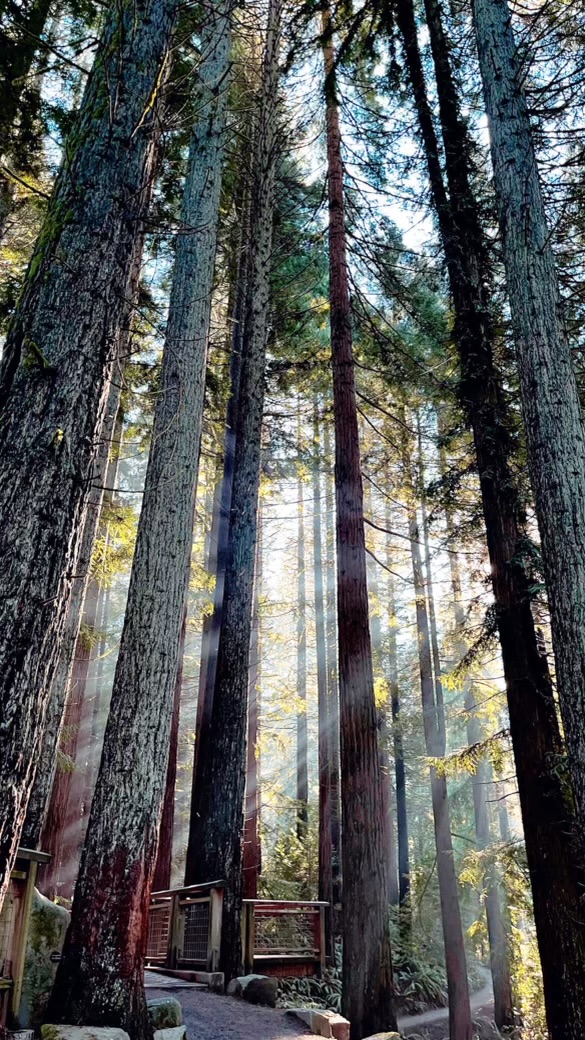 Images by Jacob Harvey
If time permits, stroll through Forest Park
At 5,200 acres and with more than 80 miles of trails, Forest Park offers not only some of the best walking, hiking, and mountain biking around, but it's also a critical sanctuary for native wildlife and plant species. I would often walk here with a friend early in the morning, soaking up the sights and nature that's only a few steps from Oregon's urban hub. There are plenty (40!) of entrances that you can access the park from, giving you the choice of staying up in the west hills or parking down in the city.
If you have time and energy, follow up your hike with a visit to Powell's, the famous Portland bookstore. As the subtext correctly states, this is a true city of books—and you're bound to get lost in its shelves. Pick a room (they're organized by genre) and go to town. You don't have to see everything to see more than enough.
Other favorite Portland bookstores include: Two Rivers Bookstore (owned by one of my dear friends, you're bound to get a personal, curated experience when you step inside this St. John's gem—and don't skip the knitting goods section); Broadway Books (small but mighty, you'll run into a few book experts who are happy to help you find exactly what you're looking for); Belmont Books (like Broadway Books, this is a small, but thoughtful collection where you're guaranteed to connect with your next favorite read).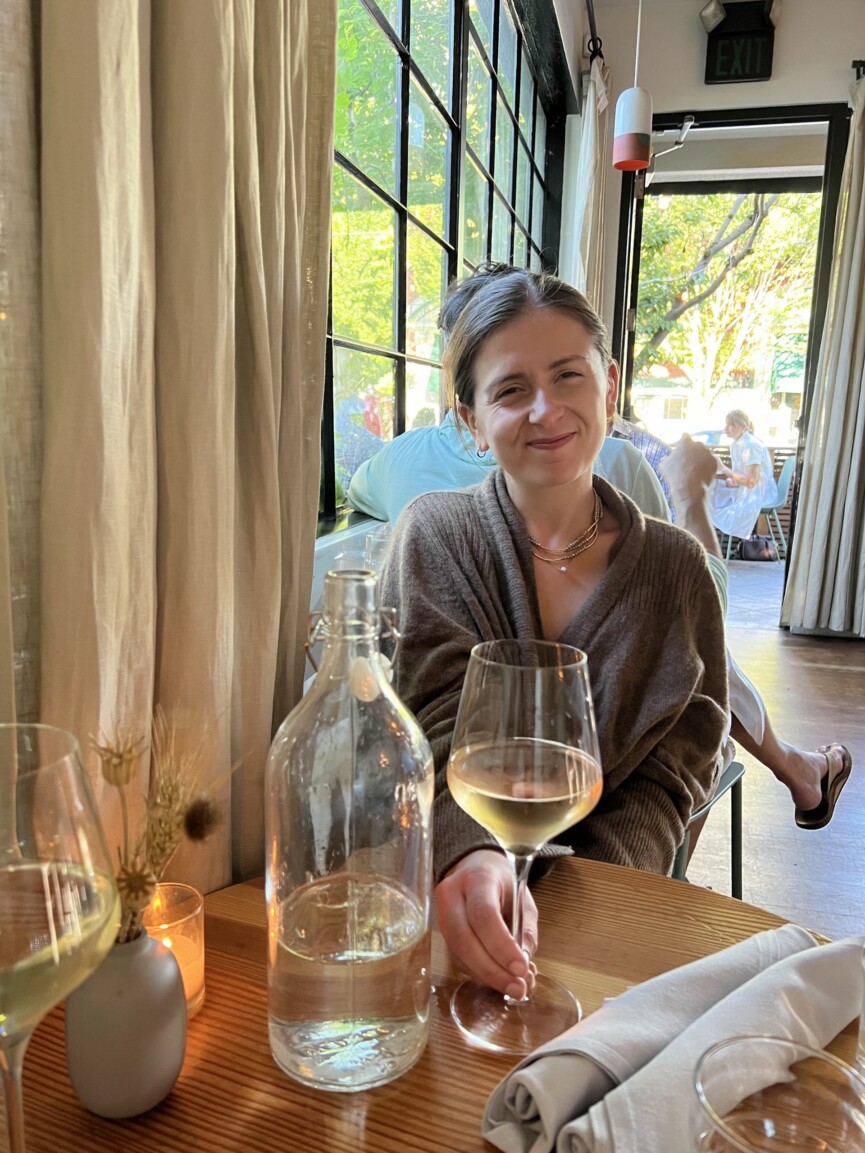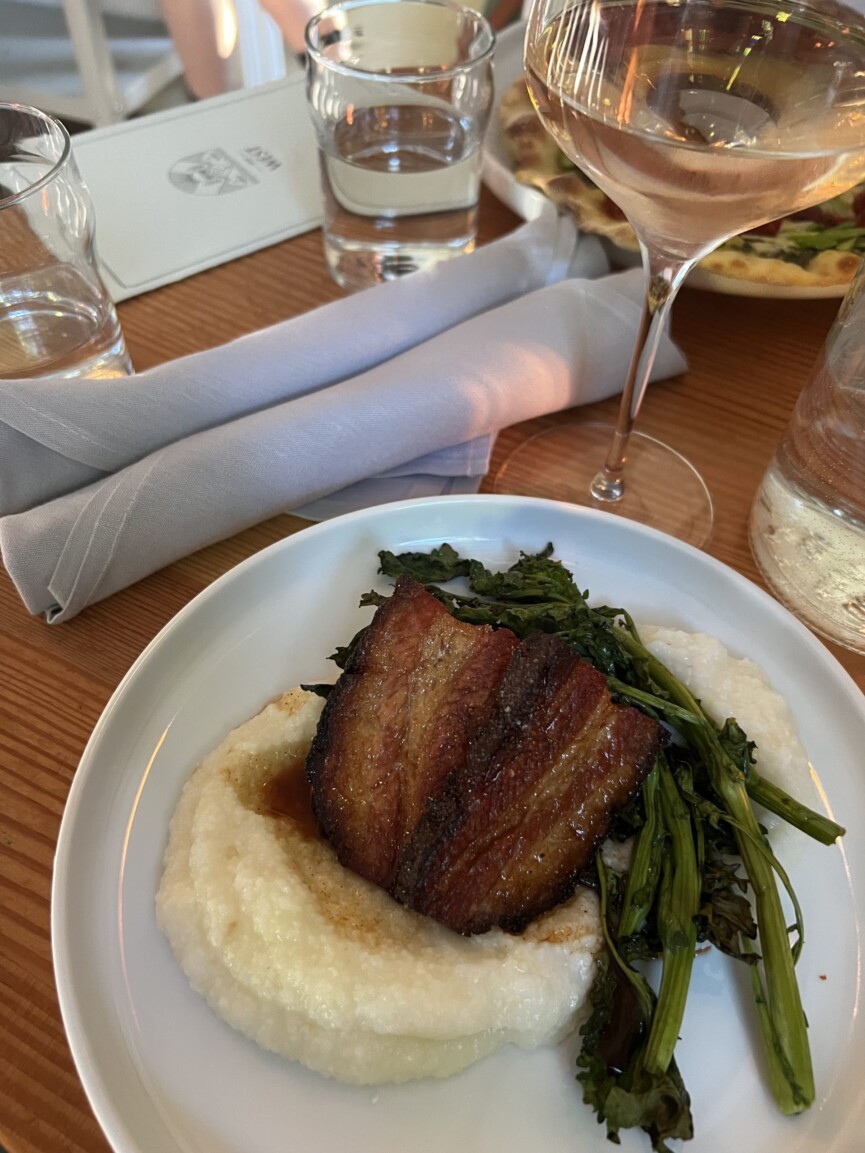 Head Back to Your Hotel to Nap—Then Wake Up to the Deliciousness of Bar West
I'm well aware that this is an ambitious city guide. But you'll want to soak up all the city has to offer. That being said, naps are one of the best things we have access to as humans, so take full advantage and rest up between your morning adventures and the best dining experience of your life.
That's not hyperbole. Bar West is unassuming in its casual, minimalist façade. But once you step inside and experience the atmosphere (and drinks! and food!) for yourself, you'll be blown away. I met up with a girlfriend for dinner, and it was a meal like no other. I started with a lovely, crisp Pét-Nat and followed that up with my all-time fave: smoky, satisfying pork belly with a bitter broccolini. Whether you stop by for brunch, dinner, or drinks, Bar West is a must.
Need another dinner option? Over the past weekend, I had the pleasure of indulging at G-Love. Let me tell you: it's completely transformed what I thought vegetables were capable of. Touted as a 'reverse steakhouse' G-Love is making greens the star of the show. My friend and I tried the tasting menu. While I was admittedly stuffed even the next day, I couldn't have been happier with our decision.
The dishes start small, but they come at a steady pace. We started with the fingerling potatoes, a relatively unassuming pick before you consider that the spuds are served alongside creme fraiche, basil oil, and trout roe. Mind-blowing. While many dishes follow, my ultimate favorite was the Ensalata Bomba—a salad worth writing home about. If all salads tasted like this, I wouldn't be opposed to snacking on greens at every meal for the rest of my life. Aged gouda and the rhubarb vinaigrette send it over the top. Order for yourself and be prepared to fall in love.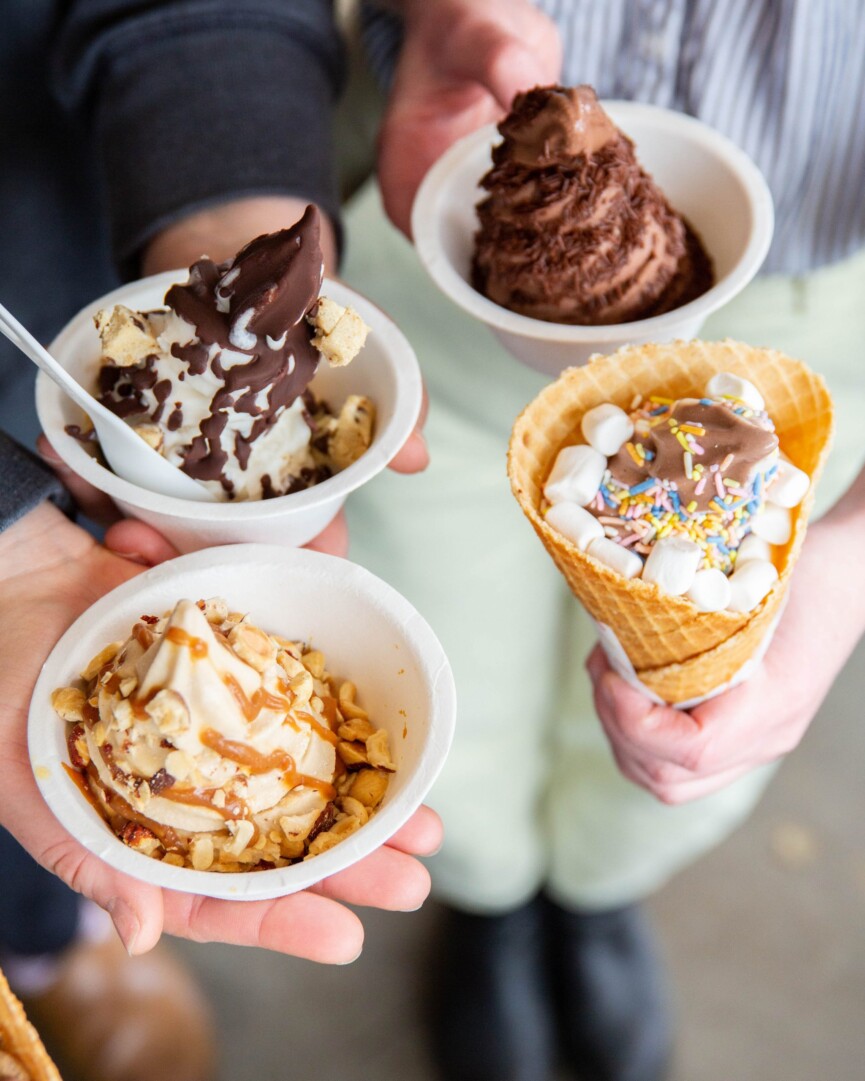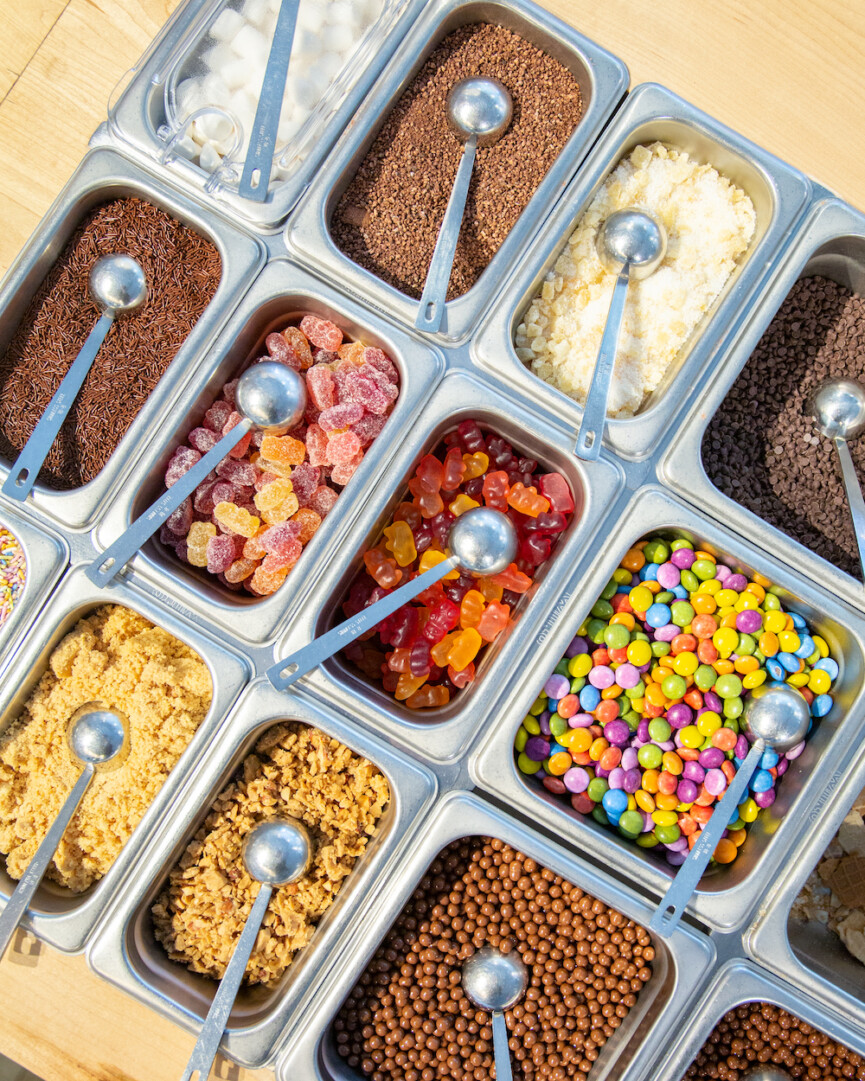 Images courtesy of Eb & Bean by Marielle Dezurick
Save Room For Dessert At Eb & Bean
On Portland's bustling Northwest 21st Avenue, you'll find a beloved local treat: Eb & Bean. While folks will tell you to hit up Salt & Straw, I've found that beyond the seasonal flavors, the popular west coast chain doesn't hold up to the hype. Instead, Eb & Bean offers both dairy and plant-based options, with flavors including Valrhona Chocolate, Maple Butter Pecan, and my favorite—Walnut Blondie (non-dairy). And if you're tempted to skip the toppings, heed my advice: don't.
Day 2
Pastries and Coffee at Tabor Bread
After a good night's sleep, wake up fresh, energized, and ready to get your coffee and breakfast on at Tabor Bread. While it's not part of the buzzy smattering of coffee shops perpetually on the rise in Portland, the bakery is an old favorite that will always deliver. The coffee is good and the atmosphere is cozy and warm. And of course, the sourdough breads, sandwiches, and pastries (Cardamom Morning Buns, Lemon Ricotta Zucchini Danishes, and Twice-Baked Almond Croissants) are the city's best. Scope the weekly bread offerings if you think you'll have room (which—spoiler—you will).
A small anecdote: I once went to Tabor Bread early on a Sunday morning to work. At the table next to me, two older gentlemen were reading The New York Times, splitting the paper between their favorite sections. As they got up to leave, one quietly, kindly said to the other: Same place, same time next week? The response: Always.
Hike Mount Tabor
What better way to follow up a Tabor Bread breakfast than by hiking the volcanic cinder cone it's named after? Mount Tabor is a great, quick hike, and truly one of my favorite answers to the question of what to do in Portland. It's easily accessible and gorgeous year round. The walking path up the hill is paved, so though it can be steep at times, rest assured you'll have a smooth hike to the top. Just be sure to watch out for bikers—it's a popular spot for cyclists to come speeding down.
Once you make it to the summit, you'll be welcomed by stunning west-facing views of the city and the hills behind it. I can't help but get teary-eyed every time I take it all in.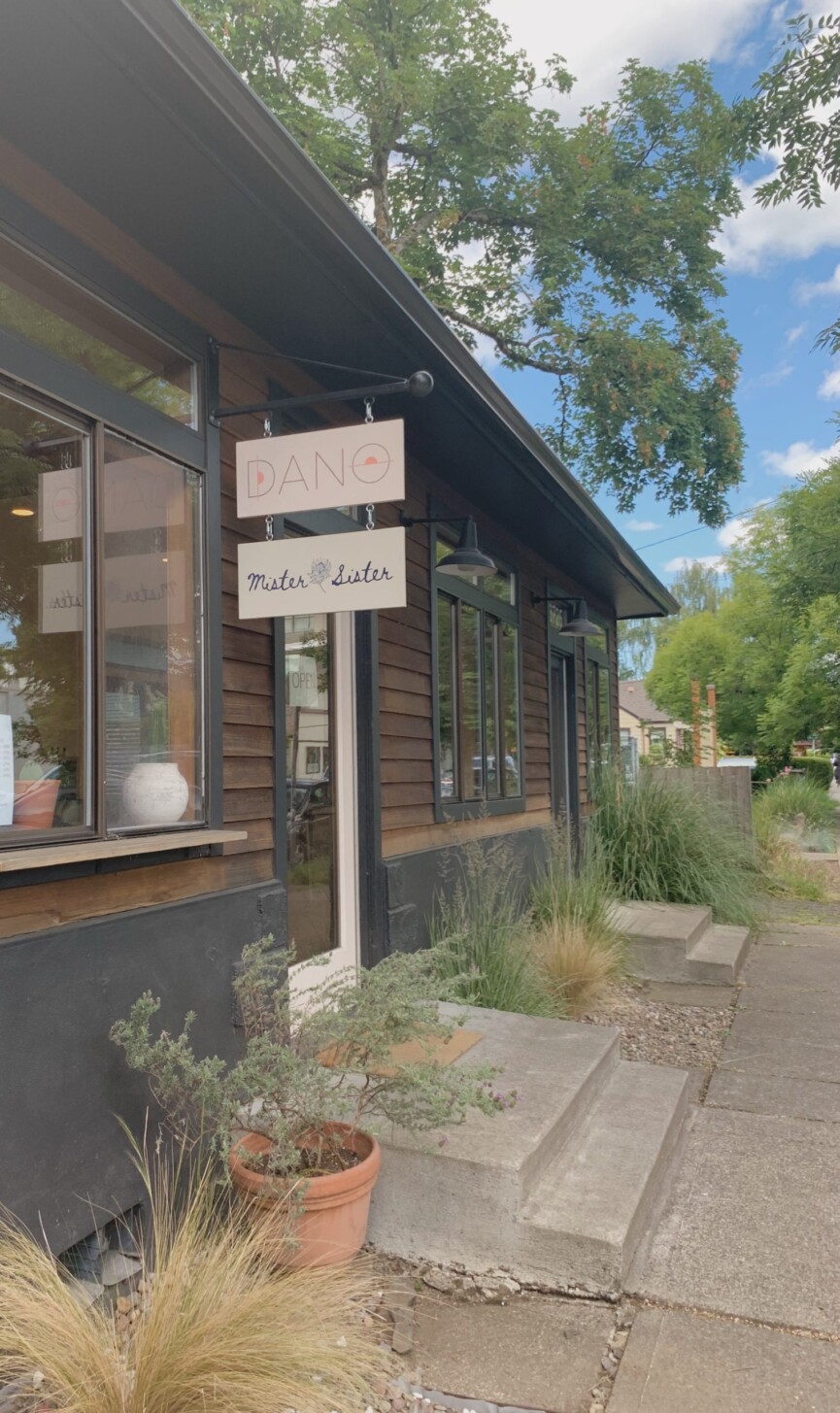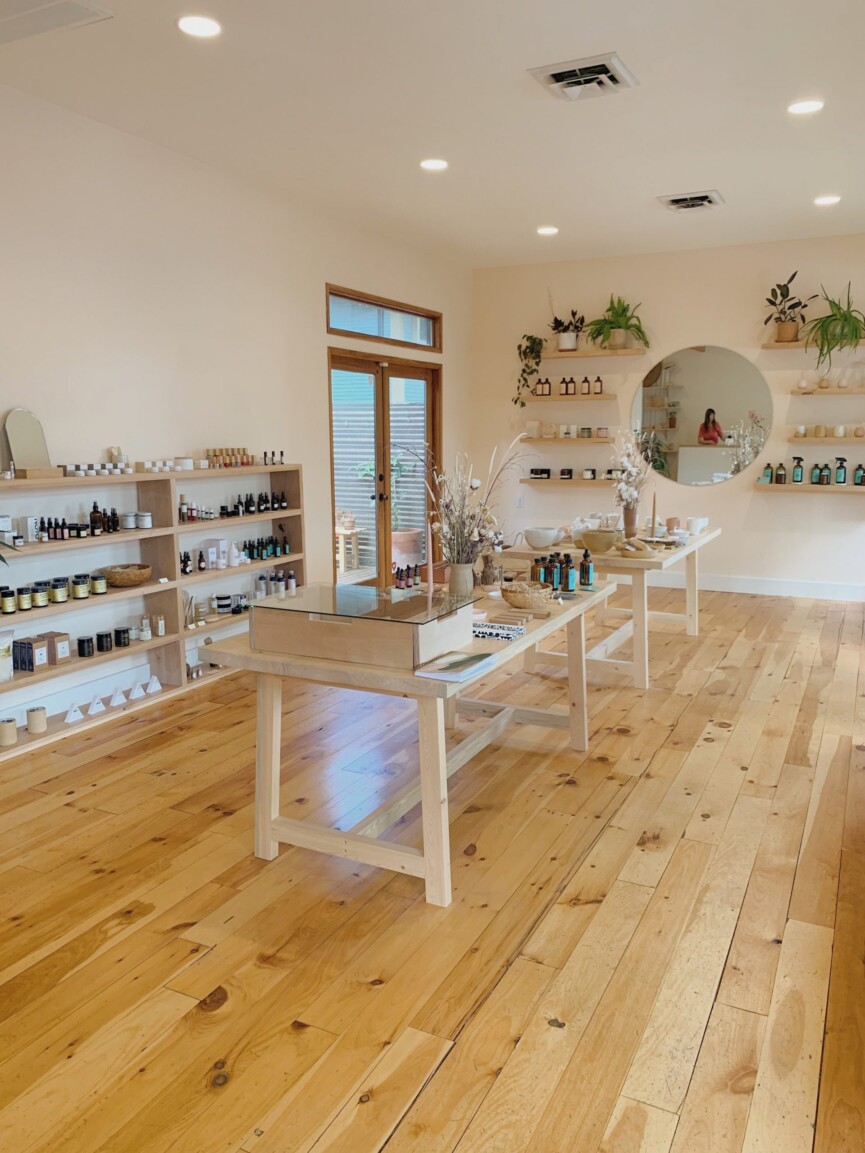 Shop Along Division St
Southeast Portland's popular hub for shopping, drinking, coffee-consuming, and shopping, Division is a haven for exploration. I tend to stick to the area east of SE 20th avenue. It's where you'll find the best concentration of attractions. Be sure to visit Wild Cactus (the best for quirky, bright, and poppy clothing and home goods), Artifact (a beautifully curated array of thrifted apparel, furniture, and décor), Carter & Rose (some of the prettiest ceramics you'll ever find), and my favorite, DANO (your one-stop shop for all things natural beauty, vintage clothes, and stunning homewares).
As you venture around Division, just be prepared. There are a lot of apartments and condos going up along the main drag, so you'll likely have to deal with a little traffic.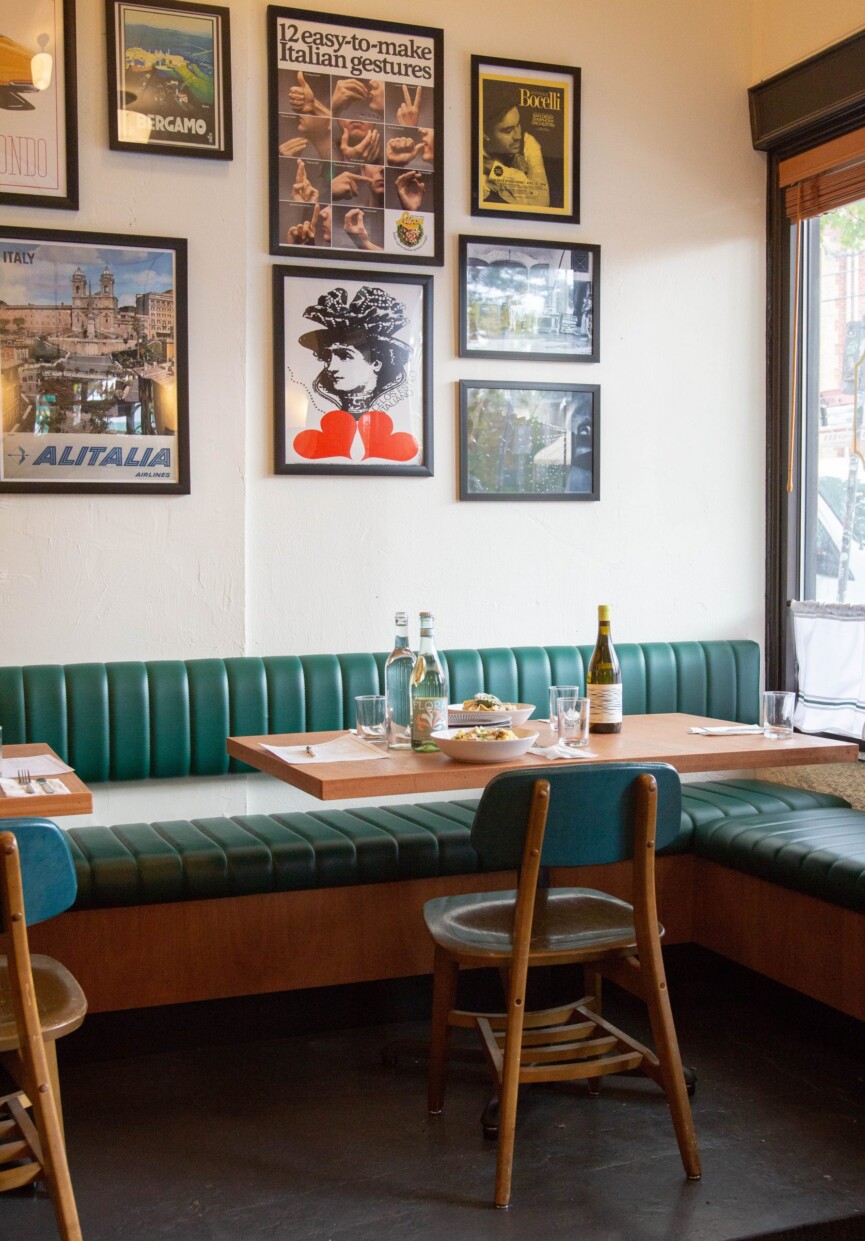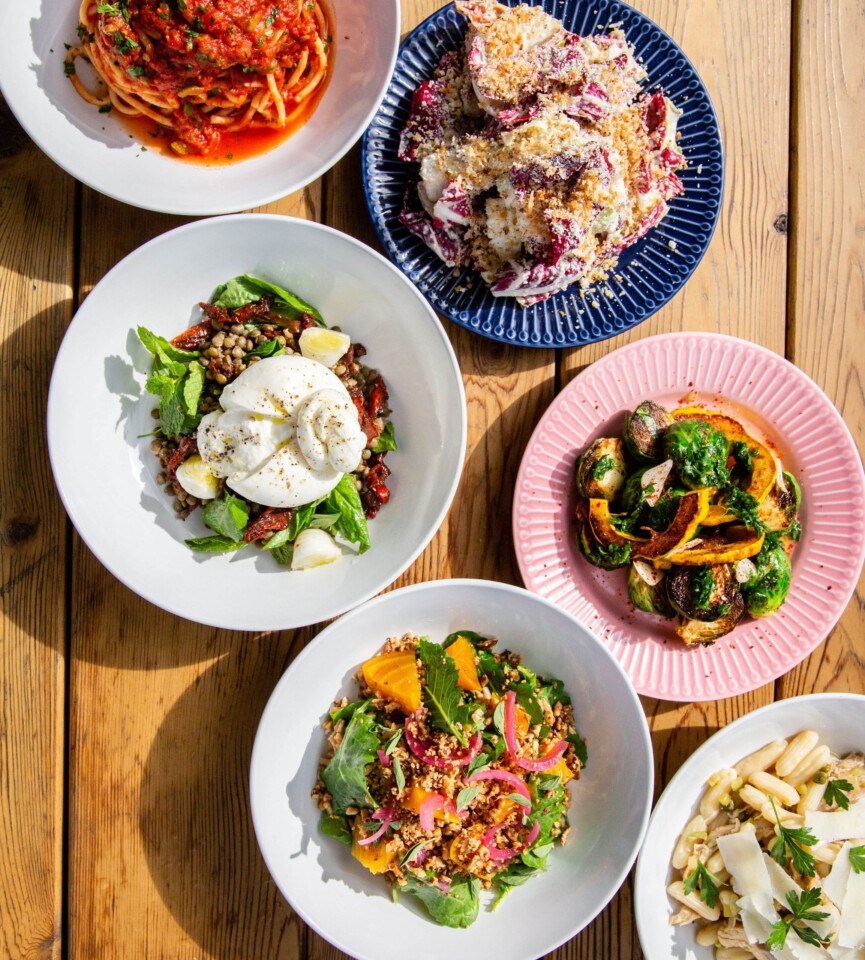 Images courtesy of Montelupo Market by Marielle Dezurick
Grab Lunch on East Burnside (Otherwise Known As SE 28th's Restaurant Row)
Have I already named multiple other locales as my favorite spots in Portland? If so, apologies—here comes another. Along the corner of SE 28th Avenue and Burnside Street sit one of the best bunch of restaurants, bars, and even ice cream. Still, after years of boasting some of the best food and drinks around, this concentrated corner of goodness remains underrated.
Here, you'll find Montelupo, an Italian two-in-one market and restaurant where you can dine on rustic fresh pasta dishes and pick up a few pantry staples and a bottle of wine to bring home. Or, if it's creatively crafted Mexican food you're craving, Güero is a must (as are their tortas—the Desayuno is my idea of comfort food at its most craveable). Walk a little further south and you'll hit Navarre, a small eatery that offers a small and large French, Spanish, and Italian plates. It's intimate and romantic—and when paired with the right wine (they have more than 50 bottles available), the perfect late lunch if you're visiting with your partner or a friend.
P.S. If you're craving something sweet, don't miss your chance to hit up Fifty Licks. Their flavors are inventive and show off the best of Oregon (re: a creamy, tangy, bright-pink scoop of Marionberry ice cream or Lavender Sweet Cream). And they just announced that they'll be keeping rainbow sprinkles on the menu for good, which, to this child-at-heart, is a very good thing.
Walk Around Laurelhurst Park
After lunch, walk the quick 10 minutes east to Laurelhurst Park, a 26-acre green space with a lovely, tree-lined pond that's stunning to sit by. Paved paths make sightseeing accessible and easy to stroll around. Feel free to extend your walk into the nearby neighborhood, where you'll get to take in the vintage homes and wander along the undulating streets.
Venture Up To Northeast Portland For Dinner
When you're visiting Portland, hot tip: be ready to eat. Following your Laurelhurst explorations, bike up to Northeast Portland, where you'll happen upon a small grouping of eateries and bars tucked in between NE Killingsworth Street and 30th Avenue.
Start with a drink at Expatriate, a dimly-lit cocktail lounge with incredible drinks and good music. If you want to go elsewhere for dinner, walk across the street to Ripe Cooperative, a pandemic opening from Chef Naomi Pomeroy, famous for leading the charge at a past Portland favorite, Beast. It's the perfect blend of casual but elevated, with offerings like oysters on the half shell, creamy (the creamiest) burrata, and a minimalist cacio e pepe that's nothing short of revelatory.
Day 3
Stop By Pip's For Doughnuts and Chai
As you wrap up your Portland trip, be sure to make time (and room) for a chai and doughnuts at Pip's Original before heading out to the airport. And while it may seem like a been-there-done-that combo, know this: these doughnuts are anything but. These are fried-to-order, mini doughnuts that will transform your relationship with the doughy bites of deliciousness forever. The menu is small, but you'll be satisfied with the offerings. Honey Sea Salt, Nutella, Maple Bacon, and a rotating seasonal flavor that always delivers. And be sure to get there early—the line is around the block by 8:30 a.m.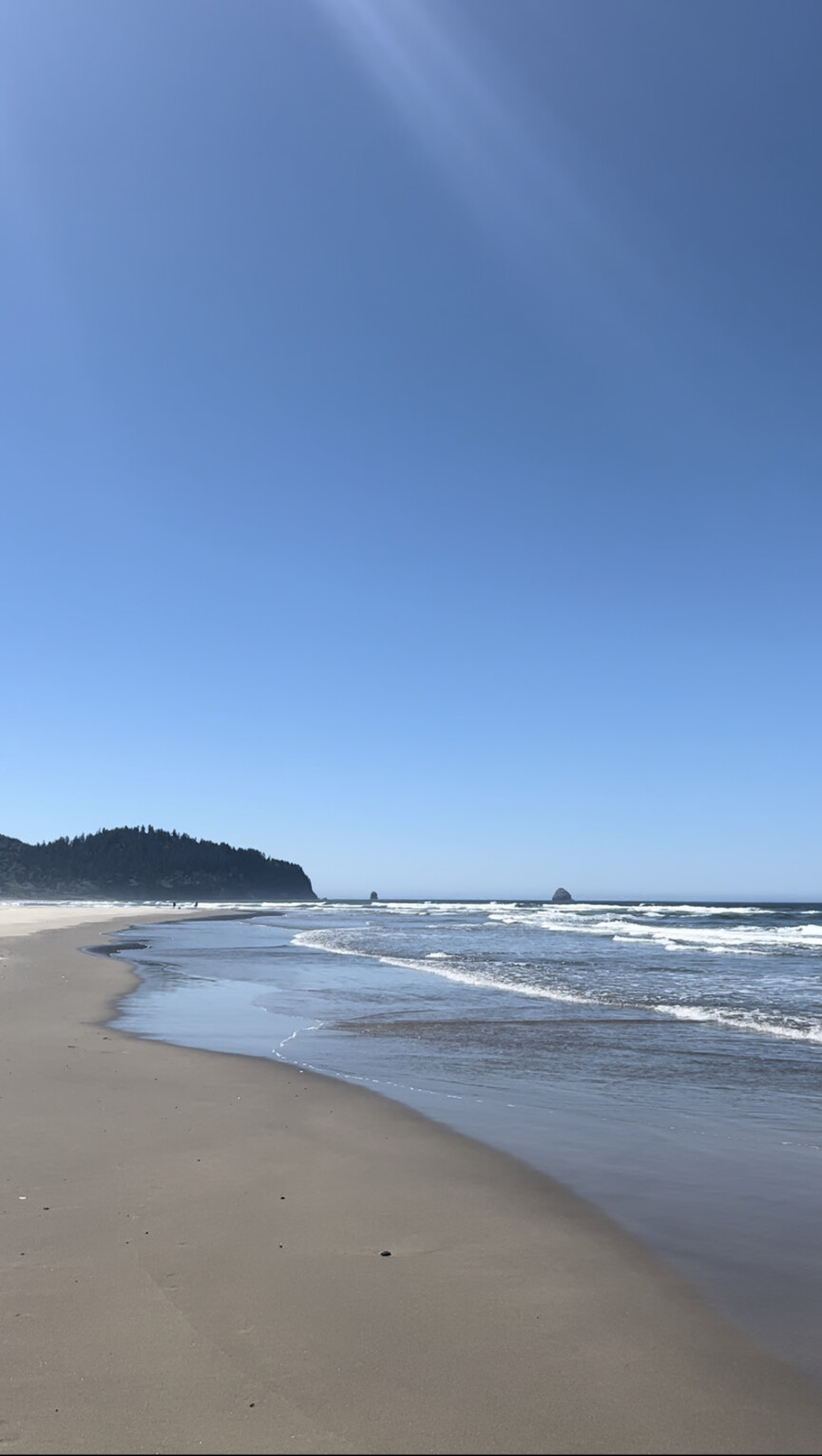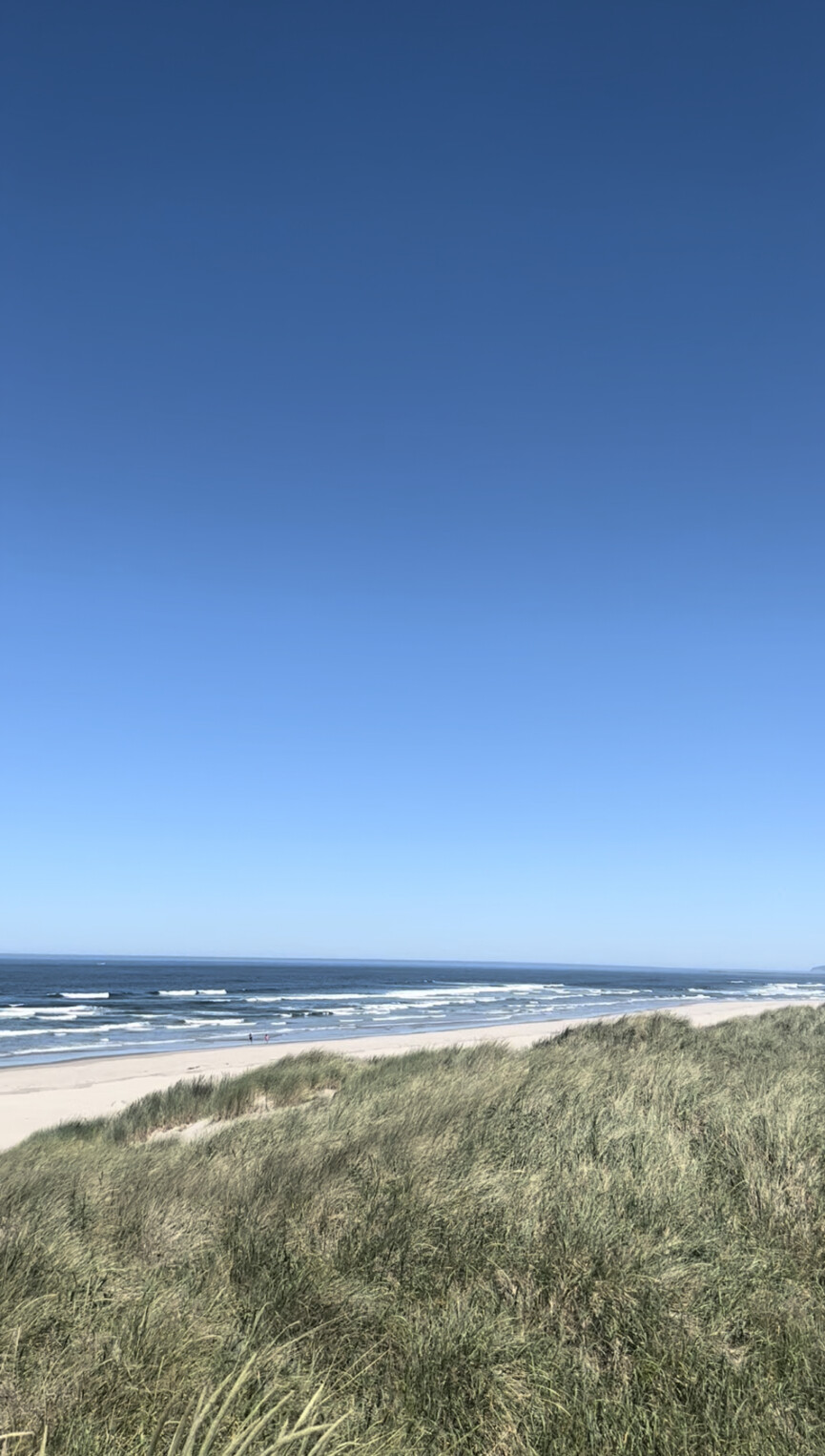 Views of the Oregon coast from Bayocean
Bonus! Small Adventures Outside of Portland
Do you have more than 48 hours to spend in Portland? The city is surrounded by smaller, cute towns with plenty to offer and it's a quick drive to the Oregon coast. These are my top three spots to visit if you have more time to kill.
Bayocean
This is my favorite day trip outside of Portland, and it's funny because most local Portlanders I talk to haven't heard of it. A little history: Bayocean (sometimes known as "the town that fell into the sea,") was founded as a resort community in 1906. But after only a few decades, it became a ghost town, with many of the attractions and buildings being destroyed due to coastal erosion. Today, you'll find the most gorgeous stretch of beach I've ever seen. Walk along the shore or venture into the woods. There are even posts that mark the old school and hotel. Kind of eerie, but fascinating to take in.
Sauvie Island
A half hour's drive northwest of downtown Portland, you'll find a Manhattan-size island filled with spots for berry picking, apple picking, or an idyllic visit to a pumpkin patch depending on the season. Or, if you got into bird-watching during the pandemic, rest assured that you'll find plenty to see on Sauvie. Bring your bike for some steady road biking and take in the views—or pack up a picnic and spend the day at the beach.
The Columbia River Gorge
A picturesque canyon of the Columbia River, the Gorge stretches for more than eighty miles along the border of Oregon and Washington. Head east on I-84 from Portland and be prepared to take in the stunning views. You'll pass by cliffs, spires, and rides, and some of the prettiest waterfalls in the country. If you're willing to brave the crowds, Multnomah Falls is easy to access from the interstate and boasts an incredible vista.
Have any recommendations to add to our Portland City travel guide? Drop your tips and favorite spots in the comments!