Even if you aren't an avowed bookworm, bookshelves tend to take up major real estate in most of our homes. They're often the focal point of a room, catching the eye whether you intend for that to be the case or not. This makes it vital that bookshelves are as aesthetically pleasing as they are functional. And while the impulse can be to load it up with every book that has ever crossed your path and an abundance of knick-knacks, restraint is key. Because when it comes to bookshelf décor ideas, less is always more.
Bookshelf décor and styling should be as intentional as any other part of our interiors. By thoughtfully curating a mix of meaningful objects, greenery, and of course, books, our bookcases become not just convenient storage solutions, but beautiful works of art. We tapped interior designer Javaneh Pirooz to give us all her tips and tricks on bookshelf styling. She has impeccable taste, making her the perfect resource for this very specific styling mission.
She explains that a bookshelf should be the talking piece of the room, not just an afterthought. There are many ways to successfully style a bookshelf, it just depends on the specific taste of the end-user. People can get intimidated when it comes to styling a bookshelf and over-do it, but her personal preference is to keep it minimal with strong hero pieces.
Keep scrolling for Pirooz's bookshelf décor ideas!
1 of 18
Color code the books
If Pirooz has a client that wants to use it as a traditional bookshelf, she color codes the shelves and sprinkles in some mismatched books with the intention of breaking the mold.
Add plants
A spot of greenery freshens up and adds a bit of life to bookshelves. We're partial to small succulents that are low maintenance and don't require much space, but if you can also infuse a touch of drama with an ivy or string of hearts whose beautiful, long strands can hang elegantly off the side.
Remember the power of three
If a client is looking to use their shelving for aesthetics more than simply housing books, then Pirooz calls on what she calls her "Power Three." She creates vignettes using a mix of:
books
a sculpture or terracotta pot
a plant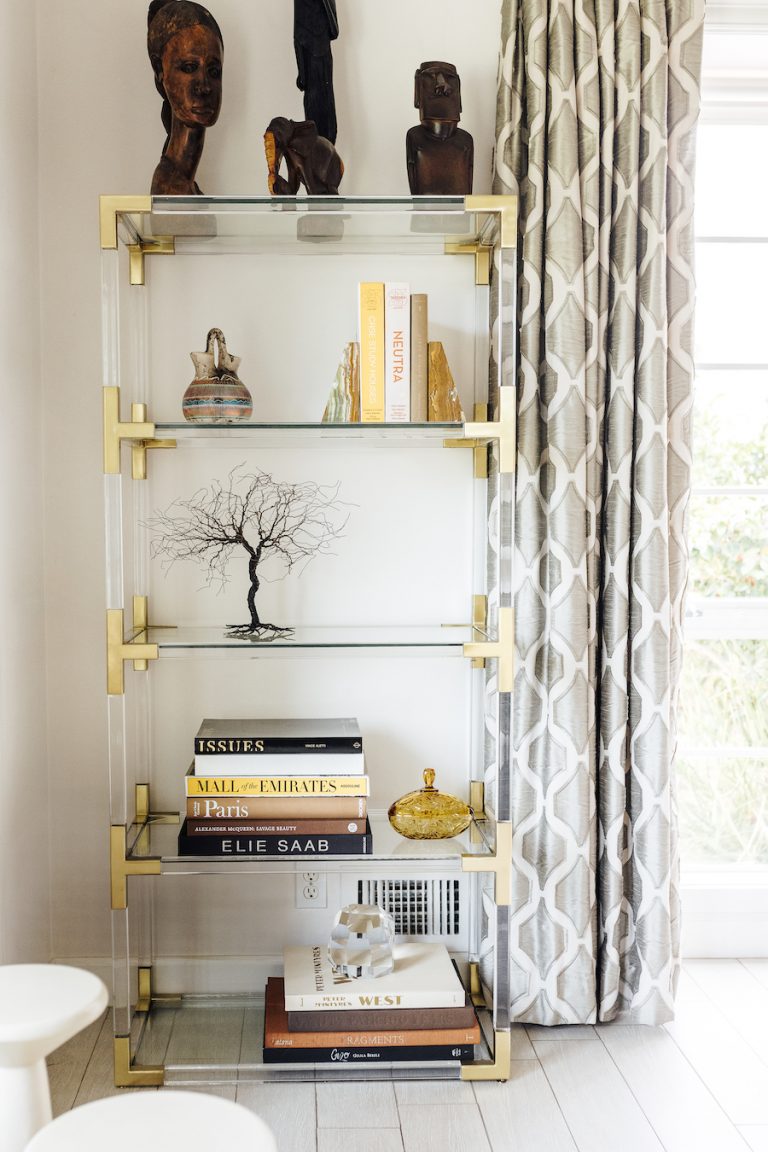 Negative space
Avoiding clutter is an absolute must. Negative space is crucial to allow each piece place to have its moment. Pirooz just finished styling a bookshelf where she placed a single antique terracotta pot on each shelf, leaving negative space on both sides. The simplicity of this approach allowed for each pot to be the showpiece on each individual shelf.
Incorporate lighting
Add a small, chic lamp to illuminate the bookshelf beyond the gleam of a candle.
Display meaningful personal items
To personalize a bookshelf's style, Pirooz asks her clients if they have collected anything special during their travels or have family heirlooms that they'd like to display. She then finds a way to incorporate it into the styling.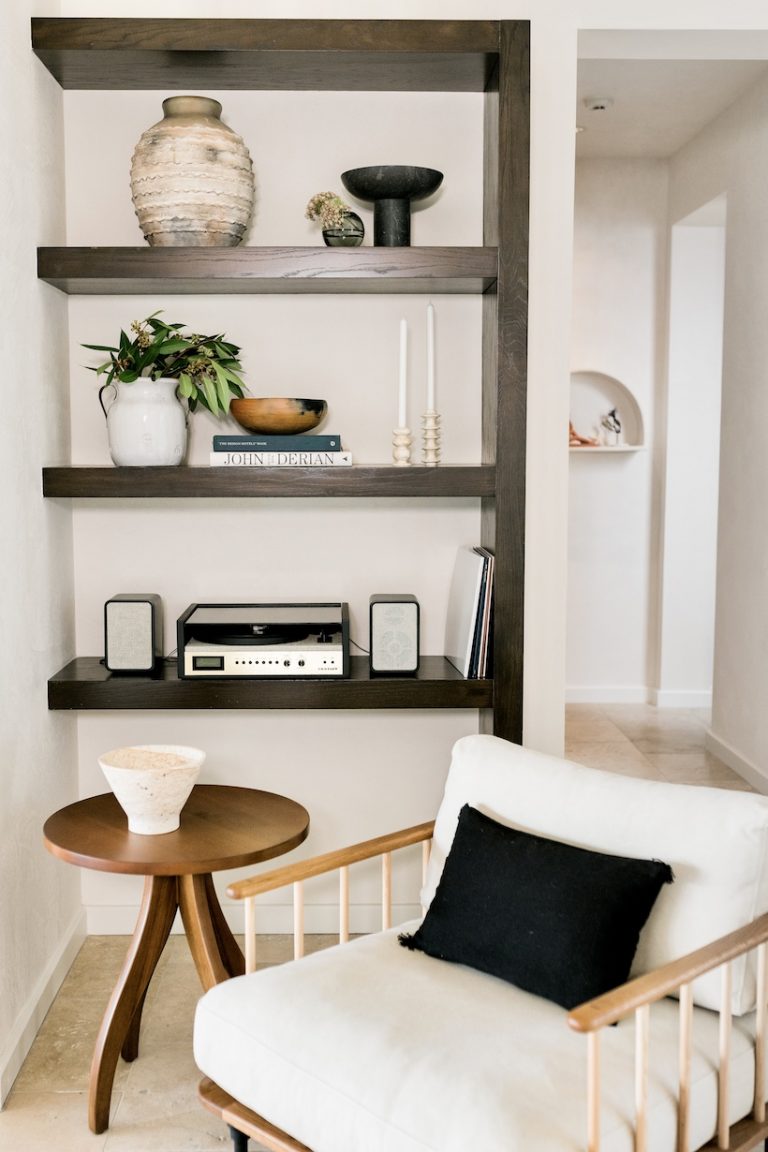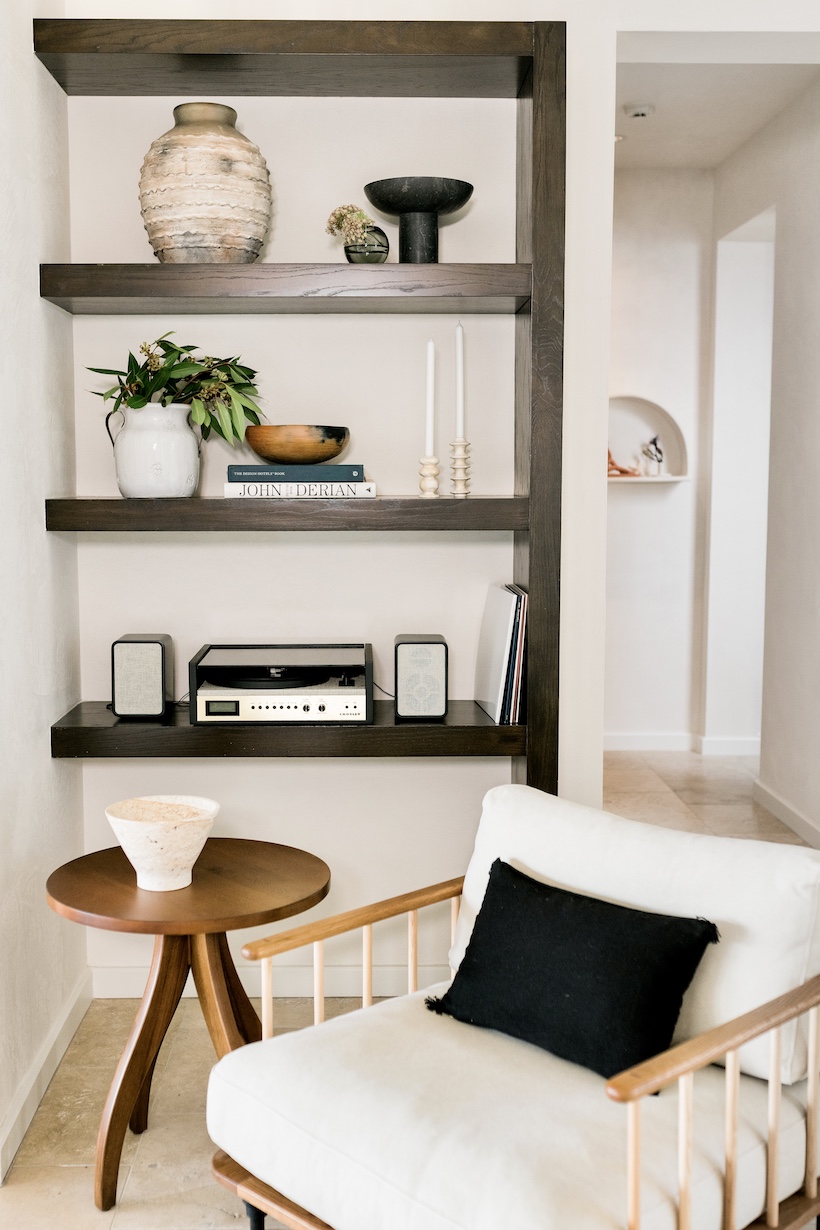 Add a candle or two
If you're working with a large bookshelf, add a taper or two in chic vintage candlestick holders for a bit of height. Conversely, investing in your favorite statement candle will add a beautiful glow to your precious objects and books, while also adding a gorgeous scent to the room.
Keep things asymmetrical
Resist the urge to have everything uniformly balanced. For example, try adding a smattering of books, a candle, and a ceramic bowl on one shelf, and then just a plant and a small object on the next. Variety is the spice of life.
Add vintage accessories
Look for timeless, classic decorative pieces like clay pots, candlestick holders, handcrafted items, and more—but avoid going full kitsch.
Vary the height and depth of the items on each shelf
Pirooz stresses the importance of making sure there are no linear lines. In her opinion, the only linear thing in view should be the shelf itself. Visually break up lines by using differently sized objects, or consider laying books on their side.
Add baskets on lower shelves
This makes for a very aesthetically pleasing storage solution and a great way to hide clutter.
Use coffee table books
Lay coffee table or art books horizontally and make a stack on a bookshelf, or display a beautiful cover facing outward.
Invest in high-quality decorative objects
Whether it be a marble bowl, ceramic vase, or metal object, including a luxe item on your shelves elevates the entire thing. It's an elegant and incredibly simple way to add a personal decorative touch.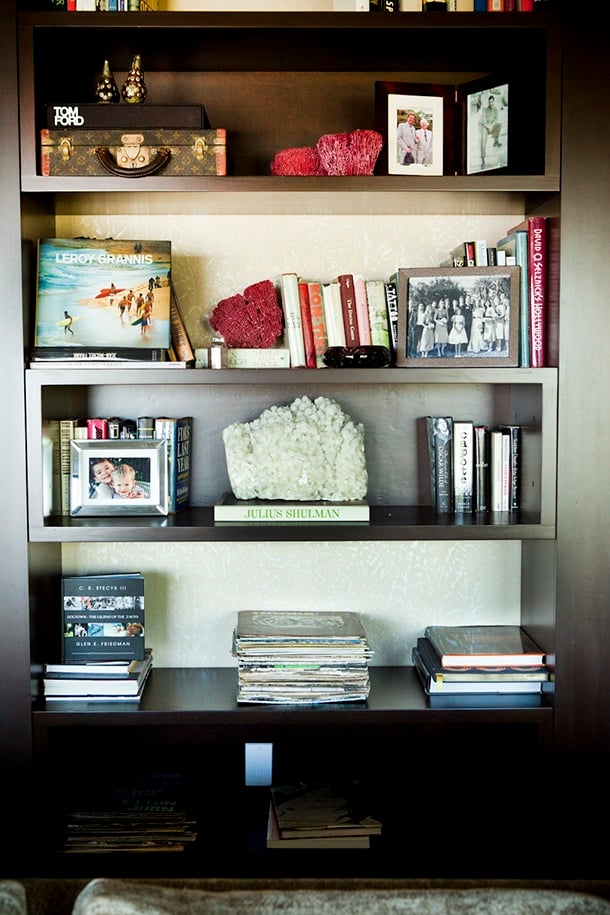 Scroll on to shop our 13 favorite bookshelf décor pieces