Have you ever walked into a Target to get one thing and walked out with an entire cart full? *sheepishly raises hand.* And it doesn't matter if my cart is real or virtual, I always leave with more than I went in for. It's impossible not to. And while I love their non-toxic cleaning line and their healthy groceries brand, it's their cheap home décor section that has me hooked thanks to their incredible collaborations.
Who else is obsessed with the Hearth & Hand With Magnolia line or the modern Threshold x Studio McGee collaboration? And I just found out they're releasing a limited edition Levi's collection later this month, too!
It's safe to say, Target is killing it right now in the design department. And the best part? It's all affordable. So, if you're looking to refresh your home for spring, then keep reading for our favorite cheap home décor from Target that looks expensive but is under $100. You're welcome.
Kitchen & Dining

1 of 34
Threshold Studio McGee Decorative Paulownia Wood Bowl Beige
Add some warmth to your space with natural materials like this wood bowl. It's perfect for the kitchen counter or on a console near the entryway for the keys.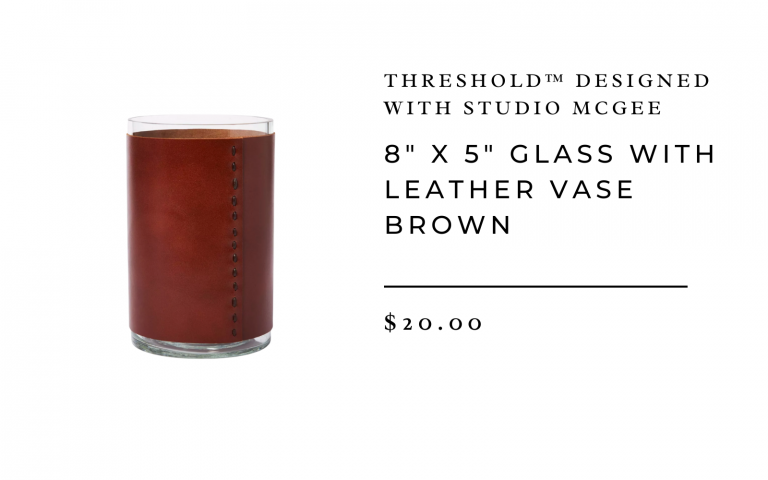 Threshold Studio McGee Glass With Leather Vase Brown
When was the last time you cleaned out your glass cupboard? I did it last weekend and let me tell you, I had so many random cups that we just don't use anymore or were chipped. So we chucked or donated them and have plans to replace them with cups we want to drink out of like these leather versions. They're so chic.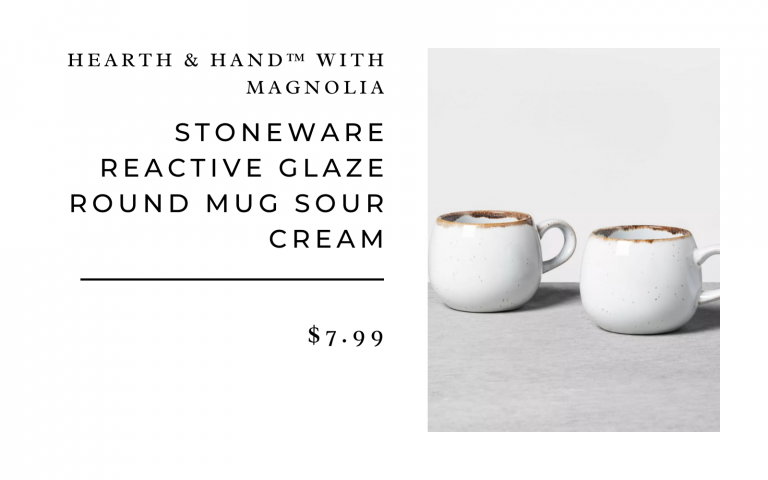 Hearth & Hand Stoneware Reactive Glaze Round Mug Sour Cream
Earthenware has definitely made a comeback this year and we're not mad about it. These cups will elevate your morning coffee (or coffee alternative) ritual.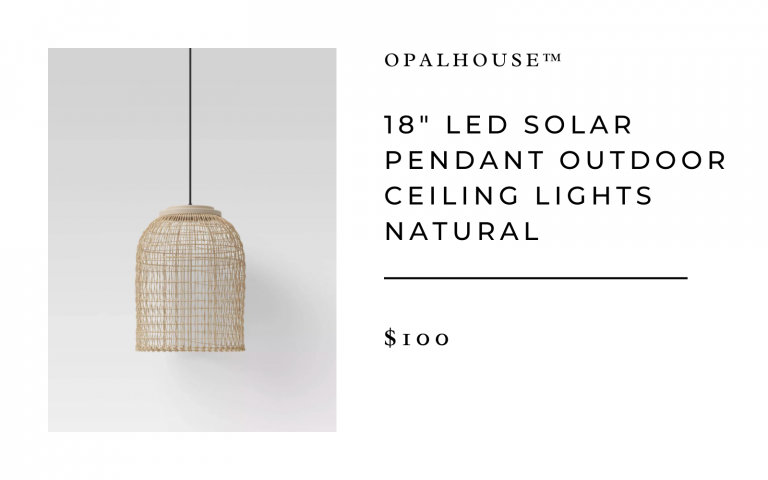 Opalhouse 18″ LED Solar Pendant Outdoor Ceiling Lights Natural
One of the best ways to transform a rental (besides painting it) is to switch out your lights. We did it in the dining room of our Los Angeles rental and it was a total gamechanger. This one is a steal at $100.
Threshold Water Hyacinth Charger Placemat
Even if you aren't planning a dinner party any time soon (oh, how we cannot wait for that day!), you can choose to turn every sit-down meal into an elevated occasion simply by upgrading your setting. We have similar placemats to these hyacinth ones and we use them at every meal. It's the little things.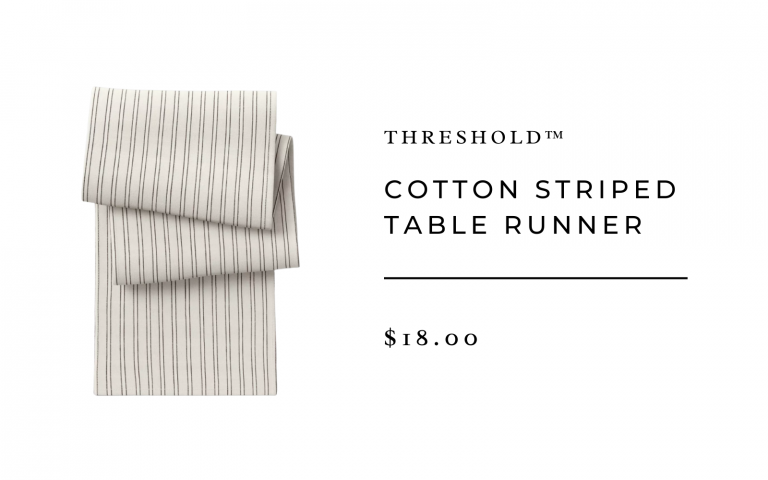 Threshold Cotton Striped Table Runner
Just like the placemats, lay down a runner through the middle of your dining table and experience the difference.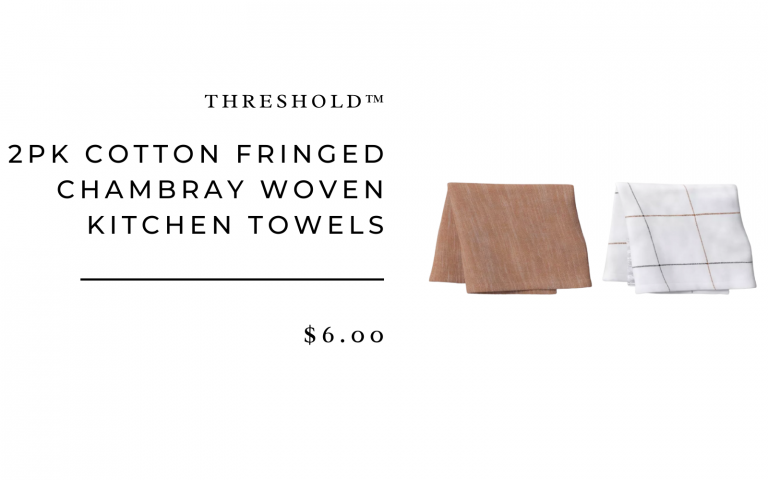 Threshold 2pk Cotton Fringed Chambray Woven Kitchen Towels
Swap your paper hand towels for these beautiful fabric ones when you're having dinner and notice the difference. They're not just for special occasions. Elevate the everyday moments too.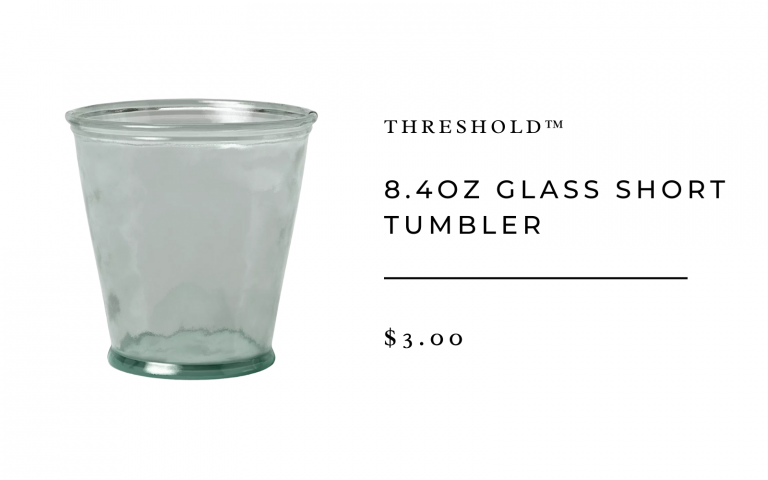 Threshold 8.4oz Glass Short Tumbler
The organic finish of these tumblers makes them nice to look at and to hold.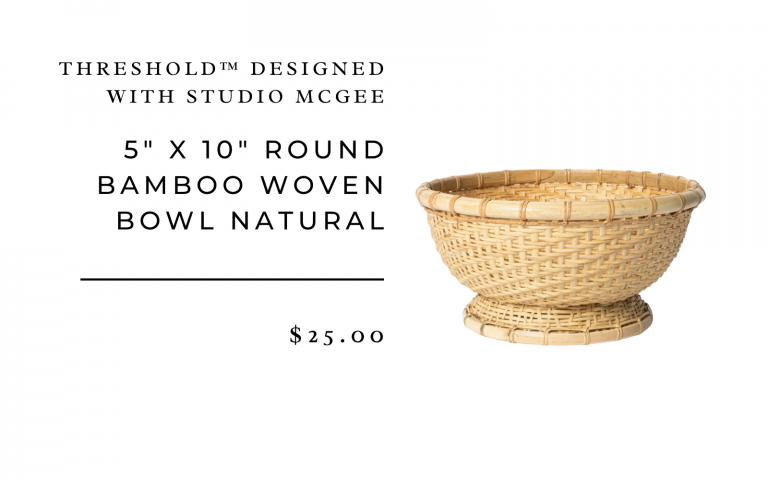 Threshold Studio McGee Round Bamboo Woven Bowl Natural
Your fruit basket just got an upgrade.
Threshold Oval Serving Platter Marble & Wood
Use this to serve a charcuterie for two on the weekend, just because!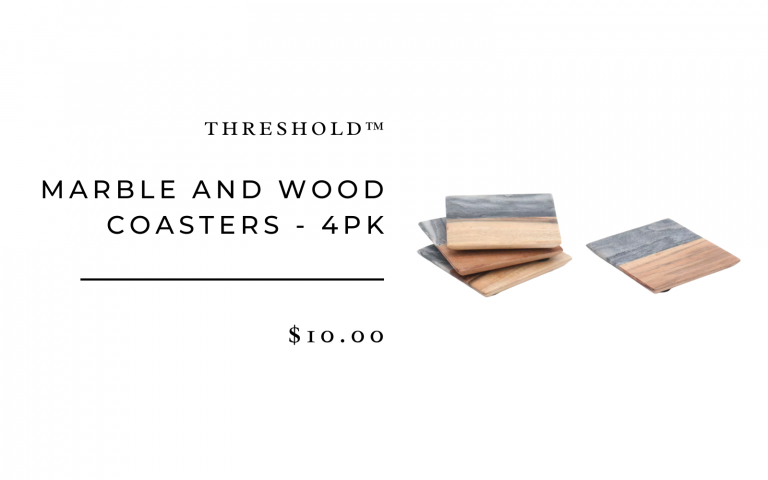 Threshold Marble and Wood Coasters
Even when you don't need one, you'll want to use one of these coasters because they're just so dang pretty.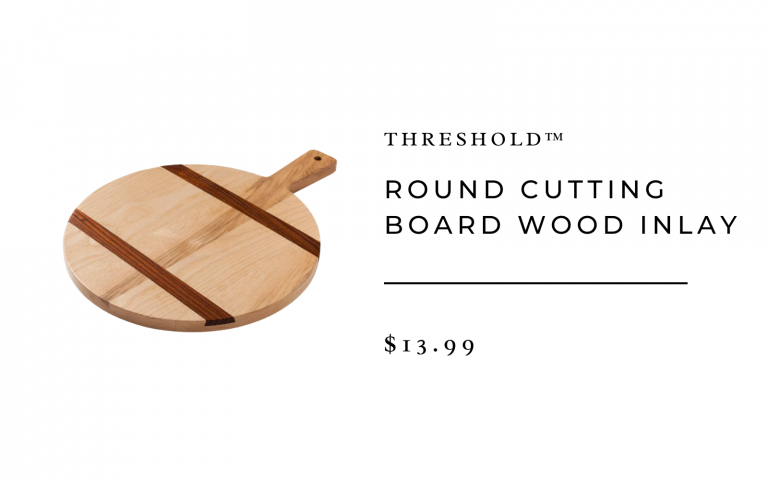 Threshold Round Cutting Board Wood Inlay
It's a cutting board, a cheese board, and a decorative object for $13.99. I don't see any reason not to buy this!
Threshold Studio McGee Reseda Hand Woven Striped Jute Cotton Area Rug
This looks vintage but it's under $100 and would be a great addition to any room.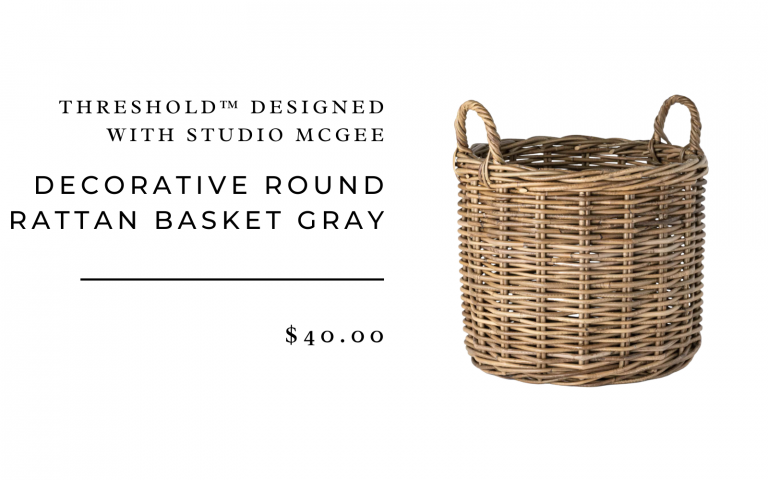 Threshold Studio McGee Decorative Round Rattan Basket Gray
There is nothing better than a storage solution that also looks good. This stylish basket is a decorative feature in any room, graciously hiding all of your kids toys, bills, or shoes.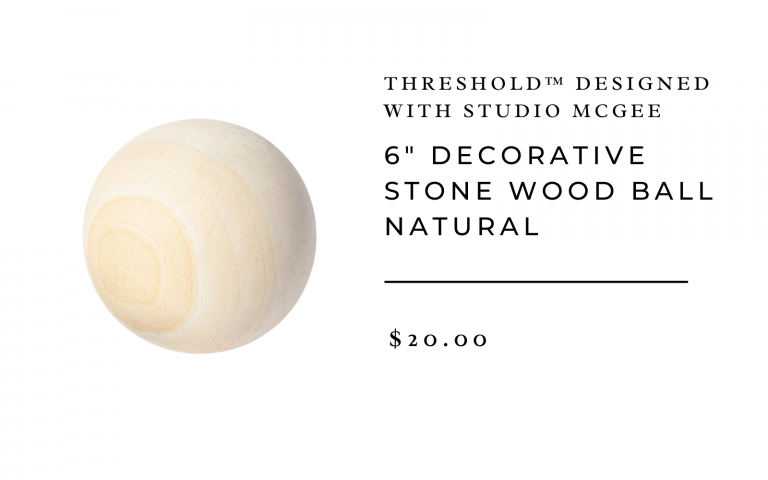 Threshold Studio McGee Decorative Stone Wood Ball Natural
If you want to add some visual interest to a space, consider these decorative wood balls. They look great in a bowl on a mantel or coffee table, or on the bookshelf among your most treasured pieces.
Threshold Studio McGee Decorative Square Storage Box with Cut Off Handles
This stylish storage box could almost double as a laundry basket but we also love it in the bathroom underneath the sink for hiding all your toiletries.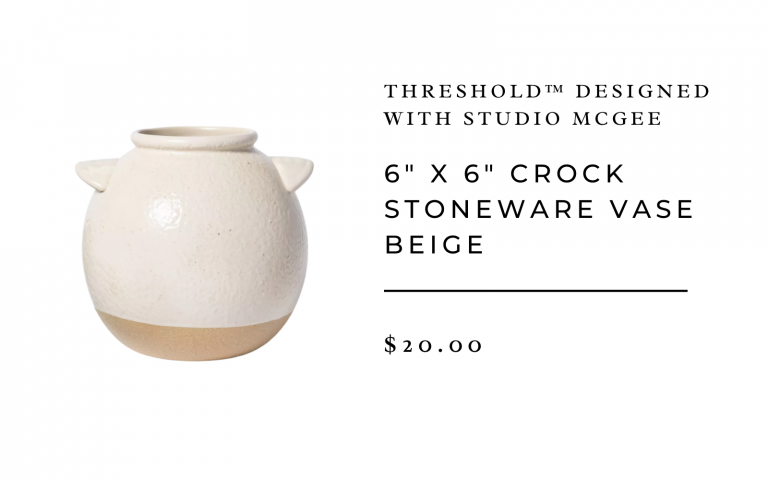 Threshold Studio McGee Crock Stoneware Vase Beige
I'm obsessed with vintage vessels and this stoneware vase really captures that patina and shape with a modern twist.
Hearth & Hand With Magnolia Wood Floor Lamp
Always think about scale when you approach the design of a room. By varying the heights of each piece you naturally create a visual escape for the viewer as their eyes are forced to dance across the room. Floor lamps help to break up the monotony while providing that warm glow we all cherish.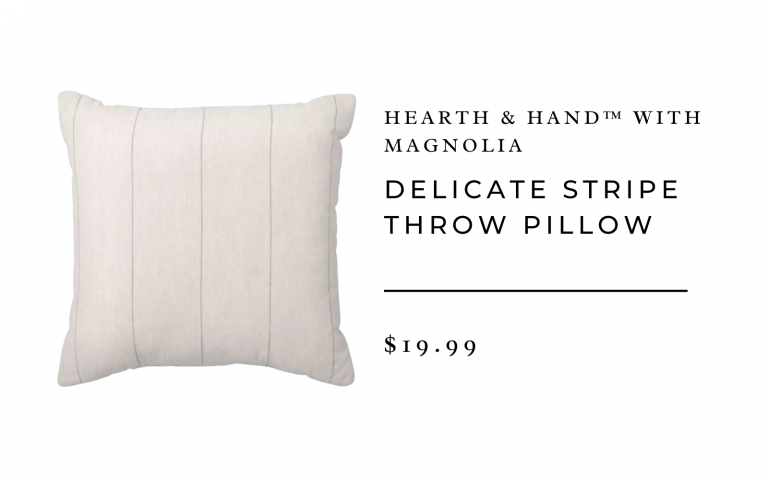 Hearth & Hand With Magnolia Delicate Stripe Throw Pillow
If you loved Camille's neutral living room then you'll these throw pillows from Hearth & Hand. The organic indigo stripe gives it a subtle beachy feel, too.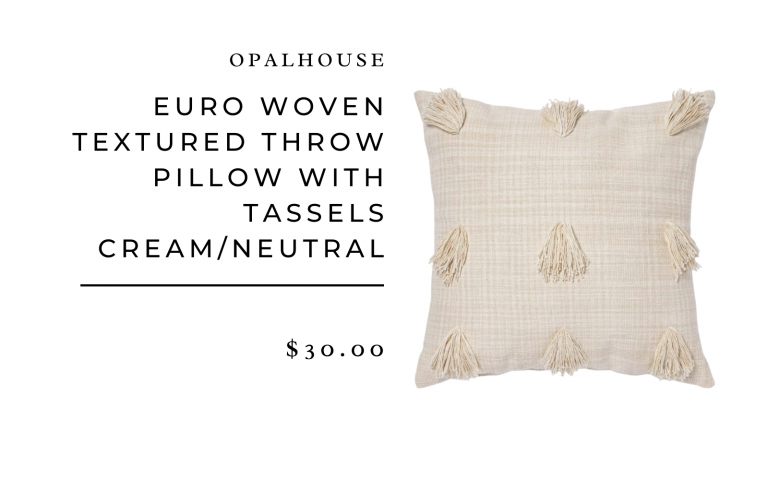 Opalhouse Euro Woven Textured Decorative Throw Pillow With Tassels
If you prefer a boho-chic vibe then this fun, decorative throw pillow will be just the piece your couch is missing.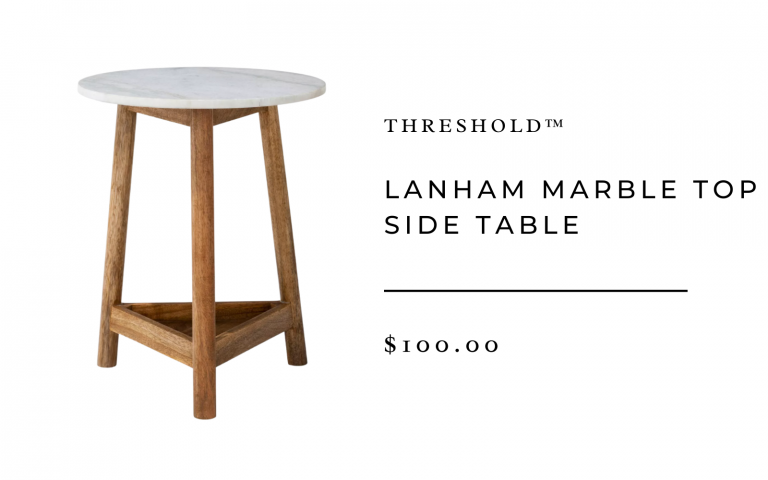 Threshold Lanham Marble Top Side Table
I've never seen a marble side table this pretty for $100. It's a steal. Use it in your home office or next to your sofa and we guarantee it'll make you happier just looking at it.
Threshold Decorative Wood Bowl
We love vintage dough bowls but finding the right size and quality isn't always easy. Display this piece on your bookshelf or use it for keys at the entryway, or keep it on the kitchen counter to house all your pens and papers.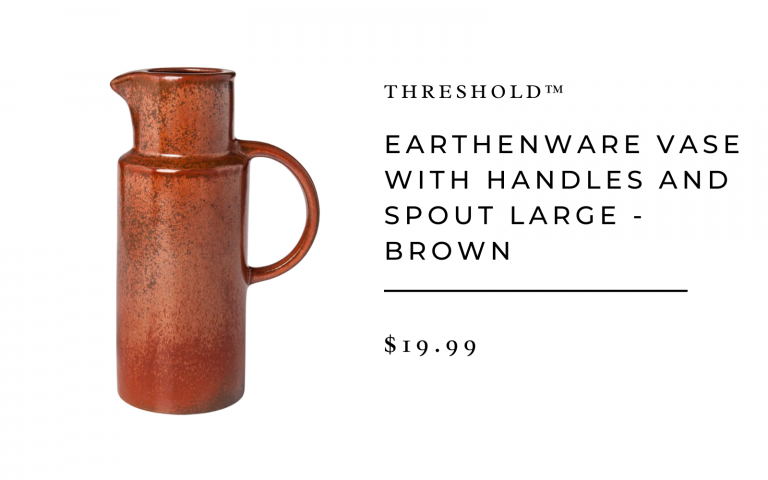 Threshold Earthenware Vase with Handles and Spout Large
Didn't we say earthenware was so hot right now? Well, this vase makes it clear why everyone is buzzing about it. We love the vintage shape and color.
Threshold Studio McGee Medium Faux Wood Table Lamp
We added a lot of Studio McGee's Threshold collab in this article because quite honestly, we were just so dang impressed by the entire collection. This stunning table lamp is a classic and don't even get us started on the price.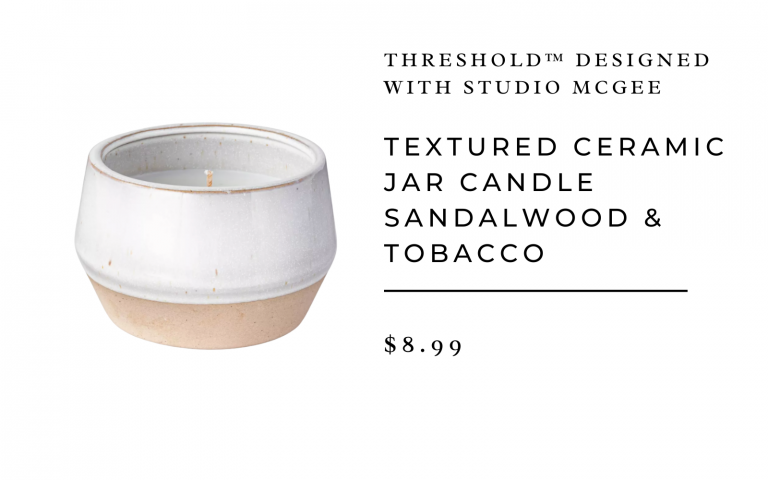 Threshold Studio McGee Textured Ceramic Jar Candle Sandalwood & Tobacco
Don't just buy regular candles, opt for candles in textured ceramic holders that can be turned into mini storage containers when the wax burns out. It's kinda genius.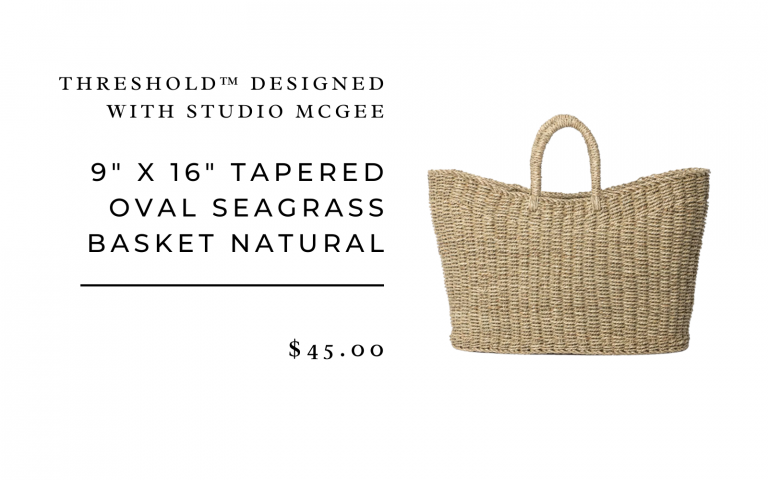 Threshold Studio McGee Tapered Oval Seagrass Basket Natural
It's a decorative piece that doubles as a beach basket or storage. There are so many uses for this natural beauty.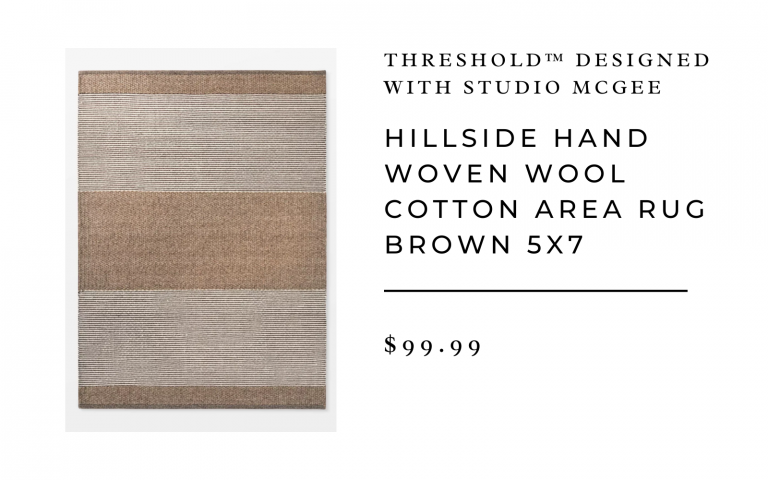 Threshold Studio McGee Hillside Hand-Woven Wool Cotton Area Rug
This would look so beautiful in a kid's bedroom or warm up your home office, well, really anywhere.
Hearth & Hand With Magnolia Resin Table Lamp Gray
Sometimes updating your space can be as simple as switching out your table lamps. Experiment with different bulbs or lampshades too. How the light shines through the shade makes all the difference to the room, impacting the overall mood.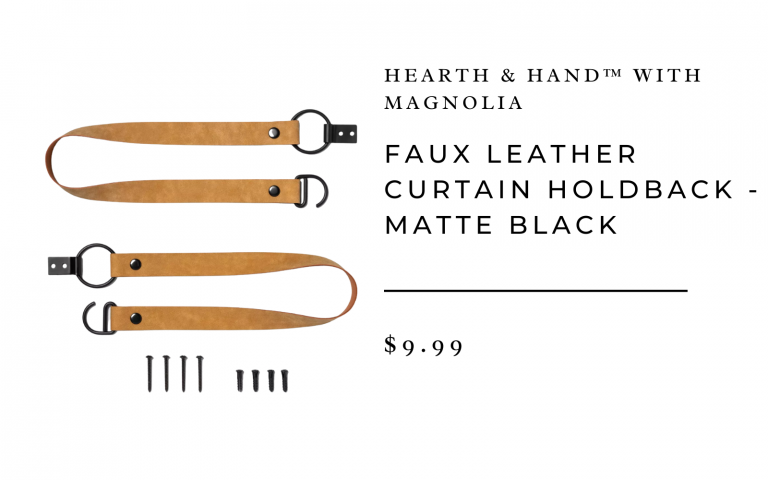 Hearth & Hand With Magnolia Faux Leather Curtain Holdback
The devil is in the details especially when it comes to design. Often, it's the small changes like swapping out your curtain holdbacks or changing your drawer knobs that can elevate a room instantly—and it's also the cheapest!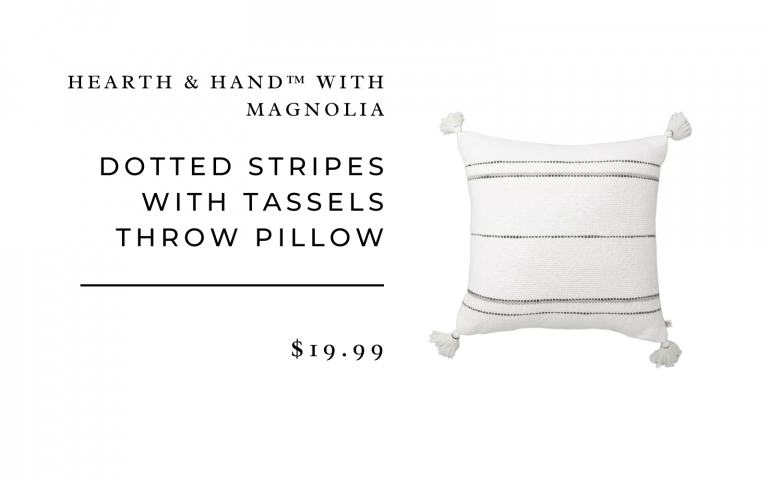 Hearth & Hand With Magnolia Dotted Stripes with Tassels Throw Pillow
You can never have too many throw pillows—or at least that's what we tell ourselves!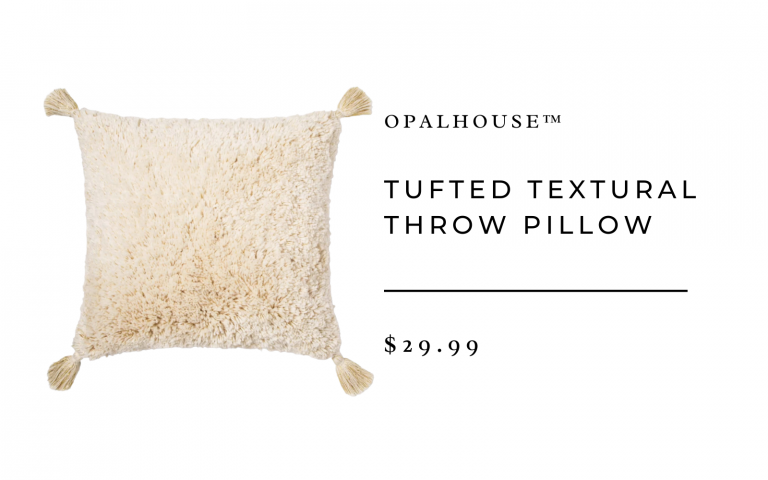 Opalhouse Tufted Textural Throw Pillow
We love a sheepskin moment and this tufted cutie will bring the cozy vibes all year long.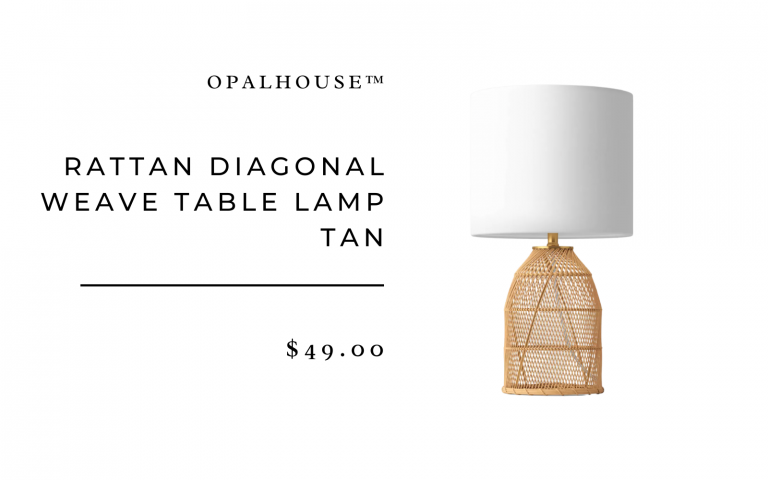 Opalhouse Rattan Diagonal Weave Table Lamp Tan
We've had a thing for rattan lately and this lamp is really going to bring it home.
Threshold Decorative Cane Pattern 8 Sided Open Weave Basket
Okay, I know, it's another basket, but can you blame us? This open weave is just too chic not to include in our round-up and it's only $18. I can see this being a storage solution but also a chic farmer's market carry bag. Who wouldn't want to see veggies and flowers spilling out of this beauty?
Have you noticed any cool décor pieces at Target lately? Share the link with us below.
Loved this post? Pin this graphic to come back to it later.