It shouldn't come as a surprise that I love a good cheeseboard for two (or three or more!) and platter situation. Basically, any excuse for me to deck out a serving tray with all of my favorites is my idea of a dreamy night.
While this Valentine's Day might look slightly different from years past (are y'all just as tired of that phrase as I am?), that doesn't mean we can't make it special! In fact, I think there is something really special about a cozy night in for Valentine's.
Especially as nights in are starting to feel a bit monotonous, it feels extra romantic to setup a date night in the living room or decking out your dining table with some candles and flowers and just having fun with the holiday dedicated to love.
So, for your Valentine's (or Galentine's!) date night in for two, I pulled together the ultimate dreamy cheese plate that doubles as dinner and dessert. Light those candles, put on some tunes, and pour the wine. Things are about to get romantic…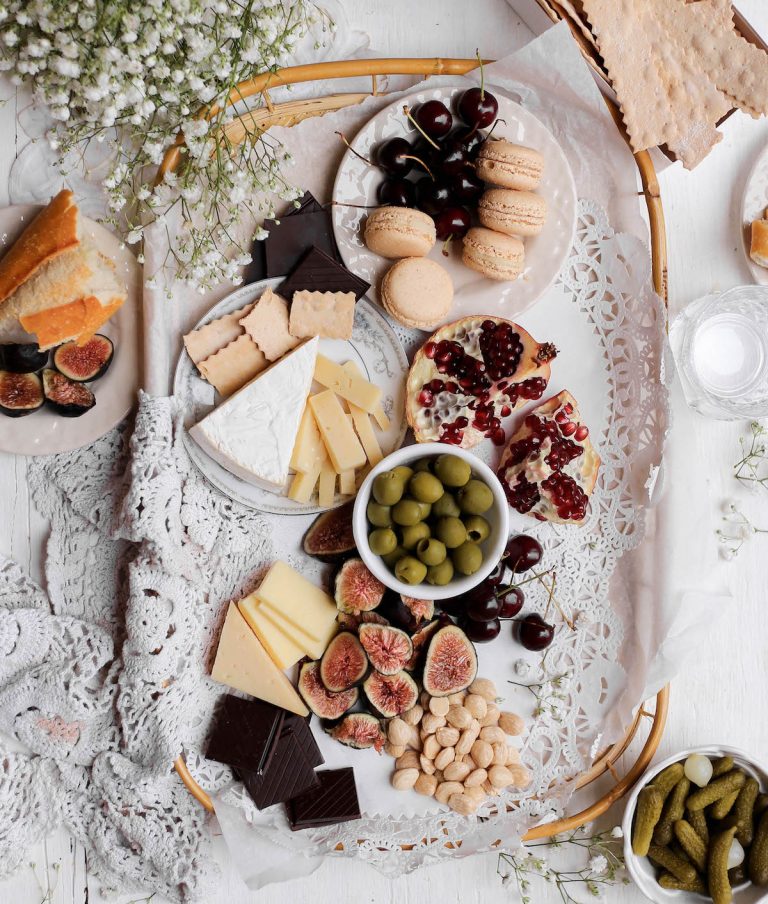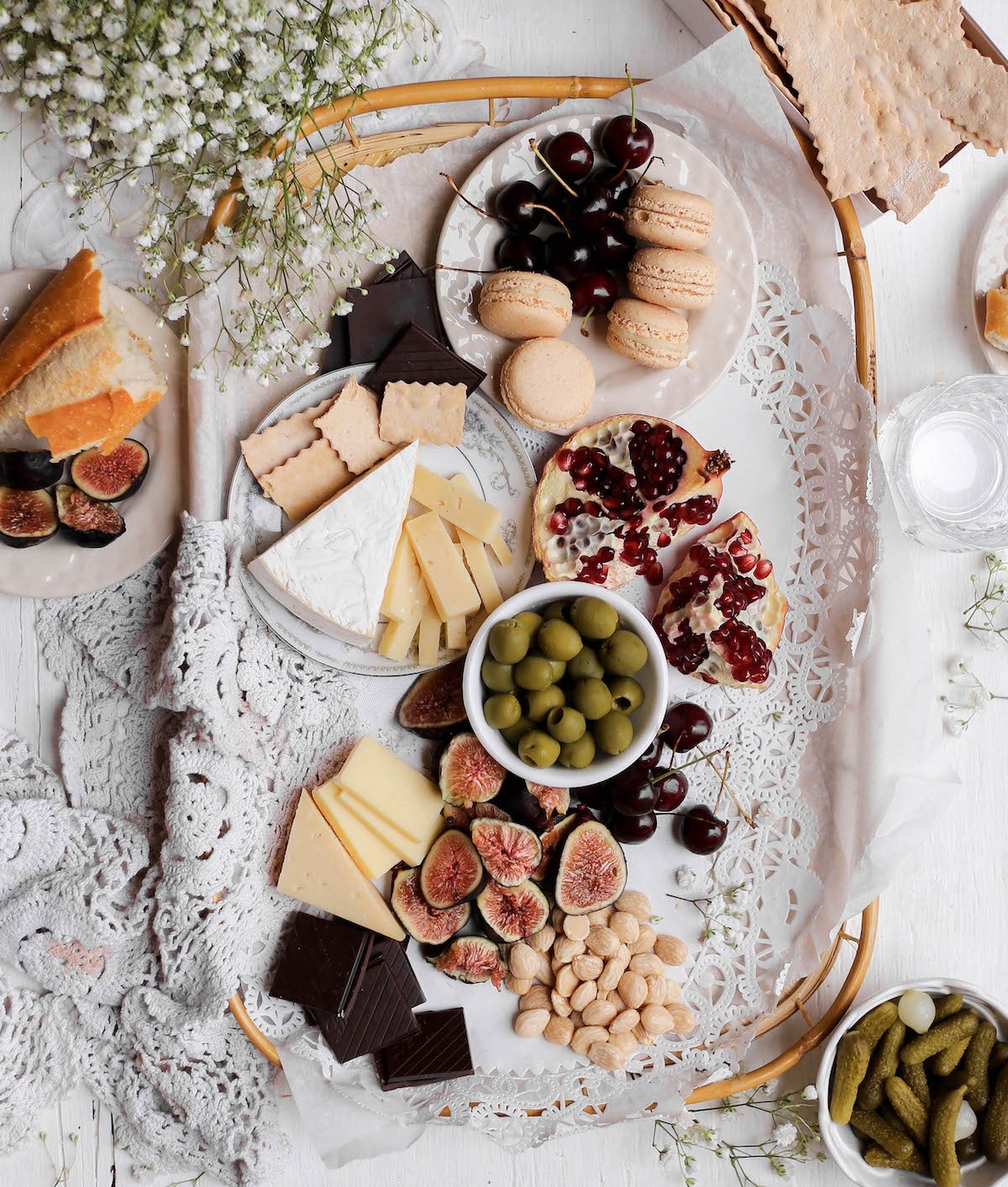 I decided to lean into dreamy and romantic Parisian picnic vibes for my Valentine's cheeseboard for two. It all started as I was digging through the drawers of my mom's kitchen for a platter I could use to serve everything on. And then I stumbled on it: a humble stack of paper and thread doilies that had been pushed into the back corner. Honestly, they've probably been sitting there for ten years at this point, but funnily enough, they remind me of paper cut out valentine's that we used to drop in shoeboxes for each other back in grade school. So I rolled with it and now my mission for the year is to make doilies cool again. Are you feeling it too?
To really build on the picnic vibe, I actually used a large napkin and silverware basket that my mom had in the cabinets, rather than the usual marble platter or cutting board that I would normally use for a cheese plate. Honestly, I might never go back to using a cheeseboard, the basket was just fun and different, and really lent itself to the sweet garden picnic feel, plus, the siding made everything on the basket feel a little more secure with less of a risk for everything to slide off.
Plus, a styling tip: Use small appetizer plates or bowls to section off and gather like ingredients. It adds a little visual interest and helps with the clean up too!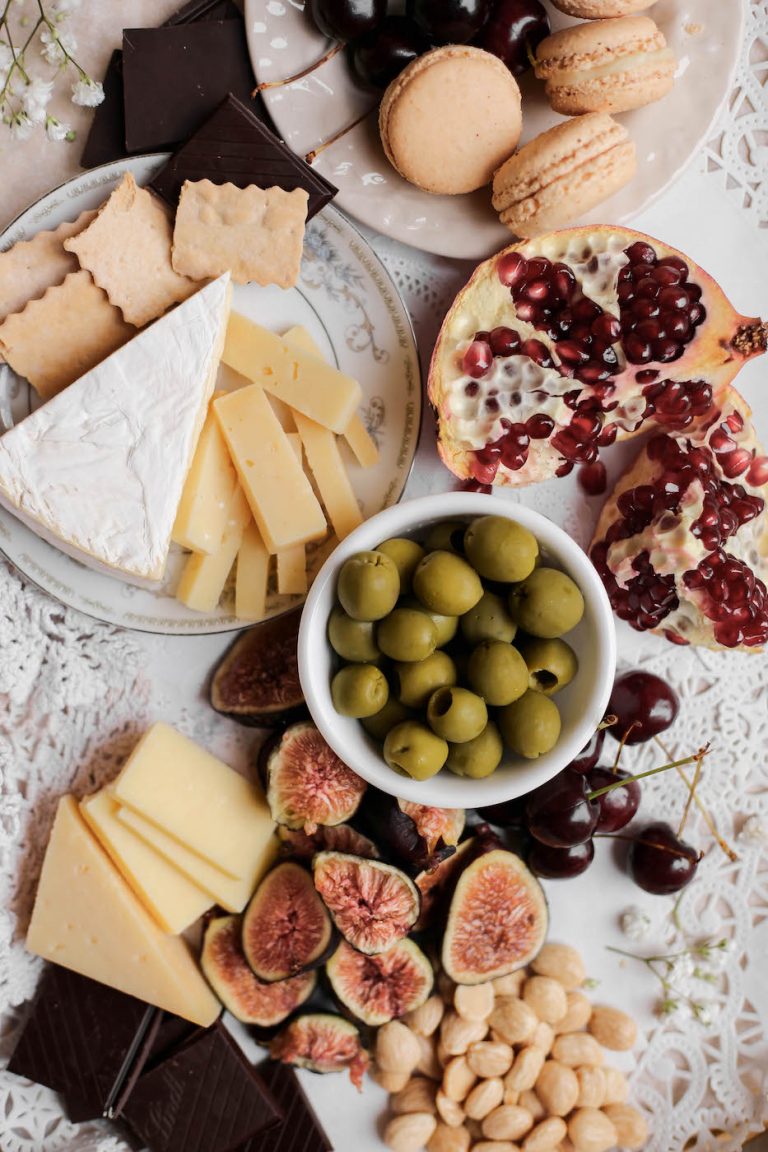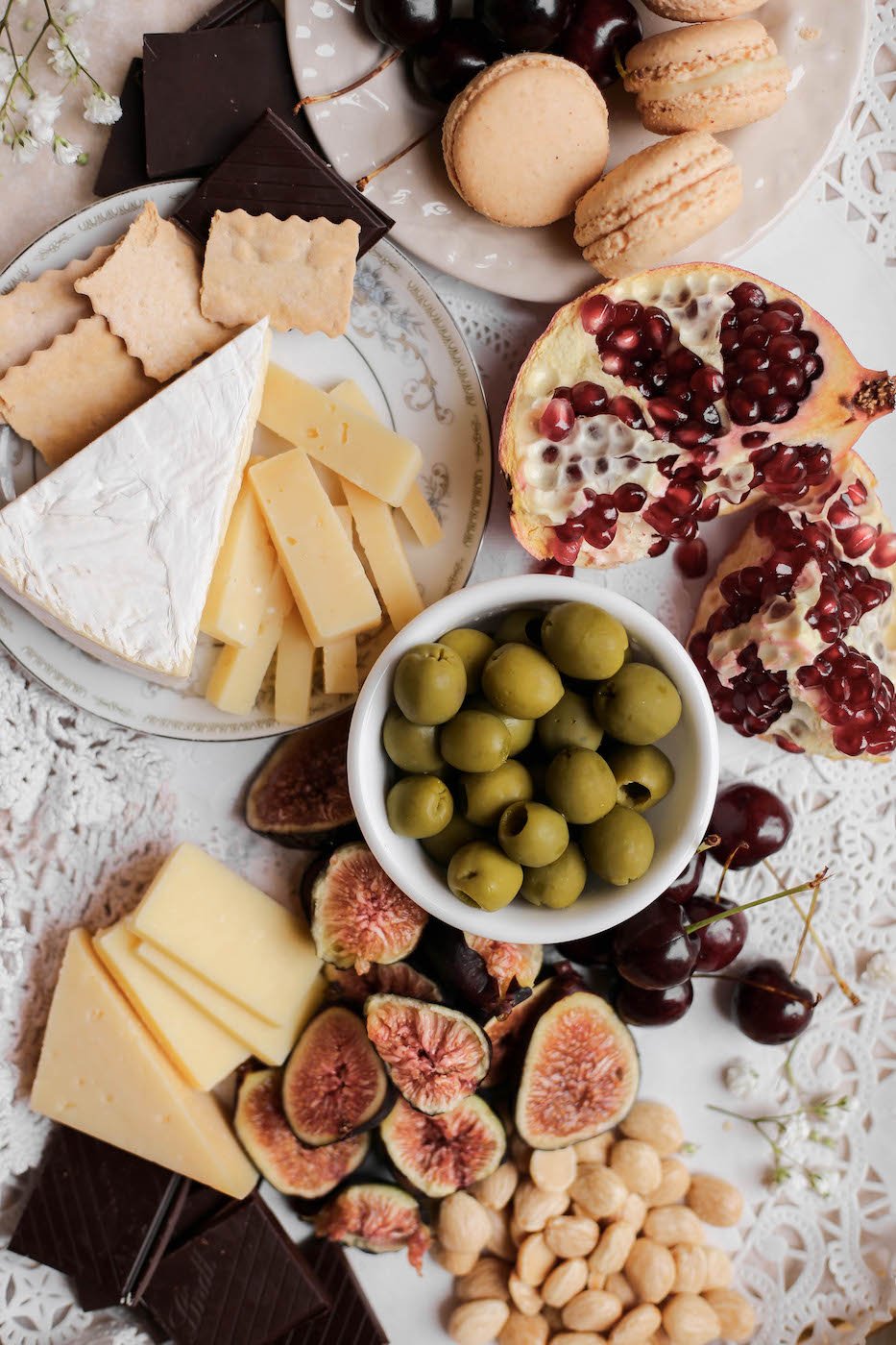 After many iterations of cheese plates, I've learned that less is more. Choose a theme and stick to just a handful of ingredients that center around that.
For this Valentine's version, here's what I went with:
Cheese: I stuck to two different kinds, one soft (a creamy brie) and one hard (a sharp and salty parm).
Fruits: To really play into the Valentine's vibes, I chose all pink fruits that also felt a little romantic, figs, cherries, and pomegranate.
Something pickled: Good old-fashioned Castelvetrano olives or cornichons.
Something salty: My favorite crackers and salted Marcona almonds.
Sweets: This was where things got different from my usual cheese platter. The addition of chocolate and especially the macarons really elevated this platter and made it feel special.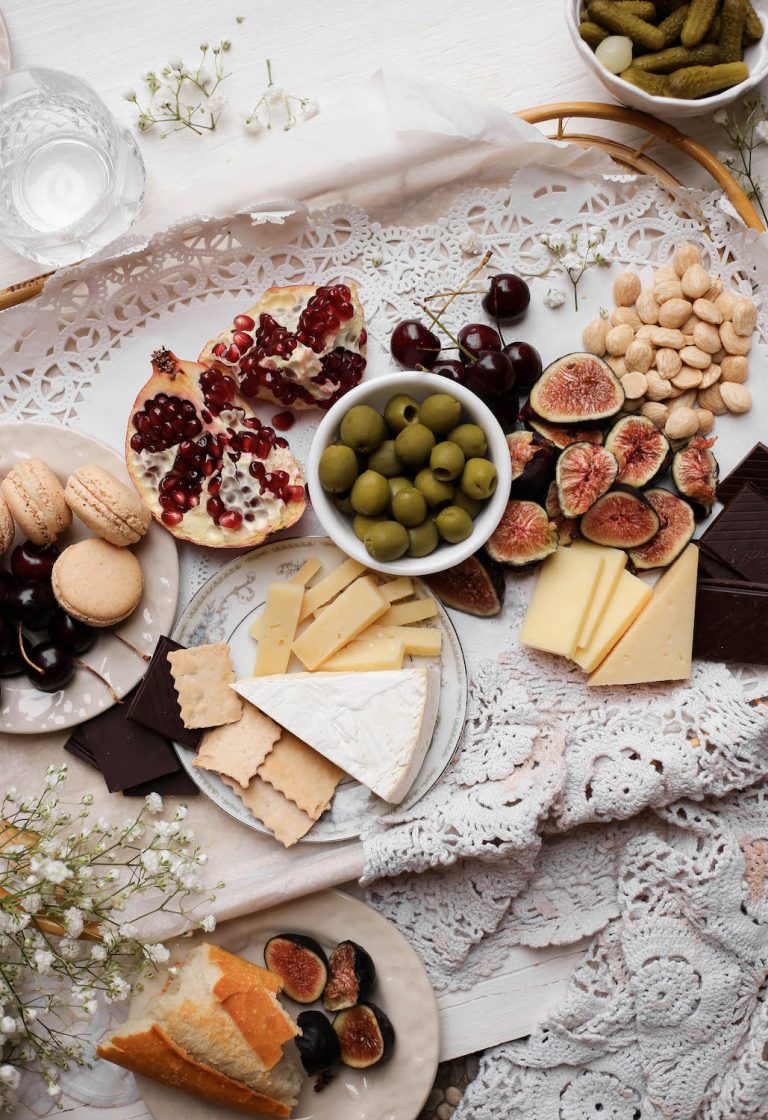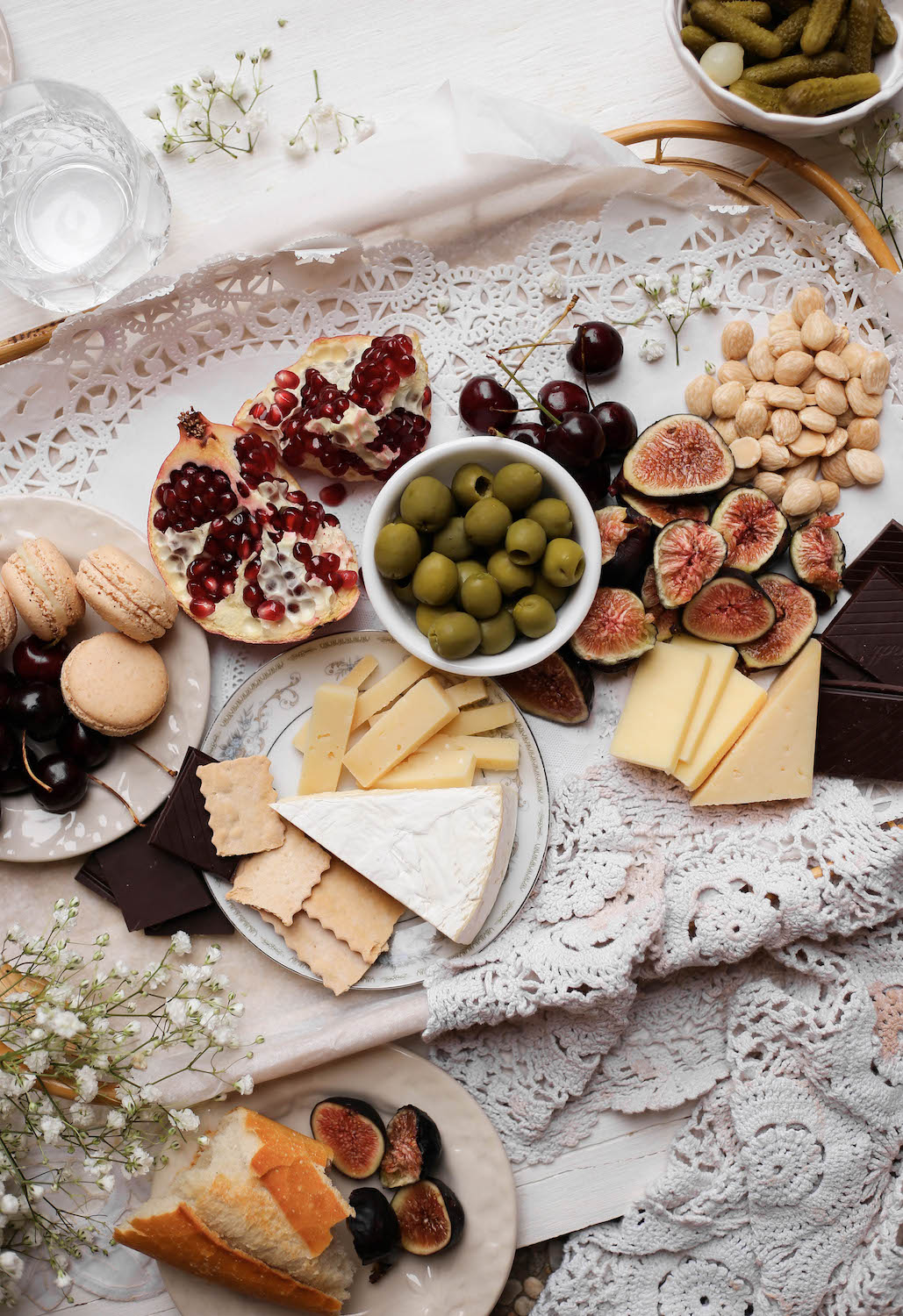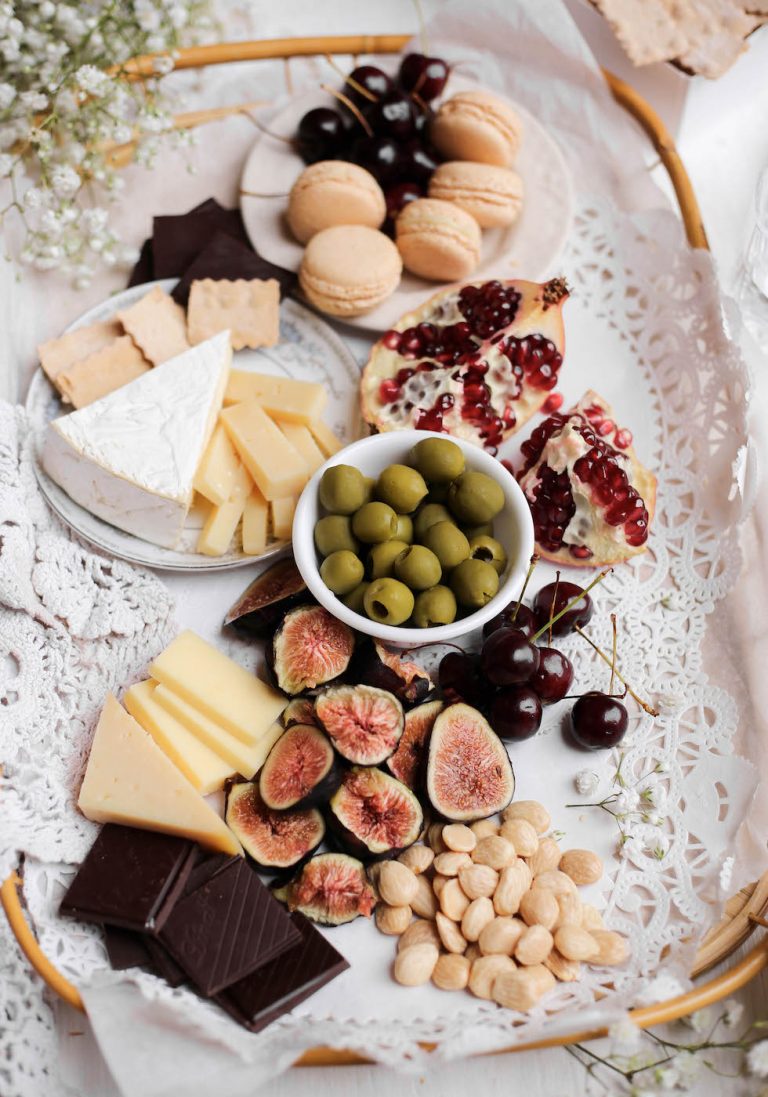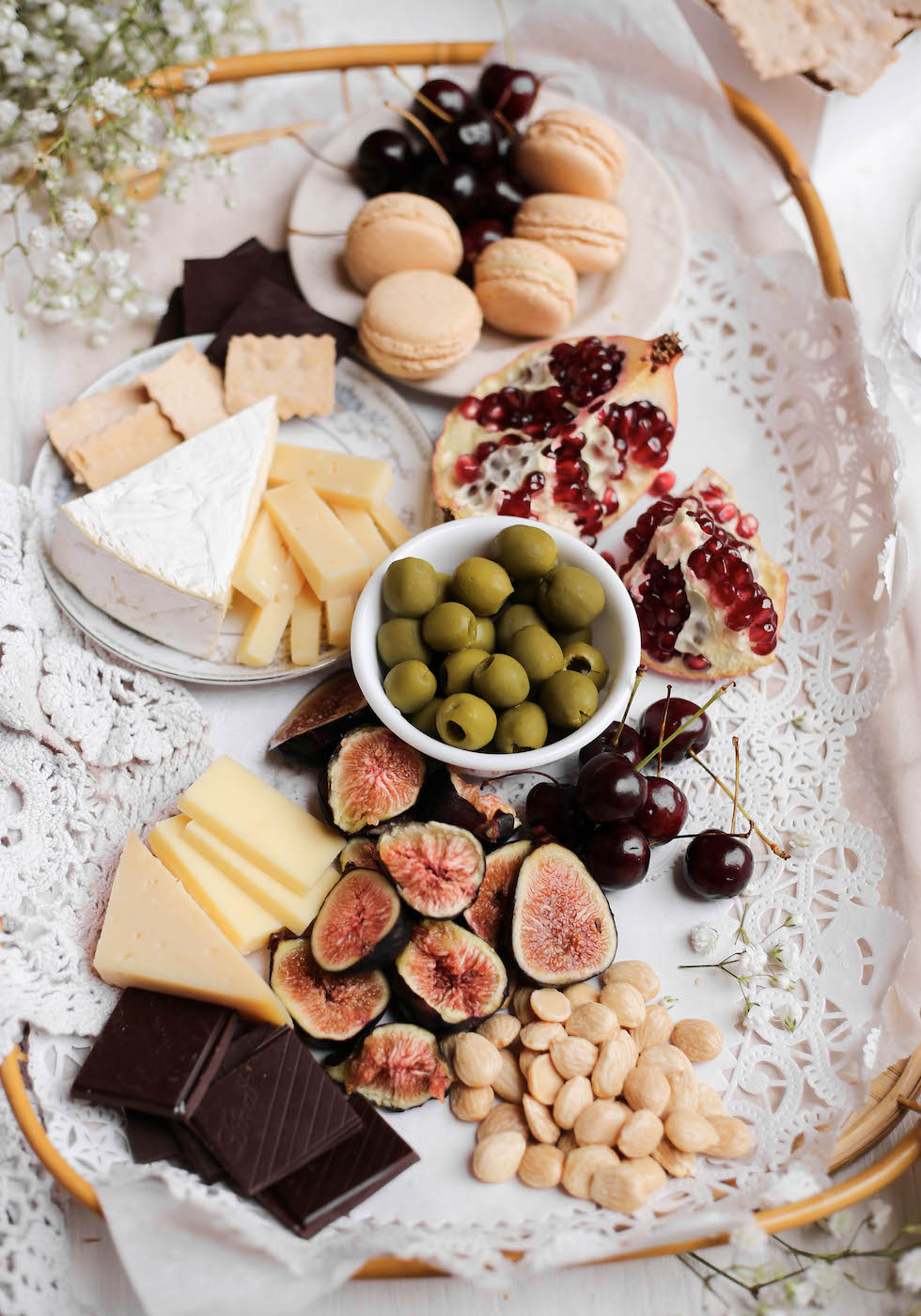 Really do this one up! I know we're all looking for ways to make these days feel special, and surprising anyone in your life with a platter of cheese and accouterments sounds like the most romantic gesture I could imagine.