When it comes to decorating the bookshelves in my home, my philosophy could be summed up as—less is more. It's so easy for open shelves to become catch-alls for all kinds of random tchotchkes and way more books than I actually need to have out on display. We have a lot of built-ins in our home, and I want to genuinely love everything on them rather than blindly following trends or design rules. So, the onset of a new season is always the perfect opportunity to take a fresh approach to my shelves by adding some beautiful new finds—and removing some things in the process!
For today's shelf restyling session, everything I used is from our partner Target, proving once again that a beautiful home does not have to be expensive or complicated. Read on to see how I transformed my shelves for fall, and shop everything below.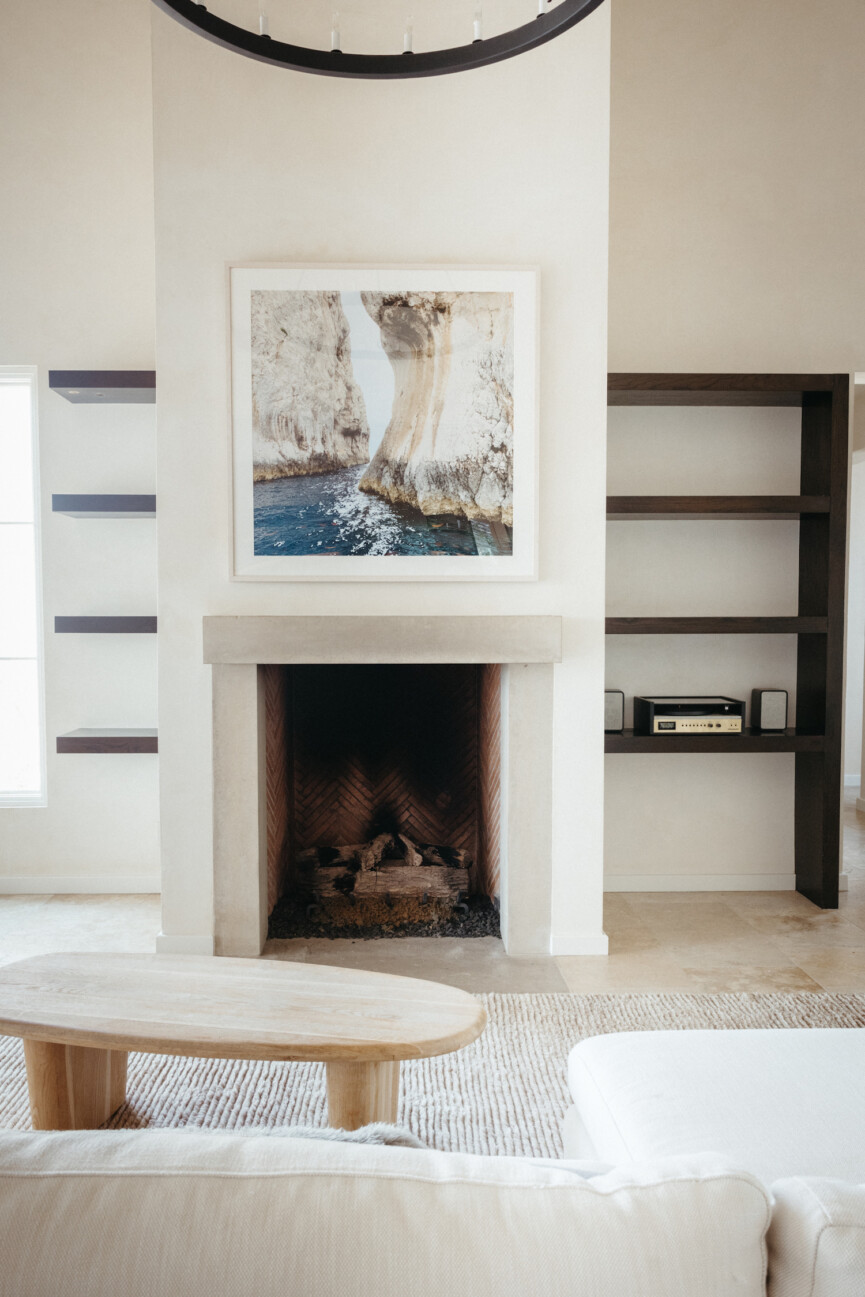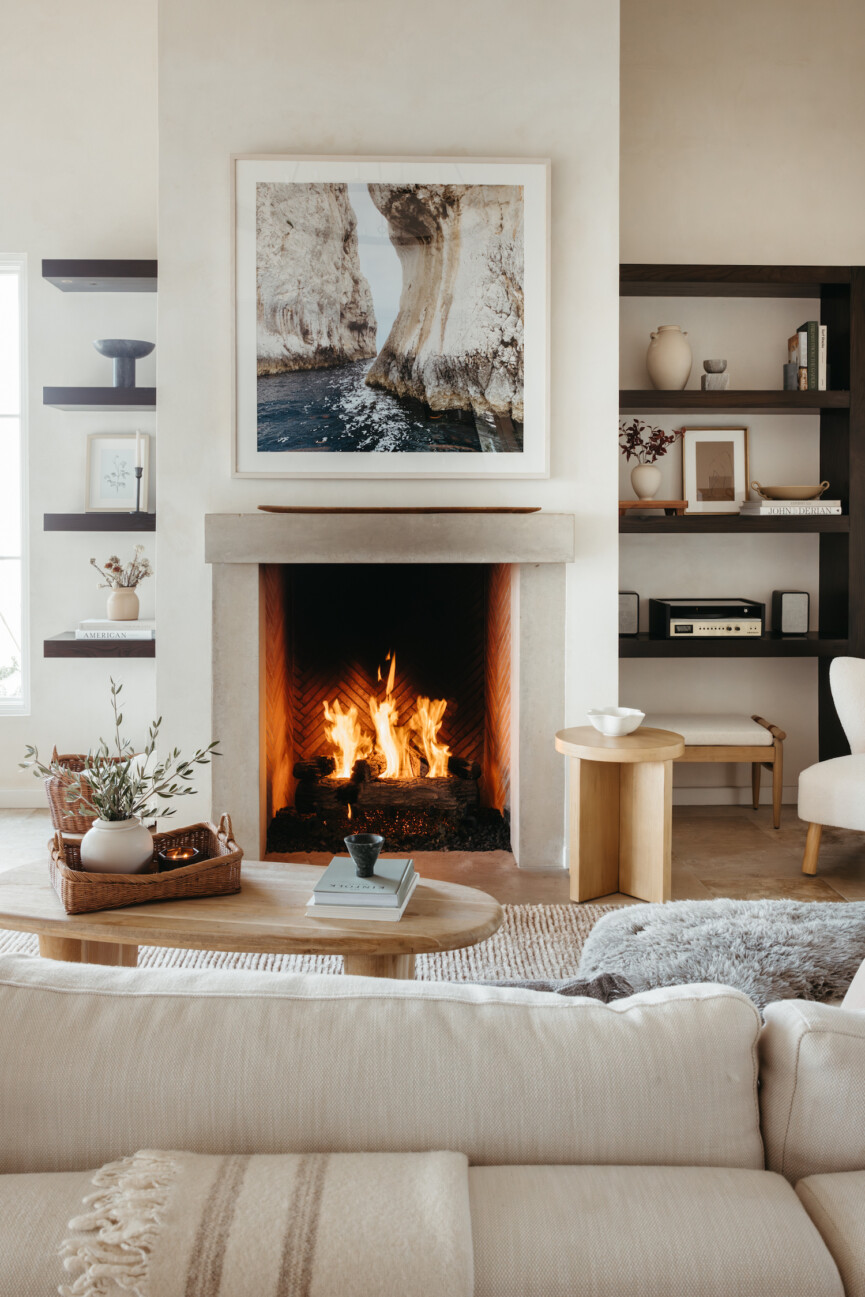 Neutral, Minimal Shelf Styling for Fall
Whenever I redesign my bookshelves to welcome a new season, I take a somewhat minimalist approach to spotlight the items I really love. The more clutter, the more my personal style gets lost in the mix! I want to achieve that feeling of abundance but with less stuff, and for my spaces to feel open, simple, and expansive. That means that every time I add something to my shelves, I also try to take away one item and stash it, donate it, or move it to somewhere else in my home.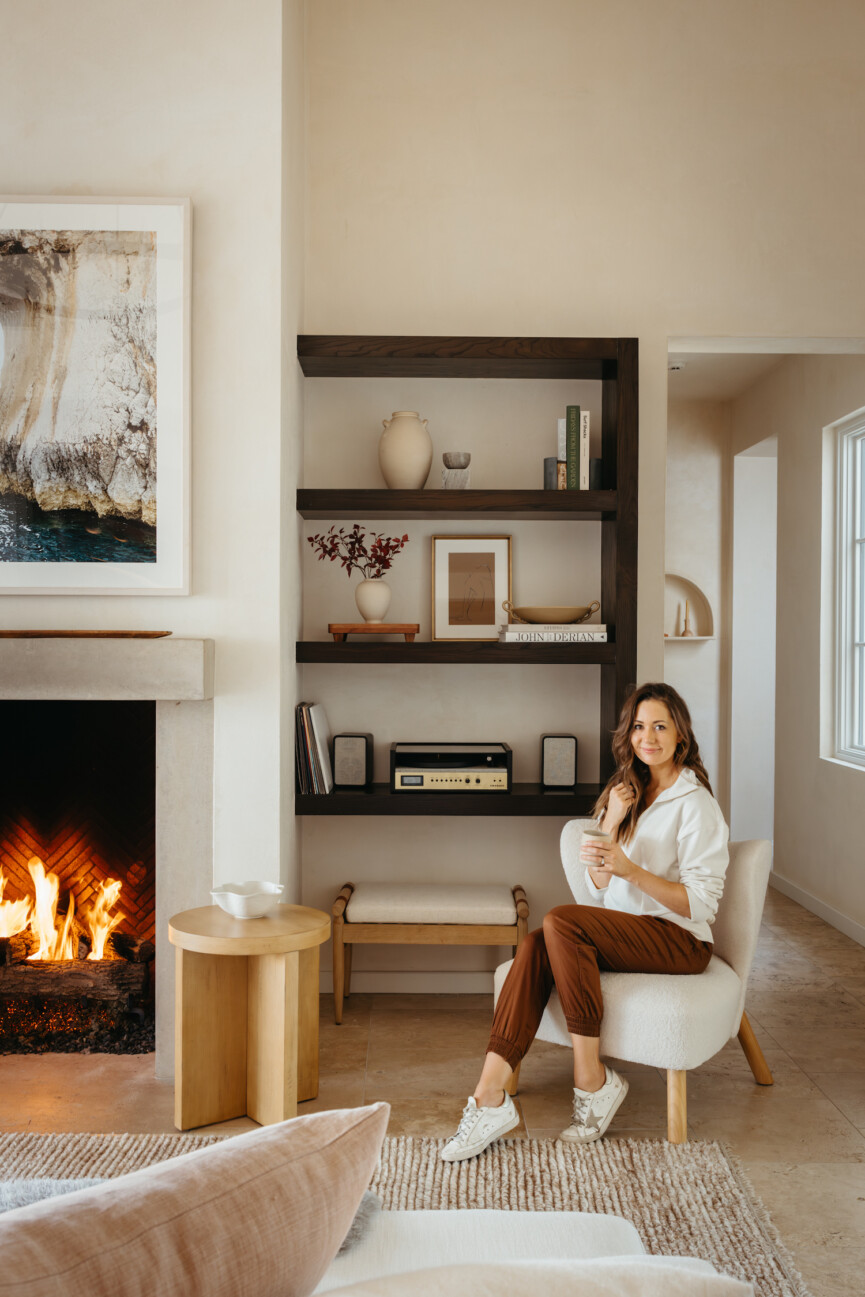 Warm Minimalism
A minimalist aesthetic sometimes gets a bad rap as feeling cold or spare—and it absolutely doesn't have to! My design approach is based on "warm minimalism," meaning it incorporates lots of texture and materiality to make my home feel cozy. I've found that when I have less stuff, I often discover more joy in the things I do have. It's an approach that doesn't rely on trends; rather it's slowly building a collection of pieces that speak to you, being thoughtful about each of your purchases.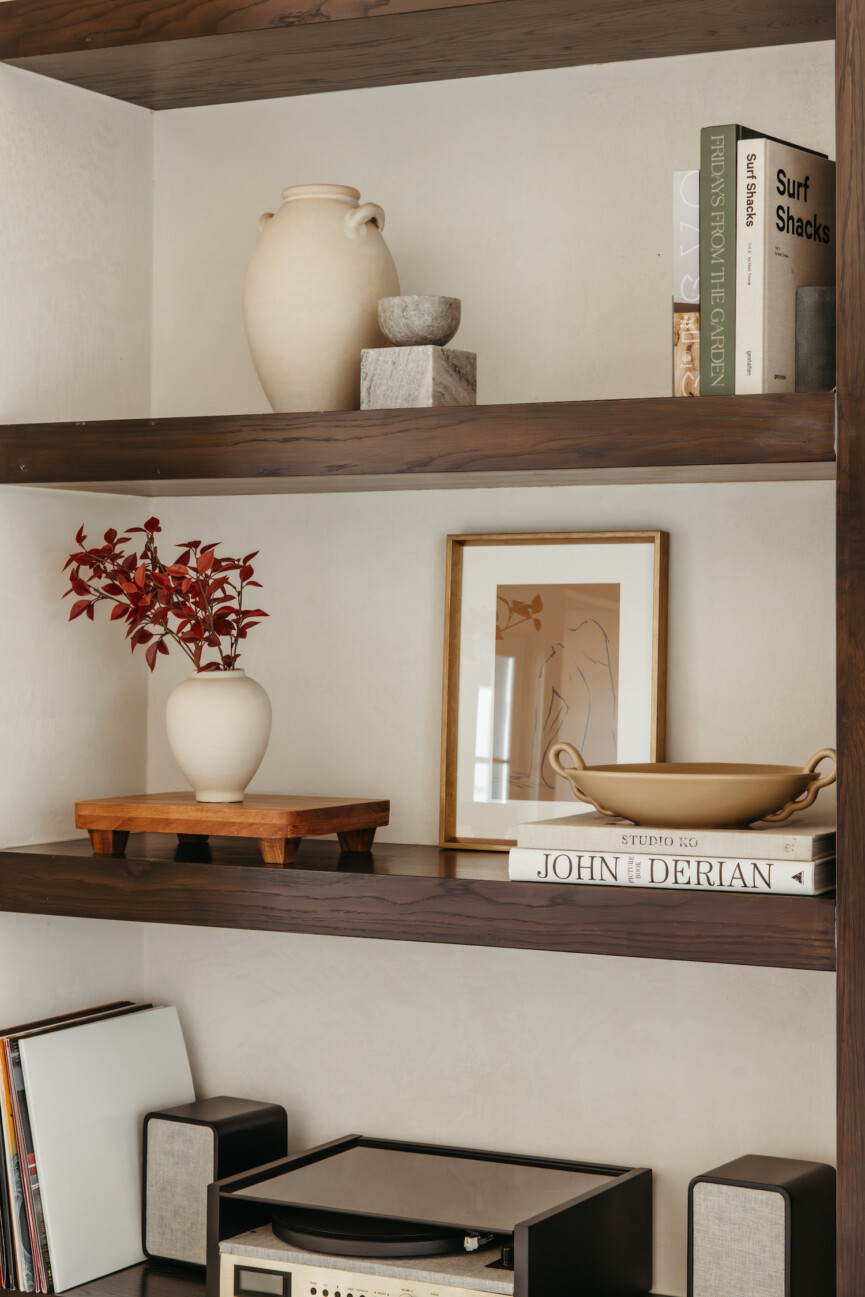 Embrace the Seasons
Your bookshelves are a really great place to transition your home with the seasons, whether you want to make them feel lighter and brighter in the springtime or cozy them up for fall and winter. Today, I'm restyling my shelves for fall, bringing in some darker, moodier tones and lots of texture, while leaning into the minimal neutral color palette I love.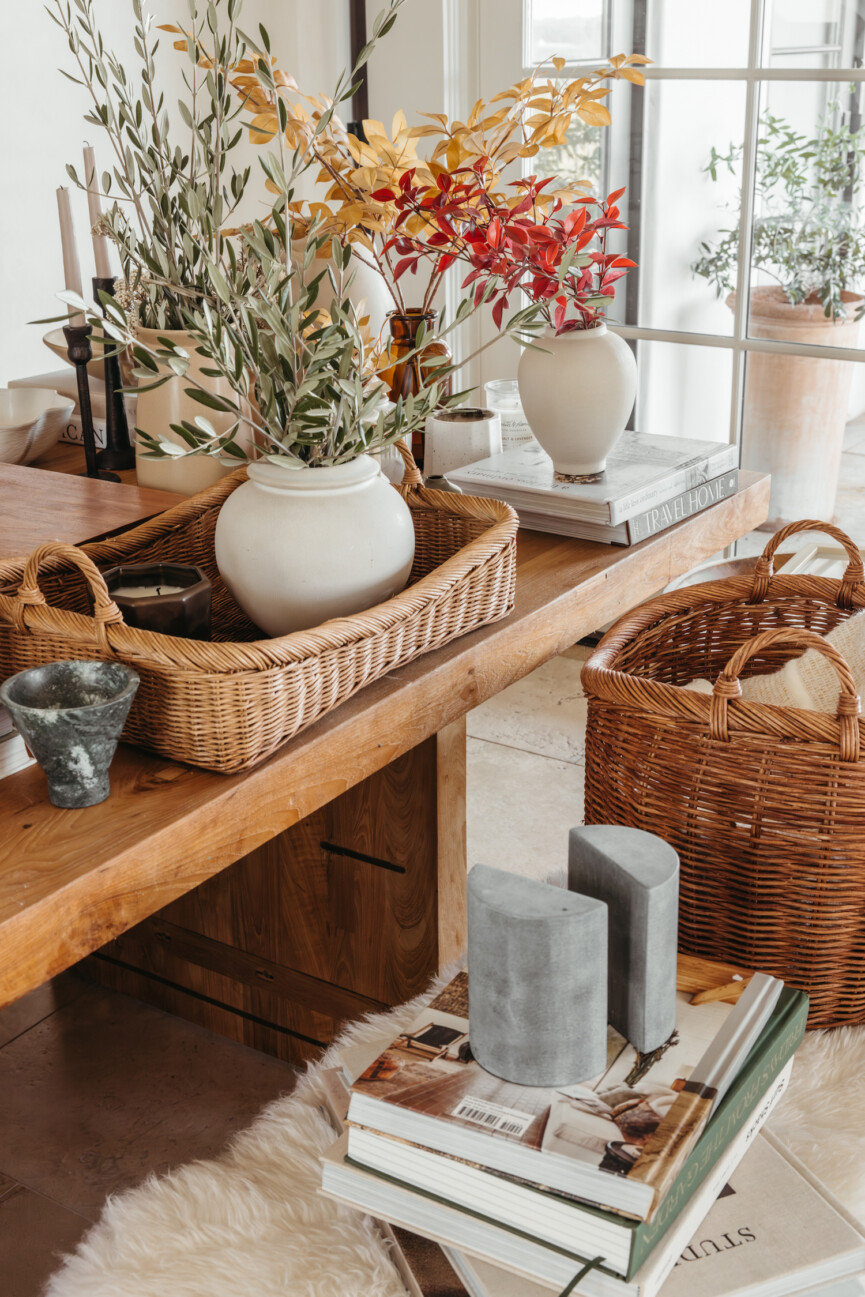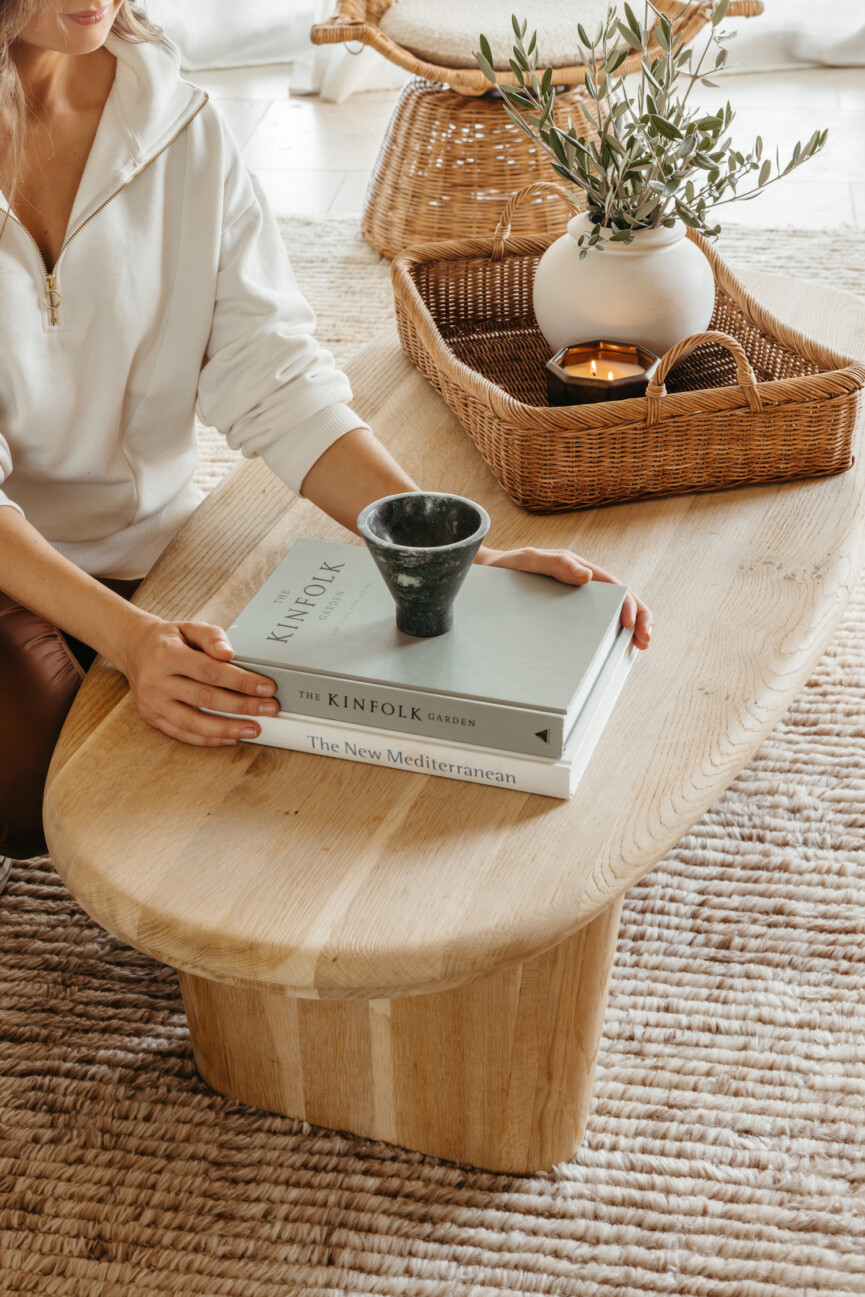 First, Lay It All Out
The first thing I do is take every single item off my shelves. Before we add anything back on, we're going to lay all of my pieces on the ground or a table so I can see what I want to add back in, what needs to go, and then which new items I want to add to the mix.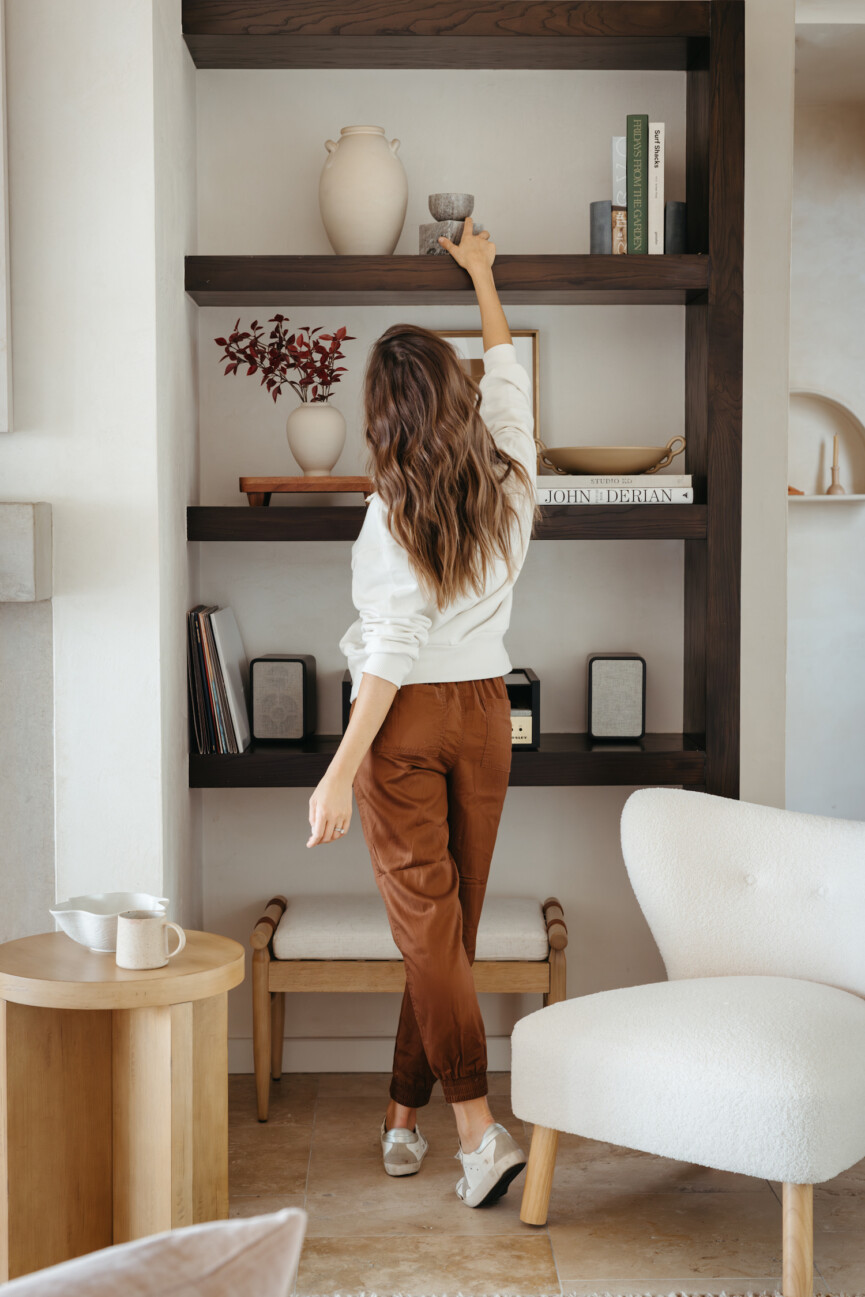 Then, Move Things Around
I want to reshuffle and try different items together to get a visual sense of which pieces pair well together before I start putting them back on the shelf. Once I've got my favorite groupings together, I start adding them to the shelves and experimenting. The key here is to move, arrange, shift, and play with the pieces until you feel good about the arrangement. There are no rules here, just tap into your gut and let your heart lead the way.
If you start second-guessing yourself, one strategy that never lets me down is to step back and take a photo to see it all together. Something about seeing an image gives me a new perspective that shows me those pieces I want to rearrange for the final look.
Create a Focal Point
On at least a couple shelves, use one larger statement object that draws the eye to it. This will anchor the entire scene and give the eye something to hold onto.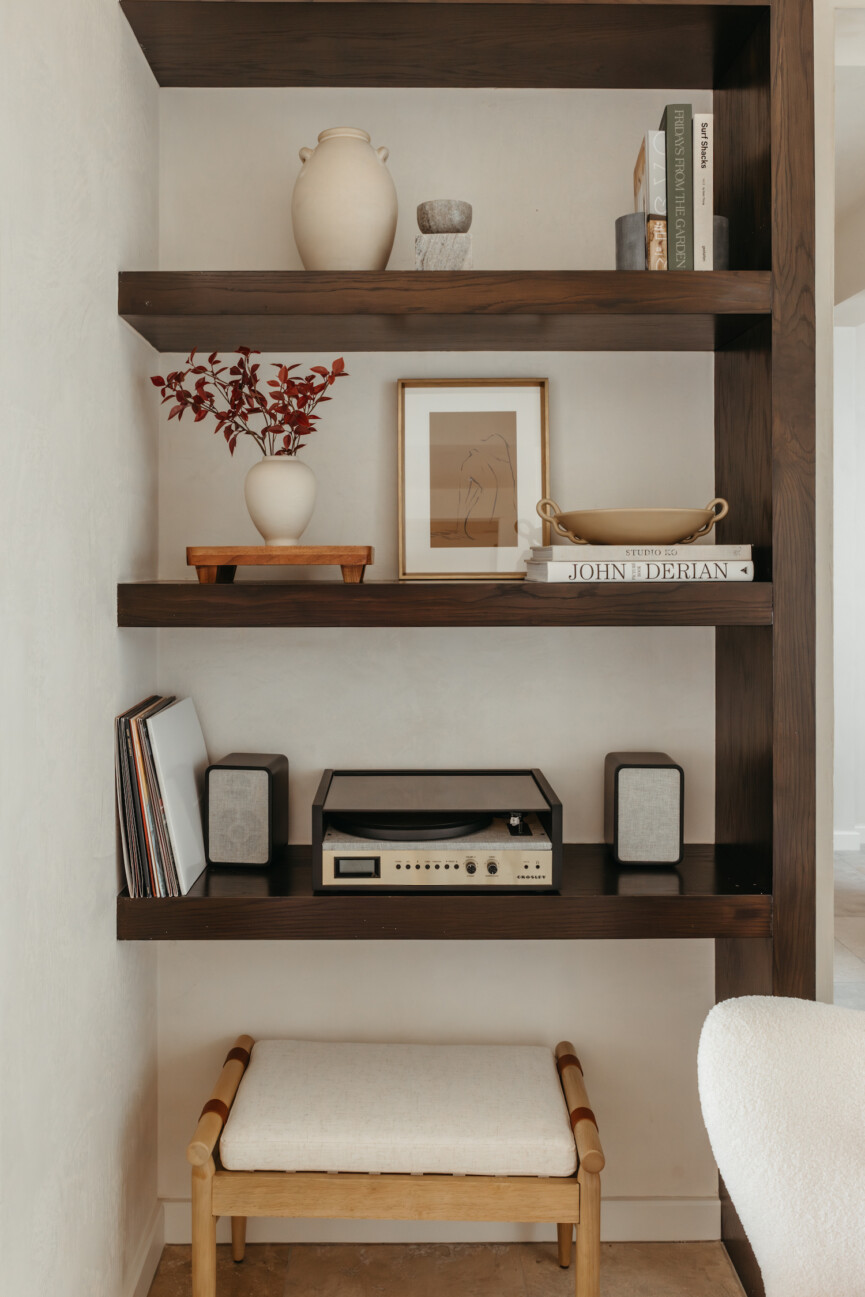 Create Interest Through Height and Movement
My biggest tip is to play with varying heights and shapes for balance and asymmetry. If one shelf has a stack of books, on another shelf, you can lean them vertically. Make sure that the shelves next to each other aren't too matchy. And while you definitely want those bigger statement pieces, you don't want too many large objects or your shelves can quickly become heavy. The goal is to create lines of movement that keep the eye exploring, instead of becoming stagnant and stopping on just one shelf.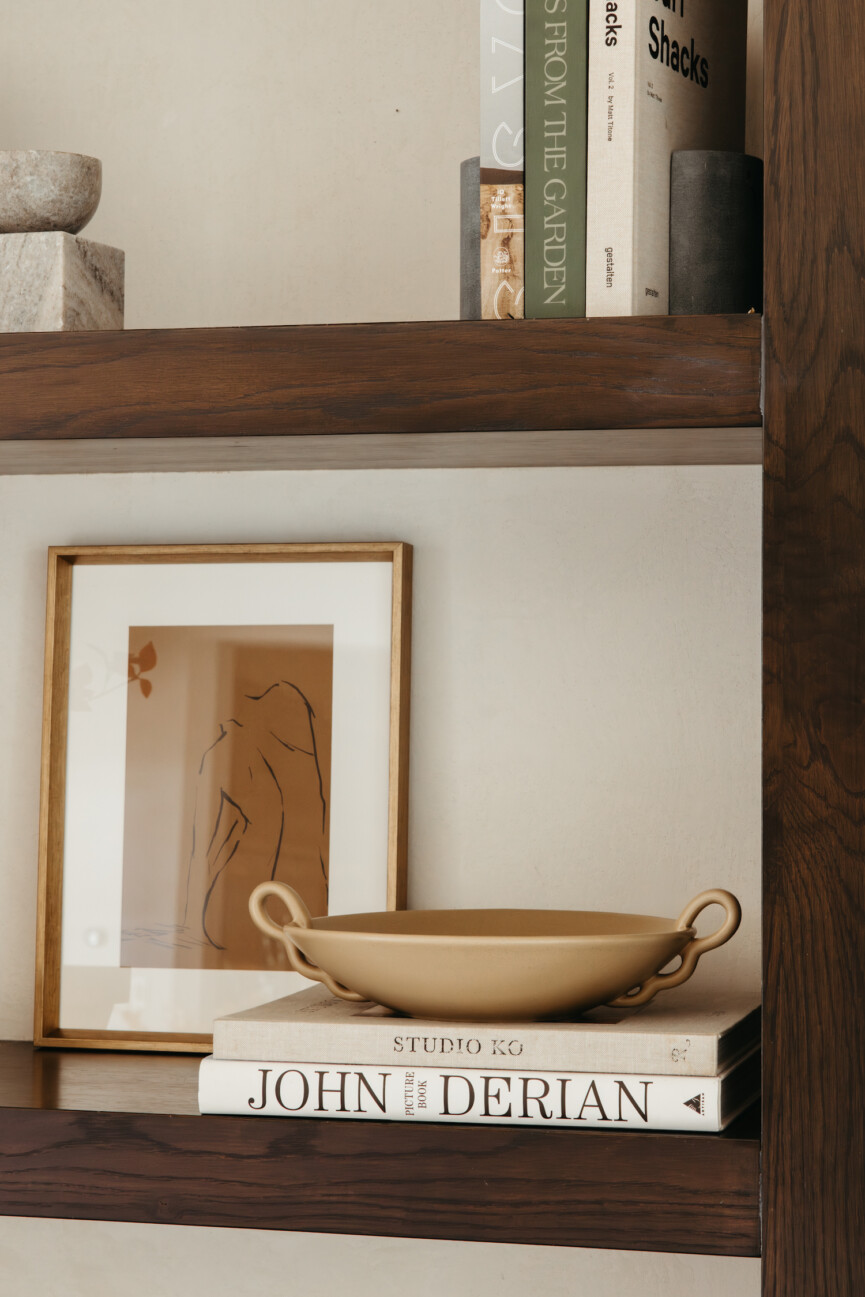 Think Outside the Books
Yes, bookshelves house books, but they're also a place for decor and expressing your personal style. Wander around your house and collect a sculpture or art piece that you can lean on a shelf. Grab a beautiful ceramic bowl from the kitchen. Pull in a mirror from the bedroom. Get creative and balance form with function by adding items to your shelves for no other purpose than the fact that you love them.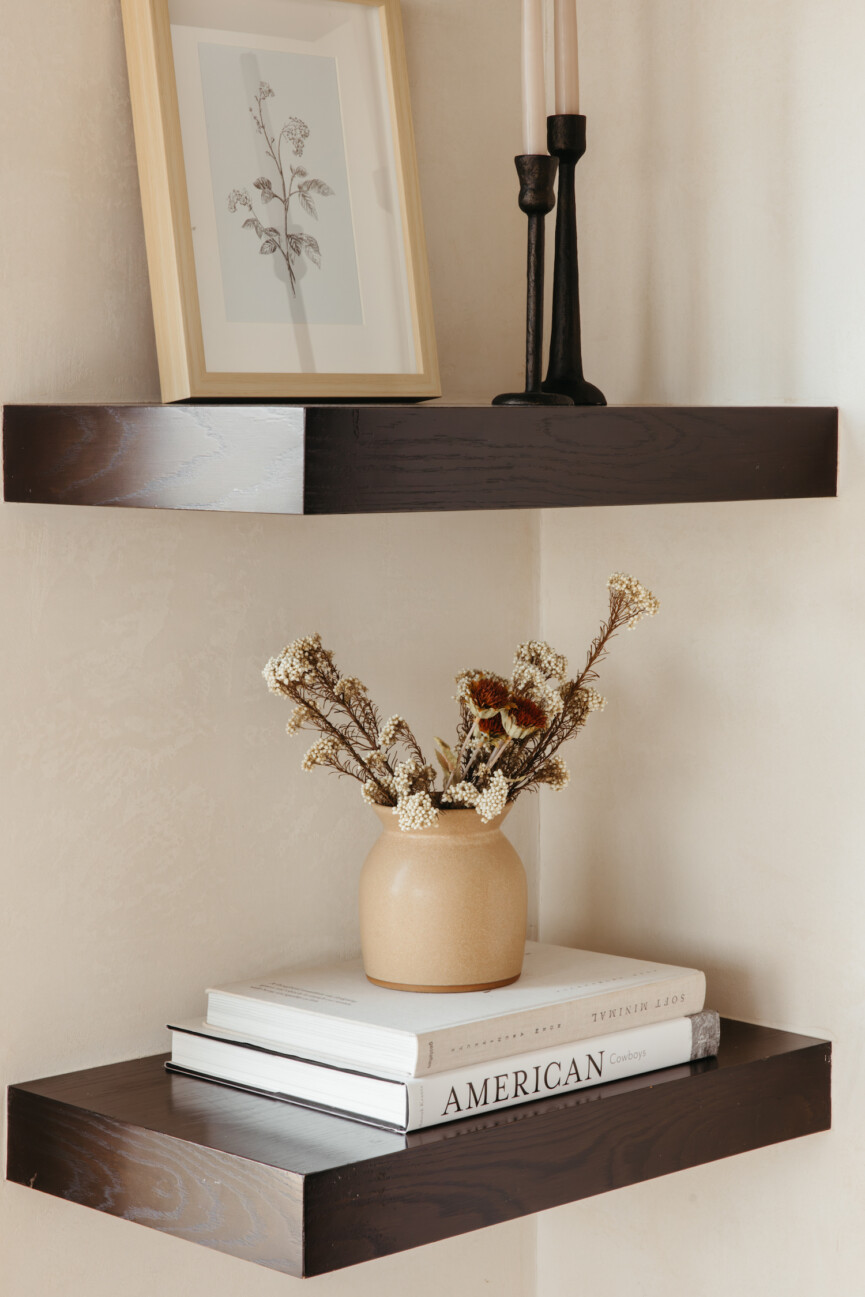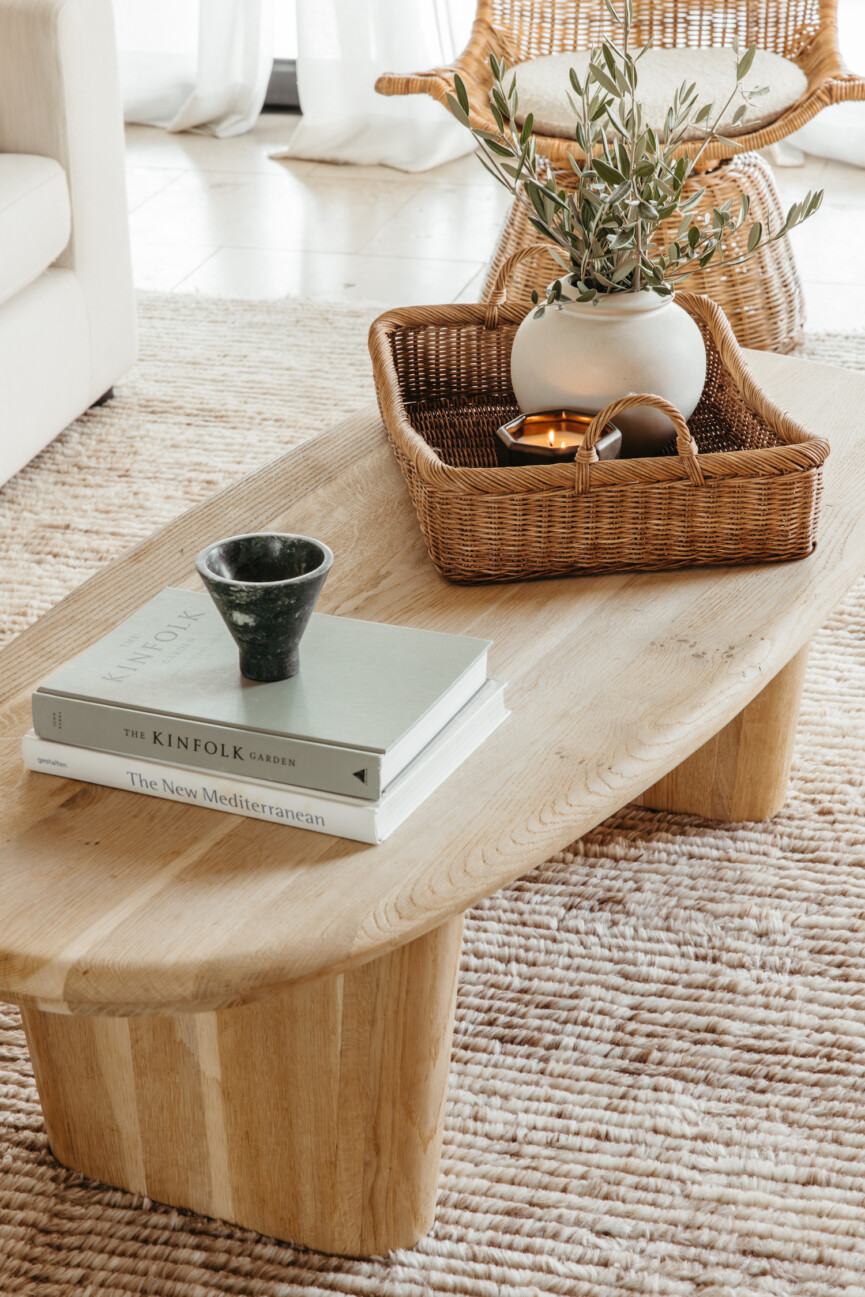 Bring in Natural Materials
We all instinctively respond to the beauty of nature. The sound of the ocean or a river has been proven to change our brain waves' frequency and put us in a more meditative state. At home, I'm always looking for ways to harness these wellness-boosting cues by choosing pieces for the house that bring the outside in. I usually stick to an earthy color palette, and I incorporate as many natural materials as possible–terra cotta ceramics, woven baskets, and wood furniture create a beautifully textured effect.
When You Think It's Done—Remove Something!
A little restraint goes a long way to achieve a calming, minimalist aesthetic. It can be tempting to layer on all the family photos, books, and trinkets, but as Coco Chanel always said, ""Before you leave the house, look in the mirror and take at least one thing off" and I think the same holds true for your shelves. Don't overcomplicate it—trust your aesthetic and allow the pieces you most love to really shine. Simple is often best.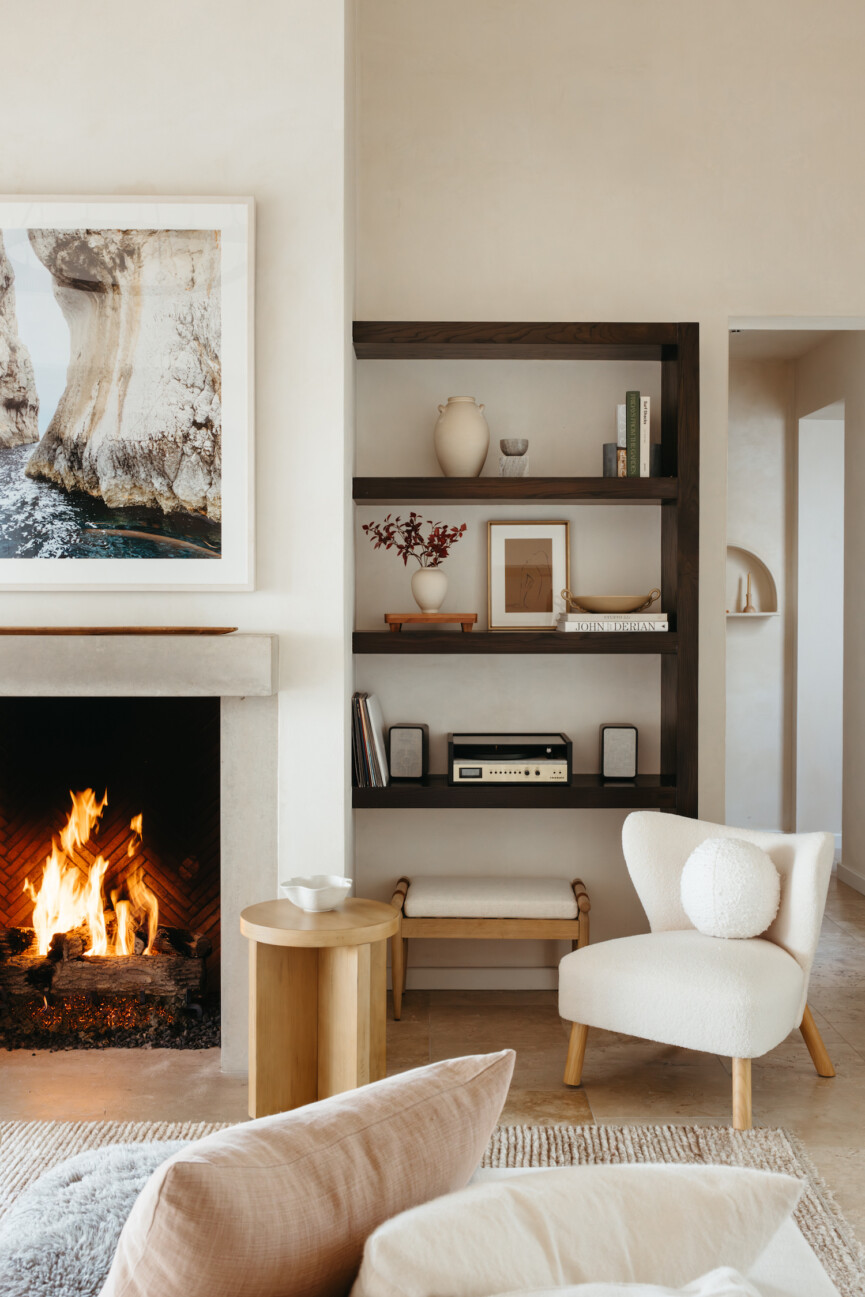 Let Them Evolve
Embracing the fact that our homes are ever-changing and never "done" relieves the pressure of making everything perfect from day one. I'd rather slowly choose the pieces that speak to me, even if that means leaving a little breathing space on my shelves until I find that just-right vase or piece of art. It's not about impressing anyone, it's about connecting with our authentic selves and letting our homes evolve right along with us.
You can shop the entire look on my Target storefront, where you'll find all of my favorite Target buys for every space.
This blog post is sponsored by Target and contains affiliate links. If you purchase through these links, we may earn a small commission at no additional cost to you. Your support helps us continue providing helpful content.