After we stepped inside Camille Styles' jaw-droppingly beautiful kitchen this week, the first thing we all asked her was; "you have to do a story with your must-have kitchen tools!" We just knew that once you saw the stylish open shelves, decorative pieces on her kitchen counter, and cutting-edge appliances, you'd want to know who makes them and how to get your hands on them.
So, we quizzed Styles for her list of kitchen essentials featured in her recent makeover and as expected, it's not a small list, but we figured you'd want to know about every piece as we did. Read on to discover all of her must-haves and add to cart or wishlist! Then be sure to let us know in the comments what kitchen tool/s has changed the way you cook.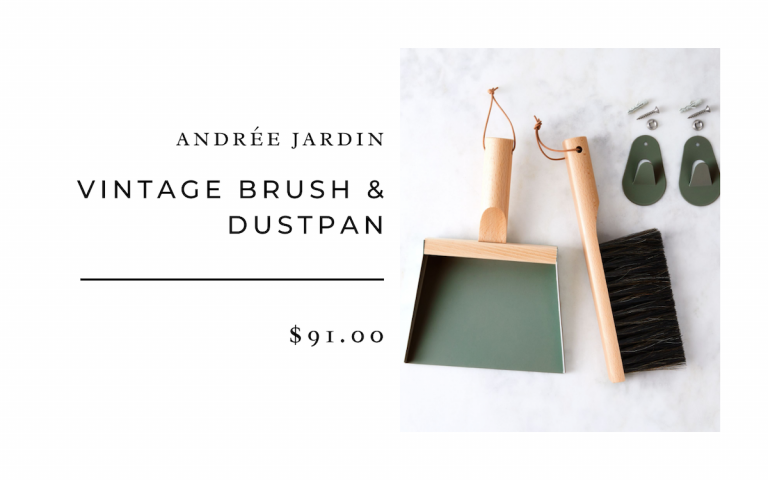 Andrée Jardin Vintage Brush & Dustpan
One way to encourage yourself to clean is by making sure the cleaning tools are so stylish you'll want to use them. Case in point, this divine brush, and dustpan. How can you resist?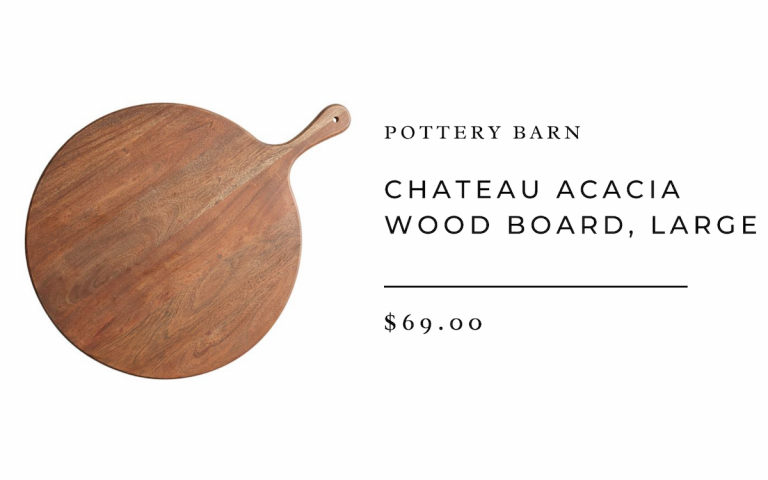 Pottery Barn Chateau Acacia Wood Board, Large
When we first spotted this stylish round cutting board at the back of Camille Styles' kitchen, the entire team asked her who makes it so we can all get our hands on one too. The beauty of this board is that it looks good when you're not using it and it just gets better with age.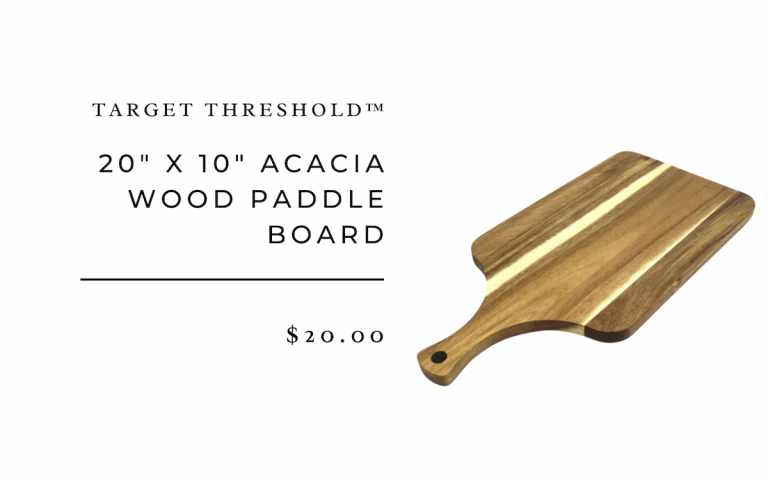 Target Threshold™ 20″ x 10″ Acacia Wood Paddle Board
When you need a cutting board that is a little. more robust, reach for this affordable and stylish version from Target.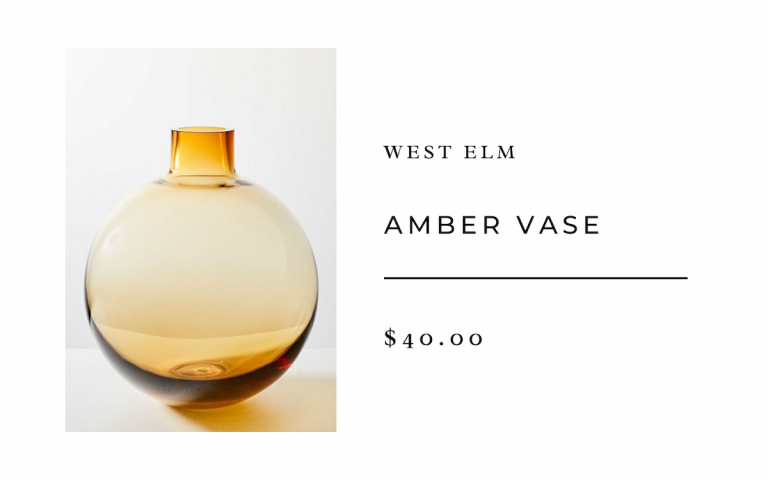 West Elm Amber Vase
This amber hue is the perfect subtle color to break up your neutrals and add some warmth to a white kitchen.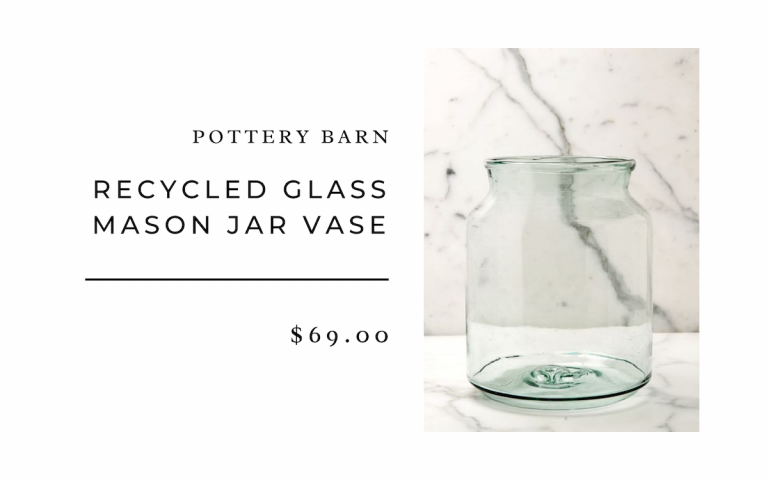 Pottery Barn Recycled Glass Mason Jar Vases
You can never have too many mason jars IMO. This recycled glass version looks antique so it looks extra pretty on your open shelves.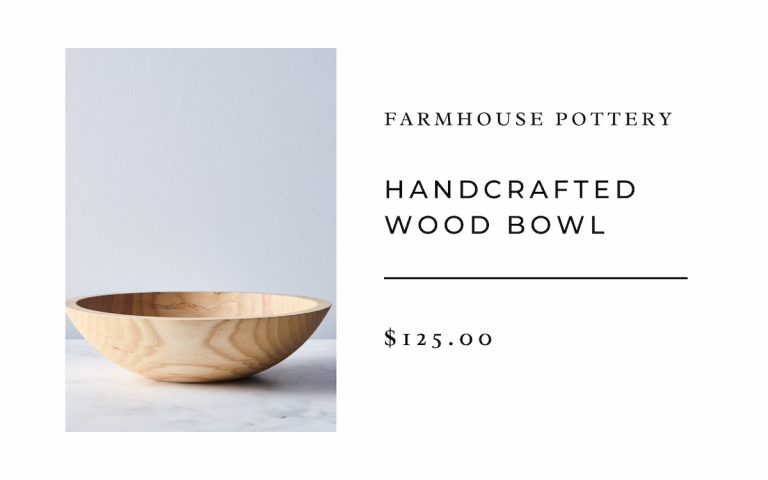 Farmhouse Pottery Handcrafted Wood Bowl
Wooden bowls are a great way to style citrus or fruit on your kitchen island or counter and they add texture and warmth to the design.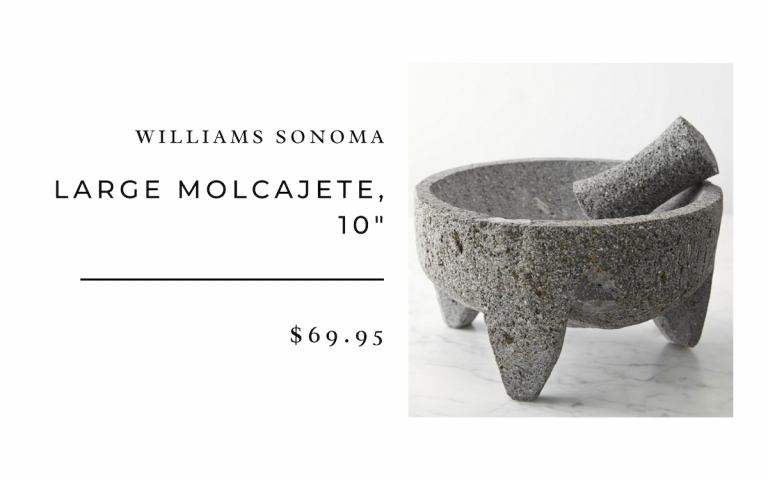 Williams Sonoma Large Molcajete
Camille believes every kitchen should have a molcajete. You don't know how much you need one until you invest and then there's no looking back—trust us on this one!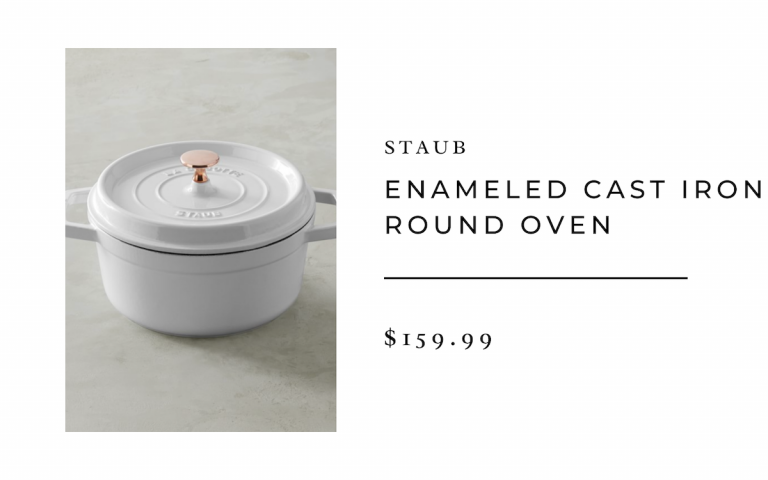 Staub Enameled Cast Iron Round Oven
We've never met a Staub product we didn't love. They look beautiful, they cook everything perfectly, and they last for years—win, win, win!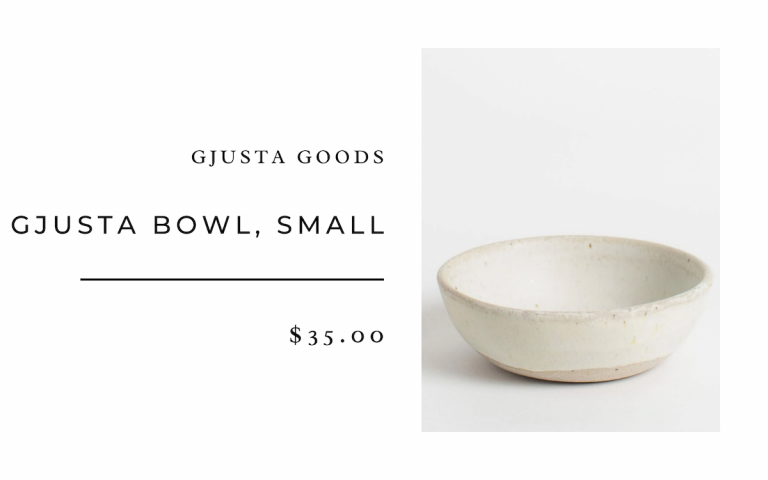 Gjusta Goods Gjusta Bowl Small
One of Camille's favorite places to shop (and eat) is Gjusta. This small bowl will add a stylish touch to any kitchen.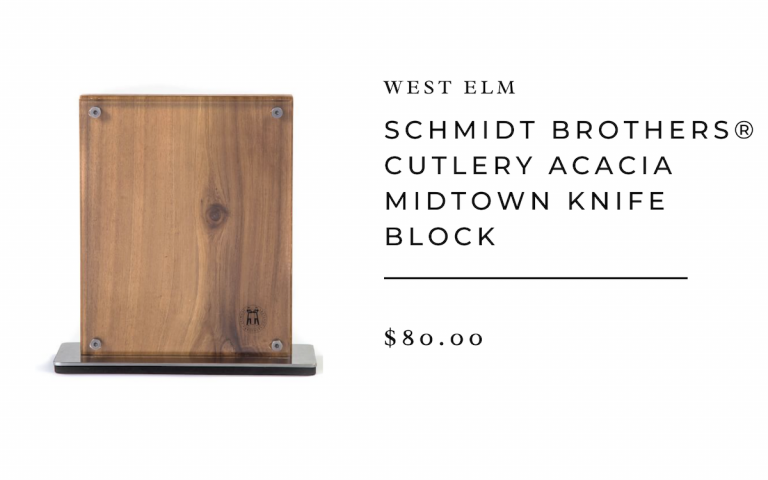 Schmidt Brothers® Cutlery Acacia Midtown Knife Block
Every kitchen needs a knife block and this one looks as good as it works—really!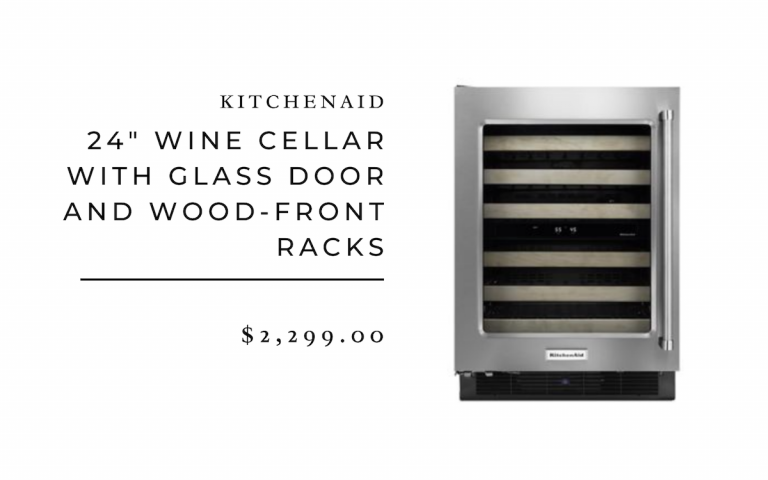 24″ Wine Cellar with Glass Door and Wood-Front Racks
Okay, so this one is a major investment, but if you really want to take your kitchen to the next level, this KitchenAid wine cellar will do it. There's nothing more magical than opening one of your favorite wines from a special occasion or anniversary years later and savoring the moment.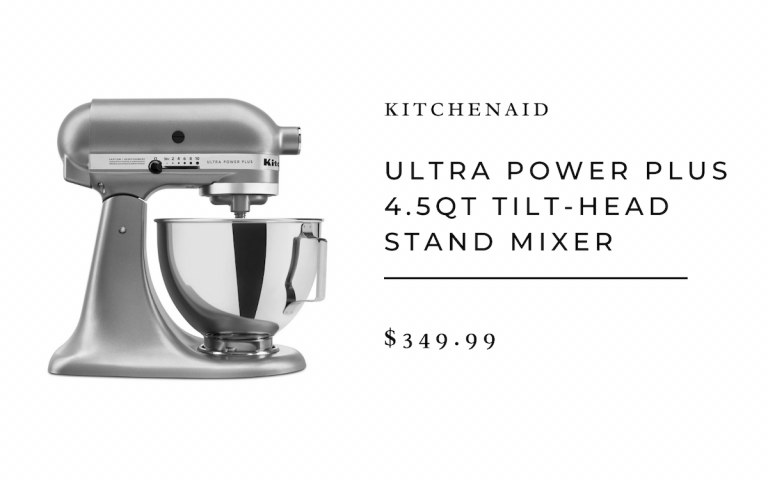 KitchenAid Ultra Power Plus 4.5qt Tilt-Head Stand Mixer
Did you know that you can shred chicken breast with your KitchenAid mixer? Don't believe us? Watch Camille do it in her chicken tortilla soup recipe IGTV video. Two words: game. changer. Kitchen tools don't get much better than this.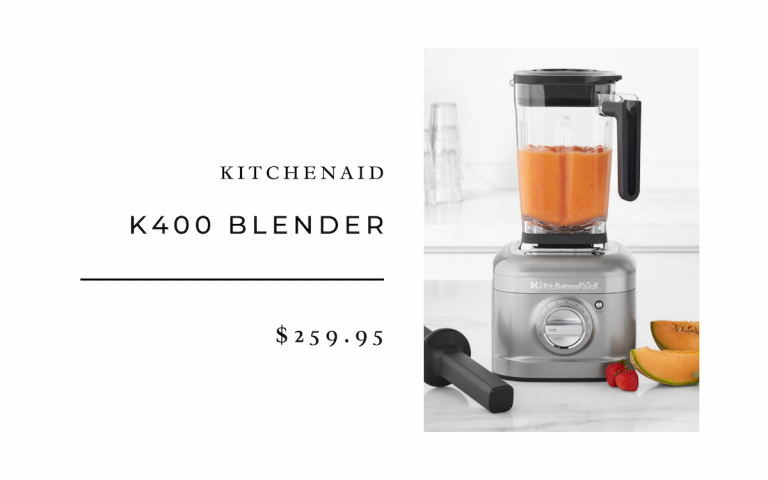 KitchenAid K400 Blender
When it comes to kitchen tools, make sure you invest in a quality blender. This is one of the most-used appliances in Camille's kitchen. From smoothies to soups and nut milk, it's a must-have.
EXAU Olive Oil
Olive oil that tastes as good as it looks? Sign me up. This one deserves a spot on your open shelf or countertop.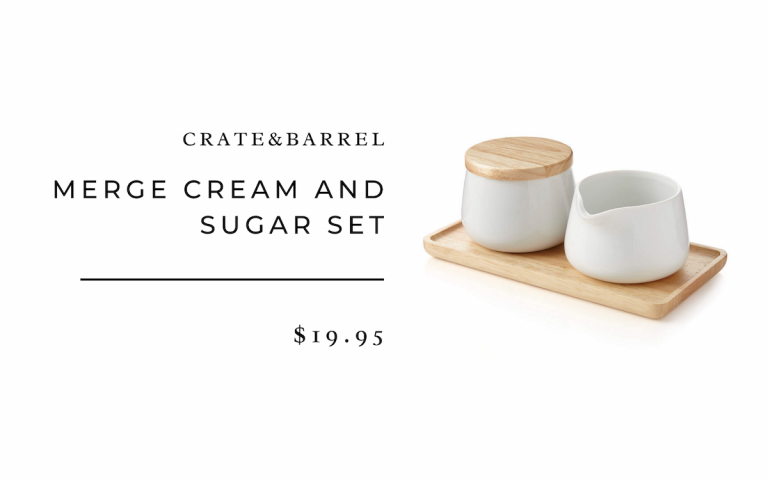 Crate&Barrel Merge Cream and Sugar Set
This chic little set makes your morning cup of coffee that much sweeter.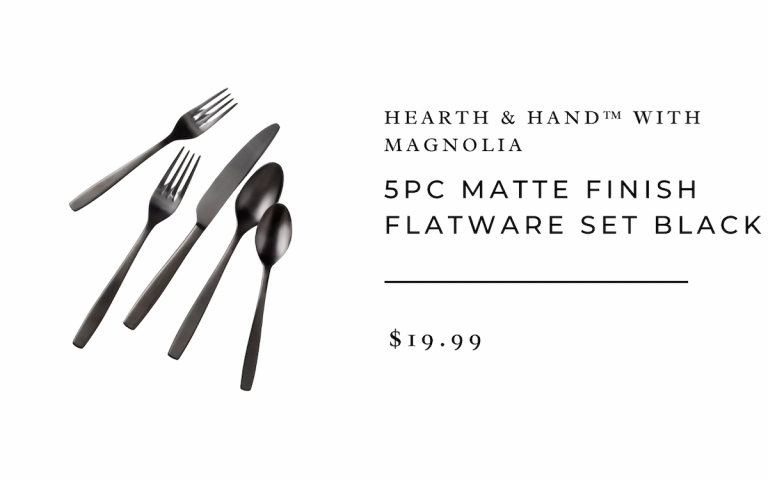 Hearth & Hand™ with Magnolia 5pc Matte Finish Flatware Set Black
There's something so classic and cool about matte black and this set will really punch up a neutral tablescape.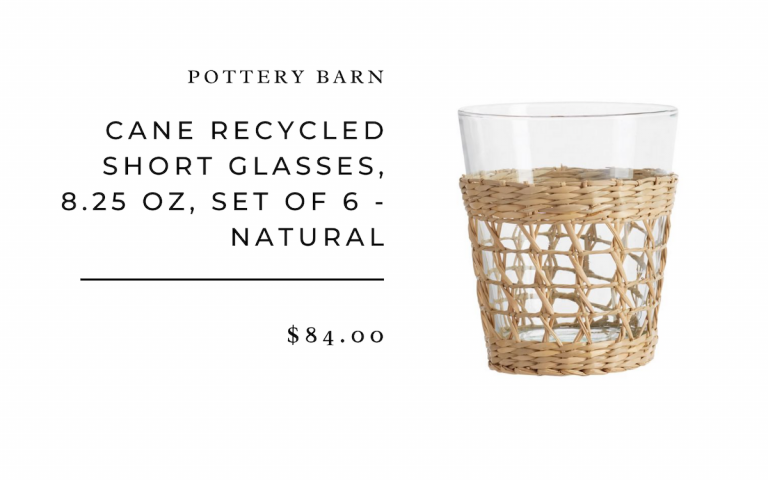 Pottery Barn Cane Recycled Short Glasses, 8.25 oz, Set of 6 – Natural
Get a stylish grip with these recycled glass cups adorned with woven cane. They were made to be admired on an open shelf.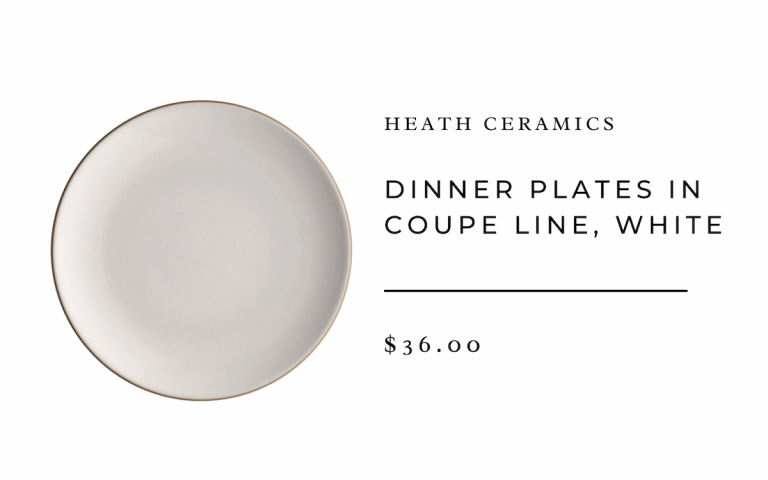 Heath Ceramics Dinner Plates in Coupe Line, White
When it comes to ceramics and pottery, Camille can't go past one of her all-time favorite potters in LA, Heath Ceramics. All of their plates are made with care and style in mind.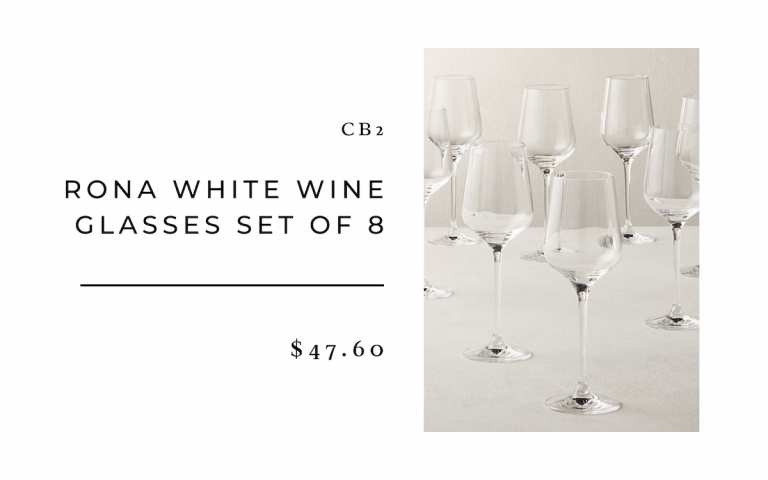 CB2 Rone White Wine Glasses
You can always count on CB2 for affordable and stylish kitchen tools and essentials like these stylish wine glasses.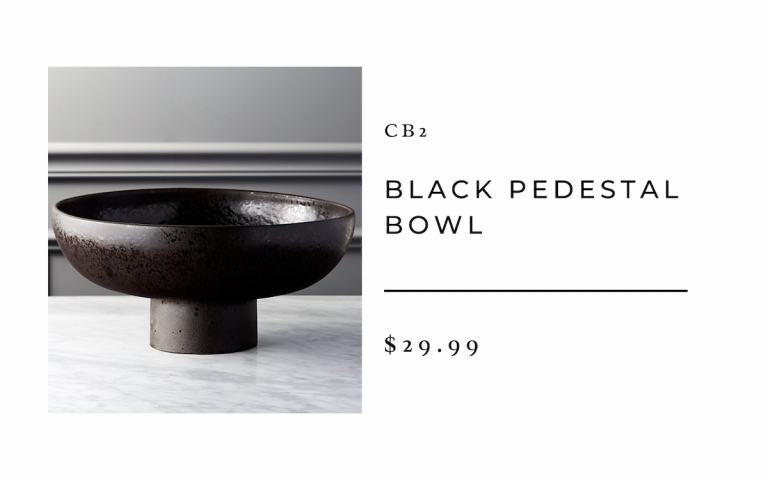 CB2 Black Pedestal Bowl
The CS team has been eyeing off this pedestal bowl ever since we first saw it on Camille's bookshelf and we love how she styled it on her kitchen shelves. Proof that you should always play with your pieces and move them around the home to change things up.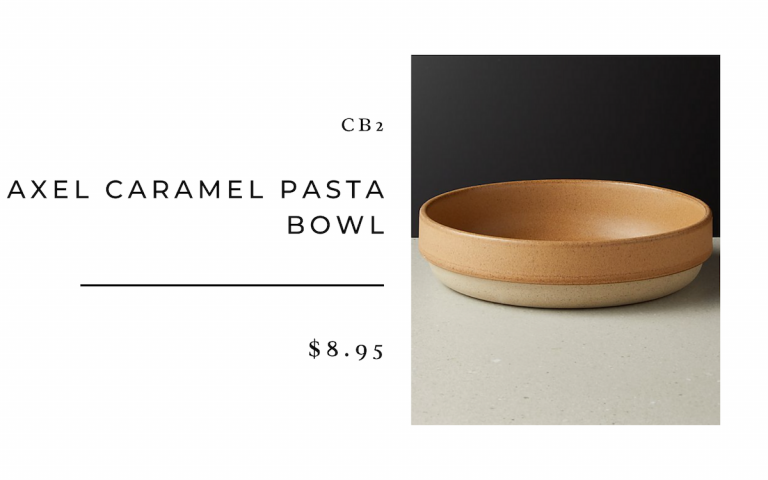 CB2 Axel Caramel Pasta Bowl
Pasta will never go out of style. Make your next bowl a stylish affair with this dreamy caramel bowl. Double yum!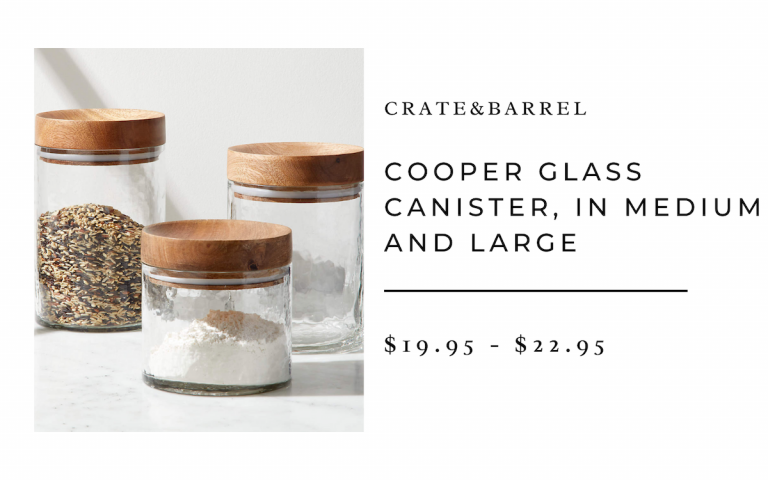 Crate&Barrel Cooper Glass Canister (Medium and Large)
If you saw Camille's pantry, then you'll know it's hyper-organized and impossibly stylish thanks to all of her uniform containers and mason jars. These jars make flour look good.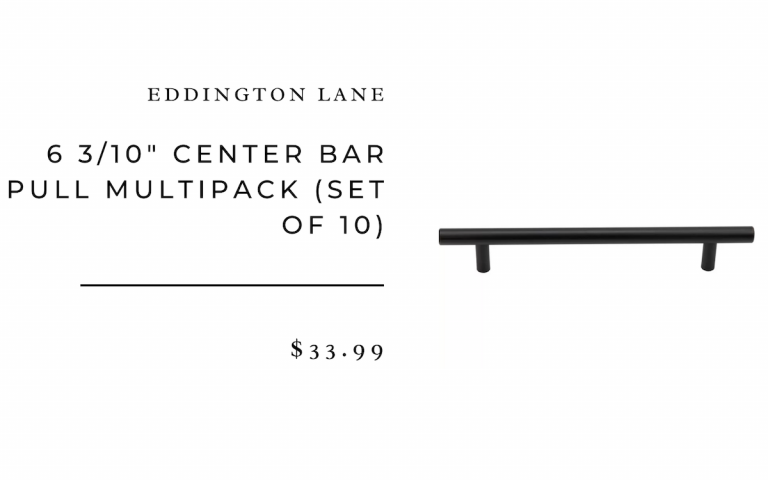 Eddington Lane 6 3/10″ Center Bar Pull Multipack (Set of 10)
Nothing updates a kitchen quite like hardware and this clean, simple center bar will upgrade any cabinetry in an instant.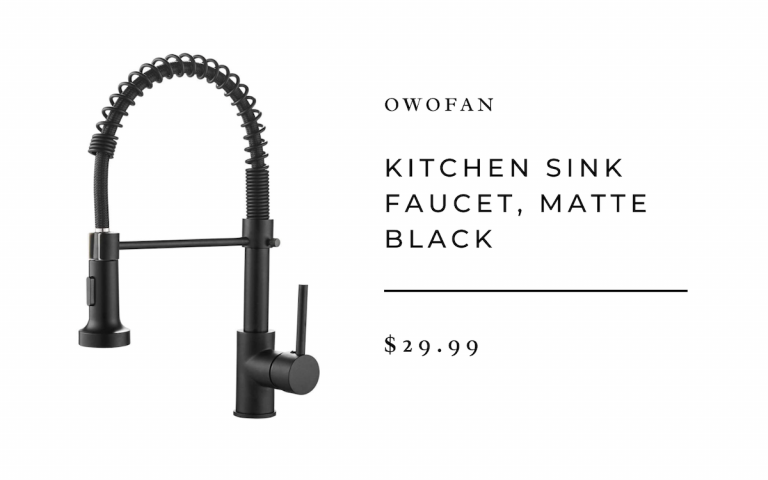 OWOFAN Kitchen Sink Faucet, Matte Black
One of the affordable updates Camille did in her kitchen was to invest in a new faucet but this one didn't require an investment. At under $30, you really can't beat it. And the good news is, Camille was really impressed with the quality too.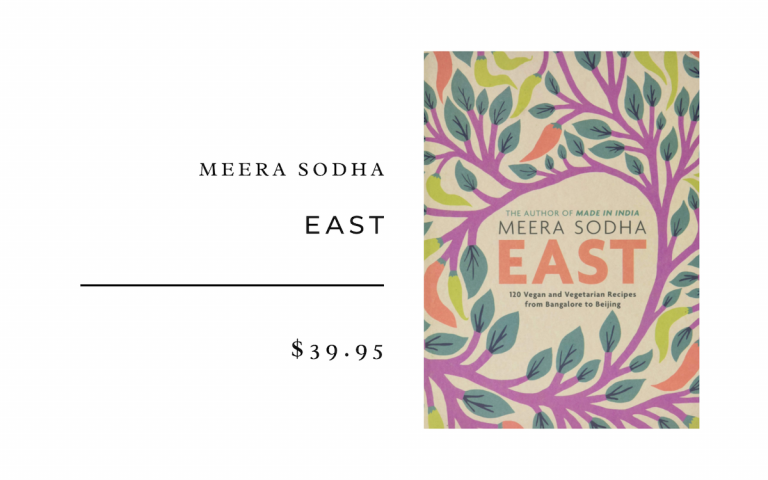 EAST by Meera Sodha
It's no secret that Camille loves to cook. This is one of her favorites because it's filled with delicious vegan and vegetarian Indian recipes the whole family can enjoy.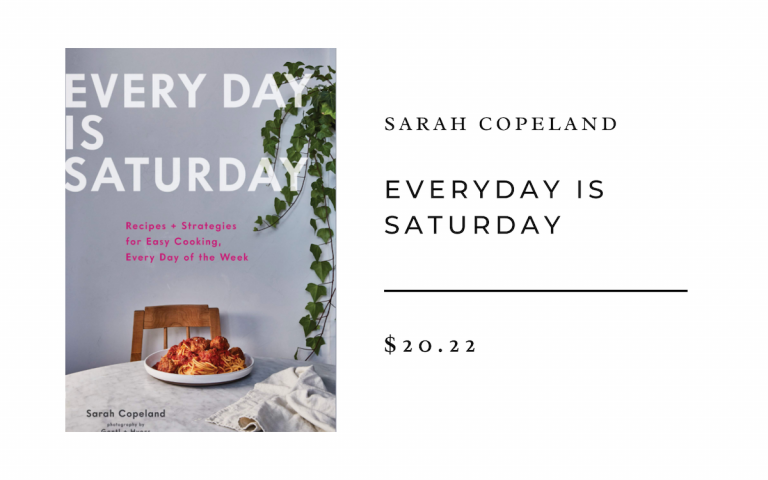 Every Day Is Saturday by Sarah Copeland
The recipes inside this book are just as beautiful as the cover. They're also easy which is greatly appreciated on those busy weeknights.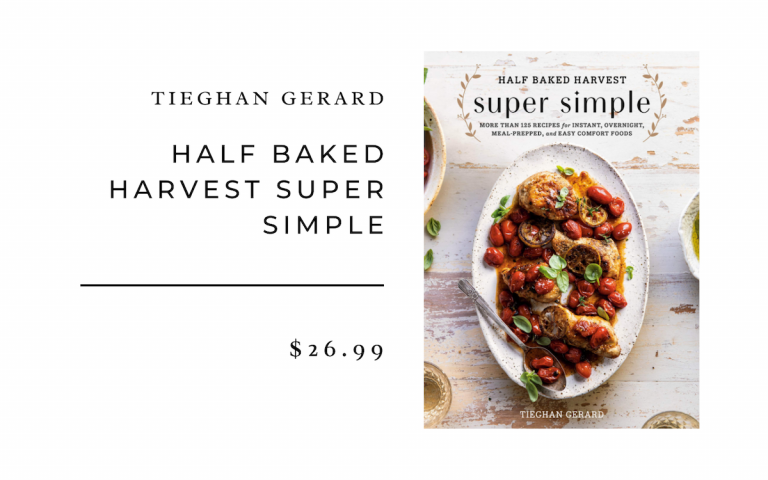 Half Baked Harvest Super Simple by Tieghan Gerard
It doesn't get much better (and tastier) than Half Baked Harvest. Her photography is so deliciously beautiful, we want to eat it right off the page. Teighan's recipes are easy to make and taste insane! Oh, and this one is also a New York Times bestseller. No biggie!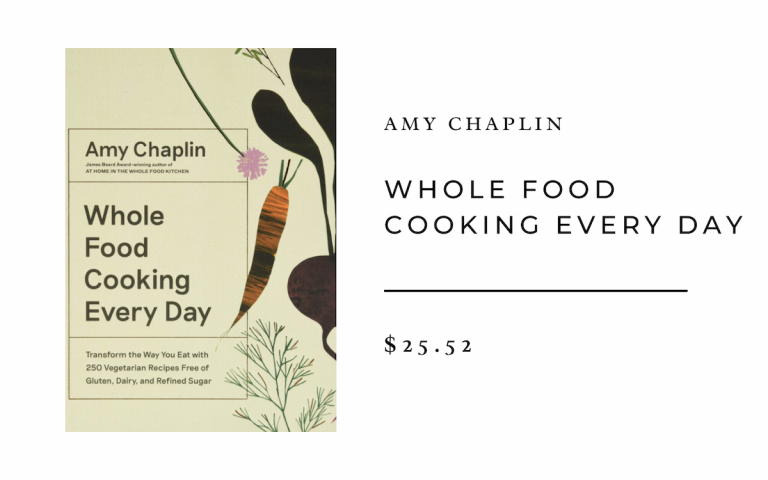 Whole Food Cooking Every Day by Amy Chaplin
If you're looking for healthy recipes that omit gluten, dairy, and refined sugar (but don't leave out the flavor), then this book is for you. It's one of Camille's go-to's!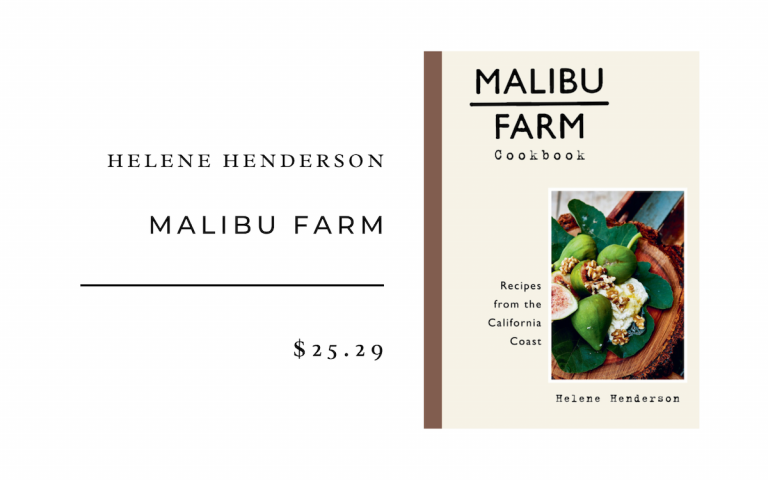 Malibu Farm by Helene Henderson
You know Camille's strong affinity with the beach so of course, this is one recipe book she reaches for daily to take her back to the coast.