As a late-20s gal who was never destined to star in Bling Empire, I've had to get creative with how I weave a little extravagance into my everyday routines. But once you learn how fun it is to romanticize your life, you can't imagine a world where you don't regularly craft handwritten letters or spend every rainy Saturday in a coffee shop. And one of the simplest ways we can romanticize more moments is indulging in luxury candles.
Nothing says luxury quite like a candle. The flame's soft flicker provides ideal mood lighting for any context and the endless array of thoughtfully-designed scents transports you to worlds beyond your home. Candles can relax you, uplift you, and improve your focus—and thankfully, the options are cleaner than ever. "Luxury," of course, is relative, and candles are one of the more accessible ways to bring a little more of it in your life.
Featured image by Christie Graham.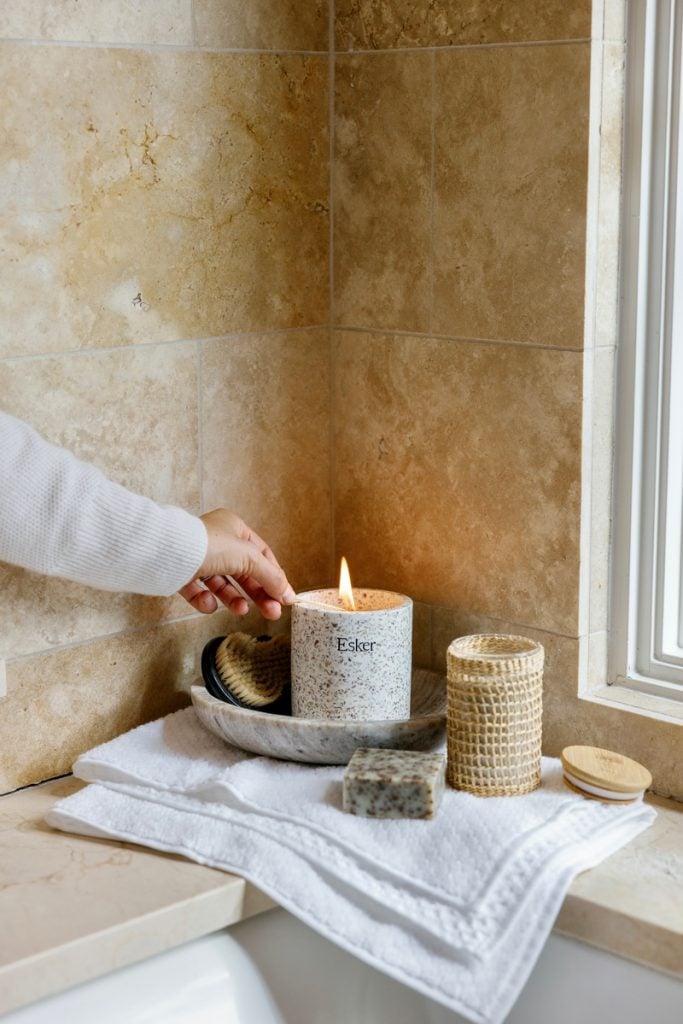 25 Luxury Candles for a Touch of Magic at Home
Candles in themselves are a bit of a luxury. I stock up on inexpensive tea lights to illuminate every meal and my writing sessions aren't complete without one of my favorite candles sitting beside my tea. Personally, candles help me bring intention to whatever the task at hand—be it meeting a deadline or meeting my own personal goal of reading more in 2023. For whatever needs a little comfort in your life, the luxury candles below are the perfect picks. (I'd know, I've loved them all.)
Though this year's 'cuffing season' is over, the name is eternal. FORVR Mood, creators behind the most on-trend candle names, outdid themselves with this one. Fresh florals (think: violet and jasmine) mix with citrus for a crisp, original scent that'll spark creativity and bring the vibes. I'm currently using it to set the mood for this writing sesh, though it's also a guarantee come V-Day.
The vessel's speckled terrazzo holds a hand-poured, soy-based blend of cedar, palo santo, and rock rose. The result is a grounding fragrance designed to reduce stress and purify the mind. And with a nod toward sustainability, the ceramic casing transforms into a planter when the candle has run its course. Comes with herb seeds and a soil pod to support you on your green thumb adventures.
In our ever-expanding community of creative women, Sophie Collins delights with her natural gift of gathering loved ones and new friends for beautiful parties. This multi-hyphenate is also the co-founder of One Wednesday, a favorite shop for thoughtful lifestyle pieces. Among our favorites? The line's entire candle collection. But 'Cabin' stands out in particular for its cozy blend of sandalwood, cedar, fir, and eucalyptus. It's like you're spending a weekend in the woods—minus the trek.
L'Avant has long been our go-to for all things non-toxic cleaning. From soaps to sprays to surface cleaners, the brand has every angle considered when it comes to designing thoughtful products. But this candle brings an elevated touch to our rituals and routines. While others have tried to capture the soothing scent of fresh linen, it often misses the mark with a product that leans artificial. L'Avant's Fresh Linen Candle couldn't be more different. Made of a sustainable and natural 100% soy and coconut blend, this candle features notes of ylang-ylang and bamboo, combined with lavender and geranium essential oils.
I could dedicate an entire article to my love for this candle. It came in the mail yesterday, and I won't lie—I've already burned through about a quarter of it (oops!). But with a 120-hour burn time, I'll be enjoying it for weeks to come. In collaboration with NYC-based calligrapher Sam Teich, you can personalize your candle to fit your vibe. With room for up 10 characters, you can adorn your candle with a handwritten message, like a reminder to 'breathe' or someone special's name. Because I'm calling it now: there couldn't be a more perfect Valentine's gift.
Please, anything to remind me that spring is a short matter of months away. Hyacinth, jasmine, rose, and lily of the valley notes blend into the perfect springtime garden. I love this one for the kitchen—when it's dark and I'm doing the dishes, there's nothing more soul-soothing than to take in the textured glass' glow. I'm calling out Sparkling Currant as an honorable mention. Red currant and rhubarb add a perfect, sweet touch of brightness to these chilly winter days.
From the branding to the array of sexy and cheeky scents, everything about Snif spells perfection. The blend couldn't be more unique: cardamom, nashi pear (a crisp-and-sweet hybrid between an apple and pear), black plum, geranium, vetiver, black tea, and the soft, smokiness of cedarwood. And with a seven-day trial, there's nothing holding you back from finding your favorite scent (obviously, this one's mine).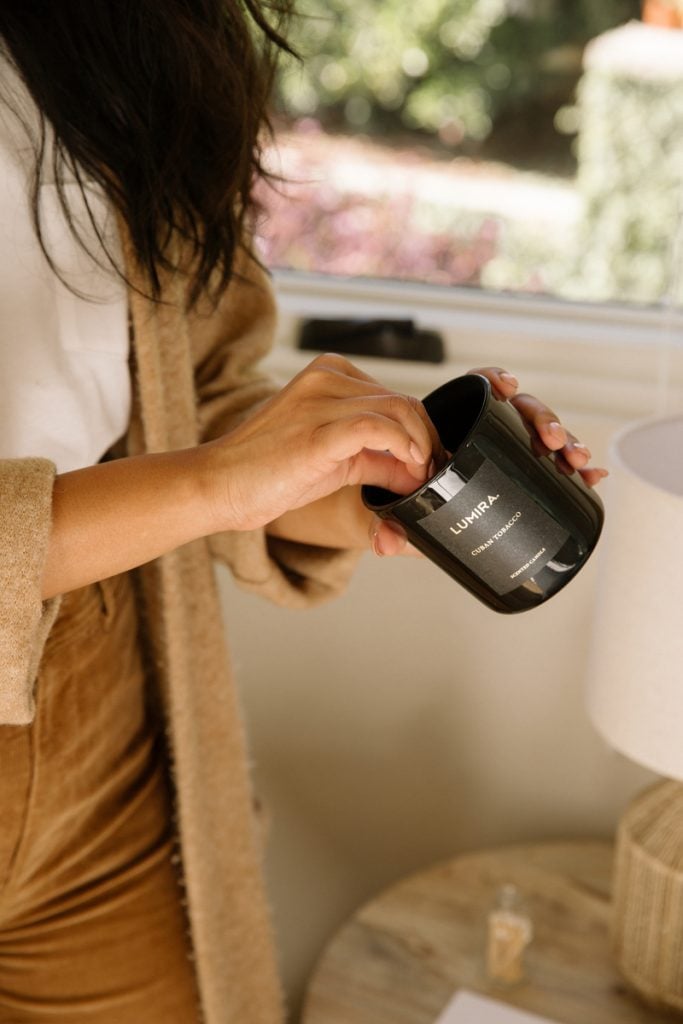 You know and love Salt & Stone for its gorgeous, effective face oils and creams. The brand pours the same care into its stunningly-scented candles. Their hero trio of blends—Saffron & Cedar, Black Rose & Vetiver—boast some of the most distinct scents I've ever burned. But in this dark and dreary time of year, nothing cozies up my evenings quite like the woody, earthy scent of vetiver.
We featured Babba Rivera, Ceremonia's award-winning founder and CEO, in our Wake-Up Call series last spring. Immediately, we were taken by her graceful confidence and full embrace of all things beauty and creativity. It's her innovative spirit that's led to her push for greater inclusivity in the beauty industry. And because we love Ceremonia's hair products, it came as no surprise that we fell hard for this candle. The Guava fragrance is the perfect encapsulation of summer. The fruity notes—guava, peach, and lemon—are fun and vibrant. A light nod to the warmer seasons to come.
This candle showcases tuberose, a plant reminiscent of lilies and crème brulée's rich sweetness. Blended alongside jasmine, orange blossom, and lemon, the result is a complex floral infusion. Encased in a vessel made in Portugal, this vegan candle has a 50+ hour burn time for long-lasting indulgence.
When we can't get enough of a brand, we do our best to scoop up every last piece. That couldn't be more true of Jenni Kayne. From the soft, cozy silhouettes to the clean skincare—every item is an absolute dream. And the candles? A delight. Hand-poured in Los Angeles, this candle is made of a natural blend of coconut, soy, beeswax, apricot oil, and paraffin. Rose, tobacco leaf, fir needle, and cedarwood combine for a cozy, romantic scent. Oprah calls it one of her favorite candles—essentially, a must-buy.
If you do one thing before snuggling up in the brand's cozy-as-can-be sheets, it's light their signature candle. I love all the scent offerings—with everything from Happy Hour to Gather to Good Intentions. But nothing encapsulates the seasons quite like Love Note. Cedarwood, orange, and nutmeg create a "crush-worthy combination."
Is one of your 2023 resolutions to structure a more intentional morning routine? If so, first, read Camille's time-stamped morning routine for all the inspiration. And second, light this candle. Crafted to help you begin your day in a state of relaxation, it's the ideal way to ease into the morning. Or, of course, unwind at night.
This candle was created as an homage to the environment and our need to invest in the health of the planet. This complexly-scented candle is rich with notes of musk, green leaves, and honeyed blossom. What's more, it's biodegradable and made with 100% essential oils. All the proceeds of this candle are donated to The People Concern, a non-profit working to end homelessness in Los Angeles.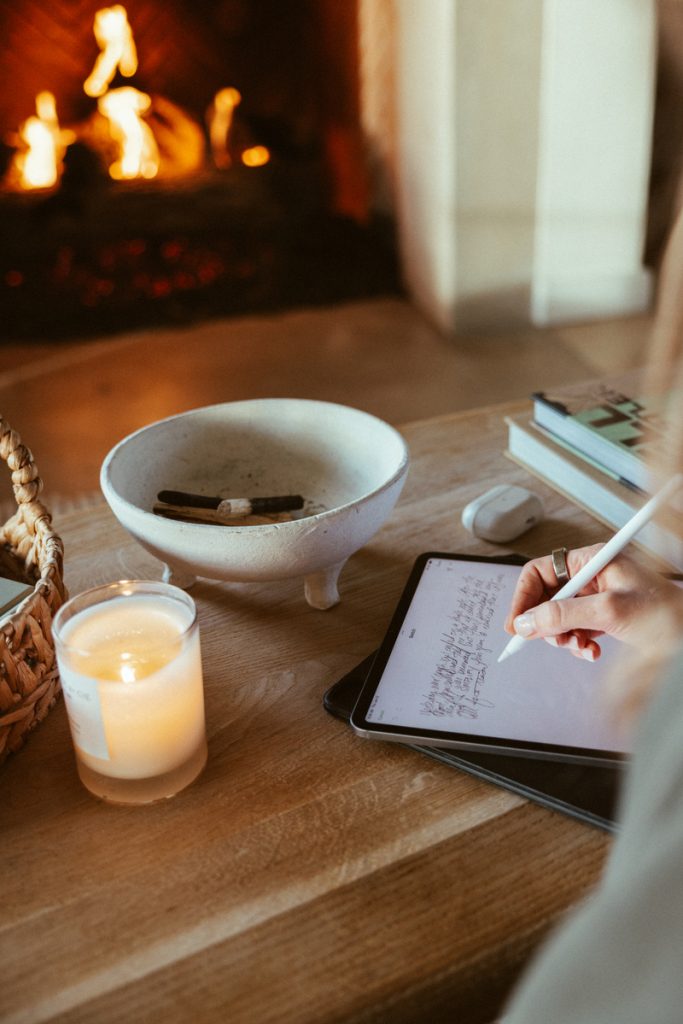 Do you have dreams of vacationing in the south of France? If lavender fields and turquoise waters are calling your name, light this candle, stat. Sea salt and Tonka evoke easy and breezy, carefree Saint Tropez. Pour a flute of limoncello, and lean into the vibes.
One of every candle from Otherland, please. Seriously, while I love the entire line of toxin-free candles, Daybed has to be my all-time favorite. Rosebud, peony blossom, and pear water are the trifecta of romantic scents. No roses for Valentine's Day—this candle is all the lovin' I need.
If you're as obsessed with Summer Fridays (and their vanilla Lip Butter Balm) as I am, you're going to be burning this candle at all times of the day. Other vanilla candles can be overwhelmingly sweet, but this one blends with almond blossom for a clean, mood-boosting scent.
I'm headed to Paris in the spring. To save room in my suitcase, I'll be shipping this candle to my nearest and dearest as a souvenir. Vanilla, blueberries, and sugared coconut. The ultimate feminine blend, non?
This candle is an ode to the glitz and glamour of the hotel lobby—what the brand calls the "chair-laden gateway between civilization and paradise." With floral notes and the essence of an ocean breeze, this candle is giving White Lotus. Light this lovely candle and lean into the show's haunting, vibey soundtrack (everyone's listening to it).
Encased in a porcelain vessel, this—hot take—might be the most luxurious of the luxury candles. Light a fire and cozy up with a blanket and your special someone. Cedarwood, leather, tobacco, and vanilla notes are the pinnacle of comfort.
Get out into nature with this rich, exotic scent. Coconut, jasmine, fig leaves, and macadamia nut encapsulate nature's healing, restorative power. Who wouldn't want that in their home?
Embark on a sensory journey with this fragrance that's deeply connected to, and inspired by, Dominica—an island nation in the West Indies. Clean, sustainable, and super-luxe, this slow-burning candle is a beautiful ode to the ocean and beach shore—and the vessel is bound to become a well-loved family heirloom.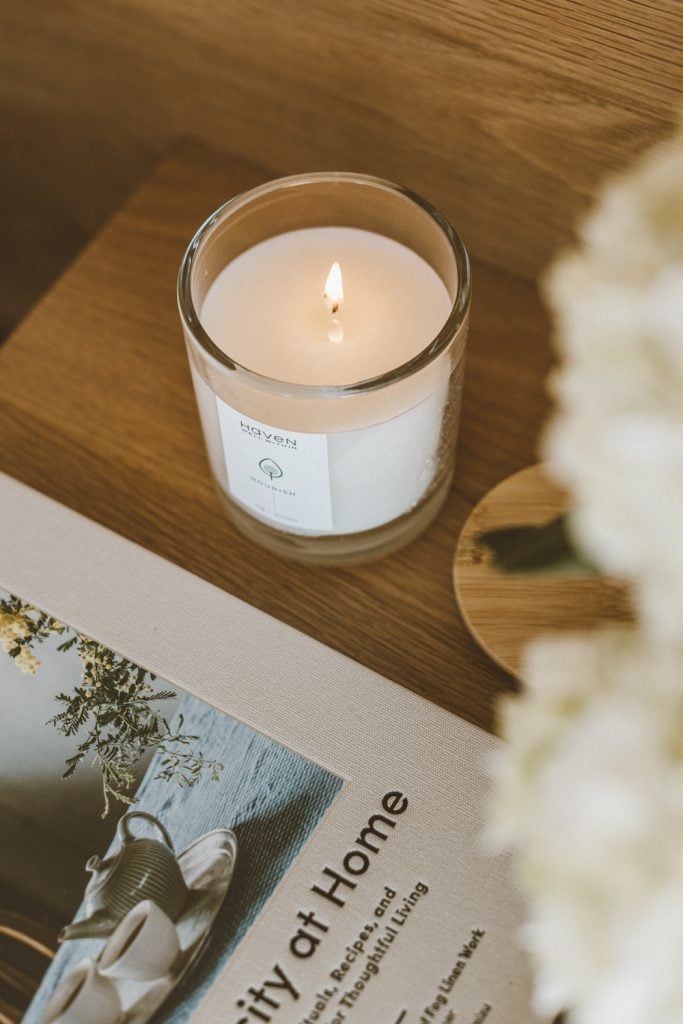 If it's a quiet walk in nature that you're craving (and you're stuck in the hustle and bustle of the city), escape with this candle's intoxicating, woodland fragrance. It's relaxing and restorative, with top notes of raspberry and a base of white cedarwood and ambroxan. Prepare to be enchanted by the slow-burning scent.
Chamomile, rose, and lime cover the spectrum of scent, with a mix of florals and citrus defining this candle's relaxing fragrance. After burning through this candle, I kept the gorgeous stoneware vessel as a catch-all for my (many) writing implements. It's a beautiful, minimalist addition to any workspace or countertop.
The majority of luxury candles featured on this list have leaned more neutral in color. In a nod to the brighter, more vibrant scents, I had to feature Overose's shining glory: Euphoriasme, featuring notes of cranberries, crème brulée, rose water, and yes—warm croissant. If that sounds absolutely delicious, that's because it is. Don't wait—make this your staple scent.
Every product is curated with care by our editors. If you buy something through our links, we may earn a small commission at no cost to you.