Last summer I was sitting at my kitchen counter talking with one of the greatest friends I'll ever have, Thoa, about how stagnant I felt working from home. I desperately needed a new workspace. I found myself (laptop in hand) moving from the kitchen counter to the dining room table to the couch to the bed, back to the counter, and so forth and so on, completely avoiding the one space in the house I had originally set up as my home office. It just felt… well, drab, and I didn't like anything about it. It had been set up for function but, ironically, I avoided it. I didn't feel like I could function in an environment that didn't inspire me. I needed some small home office ideas to help me redecorate, stat.
Finally, Thoa responded to my constant complaining with, "We're redoing that back room, and I'm going to design a new office space for you." I've always idolized Thoa's style. As a production designer and art director with a myriad of talents, I knew she had a vast creative skillset, but I had no idea that would translate to interior design.
Now that it's done, I can honestly say, I've never had a space I love this much. It feels like it wholly represents this chapter in my life in both a personal and professional sense.
Scroll down to see the home office before and after photos then keep reading for all my small home office ideas, tips, and sources to help you redecorate a workspace on a budget. I'll let the pictures do the talking but first…
Brace yourself for the before: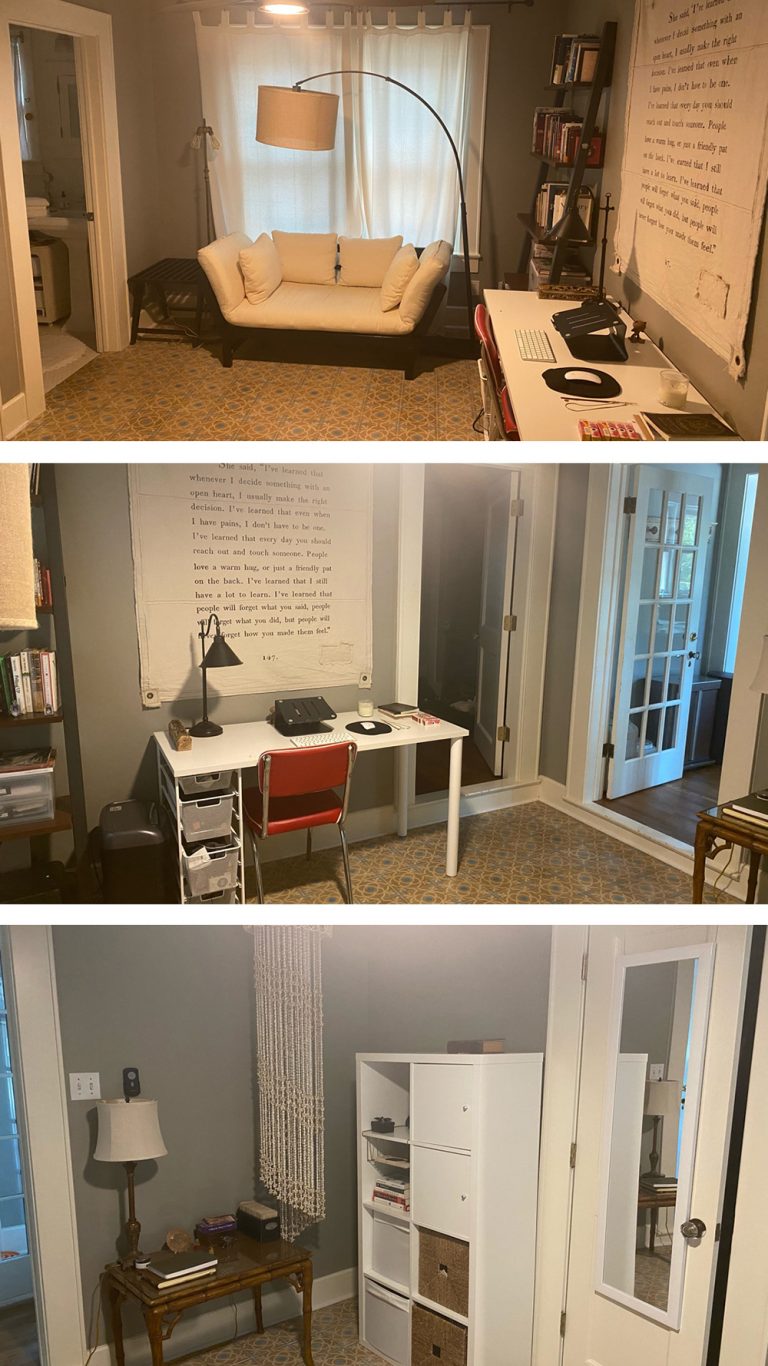 Tip 1: It all started with light.
Initially, my desk stood against a wall. We situated the room so that the desk faced the windows. When working, it made the space feel brighter visually while also keeping other home distractions behind me and out of sight.
The space was built as an add-on decades ago so the ceilings are pretty low. We also live in Travis Heights, land of the oak trees, therefore the lighting in our house is naturally dim. Instead of investing in sconces and ceiling lights, we got creative with lamps, color, curtains, and a chandelier made of shells.
My sister demanded that I invest in an ergonomic chair for my health. So, I reluctantly put my favorite vintage chair in our living room and spent a good chunk of my budget on a Herman Miller. Though I don't love it stylistically, let me tell you, it was worth it.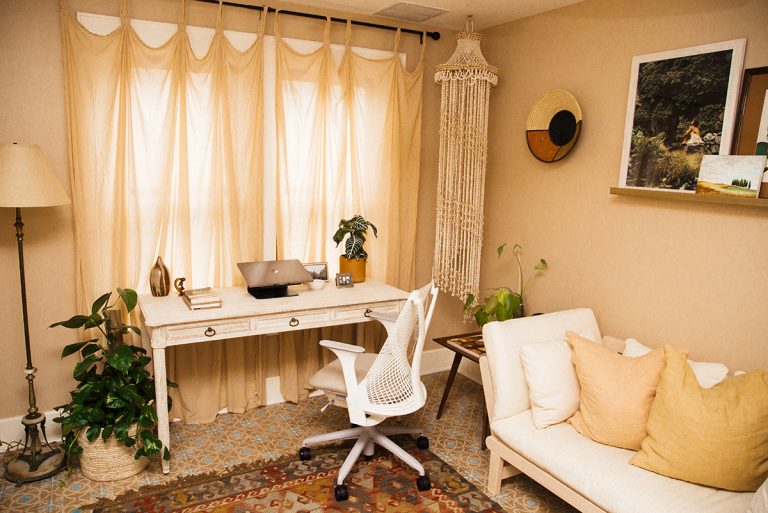 Shop the look:
Anthropologie Washed Wood Desk, Herman Miller Sayl Chair, Anthropologie Peach Hanging Basket, World Market Studio Day Sofa, CB2 Metal Wall Ledge Antique Brass, Urban Outfitters Knotted Window Curtains
Tip 2: Functionality first.
The room is a little strange as it's in between our bedroom and our bathroom. Initially, it acted as a place to work (or not…), to get dressed, to store things, and more than anything: to walk through. It felt like a little closed-off transient room that was often left neglected.
Going forward, I wanted the room to be more private and to function solely as a studio. It housed random things like towels, purses, and my husband's clothes which confused its function. We relocated all of those things to other commonsense areas of the home so that only studio-related items lived in the room.
I also wanted the room to feel meditative and serene—a space that would compel me to journal, plan, and daydream (which is why we kept the futon). Lastly, I wanted Jack and other family and friends to feel comfortable hanging out in the room, too. I didn't want the space to feel exclusive.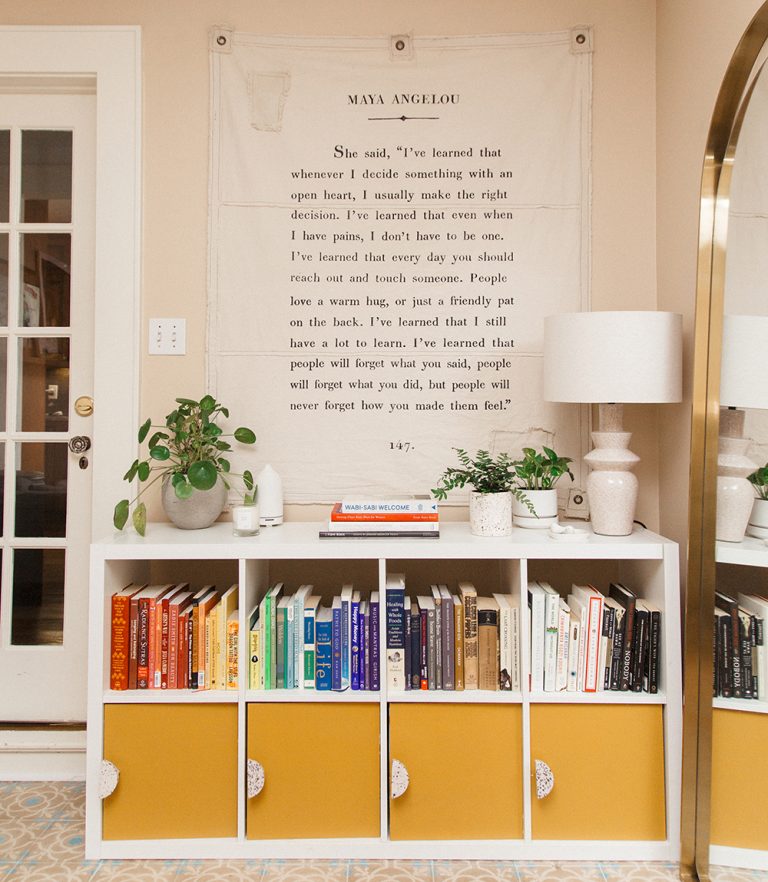 Shop the look: 
IKEA Kallax, Anthropologie Katya Knobs, Vitruvi Stone Diffuser, Crate and Barrel Alina Table Lamp, Crate and Barrel Aosta Mirror, Jack and Jill Wall Tarp
Tip 3: Ask a lot of questions.
How do I want to spend my time in the studio?
Thoa asked me a ton of questions before we started the process so we could get really clear on the design direction. I recommend asking yourself these before you design any room. It was so helpful for me.
How comfortable are you with color on a scale of 1-5? 1 being all neutrals and 5 being open to anything that feels right and looks good.
Are there any color combinations you feel inspired by or into right now?
What are some adjectives you would use to describe your dream studio? How does it make you feel?
What are your must-haves and must not haves if any (i.e. keep the chandelier in the space, need plants, or no dark color walls, don't get rid of the desk)?
What is your budget? Very important.
I felt comfortable with a 2/3 on the color spectrum, similar to my personal style. The color needed to be purposeful and minimal, and I knew I wanted a warm room that felt like the sun. I love taupes, ivories, mustards, and reds. A mix of bohemian décor with some vintage flair (without it feeling too themed or curated) was in line with my vision. I thought elements of green would be thoughtful as I had heard that green reduces anxiety and eye strain. And, the idea of incorporating my brand's colors (shades of ivory, brown, and goldenrod) was also appealing.
I described my dream new office space as eccentric, warm, inviting, nostalgic, quiet, artistic, studio-esque, and I wanted it to make me feel inspired, peaceful, comforted, fulfilled and elevated.
I wanted the space to tell me that I've come a long way but the environment also had to make me feel at ease.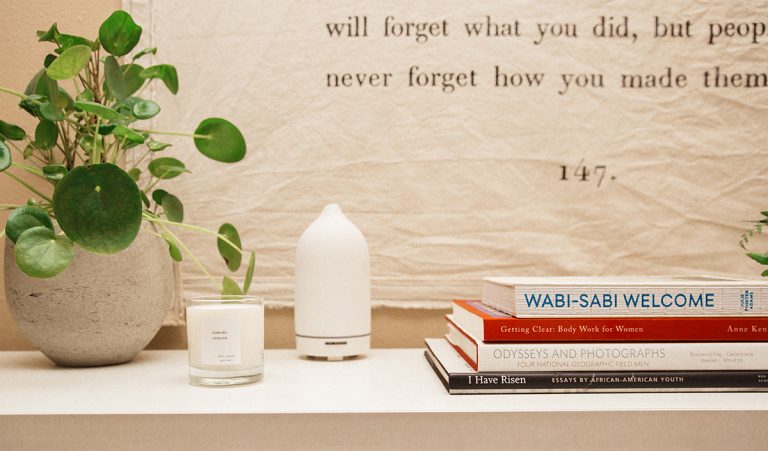 Tip 4: Set your budget.
The budget was trickier to pinpoint. Initially, I thought that if I ever surpassed my desired range, I'd simply work extra hard and find a way to make it back—I always do. Logically, I know that doesn't make sense and I can just hear every financial advisor wincing as they read this, but what can I say? Old habits die hard.
I've also been taught that cheap is expensive. Have you ever bought a dozen inexpensive shirts only to find they have holes in them a week later? Then, you realize you could have bought an expensive, longer-lasting shirt for less? Cost per wear is also an important consideration. But, since this wasn't a big project, I knew there would be ways we could save. All of that to say, I set my budget at $2,000.
DIY projects, second-hand shopping, and gifts offset a lot of the cost. My mom gave me one of the most valuable pieces in the room—the desk—for my 30th birthday. The futon, cabinets, and credenza were also gifts and we painted the walls ourselves. I thrifted the rug, side table, and pottery from
Revival Vintage
, the standing lamp from an antique store, and the chandelier from Craigslist.
Tip 5: Use mirrors to open up it up.
My favorite furniture piece in the home office is 
the mirror
. The one I had before was beautiful but too dark, large, and heavy for the room (we actually repurposed it in our bedroom). I loved the arch cutout feature and the brass material was the perfect complement to the orange hues of the room and my artwork ledge. I thought about this purchase for four months before pulling the trigger.
Originally, the room had a narrow, over-the-door mirror. With such a small area (230-square-feet to be exact), a more substantial mirror placed against the wall was a perfect addition. It opened up the space while providing a decorative feature that functions.
Tip 6: Make it personal.
We loved curating the ledge with art I appreciate—a piece I discovered while traveling in Florence, a self-portrait from my series, Manifest, taken at Zilker Botanical Gardens, and a painting of dancing ladies by
Ernie Barnes
 which was passed down to me by my parents.
The majority of the decorative items in the room hold a special story. As a storyteller myself, that element felt particularly important.
I brought in a few personal touches; my favorite being a photo-booth picture of my mom, my sister, and me from when we were little girls. We found that the green I had hoped for could reveal itself in plants.
Final thoughts…
The main reason I was able to manage all of this in-between work? We took our time. Thoa and I started talking about this office redo last July. I made the final touches last week. Some of the changes were drastic while others were minimal. Patience was key.
Most notably, I am certain none of this would have happened without my friend. The room is a true testament to our bond. It is symbolic of the effort, love, attentiveness, and care that is all too often hard to find in human connection. I feel all of those things when I sit in my new office and I have Thoa to thank for that.