When you walk through the front door of Jessie and Brian De Lowe's Santa Barbara home, you don't quite register whether you're inside or out. Breezes flow freely through the open windows of the 1950's ranch house, pulling you past the kitchen island where Jessie arranges a salad, straight to the backyard where Brian harvests avocados from their giant tree.
It's magic hour at the De Lowes–that time of day when the sun is glowing and just about to set, and there's a hazy light that makes everything gorgeous. The home, dubbed Four Feathers Farm House, is their most recent passion project. Purchased during the pandemic, it has views of the canyons and the ocean, and they completely transformed it into a true paradise for their family. Their days in Montecito are defined by beach walks and picnics with their daughters, 4-year-old Amelie and 1-year-old Lucia–and there's a palpable gratitude for the life they've created here for their family.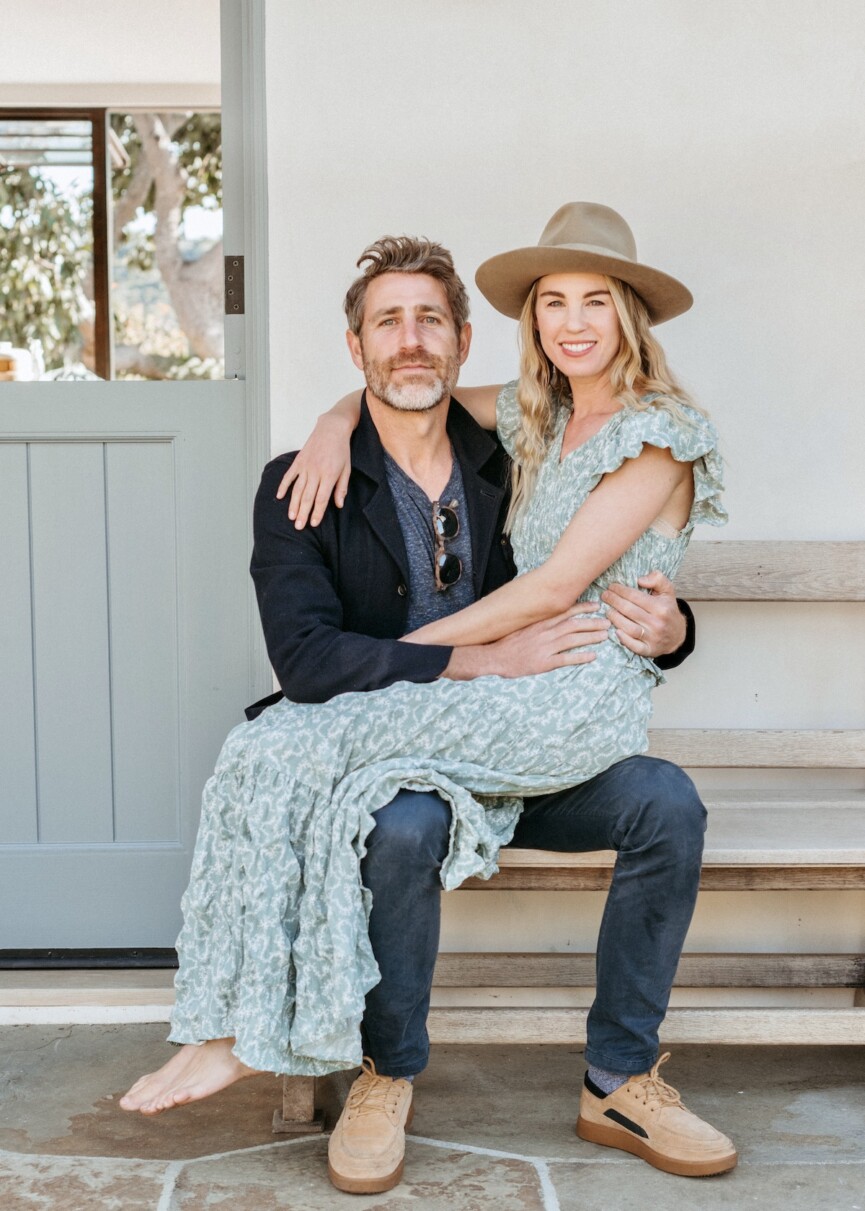 Jessie is a manifestation coach and founder of popular wellness platform How You Glow. Her background in art therapy and yoga is evident in both her blissed-out demeanor and creative approach to life. Brian's warmth and hospitality is no surprise–as co-founder and president of Proper Hotels, he spends his working hours creating some of the most welcoming and visually-arresting spaces (and my personal favorite places to stay.)
To spend time with Jessie and Brian is to feel like family–you're invited to kickoff your shoes, grab a drink, and get cozy in this slice of paradise they've manifested here in Montecito. Scroll on for my interview with one of my favorite couples, and all the details from the magic hour gathering they hosted for friends at Four Feathers Farm House.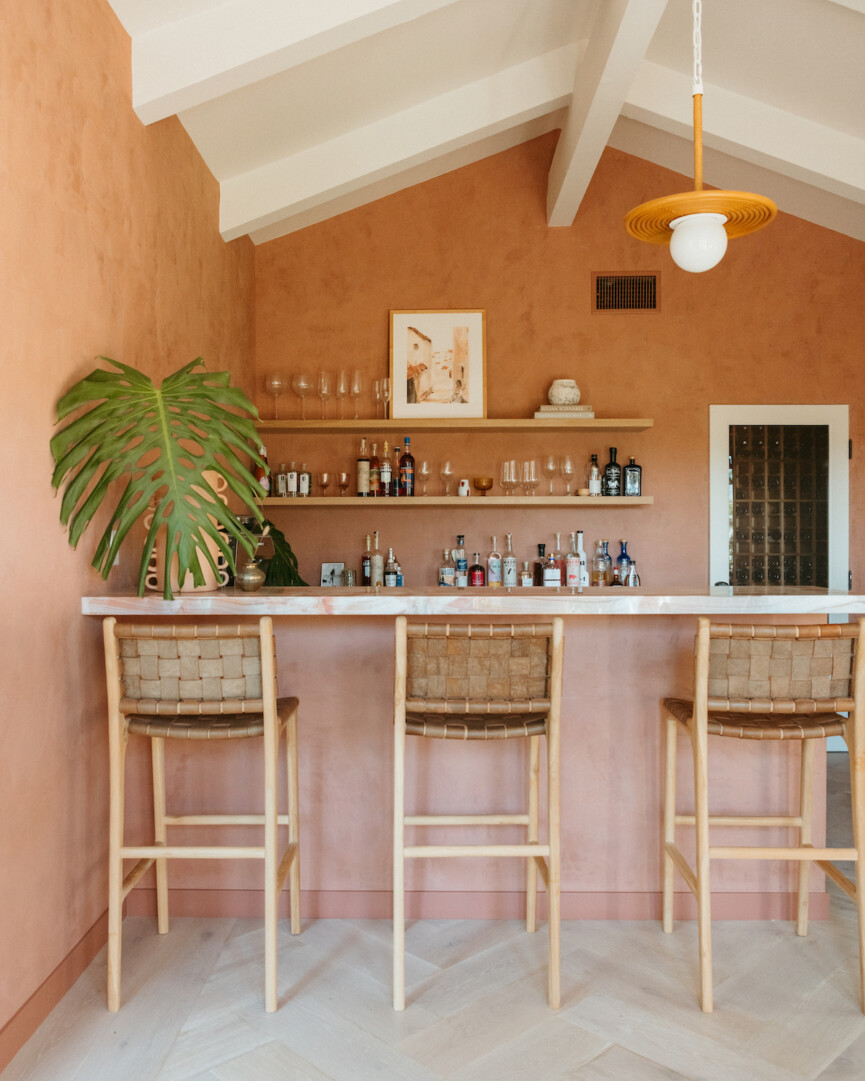 About their home and life in Montecito
Tell us about your incredible home–how did Four Feathers Farmhouse come to be?
We had been renting in Montecito and looking for a place for our family to settle–and when we saw Four Feathers Farm House we knew how special the property was. We felt the good energy of the property immediately while touring.
There were 6 gorgeous chickens free ranging in this bountiful, lush garden that felt like Hawaii or Costa Rica. The property is full of abundant avocado trees, passion fruit, persimmons, plums, figs, citrus, bananas… it really has it all.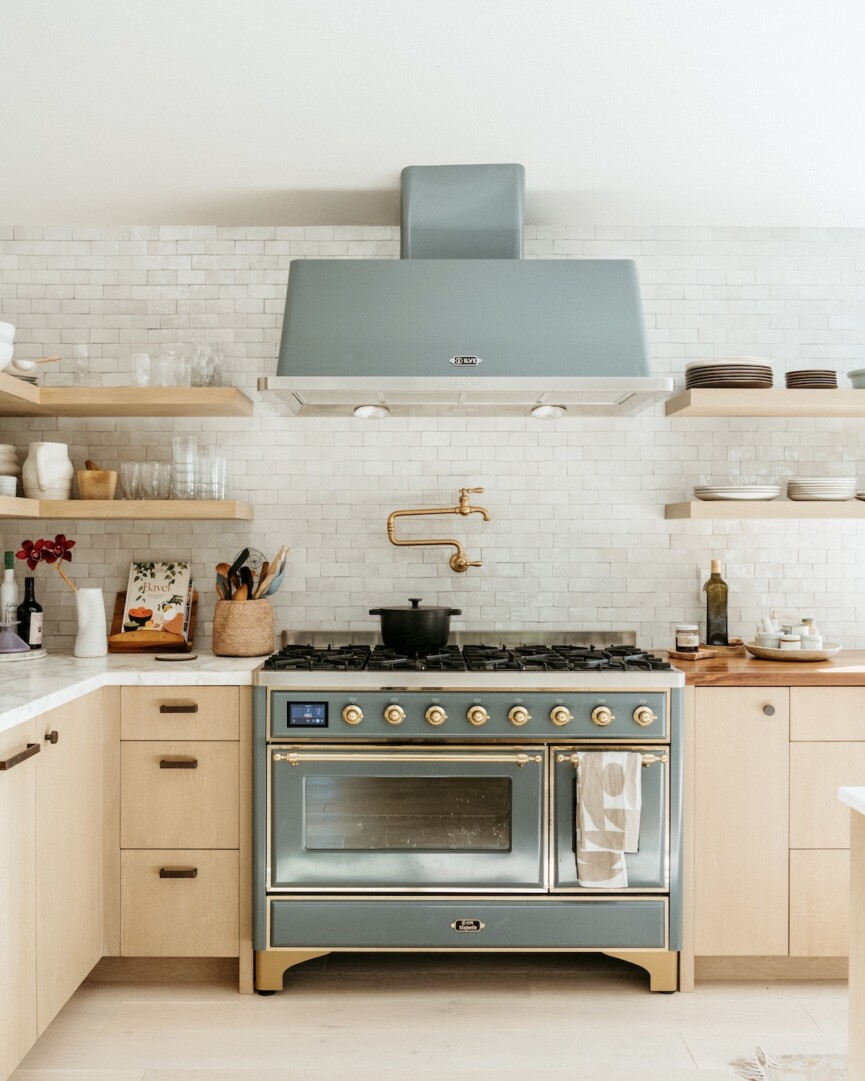 We were sold on the outside but the inside was not as inspiring to us, however the bones were amazing. We took the opportunity to design our dream home with the help of House of Honey over 7 months or so. We moved in while it was still under construction towards the end, but thanks to the indoor-outdoor nature of the house, we didn't feel too restricted.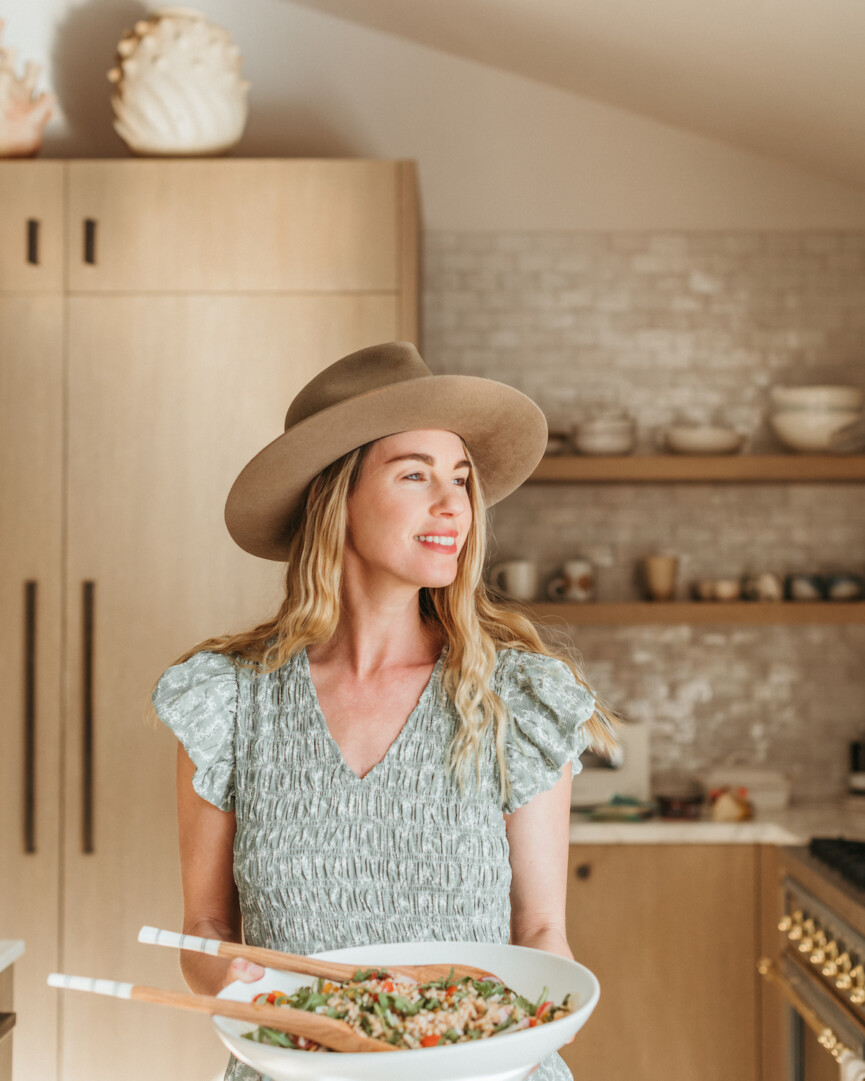 What are some of your go-to weeknight meals to eat at home?
Roasted salmon and veggies, linguine with clams and garlic, little gems salad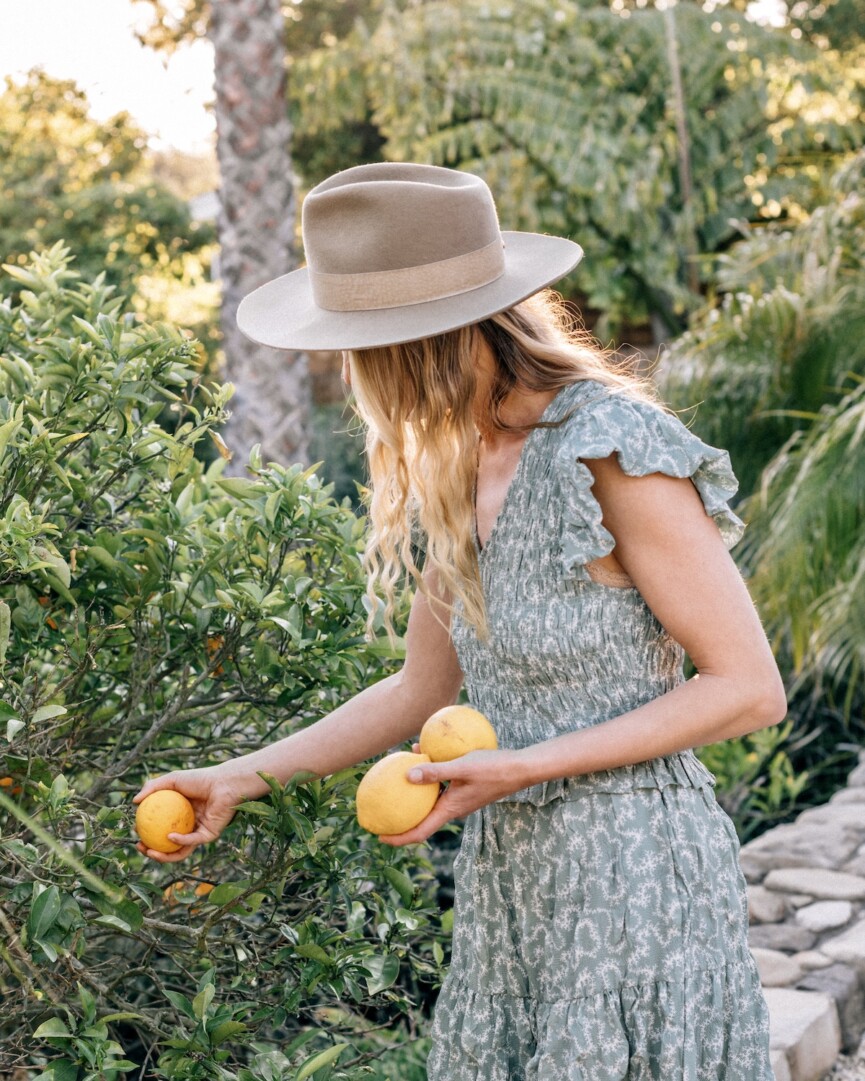 What's your typical breakfast?
Brian makes the most delicious decaf oat milk lattes and brings it to me in bed every morning. My friend recently brought over some homemade collagen marshmallows that I've been putting on top which really takes it to the next level!
Recently we have been intermittent fasting and waiting to eat until after we work out, so the first meal is typically around 11AM – sometimes we have breakfast but other times we go straight to lunch. Ideally a big salad with some protein, and then some granola with berries and yogurt for dessert.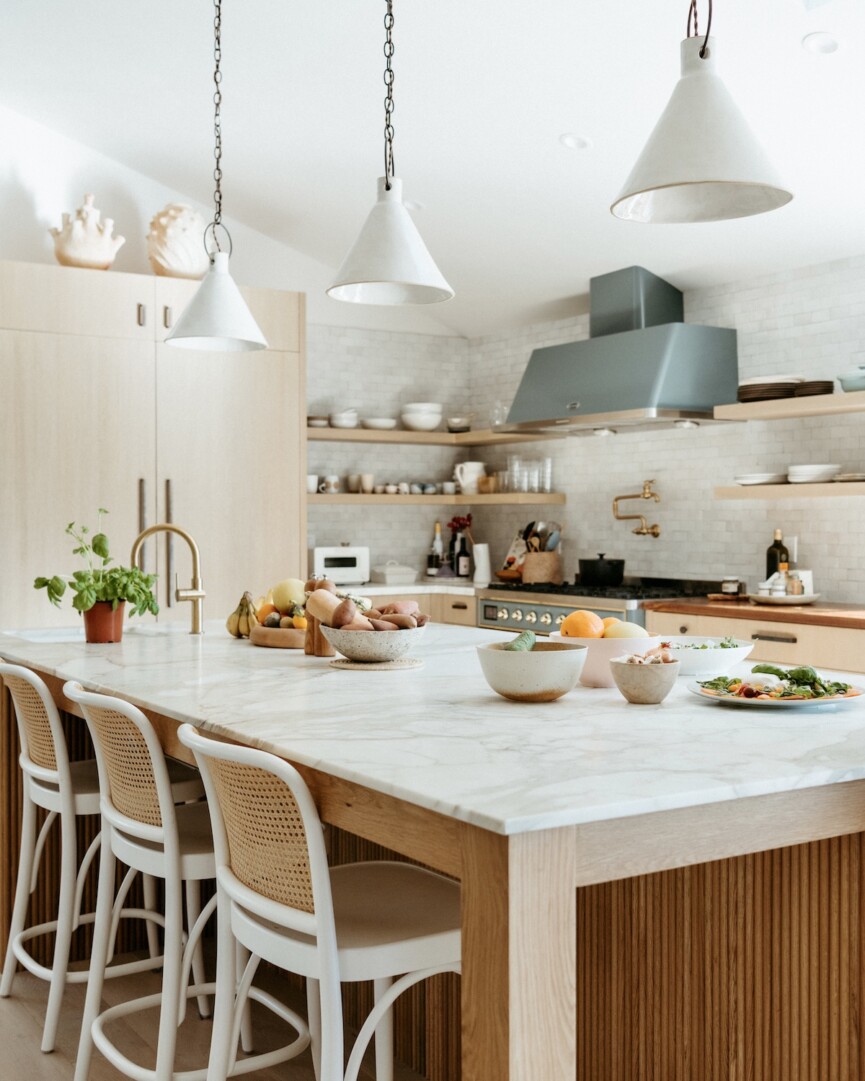 Walk us through a typical weekend for your family.
We have the coziest cuddle session in bed first thing in the morning. Amelie and Lucia watch cartoons while Brian and I relax drinking our coffee. Then we head over to the farmers market to shop for the week. We run into so many friends here, as Santa Barbara truly is a small town, dance to live music and just enjoy the amazing energy.
Then we head to Oat Bakery to pick up some of their delicious hygge buns, charcoal sesame sourdough bread, and whichever seasonal loaves they have that day. If we're feeling ambitious we will hit up the Santa Barbara fish market to grab some seafood for dinner. We usually pick up breakfast burritos to take home with us from Corazon and bring them home to have a picnic outside in our garden while Lucia naps.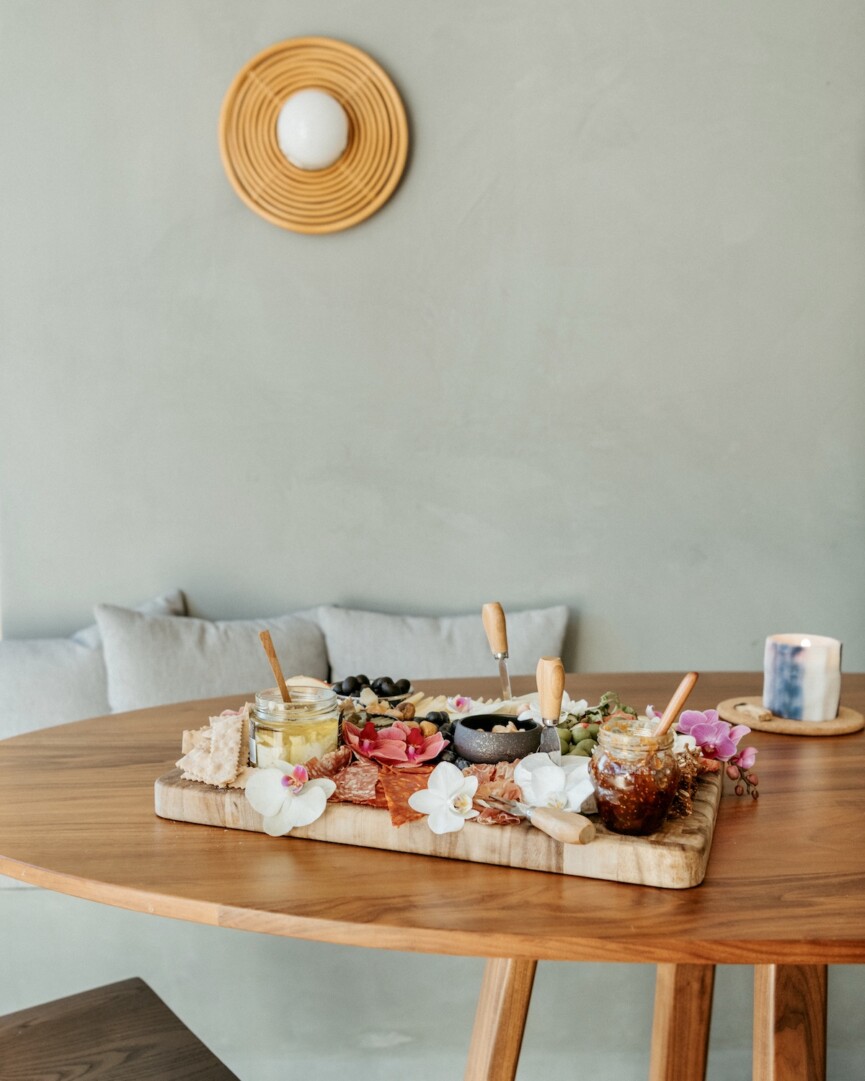 In the afternoon, we'll take an e-bike ride (our girls are absolutely obsessed with e-biking!) and meet up with friends to drink wine and eat while the children play together. In the evening Brian and I will either go for a date night (we love getting a drink at San Ysidro Ranch for sunset and then splitting a burger and fried chicken sandwich at Honor Bar) or have a family dinner at home and invite friends over to join us.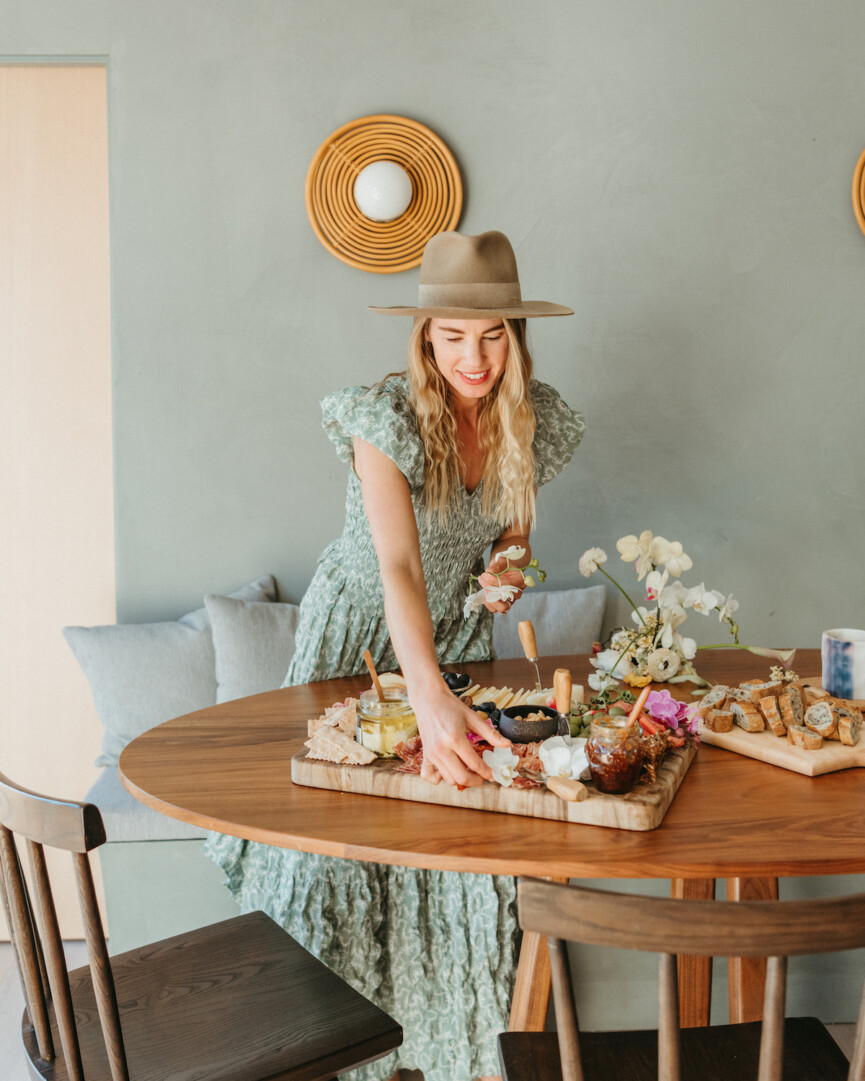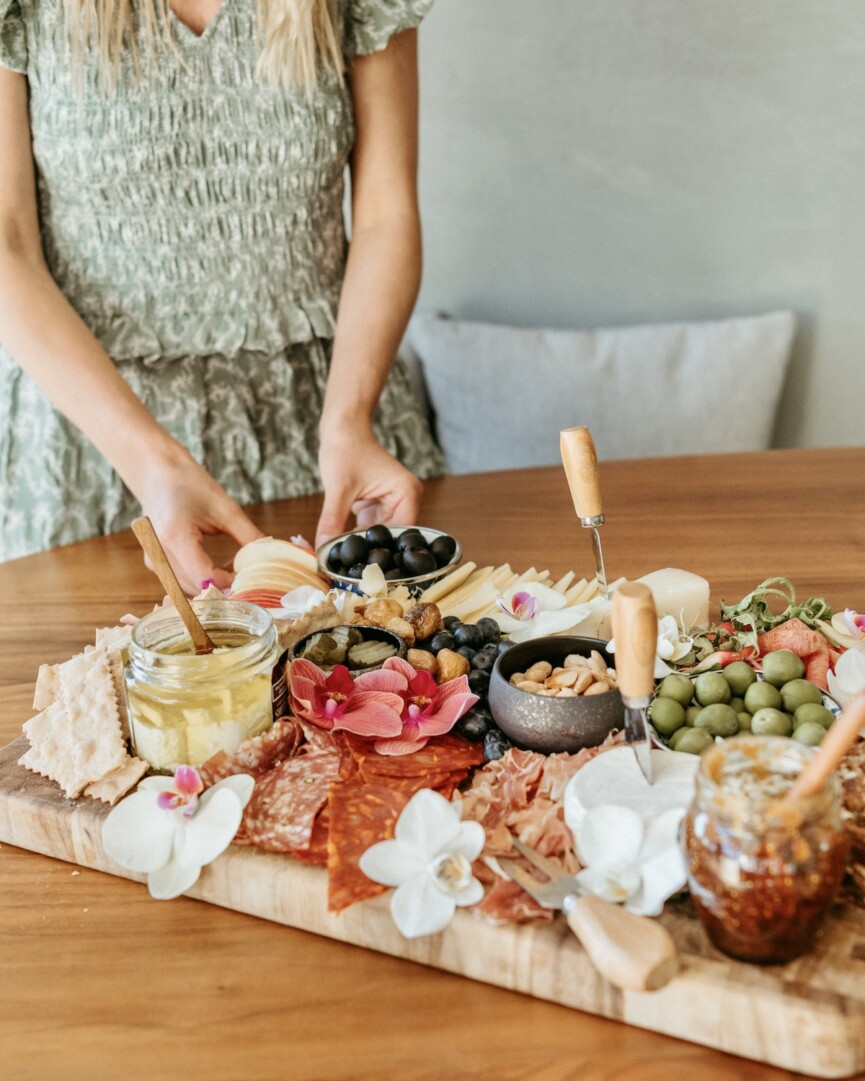 On food and cooking
Jessie, how did you learn to cook?
My mom is a professional cook, cooking teacher and cookbook author so I learned everything by osmosis. Watching her in the kitchen and just growing up in a family that is so obsessed with and focused on food definitely rubbed off on me. Cooking is such an amazing way to make guests feel welcome, appreciated and to express love.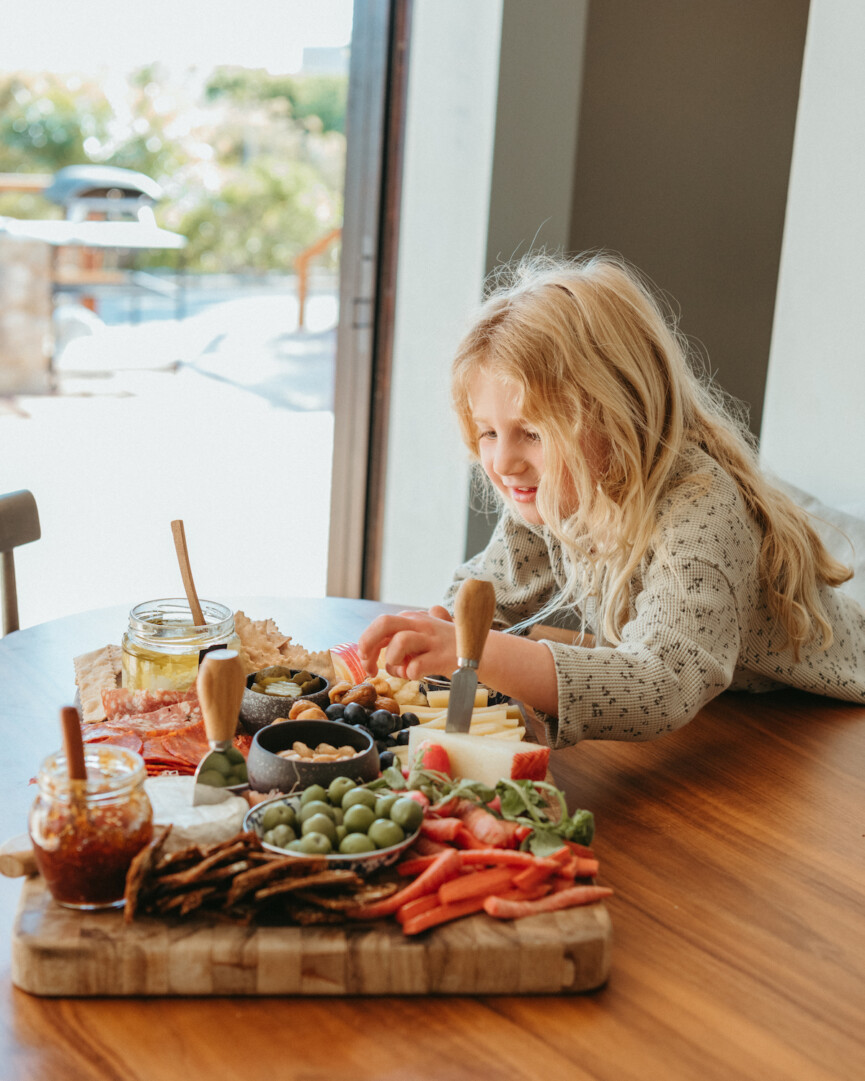 What informs your approach to food?
Living in Santa Barbara is such a gift because we have year round access to the most incredible produce and seafood! My approach is to focus on what's fresh, in season and really let the ingredients shine. I love a colorful plate of food…I find that the more colors I include on a plate, the more excited my kids are to eat it.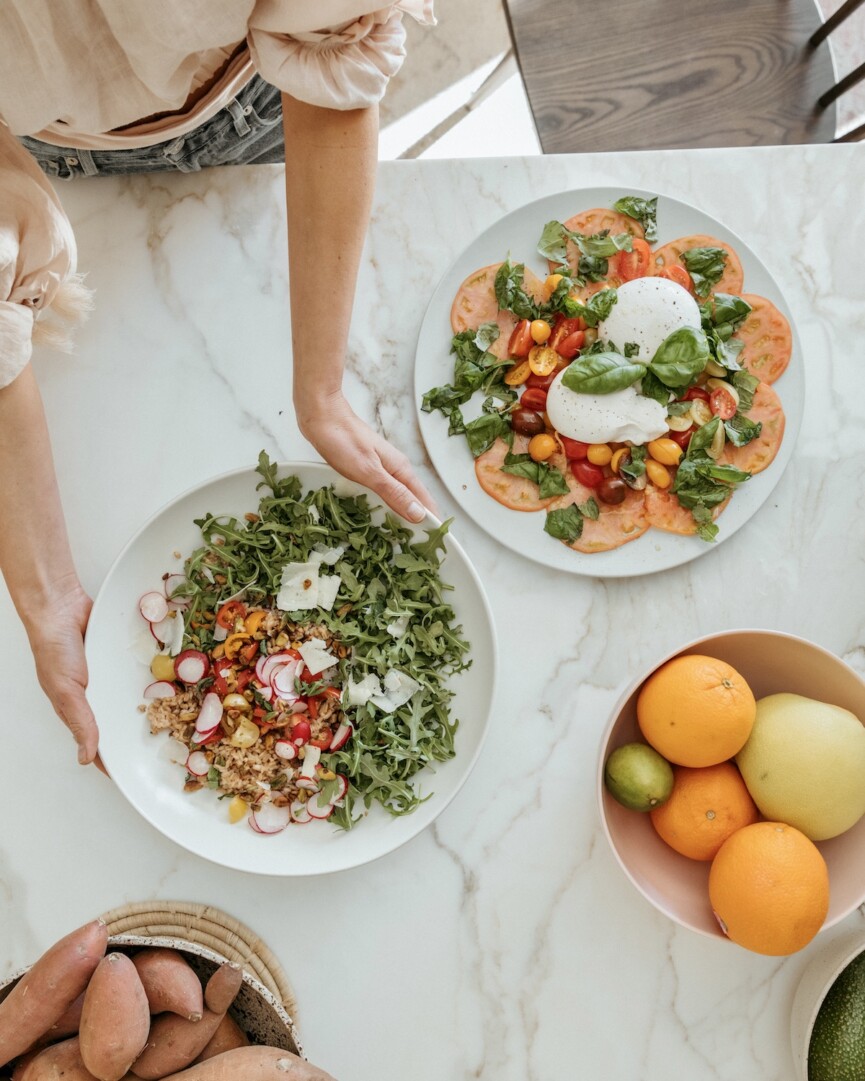 What's your must-have cooking tool?
I've been adding a lot of lemon to my cooking and salad dressings, so the lemon squeezer has been used quite a bit recently.
Tell us a few things we'll always find in your refrigerator?
Pickled veggies, many different cheeses, little gems lettuce, baby arugula, apples, eggs, oat milk, kimchi, berries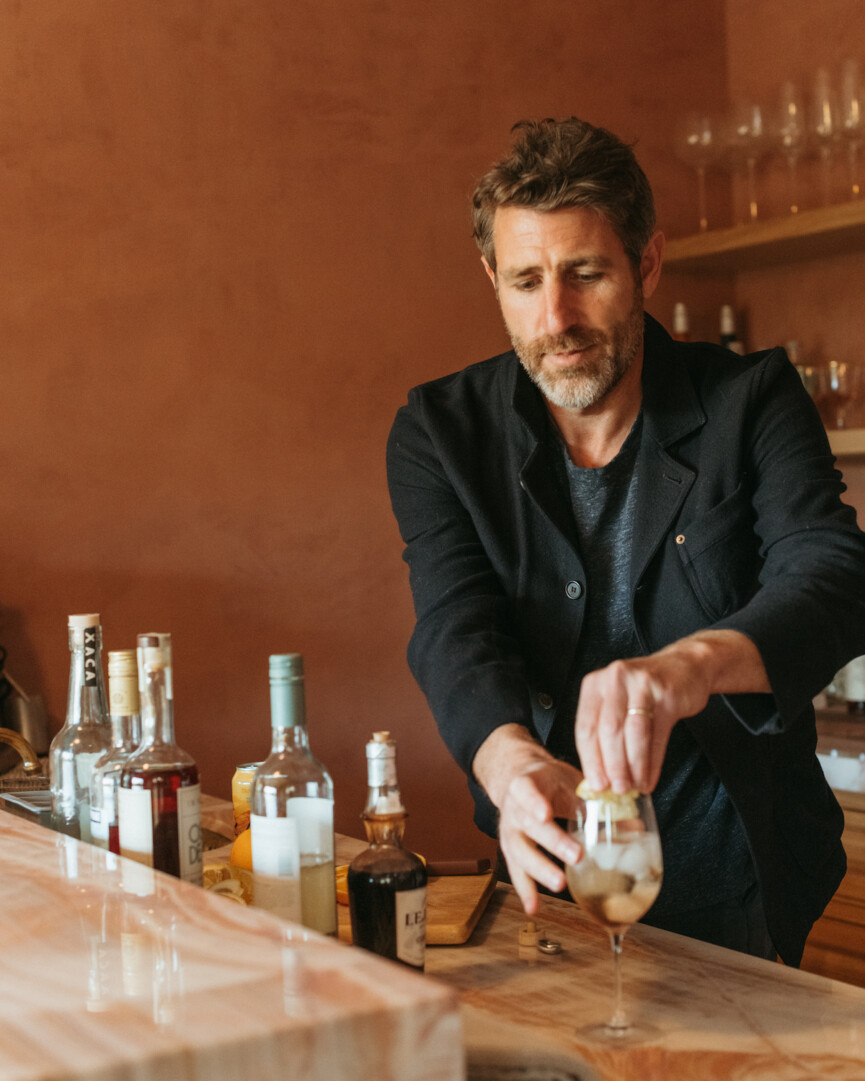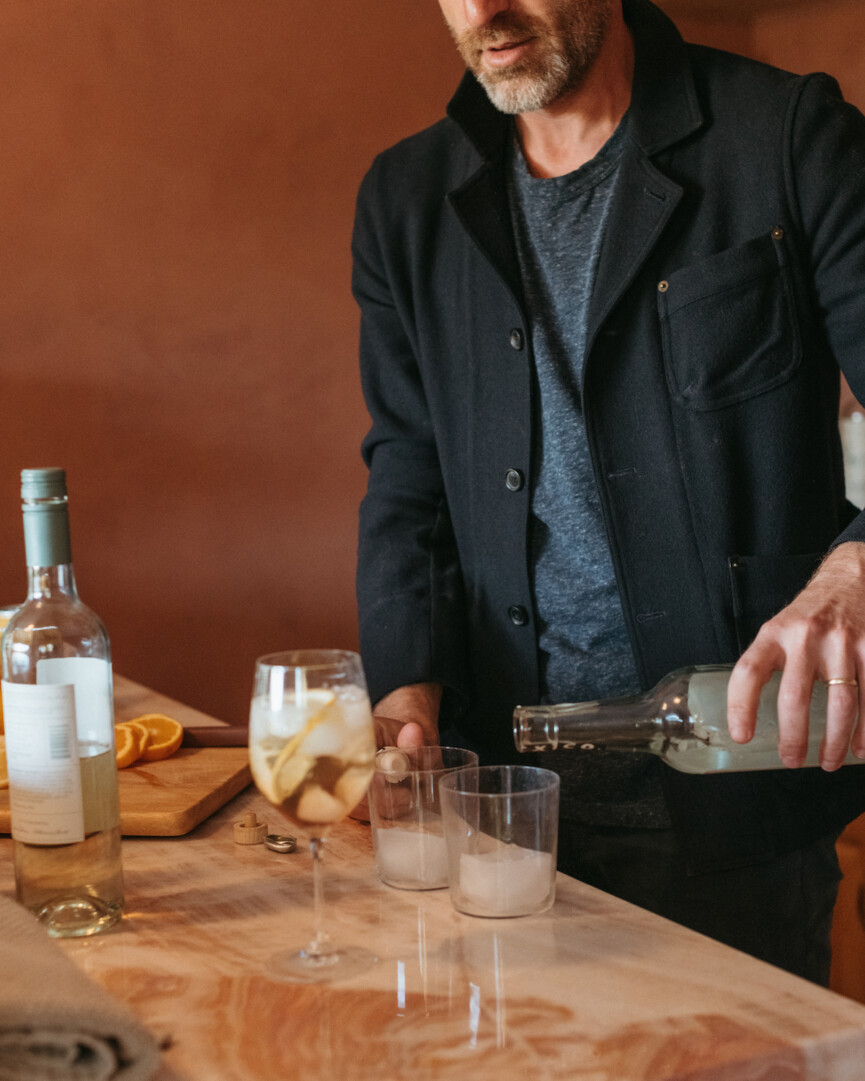 How they gather
What does a great gathering look like for you?
A great gathering means there is vibey music playing, friends are laughing, eating, and drinking while feeling relaxed and at home.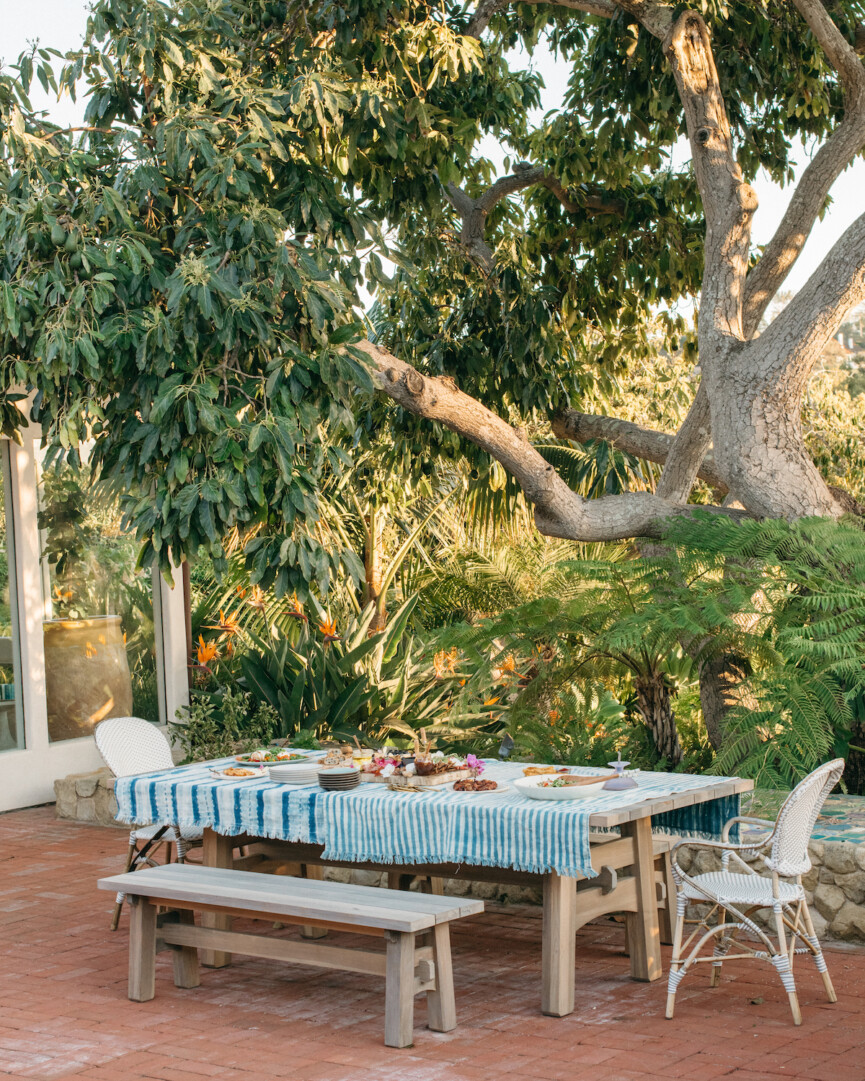 What scares you about entertaining?
Timing everything correctly! I don't want to burn anything but also want to be present and attentive to guests so I try to make dishes that can be prepped ahead of time and assembled when it's time to eat.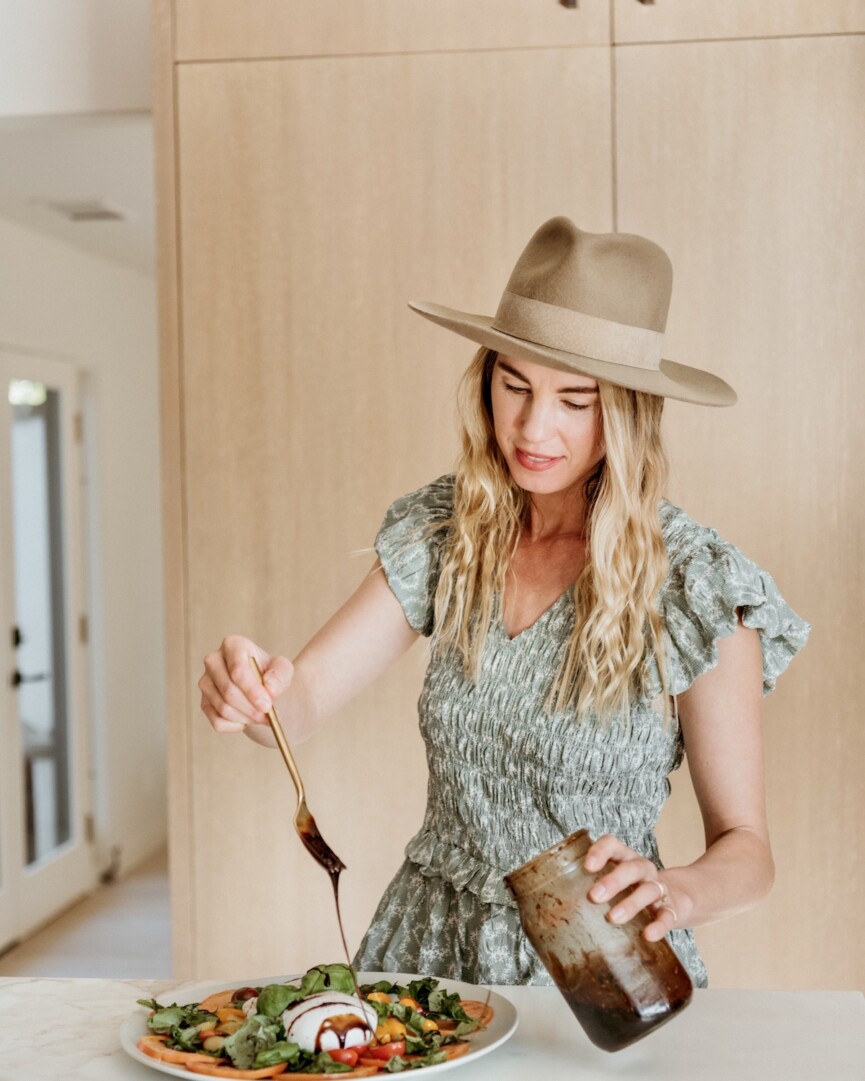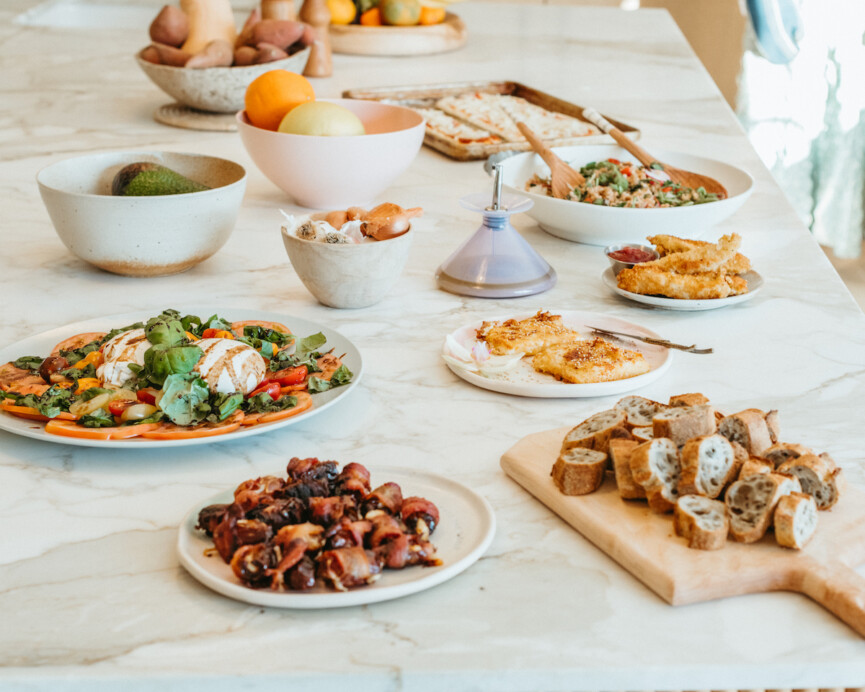 What are your signature dishes for gatherings?
I always make a large charcuterie board for guests to graze on. I make sure to have something for everyone on there and make it really visually pleasing by adding lots of color and beautiful flowers. A big crusty loaf of sourdough bread on the side is always a good idea.
I make a big salad with whatever is fresh from the market. I make sure to always include some toasted nuts for a crunch and some fruit for sweetness.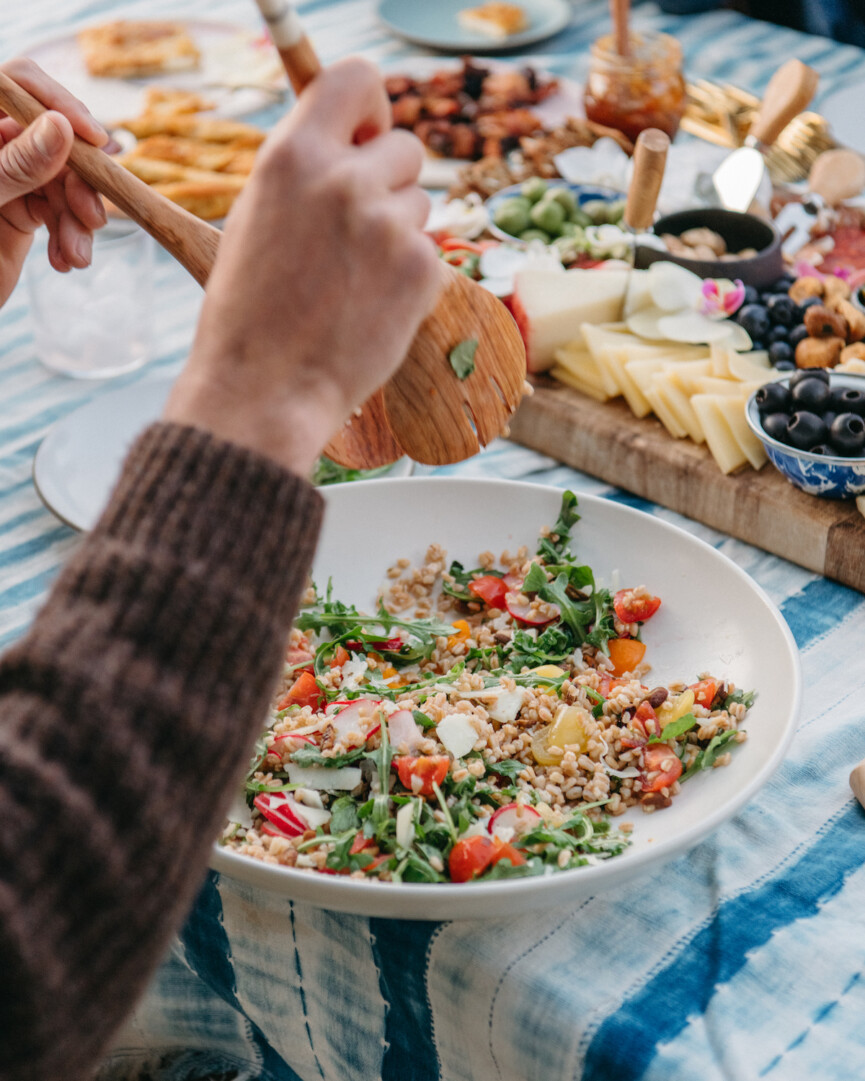 Lately I've been obsessed with the Farro Salad from Charlie Bird and have been making that on repeat.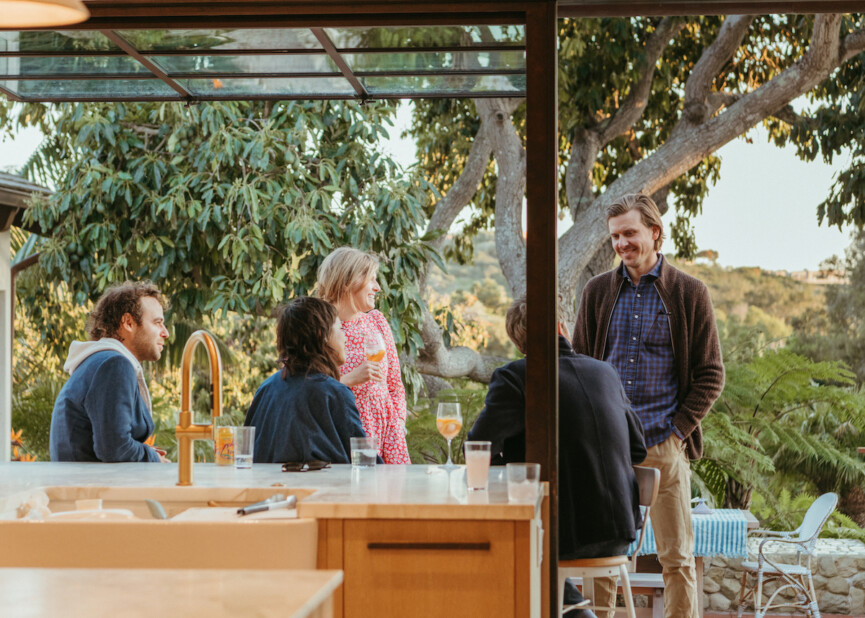 What's one tip for someone who wants to host a gathering on a budget?
Make it a potluck!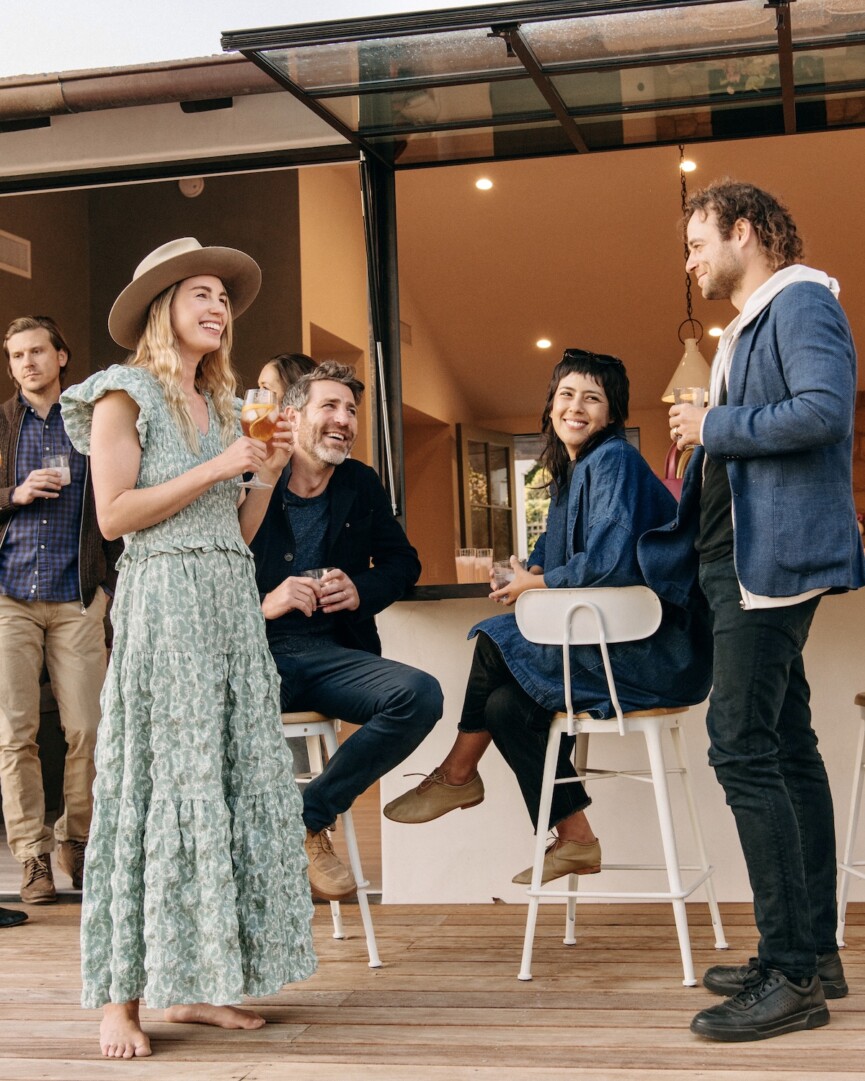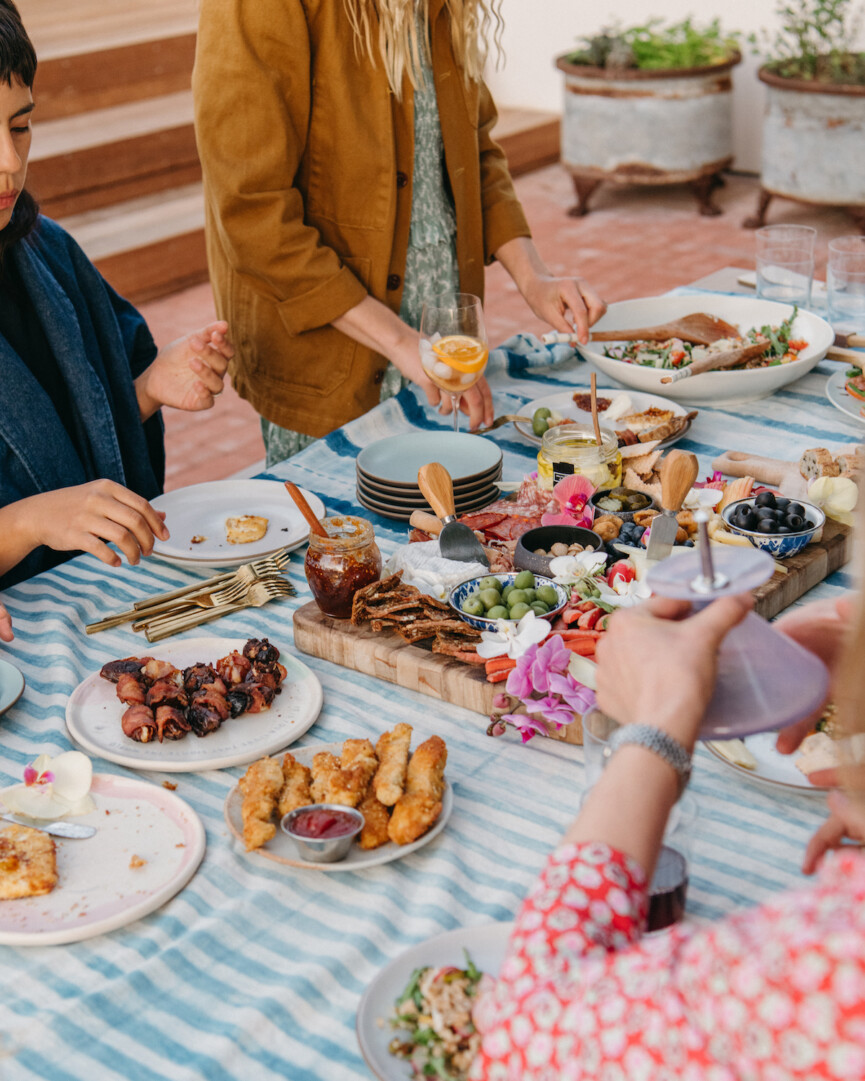 Favorite conversation starter or question to get to know someone?
What have you been thinking about lately?
The perfect dinner party playlist includes:
Nicola Cruz and Jorge Drexler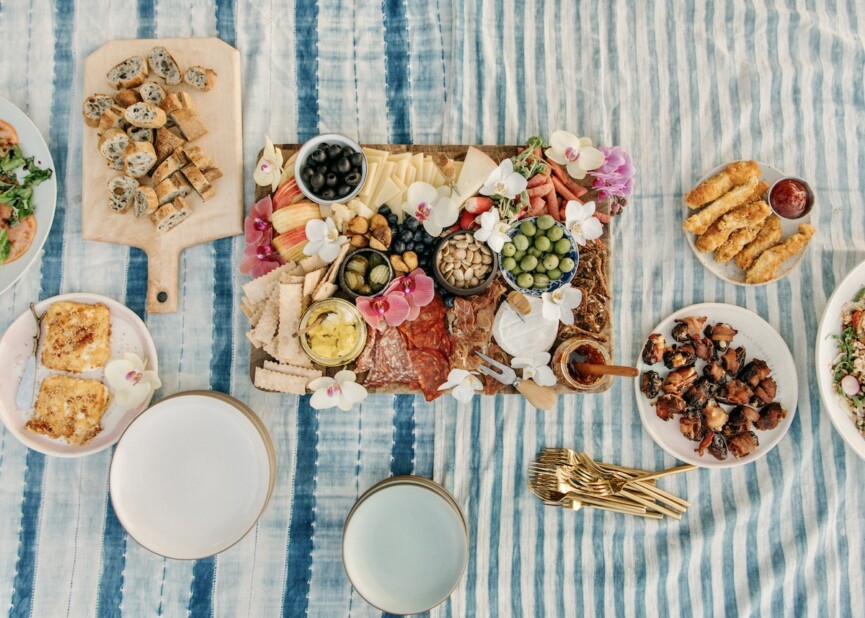 Go-to centerpiece:
Flowers and citrus fruits from the garden. Also the cheeseboard can be a beautiful centerpiece!
What is your no-stress party rule to live by?
Guests are only as relaxed as their hosts!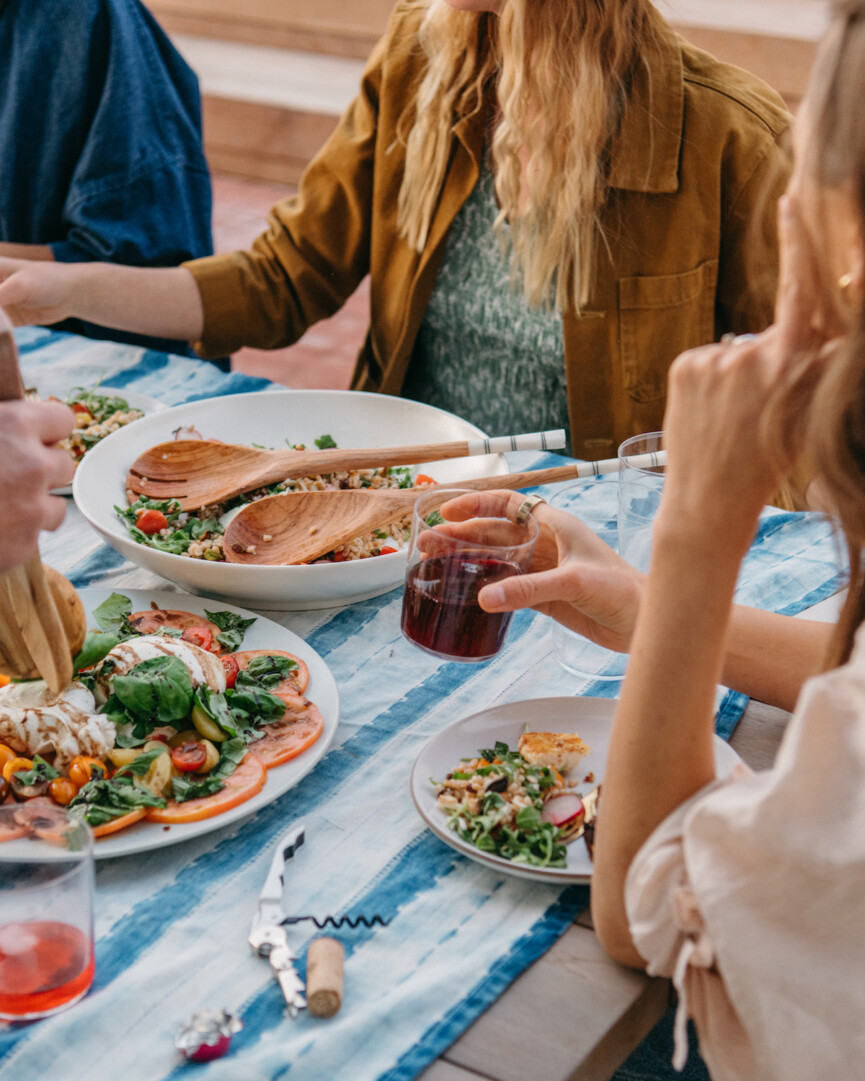 Dream dinner guests?
Our parents. It's always such a treat to have them here.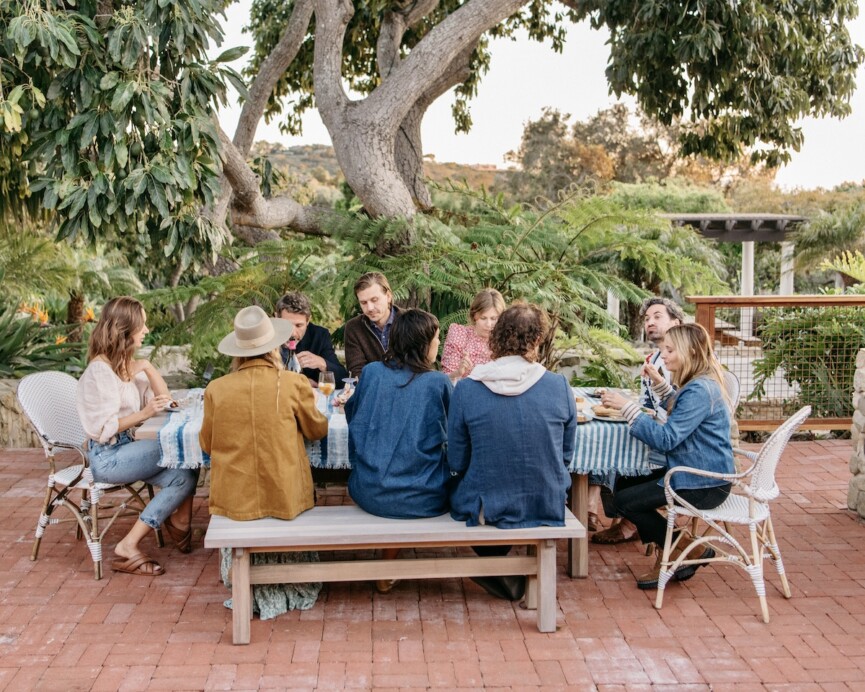 Sentence Finishers:
A perfect meal should be… enjoyed outside and barefoot.
It's not a dinner party without… a mid-meal performance from our daughter Amelie.
Every cook should know how to… make a really good salad dressing.