We made it to spring! And if you're like me, you're looking for every reason to celebrate this year. A Mother's Day picnic in the backyard is the perfect opportunity to do just that (and welcome outdoor dining season while we're at it.)
Our yard was hit pretty hard by the recent Texas storms, and we ended up having to tear out almost every plant and many of the trees that didn't make it through. It was heartbreaking—especially for Adam, who'd poured himself into cultivating our landscape almost every weekend over the last decade. But after a few days of mourning the loss of some of our favorite plants, we decided to find the silver lining and use the clean slate of our yard to create a new space for our family to enjoy.
We teamed up with Target to turn our side patio into an extension of the house, so we can open up the doors and get outside as much as possible this spring. I've got to say, although I've been a fan of Target's outdoor pieces for many years, the 2021 spring/summer collections are my favorite so far. Everything is so well-made and durable, with plenty of outdoor furniture and decor accents that perfectly nail that neutral, lived-in look I'm always going for.
Scroll on to see our new setup, get my tips for maxing out your outdoor space this season, and of course, the breezy Mother's Day picnic menu I created to break ours in with the fam.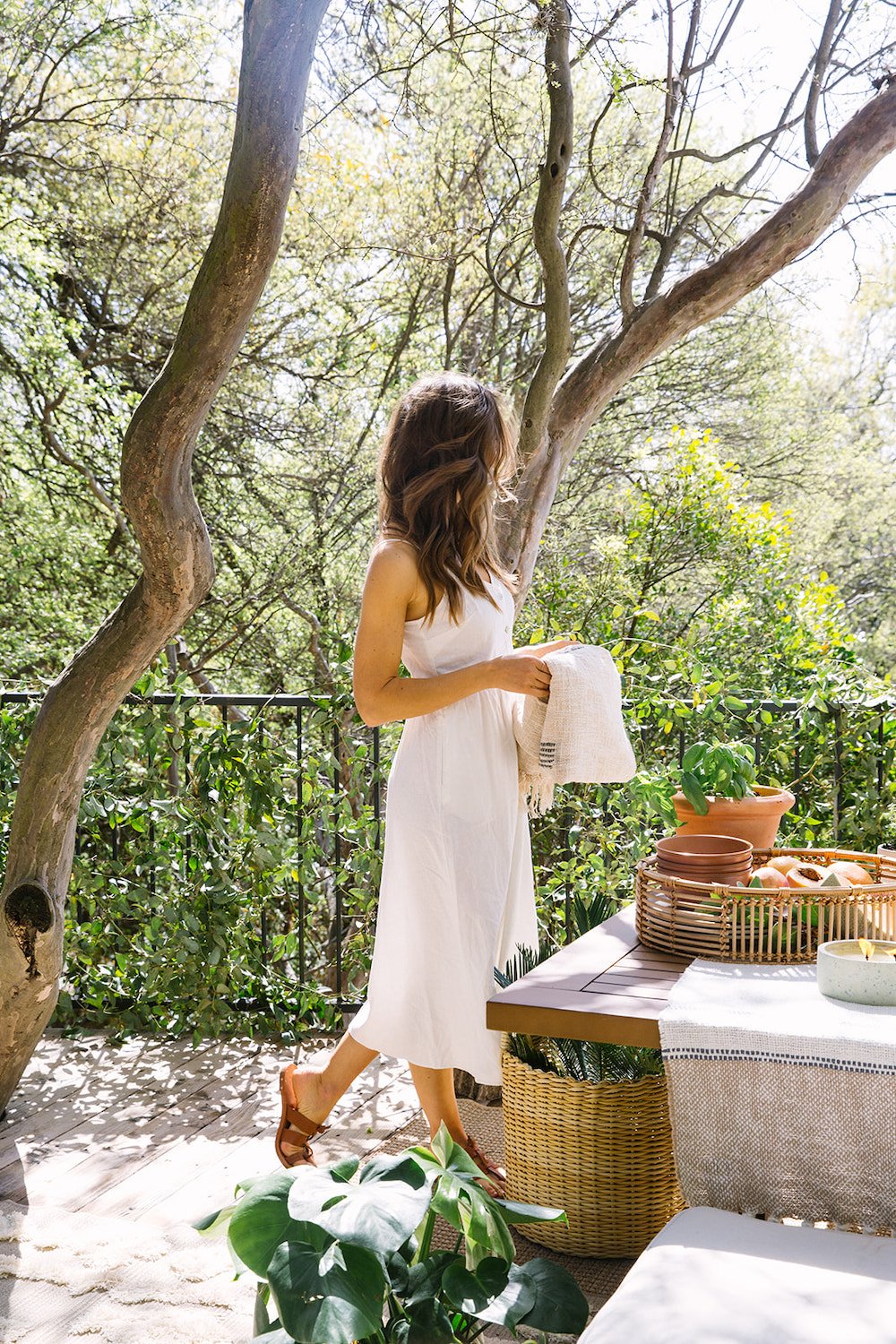 Morie Farmhouse Wood Dining Table – Threshold, Eliot Dining Bench – Threshold, Wicker Planter/Basket 14″ – Treshold, Women's Sleeveless Button-Front Dress – A New Day™
Create a backyard oasis that feels like you!
Gone are the days when the goal is "impressing your guests"; now it's all about designing a home that feels good for the way you live. Approach the design of your outdoor space thinking about what you love to do, whether it's play games with the fam, get your hands dirty planting a garden, or starting the day with a morning meditation.
Then get creative, no matter the size of your space! One of my favorite things about Target's collections is that they can be mixed and matched to create a look that's all your own. My neutral-loving style was instantly drawn to these textural, natural fiber rugs… but it's the pops of color and bohemian flavor added by the planters and fringe-y umbrella that really make this space feel special.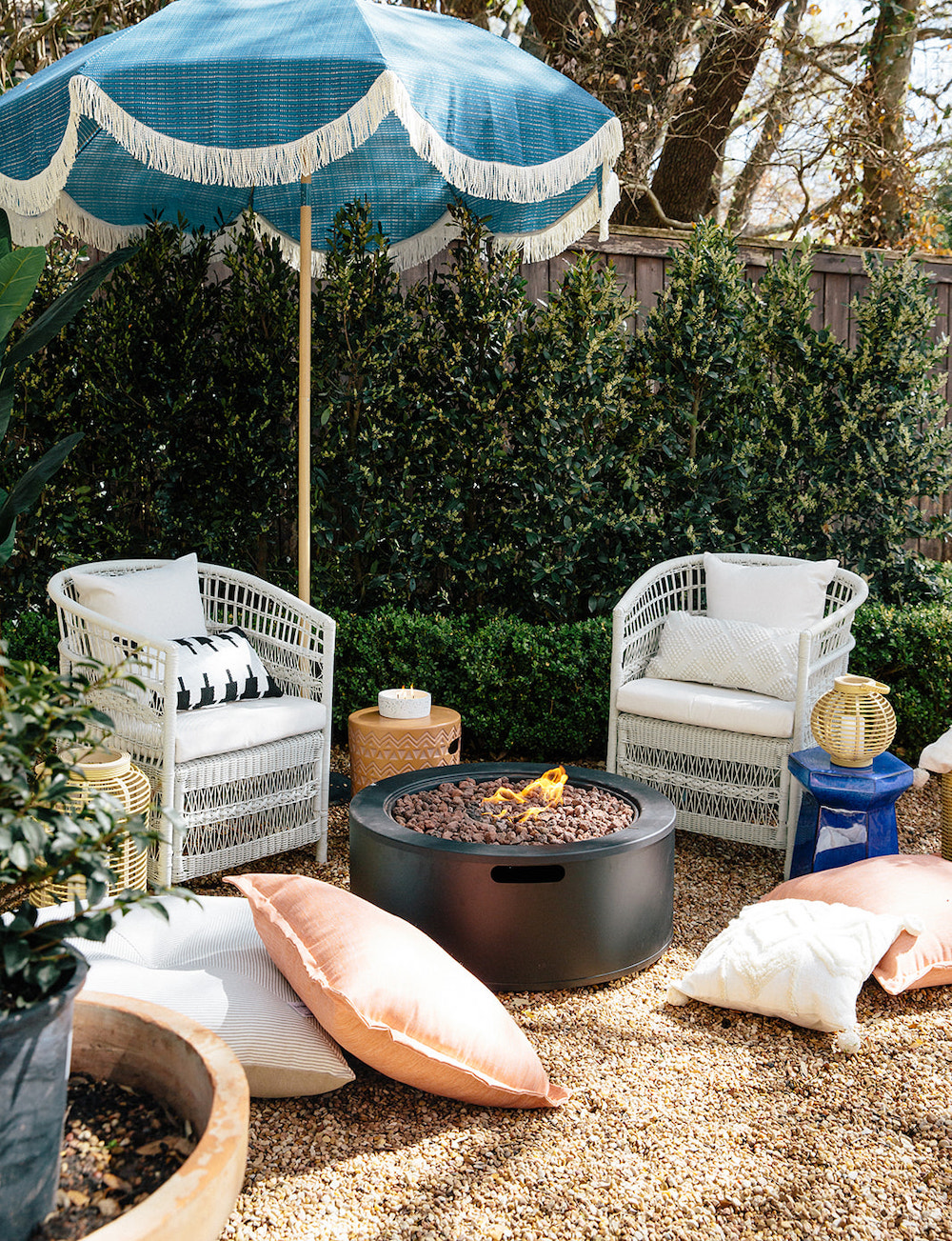 Extend outdoor season with a fire pit.
There's just something about sitting around a fire that makes spring and summer evenings extend well past when the fireflies come out. I've noticed that when we gather around ours, conversation flows easily and no one wants to leave. This modern fire pit is such an easy alternative to a wood-burning one; you just connect to a propane tank and turn it on. It's truly the anchor of our outdoor lounge space, letting us enjoy the outdoors even when the evenings are still chilly. Plus, s'mores season!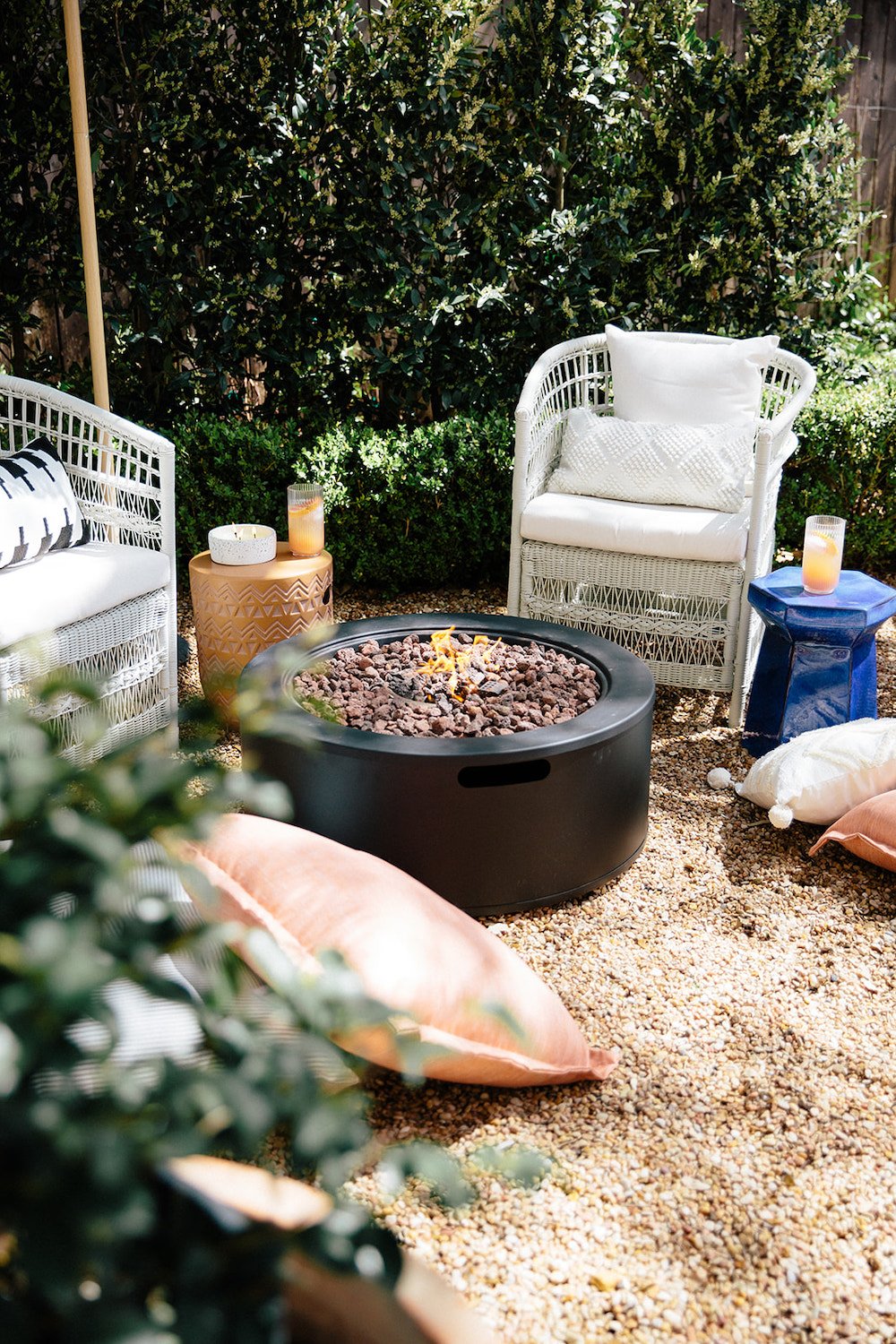 I surrounded the lounge area with plenty of outdoor pillows and poufs to add color, texture, and comfort. Adding a few of these creature comforts lets us enjoy more time outside—and safely invite a few family or friends to join us. Plus, there's no better way to cozy up a space than by tossing around a few cushions. Whenever I hit Target's throw pillow aisle at the start of a new season, well, let's just say I better have a big cart.
Mix real and faux plants for an instant, low-maintenance container garden.
The easiest, most affordable way to totally transform a space? Beautiful plants. And container gardens are the perfect solution for a beginner gardener or a renter, apartment dweller, or anyone with space constraints.
As mentioned, the effects of the storm meant we were pretty much starting from scratch with our landscaping. The jasmine covering our fence didn't make it, so we had to start with new shoots that are only a couple of feet tall and will take at least a year to start covering the fence again. But you know what doesn't require lots of waiting time? A container garden! For the uninitiated, a container garden simply means growing plants in containers (like pots) instead of planting them in the ground. How gorgeous is Target's selection of planters and baskets this year? And with many of them coming in at $20 or less, they're affordable enough that I can stock up, and group them together for a patio with tons of character.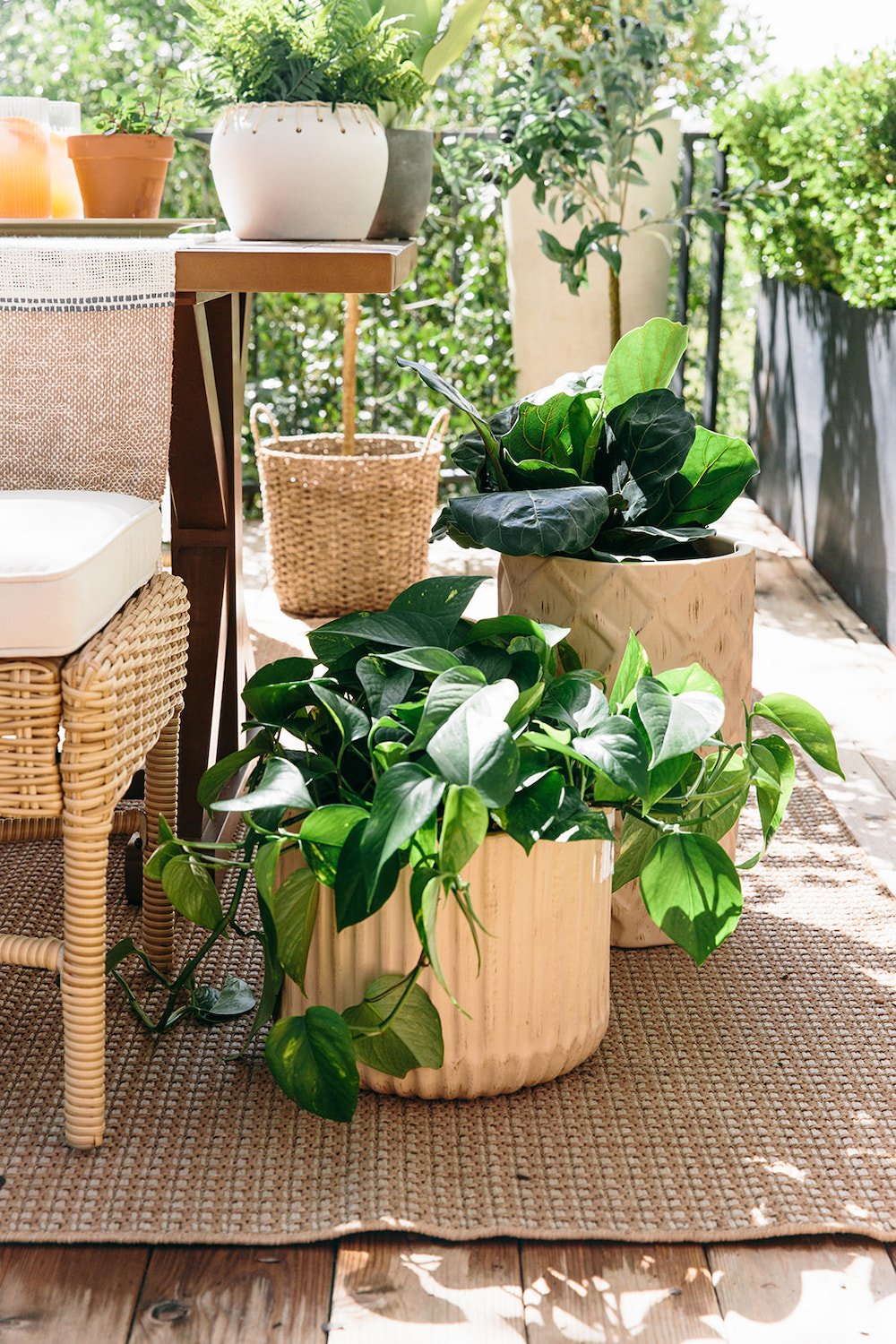 Since I don't have the greenest thumb on the planet, I also really appreciate Target's on-point selection of faux plants that look so real, I can mix them right in with my real plants, and no one's the wiser. Not only are they gorgeous and lush, it means fewer plants that I might accidentally forget to water… Can you spot the faux in this image above?
The Mother's Day Menu: Keep It Simple
One of my requirements for a Mother's Day menu is that it's got to be easy enough for Adam and the kids to make it solo. Does anyone feel me? Okay yes, I definitely styled the cheese and charcuterie board shown here (Adam's good but he's not that good), but with a little instruction, this grazing table is 100% something that my family could make without me. My plan is to be completely submerged in a very hot bath with my air pods in until it's time to pour the mimosas.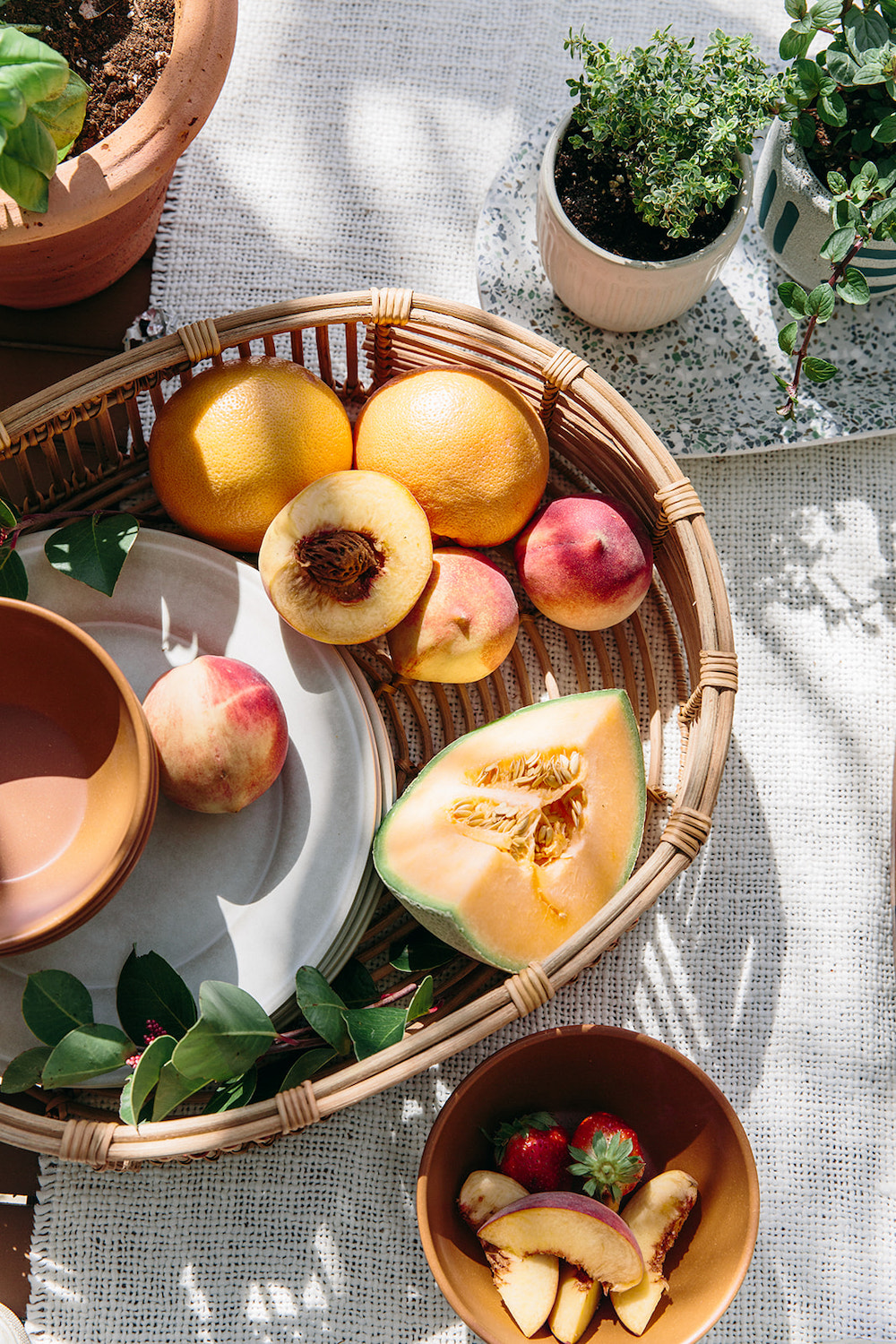 Thankfully, "easy" can still be incredibly festive. After all, this is a chance to celebrate the moms who have been working so hard during this challenging year! This picnic spread keeps prep super simple with a huge grazing board full of Good & Gather snacks, nuts, and spring produce, plus an assortment of cheese and charcuterie. And all that gorgeous seasonal fruit played double duty as my table centerpiece: a cut melon, blush peaches, and juicy grapefruit play set a farm-to-table vibe, and their pastel tones play off the palette of my garden-themed table.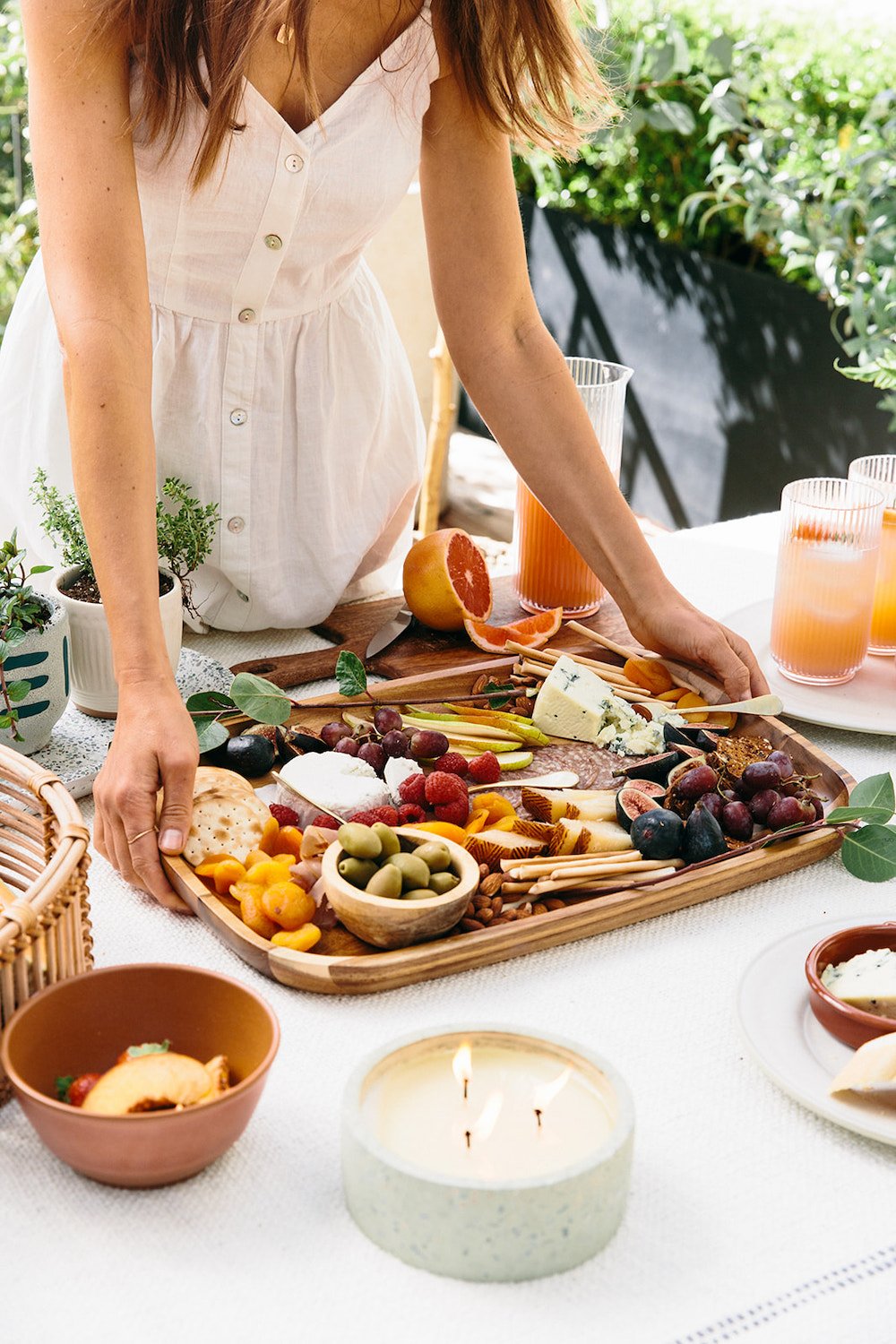 Cheese Board Tips
Here's what I added to this cheese and charcuterie board:
Cheeses: a wedge of Stilton, a wheel of creamy goat cheese, and slices of firm manchego
Meats: thinly sliced prosciutto and rounds of salami
Fresh fruit: raspberries, grapes, pears, and figs
Dried fruit: Good & Gather Dried Apricots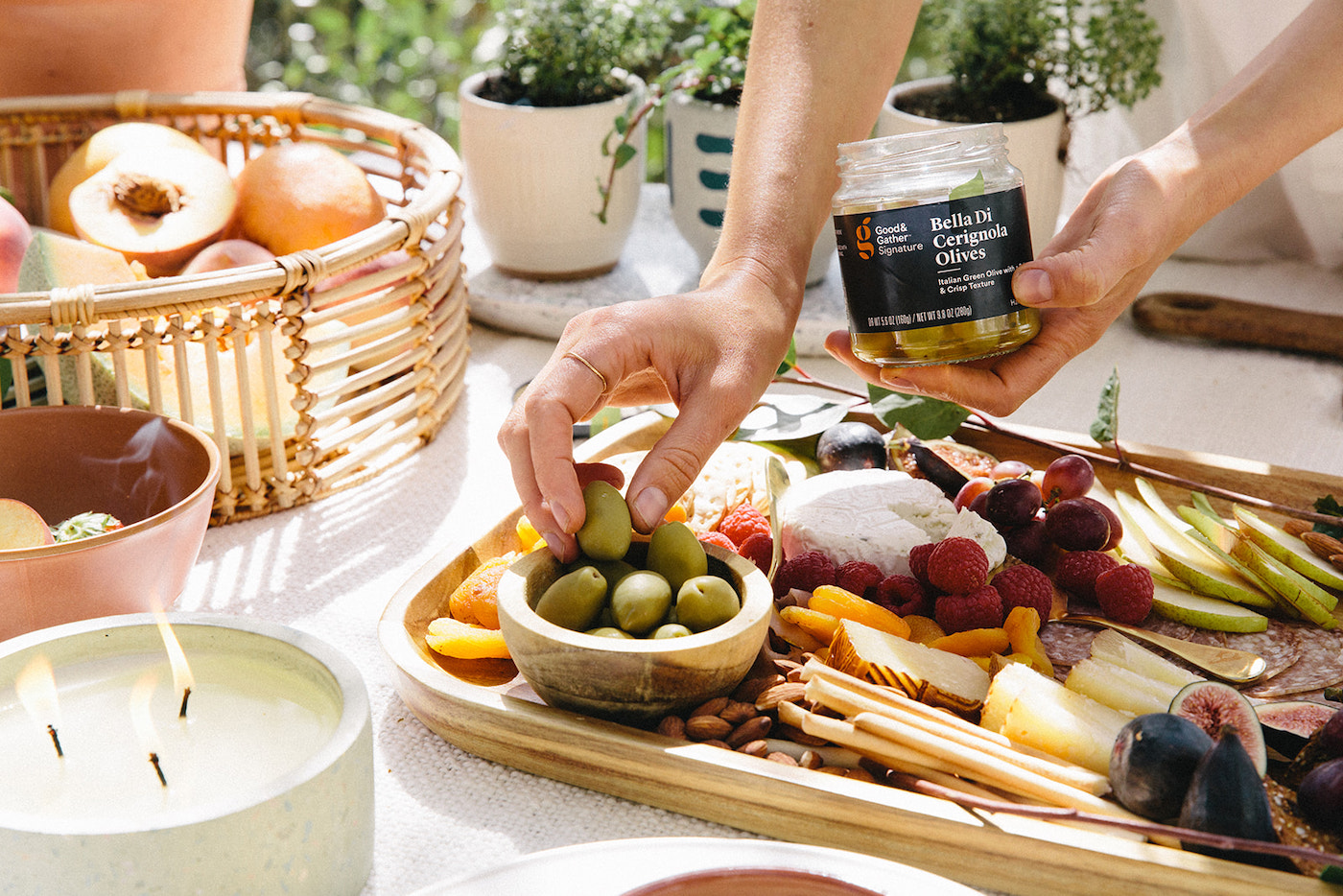 Rattan Tray – Opalhouse, Citronella Candle Terrazzo Creamy Chai Project 62, 20″ x 13″ Acacia Serving Tray – Threshold™, 4″ Earthenware Ceramic Planter Striped Gray – Project 62™, Textured Ceramic Planter White – Opalhouse™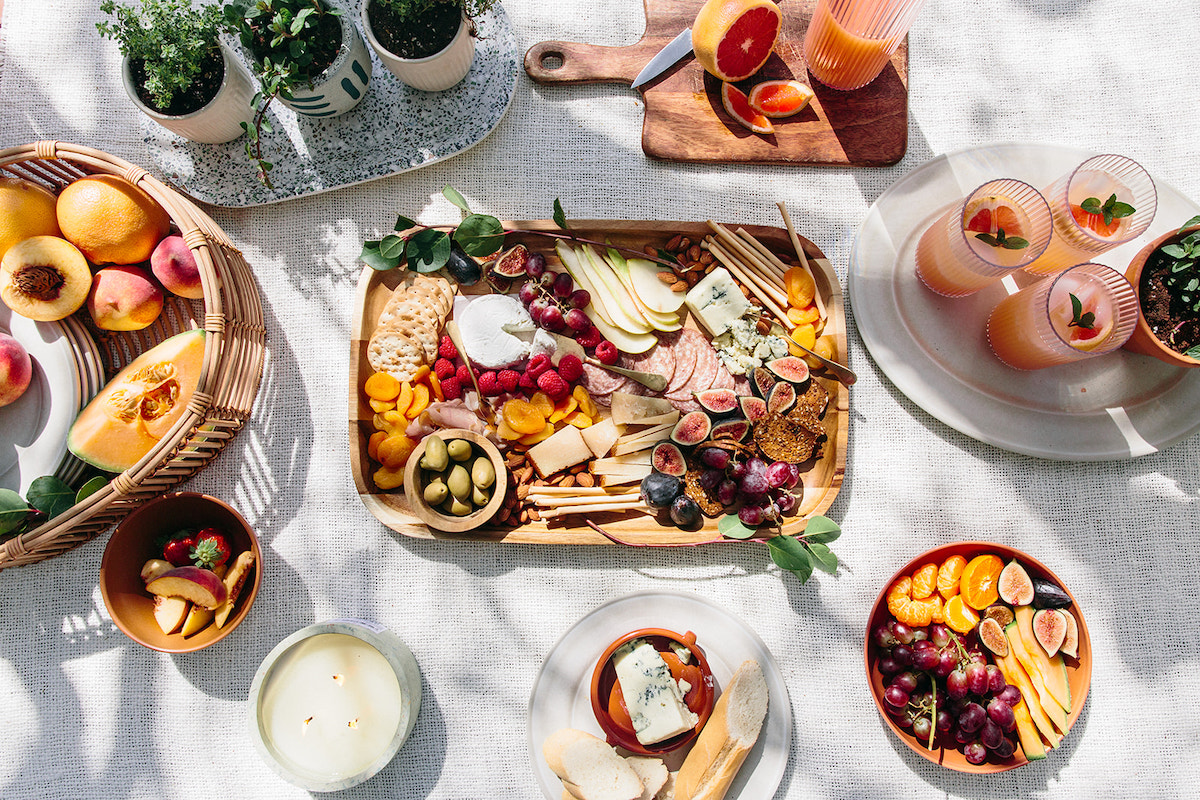 The beauty of this menu is that it's basically a meal on one big platter. I set out a baguette and the rest of the fruit in a big bowl, and we filled our plates with our favorite snacks (my kids frequently ask for "Family Snack Night" for dinner, and I'm usually more than willing to say yes.)

This dinnerware looks like handcrafted terra cotta, but it's actually an incredibly durable blend of bamboo and melamine. It's funny to watch people pick up a plate expecting the heaviness of stoneware, and be surprised by how lightweight these are. And I can really get behind "kid-friendly" dishes that actually add to the aesthetic of my tabletop.
Grapefruit Mimosas on Tap
I've declared these grapefruit mimosas my official cocktail of spring. The ingredients couldn't be simpler, and it's light on the alcohol, refreshing, and just so darn drinkable, especially as a daytime brunch cocktail. Here's what you need:
Grapefruit Juice
Prosecco
Mint and Grapefruit Slices for garnish
Stir it together in a beautiful pitcher, then pour over ice.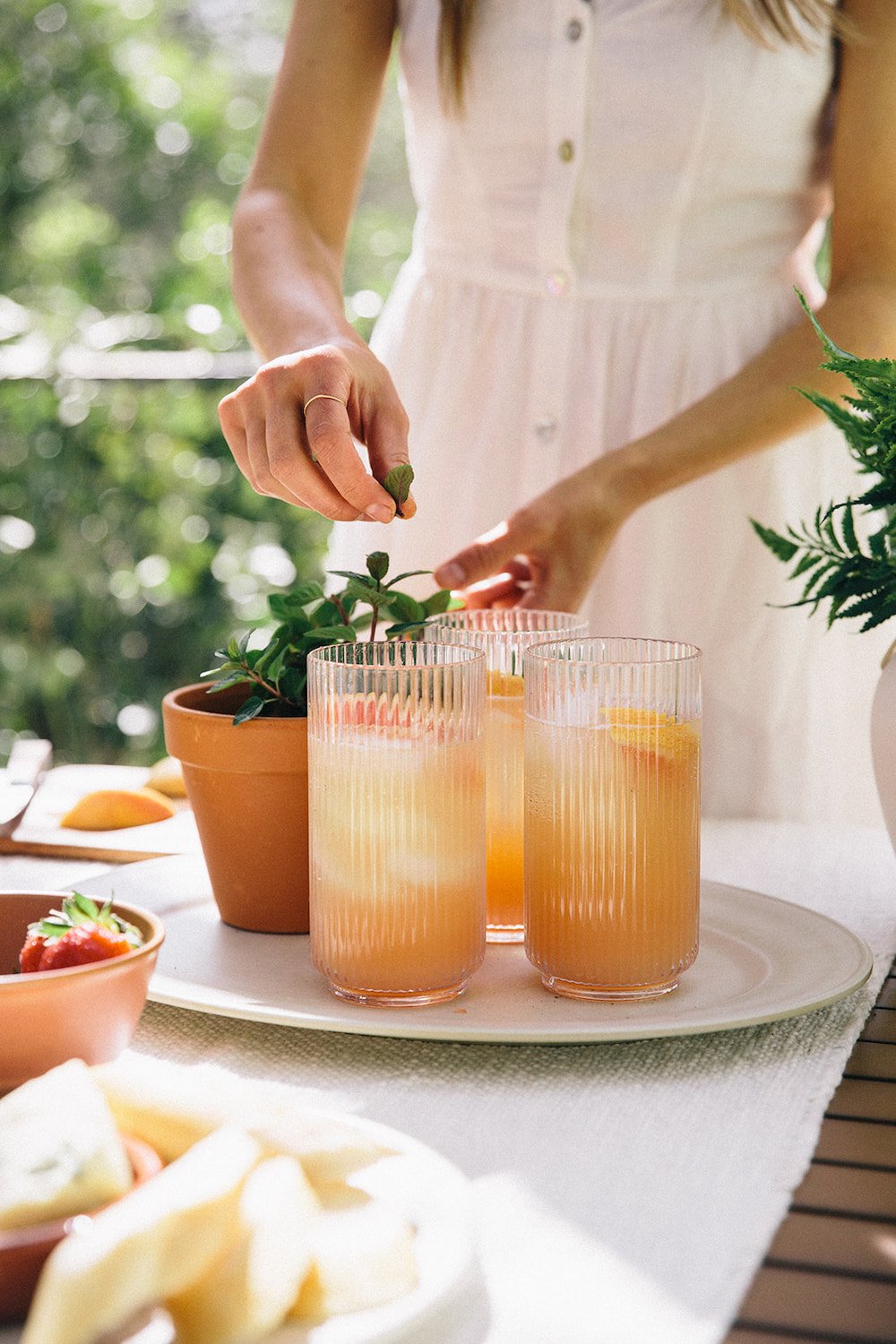 Create an Eco-Friendly Picnic Setup
We're doing our best to live low-waste lives, so whenever possible, I go with durable outdoor dinnerware instead of paper plates; pretty glasses instead of plastic. For a picnic, I like to lay the foundation with neutral, everyday tabletop pieces that I love and use all the time, then dress them up with affordable but special touches like candles. This tablecloth is actually a lightweight throw blanket that I tossed over the table—I love the texture it added to our setup. Then (picnic hack!!) I pulled it right off the table and laid it on the ground to serve as our blanket when it was time to picnic.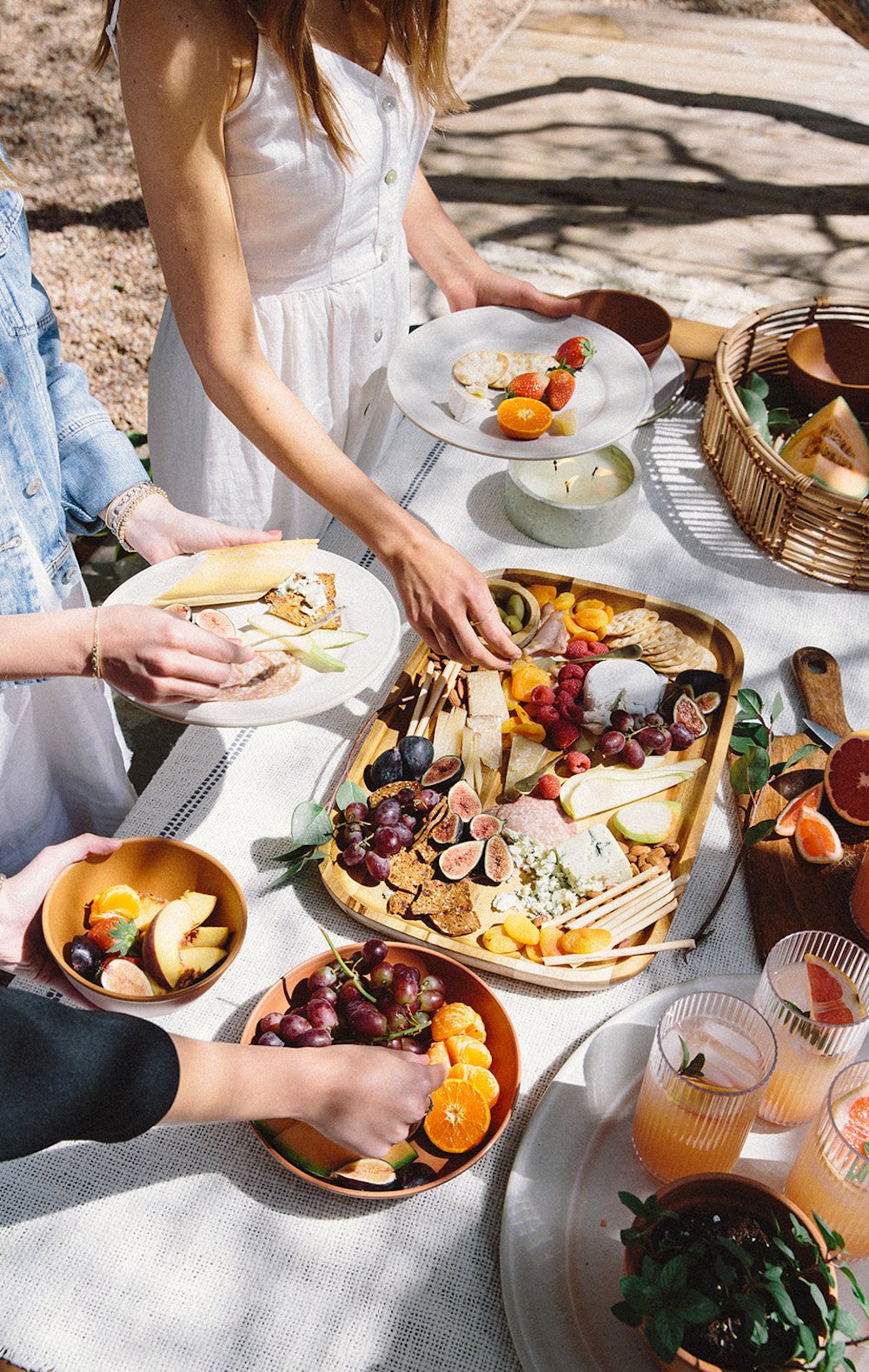 Let's take a moment to talk about these citronella candles from Project 62, shall we? I cannot begin to describe how long I've searched for citronella candles that are actually pretty and will repel mosquitos, and here they are. These are made of a chic, matte terrazzo (yes please) and have five wicks to help the wax melt more evenly, providing that warm, magical glow (and anti-bug vibes) to any and all outdoor evenings this season.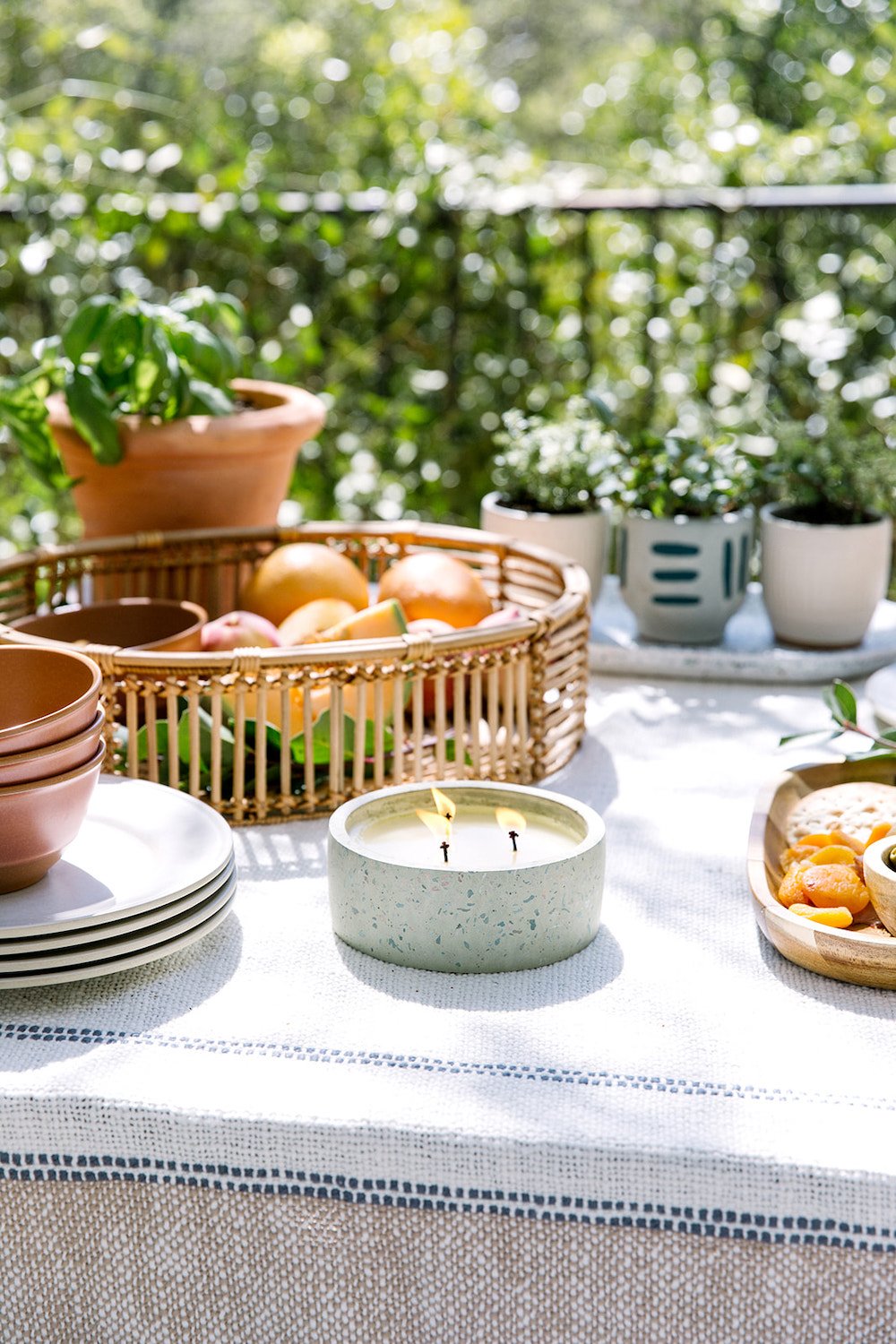 They also come in gray and blue, and you better move fast because I might buy all of them.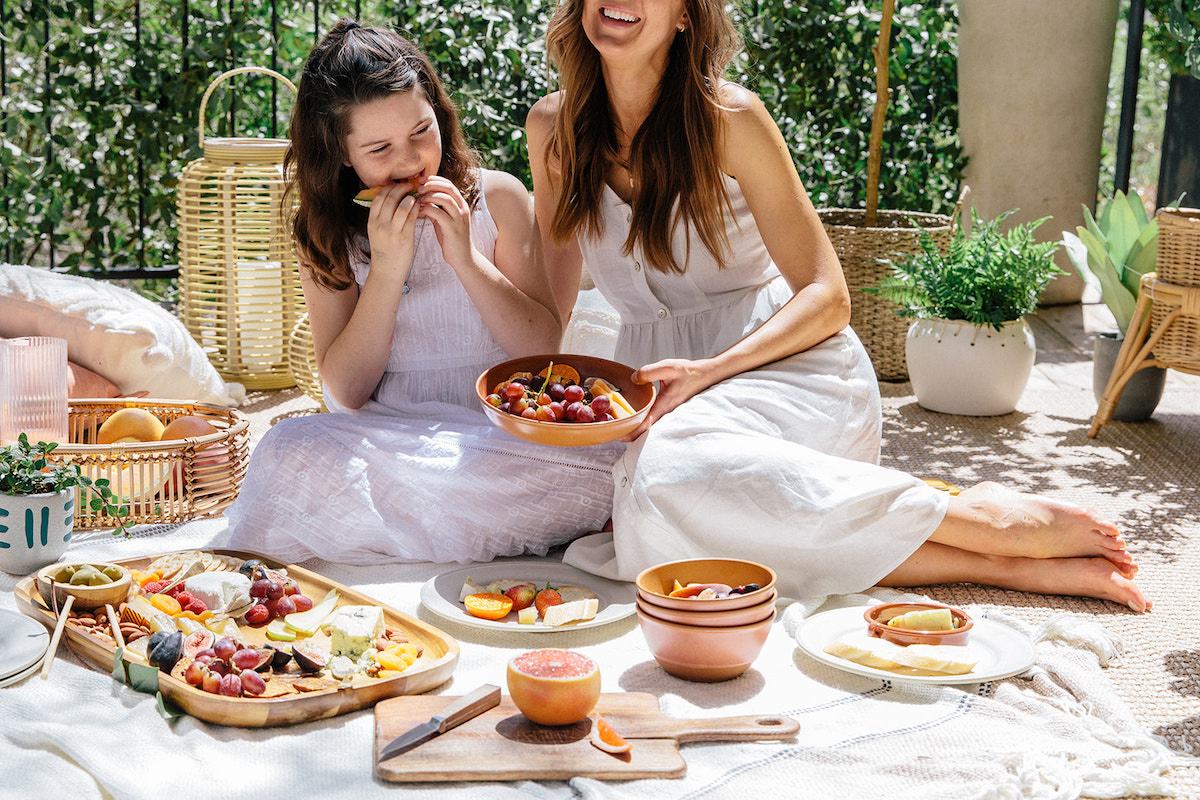 'Tis the season for easy white dresses that embrace that carefree, rumpled look (since I've completely given up ironing in my life.) I'm wearing the Women's Sleeveless Button-Front Dress by A New Day™, and Phoebe has on the Girls' Tiered Woven Maxi Sleeveless Dress by Cat & Jack™ in White.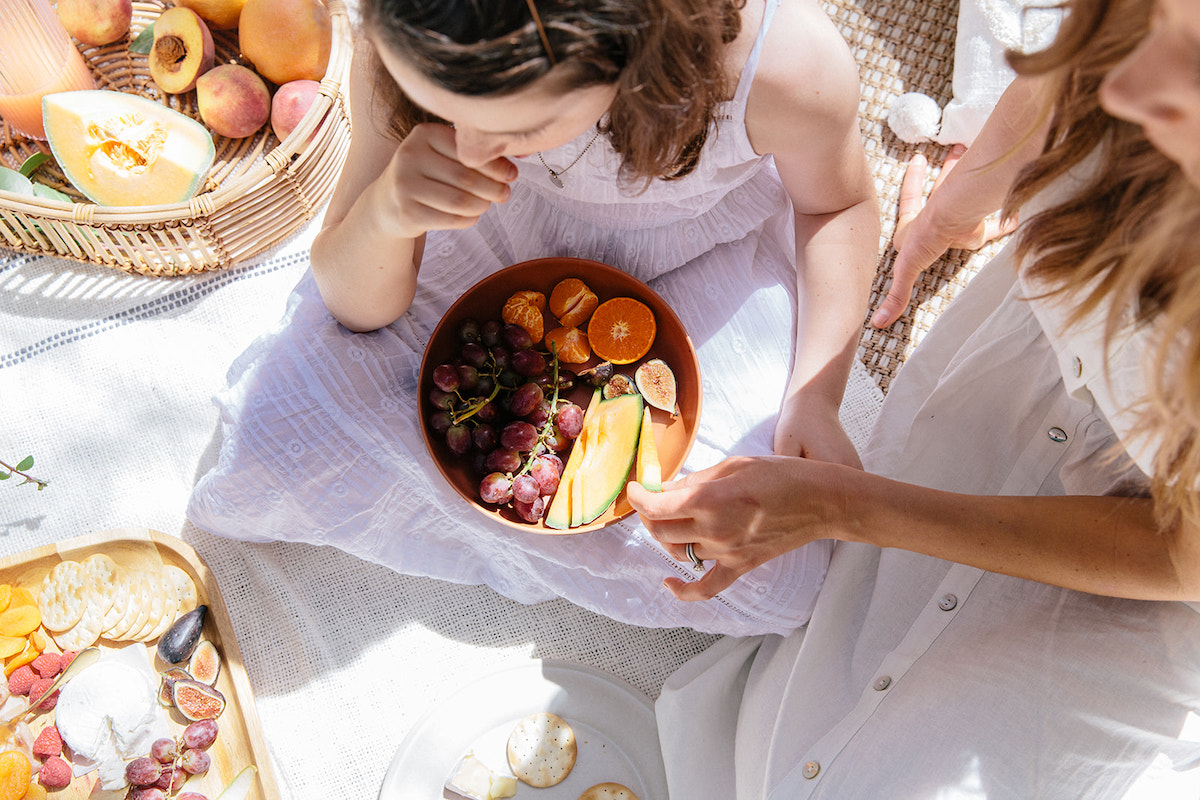 When in Doubt, Picnic
You heard it here first: Picnics are going to be big this year. They're the perfect way to gather with friends and family again while respecting people's comfort levels by staying outside and giving the option of social distancing. Plus, if you don't have a full outdoor furniture setup, no prob. All you need for a great meal on the grass is a picnic blanket (or in my case, this throw blanket) some durable outdoor-friendly dishes and this easy snackable menu. Load it up into a big basket and head to a nearby park—or your own backyard.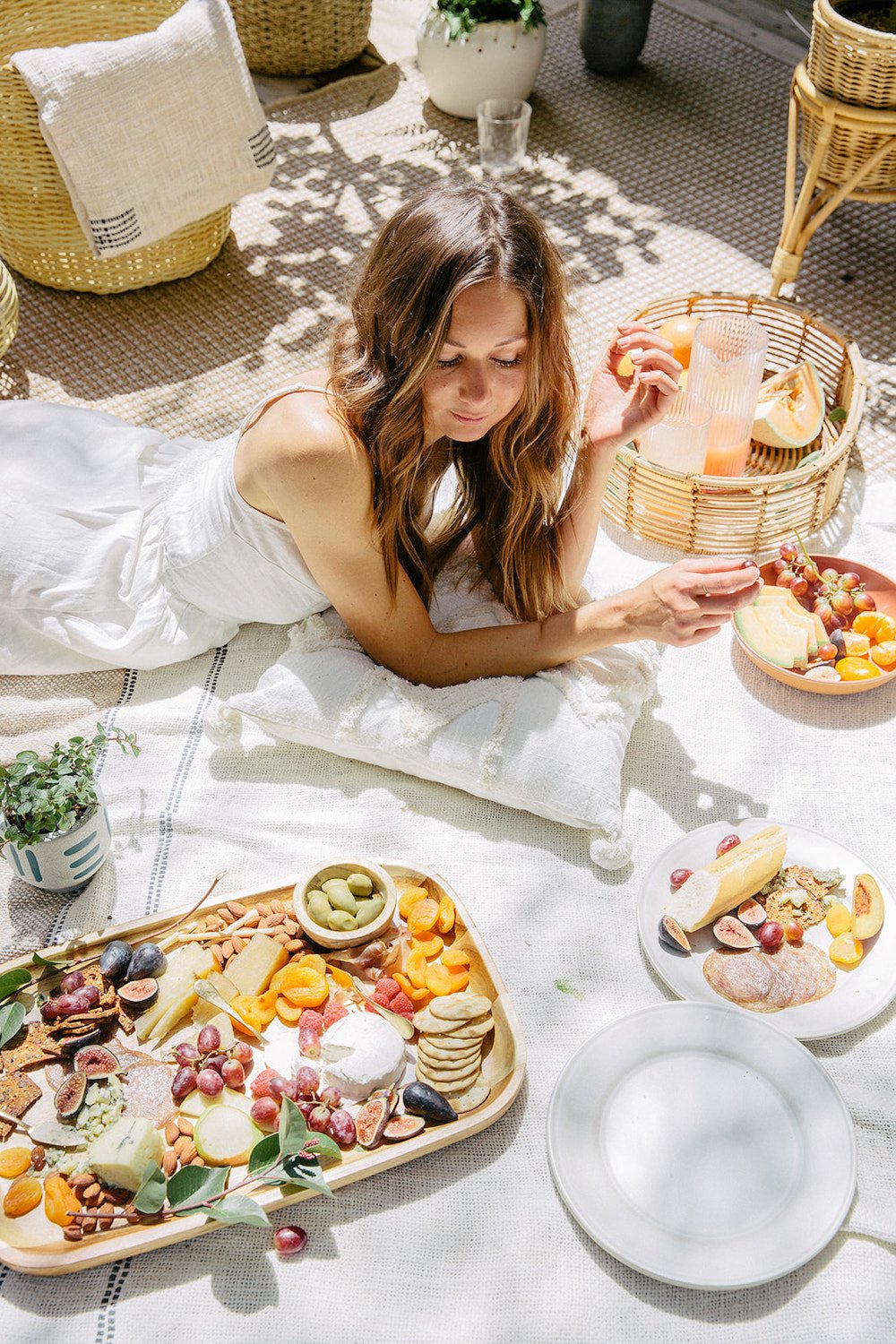 Summer Wheat Weave 7×10 – Smith & Hawken, Rattan Tray – Opalhouse, TH Dinner Plate – White, TH Dinner Bowl – Terracotta, 20″ x 13″ Acacia Serving Tray – Threshold™, 4″ Earthenware Ceramic Planter Striped Gray – Project 62™, Fern – Threshold, Wicker Planter, Wicker Planter/Basket 14″ – Treshold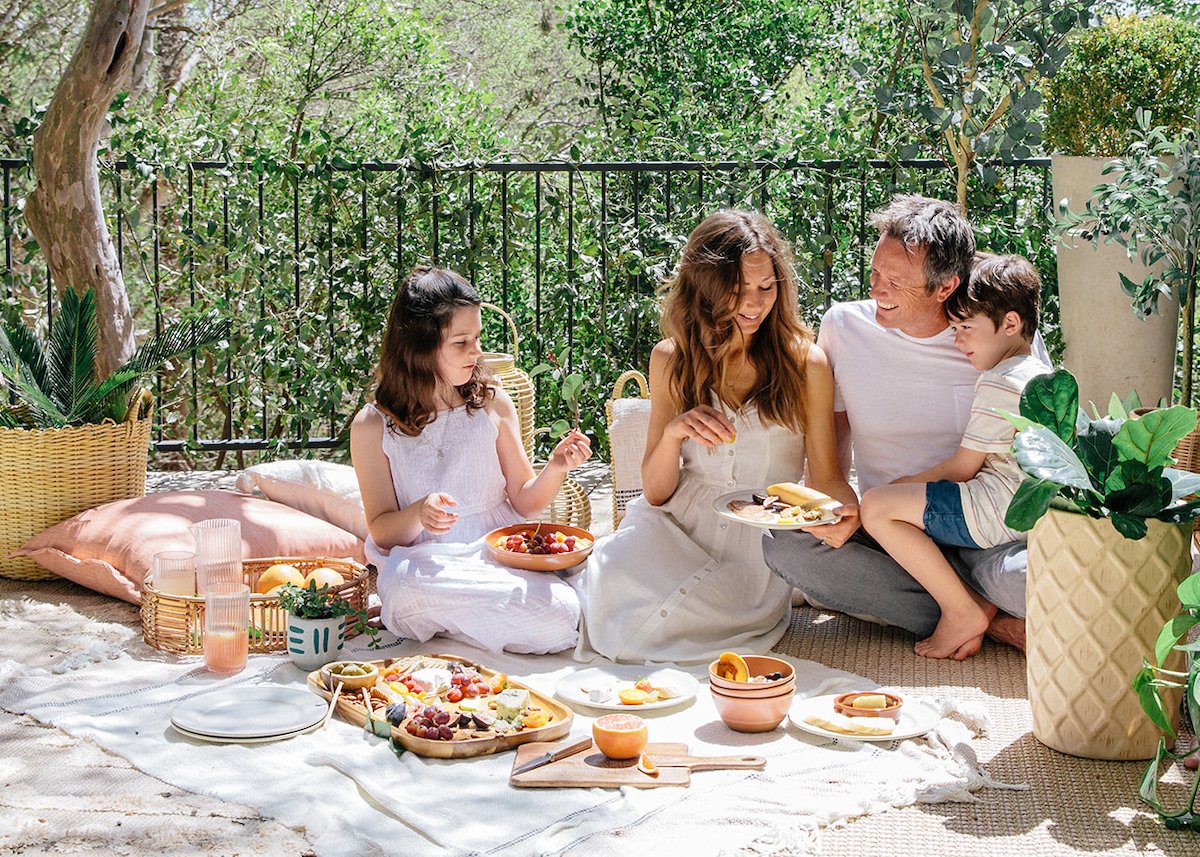 The fun of a picnic is that you can spread it all out and let everyone help themselves. No plating, multiple coursing, or buffet-ing required. Keep it CASUAL, y'all. A few other things you may want to add to your picnic checklist:
Sunglasses
Sunscreen
A big hat (are you picking up on a sun protection theme, here?)
Napkins or hand wipes
Bug spray, just in case your citronella candles aren't cutting it
And if you're traveling away from home, don't forget the trash bags!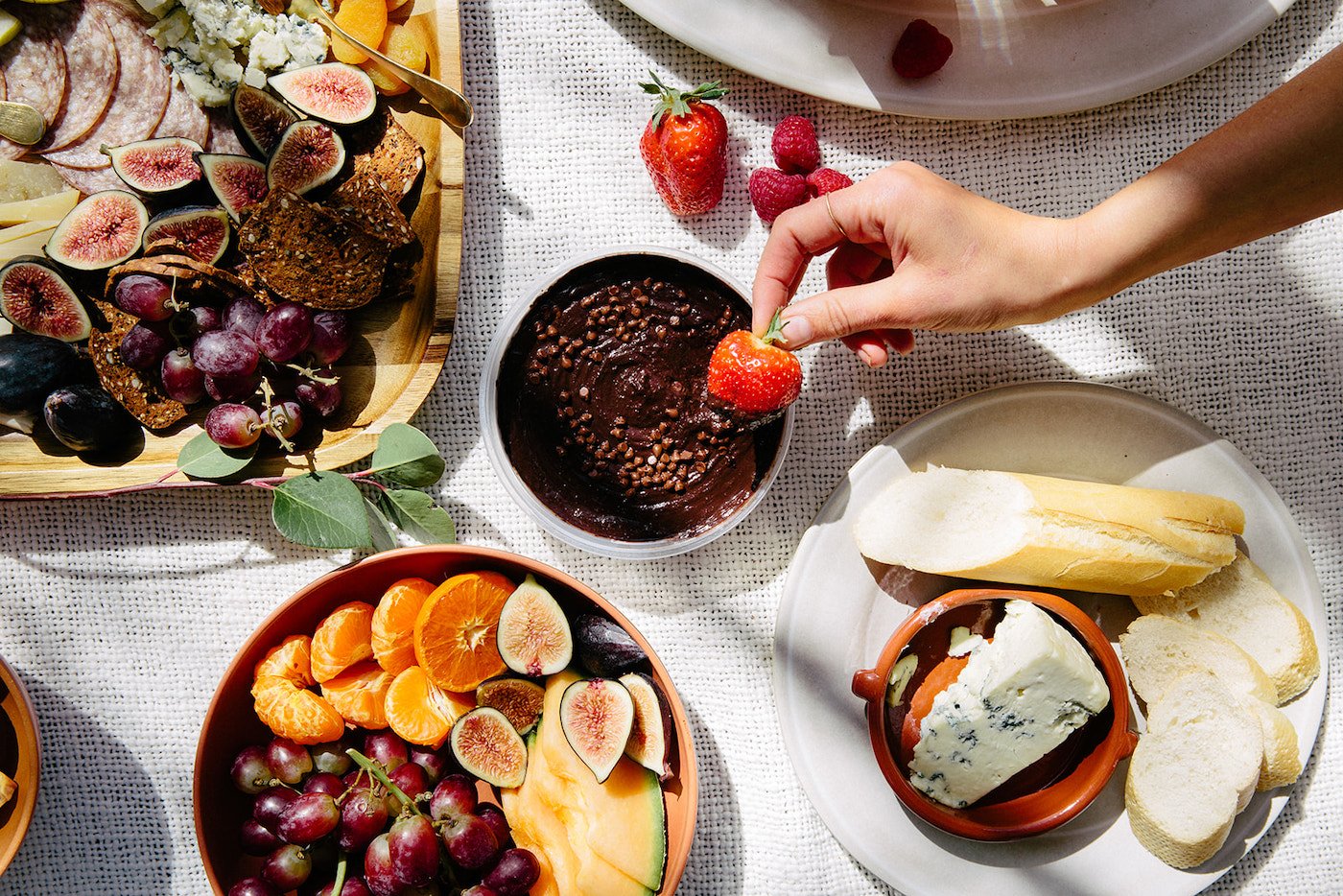 Keep Sweets Simple
For a picnic setup, there are a few do's and don't's that I keep in mind when it comes to sweets. On the "don't" list: ice cream (haha), extremely sticky things (you'll regret it), and cakes that need slicing and plating (too many dishes.)
The DO? Something crowd-pleasing and store-bought: like Good & Gather's brownie batter dessert hummus. We took all the fresh berries and baguette slices from our grazing board and dipped them into this addictively delicious dip that tastes like chocolate frosting (with the surprisingly healthy addition of chickpeas—I swear you won't taste them.)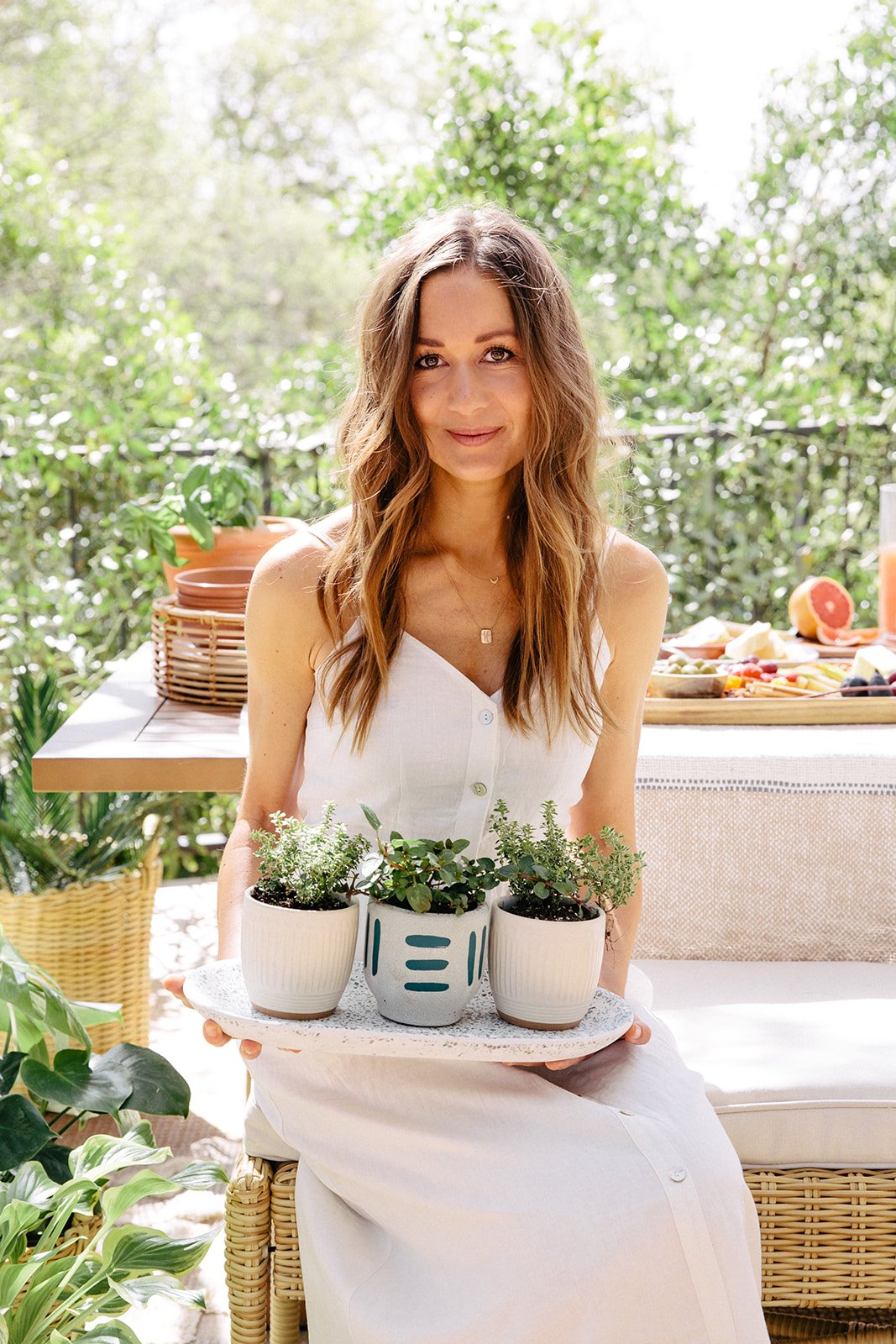 DIY a Mother's Day Gift (That She'll Actually Want)
Don't get me wrong, I love a handmade Mother's Day gift… an original artwork by Henry is truly my favorite thing. But I also love getting (and giving) gifts that are a little more elevated, and these fresh herbs potted in beautiful little ceramic pots are not only beautiful but I can keep them by a sunny window to pick fresh herbs for my cooking.
I placed these potted herbs in the center of the table for a garden-inspired centerpiece. Flowers in a vase aren't necessary when the backyard is bursting in spring glory! I tucked a few seasonal fruits and vegetables alongside the herbs, and they make the sweetest mother's day gift to take home at the end of the gathering.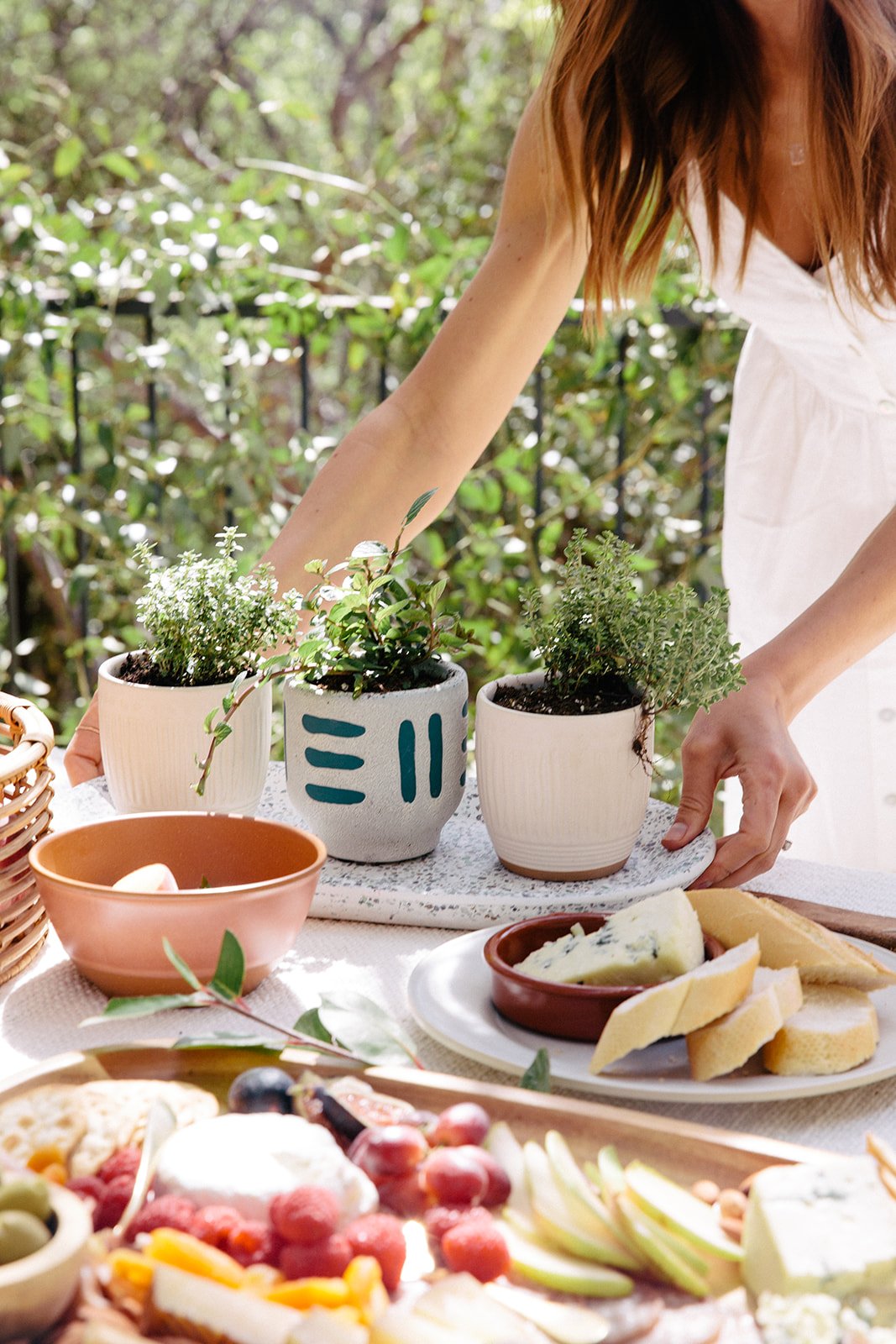 A few tips for potting herbs (and keeping them alive):
Fill it with good, nutrient-rich soil.
Keep them in a sunny spot.
Keep the soil damp.
Harvest and prune them regularly to spark new growth.
We made a little video with a few tips for making these pretties—watch it here.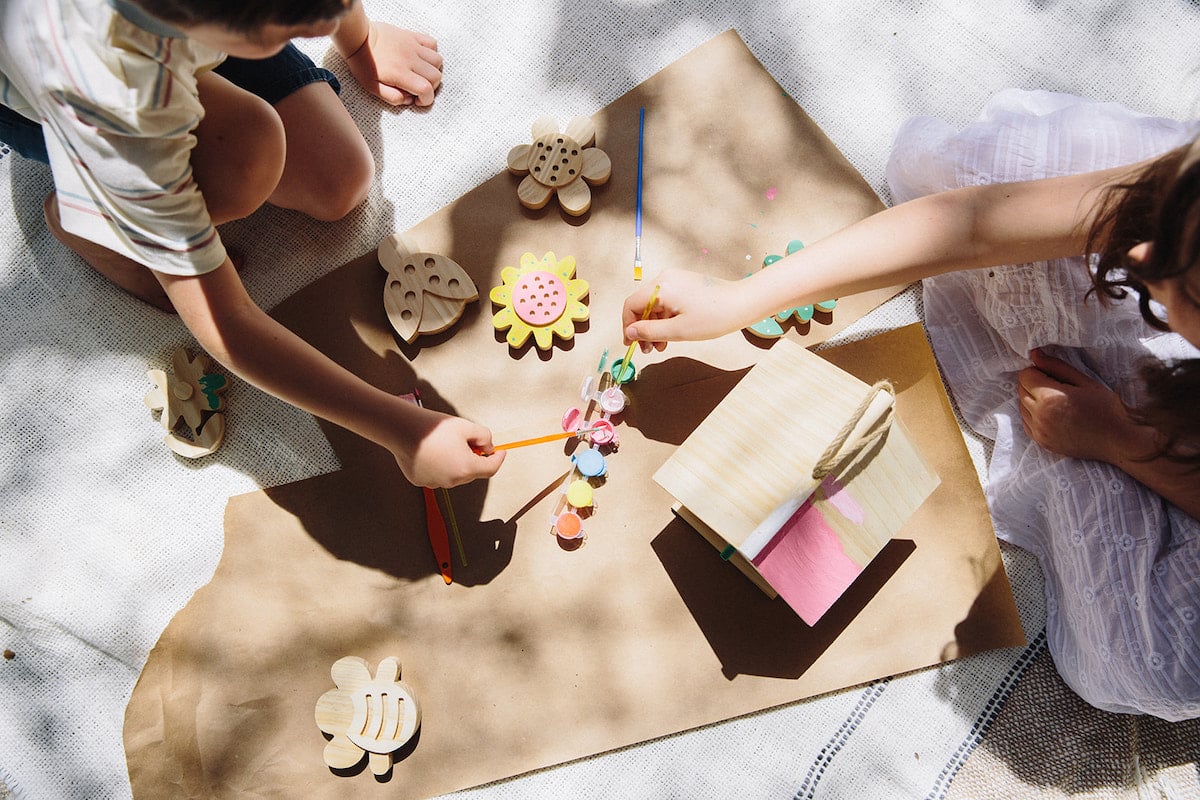 A Crafternoon to Remember
Mother's Day is all about getting to spend time together as a family, and we are a family that loves to craft together. It's such an engaging activity for parents and kids of all ages, and for a gathering—everyone gets to leave with their own special creation!
I'm so excited about Target's new craft brand, Mondo Llama, featuring paint sets, canvases, all kinds of craft kids, and more—most under $25. It really takes the legwork out of planning a crafternoon with kids, and I've got to say that the vibrant materials really got my own creative juices flowing. For our springtime vibe, I picked up this paint-your-own flowers set, and paint-your-own critters set, along with all the brushes and paints we needed to deck them out.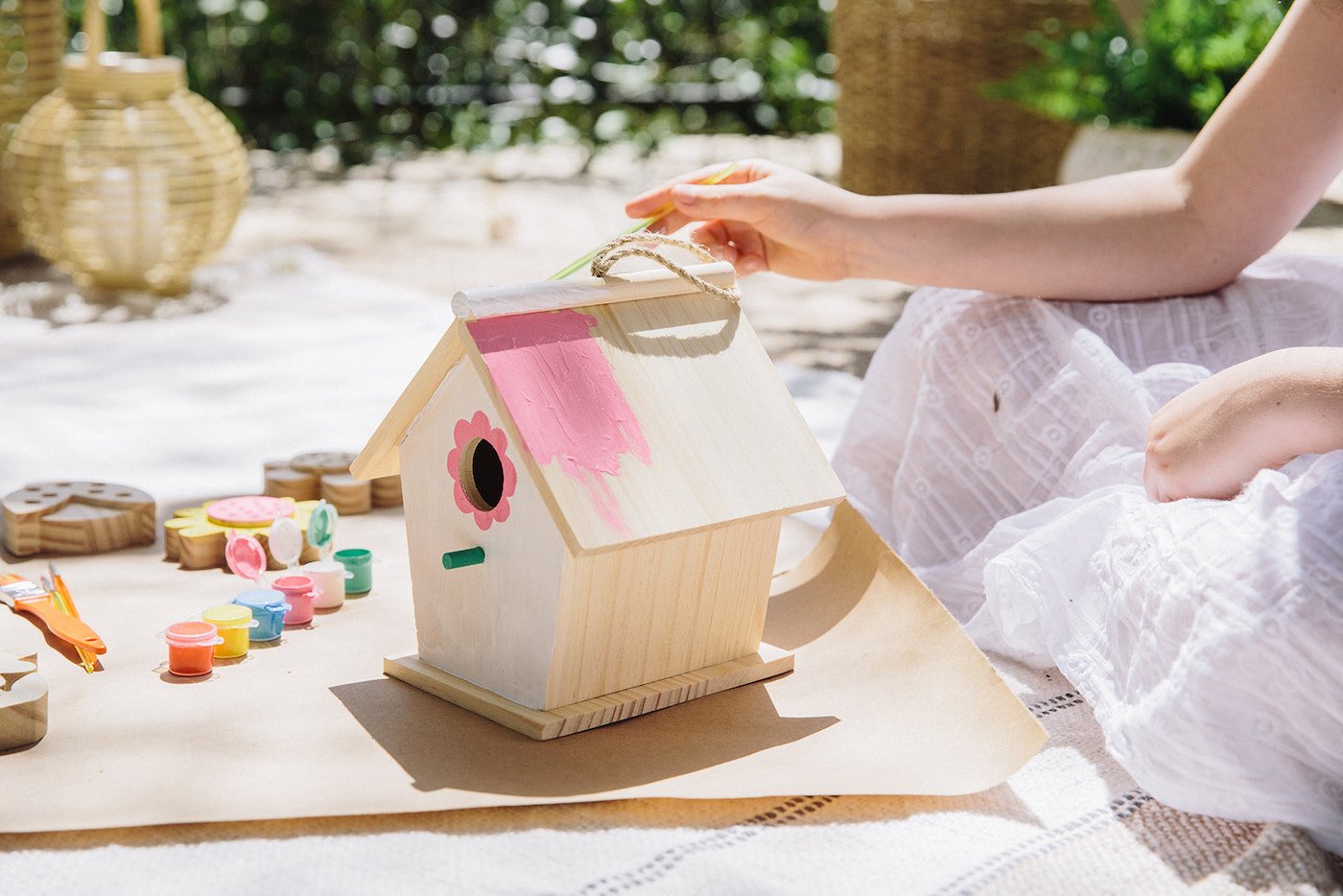 Now's the perfect time for adults and littles alike to get some creative inspiration, and an afternoon spent creating in the sun was a pretty dreamy way to celebrate the season.