We all know the best summer days stretch long past sunset, and end gathered around a table with all of our favorite people (forgetting our bedtimes.) It's outdoor dinner party season, and this year we've got the hots for hosting more than ever. It's been a while, so allow me to remind you: entertaining doesn't have to be hard or expensive. To prove our point, we sourced outdoor dining table décor ideas that are both chic and affordable. Because when it comes to a summer dinner party, it's all about keeping it simple and fun.
After all, stocking up on a few basic outdoor dinner party essentials paves the way to kick back and enjoy a delicious meal and good company.
Whether you've had it on the books for weeks or decide to throw together an impromptu feast with your crew, we've got everything you need to pull off the perfect outdoor dining situation in style. Instead of fussing over the details, you'll soak up the good conversation, laughs, and magic energy that makes a summer dinner party so special. So throw on your house dress, whip up a pitcher of margaritas, and scroll on for our favorite affordable items to get you through outdoor entertaining season without breaking a sweat.
A good tablecloth is ideal for setting the stage for a pretty tabletop. We love Zara Home's selection of basic solid textiles with subtle details to keep the setup simple and let the food steal the show.
Cotton Tablecloth With a Border
Versatile and neutral, you'll use this earthy tablecloth time and time again. Sometimes just a few tried-and-true pieces like this one are all it takes to throw together a great outdoor tablescape.
There's no better blank canvas than a classic white linen table cloth. If you don't have one in your arsenal yet, now's the time! Plus, you can score this beauty for under $50.
One frequently overlooked item when it comes to outdoor dining is a good food cover. Especially during the summer when the bugs are having a rager, preserve those pretty plates of food you worked so hard to create with a chic bamboo dome like this one.
Murphy's Naturals Premium Backyard Bundle
I'm a mosquito magnet, and there's nothing worse than bug bites to cramp your style while dining outside. I cannot tell you how relieving it is when a host remembers to have mosquito repellent at the ready. That being said, they're not all created equal, and Murphy's Naturals is the best I've tried. Their products are plant-based, DEET-free, and smell amazing. Their bundles, sold exclusively on their website, are perfect to protect your patio during mosquito season. If you need their products in a pinch, you can also find them at Target, Central Market, and other retailers. Check the store locator on their website for more info!
One major entertaining hack is whipping up a big batch cocktail (I prefer margaritas) so that you don't have to play bartender all night. Invest in a beverage dispenser like this one so that guests can help themselves, and you can even drop in some citrus wedges and herbs to add to your summer tabletop aesthetic.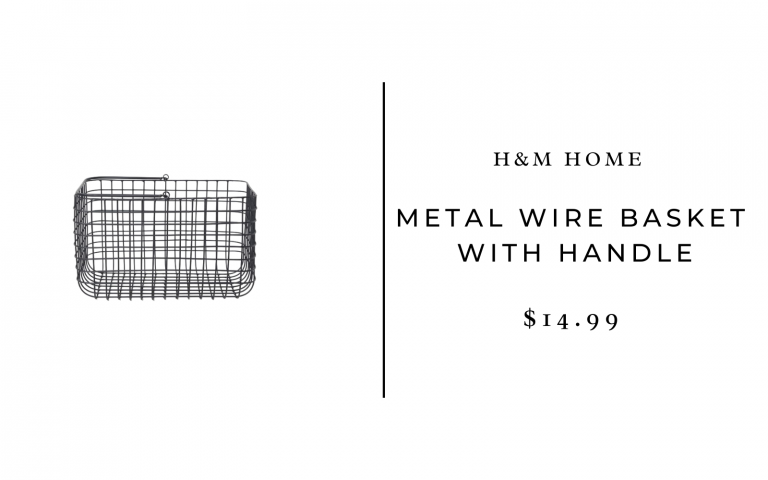 Yet another item that you'll use time and time again. Stock up on handy baskets and trays to carry all of your items back and forth to the table. A basket like this is perfect for loading up all of your tabletop accessories so that you can take everything outside in one trip for a breezy setup.
When you're so focused on the food and the wine, it's easy to forget to have water handy throughout the night. Having a pretty pitcher like this one around is easy fill it up before your guests arrive so that you have water at the ready.
Nothing says summer like this seagrass-wrapped pitcher. This one is the perfect vessel for water or, even better, another batch cocktail. Camille loves this one for mixing up a big batch of margaritas.
We're all about a simple tabletop, but sometimes a placemat is all you need to slightly elevate the scene. These round jute placemats from H&M home will give you a fancier look for under $10 a piece. Now that's a steal!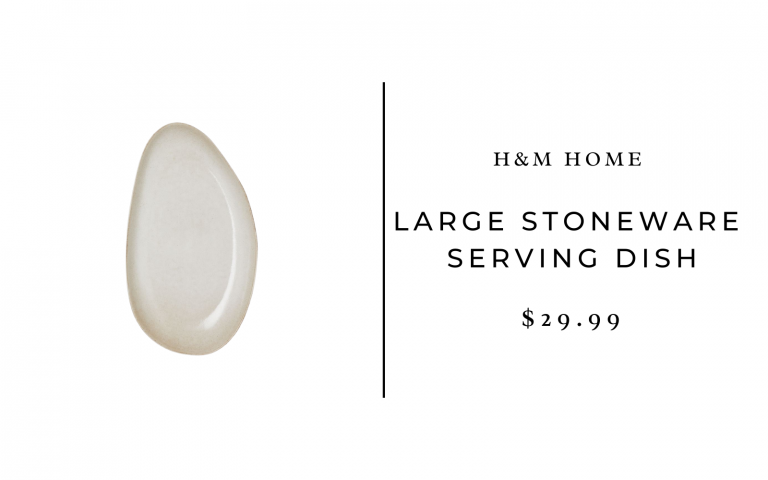 When it comes to summer dining, family-style is the way to go. Skip the fancy plating and instead prepare a great main and some solid sides, because food is best enjoyed when passed around the table and shared. All you need are a couple of great serving dishes that will get the job done, and we love this large stoneware serving dish from H&M home.
These stoneware dinner plates from Target never get old. They look gorgeous against a white linen tablecloth, especially when flanked by pale napkins and pretty utensils. Plus, they're super versatile and can be used both during summer and winter. Score!
When it comes to investing in good stoneware, the options are endless (and affordable!) these days. Target has a great selection of stoneware plates that will be great basics to add to your collection.
Stoneware Dinner Plate With Mustard Yellow Rim
We love these dinner plates from Zara home, and the mustard yellow rim just screams summer. I can already picture my summer salad on top of this beauty.
Having a simple set of tumblers on hand is key. We love these acrylic tumblers from Zara home to add a neutral touch to the table.
Yet another pretty vessel with endless uses. When it comes to stocking up on the basics, these glass bottles are it.
Disposable napkins or paper towels can be some of the biggest sources of waste after a dinner party. Invest in a couple of great washable napkins that work for every season. These linen-blend napkins from H&M home go with everything!
I'm normally a fan of more understated flatware, but I've had my eye on this hammered gold set from Zara home's new collection. I love how sleek and slender these utensils are, and they instantly upgrade any tablescape.
Hosting should be as easy as possible because it's no fun to make endless trips to the kitchen all night. A tray or basket is ideal for carrying dishes and serve ware back and forth, and I love that this one is equipped with handles for ease.
Sometimes when it comes to casual summer entertaining, food is the ideal centerpiece. That being said, I love a classic stoneware vase with a few flowers or stems at the center to pull the scene together.
LED Outdoor Non-Drop String Lights
Don't wait for a special occasion to hang up those string lights! They are one of the best ways to bring instant vibes to any outdoor space.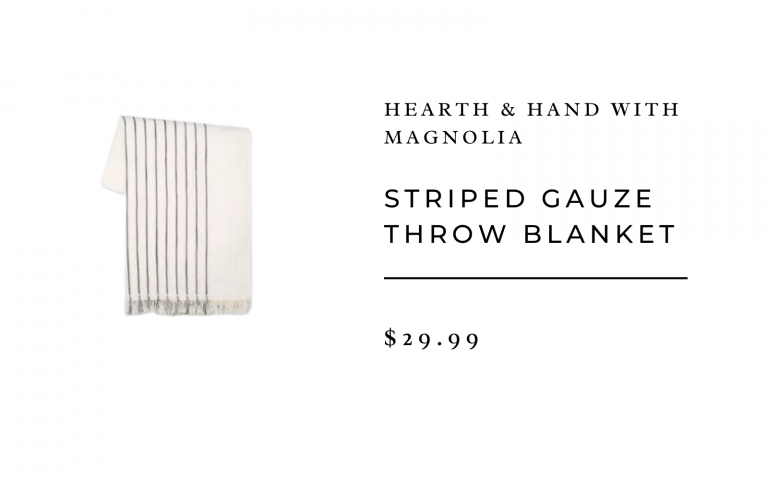 We can't relate down here in Texas, but I'm aware that some places around the country do get a little chilly at night. Pull out a couple of great throw blankets and pillows to add cozy vibes to your table.
Sydney Marble Wine Bottle Holder
I love a wine bottle holder that's cute but also keeps your bottle chilled. This one can be pre-chilled in the freezer so it'll keep your rosé crisp all night long.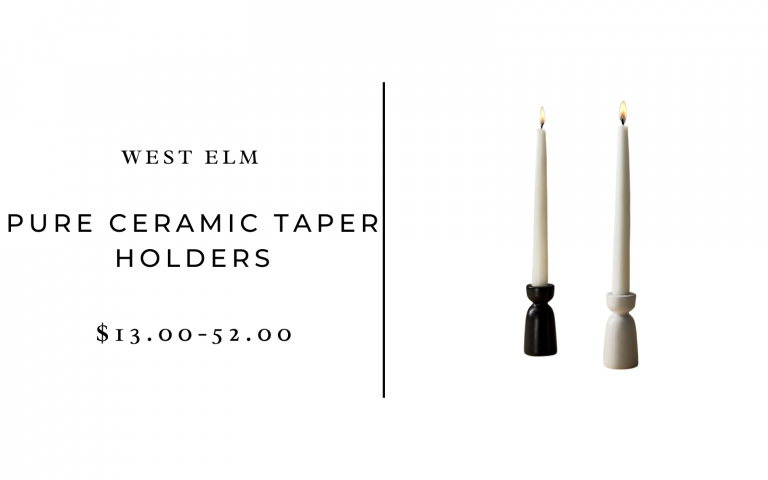 Finish off the scene with a couple of pretty candlesticks. We love these ceramic taper holders from West Elm.