'Tis the season when I try to eat as many meals as possible outside. There are few feelings I love more in life than sunshine on my face (with SPF) as I enjoy something delicious in the presence of friends. That said, there is an art to creating a menu that's perfect for outdoor dining, especially when you're entertaining a crowd. This is why having a great rotation of outdoor cooking recipes is a must-have for the summer.
Many of y'all know that I started my career in catering, and planning menus for big groups in the sweltering mid-summer Austin heat taught me a thing or two about planning for the elements. I've carried those lessons with me, and now when I host outdoor gatherings at home, I stick to a few main principles when it comes to planning my menu.
Food served outdoors needs to be simple to eat, served family-style, and taste just as good at room temperature.
Since Memorial Day weekend is around the corner (insert major party emojis here), I thought it would be the perfect time to round up my favorite appetizers, mains, sides, and desserts that always get me through the summer entertaining season without breaking a sweat. Let me know if you see any of your alfresco essentials included among the list!
Scroll on for some of my favorite outdoor cooking recipes.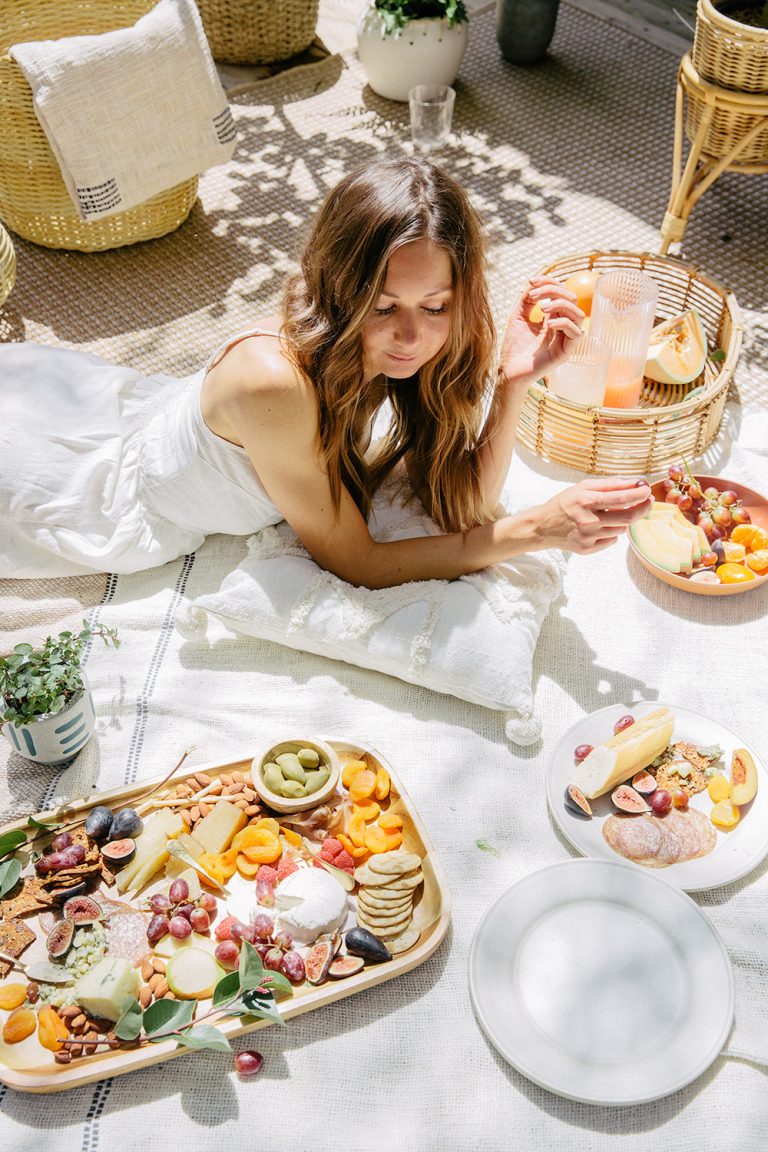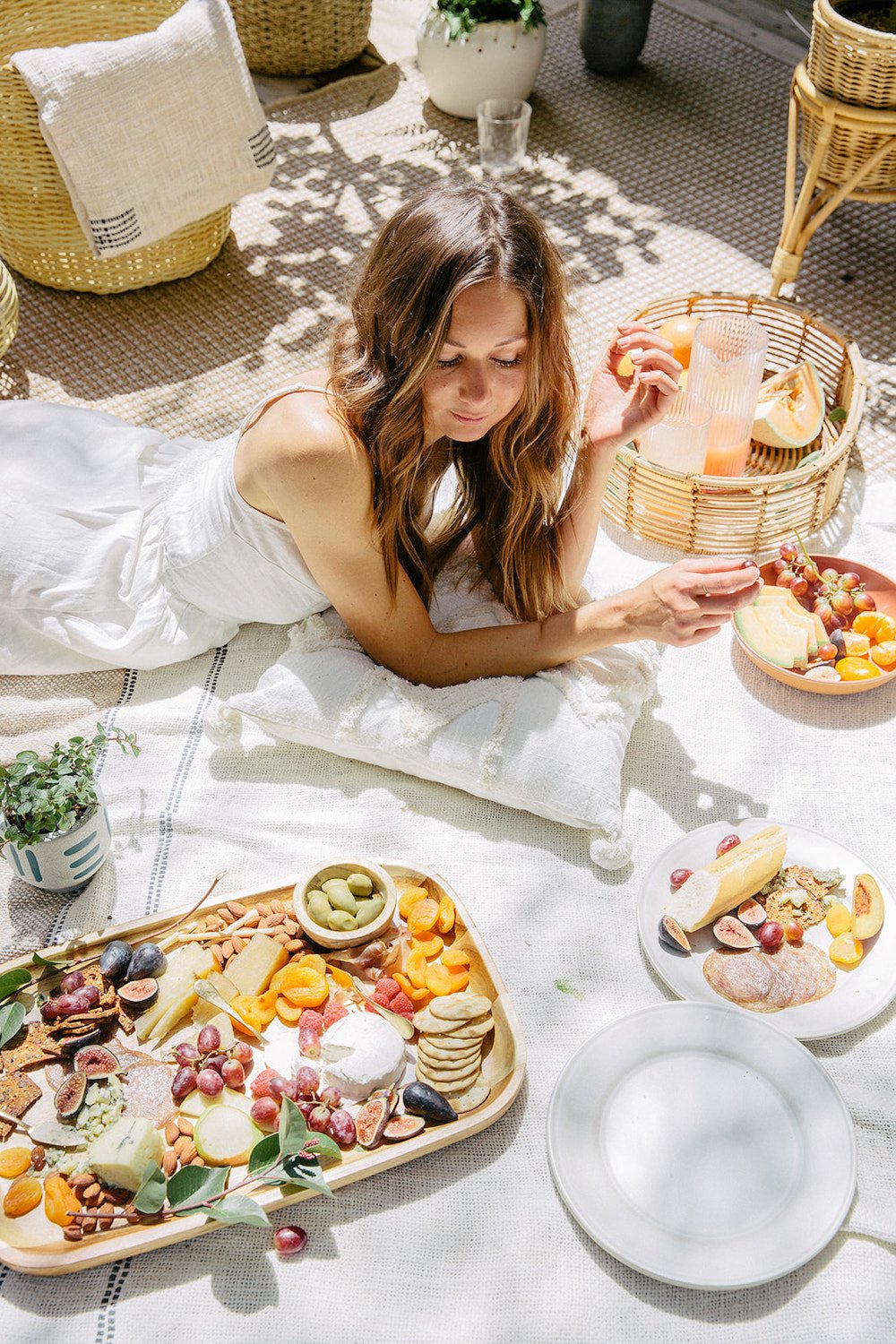 Appetizers
The key to kicking off a summertime party right? Set out a board of something sturdy that can hang out for a while without getting gross or turning brown (here's lookin' at you, avocado.) Dips, spreads, fresh produce, and grilled bread are a winning combination.
Take your pick of these delectable hummus recipes: original, red pepper, and cilantro lime. Or go wild and make all three!
Find the ripest figs you can for this tasty app. Figs have a short season but can easily be substituted with a stone fruit like apricot, peach, or plum.
This mint tzatziki dish goes beautifully with everything, but I'm a fan of endives and sugar snap peas as a vessel for the dip.
You'll think you're in Italy while enjoying these easy, tasty skewers. Grab a yummy balsamic for that drizzle and enjoy.
Main Courses
When it comes to the centerpiece of an outdoor dinner party, I always opt for something that doesn't require getting a lot of pots and pans dirty (who wants to be inside cleaning?) and that also doesn't require me running in and out getting lots of different components from the kitchen.
Usually that looks like a simple protein (steak, chicken, or fish) that I can marinate in advance then throw on the grill or roast in the oven.
Garnish with a shower of fresh summer herbs and you've got yourself a perfect summer meal for a crowd.
You can't go wrong with a delicious piece of steak on a hot summer day. Grill it up and top it with our favorite chimichurri recipe for your next outdoor meal.
Perfect for a potluck, these grain bowls are hearty, filling, healthy, and a surefire hit.
This chicken dish is aromatic, flavorful, and a guaranteed crowd-pleaser. Serve it up at your next family dinner or outdoor gathering. It'll become a staple outdoor cooking recipe, guaranteed.
You've got a full meal on a platter with tasty, filling, and delightful pita and kebab board. It's an unexpected dish that is as delicious as it is lovely to behold.
Sides
My number one rule for outdoor summer sides is that they have to be able to hang out on the table for a little while at room temperature, and taste just as good as when they were hot (or cold.) That eliminates delicate salads that wilt in the heat or super crispy/fried veggies that need to be served right out of the oven. Simple roasted veggies, anything on the grill, and sturdy chopped salads are low-maintenance standby's are a key component of outdoor cooking recipes.
You can't go wrong with a cauliflower side, and this turmeric and tahini cauliflower recipe is healthy, sumptuous, and packs a flavorful wallop.
You know I love sweet potatoes, and this grilled iteration is an easy and healthy side dish for your next bbq.
Keep it light and simple with this gluten-free tabbouleh. It's an easy spin on your everyday tabbouleh that those with dietary restrictions can also enjoy.
You'd be surprised by how decadent this carrot recipe tastes. It's one of the more delicious outdoor cooking recipes.
Desserts
I usually end a dinner party by bringing out a tray of fresh-from-the-oven cookies (I roll out the dough in advance and pop in a preheated oven as I clear dinner dishes.) Everyone dives in and grabs them with their hands, which means that I don't have to get out additional plates and silverware at the end of the night when my dishwasher is already crying for mercy. But I couldn't help throwing in a few of my other favorite summertime sweets starring the prettiest produce. And I've never met a guest that didn't love a cobbler, have you?
Have them ready to go and present your family with a batch of warm cookies at the end of the meal. You'll never hear the end of it—in the best way possible. Just be prepared to make them in perpetuity.
Cakes are a great make-ahead option when having an outdoor gathering. You can just pull it out when it's time for dessert. And did I mention how yummy this recipe is? I can't get enough.
This panna cotta only looks fancy, because it's actually incredibly simple to whip together.
What's more summery than a berry cobbler?
This post was originally published on May 17, 2019,  and has since been updated.
Loved this post? Pin this graphic to come back to it later.