If you had to pick one cookie to eat for the rest of your life, what would it be? The default, most obvious choice might be the ubiquitous chocolate chip cookie, but I'm here to highlight a more underrated pick: the humble peanut butter cookie. They're sweet but salty, addictively delicious, and boast a savory chew that, without fail, always makes you come back for more. And lucky for you, we did the good work of finding the best peanut butter cookie recipe on the internet. Trust me, it was well worth the effort.
In classic bake-off fashion, we scoured the internet to gather a collection of the most crave-worthy recipes, baked every single one of them, and did a blind taste-off to compare the ins and outs of each recipe. The result? Naming the best peanut butter cookie recipe the world has to offer. A tall order, I know, but I feel confident in our findings—and the winner truly blew my mind.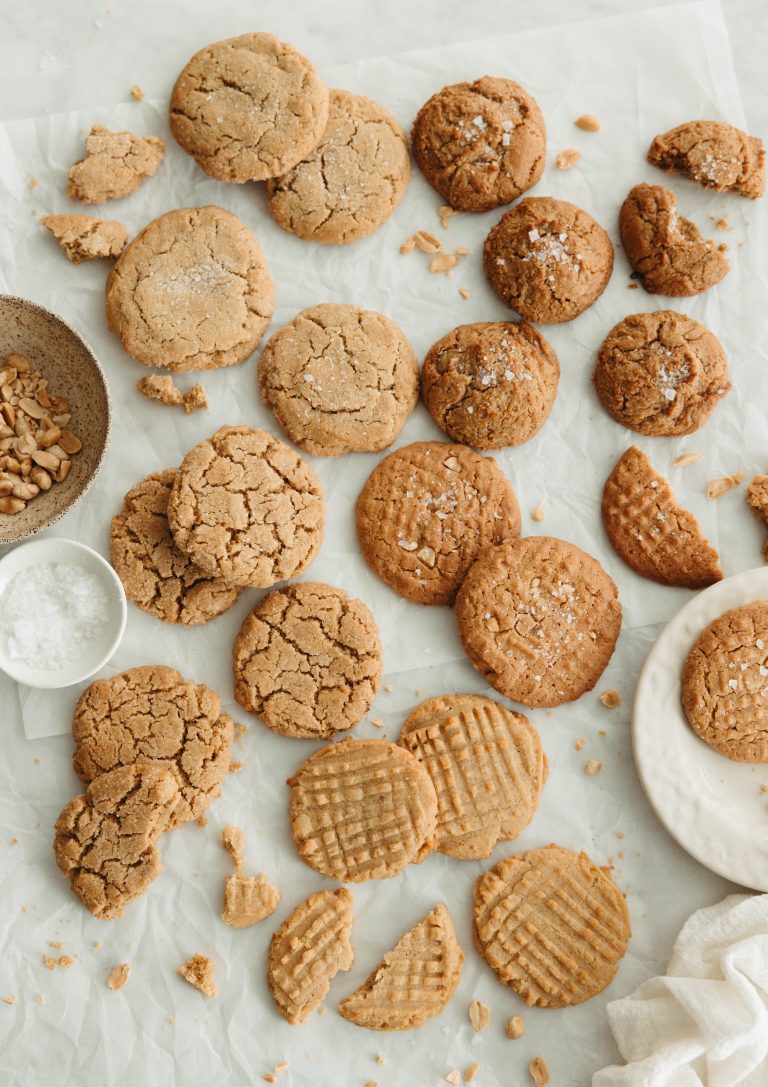 Subscribe
Our Top 10 Recipes
Sign up to receive a FREE E-BOOK of my top 10 most popular recipes of all time!
Thanks for Signing Up!
Oops!
Looks like you're already signed up or your email address is invalid.
Oops!
Looks like you unsubscribed before click here to resubscribe.
Rules of the Road
Recipes Have to Be followed exactly
As per previous bake-offs, we followed recipes exactly as written. This means that even if we disagree with a method or measurement as part of our personal kitchen preferences, it doesn't matter! All recipes were followed to the T.
Ranking Guardrails
As always, our taste testing team conferred on what makes the best version of a peanut butter cookie in their minds. When it came to judging the peanut butter cookie recipes, below is the criteria the thirteen taste testers agreed on.
Flavor
1. It should go without saying, but I can't stress it enough: you have to be able to taste the peanut butter.
2. Cookies should balance sweet and savory flavors. We weren't after a peanut butter cookie that was cloyingly sweet but wanted a cookie that tasters could trust would satisfy their dessert craving.
Texture
While there are many varieties of peanut butter cookies, our team was looking for a chewy peanut butter cookie that was slightly crisp on the edges, but chewy and soft in the middle.
Keep scrolling to get the scoop from our taste testing team and the winner of our peanut butter cookie recipe bake-off!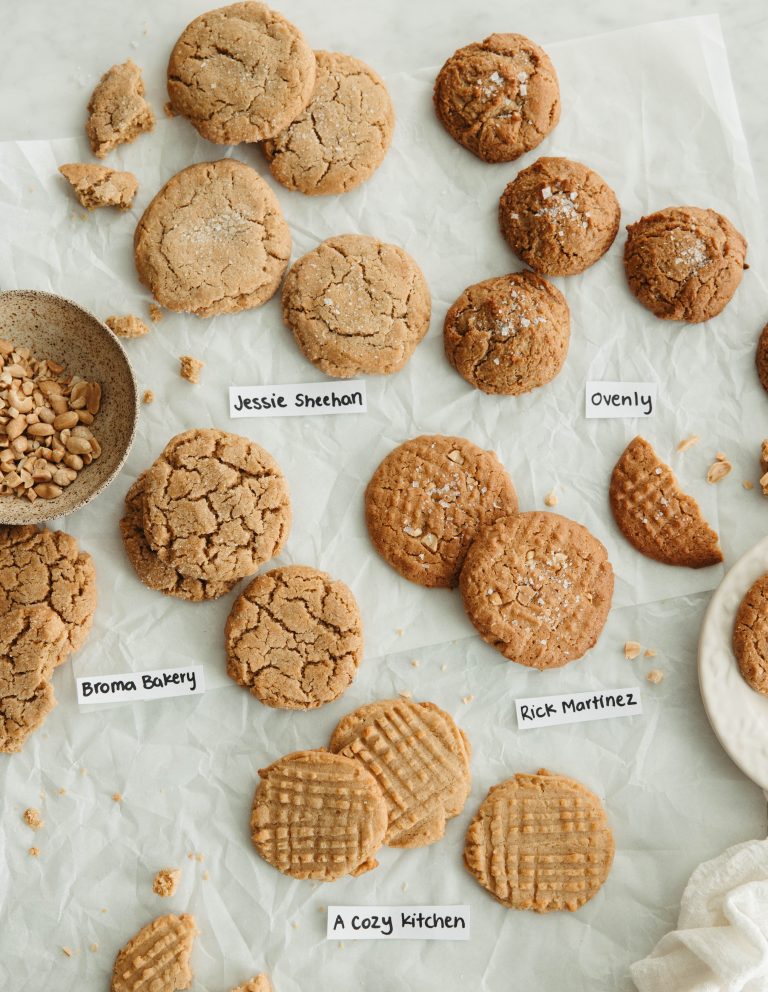 Overall, this is a good peanut butter cookie. When it comes to texture, it leans on the crunchy and crumbly side, more like a shortbread butter cookie than a chewy peanut butter cookie. Some tasters liked the extra texture from the chopped peanuts, and others didn't like having those chunks interrupt the crunchy cookie. The flavor comes with a bit of sweet, a bit of salty, and the peanut butter last. Not bad, but tasters didn't think this screamed peanut butter as much as they wanted.
Another note: This was the most laborious cookie to make. In addition to browning the butter, the different needs from the mixer, the hydration time, and then using a pan of water in the oven, we felt that all the extra steps didn't necessarily make a nominal difference. It's a good cookie, just not our favorite.
We liked this cookie a lot. The texture was the softest of the bunch, while being slightly crumbly in the best way. And the flavor was out-of-this-world addictive. It's slightly savory and salty thanks to the addition of miso, and the peanut butter pairs beautifully with the miso's nuttiness.
We did make one adjustment by not rolling these in sesame seeds so that we could judge the cookie on its own, and overall we loved it. However, in terms of the best peanut butter cookie rankings, it didn't fulfill what comes to mind when you think of a peanut butter cookie. 10/10 for originality and flavor, but more like peanut butter cookie's cousin than the classic, real deal.
From her new cookbook, Snackable Bakes, these contest-winning peanut butter cookies were a hit. The texture is intensely chewy and reminded tasters of the chew of a peanut butter blossom. It has a nice crunch on the outside thanks to the rolling of sugar that pairs beautifully with the soft and chewy middles. The flavor leaned a little more on the sweeter side for us, but not too much. The only note was that we wanted even more peanut butter flavor from these cookies, but overall, we really liked this one.
If you've visited the New York bakery before, then it's likely that you've already known and loved their peanut butter cookies. Not only are these gluten- and dairy-free, but these cookies use four simple ingredients that you likely already have on hand.
The resulting texture was the chewiest of the cookies tested. There's a little crunch on the edges, and this sticky, delicious chewiness in the middle. While also on the sweeter side, you definitely taste the peanut butter. Overall, we really liked this cookie, but could only get away with eating one since they're on the richer side.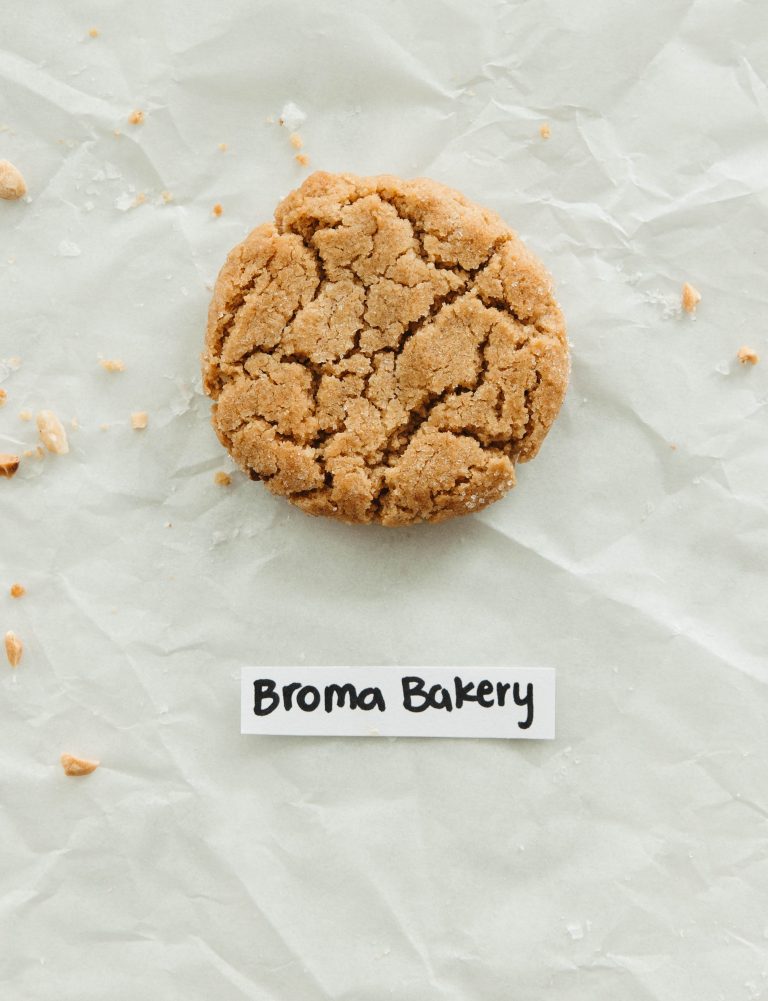 Reigning queen of the best peanut butter cookie goes to Broma Bakery! (Seriously, our team devoured the entire batch.) When it comes to texture, this cookie was extra chewy with a nice crackly crunch on the outside that had everyone going back for seconds and thirds. And more importantly, on the flavor, this felt like the peanut butter was found right at the front with nice sweet and salty balance that made for the best peanut butter cookie. Get your kitchen ready, you're going to be making these on repeat.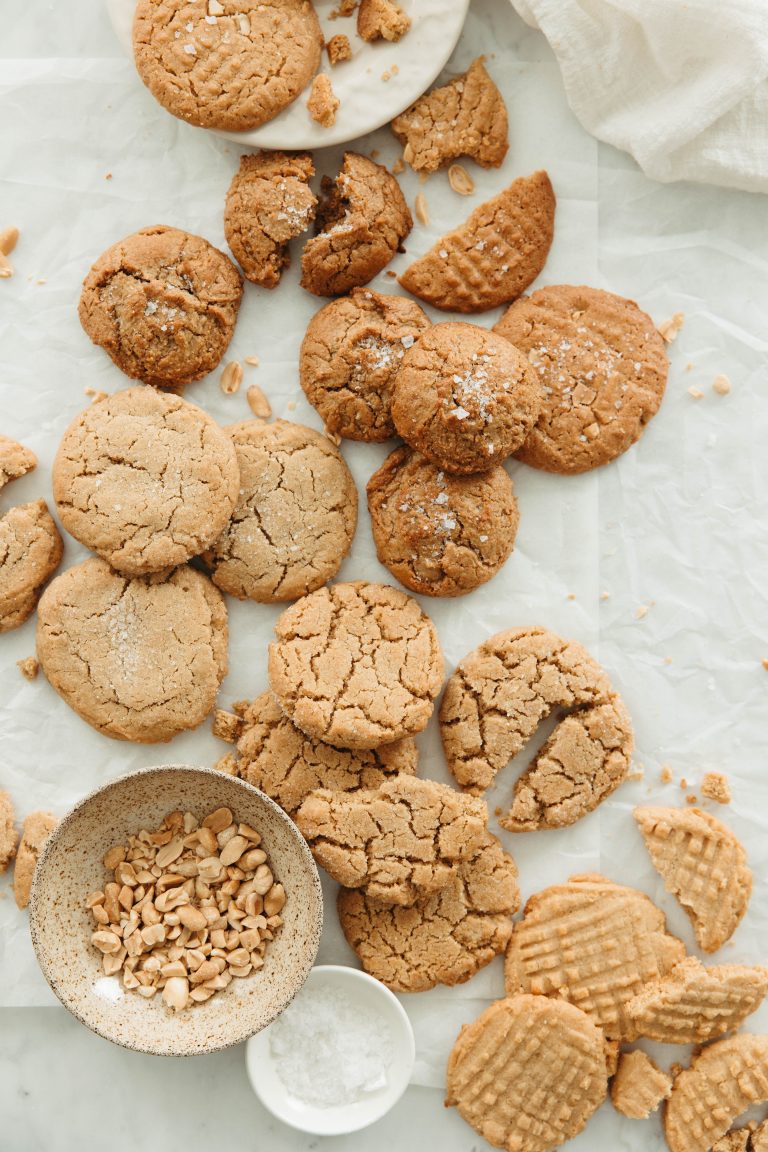 What recipes should we try in our next bake-off? Sound off in the comments!