When do you consider the start of pumpkin season? If you're like many of us, we skip forward past the apple harvest and head straight into September ready for all things pumpkin. We've been indulging in the many pumpkin-spiced drinks and treats for months now. And while I could personally do pumpkin all year round, (see my pumpkin bread bake-off) we all know that pumpkin season truly culminates at the Thanksgiving table with a good old-fashioned pumpkin pie. At least in my opinion.
And because I love a bake-off to crown the best of the best, I figured what better time to test some of the internet's most prized pumpkin pie recipes to see which one we should bake this Thanksgiving day. Although, after baking so many pumpkin pies this week, I might just stick to apple on Turkey Day, lol!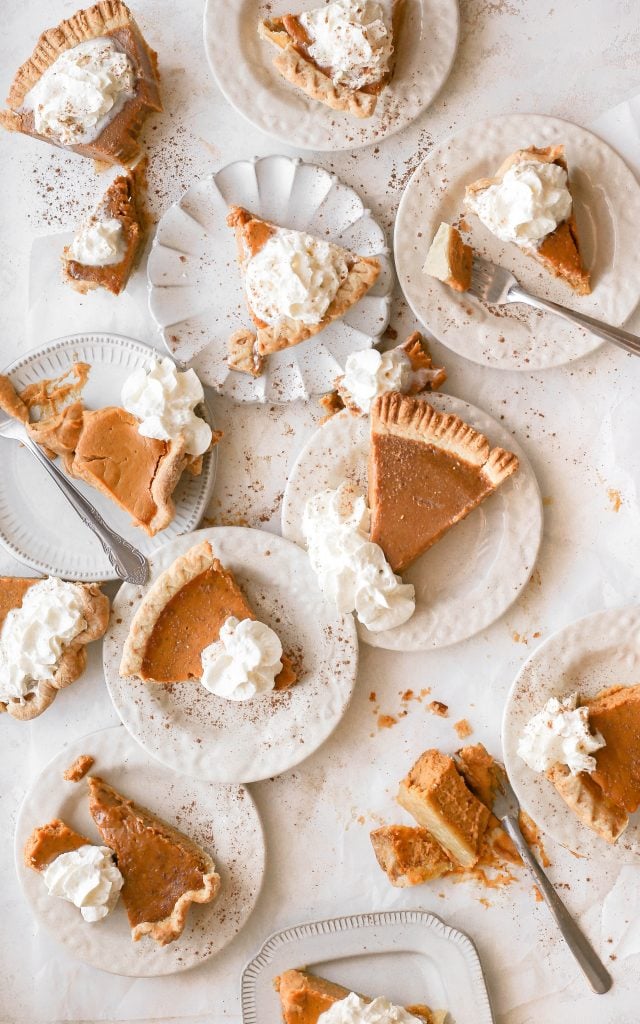 For this bake-off, I stuck to well-known food publications and reliable recipe developers. For the most part, everyone said they were the most familiar with the classic Libby's recipe on the side of the pumpkin can. That's actually the recipe I use every year, so I was interested to see if any of the other recipes could top that one.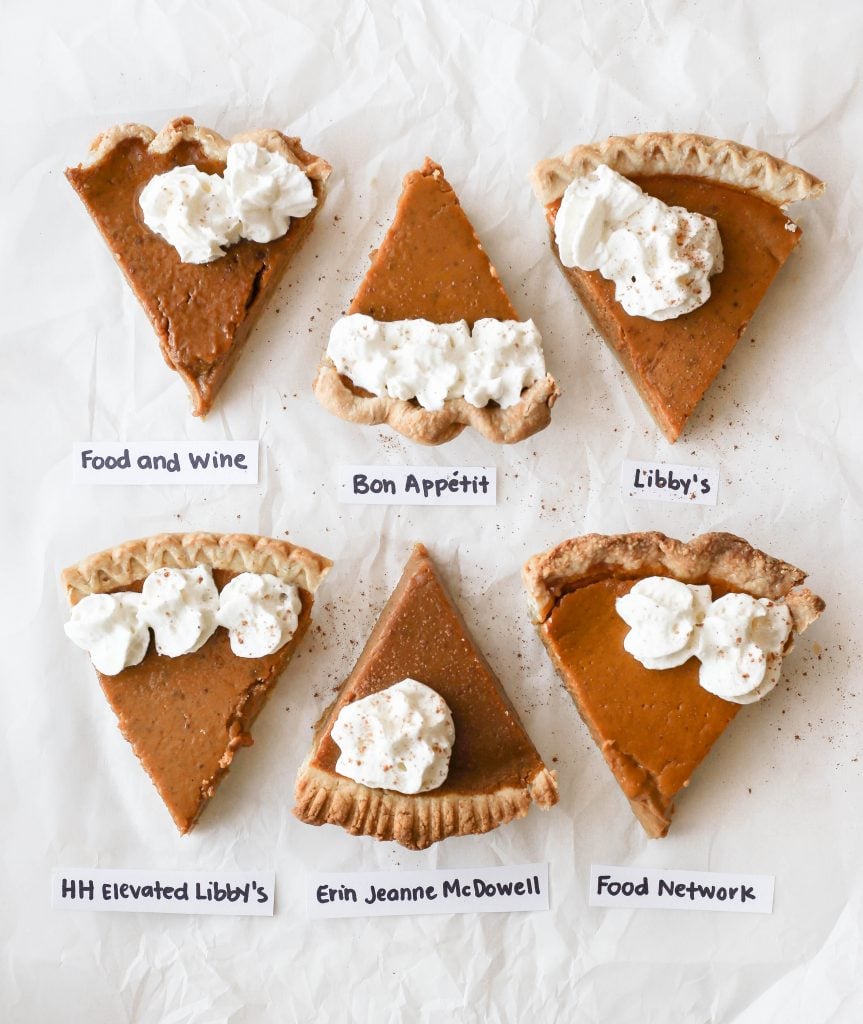 Rules of the road
Must Follow Recipes, EXACTLY
All recipes were baked the same night with crusts made the night before, and all recipes were taste-tested on the same day. I stuck to the exact directions as written, including ingredient measurements and baking times. That means even if I disagreed with the method or measurements, I ignored my personal opinions to follow the recipe exactly.
Ranking Guardrails
We had nine taste-testers participate in this bake-off, and everyone was polled on what they look for in a pumpkin pie.
A good pumpkin flavor, obviously
Should be a balance of spices that complement the pumpkin
A nice texture for the pie filling—somewhere between a smooth filling and a nice custard
Good crust that balances out the filling with a little texture
For the most part, all of these pie recipes are good recipes. I would happily eat any of them if they were on the Thanksgiving table. But when comparing them so closely together, there were some our taste-testing team preferred more than others. We sampled all six pie slices and ranked them from 1 to 6. All notes were compiled, pies dissected and discussed, averages taken (see chart below), and in the end, there was one pie slice that came out the clear winner.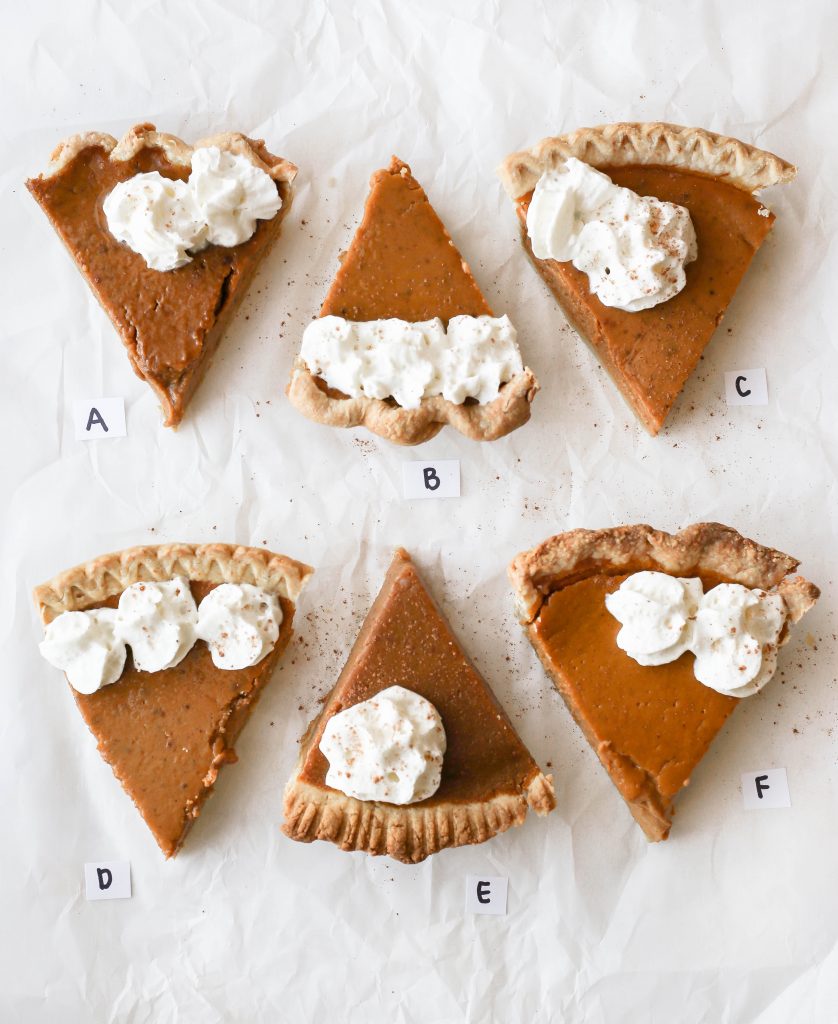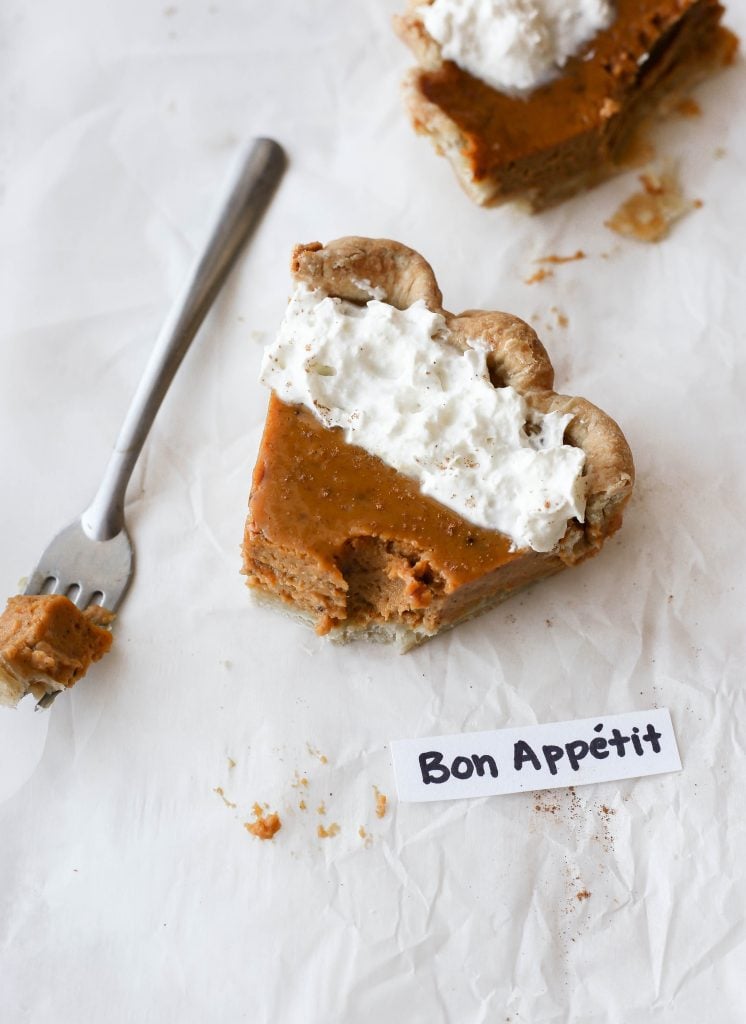 Pros: More savory in flavor up front, with a slightly caramel-ly aftertaste, thick mousse-like texture.
Opportunities: Almost too savory for some. Want more pumpkin flavor to balance out the spices.
Final thoughts: Overall this was an okay pumpkin pie recipe. No one outright disliked it, our taste-testing team just wanted a little more of everything. The crust got lots of high marks for being flaky and having a good ratio to the filling. The texture of the pie filling itself was thick and slightly mousse-like. No terrible complaints, but when compared to the others, everyone just wanted more pumpkin flavor and spice to make this one stand out.
Pros: Most unique texture, best pie crust of the bunch.
Opportunities: More pumpkin flavor and spices.
Final thoughts: This pie slice generated the most conversation of the bunch—some of us really liked this one, others felt it wasn't quite what they wanted. The crust, although a non-traditional pie crust, resembled a butter cookie crust which was by far the tastiest. It almost makes me want to skip traditional pie crust with pumpkin pie ever again, and it balanced out the filling as well, adding a nice crunch to an otherwise smooth filling.
The filling itself was a bit polarizing, some felt that it wasn't pumpkin-y enough, others thought it had great spice flavor (this was the only recipe to ask for pumpkin pie spice), and others thought the texture wasn't quite up to snuff for what they wanted out of a pumpkin pie. Overall, I would eat this one again, just with a few adjustments.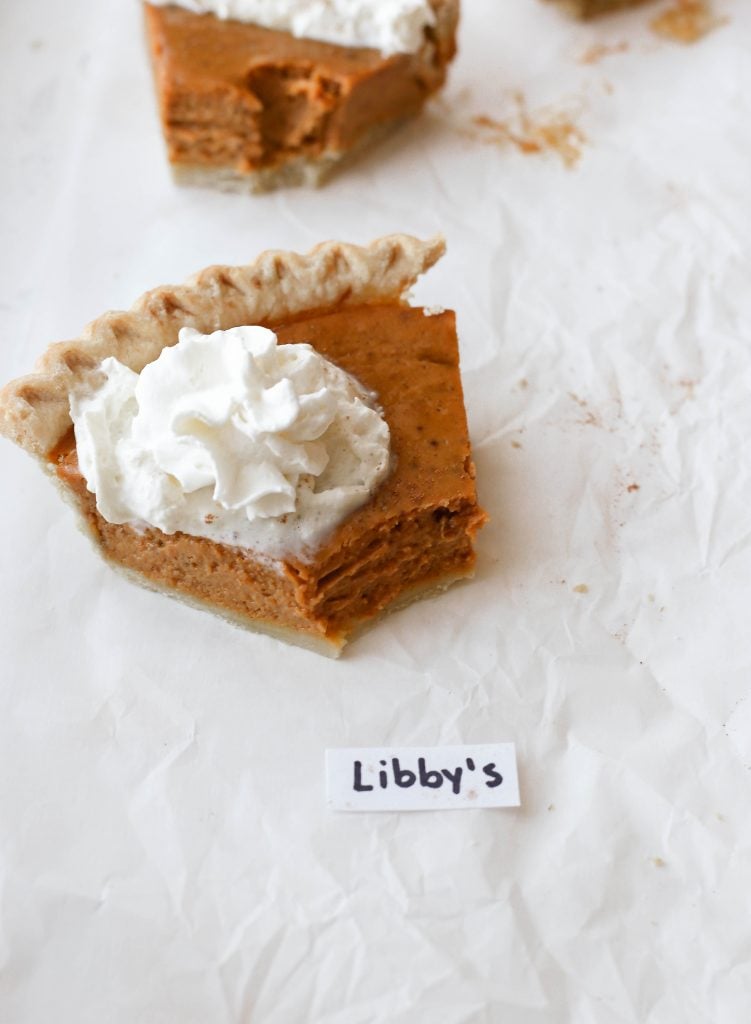 Pros: Tastes the most like traditional Thanksgiving.
Opportunities: Want more spice and better texture.
Final thoughts: The resounding quote around this pie slice is that it's the most reminiscent of a classic Thanksgiving pumpkin pie. Which, makes sense. It's Libby's after all. The pumpkin flavor was mild, and people mentioned this was the most balanced of all the slices in terms of flavor. The recipe does call for store-bought crust, which is what I used, but didn't result in many comments. Overall, testers would have liked this one more if the spices were punched up a bit.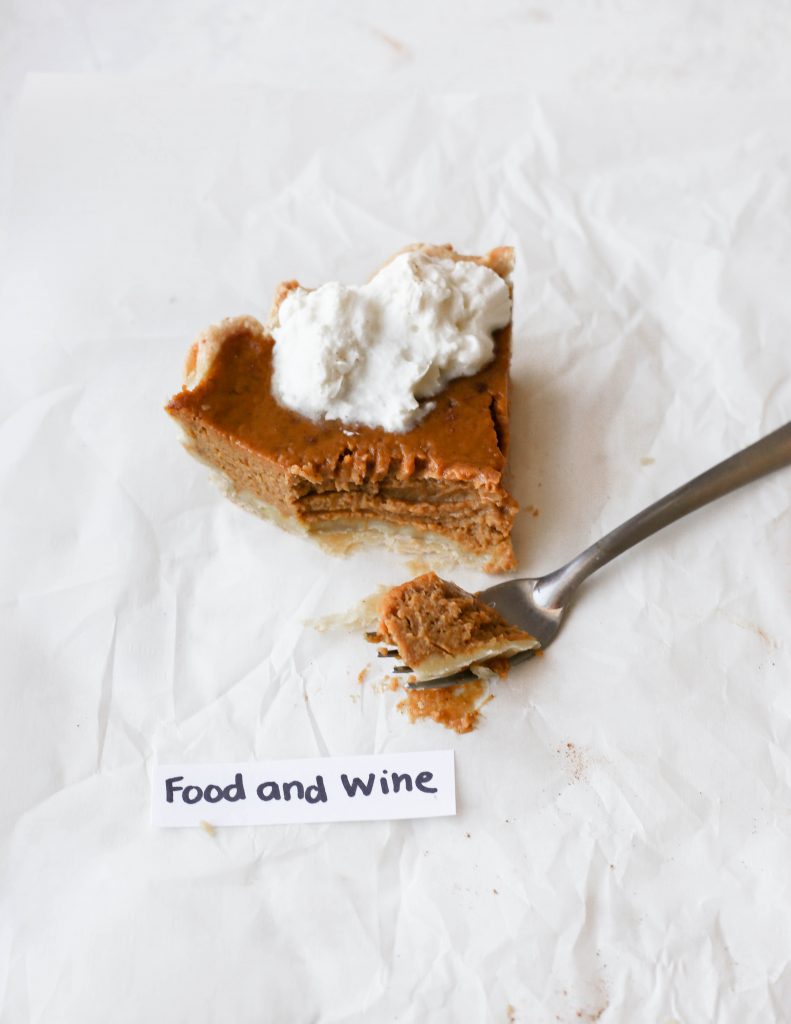 Pros: Really good crust, balanced flavor.
Opportunities: Want more spice and improved texture.
Final thoughts: It was a super close ranking between #3 and #2, and the only thing that held this recipe from beating out #2 was the conversation. The flavor on this one was very cinnamon forward, but not very pumpkin-y. The crust was also pretty good for a homemade crust. Everyone said punching up the spices and finding a way to make the texture of the filling just a bit richer and smoother would take this one over the top.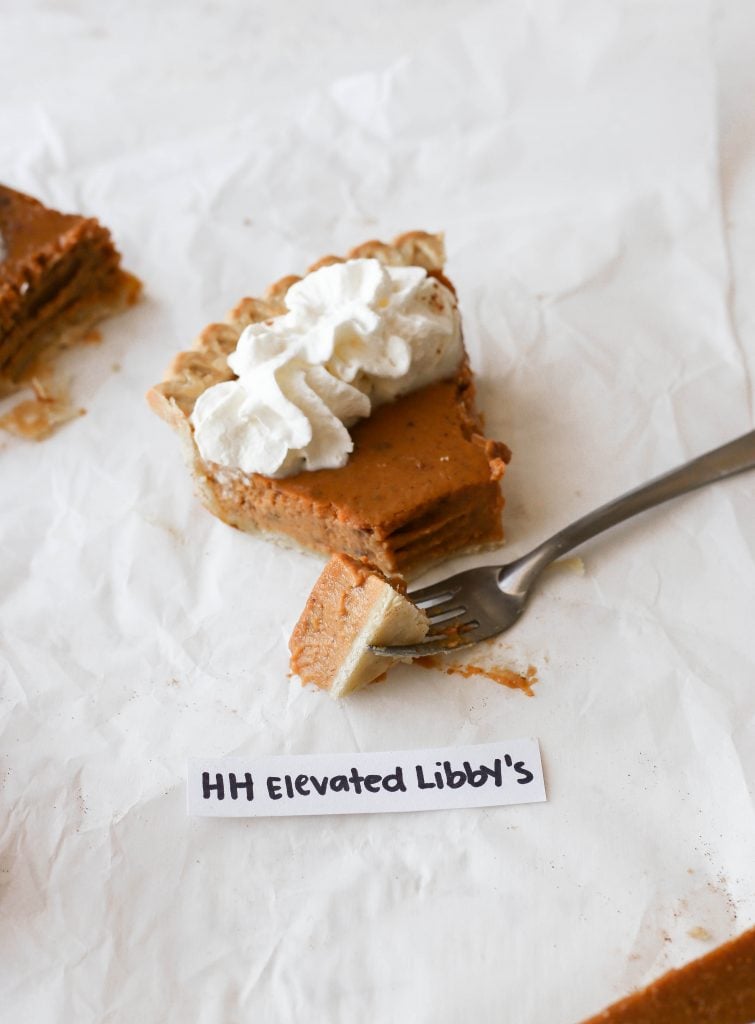 Pros: Tastes like Thanksgiving.
Opportunities: Would use a homemade crust next time.
Final thoughts: To quote one of my friends; "I would make this pie to share at my Thanksgiving work potluck." Another friend called it the most traditional recipe. When I saw that Michelle had an elevated Libby's recipe, I knew I had to add it to the roster of recipes to see if it really was an high-end version of the Thanksgiving classic. And as you can see by the rankings, it came through.
The use of an extra egg yolk resulted in a touch creamier and richer filling than the classic recipe, and the pre-baking of the crust helped to make the store-bought crust just that little bit crisper. I would use a homemade crust next time, but overall I was super impressed with this recipe and would 100% make it again.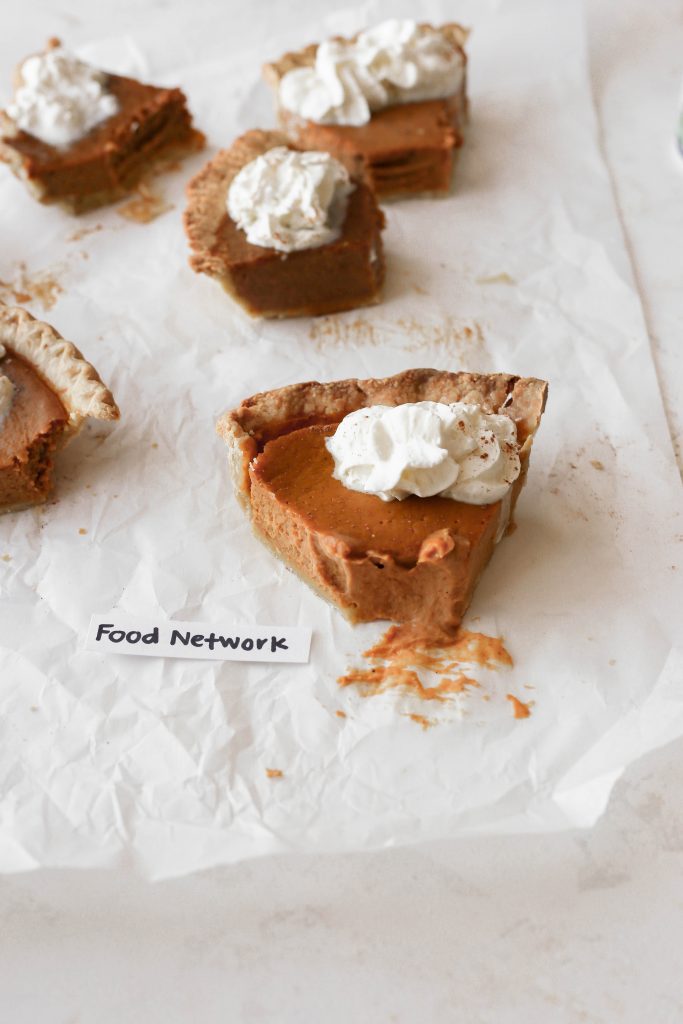 Pros: Creamiest and richest filling, good spice blend, nice crust.
Opportunities: Punch up the spices just a touch more.
Final thoughts: As you can see by our ranking chart, this pie received the most #1 rankings. The only reason Ka ranked it so low was because she prefers a different texture in her pie. But by popular demand, the rich, creamy, custard-like filling absolutely won our group over. Does it have something to do with how much heavy cream is used in the filling? Probably, but the filling was so deliciously good.
The flavor was pretty balanced, with people being able to taste both the pumpkin and the spices. Everyone wanted even more spices, as they did with every recipe, but that's a simple fix. Overall, the creamy texture with the nice crust set this one apart. I think I've got a new pumpkin pie recipe on my repertoire for this Thanksgiving.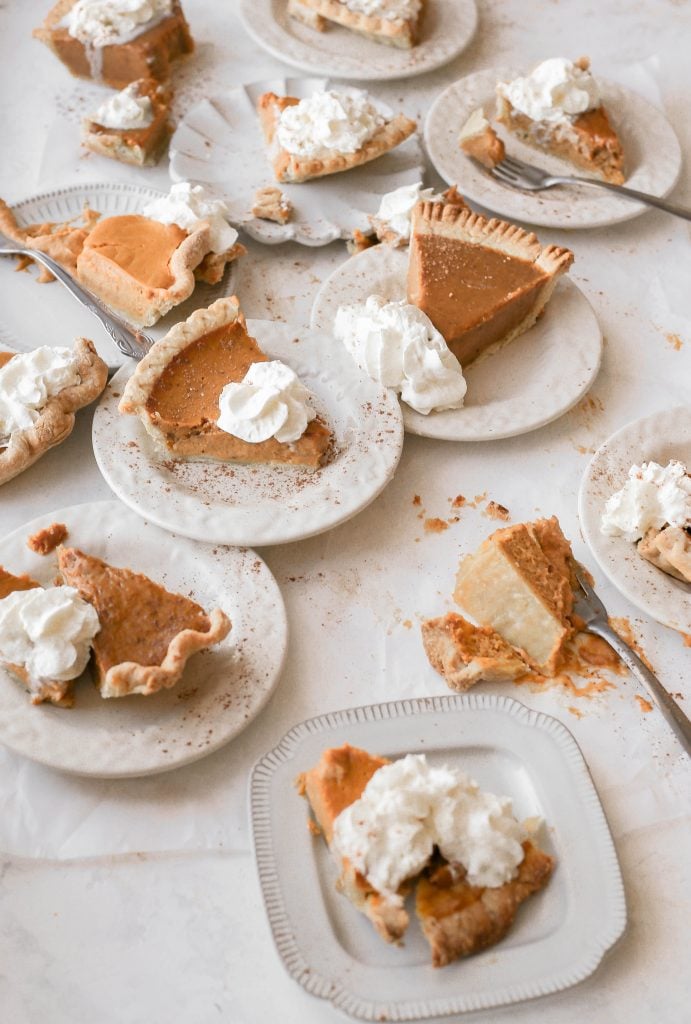 And that's another edition of the bake-off! Do y'all have a go-to pumpkin pie recipe? Share it with us below!
This post was originally published on October 30, 2021, and has since been updated.