Summer is quickly winding down, and we're ready to embrace all the coziness as we prepare for the holiday season ahead. The weather brings a welcome coolness, our homes become stocked with fuzzy everything, and pumpkin takes over all that we consume. It's a time to slow down, unwind, and revisit your repertoire of my favorite part of fall: the recipes. Yes, there's pumpkin bread, pie, cookies, and more, but for me, pumpkin takes a back seat to fall's true hero ingredient: the humble apple. And with it comes the best apple recipes to savor the season.
Feature image by Michelle Nash.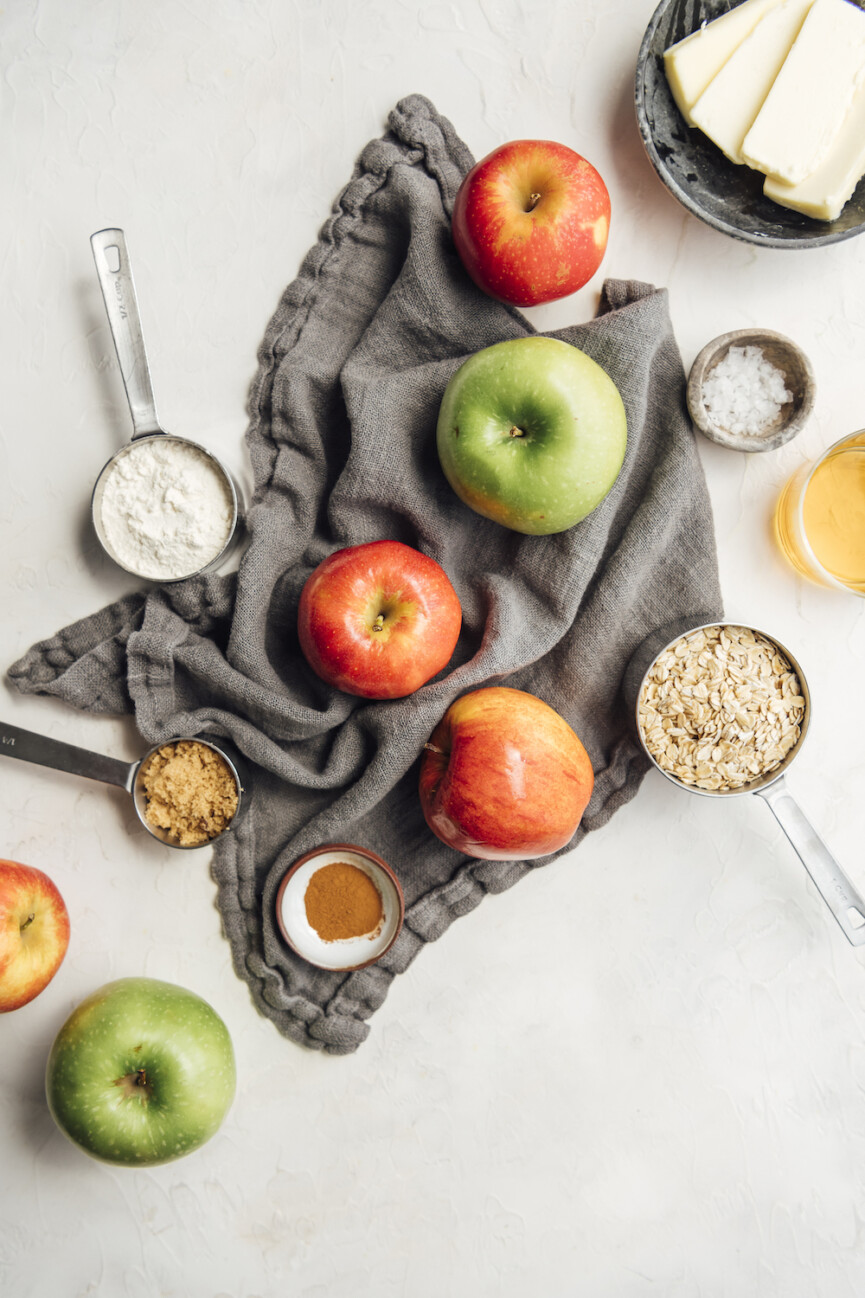 While there are many other underrated fall fruits (pears, persimmons, and pomegranates, anyone?), apples are often outshined by pumpkin's prominent seasonality. With the PSL's return, pumpkin-scented candles, and pumpkin spice… everything, it's easy to default to pumpkin as the flavor of the season. But for me, there's something about a crisp, juicy apple that screams fall freshness. Whichever you prefer, I encourage you to spring into fall with apples on your mind and a few recipes in your back pocket to make 'em shine.
On this list, you'll find a little sweet, a little salty, and a whole lotta apple-y goodness to help you celebrate the fall prodigy to its fullest. Read on for our picks of the 13 best apple recipes you should be making this season.
13 Must-Try Apple Recipes to Add to Your Fall Lineup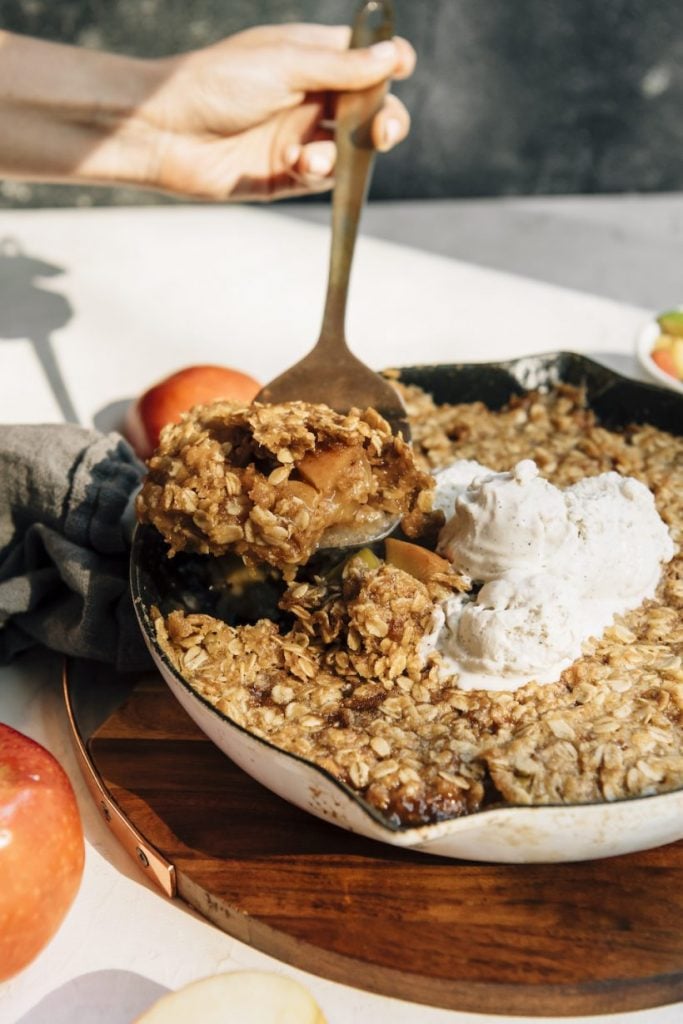 Why We Love It: To start off with a staple in the realm of apple recipes, this brown butter bourbon crisp screams fall. The mixture of Granny Smith and Pink Lady apples keep things from getting too sweet, and help the apples retain enough texture. The brown butter surfaces in the dough and perfectly complements the apple, oats, and cinnamon with a nuttiness that's to die for. And if you're worried about the bourbon, know that it's there simply to introduce a warmth and honey-like aroma. You can leave it out, however, and let the brown butter take charge!
Hero Ingredient: In case you didn't know, acid keeps fruit together, while sugar breaks it down. That's why the lemon juice in the filling is so key. It helps the apples hold on to just the right amount of their juicy, crunchy nature so you get a respectable bite of apple in each forkful.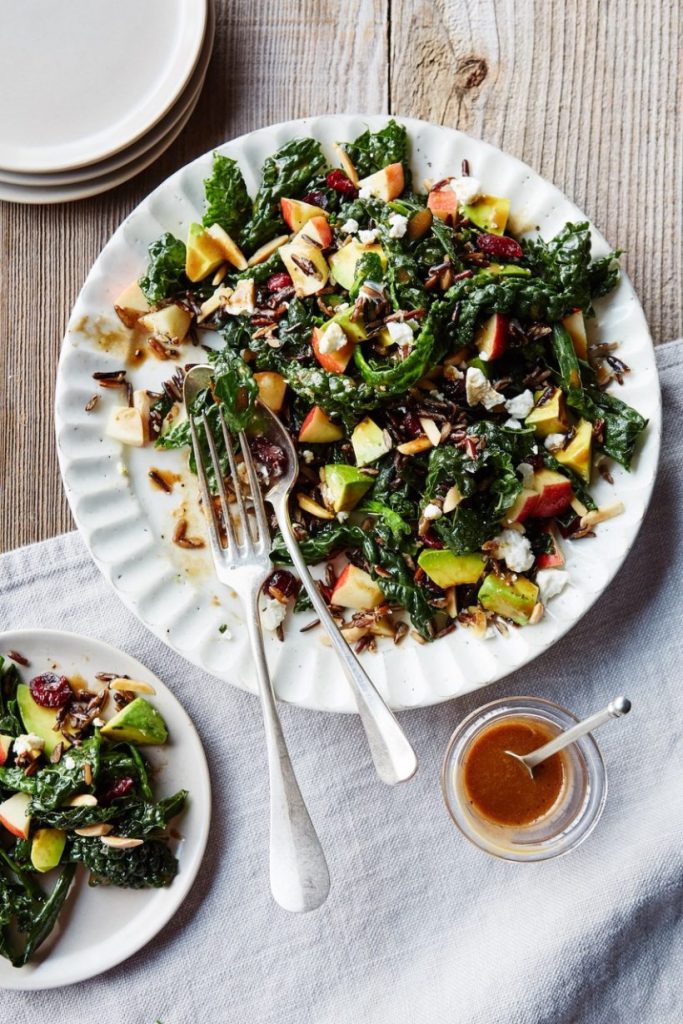 Why We Love It: Harvest flavors, tons of texture, seasonal fruit, and hearty grains constitute this salad that I could eat year round. It's composed of kale, wild rice, apple, avocado, dried cranberries, slivered almonds, and crumbled goat cheese, and is the perfect appetizer or side to any fall gathering. Or, feel free to enjoy it on its own as a meal! When it comes to substantial salads, this one is a dream.
Hero Ingredient: If you have the bandwidth, you won't regret shaking up a little extra maple-mustard vinaigrette. It makes a great dressing for just about any salad you can imagine and is nice to have on hand.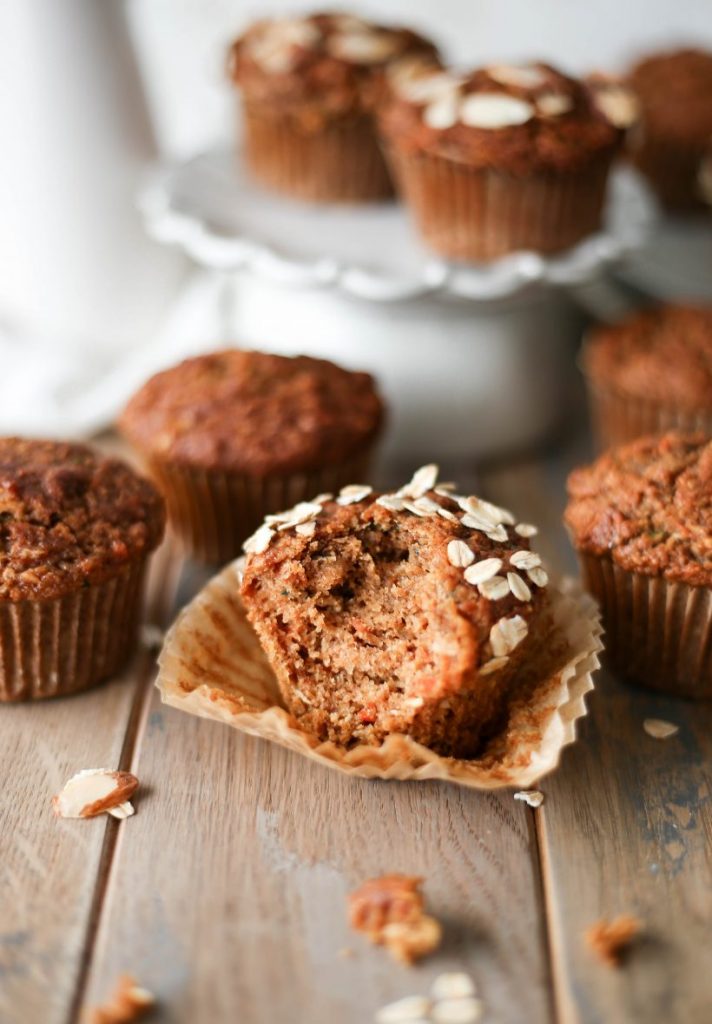 Why We Love It: These tasty morning glory muffins use apple in two ways. Applesauce keeps the batter moist and naturally sweetened, followed by grated apple to give the muffin some texture and a fruity component alongside the long list of veggies. With wholesome ingredients like carrot, zucchini, maple syrup, whole wheat flour, almonds, and rolled oats, these muffins are so chock-full of goodness that you'll be glowing from the inside out. Plus, you can make a big batch ahead of time and freeze them for an on-demand breakfast whenever you please! Totally delicious, and totally a win-win.
Hero Ingredient: The almond and oat topping introduces a nice textural component to contrast the muffins' cake-like base.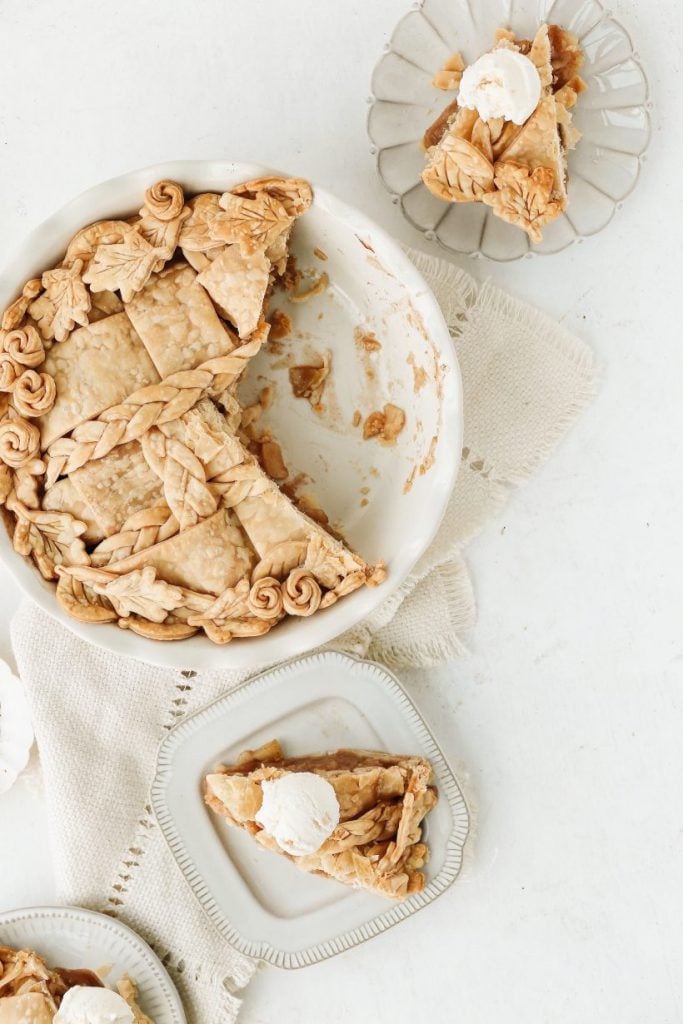 Why We Love It: If you're looking for a fresh take on apple pie, this is it. Granny Smith apples lay the foundation for a winning pie you'll want to add to your recipe box. It's not too sweet, full of warming flavors, and just as easy to enjoy after dinner as it is at breakfast with a cup of coffee. The secret ingredient here? Ginger. Not only does it have amazing health benefits like anti-inflammatory properties, antioxidants, and digestion-aiding tendencies, but it introduces a deep flavor profile to the pie that's unexpected, but appreciated.
Hero Ingredient: Maple syrup and a bit of brown sugar sweeten the pie, so you don't have to worry about an abundance of refined sugar in each slice.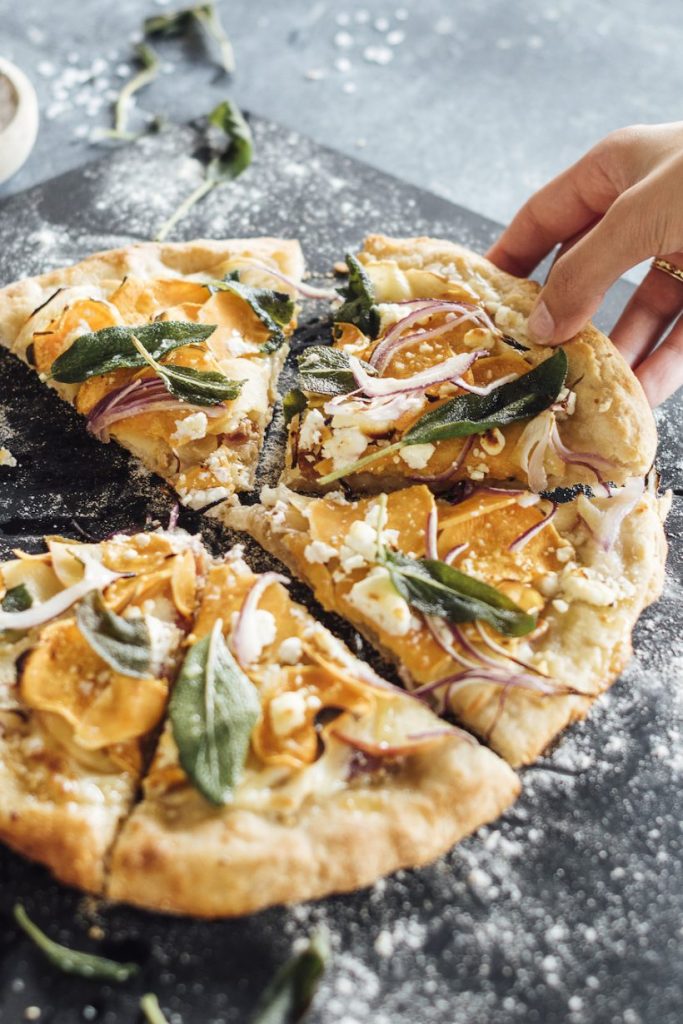 Why We Love It: Buckle up, because this pizza is bursting with fall flavor. Thinly-sliced sweet potato rounds top a delicious homemade pizza dough, crisping up as the pizza bakes and taking on an almost chip-like texture. Then, smoky, crispy bacon bits join the party to, well, bacon. (It's a verb if you make it a verb.) Thin slices of red onion bring a kick to each bite, apple slices come in with a mild sweetness, and crispy sage tops it all off with an herbal element that's almost too good to be true. Add some melty mozzarella and goat cheese crumbles, and you've got a pizza I promise you don't want to miss out on.
Hero Ingredient: I'm going with everything here, and I'll tell you why. Yes, this pizza is a unique combination of ingredients, but each bite brings something new. You might get one piece that's heavy on the savory sweet potato and onion, while the next is full of apple-y sweetness contrasted by salty bacon. There's something new in store with each tasty mouthful.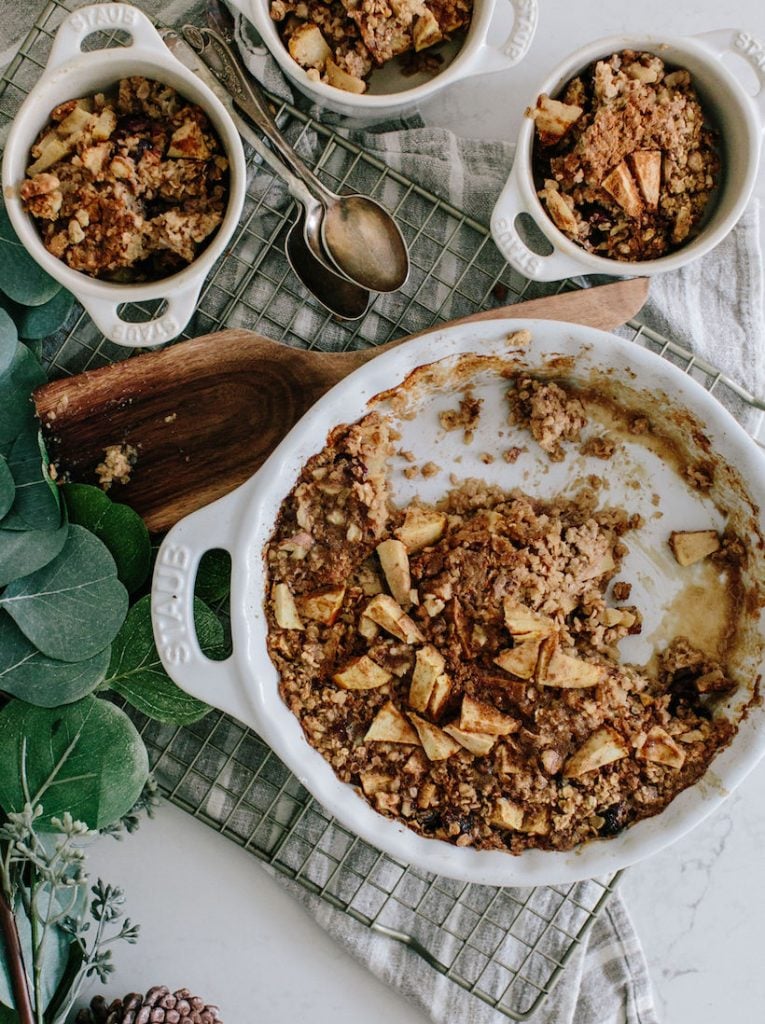 Why We Love It: Baked oatmeal makes such an easy breakfast, and this recipe uses apples, walnuts, and oats to drive home the fall flavor. It also features cinnamon, vanilla bean, and apple juice, which perfectly sweetens all the goodness underneath that oat mixture. You can even bake this oatmeal over the weekend, store it in the fridge, and reheat (with a little milk) for easy breakfasts all week long. Or, enjoy it like you would pancakes on a Saturday morning—the options are endless!
Hero Ingredient: Walnuts and eggs bring the omega-3's that will start your day off on the right foot.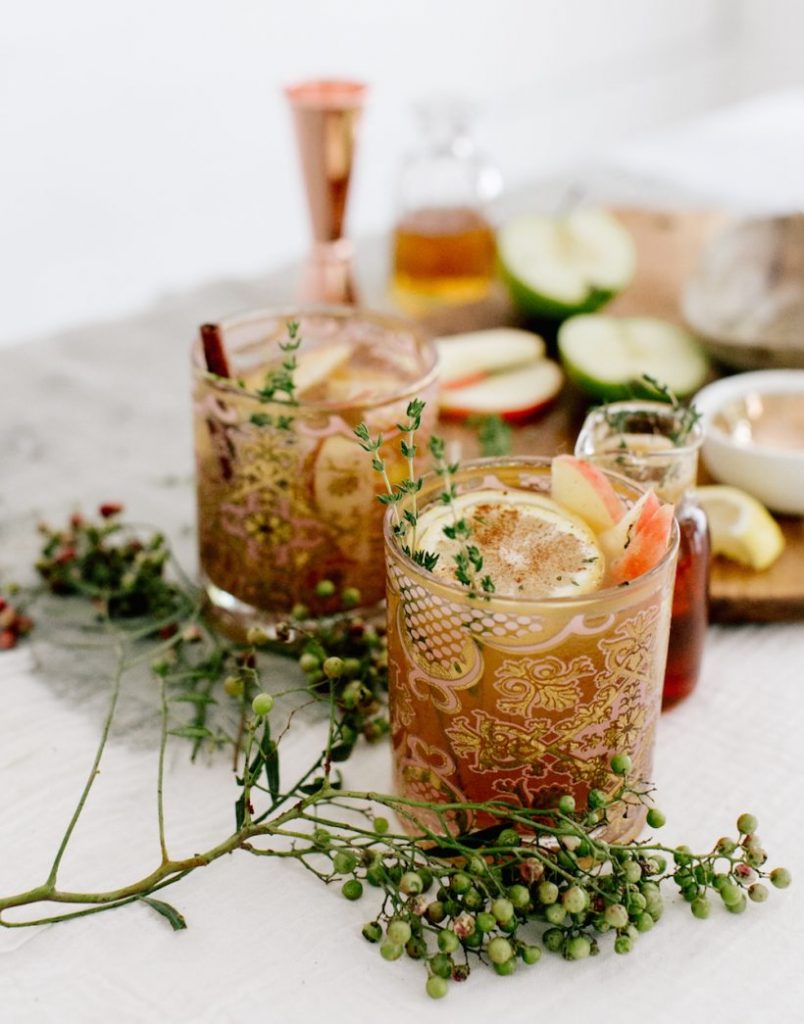 Why We Love It: This bourbon apple cider makes a tasty holiday cocktail that's full of fall flavor. Honey-thyme simple syrup infuses the cocktail with slightly-sweet, herbal notes that make you want to curl up in front of the fire with each sip (even if it's still warm outside). And if you're scaling back your alcohol intake, this recipe makes a killer mocktail, too! Just leave out the bourbon and let the honey-thyme syrup, lemon juice, club soda, and cinnamon do the talking. It's delicious both ways.
Hero Ingredient: I'm not usually the garnish-on-a-cocktail type, but a little thinly sliced apple/lemon, sprig of thyme, and/or cinnamon stick add to the fall aura and give your glass a gorgeous visual appeal.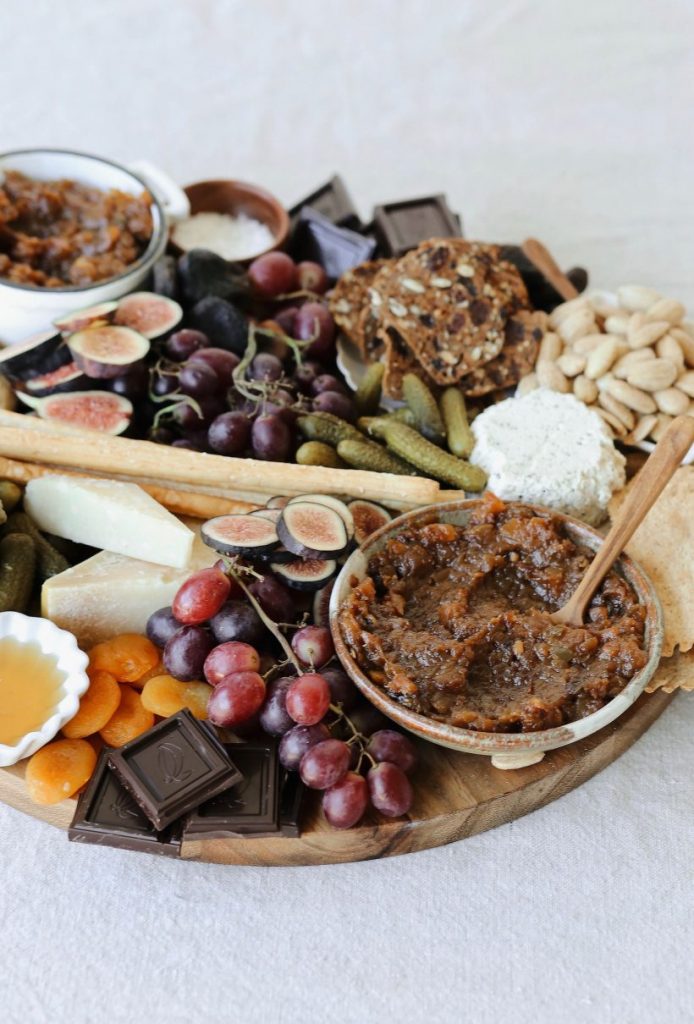 Why We Love It: Every cheese board needs its classics: a variety of cheeses, fruits, nuts, pickled items, crackers, meats, jams, etc. to satisfy cravings of any kind. To give yours a fall twist, try out this one pot apple chutney. It's sweet and savory with a surprising depth, considering how easy it is to make. Cumin, mustard seeds, and jalapeño counterbalance the sweetness from the apple and onion to make it the cheese companion. Plus, grated ginger and apple cider vinegar keep things fresh, light, and layered. Yum.
Hero Ingredient: A mixture of Gala and Granny Smith apples gives this chutney a good ratio of sweet and tart apple flavor.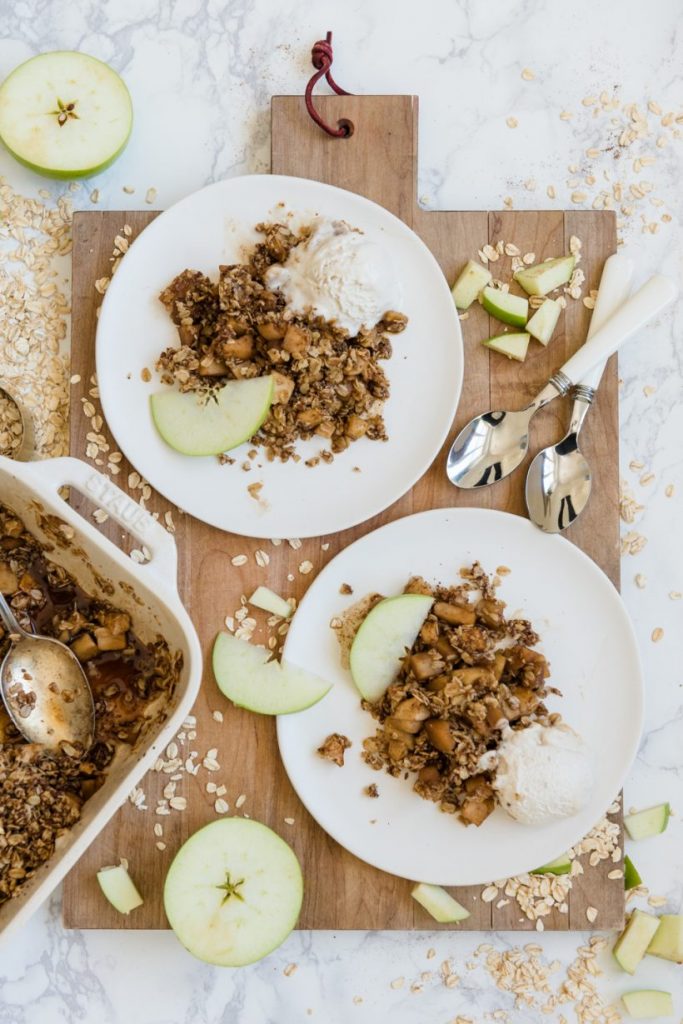 Why We Love It: While it's visually and anatomically similar to the crisp above, this apple crumble is something entirely unique and celebratory for fall. Structurally—though the lines have been blurred since the original adaptations, as you'll see in this recipe—the difference between a crisp and a crumble lies in the use of oats. A crumble features a streusel-like topping, while a crisp includes oats that "crisp" up as it bakes. So, this six-ingredient apple crumble showcases a topping that, yes, contains oats and previews a decadent apple-y underside that makes the perfect forkful over and over.
Hero Ingredient: More of a hero method, this crumble is incredibly easy to make for a crowd. With only six ingredients and under 20 hands-on minutes needed, it's simple to make and even easier to enjoy.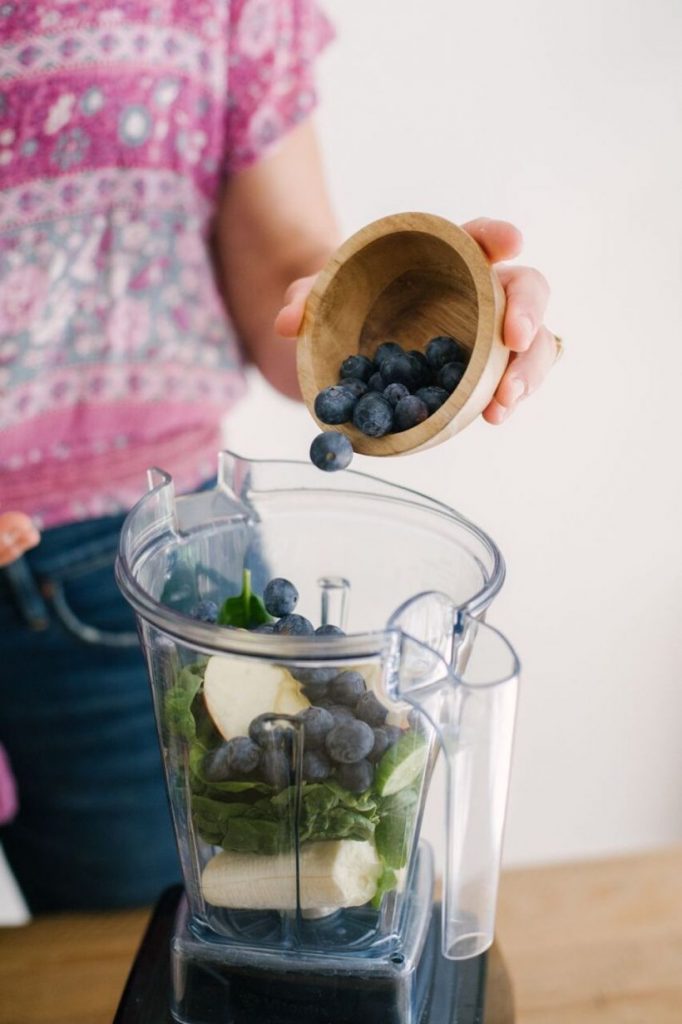 Why We Love It: This blueberry and avocado smoothie boosts fascia in your system to keep you healthy from the inside out. Fascia is the the tissue that essentially holds every organ, bone, nerve, and muscle in your body in place, so as you can imagine, it's very important. Not only is this smoothie loaded with good-for-you ingredients like kefir, cucumber, chia seeds, apple, spinach, and more, but it tastes amazing and is easy to make. You could even prep your fruit and veggies beforehand, store them in freezer bags, and keep them on hand until you're ready to blend. It's fall vibes, reimagined.
Hero Ingredient: Kefir is full of gut-healing prebiotics and probiotics to keep your gut health in check, which definitely radiates throughout your body.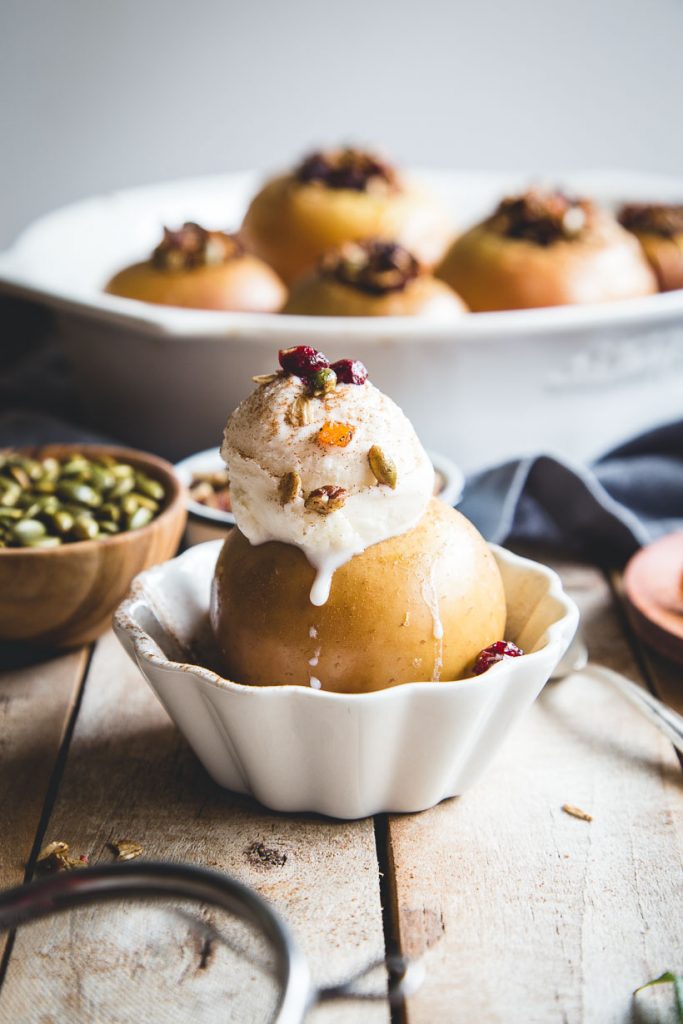 Why We Love It: This dessert celebrates apple to its fullest. It looks festive, it feels festive, and it definitely tastes festive. What more could we ask for? Baked apples take on a flavor so rich and comforting that this recipe doesn't require any refined sugars or flours. Honeycrisp apples are joined by dried apricots and cranberries for a tart, chewy element, and pecans and pepitas add a little crunch. All of that deliciousness gets stuffed right into the apples and baked to perfection. I'll take two, please.
Hero Ingredient: The recipe calls for frozen yogurt atop the warm apples, but you could use crème fraîche, Greek yogurt, or just enjoy the on their own! Whichever way you slice it, these baked apples are a winner.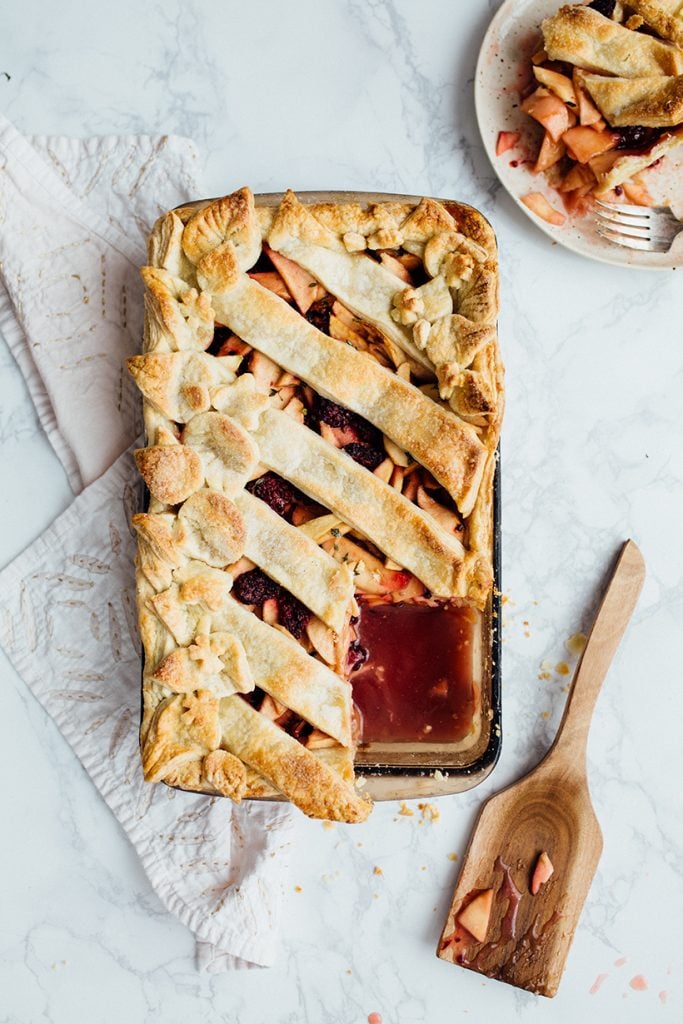 Why We Love It: Slab pie is the crowd-pleasing dessert that your next gathering needs. It's simple to make, elegant, and sure to satisfy any guest you're welcoming. This variety uses Granny Smith and Pink Lady apples plus tart, juicy blackberries to form the warm filling. Atop that, a flaky, buttery crust to finish it off.
Hero Ingredient: I love the use of thyme in the apple filling. Its earthy, minty flavor profile complements each element in the pie for a depth of flavor you just can't miss. It takes a little focus to pick each leaf off its stem, but you might just find joy in the process. It's definitely methodical and almost meditative.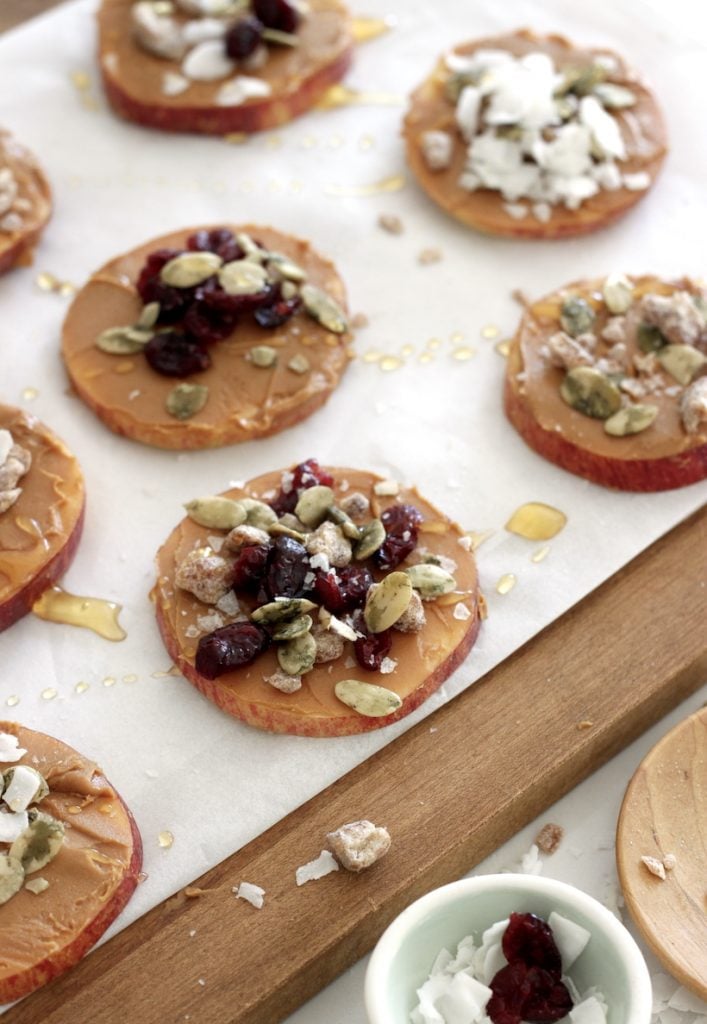 Why We Love It: What looks and tastes like a cookie might just surprise you. These peanut butter apple "cookies" are full of flavor and guilt-free enjoyment. They're the perfect afternoon snack or post-meal indulgence without the sugar overload! All it takes is fresh apples, a smear of creamy nut butter, and a sprinkle of dried cranberries, pepitas, chocolate chips, or whatever other toppings you're craving. They're fun, simple, healthy, and totally equipped to satisfy your sweet tooth.
Hero Ingredient: Have fun with the toppings! I like to use a mixture of textures and flavors since the base is so simple. Chopped dates, almonds, walnuts, coconut flakes, pretzel pieces, or sunflower seeds would all be delicious atop those juicy apple slices. Make it how you like it and enjoy!
What are your favorite apple recipes? Drop them in the comments!