There's something about having a fizzy drink in a fun glass that adds to the festivity of a celebration, and Thanksgiving is no exception. After all, a fabulous Thanksgiving spread includes more than just the food. The best Thanksgiving cocktails are another way to utilize fall's best flavors and get creative in the kitchen. Plus, having a drink in hand makes the cooking more fun, too.
Cocktails are a great way to get people involved in the kitchen. Or, if you're looking for something to contribute to the meal, volunteer to whip up a Thanksgiving cocktail. Even if you're going cold turkey (pun intended) on the booze, a festive mocktail elevates any event. We've rounded up 13 of the best Thanksgiving cocktails on the internet that are easy to prepare, look fabulous on a tablescape, and add some pizzazz to the meal. No matter what kind of holiday you're having this year, having a festive cocktail/mocktail option (or two!) is always a good idea. Now say "Cheers" to kicking off the holiday season.
feature image by Hannah Haston for Camille Styles
The 13 Best Thanksgiving Cocktails
Honeyed Prosecco
Why We Love It: Sheela Prakash shared her Honeyed Prosecco recipe from her cookbook, Mediterranean Every Day. It feels ultra festive and fancy but is super easy to make, and simple to multiply for bigger groups. This is the perfect cocktail to set out pre-dinner for guests to sip on when they arrive (or all night!).
Hero Ingredient: The herb-infused honey will have all of your guests asking "what's in this?"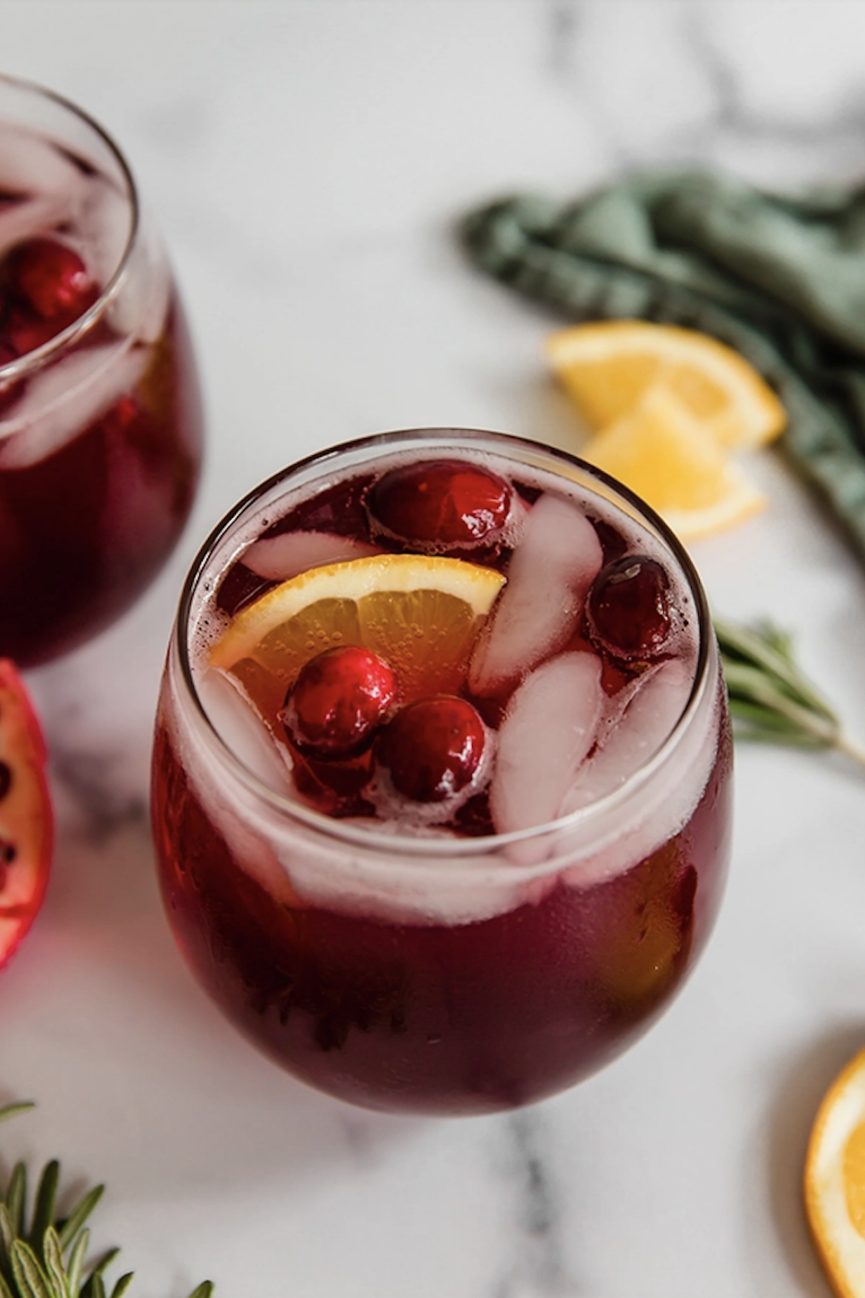 Cranberry Pomegranate Holiday Mocktail from Unbound Wellness
Why We Love It: This holiday mocktail is the perfect fruity-fizzy combo. Plus, it's sugar-free– what's not to love? If you're needing or want to cut back on booze this season, make this recipe as is, or if not, add a splash of vodka. The good news is, it tastes just as delicious either way.
Hero Ingredient: Sparkling water is always my fav cocktail ingredient because it balances out the sweetness and adds some fun fizziness.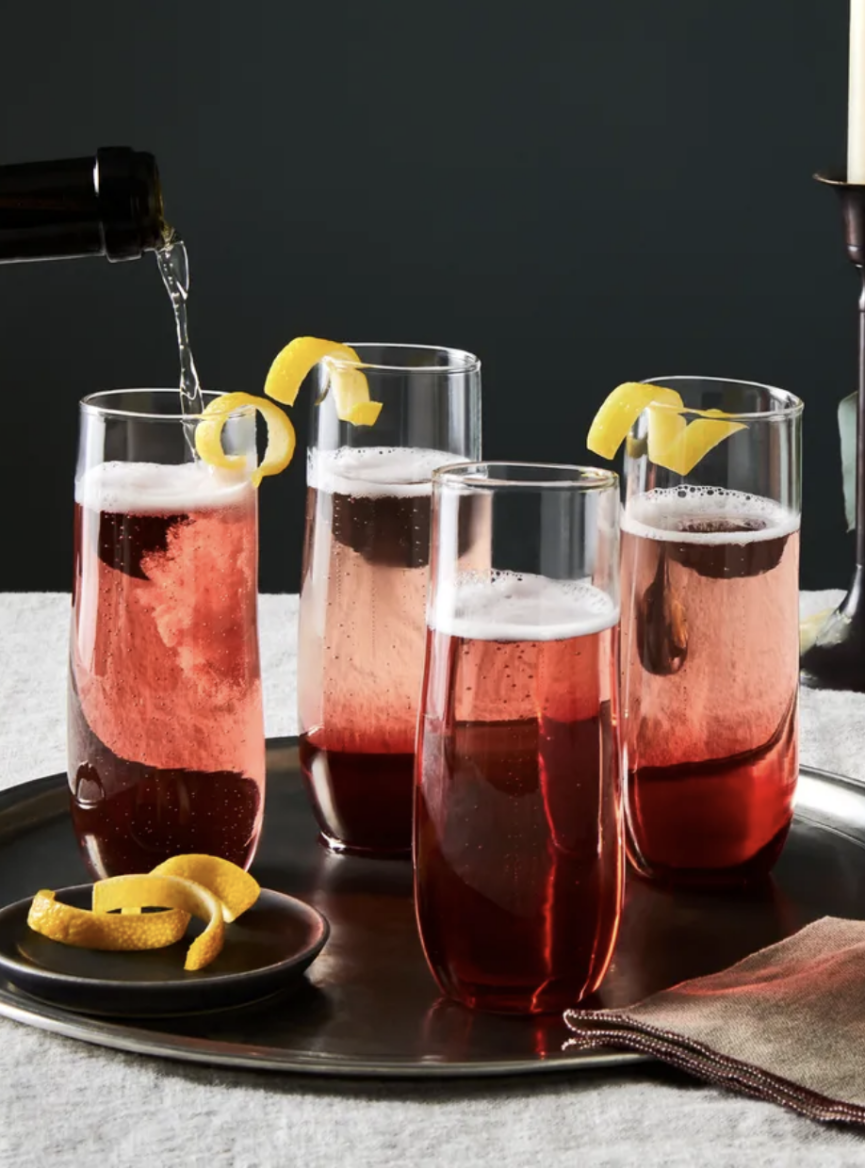 Mulled Wine Sparkler from Food52
Why We Love It: This recipe is the festive twist on mulled wine you've been waiting for. It's a mulled wine syrup that is topped off with a glass of prosecco. Refreshing, festive, and gorgeous. Not to mention that the moment the prosecco hits the syrup is a totally Instagram-worthy moment.
Hero Ingredient: Mulled wine syrup is the holiday cocktail ingredient I never knew I needed.
Bourbon Apple Cider With an Herbal Twist
Why We Love It: This Bourbon Apple Cider Punch infused with honey-thyme simple syrup is so easy to make, and has become the ultimate go-to when having friends over for a cozy happy hour by the fireplace or Thanksgiving gathering. It honestly tastes like fall in a glass.
Hero Ingredient: Honey-thyme simple syrup is simply splendid.
Non-Alcoholic Spicy Pear Punch from Modern Glam
Why We Love It: Perfect for everyone on your guest list (kids included), this Spicy Pear mocktail recipe is as tasty as it is pretty. It's also made with only three ingredients and ready in minutes. I love the idea of garnishing each glass with a cinnamon stick and cranberries to give the drink the ultimate Thanksgiving feels.
Hero Ingredient: The ginger beer, for both the fizz and the spice.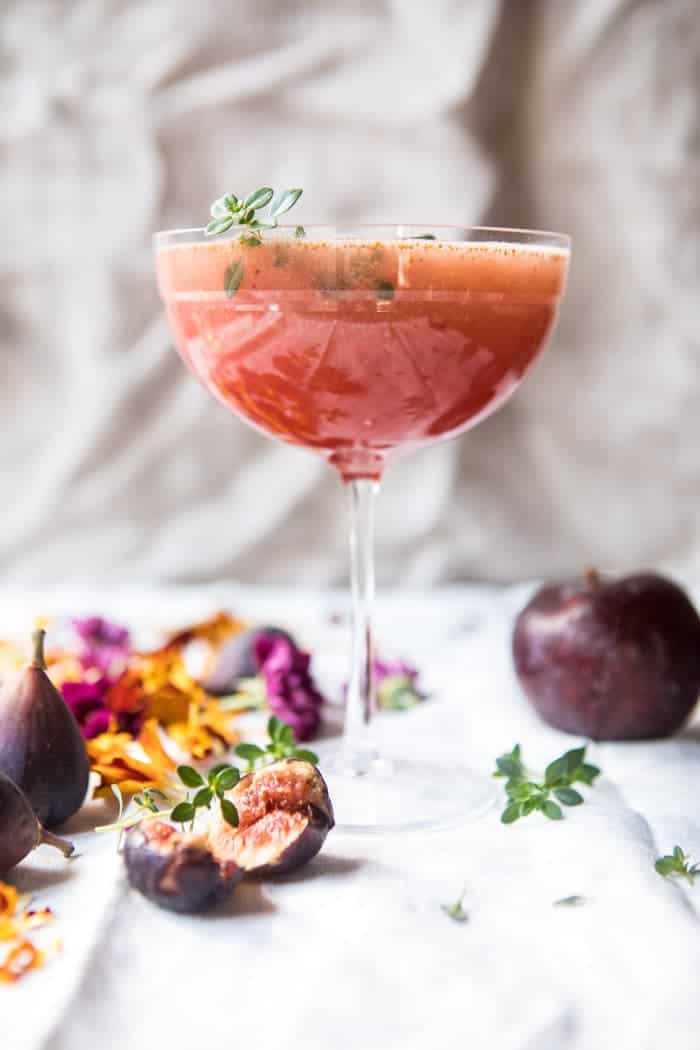 Fig Honey Thyme Prosecco Smash from Half Baked Harvest
Why We Love It: Anyone else newly obsessed with figs? On a cheese board, on a pizza, or in a cocktail, I can't get enough. This recipe is a muddled blend of figs, plums, elderflower liqueur, lemon juice, honey, and thyme, all topped off with a bit of prosecco. Perfect for fall and gorgeous on a Thanksgiving table.
Hero Ingredient: Figs for sure.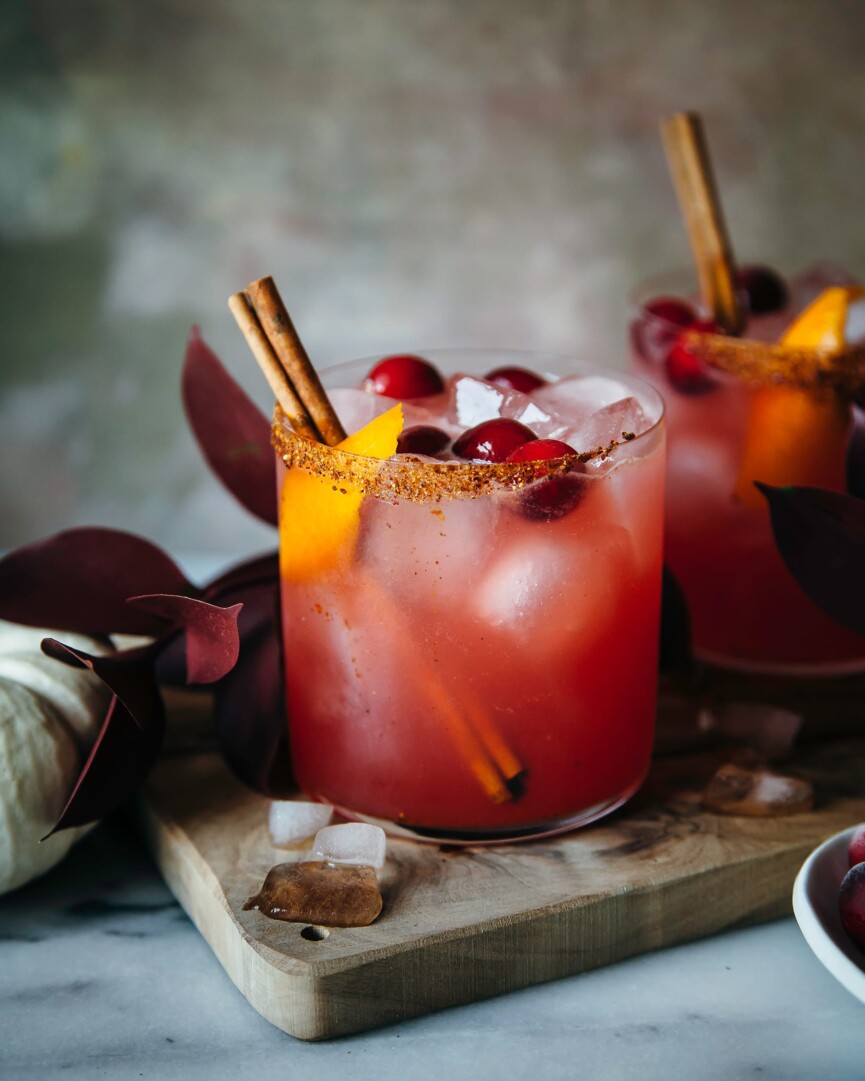 Spiced Cranberry Orange Margaritas from The First Mess
Why We Love It: Margaritas are always on the menu at my family gatherings and I can't wait to introduce this recipe this year. It's described as a traditional marg with an autumn "dressing," which is right up our alley. The recipe makes a spiced cranberry syrup with ginger and cinnamon that's delicious in the margarita or mixed with some ginger beer.
Hero Ingredient: Ginger in absolutely anything is a hero in my book.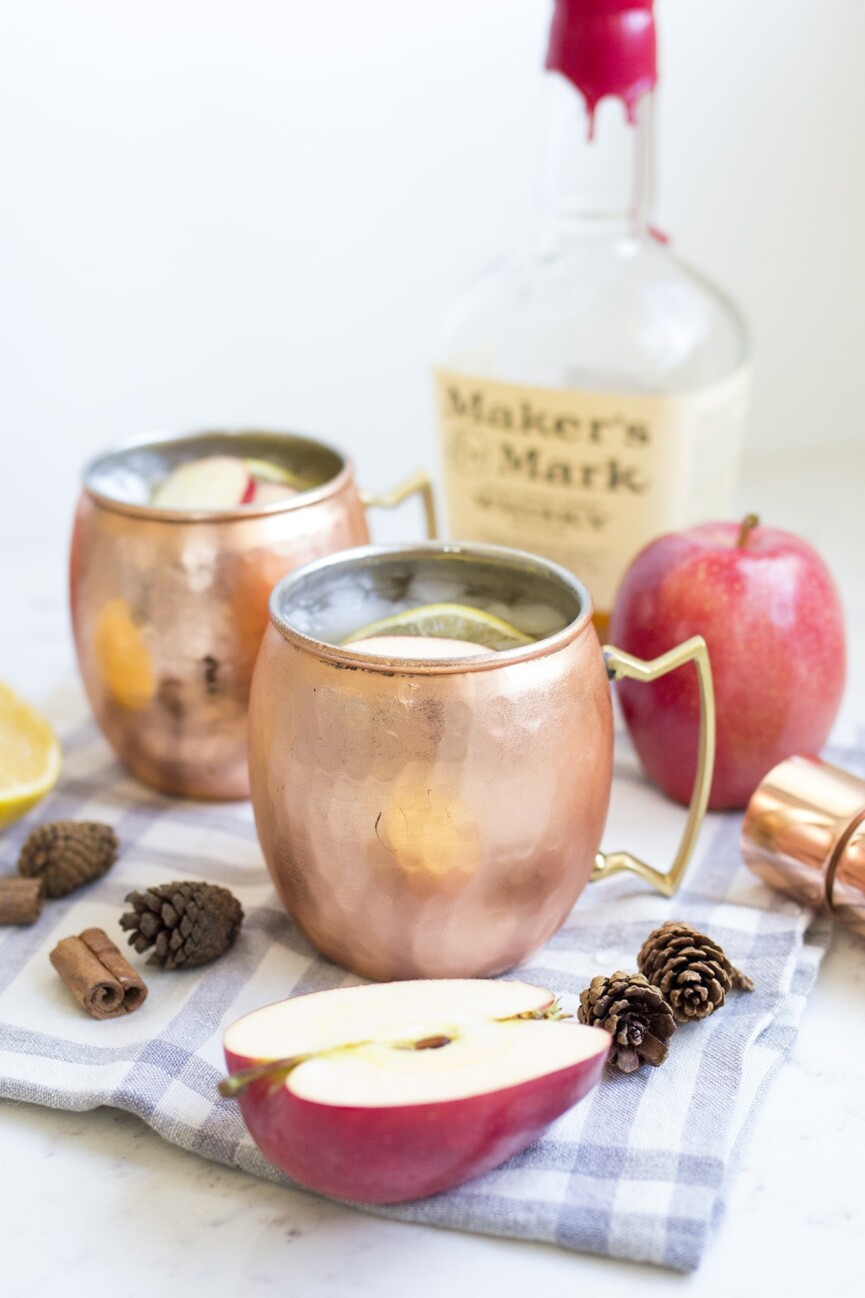 Bourbon Maple Apple Cider from FreutCake
Why We Love It: Growing up, my mom would serve my sisters and I a delicious hot apple cider all through the holidays to make us feel festive, which is probably why I'm such a big fan of this bourbon apple cider. All you do is add bourbon, lemon juice, and maple syrup to apple cider and it's ready to go. This drink can be served hot or cold, but you can't beat a warm cocktail on a cold Thanksgiving day.
Hero Ingredient: The apple cider for all the nostalgic fall feels.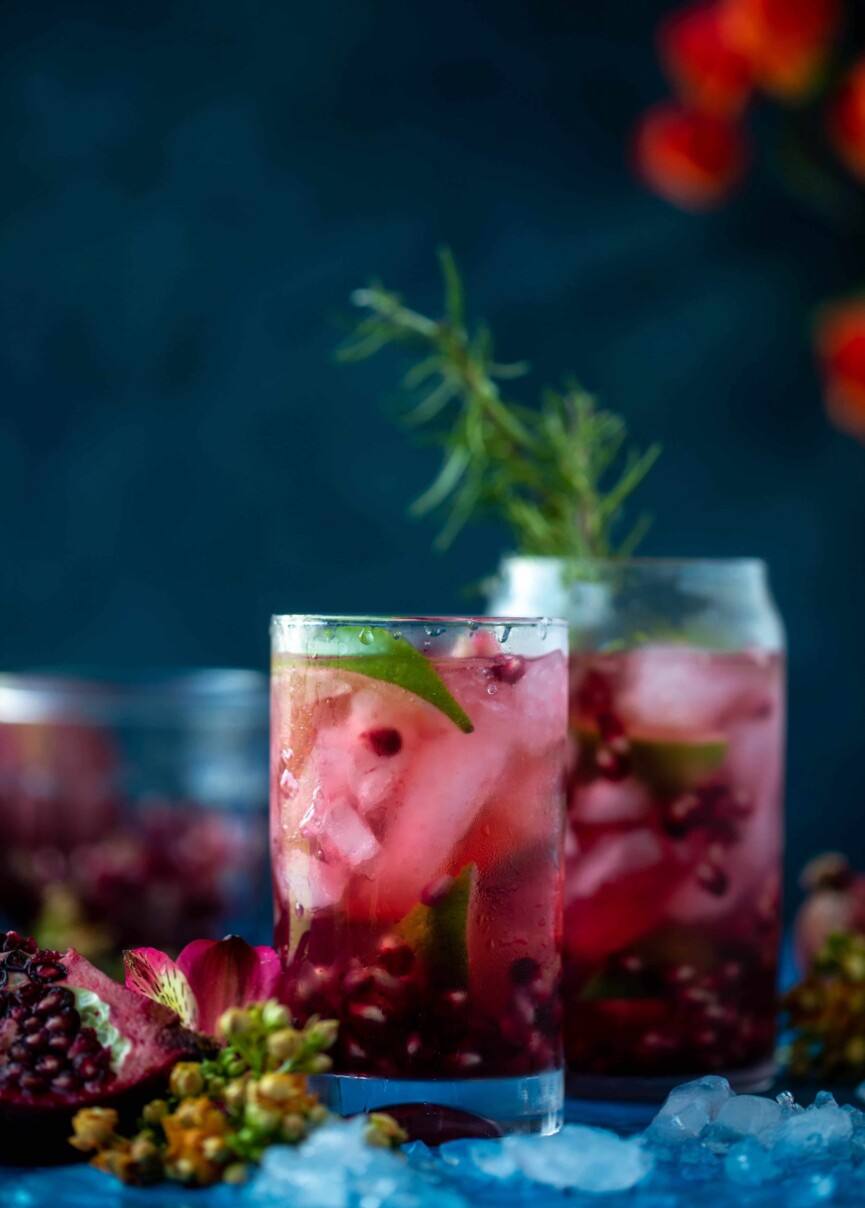 Pomegranate Gin and Tonic from How Sweet Eats
Why We Love It: This Pomegranate G&T is both refreshing and seasonal. The pomegranate adds the perfect fall flare, while still keeping the light flavor of a traditional gin and tonic. In my opinion, it's definitely one of the best Thanksgiving cocktails because it pairs well with a heavy meal (and looks pretty, too).
Hero Ingredient: Pomegranate, please!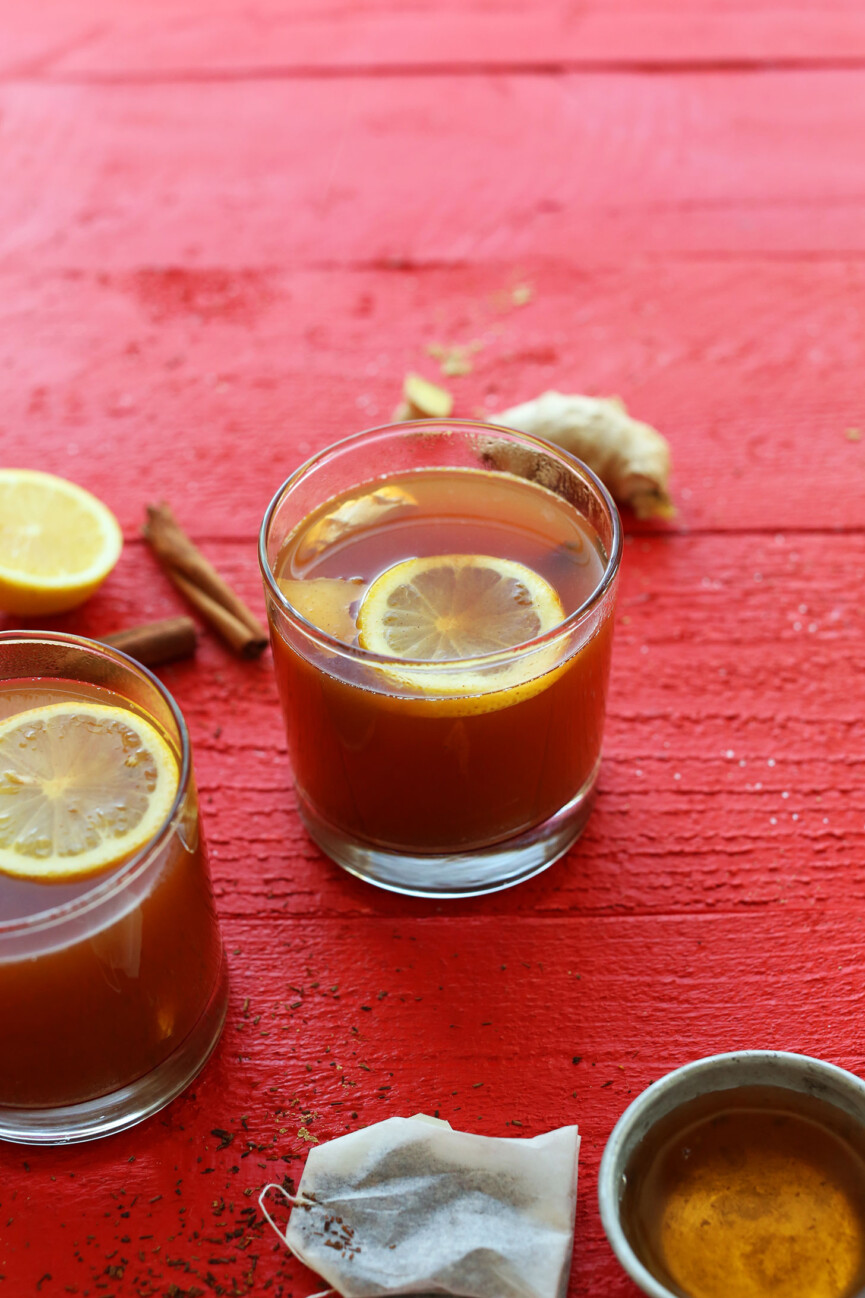 Apple Cider Rooibos Hot Toddy from Minimalist Baker
Why We Love It: If you haven't heard of it, rooibos tea (pronounced ROY-boss) is a red, decaf herbal tea that has a subtle sweetness to it. AKA, the perfect base for this apple cider hot toddy cocktail. It's fresh, warm, and packed with fall spices. The shot of bourbon is totally optional, as well, but I'll definitely be adding it. You can also sub chai tea for the rooibos, which I can't wait to try.
Hero Ingredient: Let's just say you'll be glad to know that rooibos tea exists.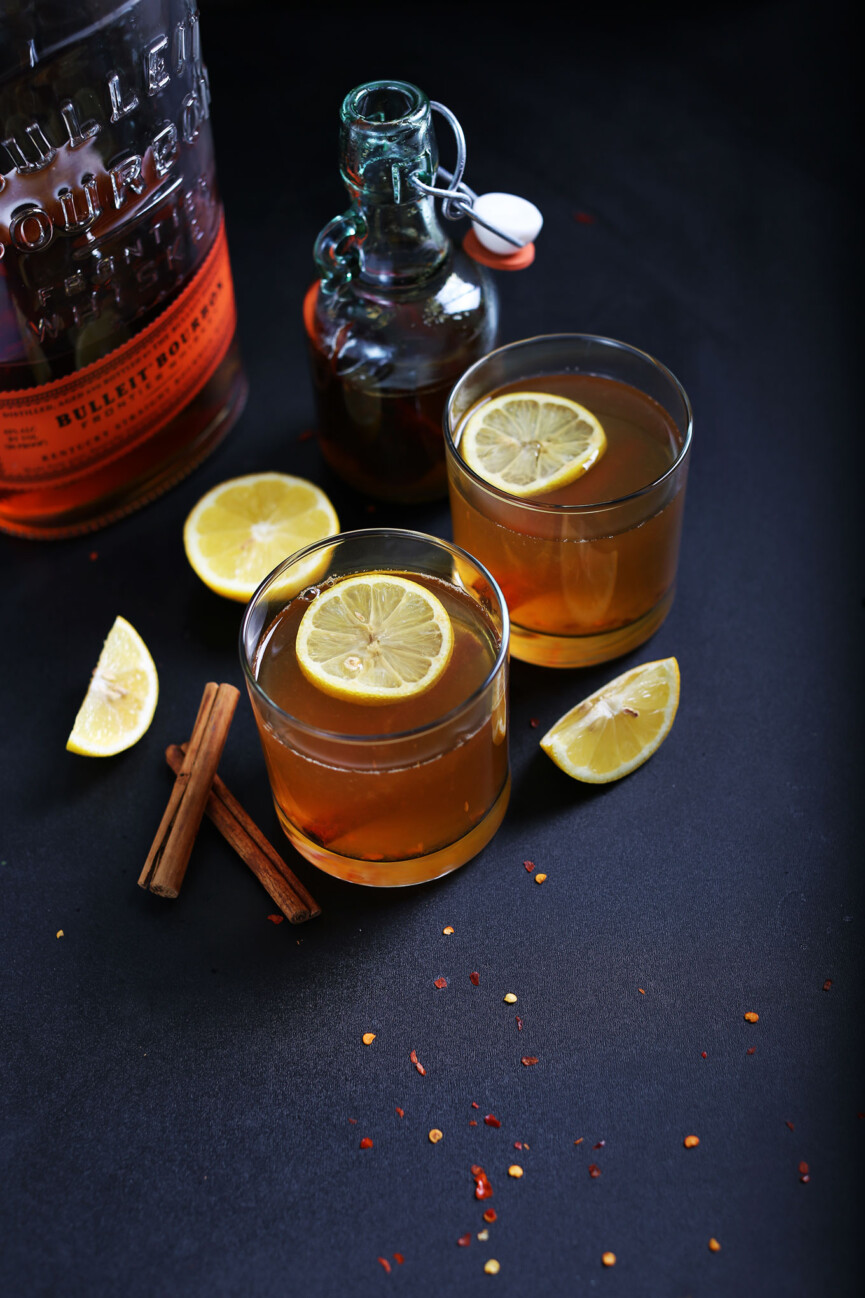 Chili Cinnamon Bourbon Hot Toddy from Minimalist Baker
Why We Love It: This is another hot take (pun intended) on a classic Hot Toddy that uses homemade cinnamon-chili-infused maple simple syrup. Yes, it's as good as it sounds. It will quite literally warm your soul. I'm picturing this Thanksgiving cocktail paired with fuzzy socks, a fire, and my third piece of pumpkin pie.
Hero Ingredient: Red pepper flakes are always a good idea.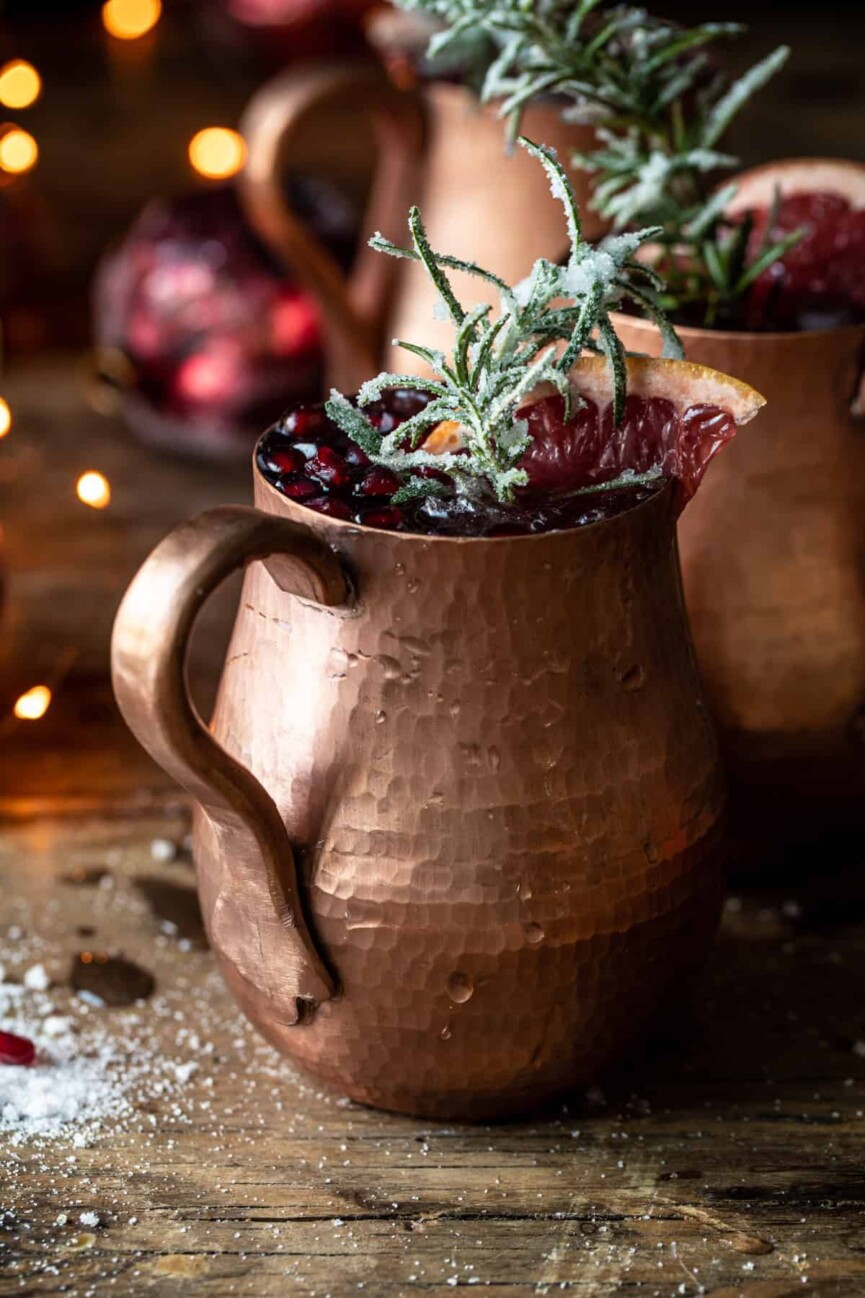 Pomegranate Champagne Mule from Half Baked Harvest
Why We Love It: Mules have been my random recent obsession, and this festive version is calling my name. It has double the ginger, which is always a good idea, grapefruit, lime, pomegranate, vodka, and champagne… so basically a list of my favorite flavors. It's also super easy to double and serve as a Thanksgiving punch, which is great because everyone will want more than one glass. Pro tip: don't skip the candied rosemary! It's so easy to make but really makes the drink stand out.
Hero Ingredient: The grapefruit perfectly balances out this dreamy combo.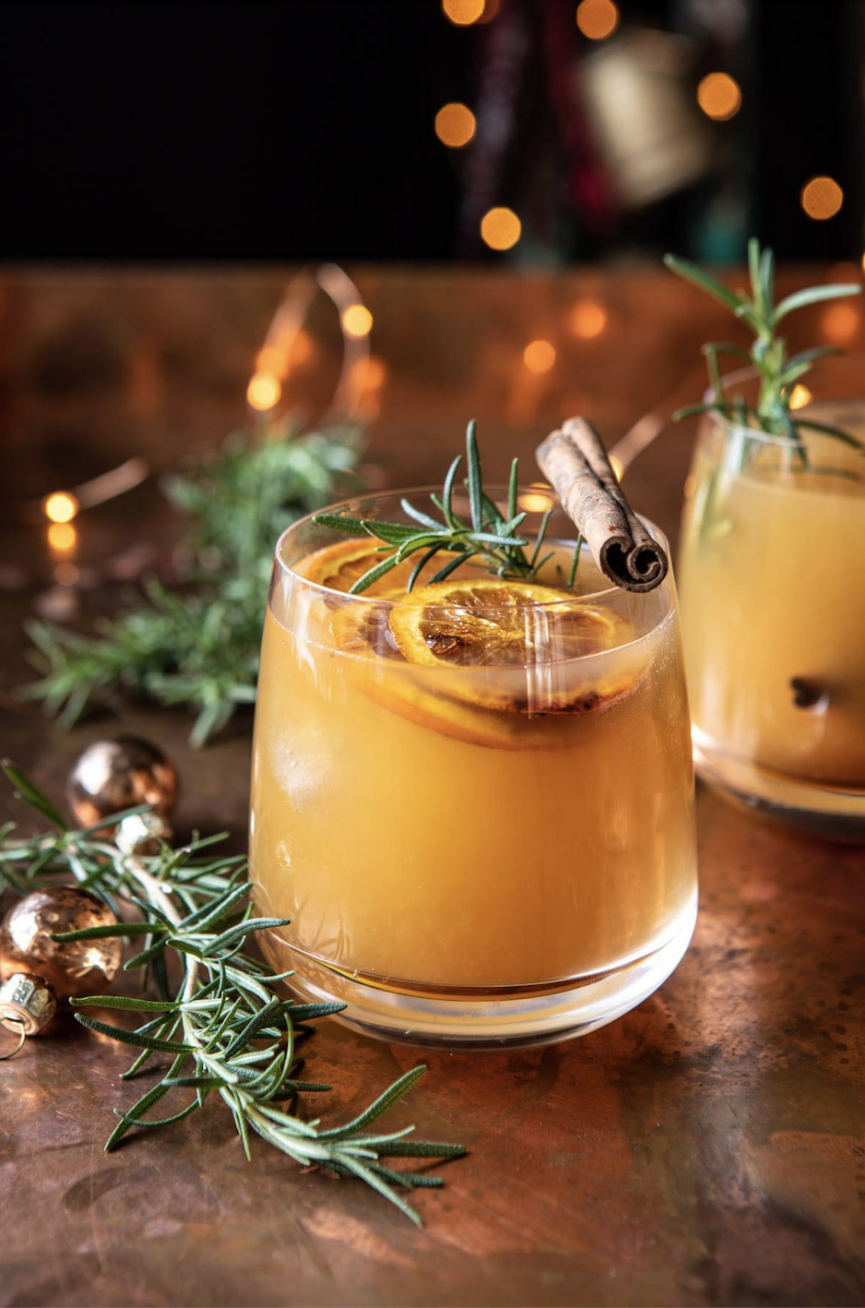 Cinnamon Bourbon Old Fashioned with Brûléed Oranges from Half Baked Harvest
Why We Love It: Chances are, you already have all of the ingredients to make this cinnamon old-fashioned for Thanksgiving. It's a simple 10-minute cocktail that your guests will rave about all night. You can also make the simple syrup ahead of time, store it in the fridge, and mix up a drink whenever you're ready.
Hero Ingredient: The rosemary in the syrup and the garnish really brings in the fall vibes.