I love a summer salad. What's more, I love a salad that doesn't feel like a salad. Enter: this chopped salad with a vegan twist. Don't get me wrong, I think greens-based salads have their place, and I love a good caesar salad any day. But more and more I've been making salads that don't come packed with spinach or kale. I'll save the greens for my morning smoothie.
Especially with warm summer days around the corner, the season calls for textures and big flavors that I prefer in a chopped salad situation. Lots of delicious ingredients and seasonal flavors, all tossed together into a confetti-like mix that makes eating your vegetables fun.
With the return of summer backyard hangs, picnics in the park, and quick lunches that I can eat straight out of the mixing bowl, I decided to lean on a few familiar flavors that were also seasonal with Cinco de Mayo, and pull together a salad that I can have on repeat all summer long.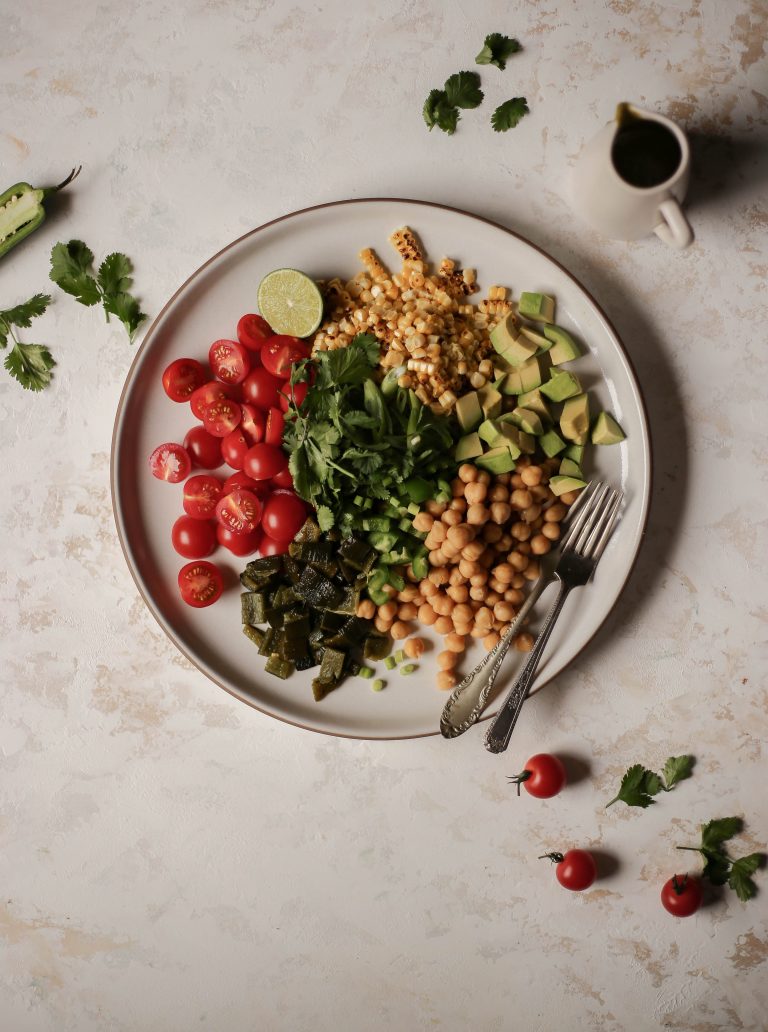 For me, the essence of a summer salad is light and bright flavors that all play off each other, and nothing says summer like bursting tomatoes and sweet corn. The key here is to use corn on the cob and get the kernels nice and charred on the grill or over the stove. I like the slightly smoky flavor that plays against the sweetness of the kernels and keeps them from making the salad taste too sweet either. Same for the poblano.
I actually learned how to roast poblano peppers a few years ago, and now I love roasting a few at a time to use throughout the week in whatever salad or egg dish I might be making. I roast them by placing the peppers on a sheet tray with a little olive oil drizzled over. Roast until the skin is blistered, and then while they are hot, place them in a bowl and cover the bowl with a plate. By letting the pepper steam a little after they come out of the oven (you could also char on the grill and use the same steaming method) it makes it easier to peel the thin papery skin of the pepper that isn't really pleasant to eat. You peel the skin, slice, and seed the pepper, and you're all set. I love the flavor of poblano peppers and think they add something special to the salad that just a jalapeno won't do on its own.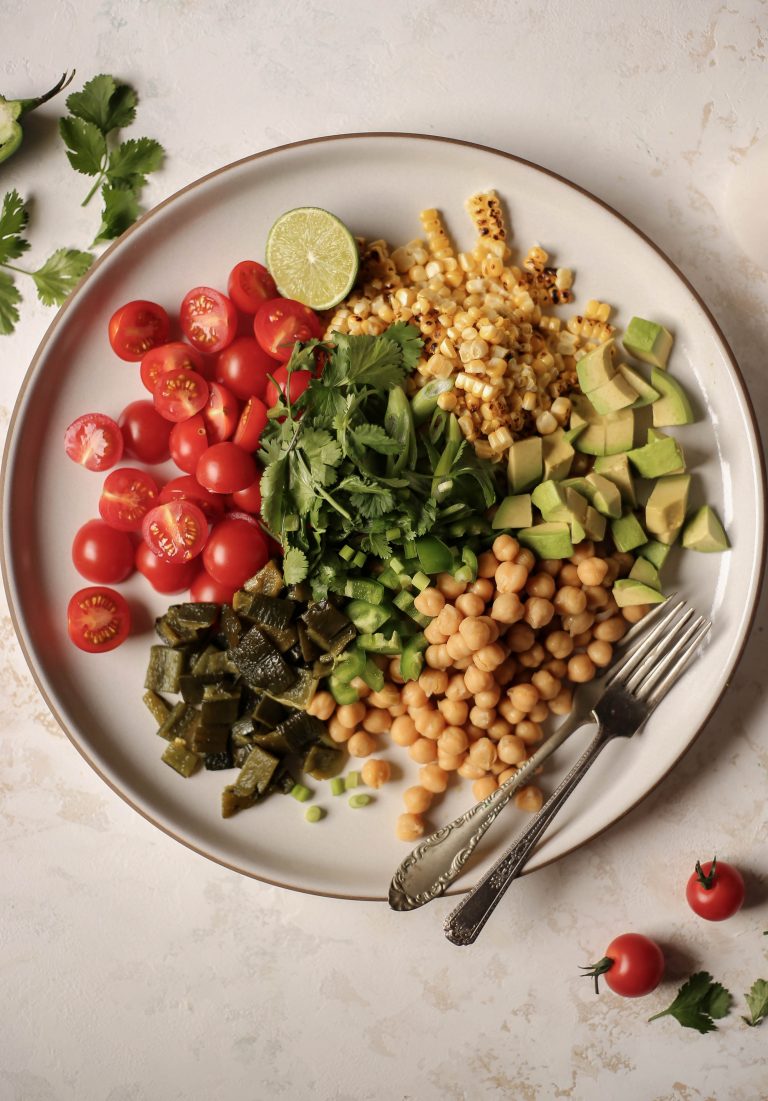 To add a little heartiness to the salad, I opted for chickpeas over grains (did I mention this salad is vegan and gluten-free?) They make the perfect blank canvas for any flavors you want to have shine and make any plant-based recipe feel a little more filling. Load the salad up with a ton of herbs—I used cilantro and green onions—and you're ready to dress.
So let's talk about this vinaigrette. It's delicious and I probably just ate half of it straight out of my mini blender. I wanted the vinaigrette to have a little bite to it that would cut through the sweetness of the corn and tomatoes and also through the rich fattiness of the avocado, and this did just that.
I never measure dressings as I blend, going off of the taste as I adjust. So use the ingredients I have listed below as a starting point and adjust to your own taste! A few tips I've learned along the way include adding a small squeeze of honey or sweetener to offset any saltiness, a punch of vinegar to offset the richness of the oil, and lots of herbs to really add the flavor. It's all about balancing salty + sweet + acidic + fat when it comes to dressings, so play around with the proportions to find your perfect blend.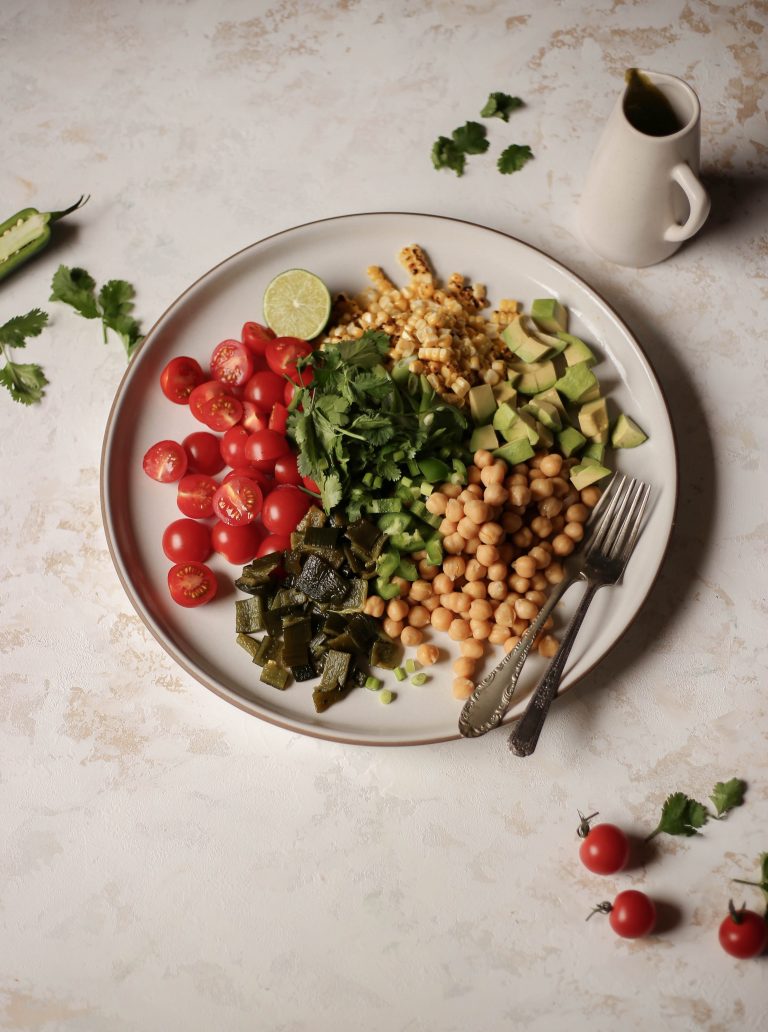 With a little prep, this vegan and delicious recipe comes together really quick, is perfect to hang out in the fridge for a prepped lunch during the week (or just a day, my brother finished the whole batch for dinner the night I made this), or travels well for any outdoor BBQs that are starting to pop up on the calendar. Happy summer!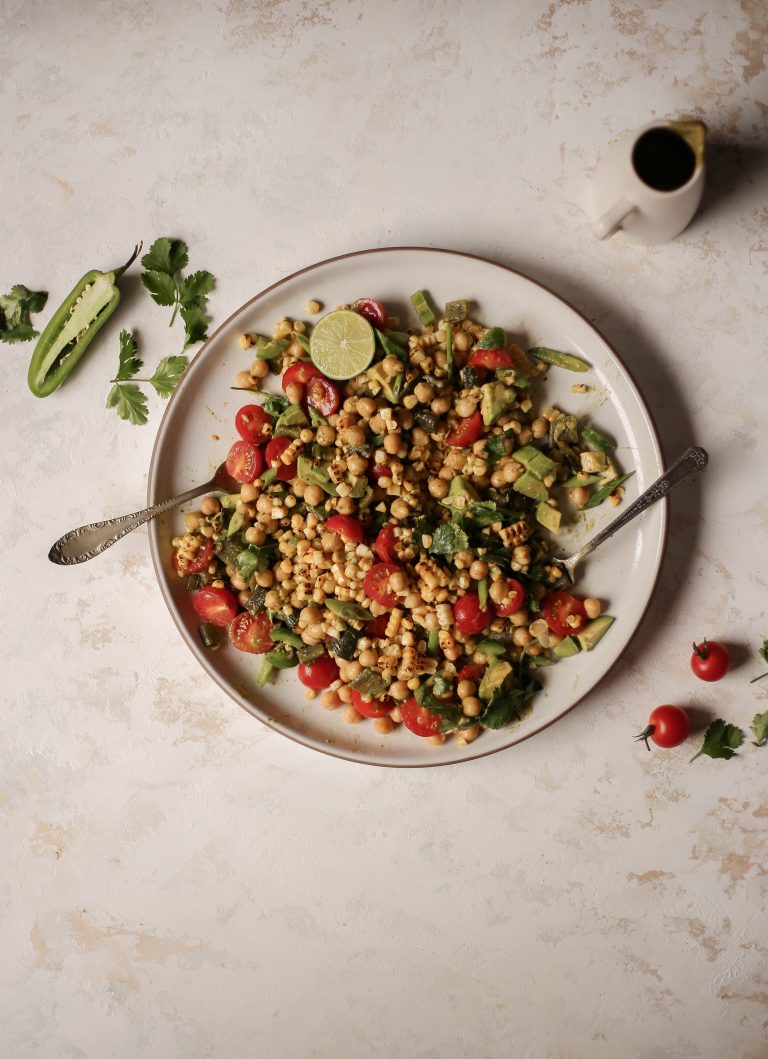 Loved this post? Pin this graphic to come back to it later.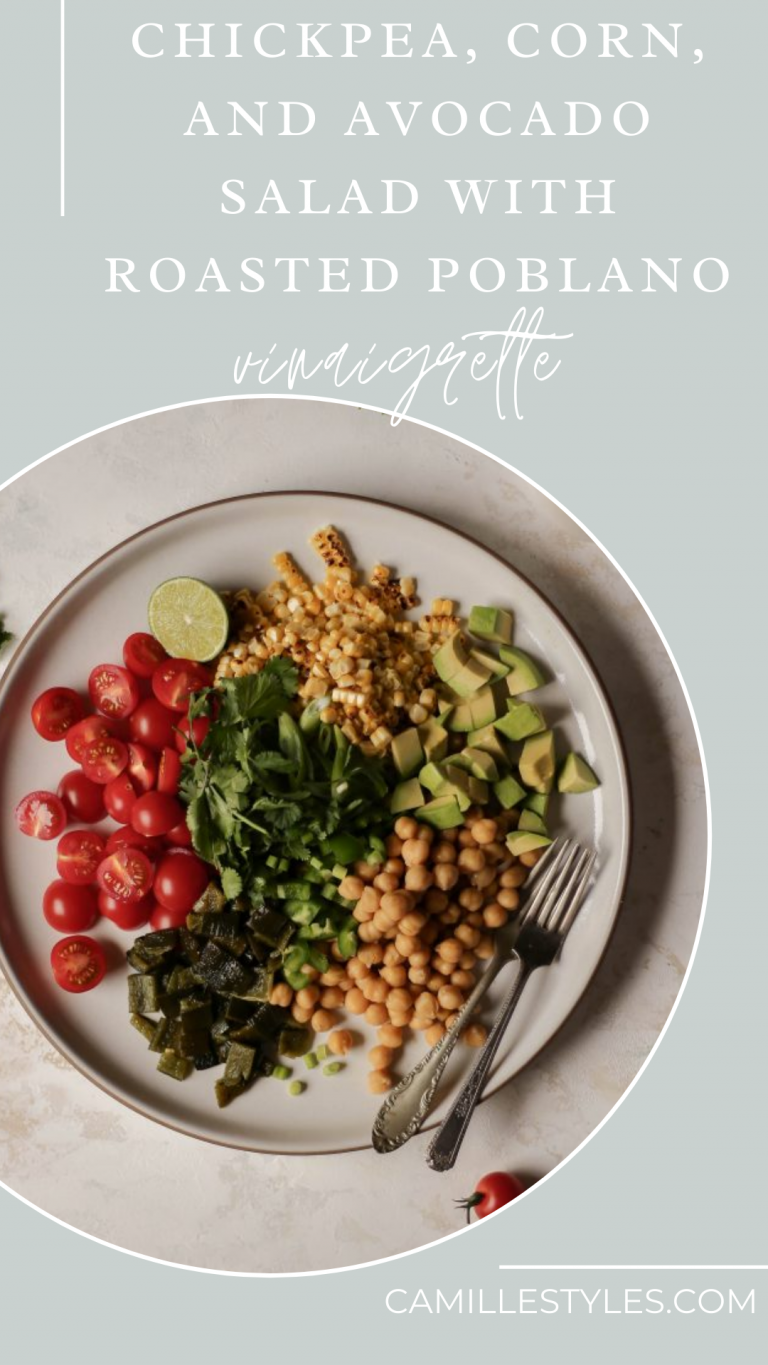 Print
Chickpea, Corn, and Avocado Salad With Roasted Poblano Vinaigrette
---
Description
A smokey and sweet chopped salad
---
For the dressing:
1

large roasted poblano pepper, peeled and chopped

1/3

cup

olive oil
red wine vinegar
a squeeze of honey
juice of

1/2

lime
big pinch of salt
a big handful of cilantro
For the salad:
3

ears of corn, cleaned

1

pint

tomatoes, chopped

1/2

avocado, chopped

1

can of chickpeas, drained and rinsed

1

large roasted poblano pepper, peeled and chopped
fresh herbs of choice chopped, i.e. cilantro and green onions
juice of

1/2

lime
salt to taste
---
Instructions
To prep the peppers for both the dressing and the salad, preheat oven to 400 degrees F. Place two poblano peppers on a lined sheet tray and drizzle with olive oil. Bake in oven for 25 minutes, flip over, then bake for another 25 minutes, until the peppers are charred.
Remove peppers from the oven and place in a bowl, then cover the bowl with a plate. Let the peppers steam covered for about ten minutes. Remove the plate, then peel the skin of the peppers. Slice, seed, and chop the peppers. Set one pepper aside, and add the other to a mini blender or food processor to make the dressing.
To the mini blender, add the rest of the dressing ingredients and blend until smooth. Adjust taste as needed, set aside.
To prep the salad, char the corn. Place whole ears of corn over open flame on stove or grill and turn over the heat until the kernels take on some color. Remove from heat and set aside until cool enough to handle. Run a knife along corn to remove the kernels.
To assemble the salad, place the corn kernels, tomatoes, avocado, chickpeas, poblano pepper, and herbs into a bowl. Toss with lime juice and salt.
Drizzle over vinaigrette. Adjust taste as needed. Enjoy!