Batches and batches of holiday cookies are a beautiful thing. There's an unspoken pleasure in the simplicity of most recipes and a knowing trust that by mixing a few ingredients together and forming dough into perfectly imperfect balls, you'll be rewarded with sweet holiday magic. (In the form of a few dozen cookies, of course.) With this evident passion for the holiday season—and the quality baking time it promises—it should come as no surprise that when compared to office holiday parties and other social mixers, the humble cookie exchange reigns supreme.
But if you didn't grow up attending an annual cookie swap or are hosting your inaugural exchange, there are a few in-the-know tips and tricks that'll help your party go off without a hitch. From sending out invitations to décor to the perfect snacks to serve alongside, this is how to simplify your cookie swap—and let your holiday to-do list keep on sparking joy.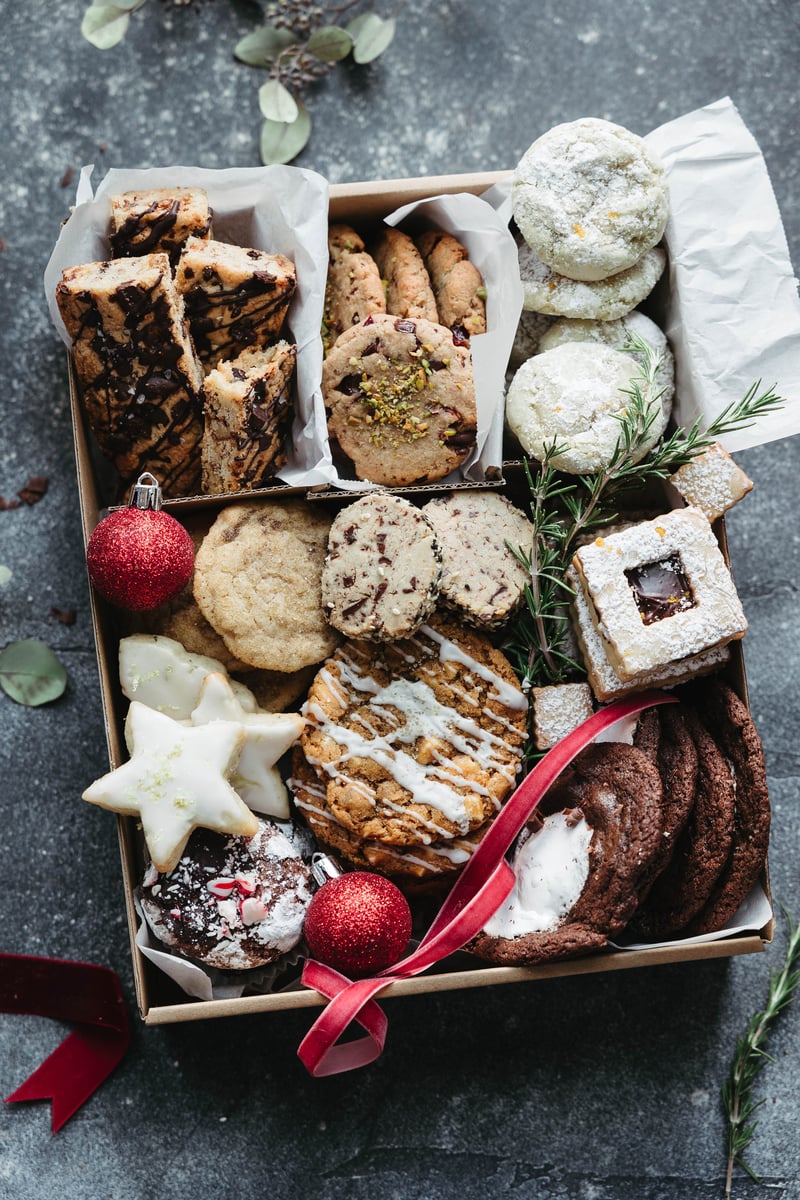 How a Cookie Exchange Works
Are there any cookie exchange newbies out there? Welcome to the best party you'll host or attend all season. The purpose of a cookie swap is to gather with your nearest and dearest, taste a good many new-to-you treats, and leave with a full box (and tummy) of everyone's baked delights—plus the cookie recipes, of course. Below are a few tips to keep in mind when planning a cookie exchange.
Send Invitations Early
A cookie swap is not a last-minute affair. Your guests need ample time to select what type of cookies they'll make and prepare for the event (no baker likes to be rushed!). A few weeks to a month before your cookie exchange, send an email to guests, capping your guest list at seven to 10 people. An email is preferable to a text, letting you include all the details and making it easy to keep track of who's coming and the recipe they're bringing.
If you want to make things a little more festive and formal, you can opt for an evite—Paperless Post and Evite are faves. Ask guests to RSVP and let you know what cookies they're bringing. Having this info in advance will keep you from ending up with a million sugar cookies (although there are worse things).
As for when to host your cookie exchange, you have to do a bit of a careful dance. The holiday season is the busiest time of year, and things tend to get most hectic closer to the end of the month with travel and family. Aim to host your cookie swap in the first two weeks of December. That way, guests have time to come down from the (joyful) Thanksgiving madness and pencil in your party before their calendar fills up.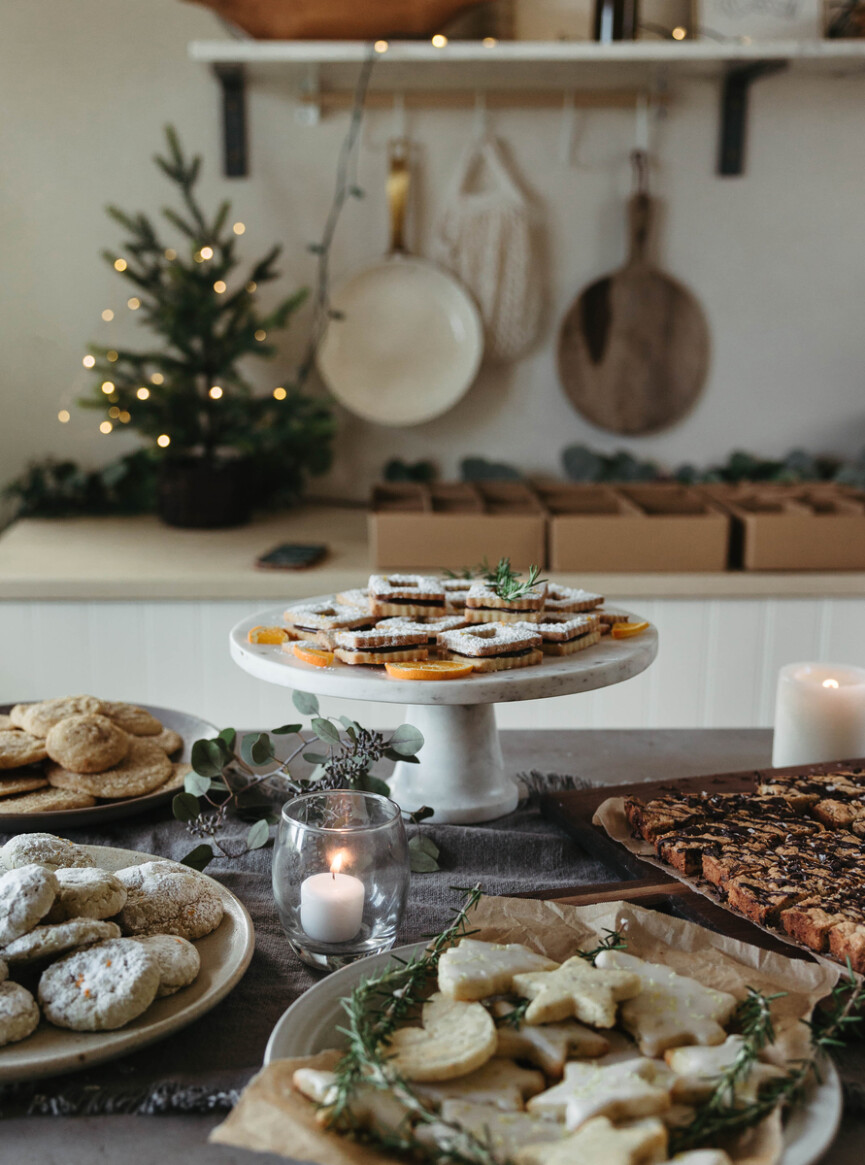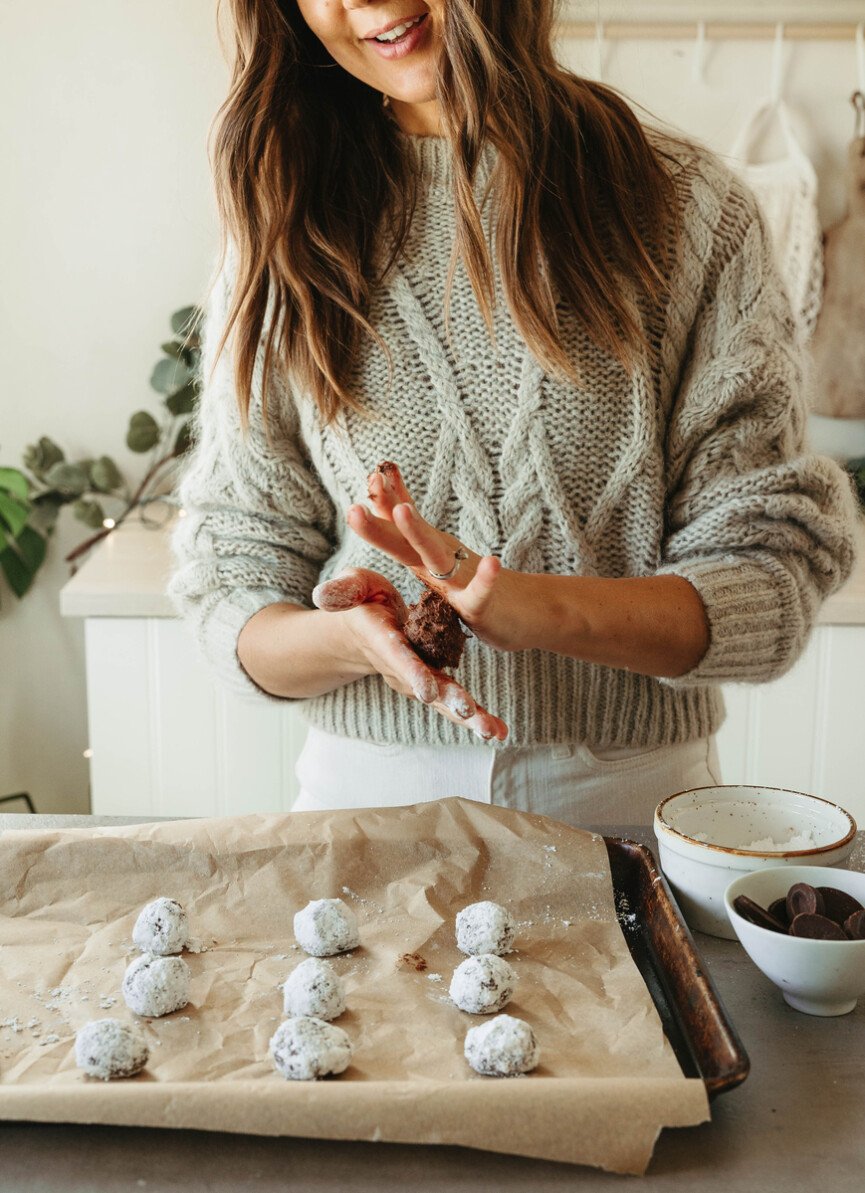 Determine the Perfect Number of Cookies To Bake
The most oft-asked question when it comes to hosting a cookie swap: How many cookies do you make? You don't want to go wild and end up with an abundance of cookies that have no chance of getting eaten before Christmas. Alternatively, you also don't want anyone leaving the party empty-handed.
To ensure everyone ends up with their fair share of cookies, ask guests to make a dozen cookies per attendee. This estimates that each guest will leave with six cookies and get to sample six of each recipe at the party. As for what cookies to make? Opt for treats that travel well, don't require too much decoration, and can be packed up without sending crumbles everywhere. Bonus points if you can make 'em in advance—when it comes to the holiday season, we're all for finding corners to cut.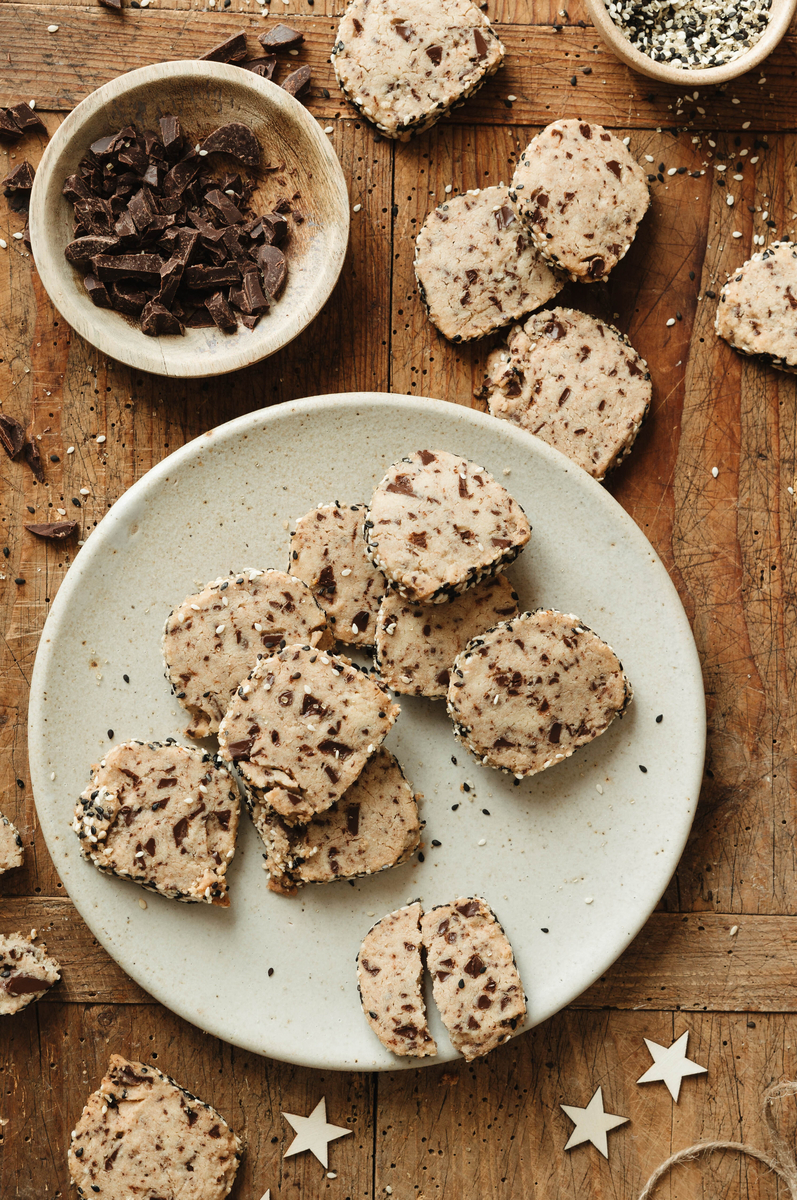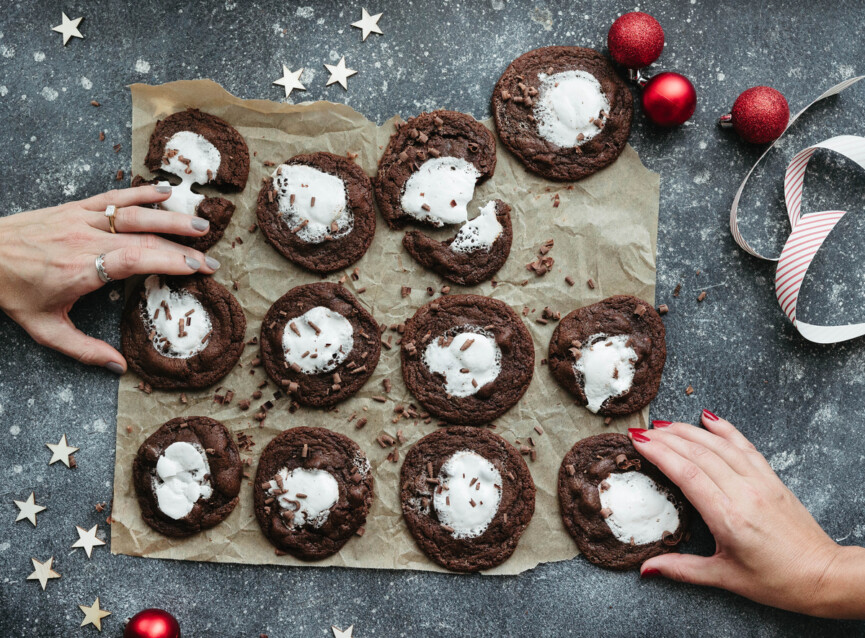 Prepare Cookie Packaging in Advance
Plastic zipper bags and Tupperware will always work in a pinch, but we're going for cute here—not just convenient. A quick online search will turn up plenty of treat bags, affordable cookie tins, and bakery boxes that you can decorate with your own festive flair. (If you're feeling crafty, we also love these ideas for DIY cookie wrapping.) Including a few ribbons and tags for guests to label their cookies is a good idea, too. Set up a packing station so guests can wrap their cookies as they go.
Keep Decorations Simple
While there are a few "rules" that keep a cookie swap running seamlessly, at its best, it's an easygoing affair. Let the treats do the talking and keep your décor simple but seasonal.
First, clear off your largest table or designate your kitchen countertop holiday cookie exchange central. Create cookie labels for each recipe with folded card stock and pen (never underestimate the charm of a handwritten touch). A festive tablecloth or neutral linen is the perfect table topper.
From there, we're all for embracing the hygge. Tea lights create a cozy ambiance and faux fur pelts strung over the backs of chairs invite guests to get comfy. As for florals, simple seasonal branches arranged in a vase make a beautiful statement, and accents of eucalyptus and pine add an inviting pop of greenery (see how Camille created the look here!).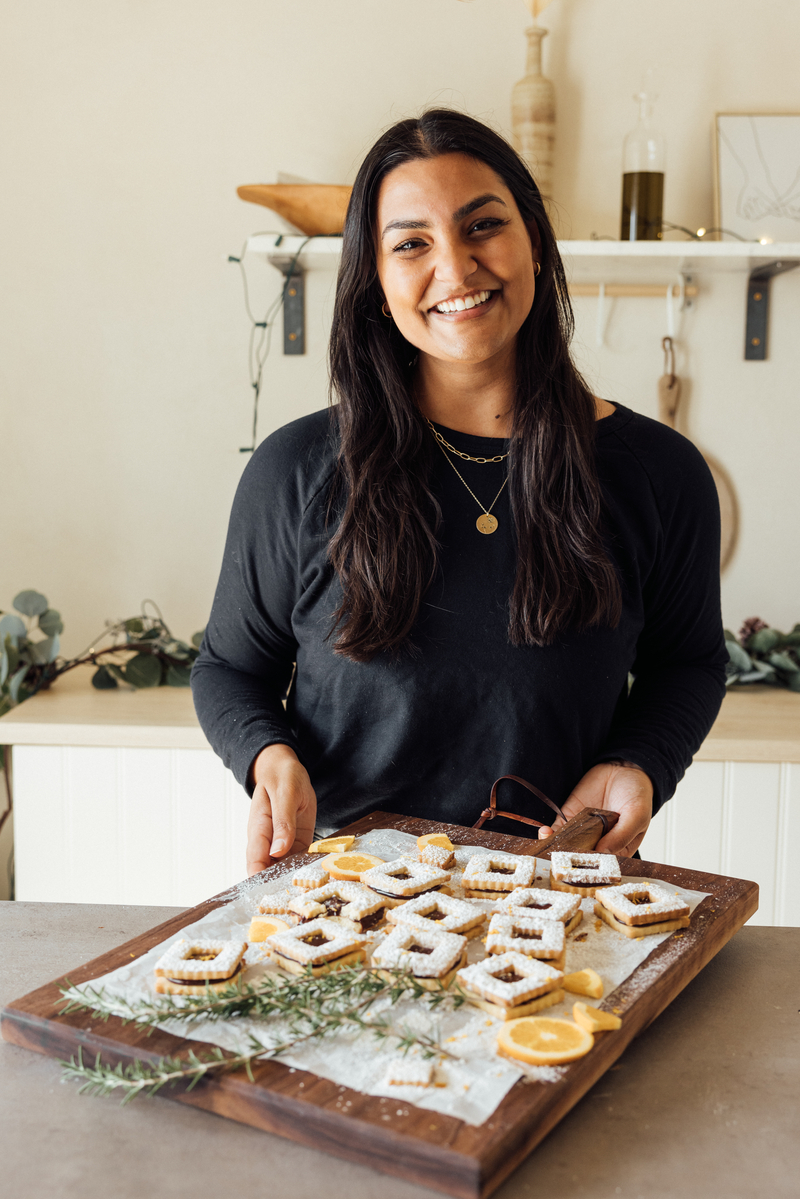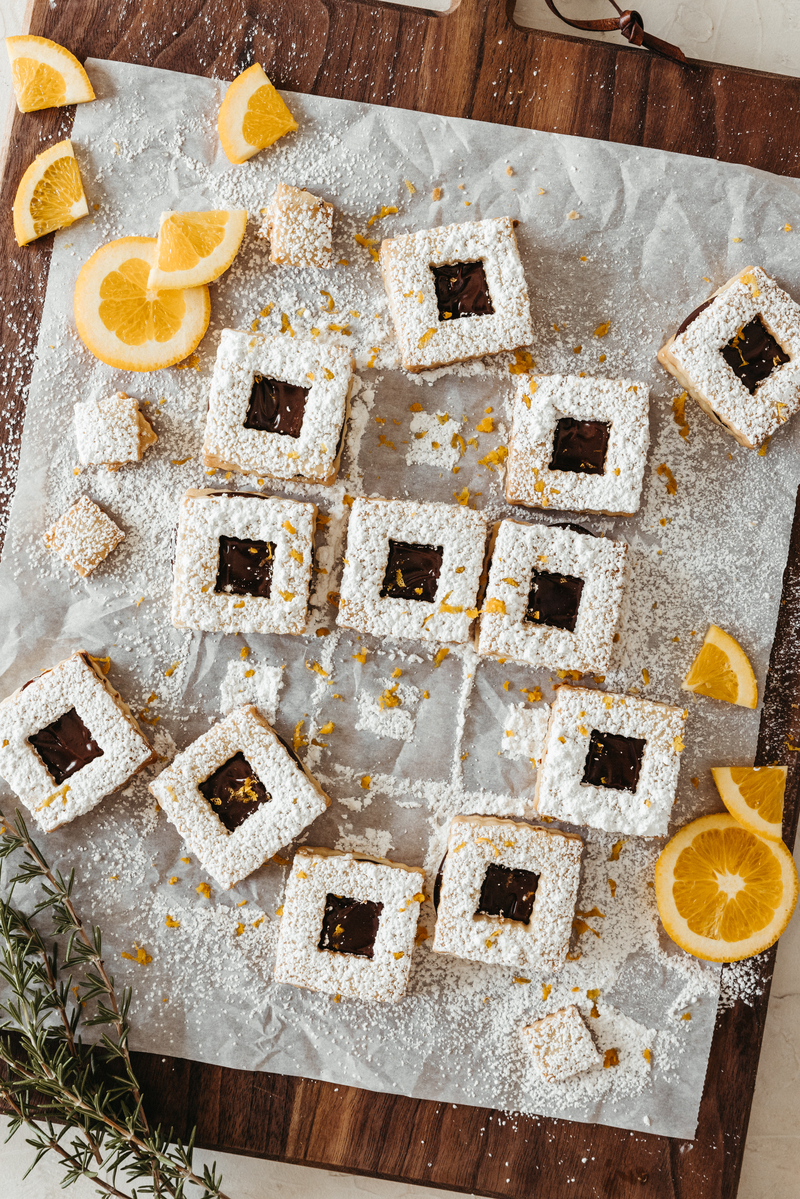 Set Out a Buffet of Savory Snacks
You might be hosting a cookie swap party, but it's a good idea to provide other snacks as well. To offset the possible sugar rushes to come, a few platters of savory snacks are ideal. Create a cheese board—this one's delish for the holidays—complete with nuts, dried fruits, cured meats, and crackers. As for appetizers, these artichoke tarts are the perfect finger food and this eggplant spread was made for dipping. We also love the look of a few staggered cake stands on the snack table to add height.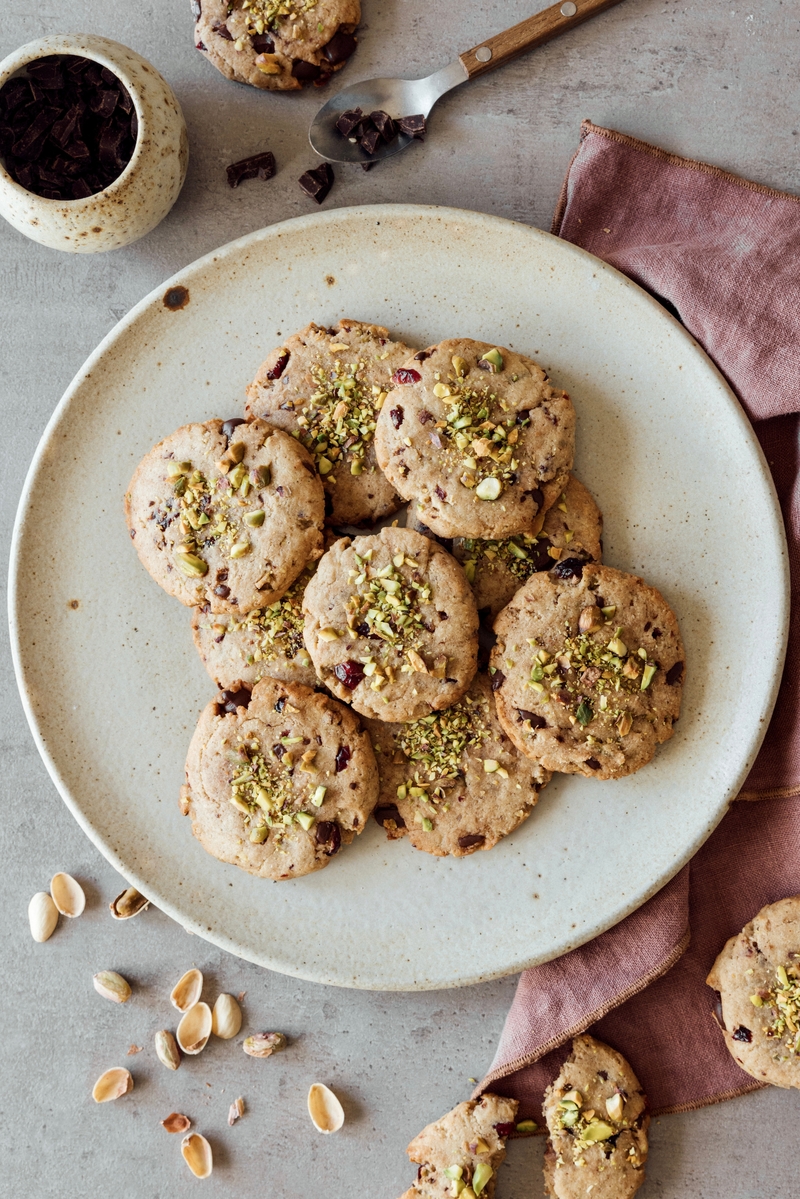 From there, bake your cookies, hug your friends, and sample all the sweet treats. Don't overthink it! Settle on the details and enjoy the celebratory holiday season to come.