When it comes to fall entertaining, there's a natural transition from barefoot and effortless summer parties to cozy gatherings where comfort food takes center stage. I want my recipes to be quick and flavorful, and to make every guest feel wrapped in warmth and love. These spinach artichoke tarts check all the boxes and, for me, defines the perfect fall appetizer.
It's no secret that spinach artichoke dip is a tried-and-true crowd-pleaser. Growing up, it was always on the menu at family football parties, movie nights, and outdoor dinners by the bonfire.
And while I'll forever feel a deep nostalgia for spinach artichoke dip, I love an elevated spin on a classic. Luckily, these spinach artichoke tarts keep all of the bells and whistles of my childhood favorite, but holds its own as the ultimate, do-it-all meal.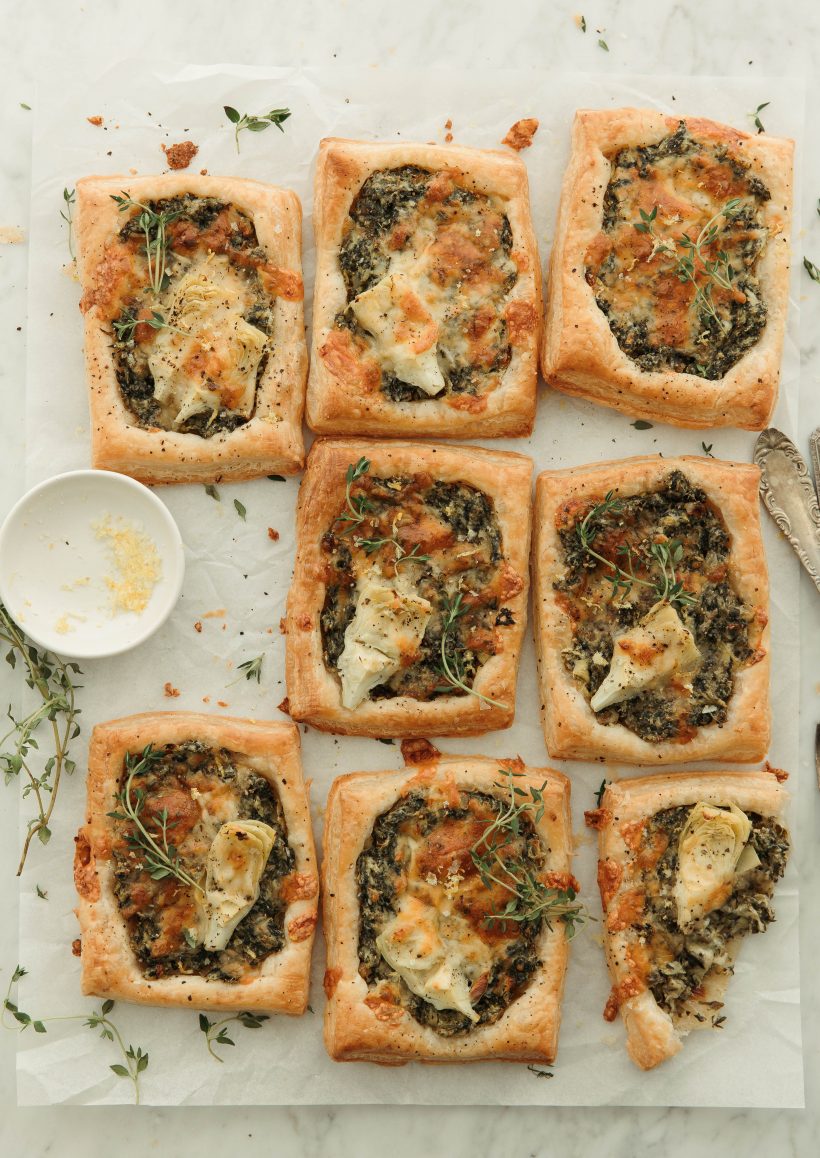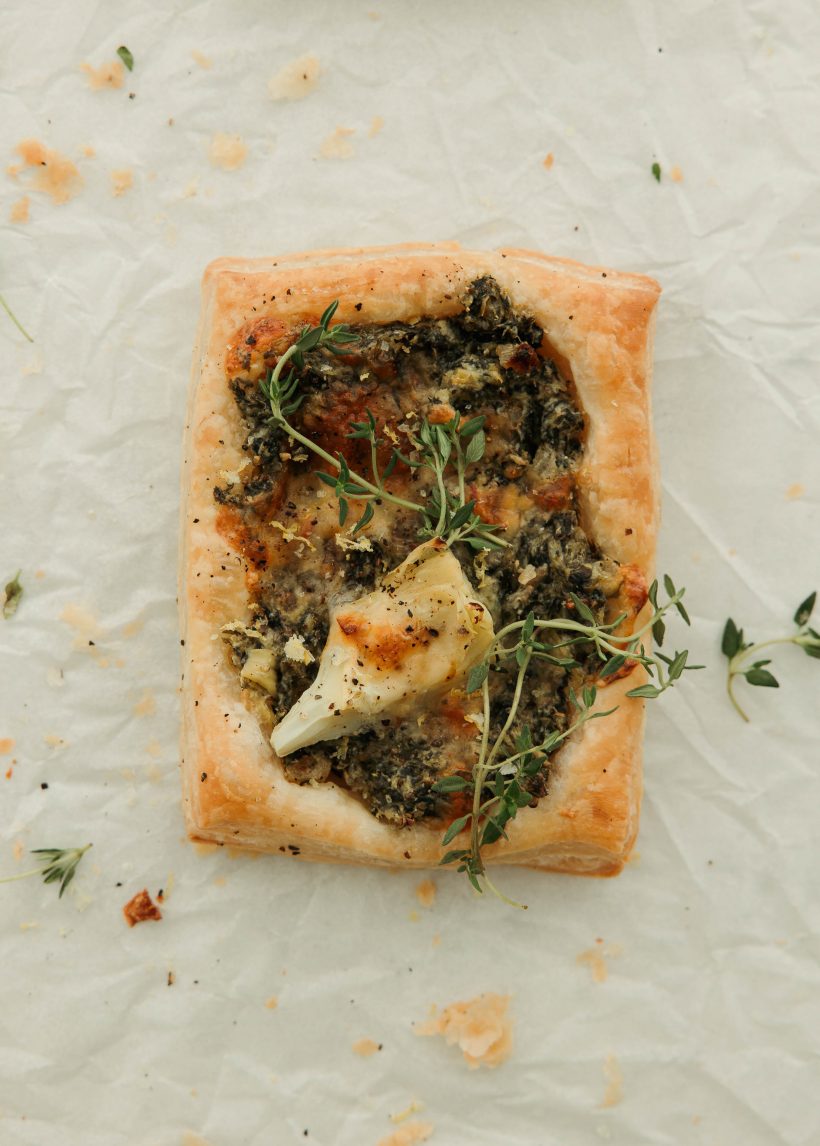 What goes into spinach artichoke filling?
Like the dip, this recipe's spinach artichoke filling is similar but with a few tweaks that make this tart even better. Sometimes, spinach artichoke dip can feel a little one-note while being too rich for everyday eating. For this filling, I wanted to brighten up the flavors and add some zing that would balance the filling. A lot of the classic spinach artichoke dip recipes use a combination of mayo, cream cheese, and a melty cheese like mozzarella. It's a lot of indulgence all at once, and while still delicious, it can be a lot.
In this recipe, I use a blend of sour cream and cream cheese for the base, though Greek yogurt can work as well. After that comes the magic. Caramelized onions add tangy sweetness, lemon zest brings bright, fresh flavor, and a little dab of mustard delivers dimension and layered flavor to the filling.
And don't worry, I didn't forget the cheese. Instead, I add a sprinkle of pepper jack on top to finish things off with a little heat and melty goodness.
Ingredients for Spinach Artichoke Tart
In lieu of buying pre-diced or pre-chopped artichoke hearts, I use whole marinated artichoke hearts and chop them to my desired consistency. You can use frozen and thawed artichoke hearts, marinated and sealed, or canned artichokes. They all work here!
As for the greens, the world is really your oyster. I prefer chopped frozen spinach because I always have a bag in my freezer. Simply thaw and squeeze out as much water as possible to avoid soggy tarts. You can also swap in other hearty greens like kale or chard. Again, I prefer frozen and thawed. If you want to use fresh greens, quickly blanch or sauté the greens on the stove, let cool, and squeeze out as much water out as you can.
And while I don't think you need to add extra veggies, I've made versions adding white beans, thinly-chopped asparagus, and shaved broccoli tops for an extra dose of green.
How To Make This Tart Ahead of Time
You can absolutely make and prep elements of this recipe in advance. Because puff pastry should remain cold while working, I like to make the filling beforehand so the pastry keeps cold without having to wait for everything else. I'll even make the filling the night before. Just store cooled in an airtight container until ready to prep the pastry.
And while this tart will keep fine in the fridge for a day or two, the pastry will definitely lose a bit of its crispy bite. If you do need to reheat, you can quickly blast it in the oven or on a hot pan on the stove.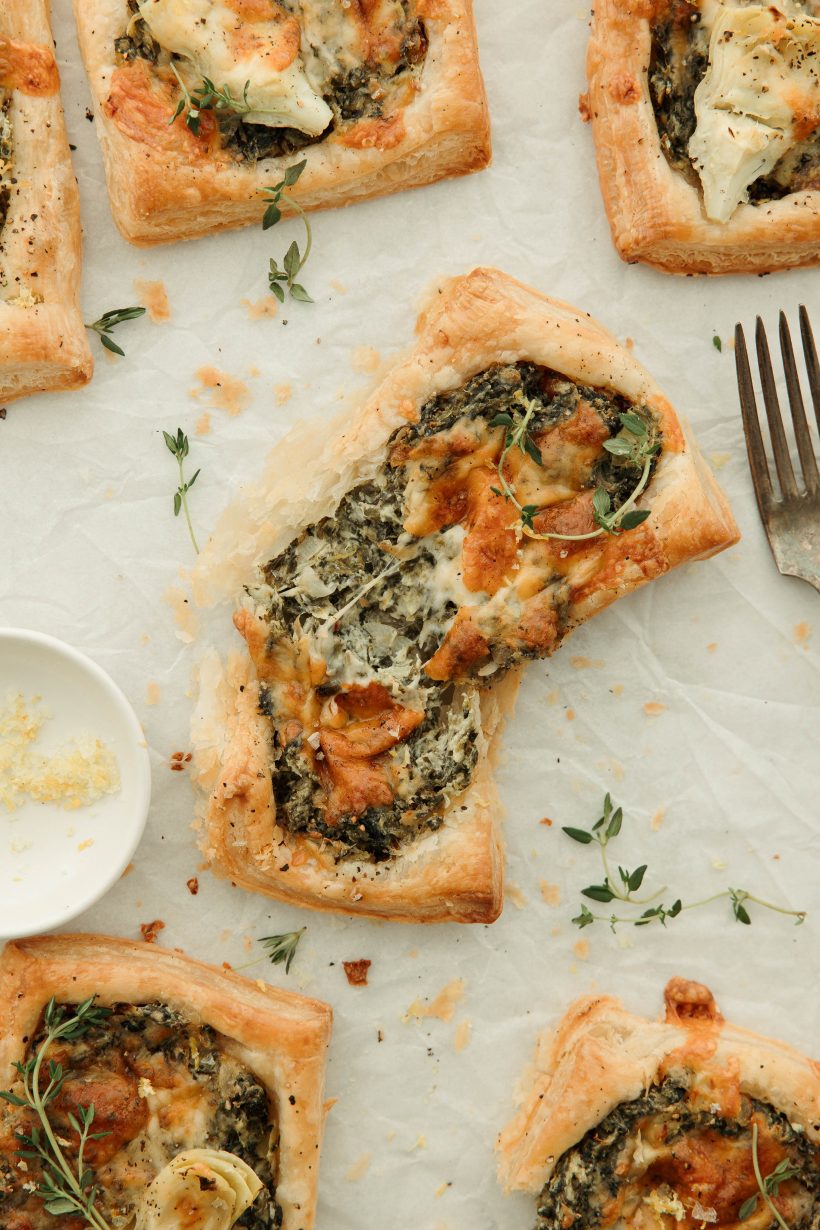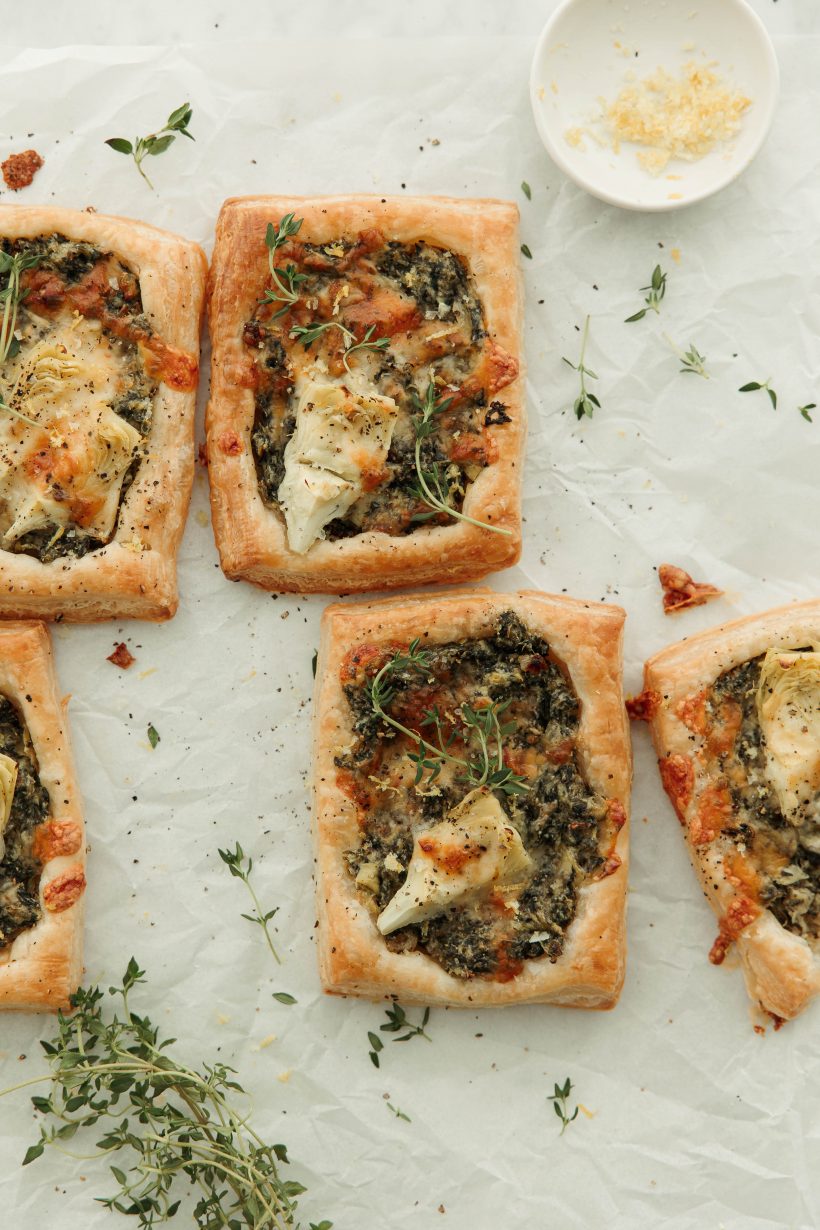 What Goes With Spinach Artichoke Tart
This recipe is the perfect appetizer for a party spread, but if you'd like, it can also seamlessly serve as a complete vegetarian meal.
Because this tart is on the richer side, I like to serve it alongside a fresh green salad. Think crispy lettuce, spicy arugula, or hearty kale tossed in a vinaigrette. In the summer, a bright tomato salad works wonders. You could also simply serve the filling on its own and in a bowl with pita chips, crunchy vegetables, or crusty bread. The sky's the limit!
Spinach Artichoke Tarts
Serves 8
An easy and flavorful fall appetizer.
Ingredients
1 sheet of puff pastry, thawed and kept in fridge until ready to prep
1/2 yellow onion, diced
2 tsp apple cider vinegar
3 cloves of garlic, chopped
6 artichoke hearts, chopped + additional artichoke hearts for topping
6oz cream cheese, room temperature
3 tbsp sour cream
zest of 1 lemon
1 tsp dijon mustard
1/4 cup of pepper jack cheese + more for topping
1/2 tsp salt
1/2 tsp pepper
pinch of red pepper flakes
8oz frozen spinach, thawed and squeezed of all water
for garnish: lemon zest, lemon juice, thyme, black pepper
Directions
Prep the filling. In a large stove top pan add a drizzle of olive oil and bring to a medium heat. Add the onion with a big pinch of salt and saute until translucent. Add the apple cider vinegar and bring to a low heat. Stir the onions occasionally, cooking until golden and caramelized. Remove from the pan and add to a large mixing bowl.
Add another drizzle of olive oil to the pan, and add the garlic and chopped artichoke hearts to the pan. Cook until the garlic is fragrant. Turn off the heat and add to the bowl with the onions.
Once the onions and artichokes have cooled, add the cream cheese, sour cream, lemon zest, mustard, pepper jack, salt, pepper, red pepper flakes, and spinach to the bowl. Stir together until everything is incorporated. Set aside or store in an airtight container in the fridge until ready to use.
Prep the pastry. Preheat oven to 400 degrees F. Line a sheet tray with parchment paper.
Slice the sheet of puff pastry into nine even rectangles and place on sheet tray. Prick the center of pastry with a fork.
Scoop the spinach filling into the center of the pastry, leaving an even border around the edges. Add an artichoke half and sprinkle of pepper jack cheese to the top.
Bake for 20-25 minutes on the center rack until the pastry is golden brown and cheese is bubbly. Remove from oven.
Top with lemon juice and zest, and thyme. Enjoy!