For everyone shoveling their way out of inches of mid-winter snow, these creamy polenta bowls are for you. Over the chilly weekend, I was craving something warm and hearty that my mom used to make on cold nights. I wanted palak paneer, I wanted sambar, I wanted rajma. Unfortunately for me, after rummaging through my pantry and fridge, I had exactly zero of the ingredients I needed to make any of these dreams happen. After sulking for a good 30 minutes about my terrible planning, I knew I'd have to get creative in the kitchen and work with what I had. One thing I did have? A bag of polenta sitting in the very back of my pantry.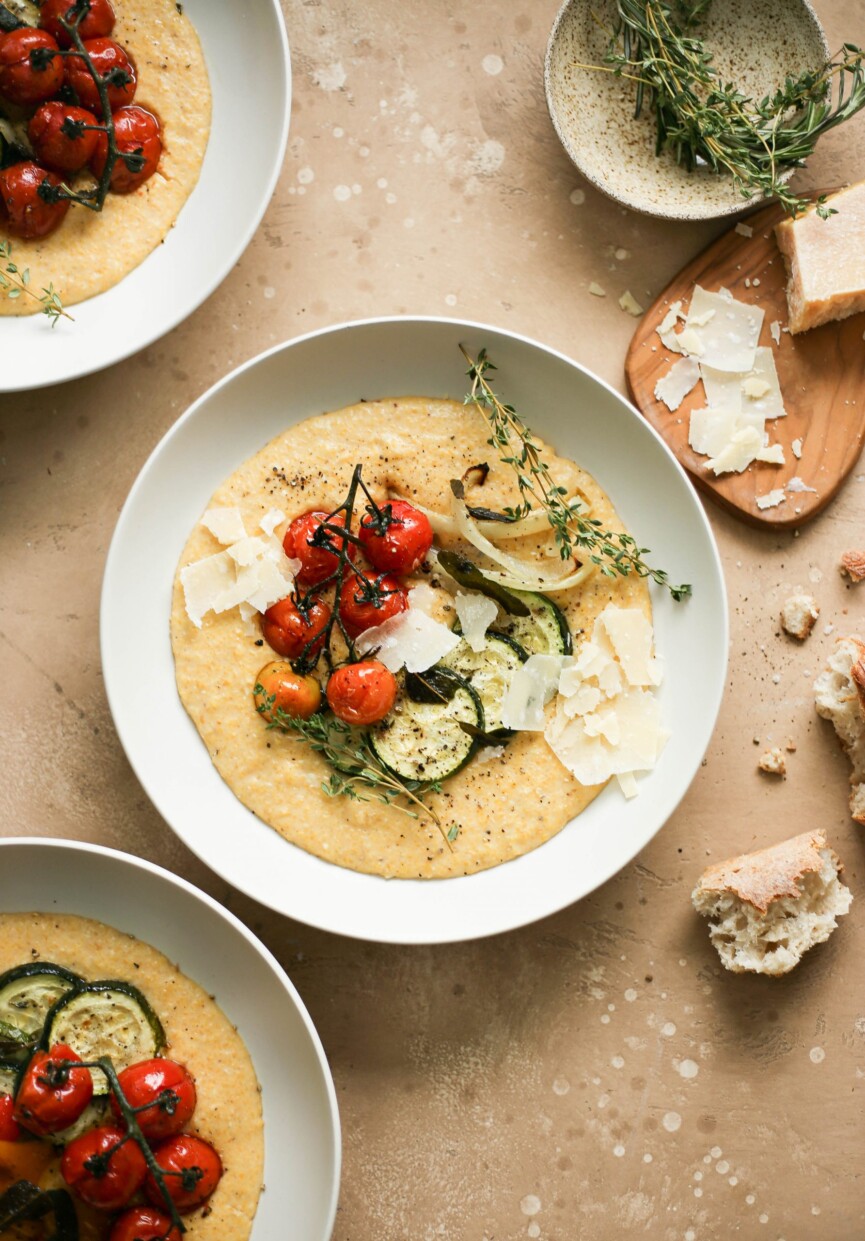 How to Make These Cozy, Creamy Polenta Bowls
While I've had polenta many times before, I've rarely made it for myself. I always thought it took too long or that I wouldn't be able to get the texture right. (There's a reason the bag of polenta had been pushed to the very back of the pantry!) After texting with one of my best friends Kristin—my go-to polenta consultant—I jotted down some notes that she and her mom have used to get the perfect bowl of polenta. After that, I immediately got to cooking. Because as everyone knows, nothing is better than a warm dinner on a cold winter night.
What is polenta?
Forever curious about substitutes, the inevitable question popped into my mind: can I swap cornmeal for polenta? Are they the same thing? The grocery store has a bag of cornmeal sitting next to a bag labeled polenta after all, so I understand why it's confusing. But a little internet deep dive helped clear up some of the confusion. Polenta is a dish made from cornmeal, and if a package is labeled polenta, that just means that the grind of the corn is okay to make polenta. But yes, you can substitute medium or coarsely-ground cornmeal instead.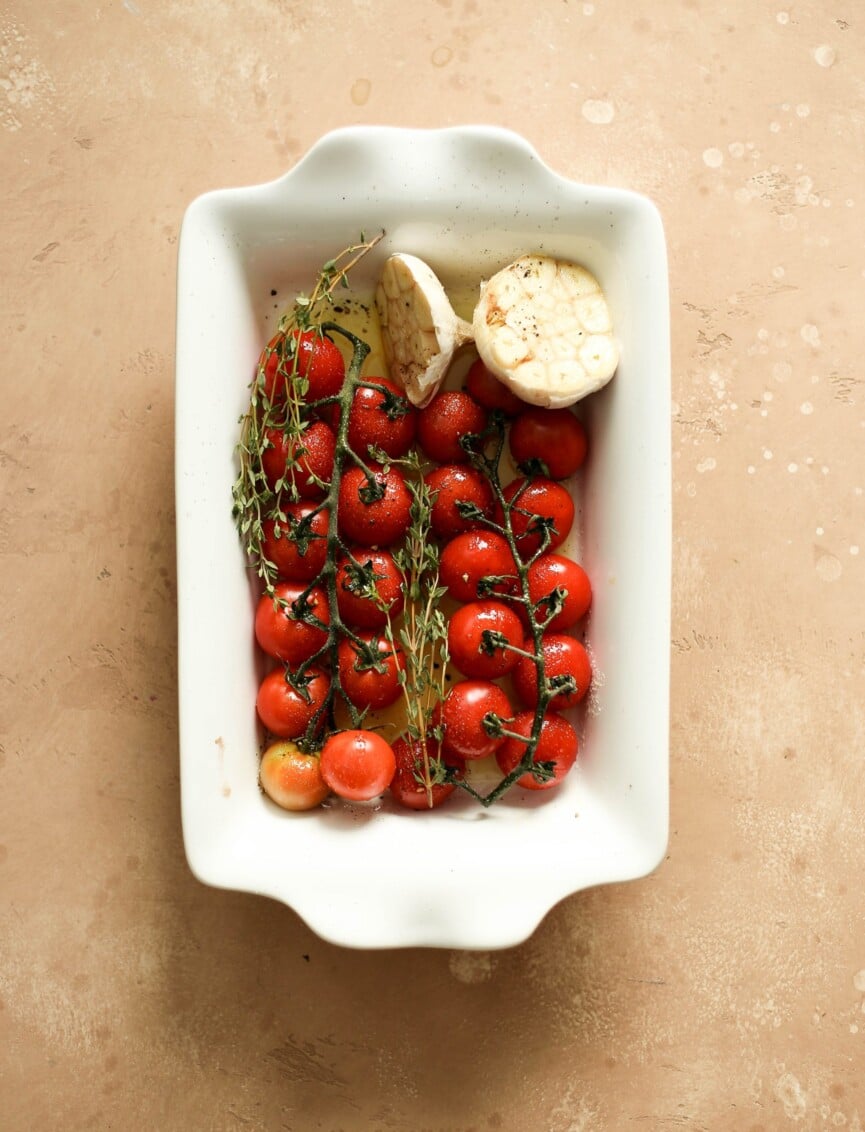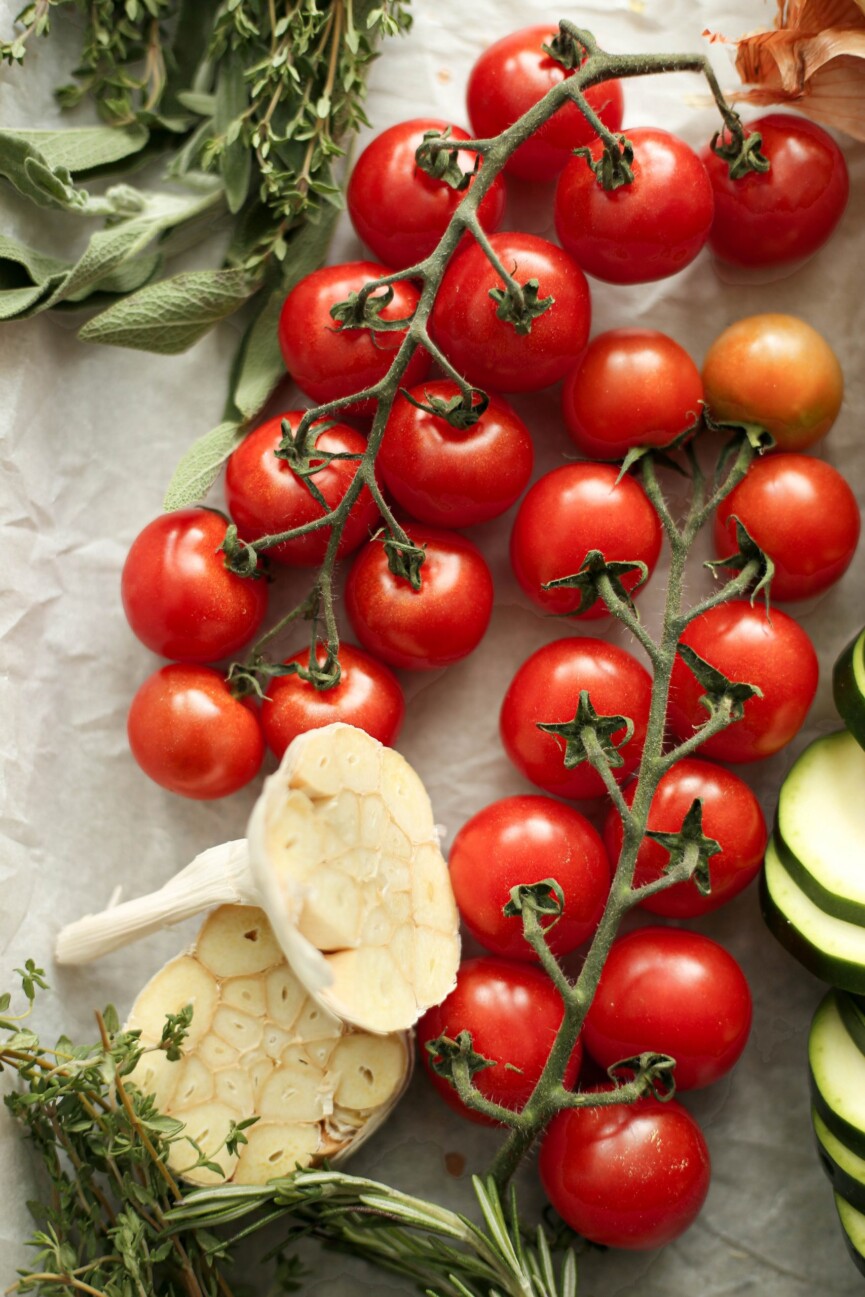 Tips for Making Really Creamy Polenta
In my research, I found that if you want a smooth and creamy polenta, you need finely ground cornmeal. But not too fine, or your polenta might end up pasty and gluey. So in testing, I met somewhere in the middle thanks to one handy kitchen tool. The food processor! I pulsed about 3/4 of my cornmeal in a food processor, and then made sure to sift out any clumps. This helped the cornmeal be finer in texture and also cook a lot faster. I personally like a little bit of the grit and texture of cornmeal, so I didn't want to eliminate that completely. This hybrid approach helped achieve the best of both worlds while also highlighting how rich and creamy you can make your polenta.
I also took this version a step further by adding caramelized garlic to finish it off. You roast the garlic with the rest of the veggies so it becomes all sweet, soft, and delicious. Then when you take the vegetables out of the oven, simply squeeze out the garlic from its peels, mash it up, and stir it into the finished polenta. It's absolutely divine.
A few other polenta cooking tips I learned along the way:
Toast your polenta! It's an extra step that if you want to skip, you can, but I loved the nutty and toasty flavor it adds to the cornmeal.
Whisk constantly while incorporating the liquid. I used vegetable stock for my polenta, and while I poured that into my toasted polenta, I whisked consistently while doing so. This helps to minimize lumps. DO NOT add all the liquid at once.
Salt is your best friend. Like pasta, salt generously. Also, use really good parmesan. It's worth it.
Fat's your best friend, too. My friend Kristin told me to "use more butter than you think is possible." I will hold that advice deeply to my core. I used about 1/4 cup of mascarpone instead of butter, and it added that nice depth of flavor and creaminess. A dollop of crème fraîche or sour cream would be a nice addition.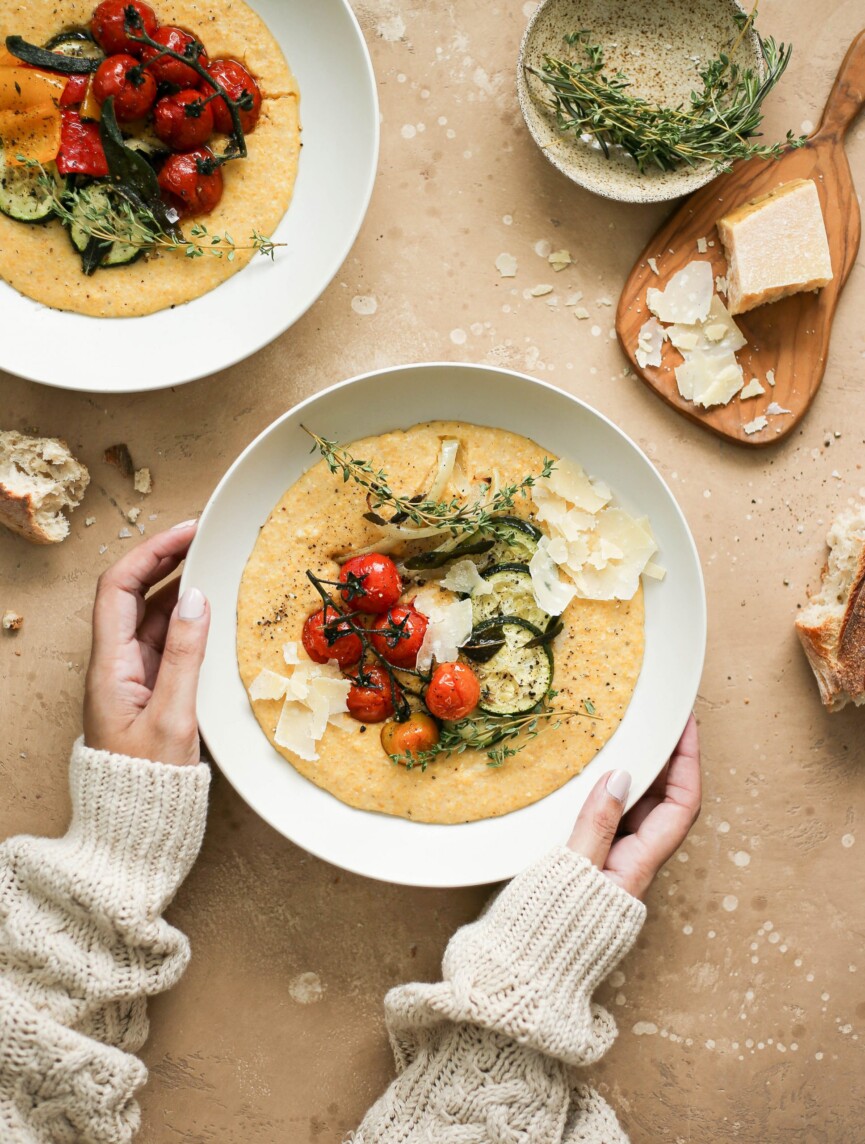 Ideas for Easy Weeknight Polenta Prep
While this recipe might look a little fancy for a weeknight dinner, I aligned everything so it would all finish at the same time. The result? Dinner on the table in a flash. Prep the veggies and have those in the oven to roast while you prep the polenta. Because polenta is more hands-on with consistent stirring, I wanted the toppings to be completely hands-off. By the time the polenta is finished on the stove, the veggies are finished roasting and you can assemble everything at once. It's all about allocating effort in the best way!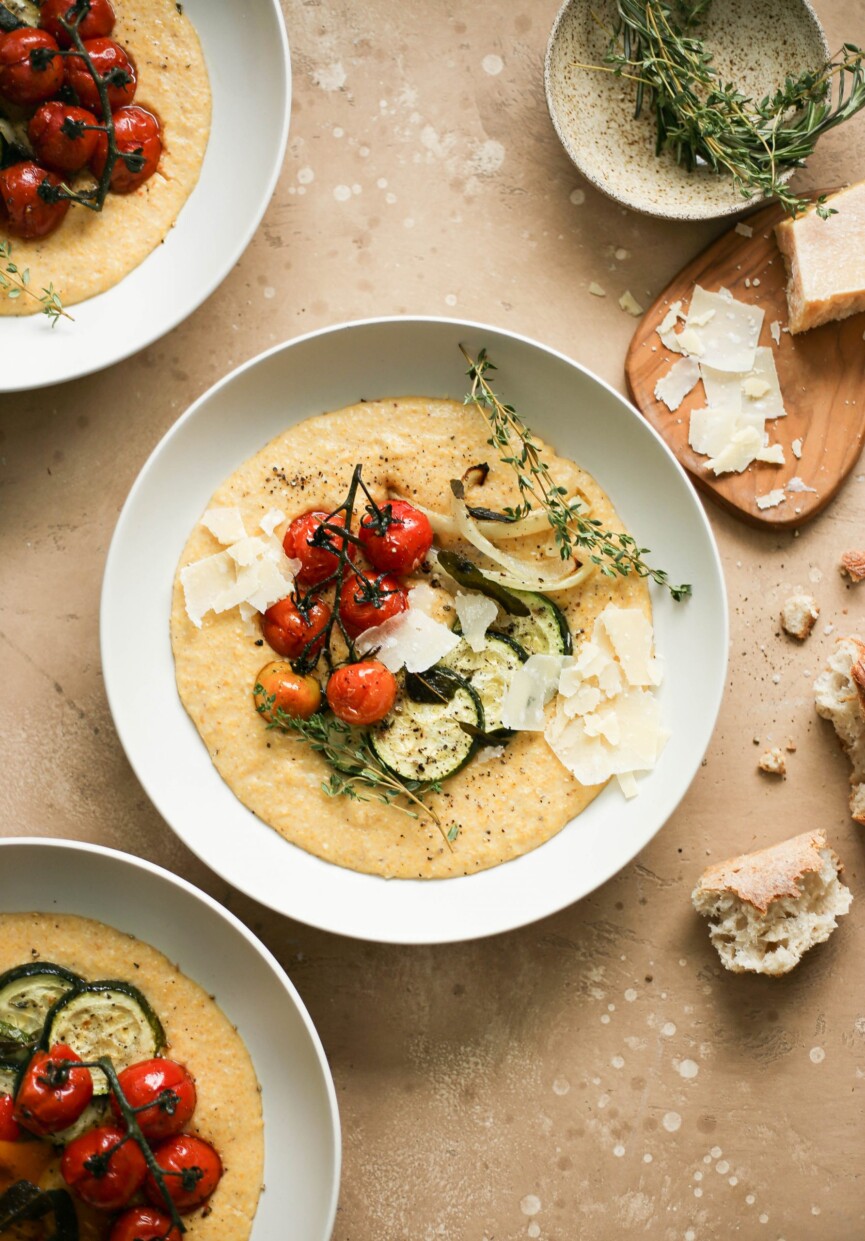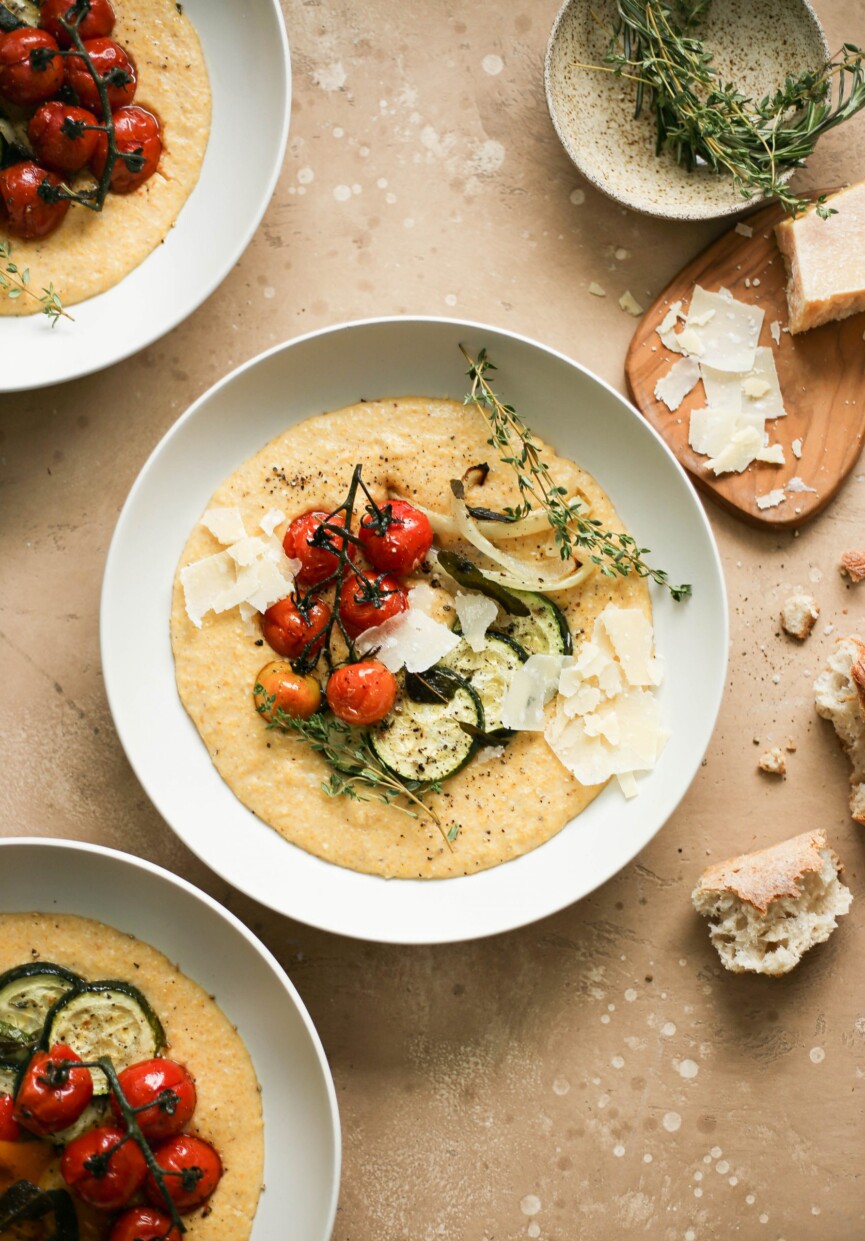 How to Serve These Creamy Polenta Bowls
I'd love to hear your favorite flavor combinations to top your creamy polenta bowls with. A few combinations I'm thinking of trying:
Roasted tomatoes with a big dollop of pesto and some burrata
Shittake mushrooms and parmesan, perhaps with an egg on top?
Sautéed kale and lentils with lots of lemon
Sweet maple roasted squash with a little chili oil
Be sure to rate and leave a comment, and tag us on Instagram so we can see your creamy polenta bowls!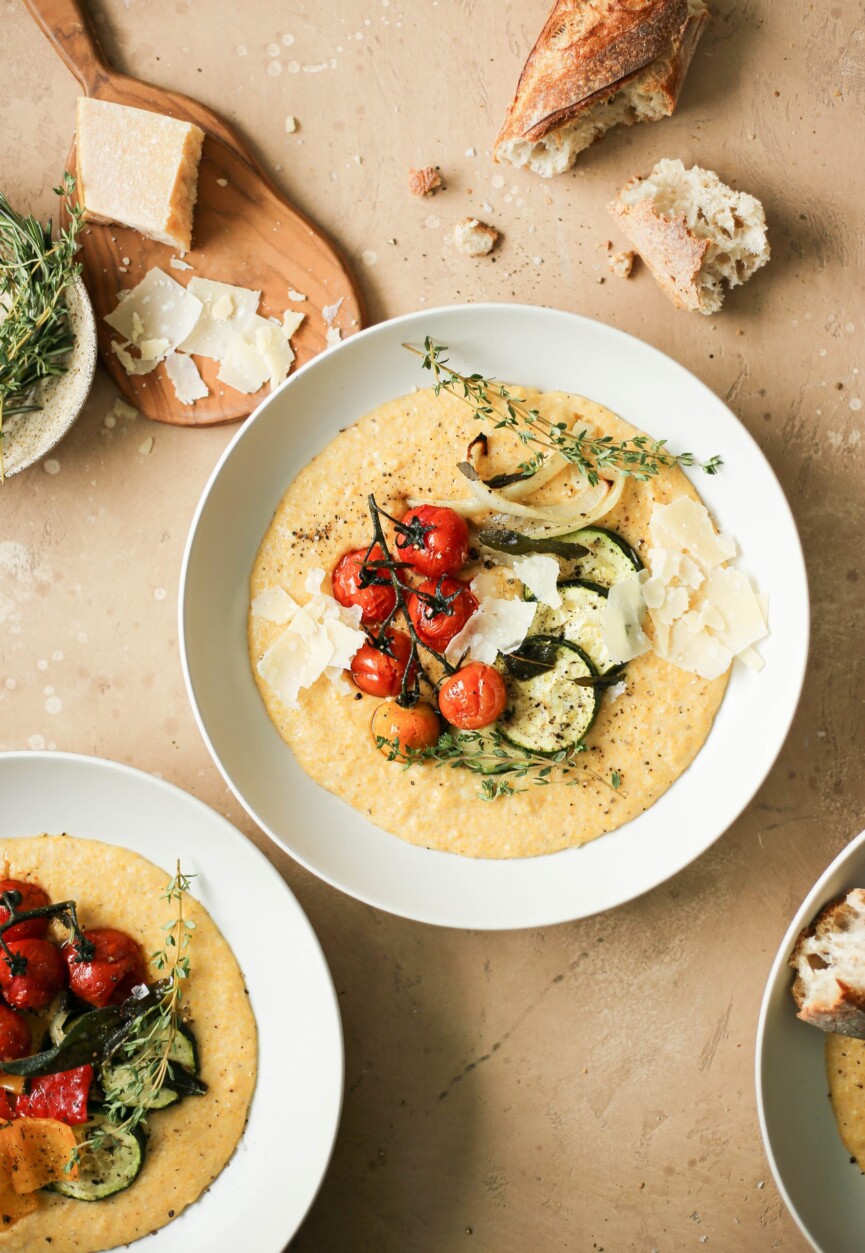 This post was originally published on February 4, 2022, and has since been updated.