Our love for sweet potatoes knows no bounds. We've stuffed them with kale and chickpeas, smashed and thrown them on the grill, and topped them with feta and drizzles of hot honey. And just when I thought I couldn't possibly put another twist on my favorite vegetable, I stumbled upon a simple yet game-changing new technique that turns out the most crispy roasted sweet potatoes you've ever tasted.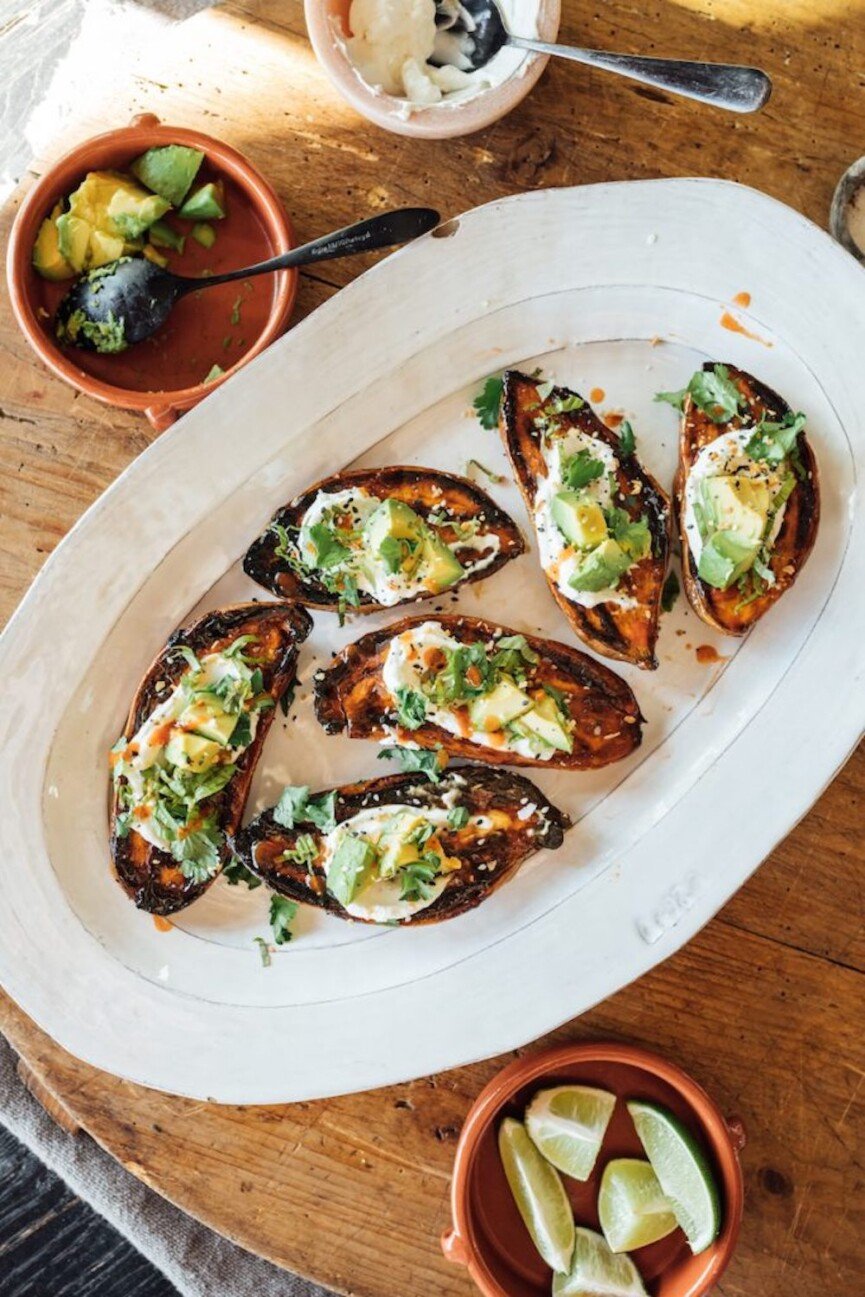 How to Make Perfectly Crispy Roasted Sweet Potatoes
Here's how to make it happen. Halve sweet potatoes lengthwise, rub with oil and salt, then roast facedown on a foil-lined sheet pan. So far, pretty straightforward, right? I've long been halving my sweet potatoes when I need to cut their roasting time in half. But the trick comes after you remove the fully tender sweet potatoes from the oven.
In a large cast iron skillet, heat up a little butter and honey (if you like). Sear the sweet potatoes cut-side down so they get caramelized, sweet, and nutty from that brown butter. This method ratchets up the flavor and texture, turning a basic sweet roasted potato into a dinner-worthy dish.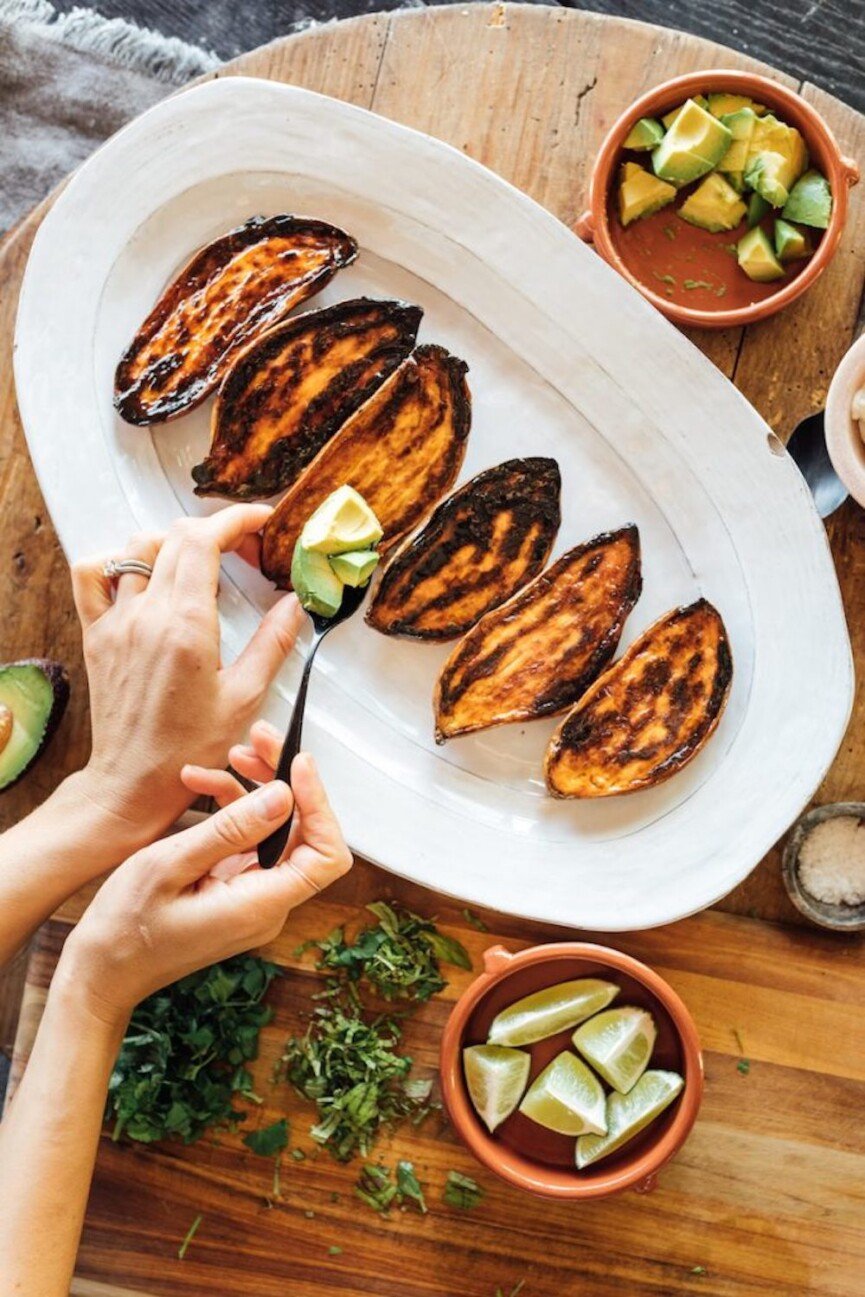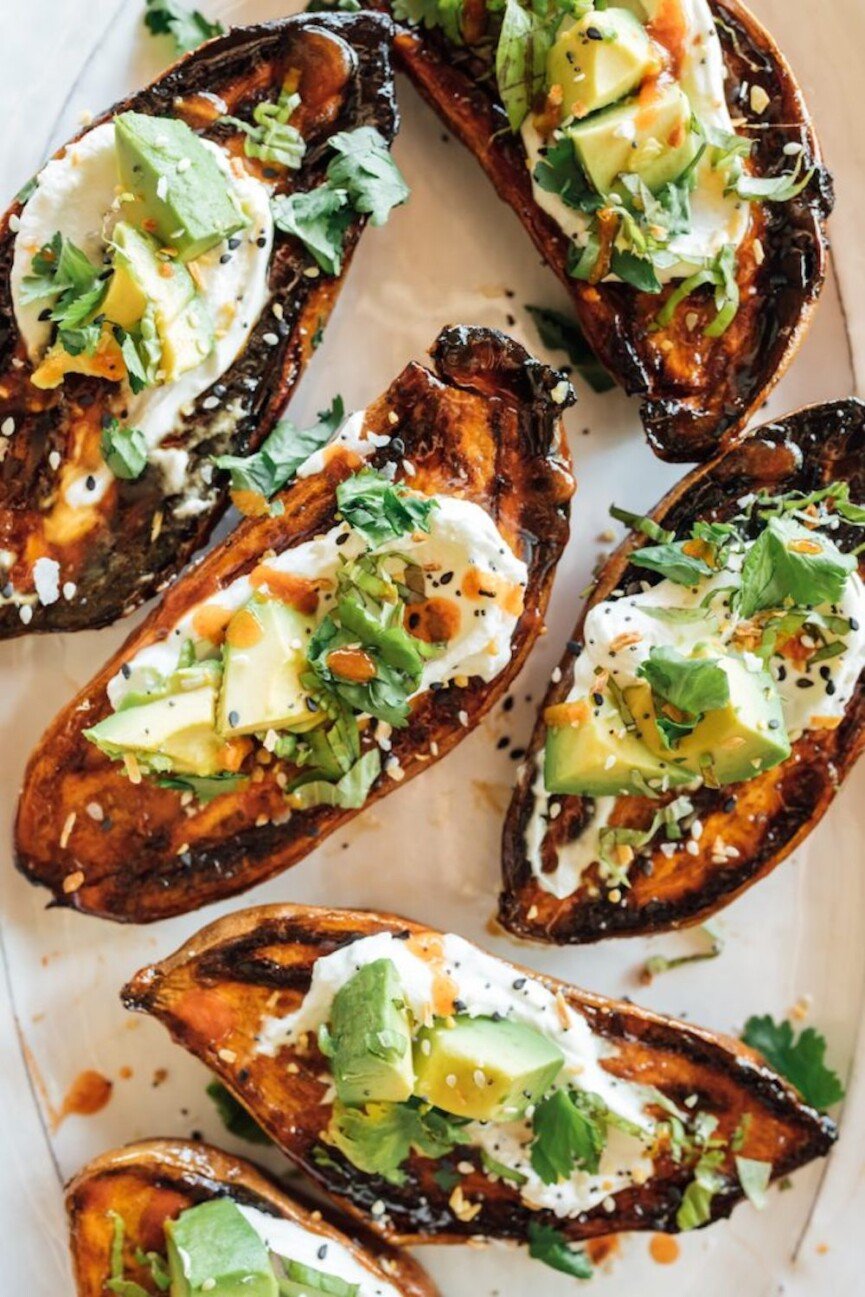 How to Serve Crispy Roasted Sweet Potatoes
There are a few tips and tricks that'll take the flavor next-level. To make these a one-dish meal, I'm liberal with my layers of toppings. This creates a good mix of protein and healthy fats that make sweet potatoes filling enough for a meal. For these, I add dollops of full-fat Greek yogurt, chunks of avocado, a pinch of everything spice, and drizzles of lime juice and sriracha. Then I finish with a shower of whatever fresh tender herbs I have on hand. Cilantro, basil, parsley, and mint are all solid picks.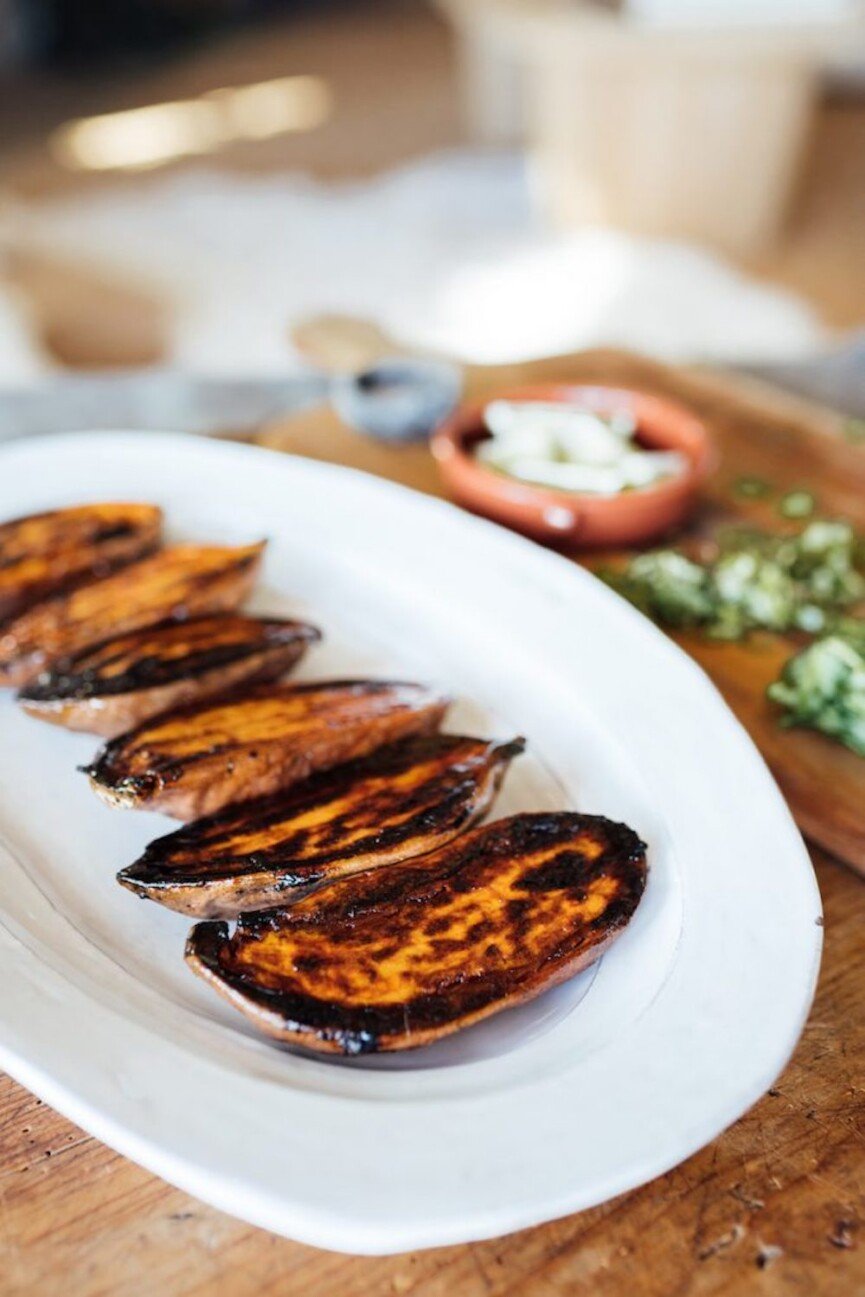 Tips to Make These Crispy Roasted Sweet Potatoes Delicious
These crispy roasted sweet potatoes are the perfect canvas for creativity. I love going crazy with whatever toppings I'm craving. Black beans, crumbled bacon, goat cheese, sautéed greens, even finely chopped cooked broccoli—they're all great additions. I've been getting lots of questions from y'all lately about adapting recipes for kids. This dinner is a tasty, nutrient-dense option that everyone will love.
I usually set up a sweet potato bar with a few different toppings in little bowls. Everyone gets their own cooked potato and tops them with whatever they like. If Henry wants to add just a little butter and salt, totally fine. He's still getting so many nutrients from the sweet potato itself, I'm not worried.
Scroll on for the recipe! And don't forget to tag @camillestyles and leave a review below if you give these a try.
Print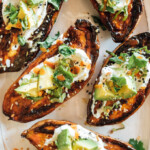 Crispy Roasted Sweet Potatoes with Yogurt, Herbs, and Everything Spice
---
Description
This bake-and-sear method is my new favorite way to get really crispy roasted sweet potatoes. I top mine with greek yogurt, avocado, and herbs.
---
4

medium sweet potatoes, washed
olive oil
kosher salt

1 tablespoon

butter

1 tablespoon

honey
optional toppings: fresh herbs (basil, cilantro, mint, etc.), plain greek yogurt, lime wedges, chopped avocado, sriracha, everything spice
---
Instructions
Preheat oven to 425. Use a sharp knife to halve sweet potatoes, then drizzle cut sides with olive oil and sprinkle with salt.
Place cut side down on a parchment-lined baking sheet, then bake for 45 minutes, or until a knife can easily be inserted into the potato. You want it to be very tender, but not totally falling apart.
In your largest cast iron skillet, melt the butter along with the honey over medium high heat. Add the cooked sweet potatoes, cut side down, and sear facedown for 3 – 5 minutes, until the sweet potatoes are caramelized and golden brown.
Add whatever toppings you love: fresh herbs, greek yogurt, lime wedges, avocado, everything spice, sriracha… Enjoy!
This post was originally published on January 13, 2021, and has since been updated.