Fact: The moment temperatures drop, it's chili time. Few dishes are as indicative of the season as a warm comforting bowl of delicious chili. Chili is a simple way to load up on lots of nutritious ingredients–you can pack it with veggies. And while stovetop chili is always an option, there's nothing like the simplicity and ease of using a crockpot for this classic dish. In case you find yourself in a rut, we've rounded up an assortment of easy crockpot chili recipes for you to bookmark for the months to come.
One of the best things about chili is that it's easily customizable with the ingredients you have on hand. There are purists out there who say that real chili isn't supposed to have beans, but we happen to enjoy variety so we say break the rules and use whatever ingredients make you happy. We've included vegan and vegetarian options in our list alongside meat-forward recipes so everyone can enjoy regardless of dietary restrictions.
Chili also happens to be generally quite affordable, making it the perfect weeknight meal for a crowd, too. Just set your crockpot in the morning, and after work dinner is served.
Don't forget to bookmark these easy crockpot chili recipes!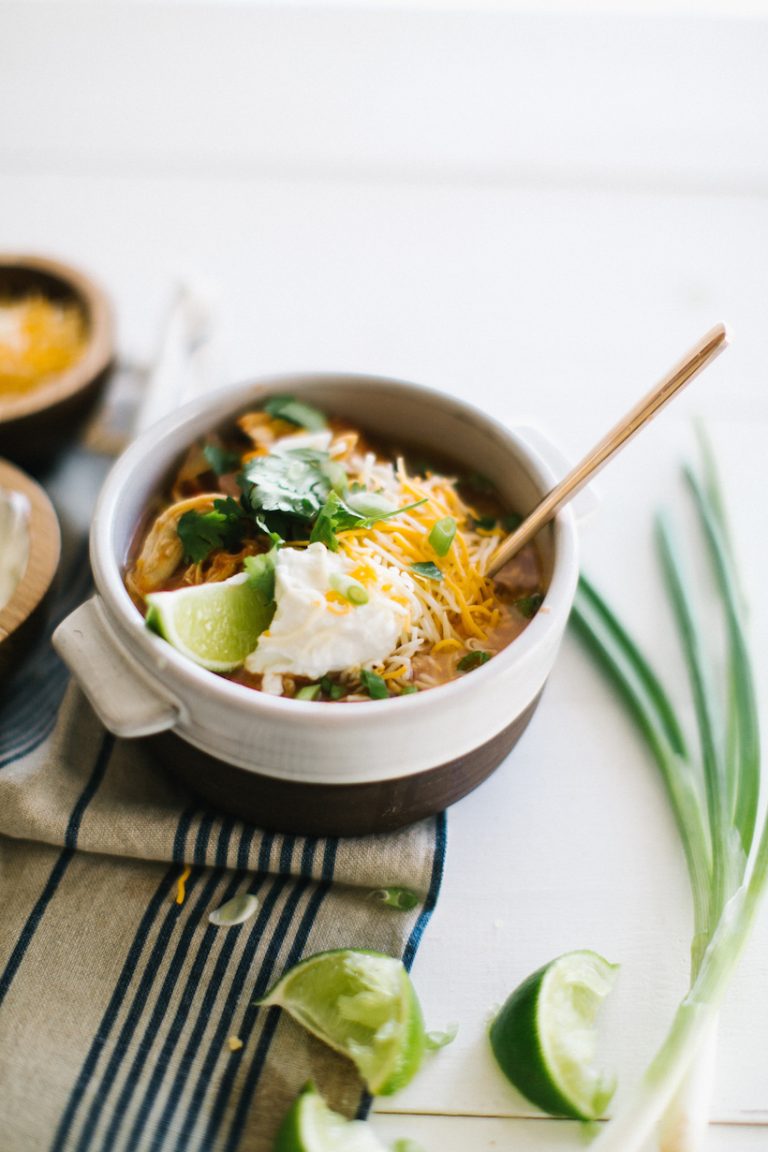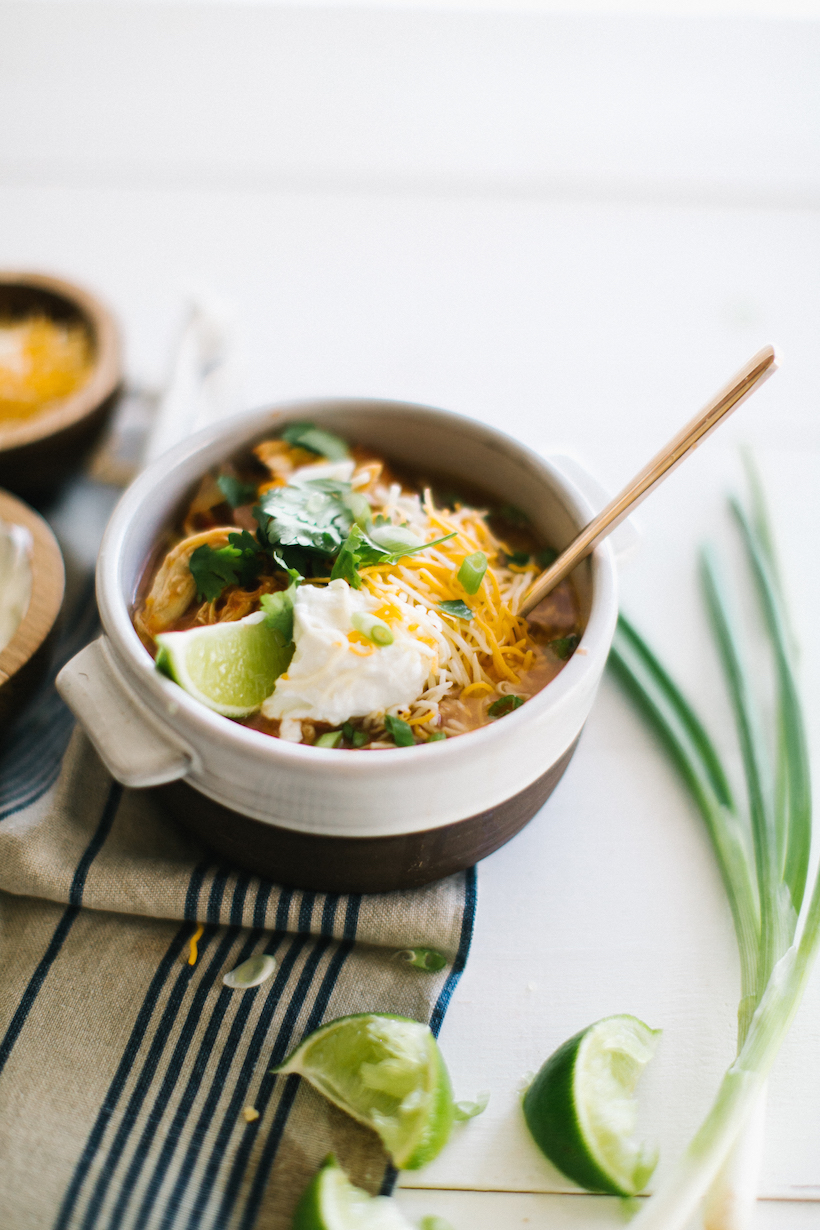 Slow-Cooker Chicken & White Bean Chili
Why we love it: One of the main benefits of this type of cooking that it's no-fuss and results in fewer dishes to clean at the end of the day, and this chili is one of those. The only prep that it requires is chopping up an onion and opening a few cans. It really is that easy. If that's not good enough, it's absolutely delicious.
Hero ingredient: Fire-roasted crushed tomatoes add the perfect hint of smokiness.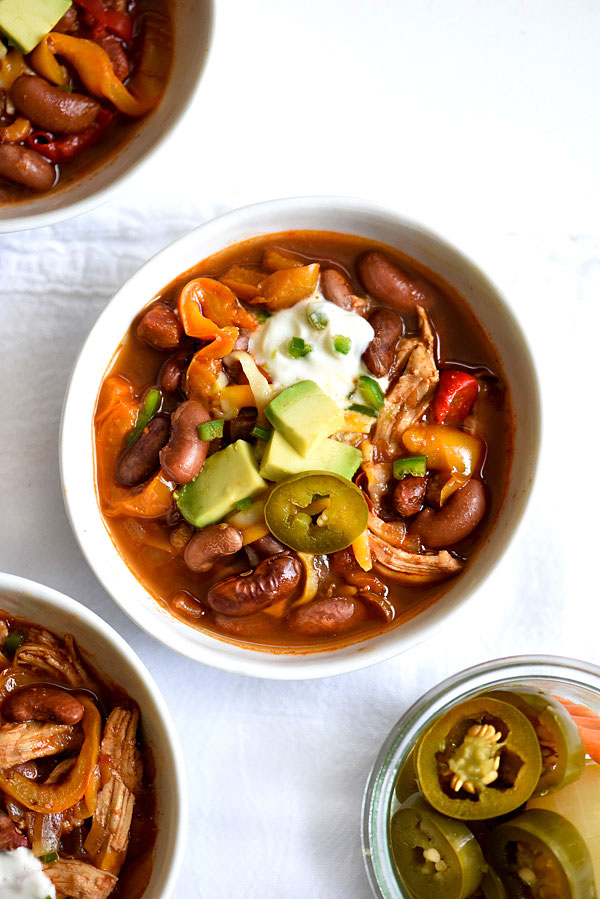 Slow Cooker Chicken Fajita Chili from Foodie Crush
Why we love it: This recipe was inspired by the Mexican flavors in a chicken fajita and is full of familiar spices, beans, and sweet bell peppers. It's an easy, fililng, and utterly delicious meal.
Hero ingredient: Bell peppers add color, flavor, and a lovely texture.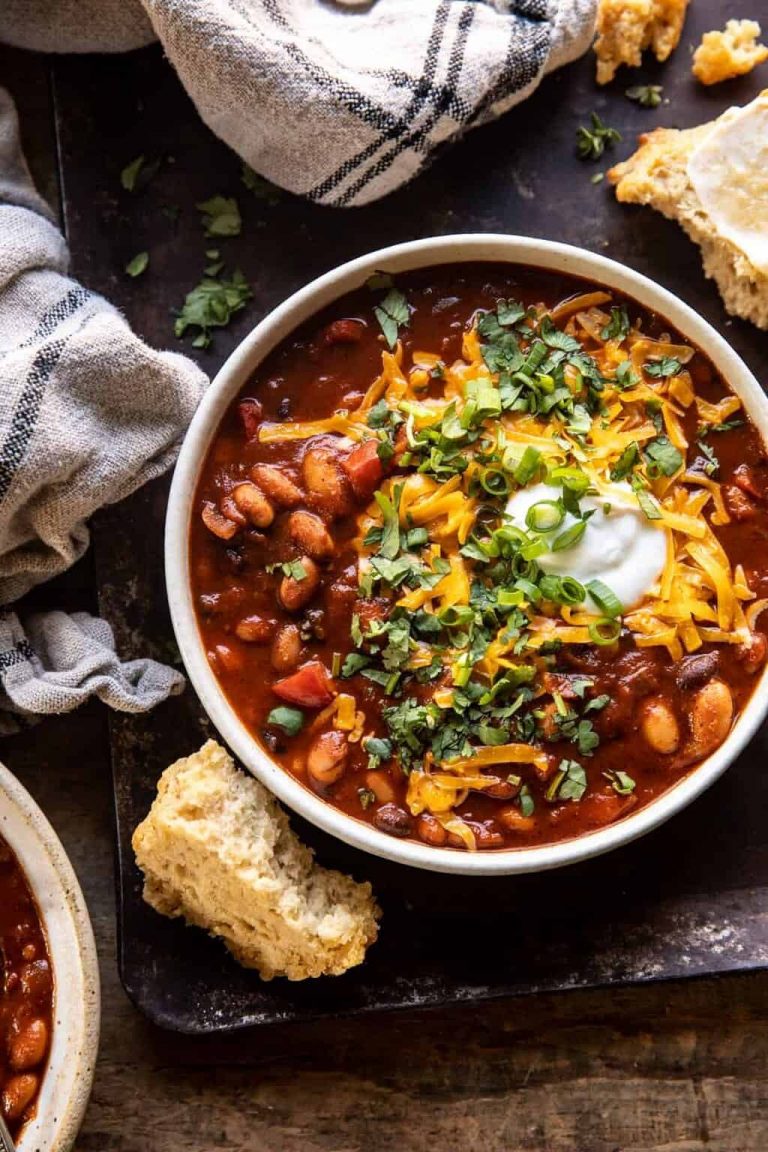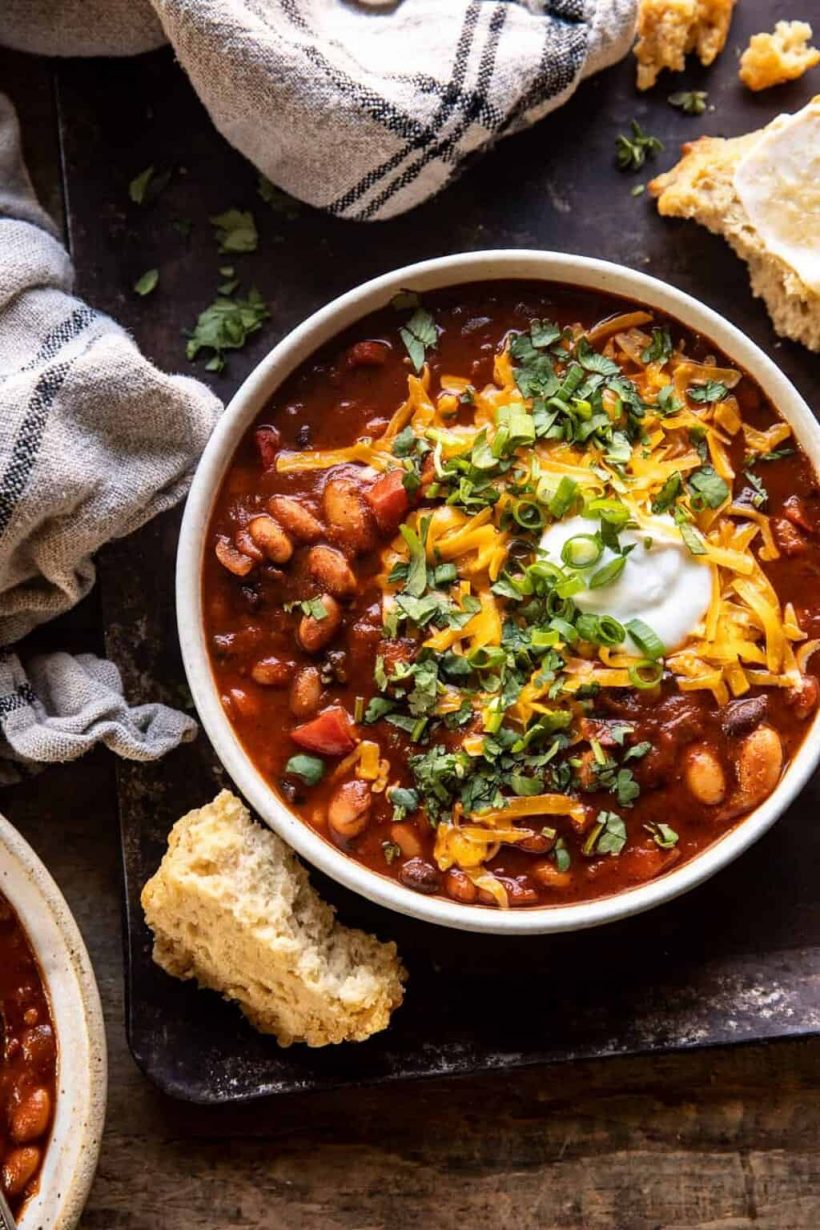 Healthy Slow Cooker Chipotle Bean Chili from Half Baked Harvest
Why we love it: It's a hearty, healthy, and deeply cozy vegetarian meal that can easily be made vegan by omiting the cheddar cheese topping. The flavors of four kinds of beans, bell peppers, and chipotle peppers meld together to make a truly mouthwatering chili.
Hero ingredient: Cinnamon is the secret for that special fall flavor.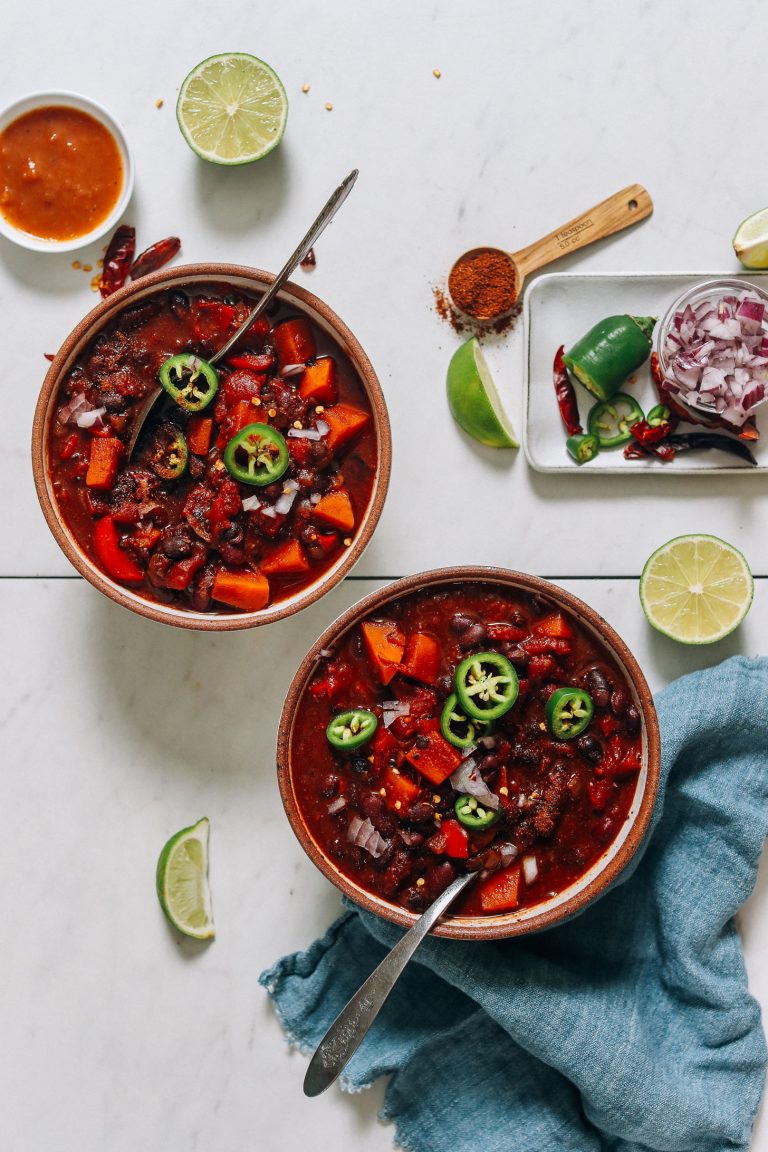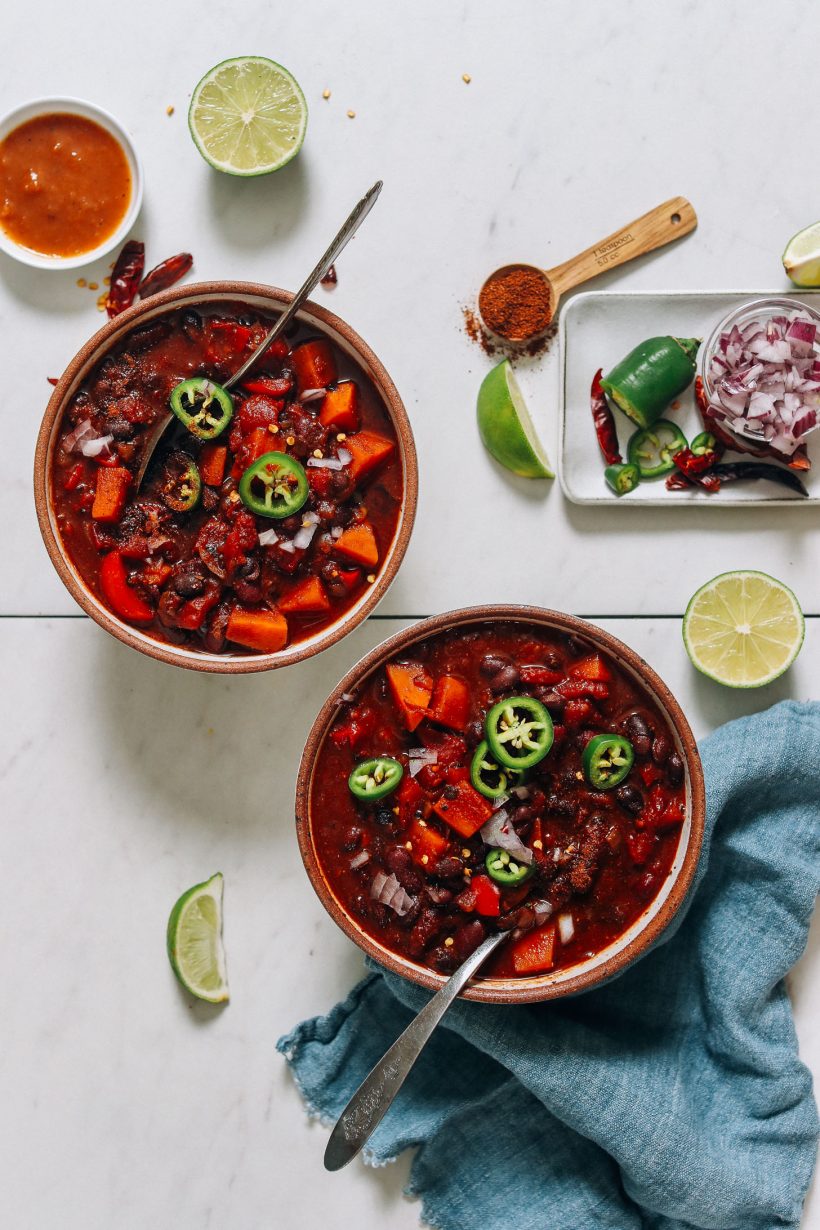 Vegan Oil-Free Chili from Minimalist Baker
Why we love it: This dish is the perfect showcase for incredibly comforting, simple, and wholesome ingredients that deliver big flavor. The blend of smoky spices with the beans and sweet potatoes makes for a melt-in-your mouth flavor profile. Yum!
Hero ingredient: Jalapeños add a brightening kick.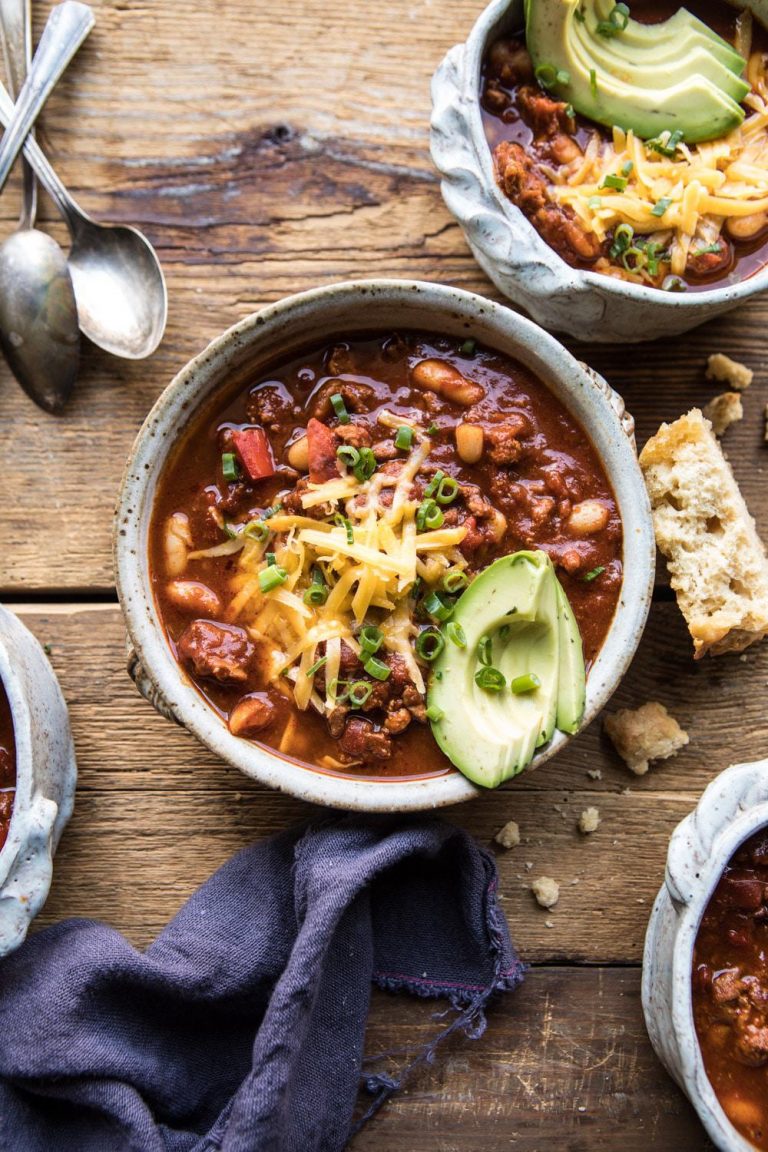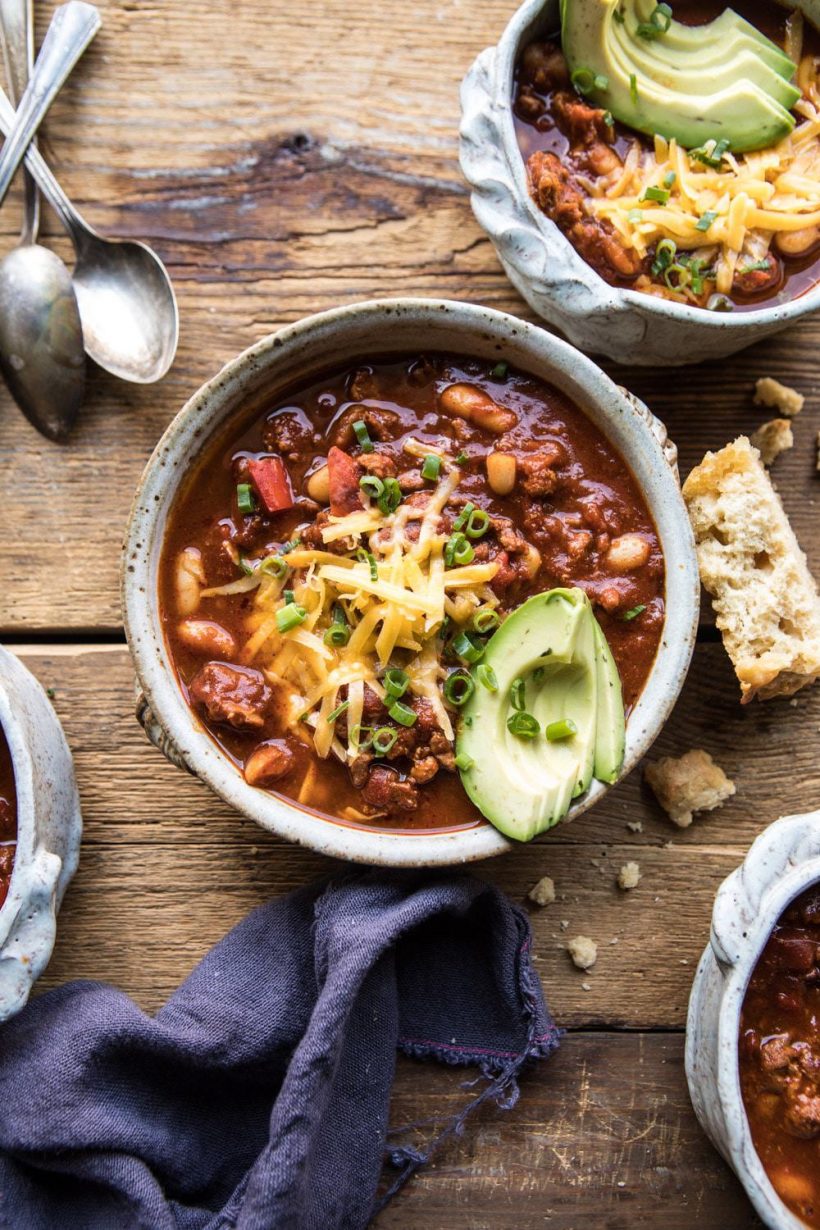 Healthy Slow Cooker Turkey and White Bean Chili from Half Baked Harvest
Why we love it: It's as healthy as it is delicious. Nutritious beans, veggies, and ground turkey come together with a lovely blend of spices to create the ideal chili recipe.
Hero ingredient: Apple butter! What a twist.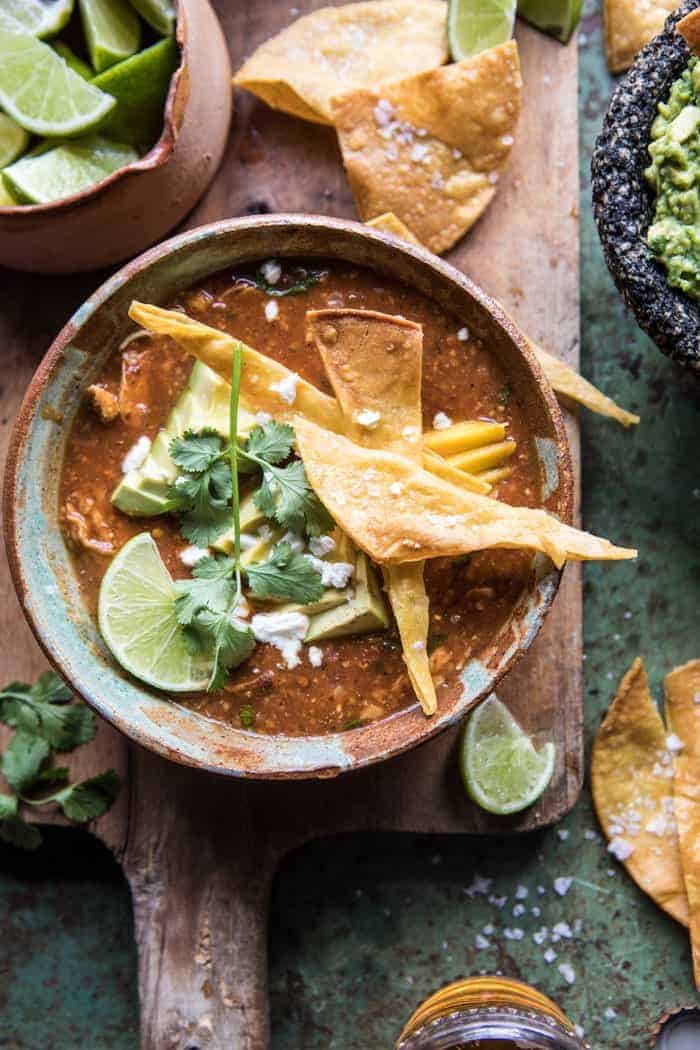 Slow Cooker Chipotle Chicken Tamale Chili from Half Baked Harvest
Why we love it: It incorporates some of the best Mexican spices, chipotle in adobo, and even homemade enchilada sauce to flavor the chili. It's the perfect easy crockpot chili recipe for a cold day.
Hero ingredient: Cornmeal makes the chili thicker and creamier and adds that unmistakable tamale taste.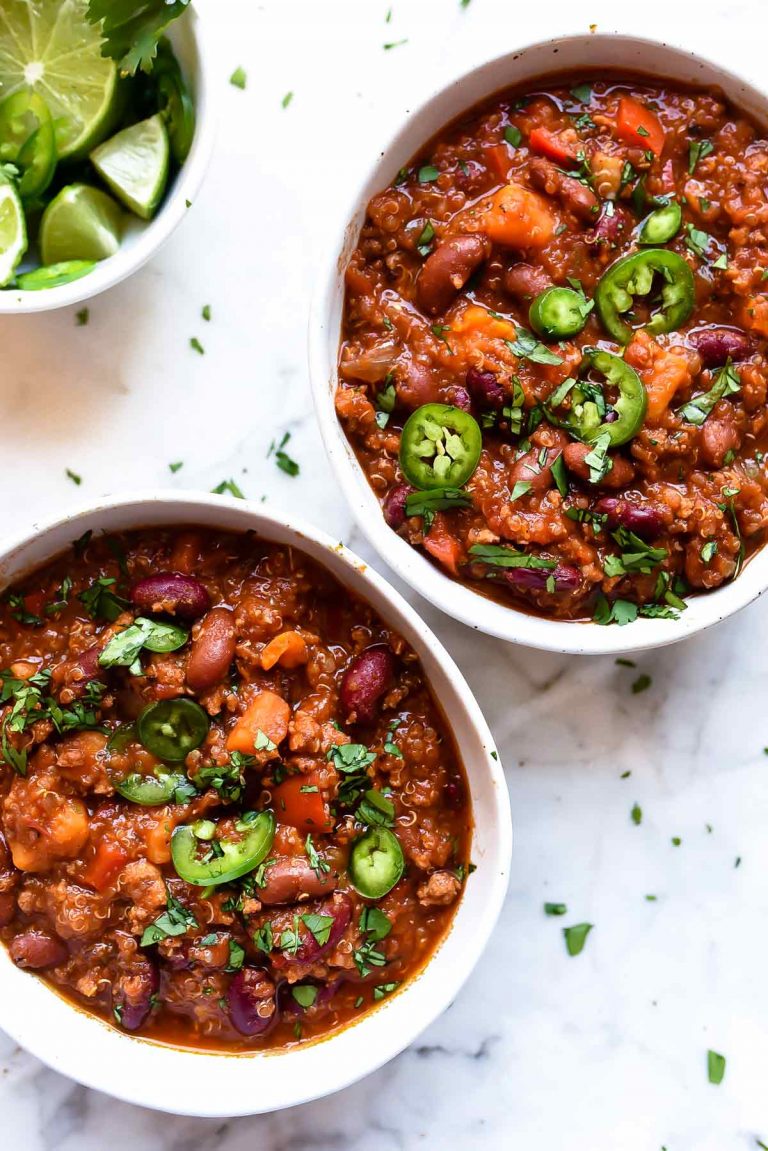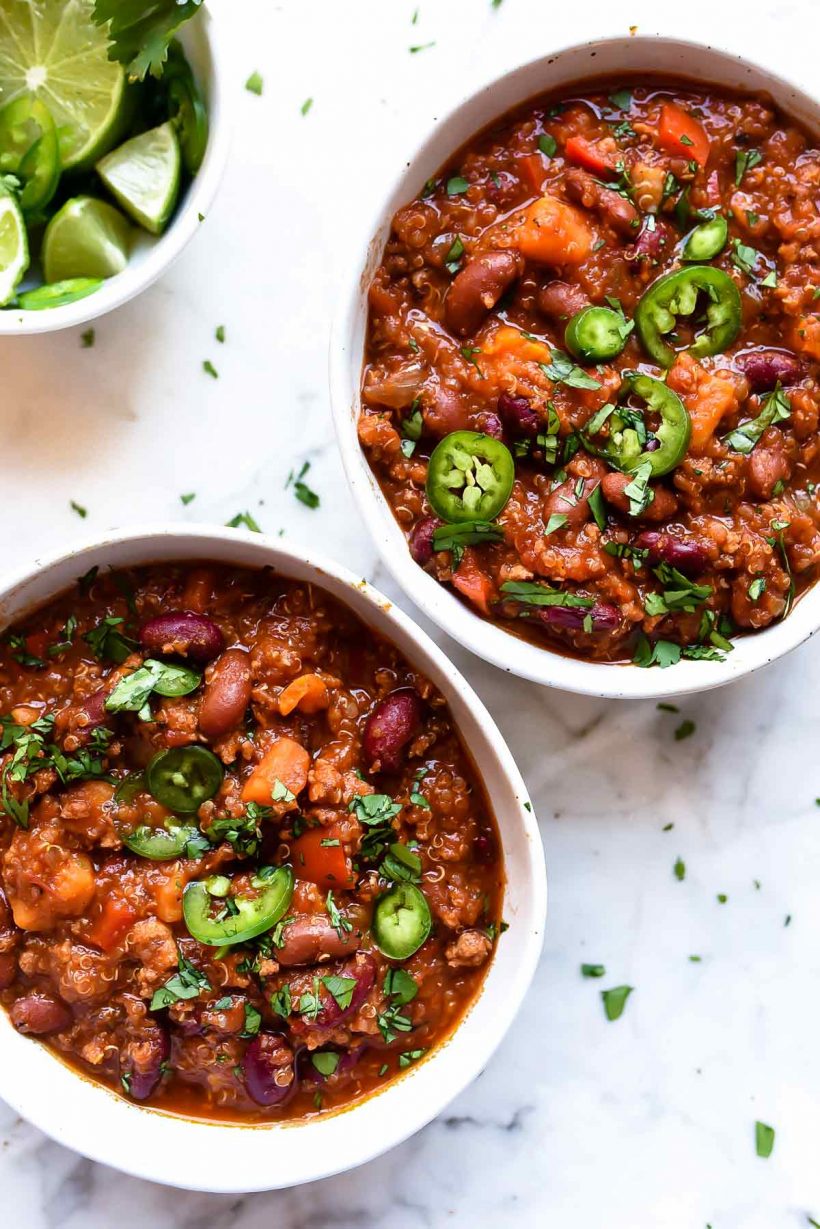 Slow Cooker Healthy Turkey and Sweet Potato Chili With Quinoa from Foodie Crush
Why we love it: It doesn't get much easier than this gorgeous chili recipe. The creamy flavors and texture of the sweet potato blend beautifully with the beans, veggies, and quinoa. It's a classic and is still totally unique.
Hero ingredient: Quinoa adds texture and an earthy flavor, along with being incredibly healthful.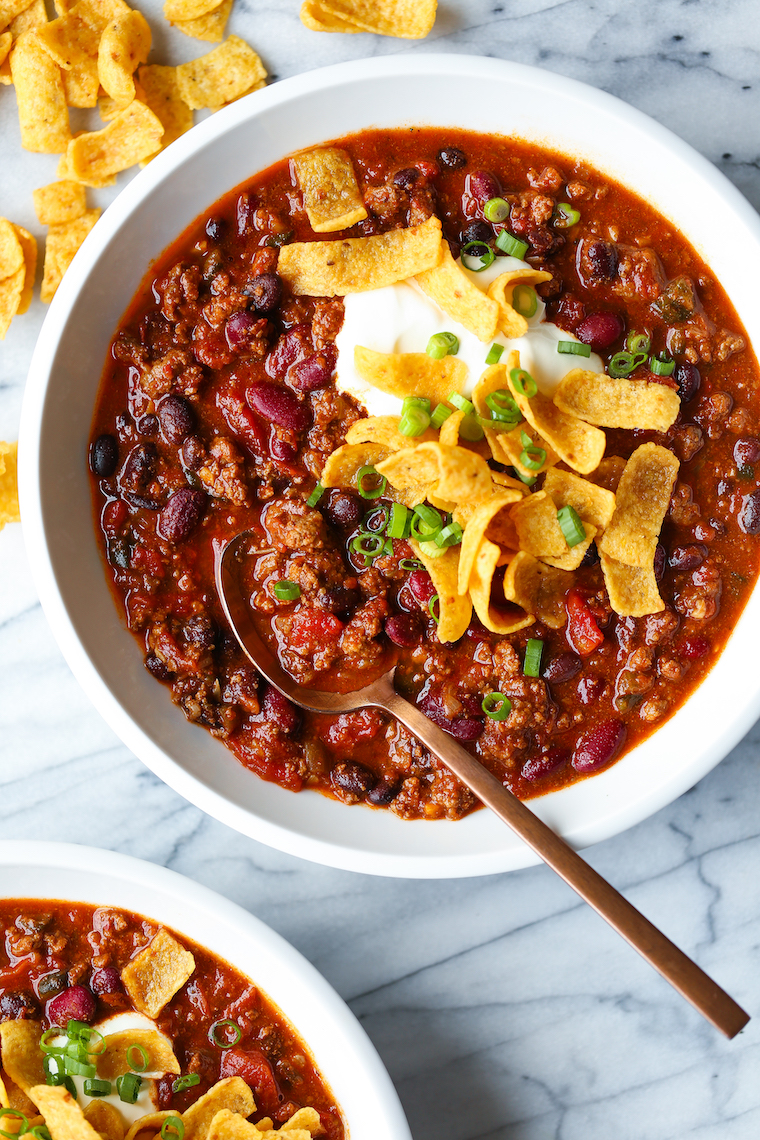 Easy Slow-Cooker Chili from Damn Delicious
Why we love it: It's a simple, everyday ground beef-based chili that you'll find yourself coming back to again and again. It's a classic.
Hero ingredient: Poblano chili cuts through the thickness.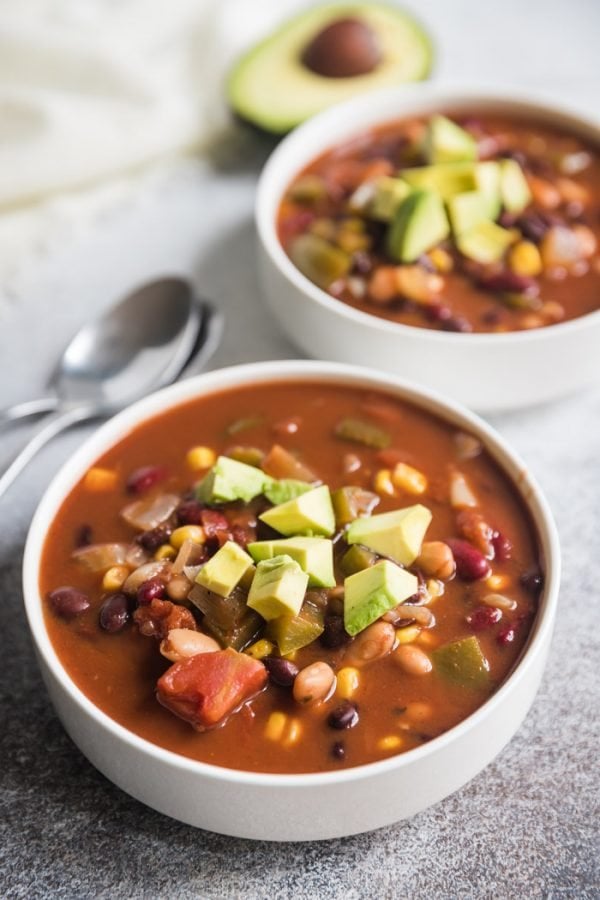 Vegan Crockpot Chili from Food With Feeling
Why we love it: Fast, delicious, easy, and vegan? Yes, please! And it also makes for the tastiest leftovers ever.
Hero ingredient: Don't skip that avocado topping!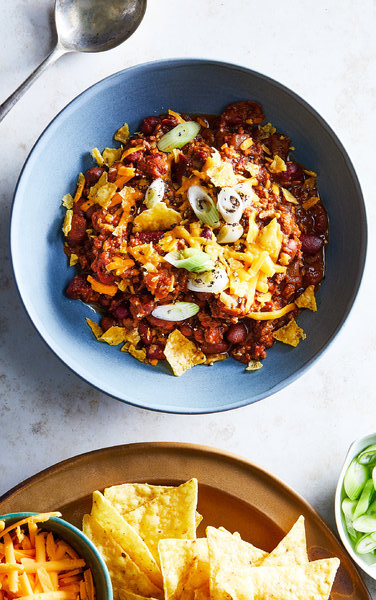 Slow Cooker Chili from The New York Times
Why we love it: This richly spiced chili is absolutely delightful and full of surprising and unique flavors and ingredients. If you're a chili aficionado then you definitely need to try it.
Hero ingredient: The unexpected additions of unsweetened cocoa, soy sauce, and Worcestershire add surprising complexity.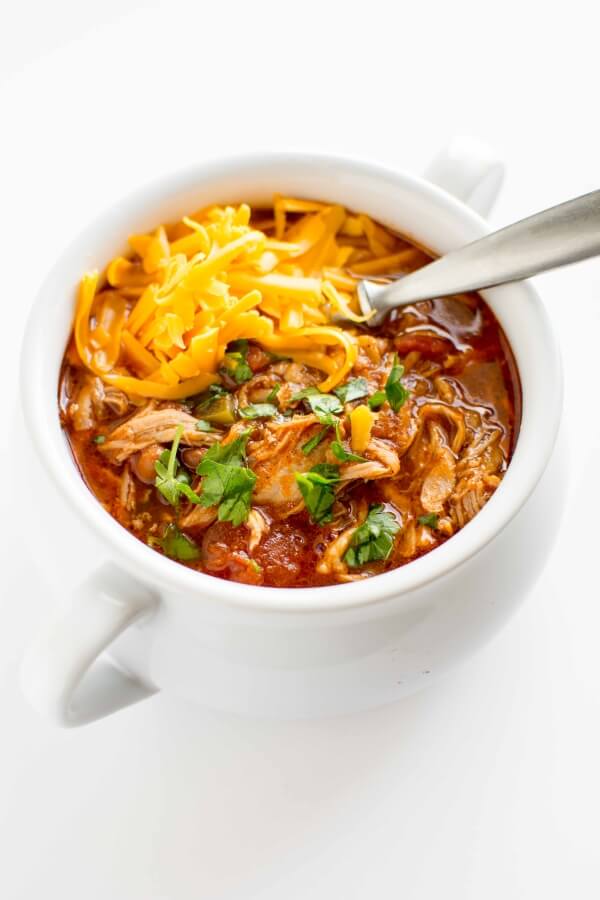 Slow Cooker Pulled Pork Chili from Slow Cooker Gourmet
Why we love it: Pulled pork lends itself perfectly for slow cooker chili, as the lengthy cook time allows it to get super tender. Add a splash of beer and voila, you've got a robust, delicious dinner.
Hero ingredient: Chipotle chili powder spices it perfectly.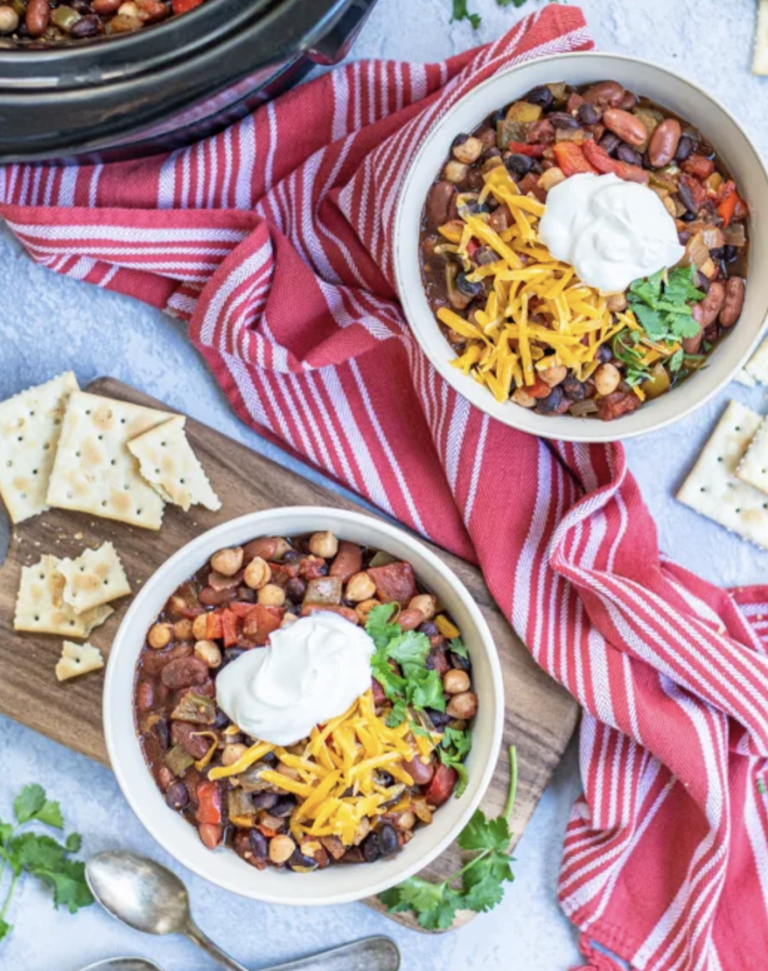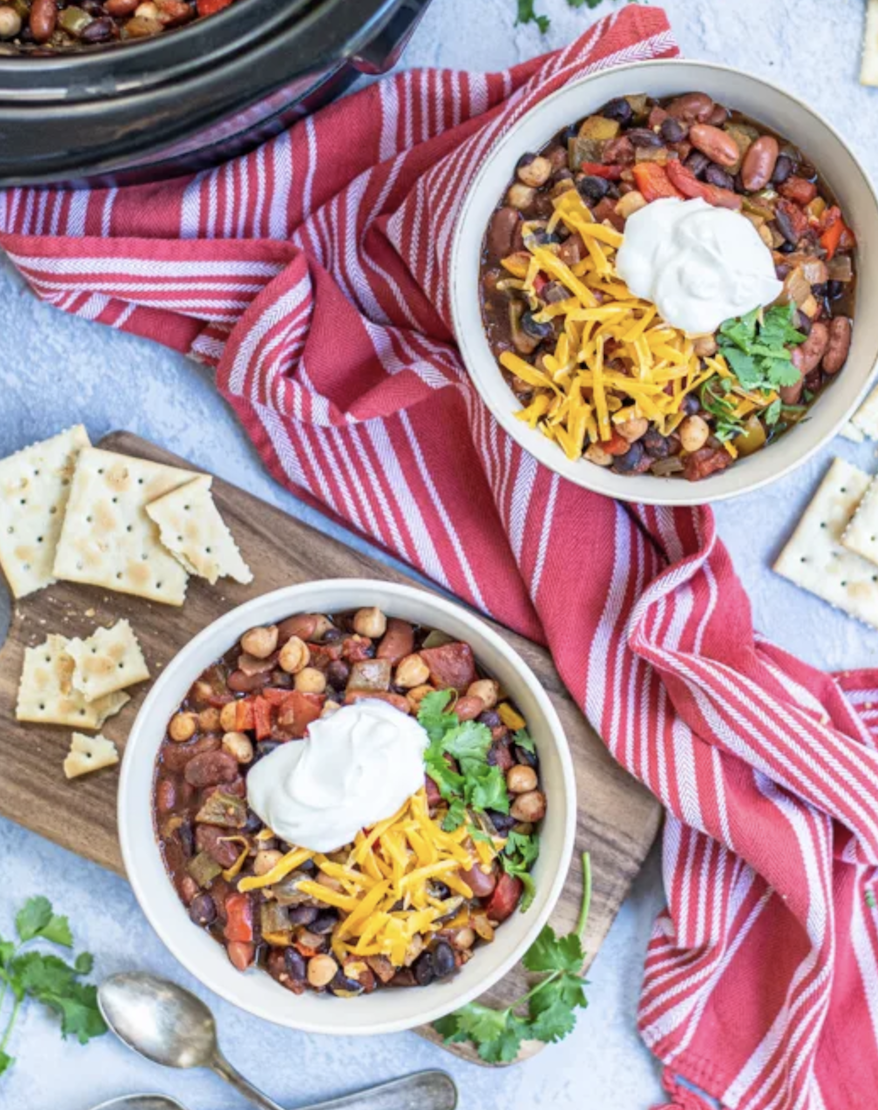 Slow Cooker Three-Bean Vegetarian Chili from The Schmidty Wife
Why we love it: This is comfort food to the max and proof positive that chili doesn't have to have meat in it to be hearty, satisfying, and full of flavor.
Hero ingredient: Chickpeas add great texture and add loads of nutrients.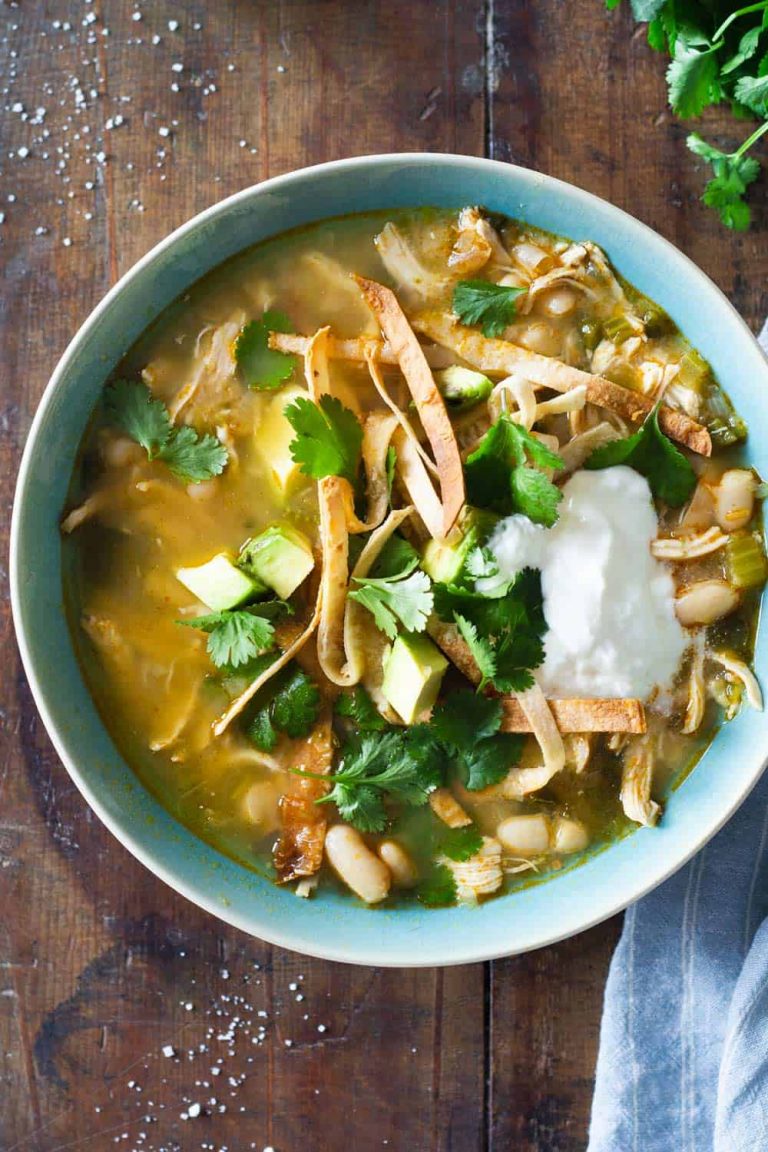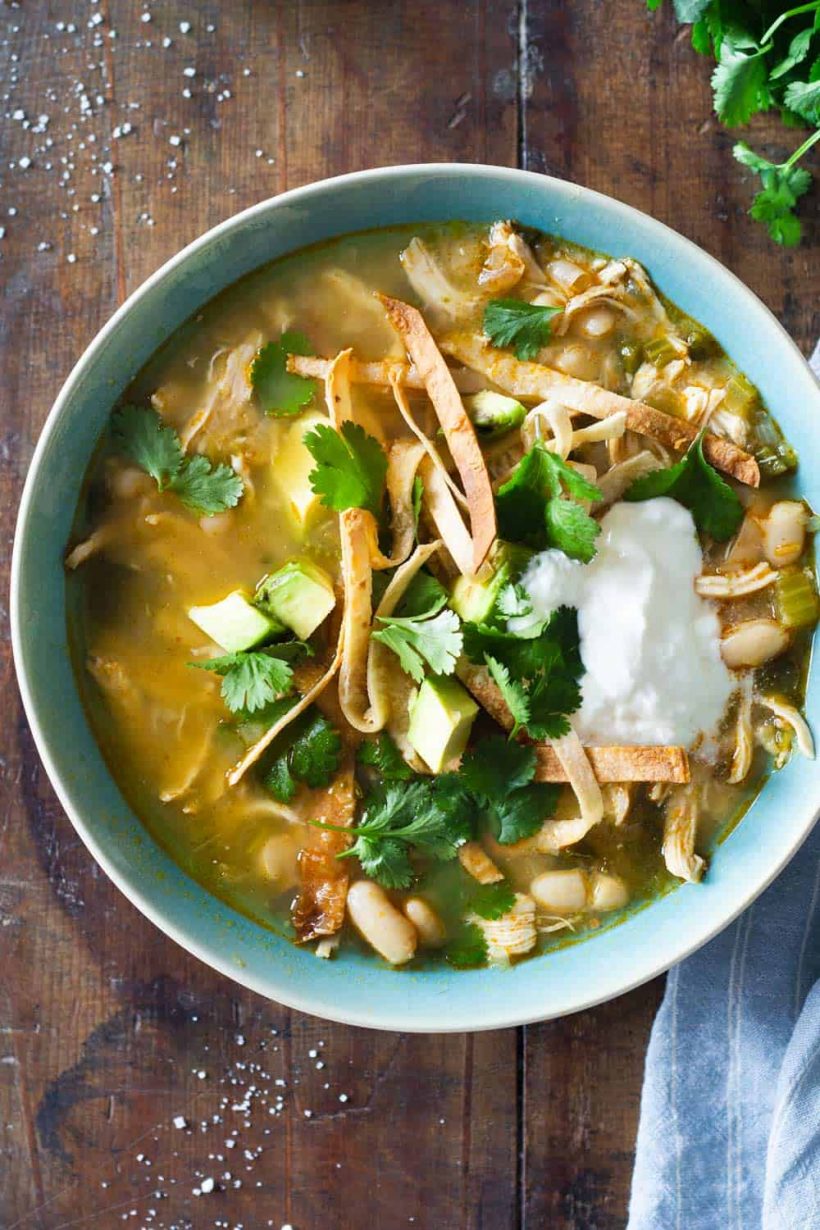 Crock Pot White Chicken Chili from Green Healthy Cooking
Why we love it: This is a delicious dairy-free chili recipe that almost feels light. All the while it while still retains that satisfying, comforting taste and texture that we love from in a chili.
Hero ingredient: For a creamy, thick chili all you can use your potato masher to mash up the cannellini beans.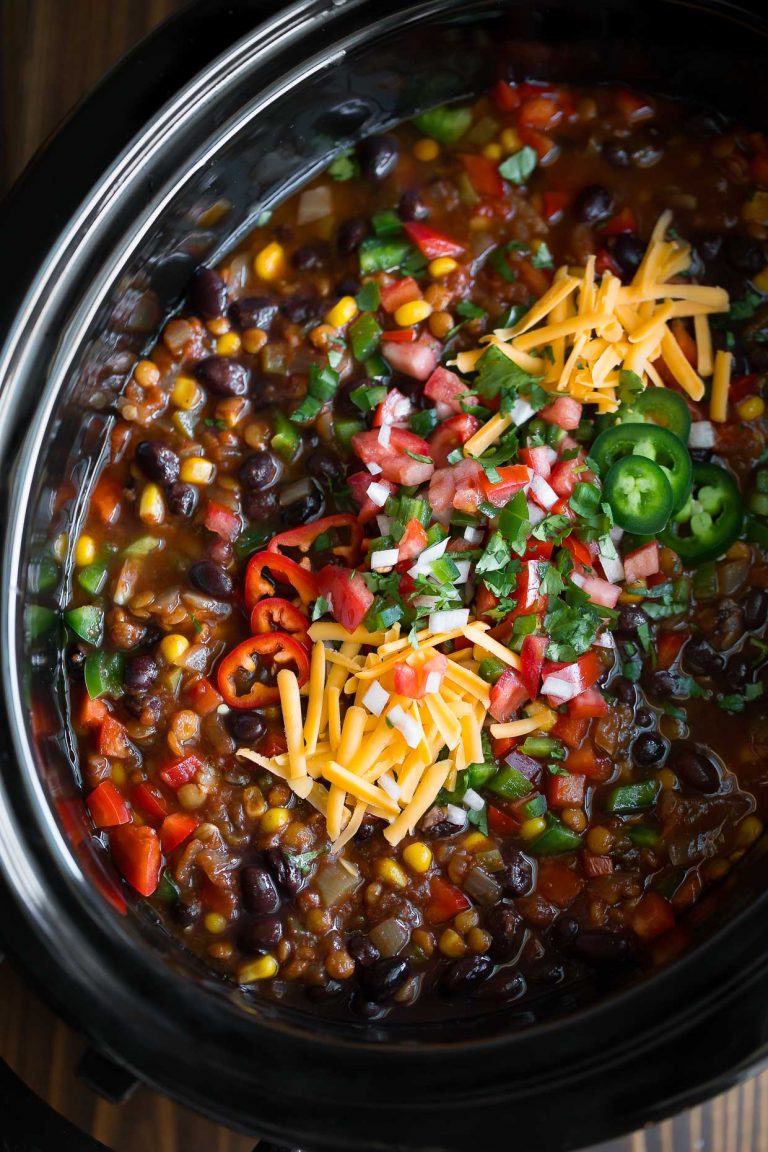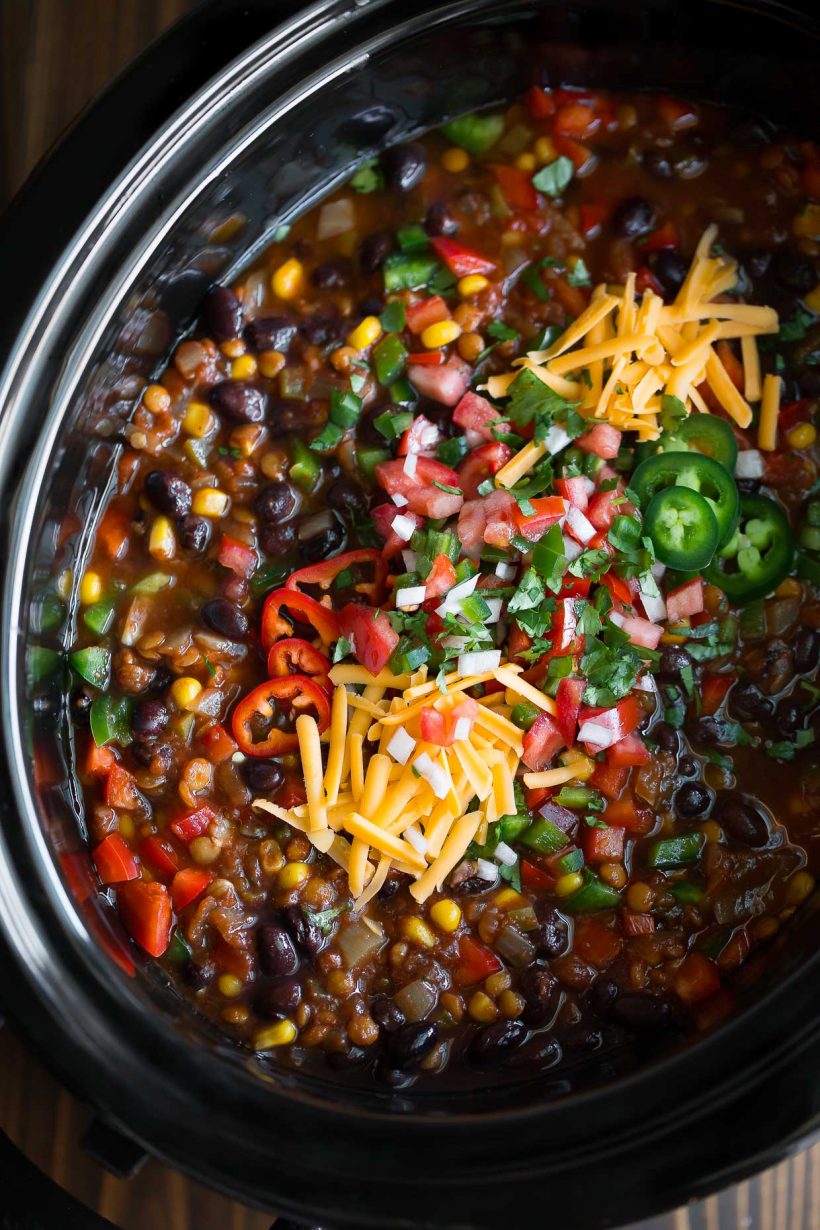 Slow Cooker Lentil Taco Chili from Peas and Crayons
Why we love it: Taco toppings and flavors are the ideal complements for a big bowl of comforting chili. And as with most chilis, it's even better the next day.
Hero ingredient: Lentils add filling fiber and nutrients as well as a delicious, almost meaty flavor.