I cringe when I remember the first night I cooked for my boyfriend. I had to stay at work longer than expected to wrap up an urgent project and afterward was rushing to the grocery store to grab ingredients for an easy date night recipe that didn't exist yet.
It was one of those weeks where I'd completely overcommitted myself and forgotten I had invited him (and a friend of his I'd never met) over for dinner. Had I known then that his love language was tacos I would have just grabbed something easy on the way home and played it safe. Nope. Instead, this occasion seemed like high time to grab some ambiguous white fish from the market I had never made before and just go for it.
Now we laugh about the time we all sat around the table and picked at a flavorless piece of fish that was definitely undercooked. We ended up resorting to wine and leftover pasta, and though I didn't impress anyone, I'll always look back on that night as one of the first times we truly connected.
Food aside, the real purpose of cooking with the people that matter to us is connecting with one another and making memories.
After my unsuccessful trial run, I've landed on the perfect criteria for a great date night recipe. With many of us celebrating Valentine's day at home this year, the last thing we all need is a complicated recipe (or lack thereof) to distract us from having a good time. Date night recipes should be relatively easy, fun, and feel like a step up from your regular week-night rotation.
With this in mind, we've rounded up the best easy date night recipes that feel fancy but allow you to have fun in the kitchen without breaking a sweat. From bolognese to lamb chops, spice things up with one of these easy date night recipes that feel special and taste delicious.
Bottle of Wine Braised Brisket by The Defined Dish
One of my friends deemed this dish "the best meal she's ever had." She recommends serving it over this creamy mushroom risotto for a fancy, indulgent dinner you won't believe you made yourself.
2 of 15
Vegetarian Pasta Bolognese by Camille Styles
One of Camille's favorites, she likens this pasta to "a hug wrapped up around each twirl of your fork." Plus, the fact that it's a pantry staple that can be easily reinvented with sauces, herbs, veggies, and cheeses makes it perfect for a date night at home.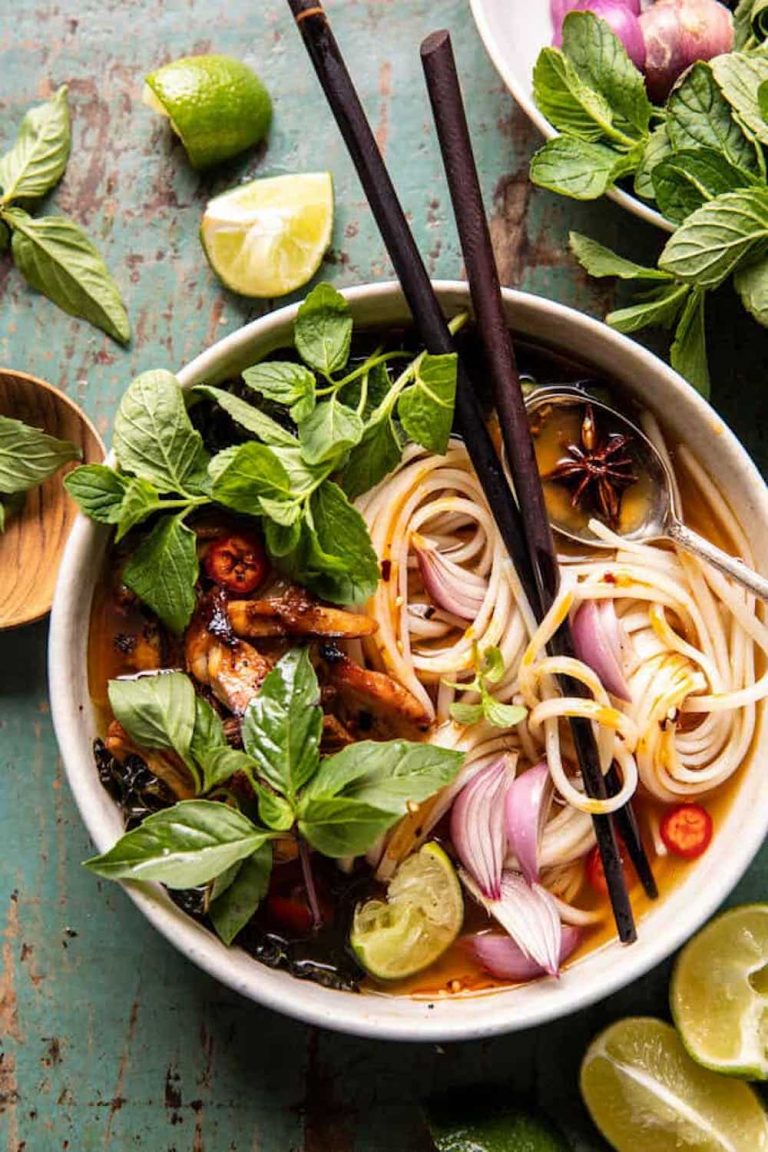 A date-night dinner should be both comforting and relatively easy to cook so you can just focus on having a good time with your partner. Plus, the last thing we all need is something more to stress about, right? This easy pho is packed with colorful, healthy ingredients that are just as fun to arrange as they are to enjoy.
4 of 15
Lamb Meatballs in Tomato Sauce with Fresh Ricotta by Seamus Mullen
We trust any recipe coming from chef Seamus Mullen. These lamb meatballs in tomato sauce will not disappoint, especially when paired with whole roasted cauliflower or this zesty radish, fennel, & grapefruit salad.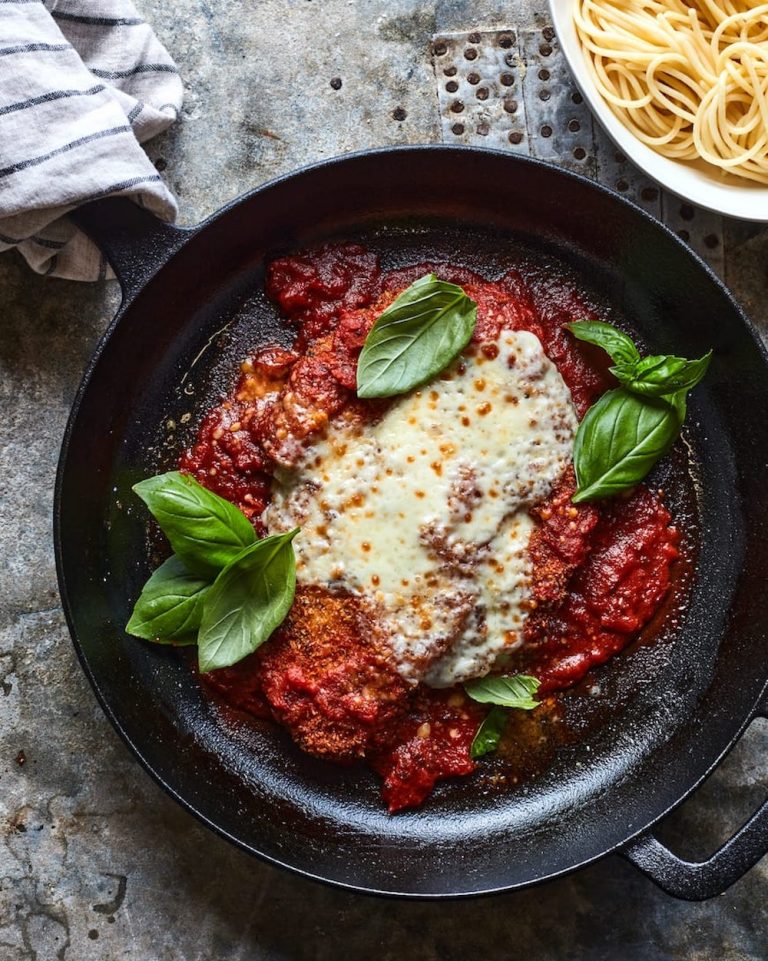 Making breaded-anything isn't a solo effort, and is best done as a team. Serve this flavorful, crispy pan-fried chicken over a bowl of pasta for a classic Italian feast.
6 of 15
Dairy-Free Creamy Butternut Squash Pasta With Bacon & Crispy Sage by Camille Styles
Nothing says special occasion quite like some creamy, indulgent pasta, but bonus points for when it's actually healthy. This dish is a healthier take on grown-up mac 'n cheese, with a decadently dairy-free sauce over soft, angel hair noodles.
Whether it's a first course or the main dish, this lobster ravioli is bound to steal the show. Believe it or not, this one comes together in under 40 minutes and is surprisingly uncomplicated.
Sheet Pan Halibut With Italian Salsa Verde and Asparagus by The Defined Dish 
If you're looking for something on the lighter side, a flaky, white fish never disappoints. This sheet pan halbut and Italian salsa verde sauce are a match made in heaven, and come together with minimal effort.
9 of 15
Brown Butter Scallops With Parmesan Risotto by Pinch of Yum
While risotto can require some extra attention, this recipe is worth it. Plus, more time for you to sip your wine and chat while slowly stirring this creamy deliciousness. When you add in these seared scallops at the end, you've got yourself a restaurant-worthy dish that's perfect for a cozy night in.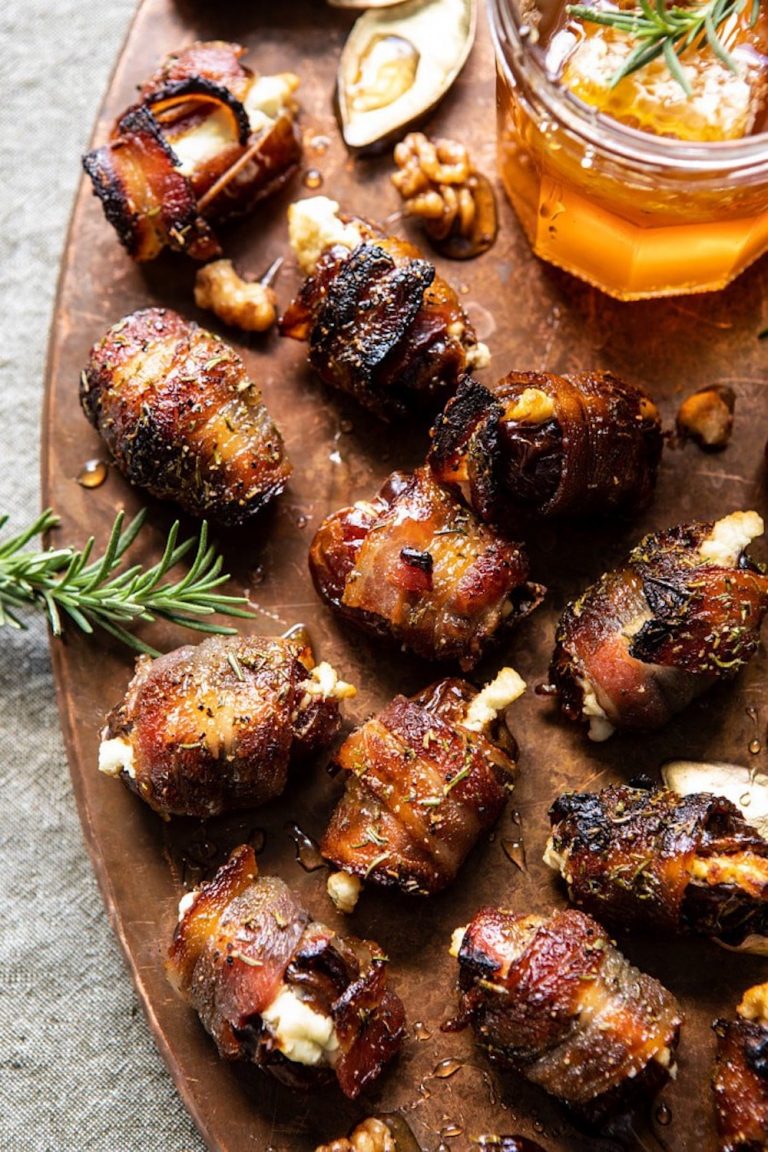 Goat-cheese Stuffed Bacon-Wrapped Dates With Honey by Half-Baked Harvest 
This is one of my favorite appetizers ever for any special occasion. These bacon-wrapped dates are crispy, sweet, decadent and just to die for. They're a fun starter to assemble, cook and enjoy together while dinner is still in the works.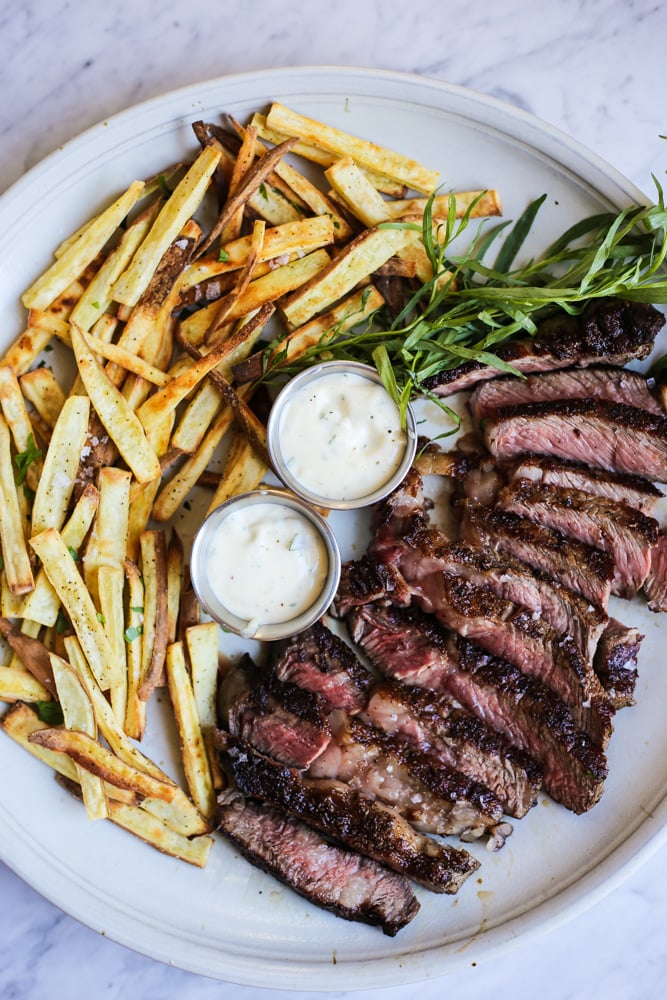 Steak Frites with Tarragon Aioli by The Defined Dish
You can sign me up for any date that involves fries. This healthy, homemade take on a classic measures up to the steak frites at any favorite french restaurant.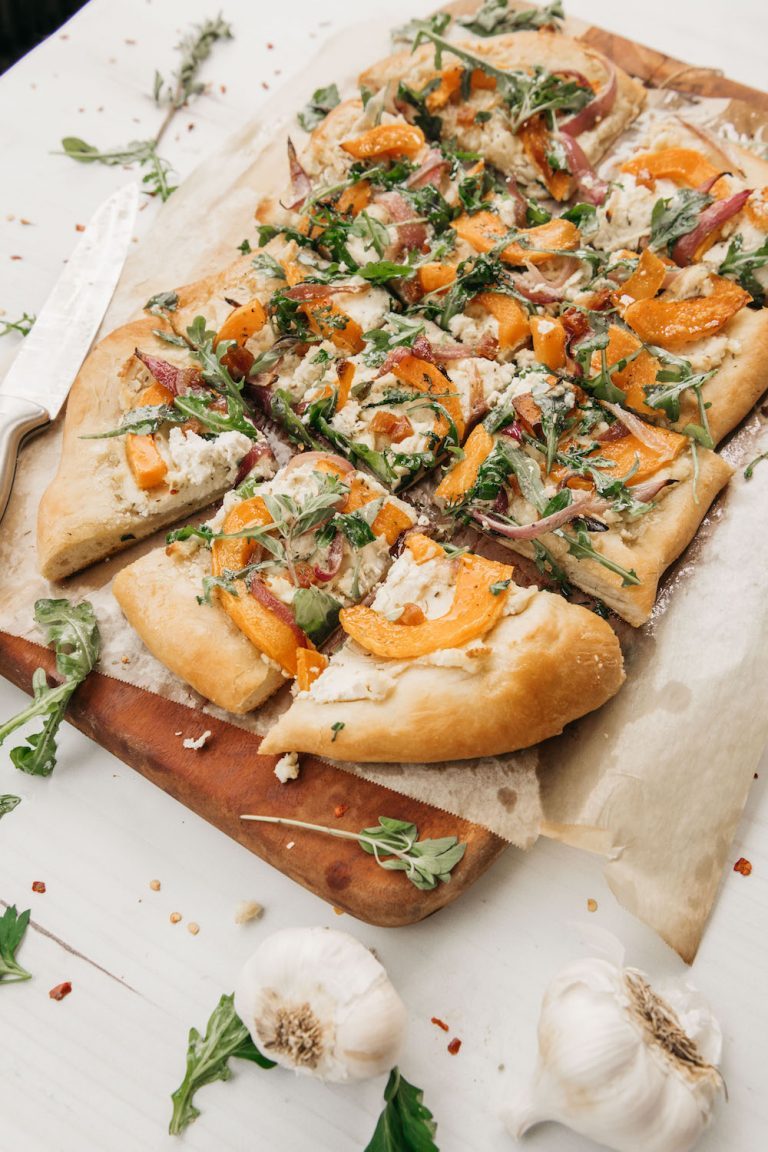 Butternut Squash Pizza With Arugula & Almond Ricotta by Camille Styles
Pizza is a celebratory food, plain and simple. There's something about a good pizza that just bonds people together. This butternut squash pizza is savory and sweet, and earns bonus points for being both gluten and dairy-free.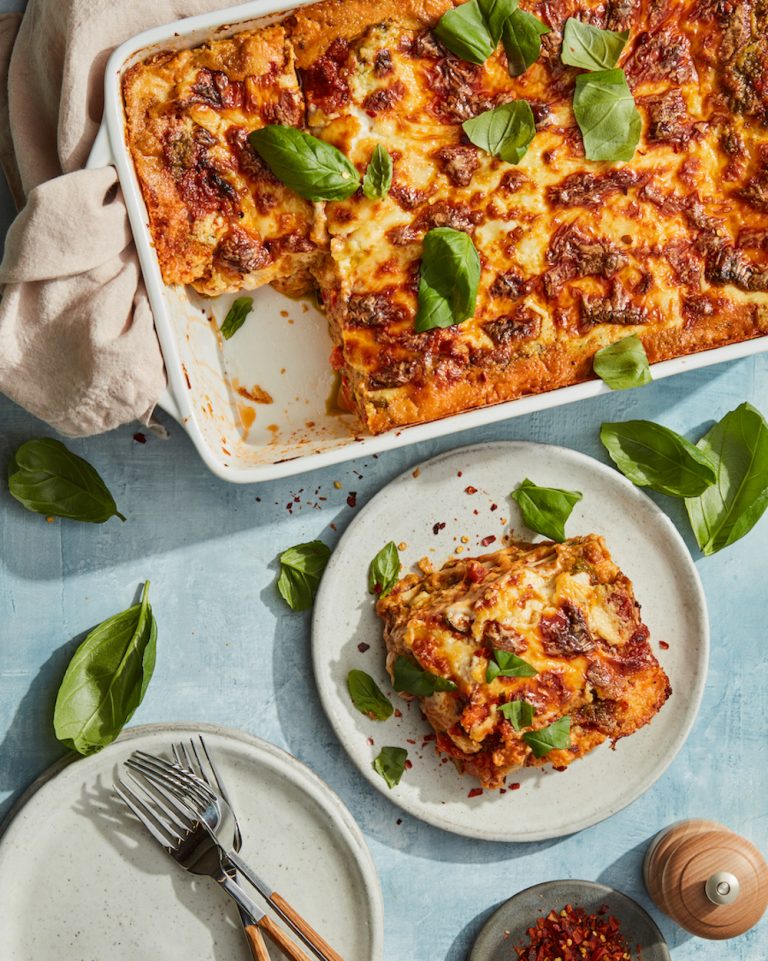 Lasagna is truly the ultimate comfort food, and this recipe nails the veggie version. It takes a little while to cook, so enjoy some wine and snacks while you soak up the delicious aroma that will fill your house while it bakes in the oven.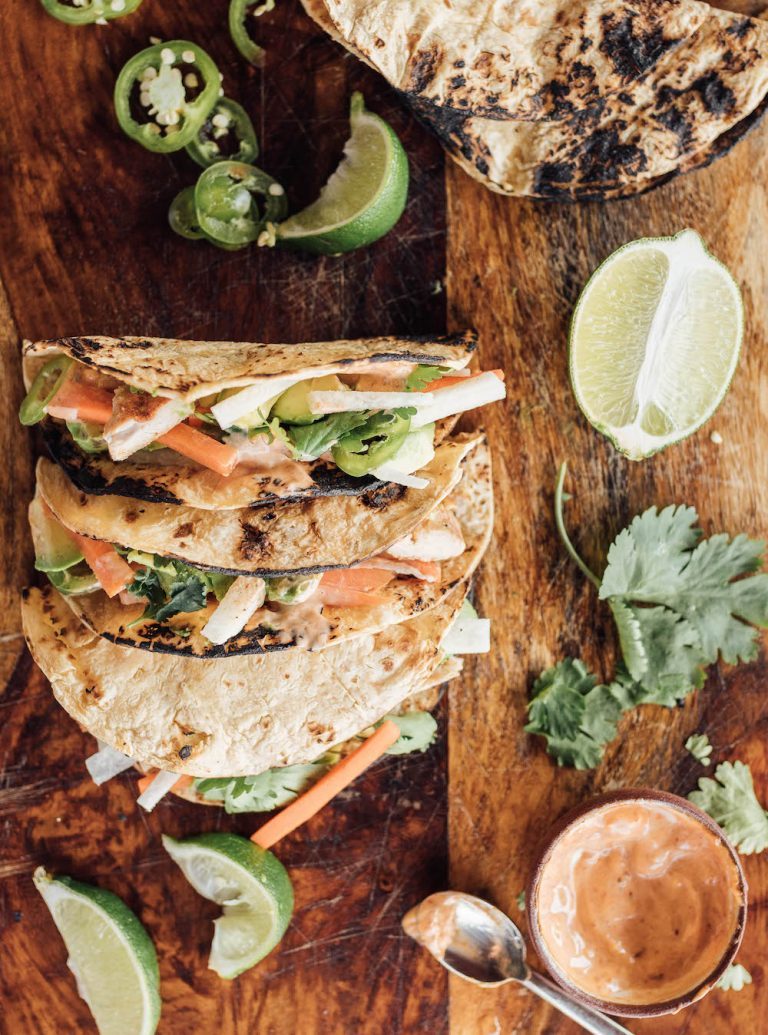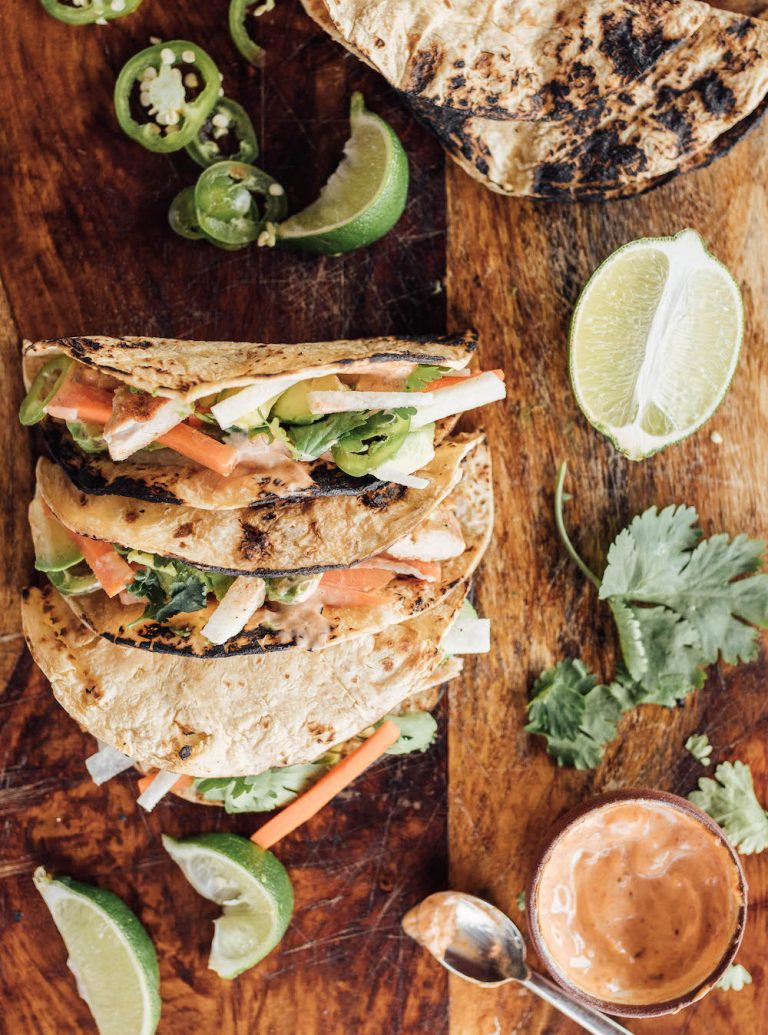 Lime-y Chicken Tacos With Jicama, Avocado, & Mint by Camille Styles
There's nothing more laid back and fun than taco night in my opinion. Camille claims these lime-y chicken tacos might be her last meal – they're that good. Especially when paired with a homemade margarita.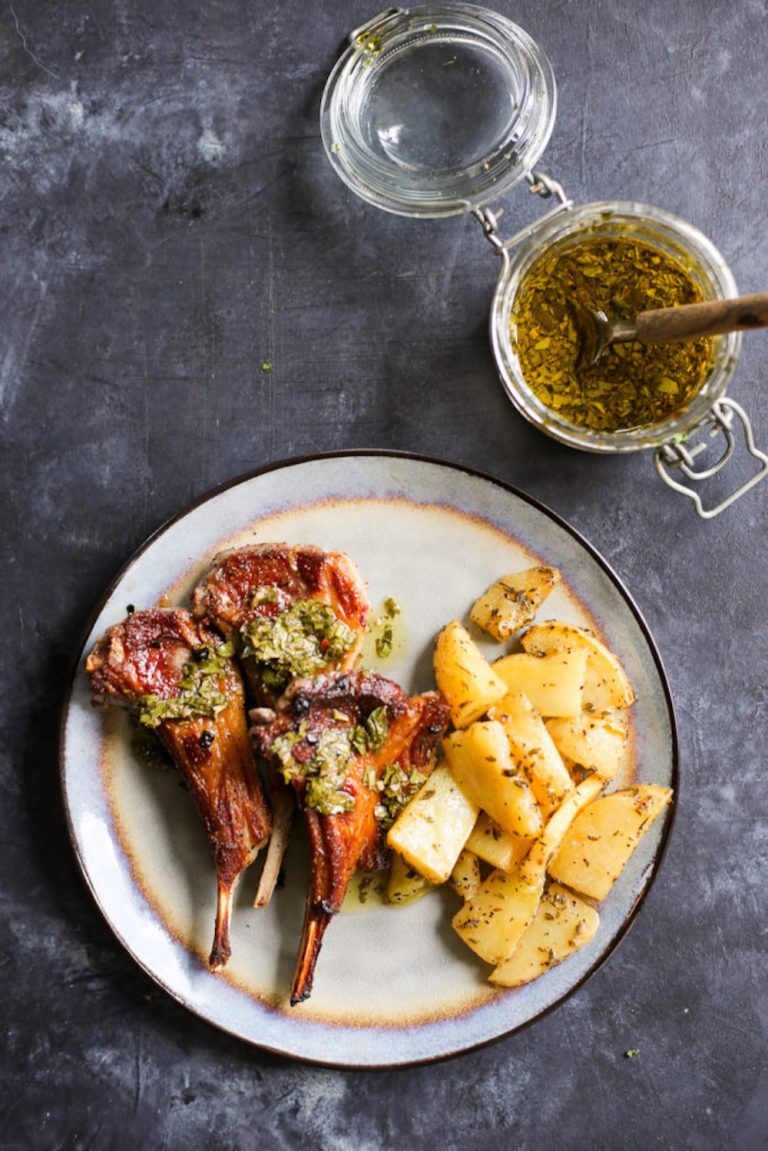 Easy Pan-Seared Lamb Chops With Mint Chimichurri by The Defined Dish
Lamb chops make for a great special occasion dish. Even though they can be a little bit of a splurge at the grocery, cooking them is pretty much foolproof. This dish comes together quickly and you'll want to put this mint chimichurri sauce on everything, trust me.
What's your favorite date night recipe? Share the link with us below!