By now, we're fairly certain you've all seen or been influenced by the viral baked feta pasta on TikTok. While there are hundreds of versions online now, the original recipe can be traced back to Finnish blogger, Jenni Hayrinen. A year ago, she launched National Uunifetapasta Day (Finnish for "oven-baked feta pasta") with the aim to inspire everyone to cook baked feta pasta together on that day. This year, the idea took off, and "the stores actually ran out of feta cheese here," Hayrinen told Today. So, of course, this inspired us to reimagine our own feta recipes and see how we can bring this classic salty cheese to life in different, but just as delicious ways.
When choosing these feta recipes we wanted to follow the same criteria as the baked feta pasta: simple ingredients, easy to make, and tastes delicious. So, read on to learn which ones made the cut, and don't forget to add feta to this week's grocery list.
Baked Feta Recipe by Suruchi Avasthi
This is our food editor's version of the baked feta recipe. This delicious appetizer can be served on a charcuterie board like this and be eaten all afternoon. Sounds like heaven.
Pan-Fried Feta With Peppered Honey by Half Baked Harvest
We can't think of a better appetizer than salty feta cheese, coated in Panko bread crumbs and pan-fried to golden perfection—can you? We'll wait. Tieghan Gerard of Half Baked Harvest always knows how to combine healthy and hearty all rolled into one cozy, comforting meal. 
Baked Feta and Greens with Lemony Yogurt by Epicurious
Feta always adds a touch of salt and creaminess to any dish and we love how this baked feta recipe really leans into those qualities. Warm feta, crispy chickpeas, and wilted hearty greens all come together in this delicious recipe.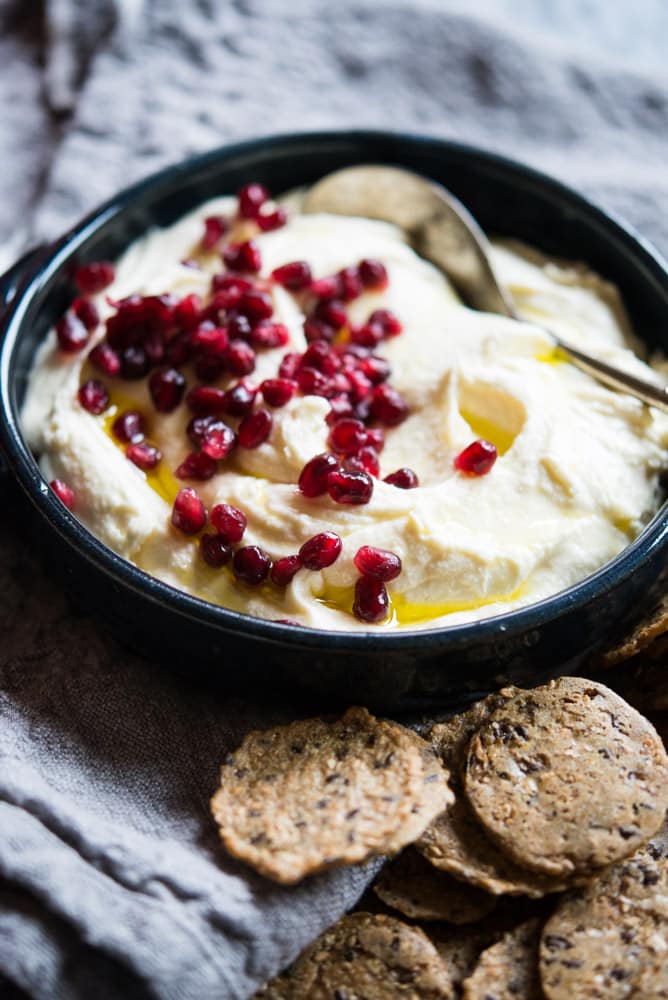 Whipped Honey Feta Dip by Fed + Fit
Feta is typically something we think of as a topper but this dip makes the classic ingredient the main event. With some added honey for sweetness, this dip is sure to be a hit with the whole family.
Roasted Cherry Tomato and Whipped Feta Toast Points by Spoon Fork Bacon
There are two things in life that will always be perfect partners: cheese and bread. These point toasts make great appetizers or a healthy-ish snack. Either way, they're delicious and we're already eating them with our eyes.
Roasted Sweet Potatoes With Whipped Feta and Hot Honey by Suruchi Avasthi
We have a soft spot for sweet potatoes at Camille Styles' HQ. This creamy versatile vegetable can be cooked in so many different ways—if you haven't cooked Camille's crispy roasted sweet potatoes you're missing out—but it's the feta in this recipe that really sets it apart. The cooking method in this recipe is also unique, utilizing both steam and then a roast that gives us that delicious char. Sign me up!
Broccoli Feta Fritters by A Healthy Life for Me
If you're looking for ways to prepare broccoli that aren't steaming it, then these fritters are it. Feta makes these green little discs a little salty and creamy and a quick fry gives them a nice crunchy edge. Delicious.
Mango, Avocado, & Feta Salad by Suruchi Avasthi
If you've never added mango to your salad before then you're officially missing out. The touch of sweetness with the salty feta and creamy avocado is what salad dreams are made of. This recipe also has chopped pistachios for added crunch and mint for freshness. Yum!
Pumpkin, Pea & Chorizo Frittata With Feta & Red Onion by Stuck in the Kitchen
One thing about the frittata (besides how delicious it is) is how quick and simple it is to throw together. All you need is some eggs and veggies and you can whip up something delicious for brunch or lunch (or an easy mid-week dinner), with a simple green salad on the side.
Crispy Chickpea Spinach Salad With a Mustard Dressing Feta by Sugar Salted
The perfect protein-packed lunch, this salad has everything you could possibly want: greens with a crunch!
What is your favorite feta recipe? Share the link with us below.