When it comes to crafting your holiday menus, do you tend to (a) stick to tradition—green bean casserole forever! Or (b) surprise and delight your guests by mixing it up with something new and unexpected? I'm a bit of both, depending on the occasion. For our Thanksgiving meal, we haul out the same comfort food dishes year after year, and I actually think my family would revolt if I tried to spin it differently. But once December hits and we're into the holiday season? I'm ready to get crazy.
One of my favorite nights of the entire season is the annual dinner party we host for the same group of friends. I always cook a big feast, and every year it's something different. Previous years have seen braised pork tacos, beef short ribs, and a pasta feast all grace the table (not together!) Though I haven't yet decided my direction for this year's menu, I'm pretty sure I'll be serving these Crispy Sage and Garlic Sweet Potato Fries on the side, which require minimal effort and reap max reward.
Here's the gist: we're going to dress up a sheet pan of crispy baked Alexia Sweet Potato Fries with a garlic and parmesan topping that gets crunchy in the oven. Then you shower it all with fried sage leaves for those cozy winter flavors, and hit it with a flavor bomb of garlicky aioli for dipping. Let's get into it.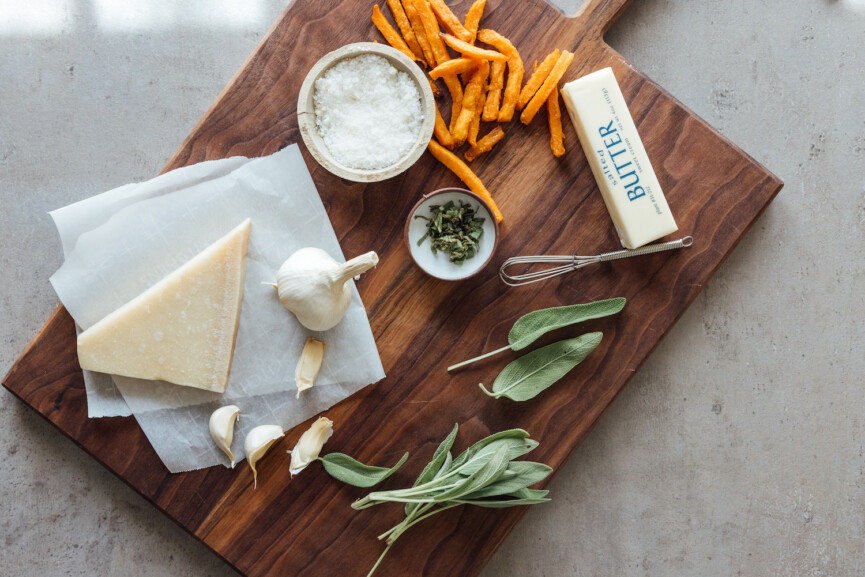 The Secret Ingredient That Makes These Garlic Sweet Potato Fries SO Easy
Have you tried countless techniques to try to make baked sweet potatoes crispy, yet they never quite get there? Same. Which is why our first step in this recipe is to go get yourself a bag of Alexia Sweet Potato Fries from the frozen aisle of your grocery store. They're cut from high-quality sweet potatoes and seasoned with a delicious hint of sea salt. Just as important as their consistent crispiness is the fact that they require:
No peeling
No chopping
No soaking
Let's face it: it's really hard to get crispy fries without actually frying them, and it usually requires a multi-step process of soaking and dredging in cornstarch or flour before baking. And even then, they don't usually crisp up to my liking. It's the holiday season, so do yourself a favor and keep it simple.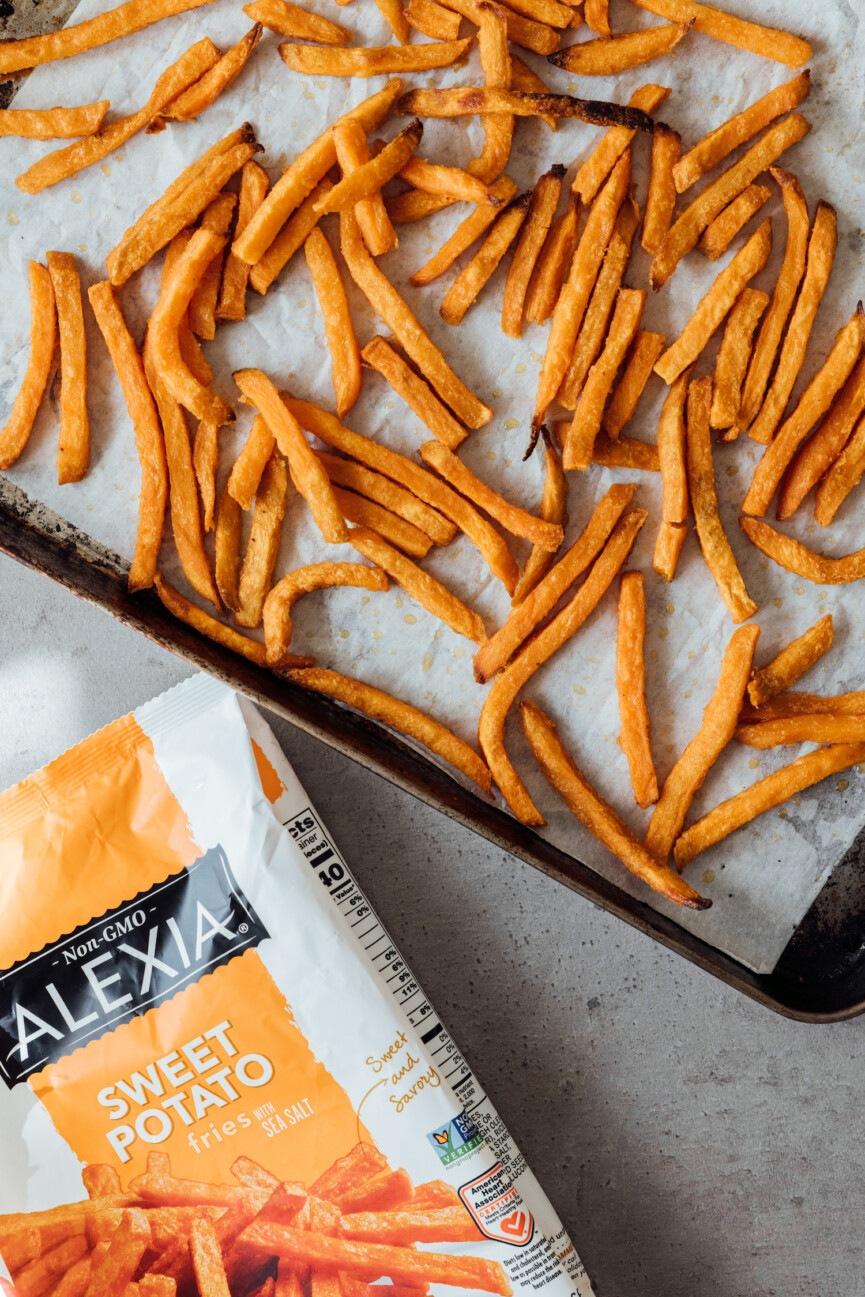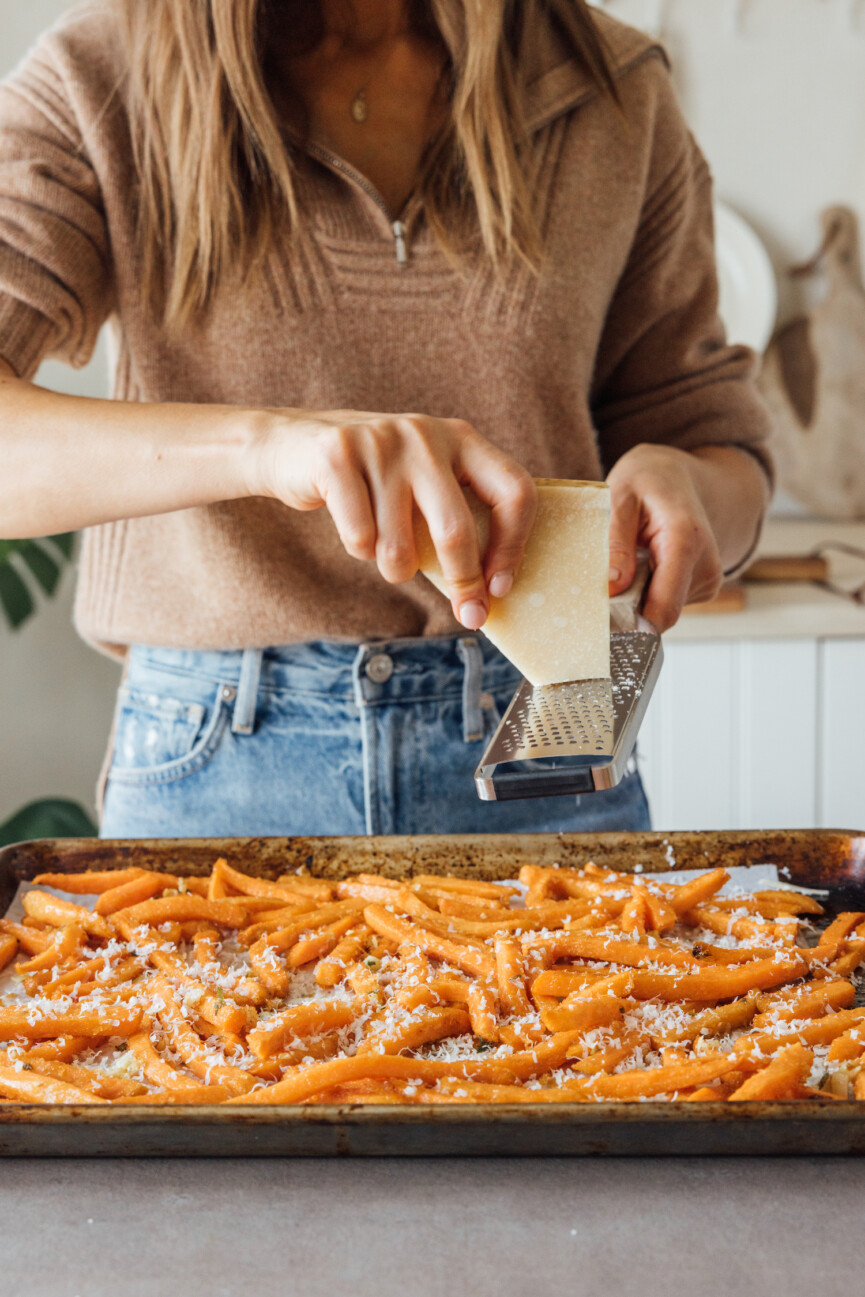 The flavor boosters that level up these fries
Lest you think I'm going to bake up a bag of sweet potato fries and call it a day (They're delicious, but we're talking about a dinner party here), there are a few simple but standout ingredients I add to these to make them holiday party-worthy.
Garlic
More specifically, a 4 cloves garlic that you combine with melted butter to infuse the entire shebang with so much flavor.
Parmesan
I realized that if you add the grated parmesan for the last five minutes of baking time, it actually gets melty and crunchy. Game-changer.
Sage
Fried sage is my secret ingredient on SO many recipes this time of year. I love the earthy sweetness it adds to a recipe, and it makes the whole house smell so good.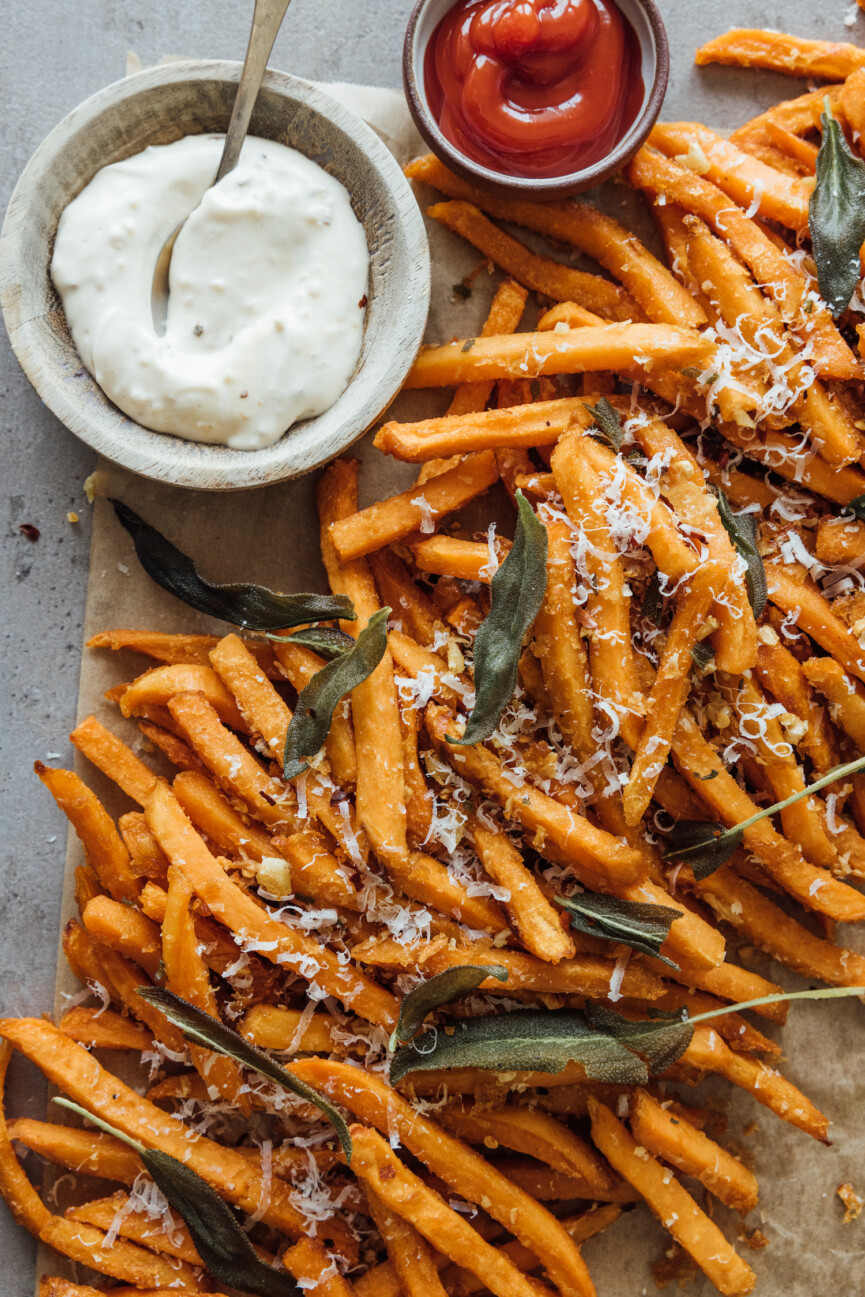 How to make crispy garlic sweet potato fries
Bake your fries
First things first: you want to bake your Alexia Sweet Potato Fries to perfection. Which is easy, since they're par-fried before freezing, which means they are already partially prepared and only need to be cooked before eating. Spread out your fries on a baking sheet lined with parchment paper, then bake them for about 18 minutes in a 450 degree oven.
Add seasonings
They'll be almost there, but not quite crispy enough yet. Which means it's time to pull them out, toss in our garlic butter and hit them with parmesan cheese. Pop them back in the oven for 5 minutes or so.
Fry your sage
While they're baking, you're going to fry up your sage—and if you've never made fried sage, prepare to have your mind blown by how simple it is. All you have to do is cover the bottom of a skillet with olive oil, bring to a sizzle over medium-high heat, then toss in your sage leaves in a single layer. Cook for 1 – 2 minutes, stirring them around. When they get crispy, remove from the skillet with a slotted spoon and let drain on a paper towel-lined plate.
Put it together
By now, your sweet potato fries should be ready! Spread out on your serving board, top with fried sage and a pinch of flaky salt, and devour.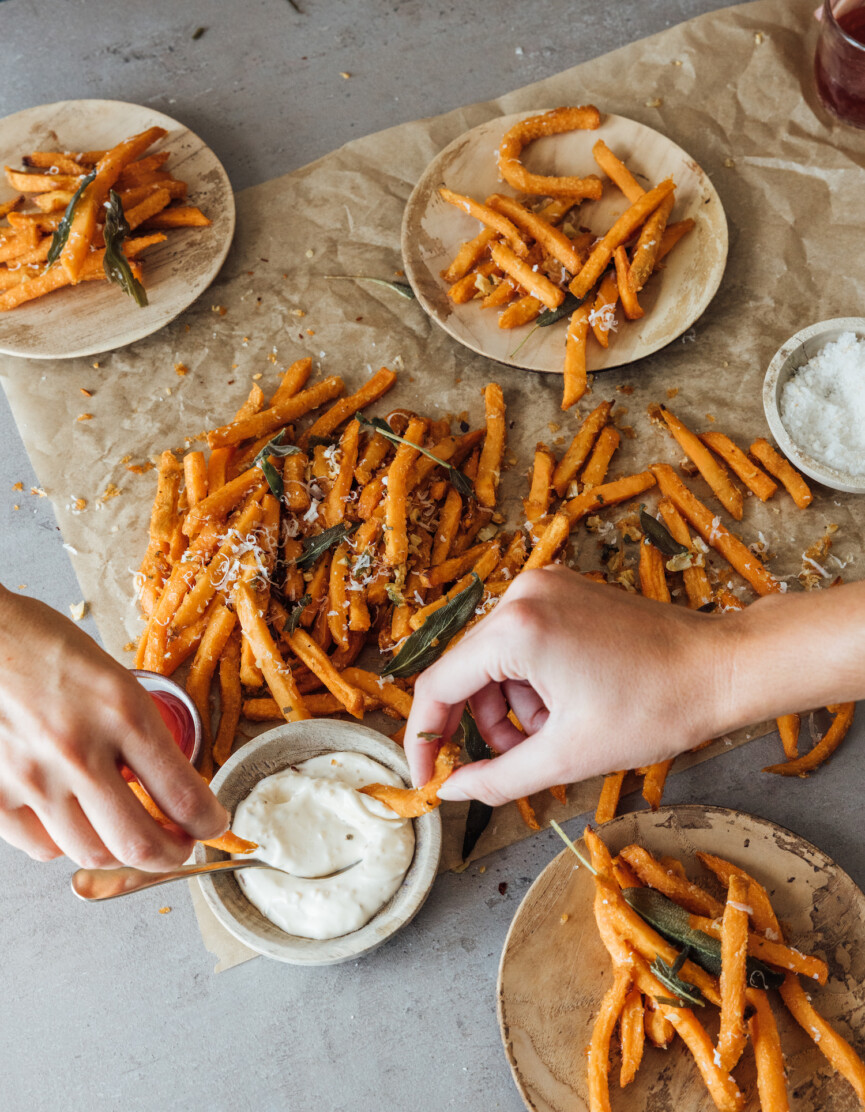 Let's talk about the garlic aioli
You're definitely going to want to dip your fries in this simple but addictive garlic aioli, and thankfully you've likely got all the ingredients on hand in your kitchen. Just combine mayo, dijon, garlic, salt, and red pepper flakes in a small bowl, and chill until ready to eat. This also happens to be the perfect dipping sauce for vegetable crudité, steamed artichokes, and just about everything.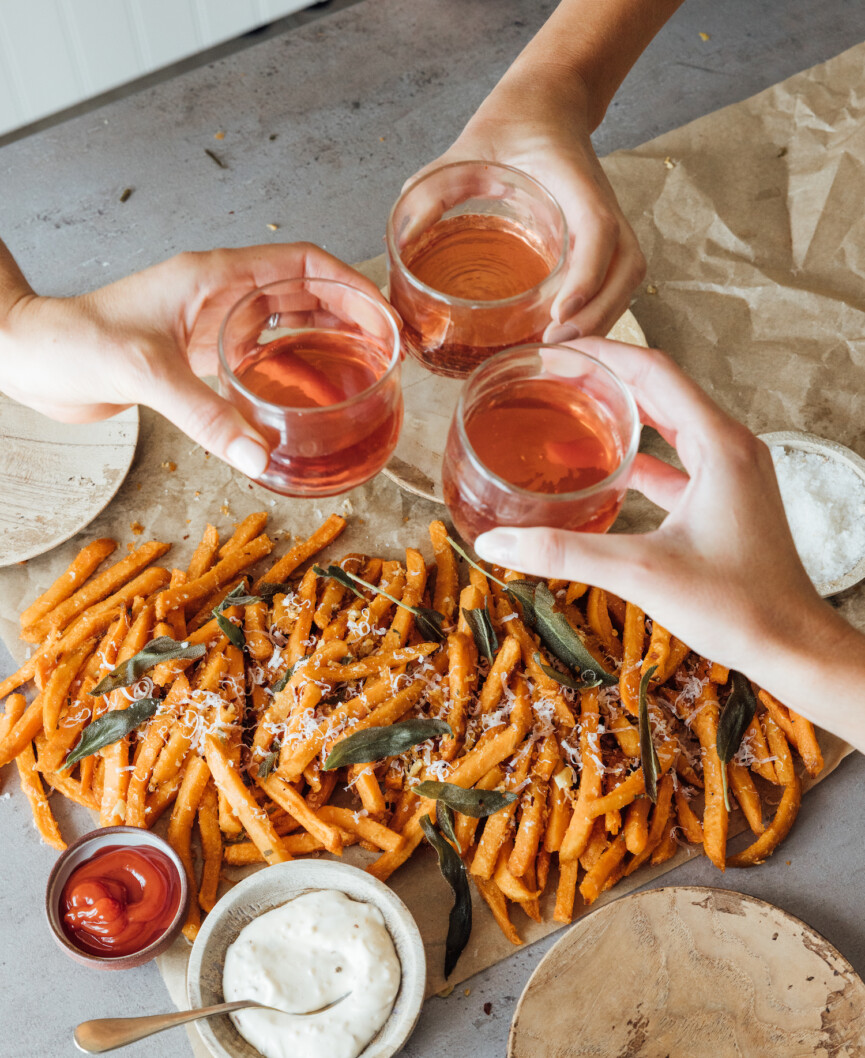 What to serve with these garlic sweet potato fries
Wondering what to eat with your sweet potato fries? Thought you'd never ask. Here are a few ideas:
For a snacks spread
I'm always trying to think outside the cheese board to come up with delicious appetizer ideas around the holiday season. Let these be the main event on a snacks spread if you're hosting a casual gathering. Set them out on a buffet with other foods meant for grazing—marinated olives, a smoky eggplant dip, this white bean and raddichio salad, and yes, even a butter board with some toasted baguette slices.
As a perfect side dish to a holiday meal
Some of my favorite main course options to pair with these fries include hot honey glazed salmon, a perfect grilled steak, lemony sheet pan chicken with artichokes. And of coures, you can't go wrong with a burger.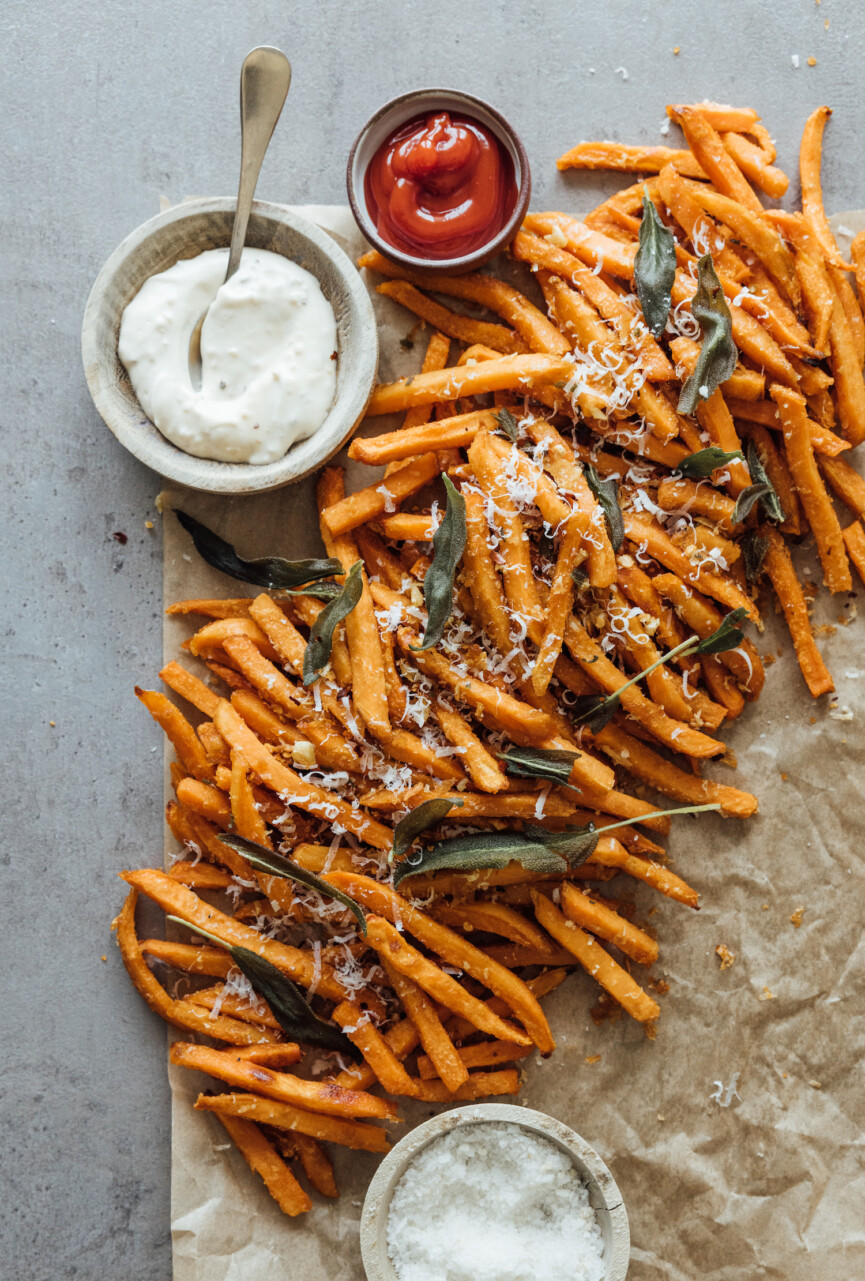 Scroll on for the recipe, and if you make these Crispy Sage and Garlic Sweet Potato Fries, be sure to leave a rating/comment, and tag us on Instagram so we can share!