If you haven't yet, now's the time to forget any mention of "prepping for swimsuit season" or losing weight before summer's underway. Deprivation? No thanks. We're all about satisfying our cravings and leaning into what tastes (and feels!) good. Sometimes, that looks like fruit, tea, or a few squares of dark chocolate after a meal. But if I'm being honest, sometimes these lightened-up subs for my real-deal faves (I count carrot cake and ice cream among them), just don't cut it. But here's the good news: It's 2023, and there's no shortage of delicious dessert recipes out there that mix good-for-you ingredients with indulgent flavors. So after years of experimenting with every gluten-free flour and egg substitute on the market, I can attest that these are the best gluten-free dairy-free dessert recipes out there.
While baking can be intimidating, there's something meditative about slowing down in the kitchen. Many of us wouldn't spend more than an hour mixing, fondant-shaping, and frosting on a regular night, but when you shift your mindset and think about baking as a time to get creative and have a little fun, the experience transforms. Plus, there's nothing more satisfying than a delicious, homemade dessert that you can share with friends and loved ones.
Featured image by Michelle Nash.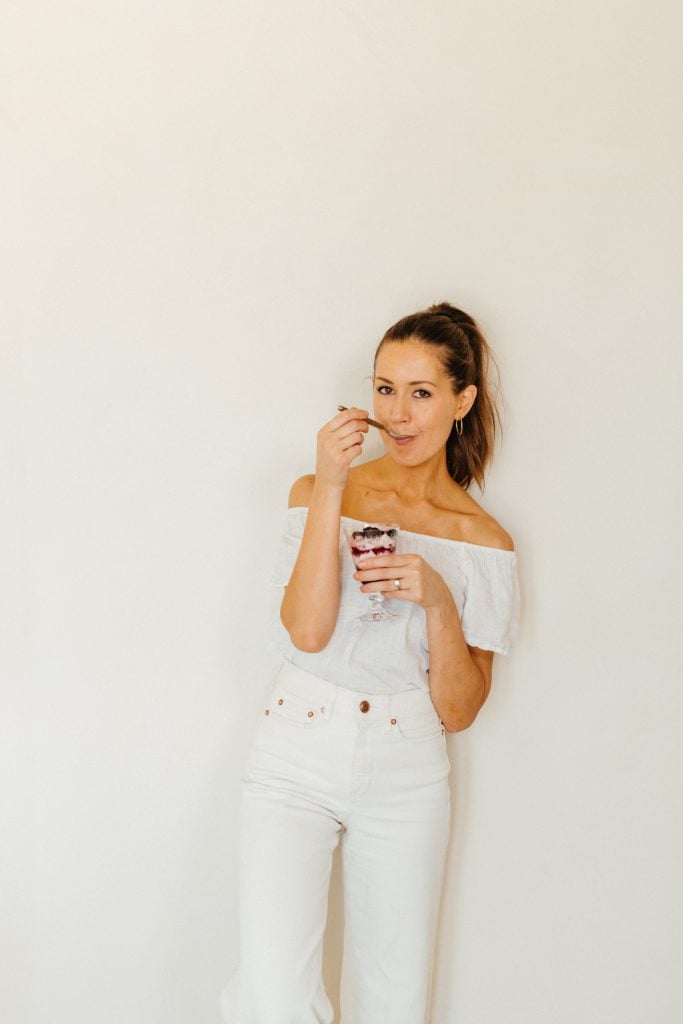 14 Gluten-Free Dairy-Free Desserts That Everyone Can Enjoy
From cookies to brownies to homemade ice cream, we've rounded up our favorite gluten-free, dairy-free dessert recipes that are easy, elegant, and truly crave-worthy. We've got options that are also refined-sugar-free, saving your blood sugar from the dreaded spike. So scroll on for our faves and prepare to stun and satisfy everyone on your list.
Note: All recipes can be made gluten and dairy-free. We've included some vegan, soy-free, refined sugar-free, and nut-free options, but as always, be sure to carefully read all of the ingredient information to ensure it's free of any allergens or restrictions you might have.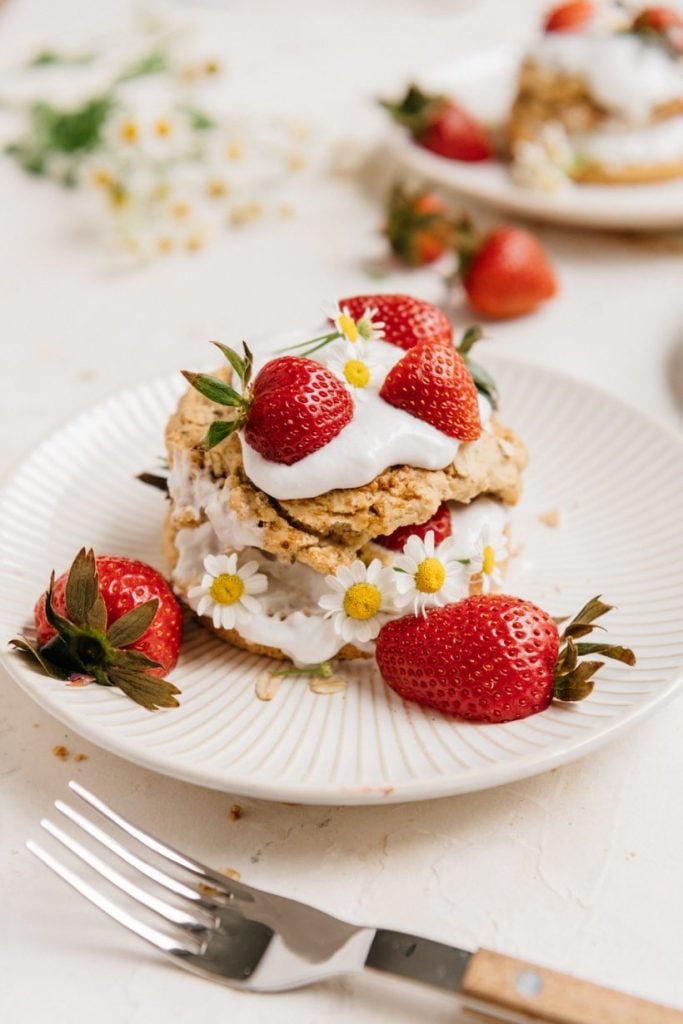 Why We Love It: Golden-brown, made-from-scratch shortcakes are the perfect vessel for sweet, fresh strawberries and fluffy whipped (coconut) cream. They're light on the inside, crispy on the outside, and taste amazing all on their own. That said, they're made even better by the sweetened strawberries that top them. All you have to do is combine sliced strawberries with powdered sugar and chill while you prep the shortcakes.
Hero Ingredient: Seriously, the coconut whipped cream will be your new favorite dairy-free alternative. Whip up a little extra to eat with fresh berries, top a pie, or to spoon into your morning coffee for an indulgent treat.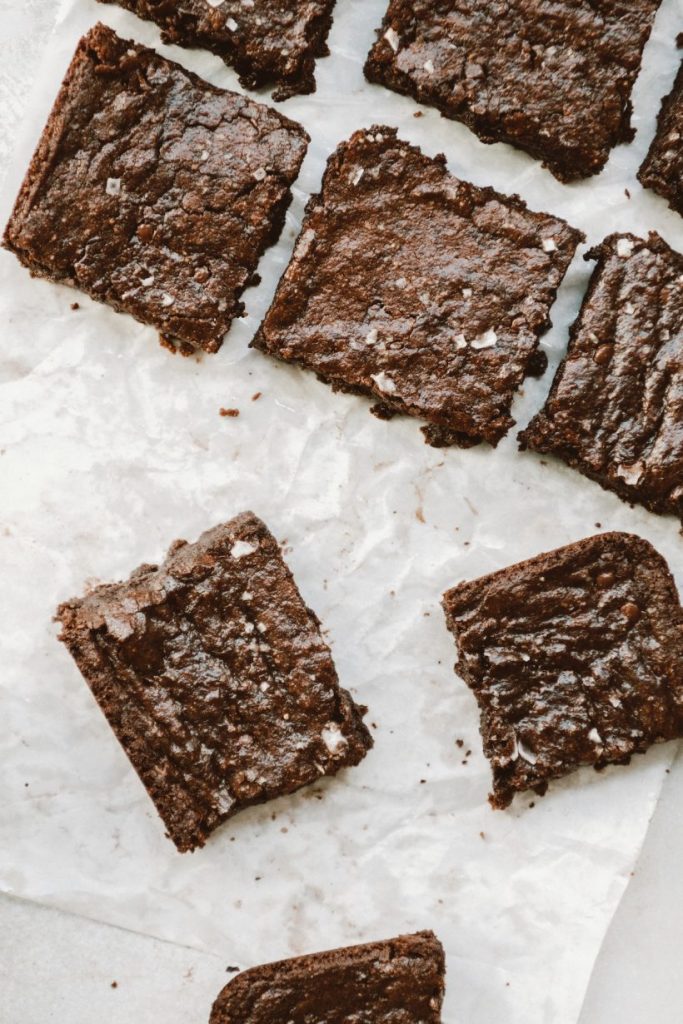 Why We Love It: These gluten-free dairy-free brownies are as close to the real deal as you can get. They're fudgy, gooey, rich, and undetectably gluten- and dairy-free. Cane sugar and maple syrup keep things refined sugar-free, almond butter and flax eggs give the brownies the perfect texture, and dairy-free milk, butter, and chocolate chips bring the moisture. Once your batter is mixed, sprinkle with chocolate chips and flakey salt for maximum flavor and visual appeal. The hardest part about this recipe is waiting for the pan to cool before diving in.
Hero Ingredient: Sea salt goes a long way here. A small sprinkle sends that chocolate flavor over the top.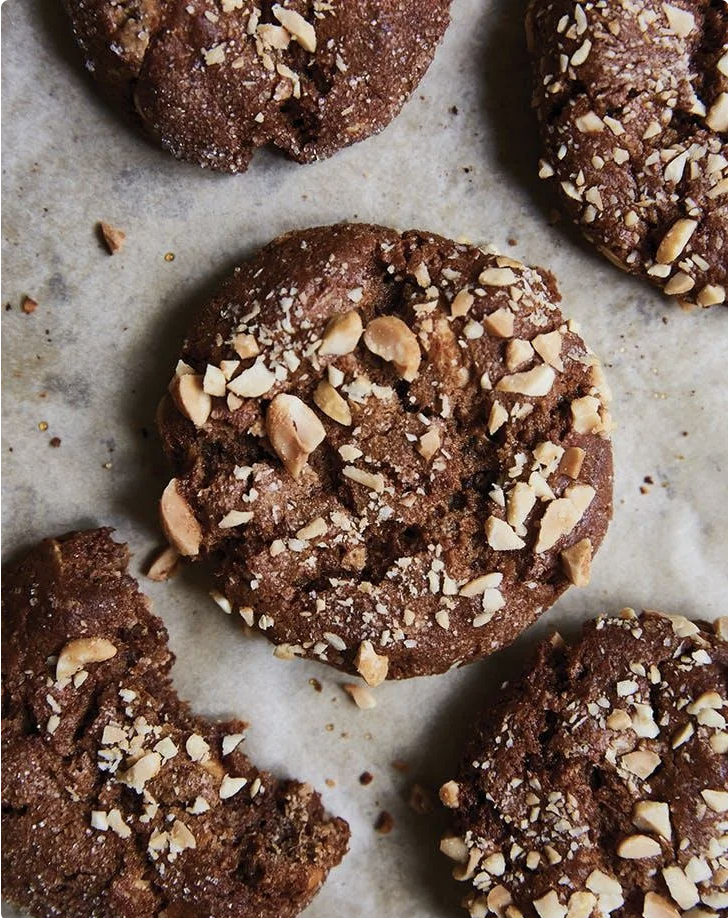 Why We Love It: Decadent, nourishing, and all-grown-up, this gluten-, dairy-, and refined sugar-free cookie recipe is a gem. By looking at the ingredient list, you'd never know how delicious these cookies are, but believe me—they're exceptional. They have bits of salty roasted peanuts, chunky peanut butter, and crunchy coconut sugar threaded throughout the dough that makes them oh-so-tasty. Gifting a few of these bad boys to a friend will certainly make their day!
Hero Ingredient: The crunchy peanuts on top seal the deal on texture.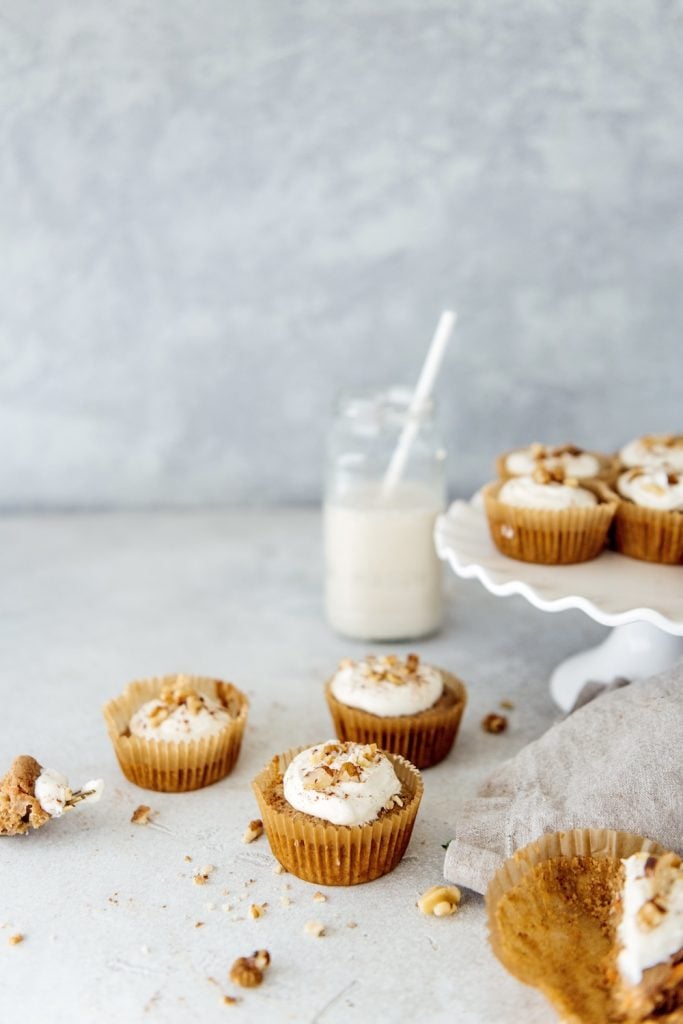 Why We Love It: Good old-fashioned carrot cake gets a revamp in the form of gluten-free, vegan cupcakes. They're one of those "cleaned up classics" that you can't go wrong with. They retain all the flavor and texture of carrot cake—perfectly moist, sweet, and bursting with spiced goodness. These cupcakes are another dessert to make and pack away for your friends, family, or anyone in your circle who could use a pick-me-up.
Hero Ingredient: To give your cupcakes extra pizazz, grate some walnuts over top of the icing and sprinkle with a dash of cinnamon. It's the little things.
Why We Love It: Need an easy, tasty way to cool down this summer? These lassi-inspired popsicles are your answer. First: the presentation. Gorgeous, right? I love their softly-hued orange appeal, the drizzle of melted white chocolate, and the mix of chopped pistachios and rose petals sprinkled on top. But go deeper and you'll discover a satisfying blend of mango, coconut milk, yogurt (opt for dairy-free), and some surprising spices that send it all home.
Hero Ingredient: Those spices I mentioned? The soft, floral flavor of cardamom and just a pinch of saffron for a subtle, earthy warmth.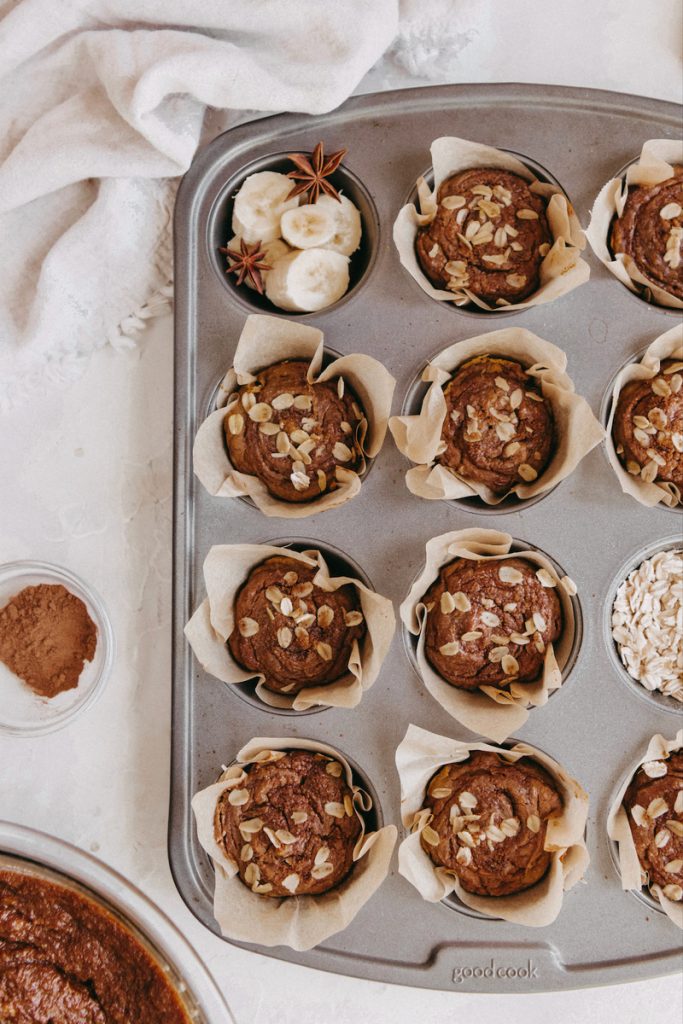 Why We Love It: I know, I know: it might not yet be time for your PSL, but I'm of the opinion that pumpkin works year-round. (Particularly when it's paired with banana's natural sweetness.) Before it gets too hot, I'm making the most of the chilly mornings by heading straight into the kitchen to bake up these fluffy, moist muffins that make the perfect light breakfast or snack. Without any dairy or gluten in sight, they pack tons of flavor: pumpkin purée (of course), maple syrup, cinnamon, and pumpkin pie spice. You can bet that come September I'll be in the habit of baking these once a week.
Hero Ingredient: A little maple syrup (combined with banana and coconut sugar) is all these muffins need to create their naturally sweet flavor.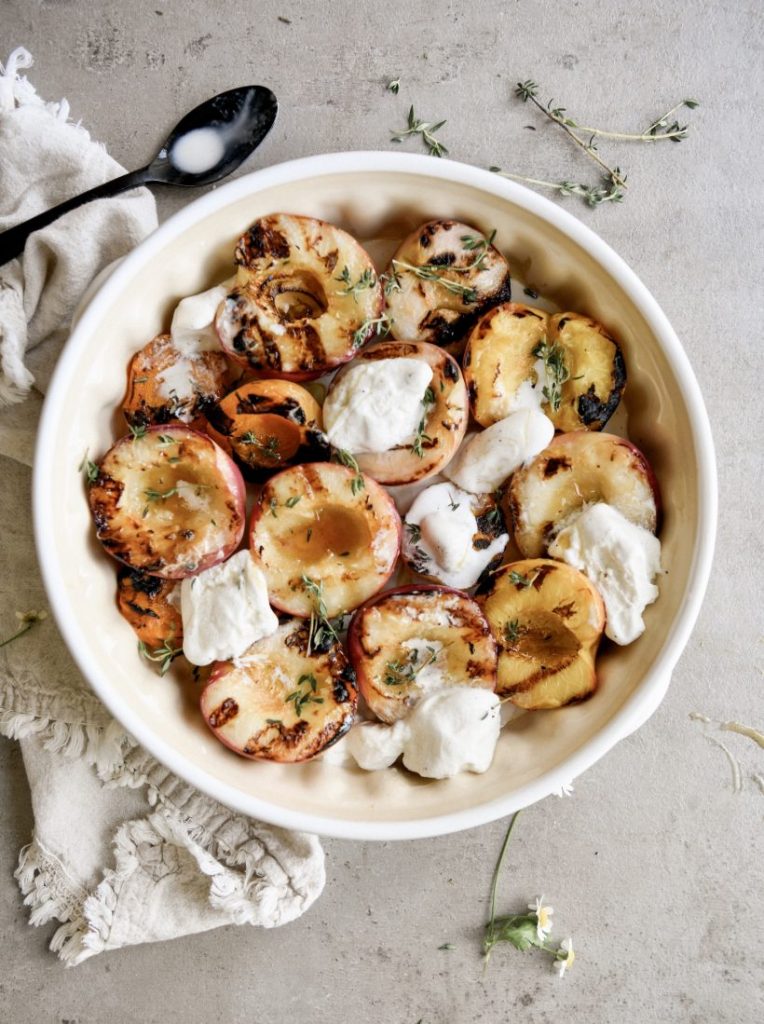 Why We Love It: If you haven't jumped on the grilled peach bandwagon yet, this is your sign. Grilled peaches maintain all of their juicy sweetness and are made even better by the bitter grill marks that grace the edges. The best part? They only require four ingredients: peaches, olive oil, salt, and honey. If it suits your fancy, a scoop of dairy-free vanilla ice cream brings a creamy coolness to the mix that's simply mouthwatering. Grill those peaches, people!
Hero Ingredient: Fresh basil or mint is a great addition. The herbs' floral freshness elevates those peaches to new heights.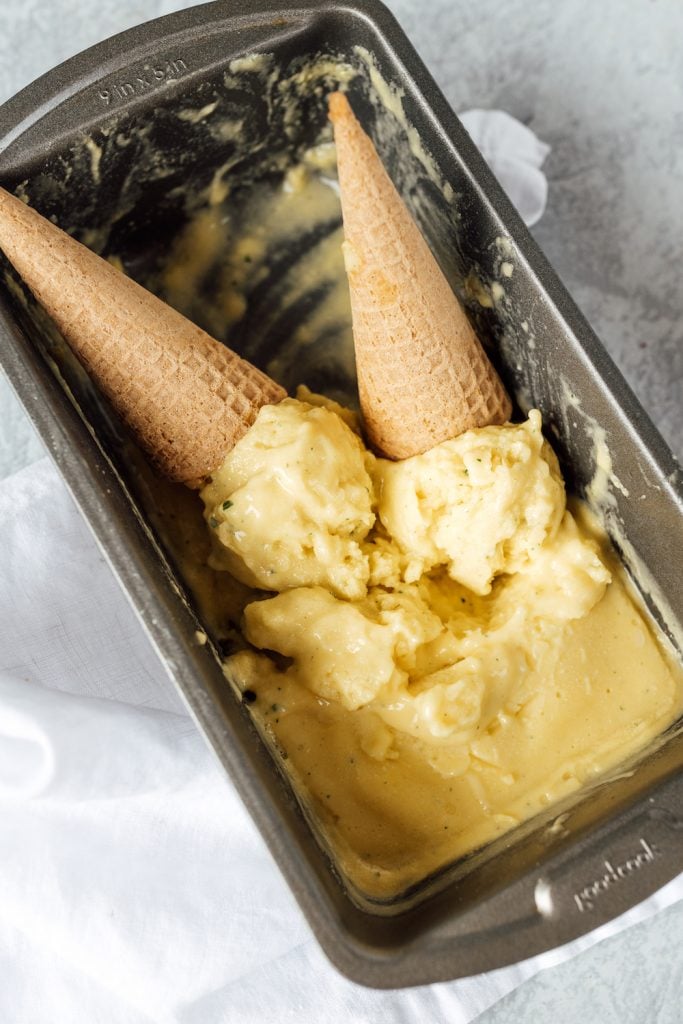 Why We Love It: No dessert roundup is complete without homemade ice cream, and this mango-basil version nails it. It's refreshing enough to enjoy on the hottest late-summer and early-fall days and even carries over well into the season. It's a healthier dessert that satisfies every sweet craving perfectly. With a velvety texture, fresh fruit flavor, and a little dose of basil's freshness, you'll want this one on repeat.
Hero Ingredient: Coconut milk is the key to super creamy vegan ice cream. Its dairy-free richness lends itself so well to whatever flavors you choose to pair it with.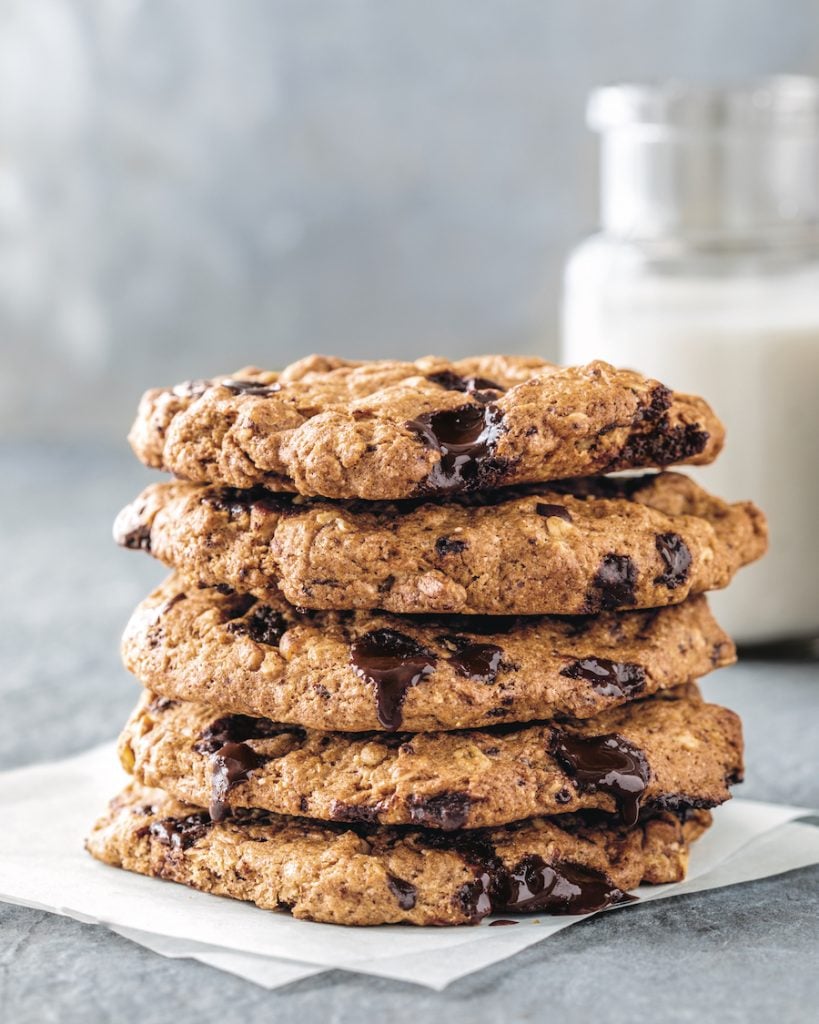 Why We Love It: Vegan and gluten-free chocolate chip cookies that taste great and are better for you? Sign me up. These tasty treats boast oats, walnuts, cinnamon, sea salt, almond butter, chia seeds, and so much more goodness. They're moist (sorry), chewy, and totally delicious. These cookies are also great for wrapping up and gifting to a friend or packing in your kiddos' lunch boxes.
Hero Ingredient: Pro tip: Though the recipe doesn't call for it, toasting your walnuts beforehand brings an extra nuttiness to the cookie that's just divine.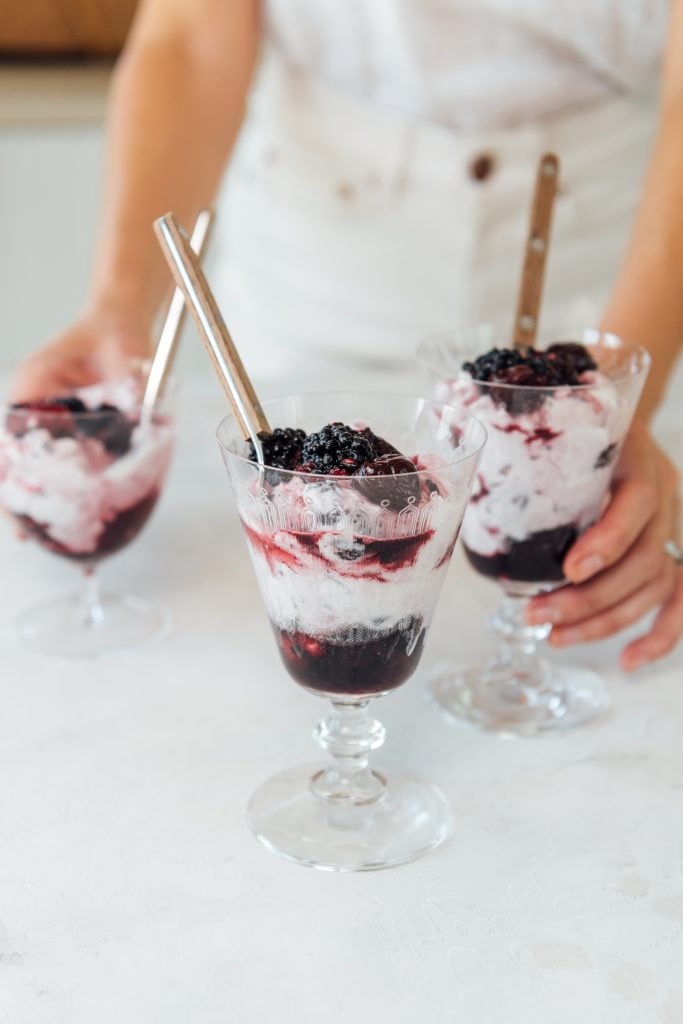 Why We Love It: Nothing is simpler—or tastes more like summer—than an easy dessert that dresses up your favorite seasonal berries. These five-ingredient fruit fools are the perfect dinner party treat. Not only are they a low-lift for the hostess, but they boast a beautiful presentation. Layer in cream and any mix of summer berries in parfait glasses. All that's left to do is spoon up the sweetness.
Hero Ingredient: Heavy cream, of course, doesn't fit into our dairy-free rubric. But simply swapping in coconut cream and whipping along with the lemon zest is an easy substitute.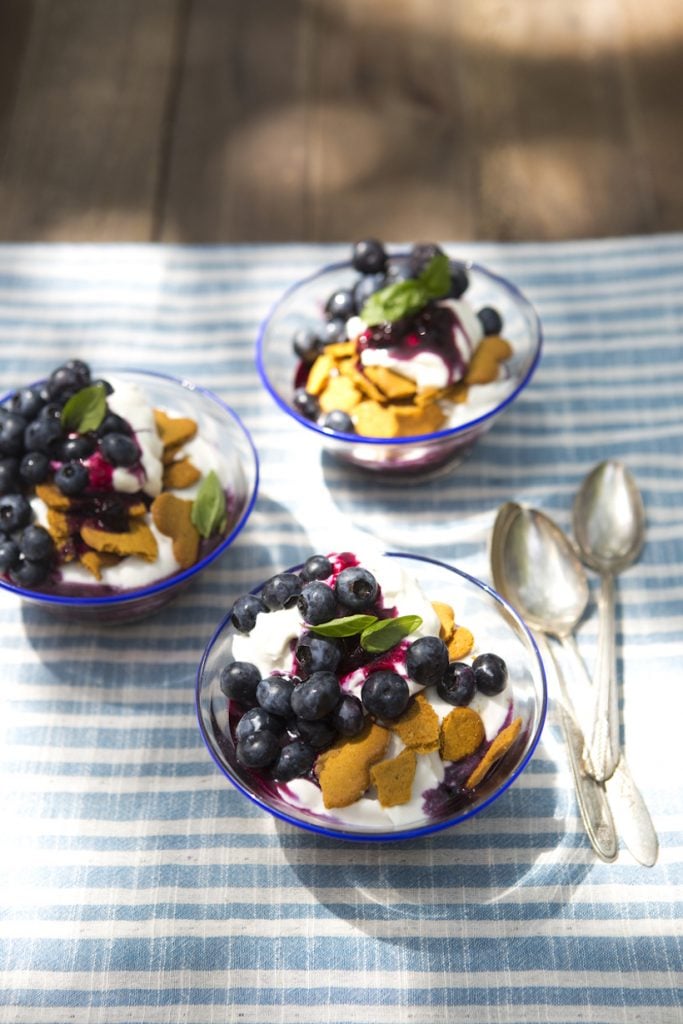 Why We Love It: This dessert is so easy and virtuous, I might be tempted to make it for breakfast (writes the woman who celebrates Pie Friday without fail after every Thanksgiving). With under ten ingredients, this is a perfect picnic treat or casual dinner party dessert. While it calls for coconut cream, be sure to swap out the honey for maple syrup if you want it to be totally vegan.
Hero Ingredient: When summer hits, you can bet I'm looking for all the ways to enjoy blueberries daily.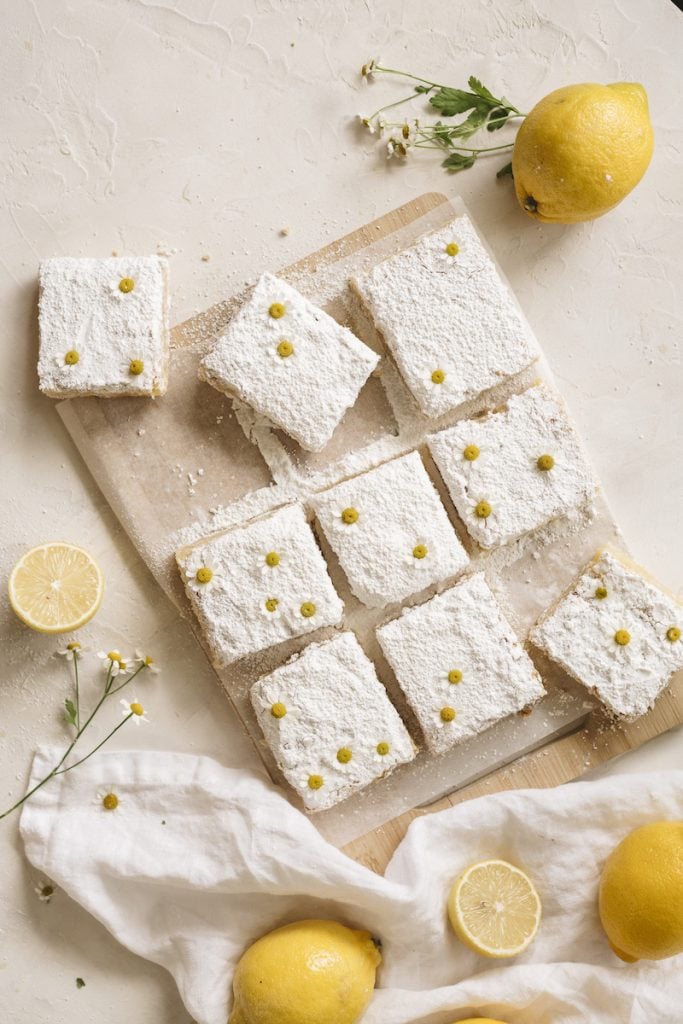 Why We Love It: Lemon bars are my forever favorite. Through spring and summer, my mom would make them most weeks, keeping a Tupperware full of the treats available whenever the craving struck. I love the puckery sourness of the filling set against the crisp, crumbly crust. Gluten-free graham crackers help keep these totally gluten-free. And contrary to popular belief, eggs are not dairy products. So you're all set to indulge as you see fit.
Hero Ingredient: How could I not say lemon?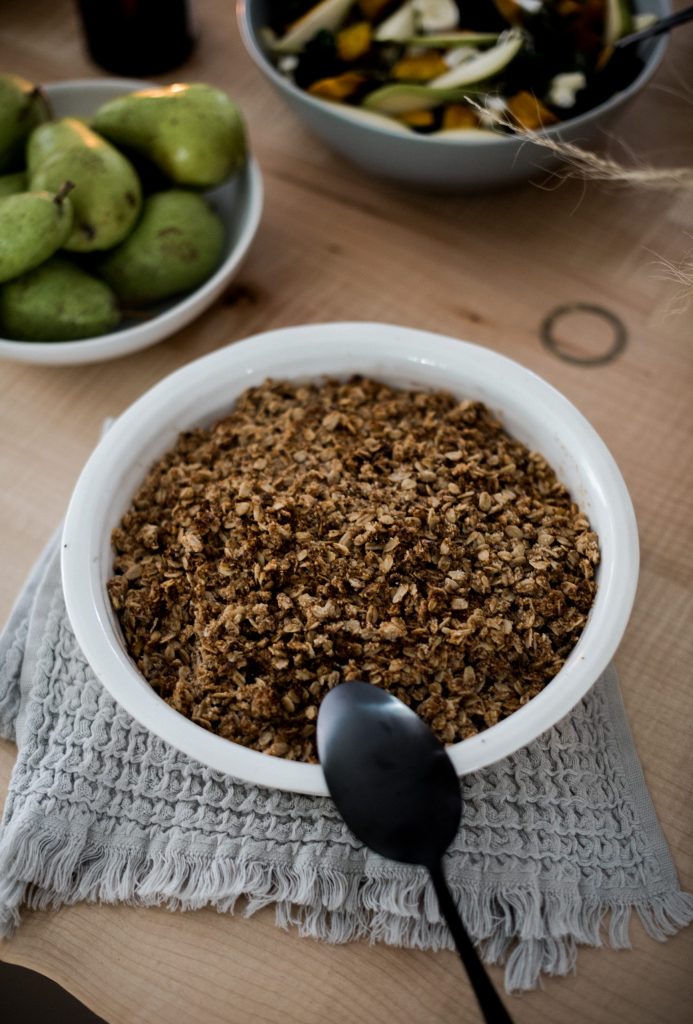 Why We Love It: Naturally sweetened and downright delicious, this easy crumble might be one of the healthiest desserts around. It's perfect for celebrations, simple dinners, and potlucks alike with its comforting appeal and ease. Whether you opt for crumbles, crisps, or cobblers, one serving of this and everyone's mind will be blown.
Hero Ingredient: The beauty of this crumble is its versatility. Apples are ideal in the fall, but feel free to swap in rhubarb and strawberry in spring, raspberries and peaches in summer—the list goes on.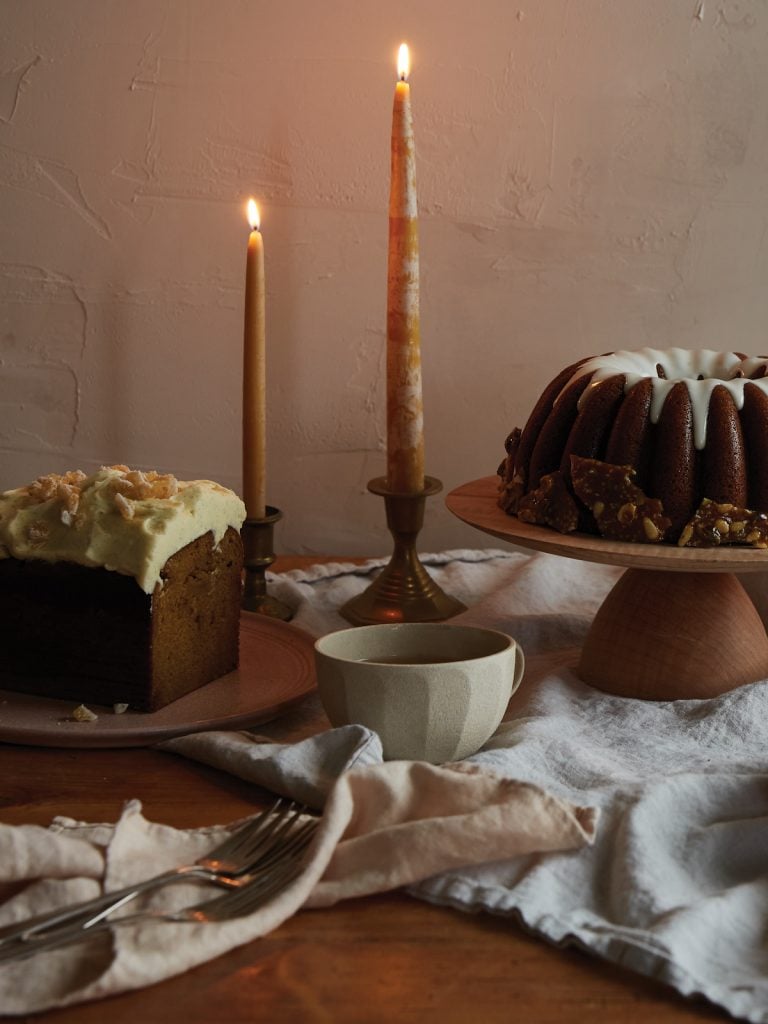 Why We Love It: While sweet potato desserts are often served in the fall and winter, we're fans of the spud all throughout the year. (Clearly.) Of course, this isn't what you want to serve in triple-digit weather, but if you come across a cool night early on or later in the season, you'll be happy to have this recipe in your back pocket. The creamy, sweet potato combined with warming spices and a slightly tart frosting is like nothing else. It's rustic, earthy, and perfectly comforting—as all the best desserts are.
Hero Ingredient: You'll never catch me eating buttercream when cream cheese frosting is an option. Dairy-free cream cheese keeps everything light, creamy, and wonderfully smooth.
This post was originally published on November 19, 2020, and has since been updated.