Carrot cake, for spring? Groundbreaking.
Pretty sure that wasn't the quote from The Devil Wears Prada but we'll roll with it. Easter is this weekend and for those of us celebrating, I'm willing to bet this iconic dessert is on the menu. While it's fun to experiment with unconventional recipes on holidays, sometimes nothing beats the good old-fashioned classics. I love baking to celebrate special occasions and changes in the seasons, and eliminating gluten and dairy from my diet hasn't stopped me from joining in on the fun. In fact, I've become somewhat of a pro at "cleaned-up classics" aka healthier, allergy-friendly versions of some of my favorite traditional desserts. Enter: these gluten-free, vegan carrot cake cupcakes. They're delicious, perfectly moist, and, dare I say, healthy. It's all relative, right?
A couple of recipe notes:
These cupcakes don't rise much in the oven. If you like a larger cupcake, I'd consider making six large cupcakes vs. a dozen small ones.
I used a prepared vanilla frosting to cut corners in this recipe, but most dairy-free options can have a chalky texture. I've found that whipping the icing in the mixer with a bit of melted vegan butter makes it smooth, fluffy, and undetectably dairy-free. It would also be delicious with a vegan cream cheese frosting like this one.
I used oat milk in this recipe, but any dairy-free milk you have on hand should work.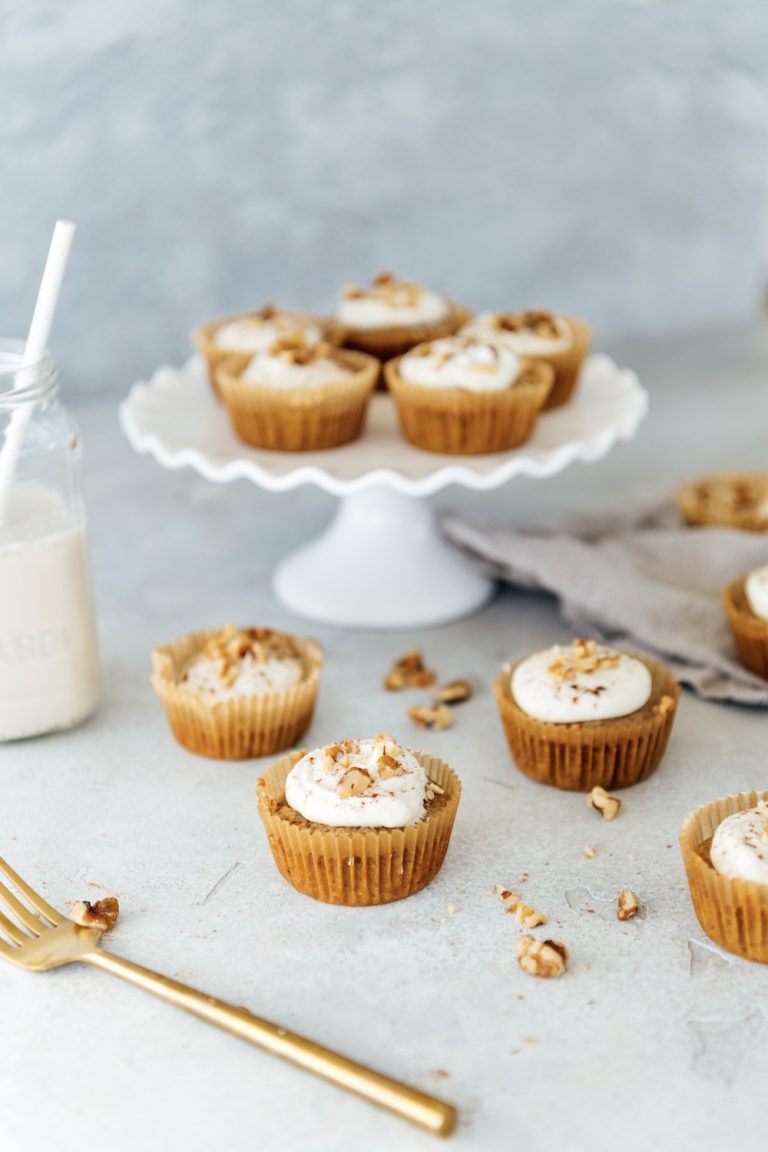 Cupcakes vs. Cake: a heated debate.
Are you ever driving, walking the dog, or on the phone when all of a sudden… your sweet cravings hit? You might think to yourself: "Wow, I wish I had just a little something sweet to snack on." Nothing crazy, just something bite-size and satisfying that won't interrupt the flow of your day. Well, ladies and gents, I'm here to remind you that you can have your cake and eat it too. That's why we have cupcakes.
As a dessert person, I'm a big fan of "grab and go" sweets. While I do think sitting down and having dessert is fun and warranted on occasion, I don't always want the whole slice of cake. Cupcakes win for their convenience, portability, and ease of sharing with others. If I want to give a baked good to a friend, I can hand them a cupcake and send them on their way. No utensils or dishes needed.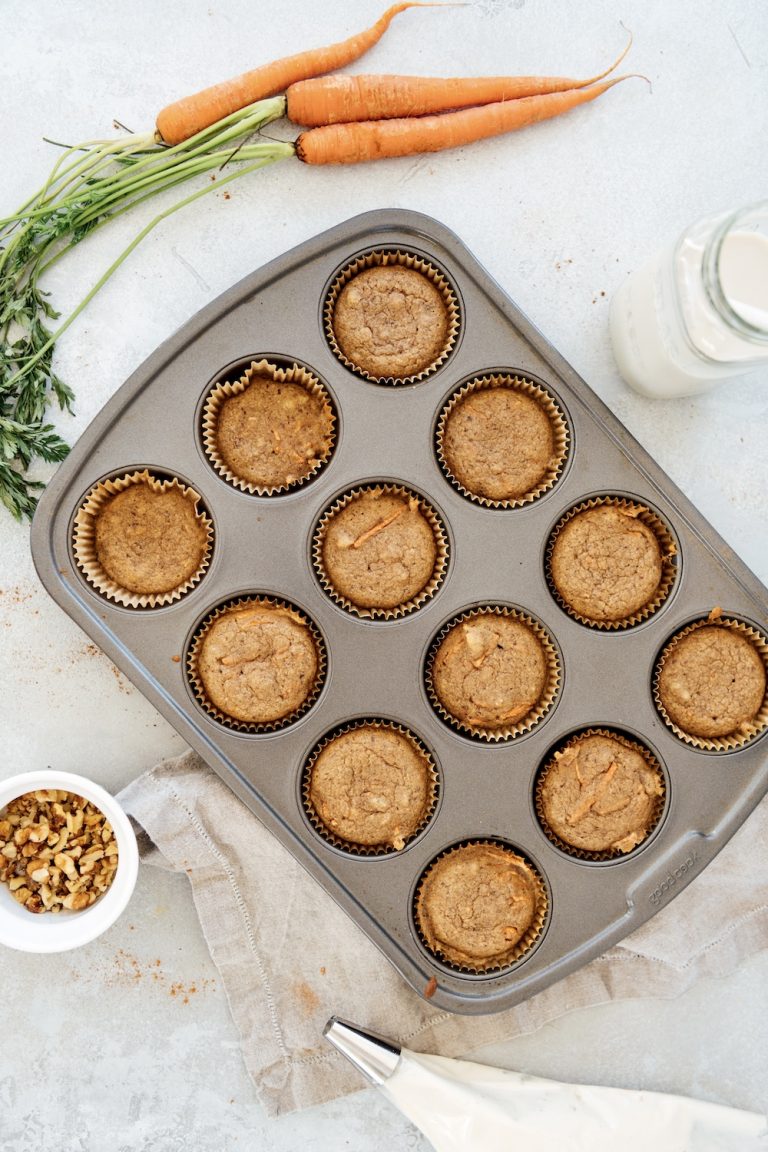 Choosing the Flour
I chose oat flour for the base of these cupcakes for its neutral taste and moist texture. I feel like the most common complaint with any gluten-free desserts is that they are crumbly and dry, but with these cupcakes that is not the case.
This recipe combines oat flour and almond flour to get that ideal fluffy texture we all crave in a cupcake. This guide to gluten-free flours was my go-to resource when I started to experiment with grain-free baking.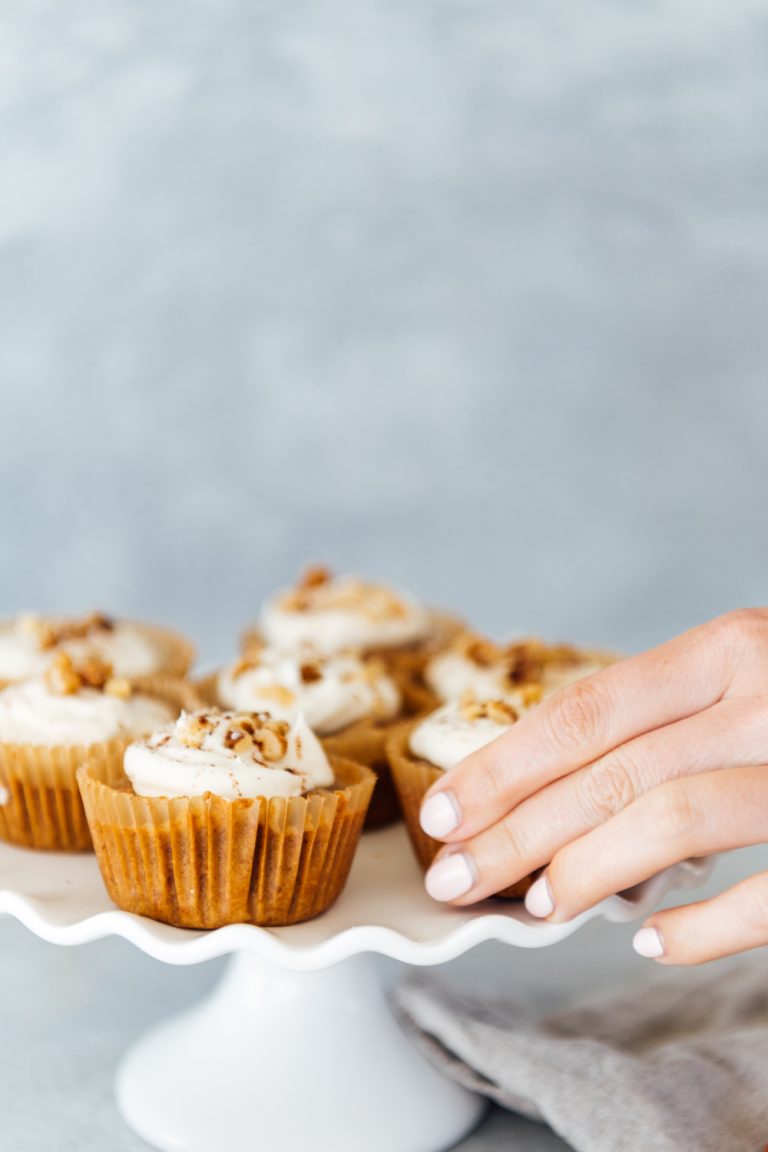 The Ingredients
I love a dessert that sneaks in veggies but still tastes delicious. This recipe calls for grated carrots that are almost undetectable in each bite, making me want to experiment with more veggie-packed desserts (I'm looking at you, zucchini brownies). Instead, the veg gives these carrot cake cupcakes a slightly earthy flavor that perfectly balances out the sweetness.
I try to limit my sugar intake, so these cupcakes only contain natural sugars from applesauce, coconut sugar, and maple syrup. Add in the coconut oil and flax egg and you get a moist, decadent texture that's just to die for.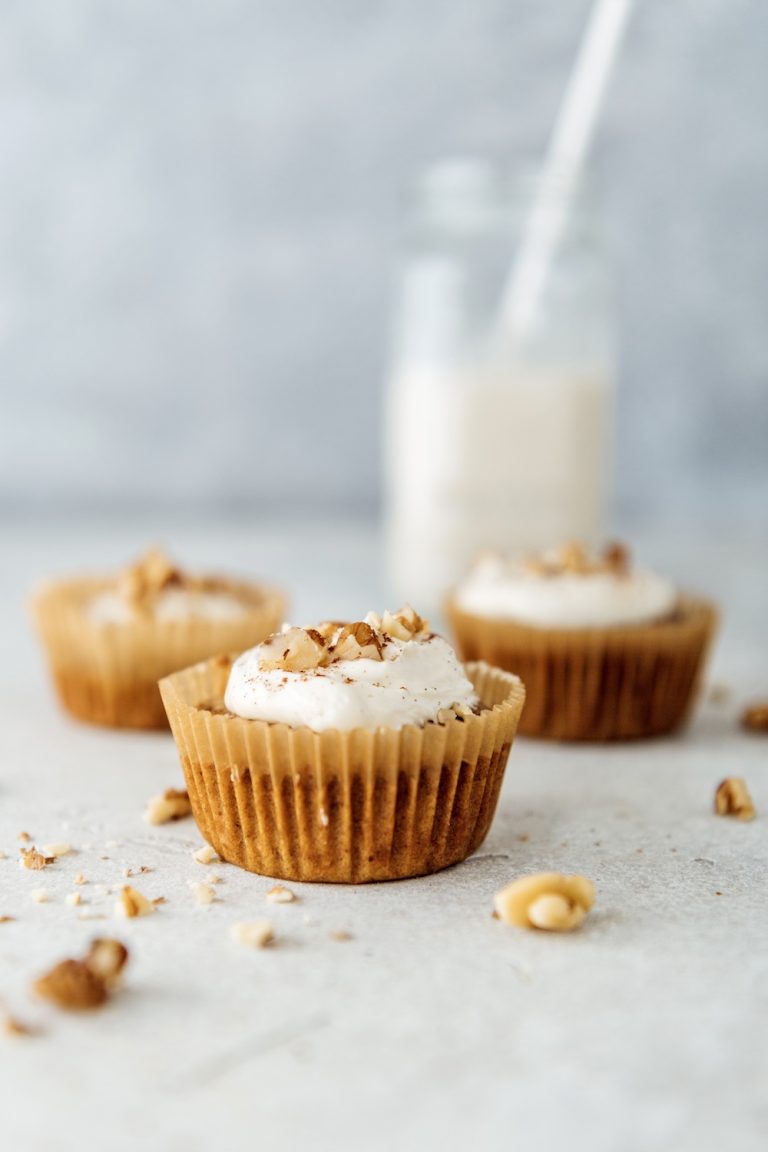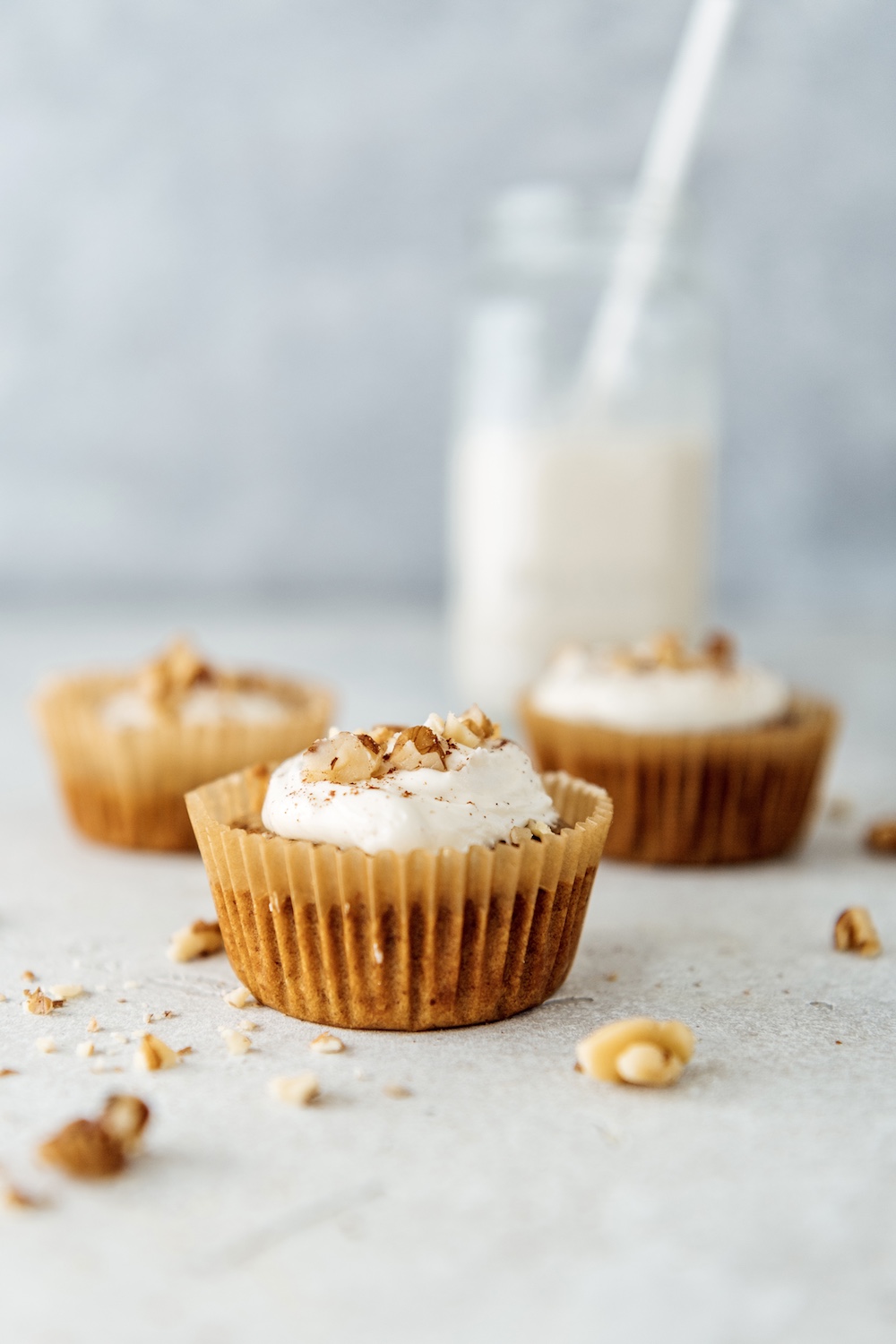 Toppings
When it comes to toppings, I'm a true believer that less is more. A good icing speaks for itself, and you don't need a ton of pizazz for the flavor to deliver. I'm a big fan of the simple mills icing collection, and their vanilla icing gives these cupcakes added sweetness without the naughty ingredients you usually see in icing. I've found it looks and tastes best when whipped with some melted vegan butter. To garnish, I stuck to a few pieces of grated walnut and a dash of cinnamon for the top.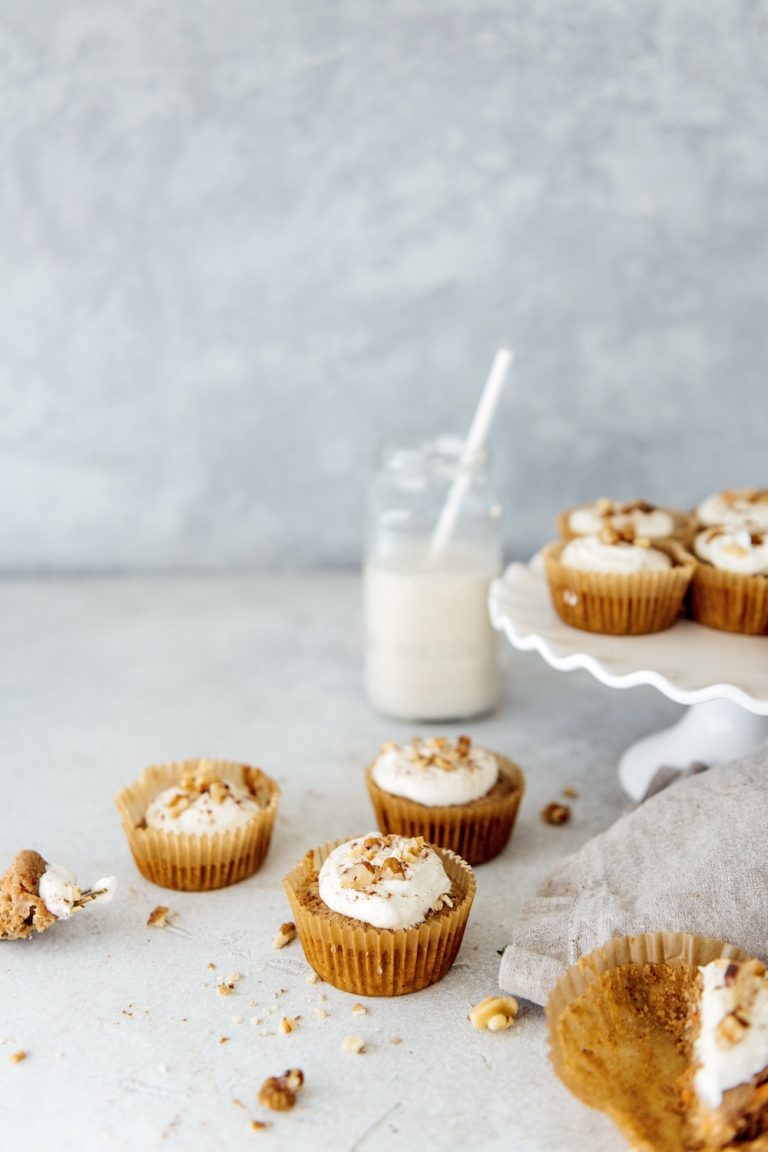 Taste Testers
These cupcakes were a big hit with my friends and family. Read on for some key takeaways:
Bridget (colleague):
First impression: How moist they are. It's so hard to find vegan and gluten-free cupcake recipes that don't turn out dry and crumbly. These had the firm texture of a normal cupcake, much to my surprise.
Stand-out ingredients: The sprinkle of walnuts on top for sure. I love when a dessert has a little crunch to it and these were the perfect addition. That, plus the creamiest icing ever.
Rating: 5 out of 5. These cupcakes were so good you would never know they are "healthy." I gave one to my roommate who doesn't even like carrot cake and she loved them. I will definitely be making these for my family on Easter.
Megan (sister):
First impression: I am not a huge carrot cake person but these cupcakes were amazing. It was hard to believe they were both gluten and dairy-free. The cake was super moist and the icing tasted great.
Stand-out ingredients: I loved the icing—it was really sweet but didn't overshadow the taste of the cupcake.
Rating: 5 out of 5
Noble (brother):
First Impression: These cupcakes weren't too sweet and I liked the crunch from the walnuts. They were surprisingly great. In fact, I might have another right now.
Stand-out ingredients: The nuts and the icing were my favorite parts. The only thing I would change is to add a little more icing next time.
Rating: 4.5 out of 5
Billy (gluten and dairy-loving individual):
First impression: Initially I hesitated to try these because of my general distaste for carrots, but wow am I glad I did.
Stand-out ingredients: The best part? They're vegan. I'd think it was a farce but checked the ingredients for myself. All in all this desert is a heroic concoction of ingredients that will leave you speechless.
Rating: 5 out of 5. Highly recommend.
I hope you enjoy these cupcakes as much as we did. Scroll on for the recipe!
Loved this post? Pin this graphic to come back to it later.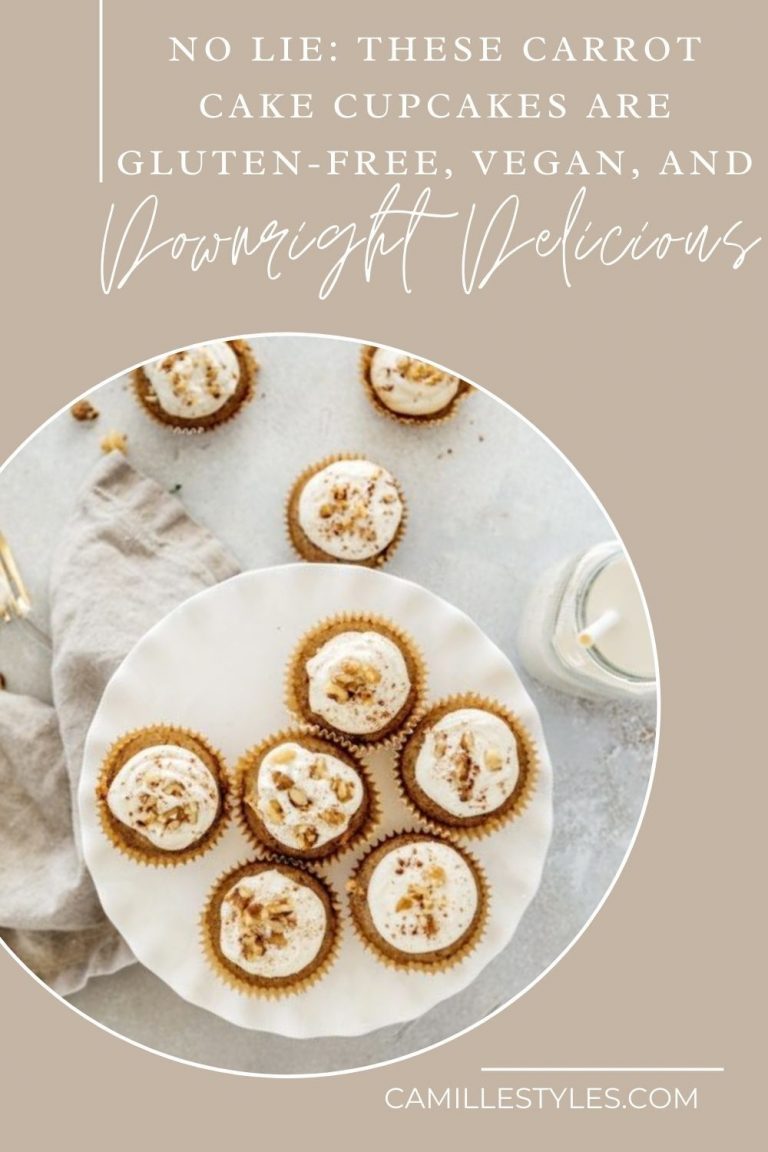 Print
Gluten Free, Vegan Carrot Cake Cupcakes
---
Description
These homemade carrot cake cupcakes are moist, delicious and topped with creamy vanilla icing.
---
Wet Ingredients:
1/3

cup

unsweetened applesauce

2

flax eggs

1/3

cup

coconut oil melted and cooled

3/4

cup

oat milk

1 teaspoon

vanilla extract

2

Tbs maple syrup

1/3

cup

coconut sugar
Dry Ingredients:
1 1/2

cup

gluten-free oat flour

1/3

cup

almond flour

2 teaspoons

baking powder

1 teaspoon

cinnamon

3/4 tsp

sea salt

1/3

cup

chopped walnuts

3/4

cup

grated carrots
Icing:
prepared icing of choice – I like the Simple Mills vanilla icing

1/4

stick of vegan butter (I like Miyokos)
---
Instructions
Preheat the oven to 350 degrees and line a cupcake tin with cupcake liners.
Prepare the flax egg by adding 2 Tbs ground flaxseeds with 6 tablespoons of water in a small bowl and refrigerate for 5 minutes.
While the flax egg is in the refrigerator, add the applesauce, melted coconut oil, oat milk, vanilla extract, maple syrup and coconut sugar to a bowl and whisk together.
Add in the flax egg and combine.
In a separate bowl combine the oat flour, almond flour, baking powder, cinnamon, sea salt, chopped walnuts, and grated carrots. Mix well to combine.
In a large bowl, combine the wet and dry ingredients and whisk until thoroughly mixed.
Add about 1/3 cup of batter to each cupcake tin and bake for 20-25 minutes.
Once cooked through, remove from the oven and allow the cupcakes to cool.
Melt 1/4 stick of butter in a bowl and add in the prepared icing. Whisk thoroughly until you get a soft, fluffy texture.
Ice each cupcake and option to top with additional chopped walnuts and cinnamon. Best enjoyed within 2-3 days.